Things to do in Gangtok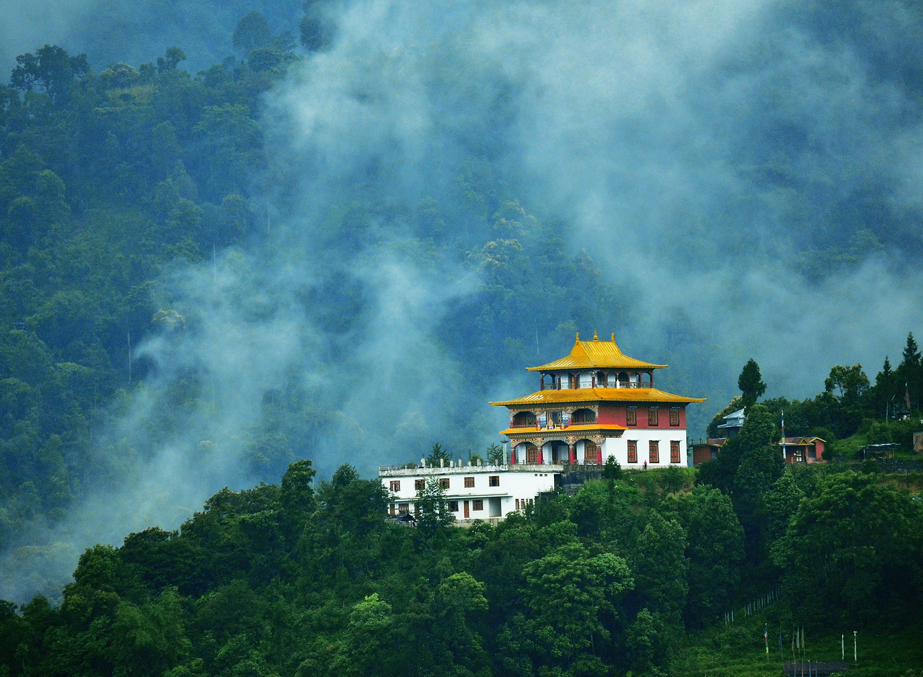 Bring back the child in you by partaking in fun activities at Gangtok
From sightseeing to adventure, there are umpteen activities for visitors to enjoy in Gangtok. The city with its wonderful beauty and majestic views attracts tourists from across the world. Gangtok, the capital city of Sikkim is isolated from the rest of the country and is adorned with pristine rivers, snow-capped mountains and lush greenery. It is a paradise that will sure delight your sight. There is so much to experience, explore and do in Gangtok. Through the years, Gangtok has established itself as one of the most popular tourist destination offering a perfect vacation to all. The city is wrapped with nature's wonders and is characterized by a laid back culture. If you wish to enjoy a wholesome vacation then head to Gangtok.
Suggested Read: Places To Visit in Gangtok, How To Reach Gangtok & Best Time To Visit Gangtok
You might also like: Places To Visit in Bhutan & Things To Do in Bhutan
(View of the famous walking MG Marg street in Gangtok)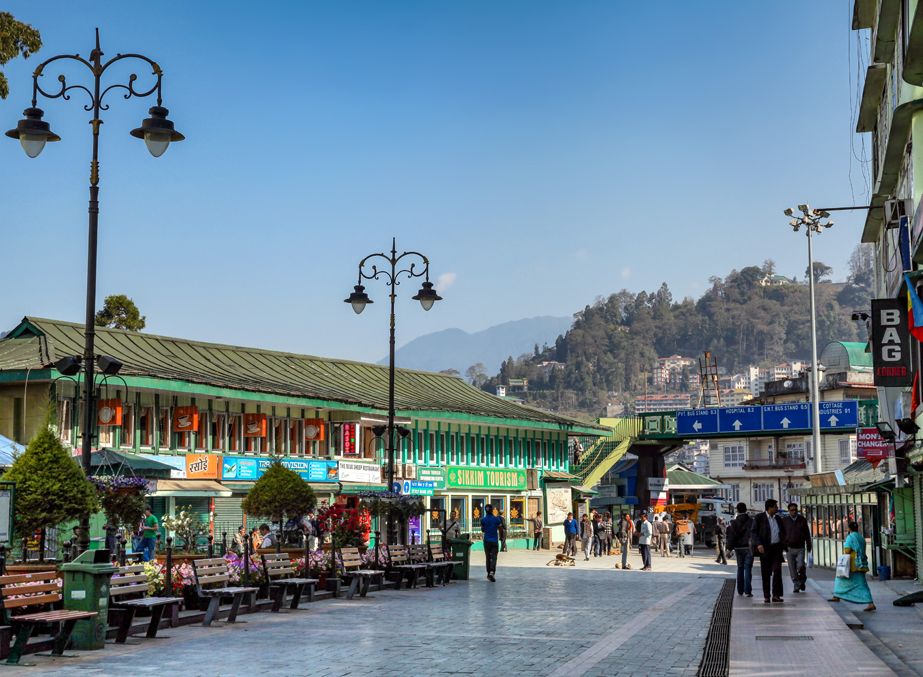 Here are a list of all things to do while in Gangtok.
River Rafting at Teesta River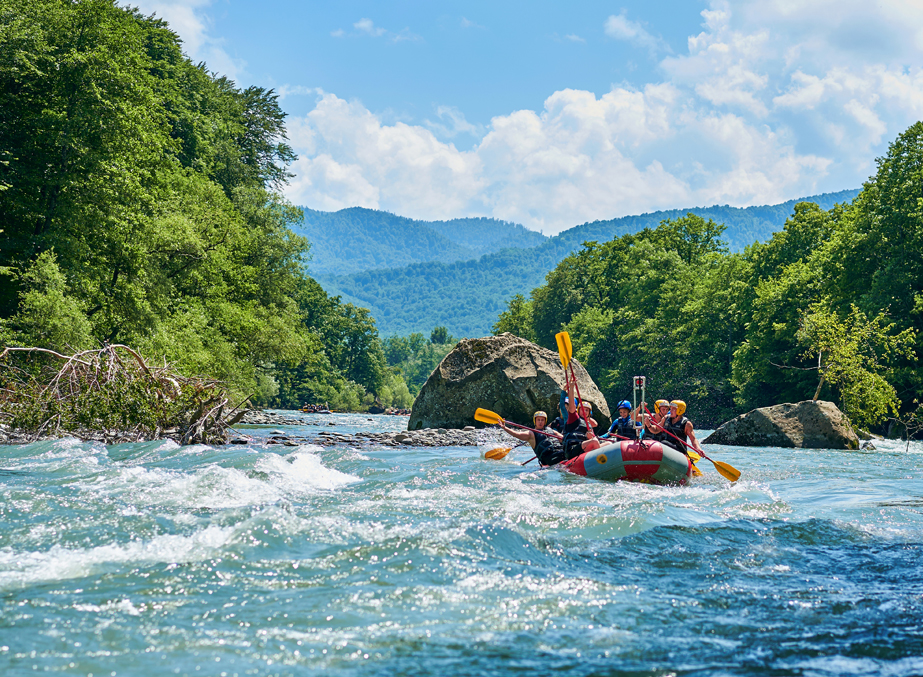 Teesta River is the most vital waterway in Gangtok as well as the whole province of Sikkim. This river has an extended length, and a few zones of it offer the best open door for boating. Teesta is ideal for both experienced and new rafters. The high magnitude flow of water amidst the twists and turns is perfect to enjoy river rafting. During the entire process, the professional coordinators will guide you to ensure utmost safety. You will also be given the necessary gears to wear while rafting here. Besides river rafting, you can also enjoy some peaceful time boating here.
Suggested Read: White Water River Rafting in Sikkim
You can also check our customized Bhutan Tour Packages
Glide through the 'highs' of Gangtok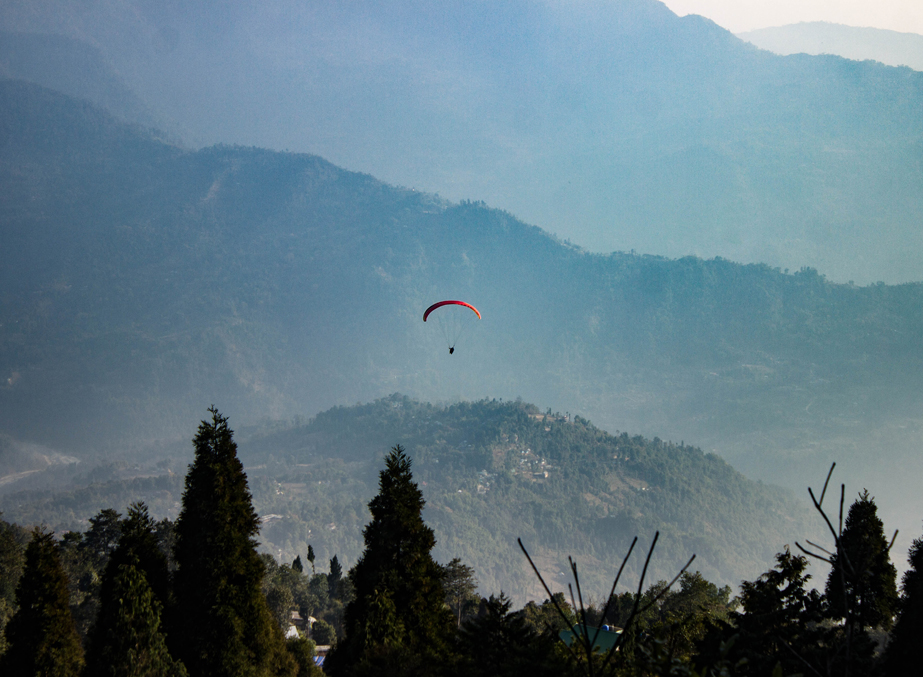 One of the most popular and exciting things to do in Gangtok is unquestionably paragliding. Tourists from across the world come to Gangtok to participate in this activity. While paragliding, you get to enjoy and view the 'scenecity' of majestic Himalayas, streams and dense forests. You can either choose the medium flight where you paraglide at an elevation of 1400 m, or you can take the high flight that takes you up to 2000 m. A paragliding expert will guide you through this to ensure that the ride is completed with safety and without any hassle.
Suggested Read: Adventure Sports in Sikkim
You can also check out the Adventure Activities in Bhutan.
Experience a romantic trek at Goeche La trek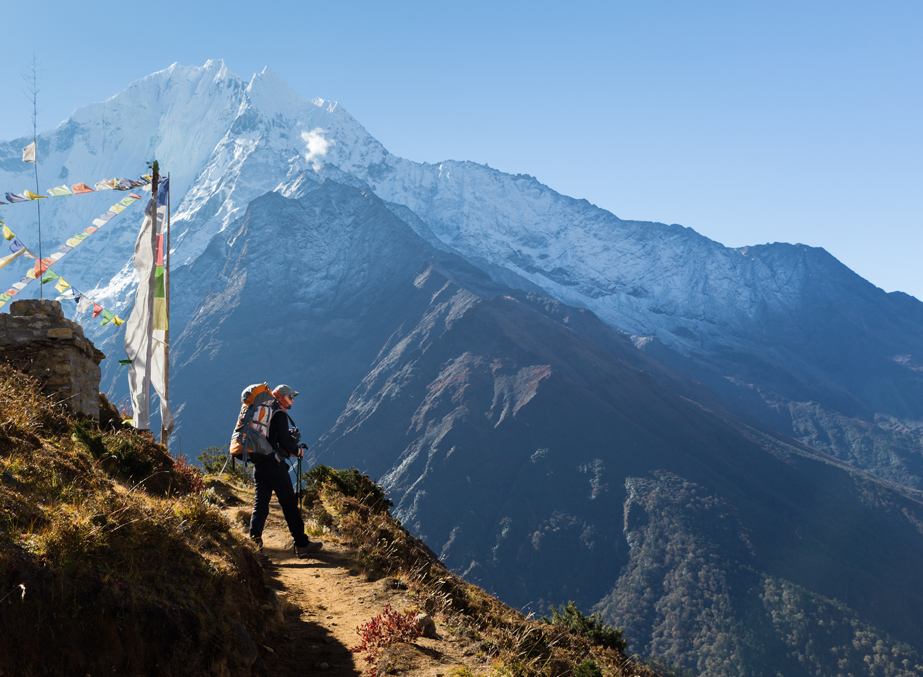 This is among the most romantic treks in the Himalayas where you get to explore and experience the high mountains, valleys and radiant barometrical conditions! As you trek your way, you will witness different villages and communities. You will also be captivated endlessly as you stroll through enchanted forests presented with Rhododendron trees that resonate divine unblemished ness. Be it strolling through the immense Dzongri and Thansing glades or appreciate delightful sights of the Samiti Lake, there is a blossoming feeling of euphoria when you are here. You will walk through mysterious path and be continuously accompanied by the scenic view of Kanchenjunga and other mountain ranges.
Click here to check our Trekking Packages
Cycle and explore the Silk Route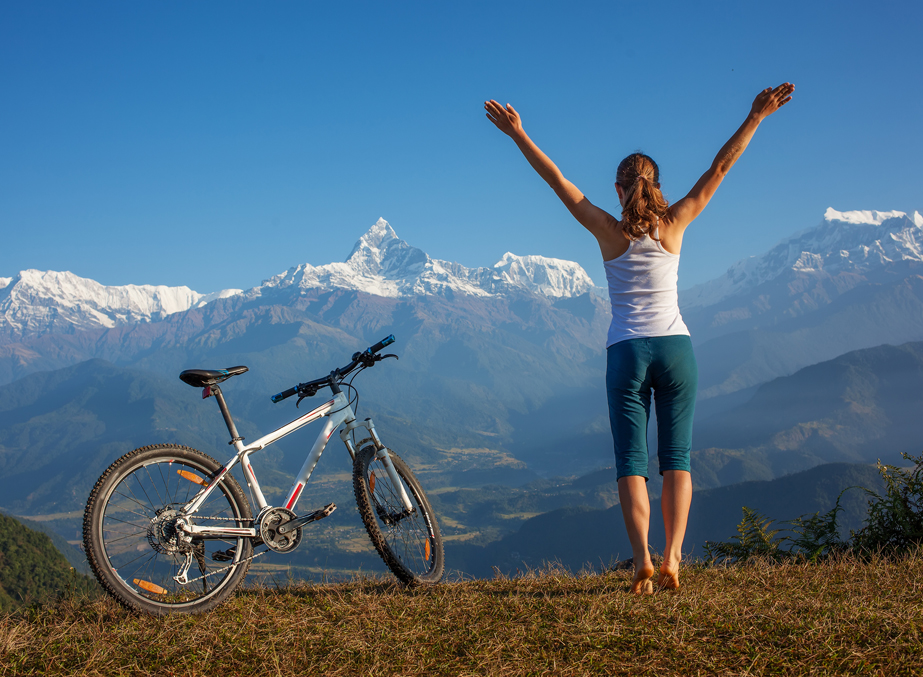 This is without a doubt one of the Activities to do in Gangtok for those that enjoy adventure sports. The Kanchenjunga and the Himalayan mountain ranges will accompany you through the whole excursion making this activity all the more exciting. The Silk Route travel is sorted out by many administrators who will give you the required cycle, cap, and different riggings that you require. They sort out the excursion and all that will be done during this activity. The cycling activity will start at Sillery Gaon. You can reach there via auto from the New Jalpaiguri Railway Station. You will walk through popular and renowned destinations such as Rishikhola, Zuluk, Nathang Valley. A guide will accompany you through this journey and orchestrate all the need and support you with specialized comprehension.
Unwind at Seven Sisters Waterfall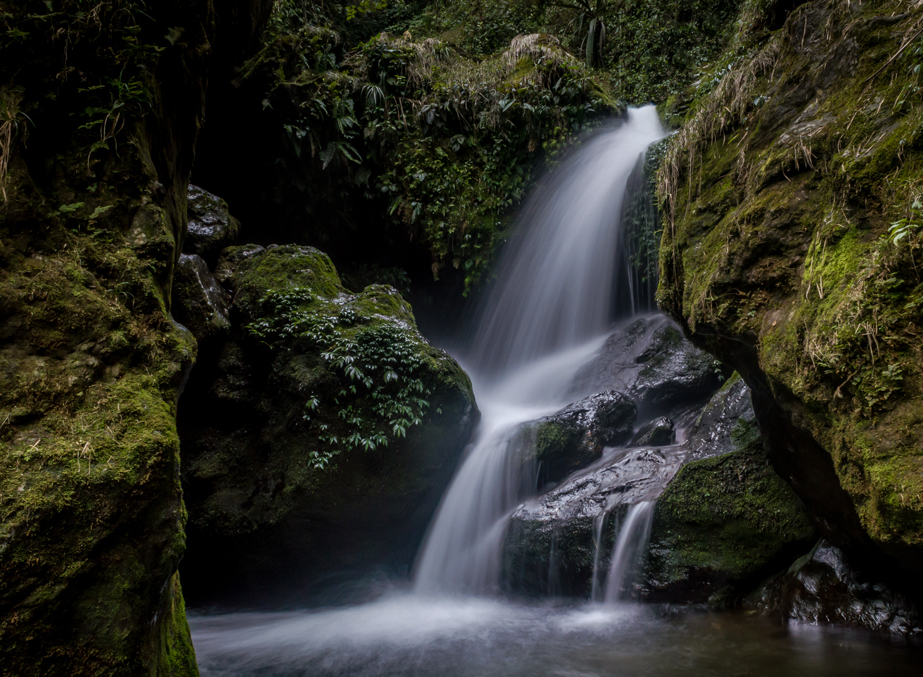 One of the must Things to Do in Gangtok is to visit the beautiful Seven Sisters Waterfall. As the name proposes, there are seven cascades of various sizes that stream one next to the other. The scene is fabulously entrancing. Amid the storms, all the seven cascades wake up and savagely descend from the mountain and make colossal waves underneath. This wonder is one sight that you should not miss on your trek to Gangtok. This has made the place a prevalent goal for sightseers and local people alike, particularly the ones with a camera. It totally is a thing to catch.
The seven cascades surging down through the forests secured mountains make an impeccable congruity and you can invest hours taking a gander at them. The goal is an ideal place to unwind and appreciate the view. As the sun sets down, the long shadows of the mountains and the orange sky above the Seven Sisters Waterfall make them all the more supernatural. You can mastermind a little excursion with your family and companions to spend a peaceful day amid nature here.
You Can Also Check Bakthang Waterfall
Yak Safari at Tsomgo Lake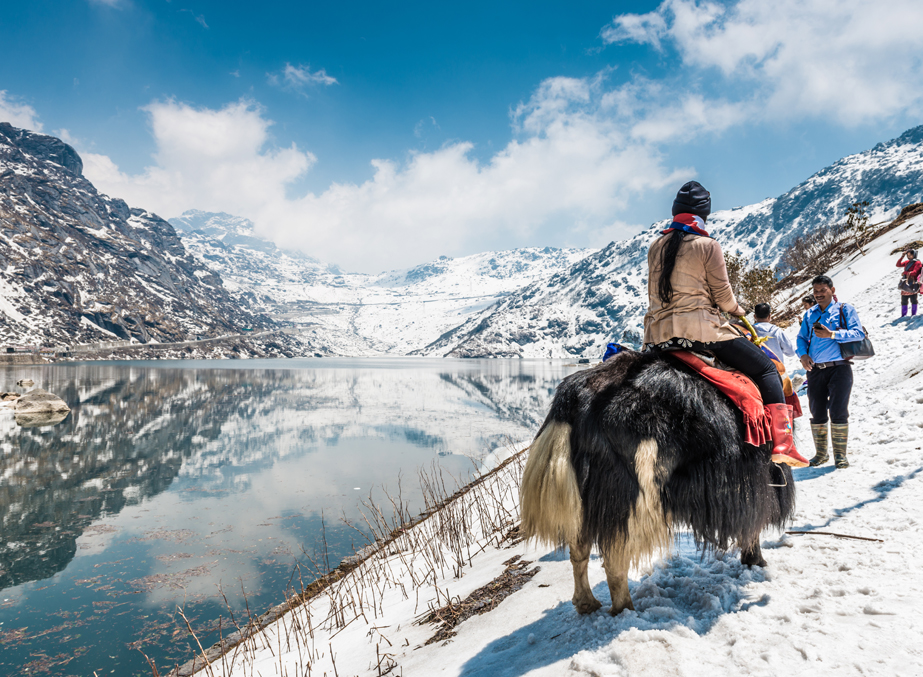 Yak safari is a standout amongst the most peaceful Activities to do in Gangtok. Tsomgo Lake is 40 km drive from the Gangtok town. The region has a market at one side and snow cover mountains on alternate sides. Yak safari without a doubt is an exceptional ordeal that you clearly should not miss. These quiet and delicate creatures are canvassed in long hair to shield them from the cool regions they are found in. The Yaks here are improved with brilliant mats and strips attached to their horns. Each Yak has a mentor who will control the creature when you are riding it.
Encountering the delightful mountains and the lake from the back of a Yak is without a doubt something that you will always remember. You can lease a Yak from the market zone and go on the safari voyage through a lifetime.
Crazy Cable Car Ride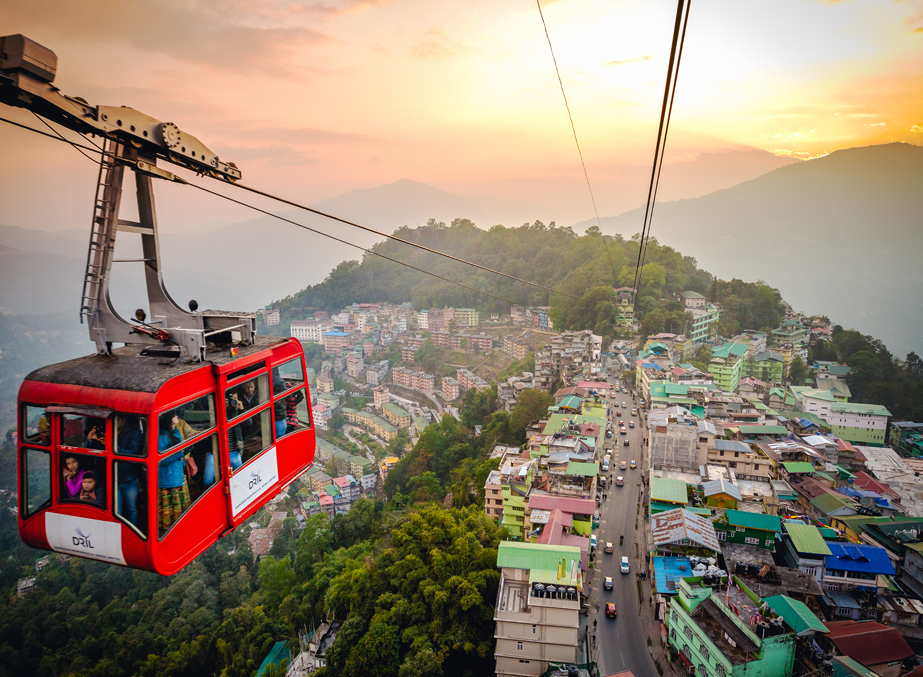 Cable car ride is one of the most popular and fun activities to indulge in while in Gangtok. This twofold link ropeway is the ideal place to see the city from. It offers a superb view of the valleys underneath. During the peak season, these cars are in every case completely reserved and there's dependably a long line holding up to ride it. Ensure that you book this ride well in advance. The whole ride is 1 km long with three stations. You can get down on any of the three stations as well, Deorali, Namnang, and Tashiling.
Mountain Biking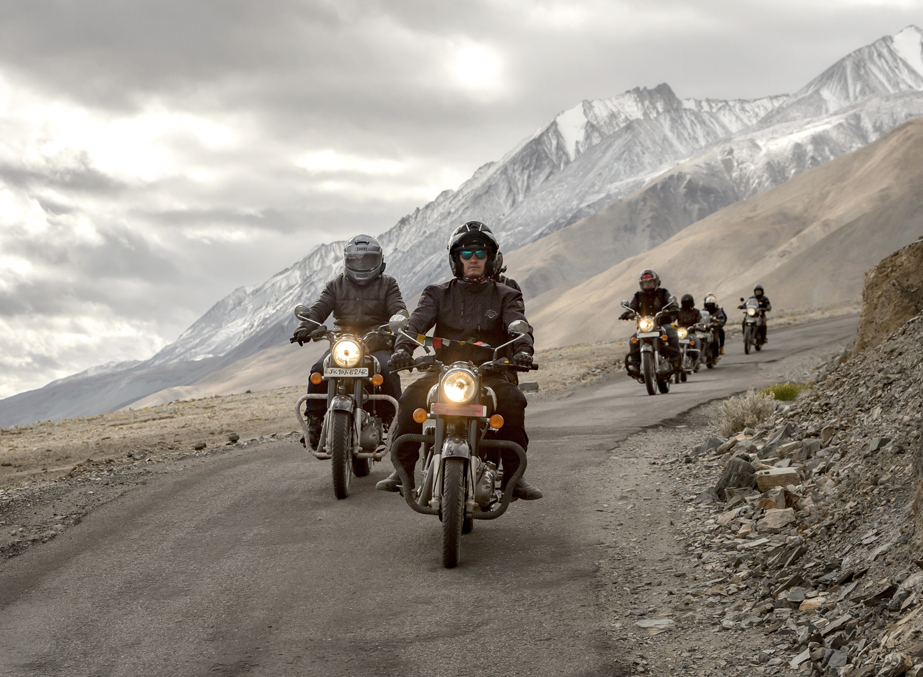 Mountain Biking on a rough terrain with widely inclusive view in the background is a wonderful affair! Gangtok offers the absolute most picturesque biking trails on the planet. On a biking visit in this city, witness the magnificence of the scene, perfection of the verdure, rich green slopes and the curious towns. Experience and grasp the magnificence of Gangtok, make a trip and snap photos and wave at local people whose inspiring grins make your excursion worth!
Ride past cardamom fields and notice the aroma. Get stunning perspectives of the city from the mountain edges. Revive yourself with the completely clear mountain streams. Bicycle unaffected and free-lively through deodar and pine woodlands. Wind up one with nature and let your bottomless energies show itself through this energizing open air action on your Gangtok trip.
Helicopter Ride through Sikkim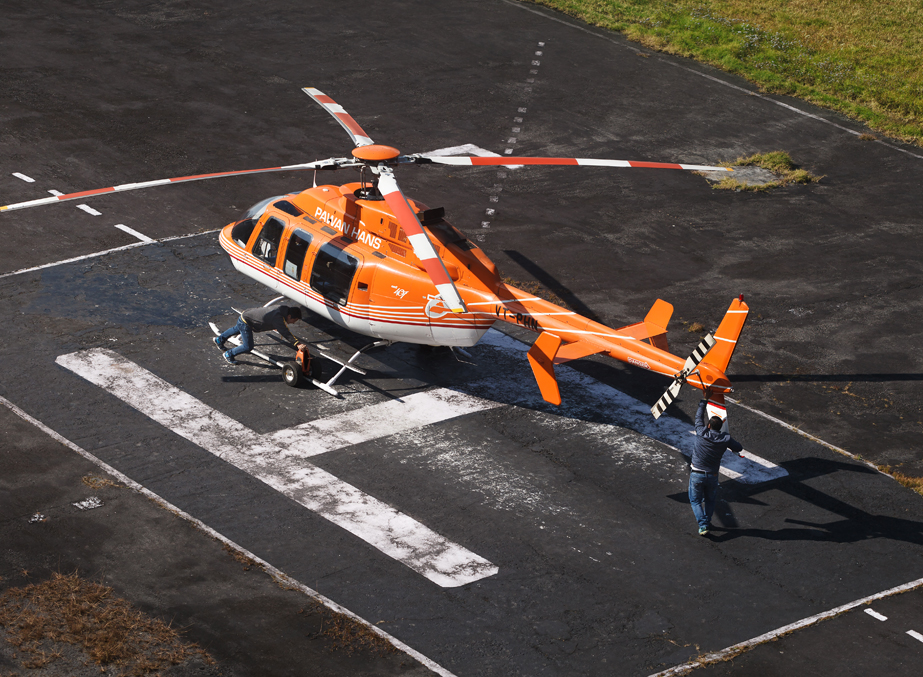 A helicopter ride in Sikkim is a chance to get an aeronautical perspective of the Himalayan ranges and among the best activities in Gangtok. It is an opportunity to devour your eyes on the greatness of this place. Be entranced by the elevated structure mountains, valleys, waterways and woodlands as you see them from high above. See the Gangtok town and get a thorough bird's eye perspective of its scene. You can likewise go on helicopter rides over the religious communities and embrace their other worldliness and commitment.
The best helicopter excursion would be the one over the Valley of Flowers. There could be a few standards relating to photography; according to the Ministry of Defense, photography may not be permitted in a few locales. Notwithstanding, in spite of such limitations, a helicopter ride is an absolute necessity while in Gangtok.
Mesmerizing view at Tashi Viewpoint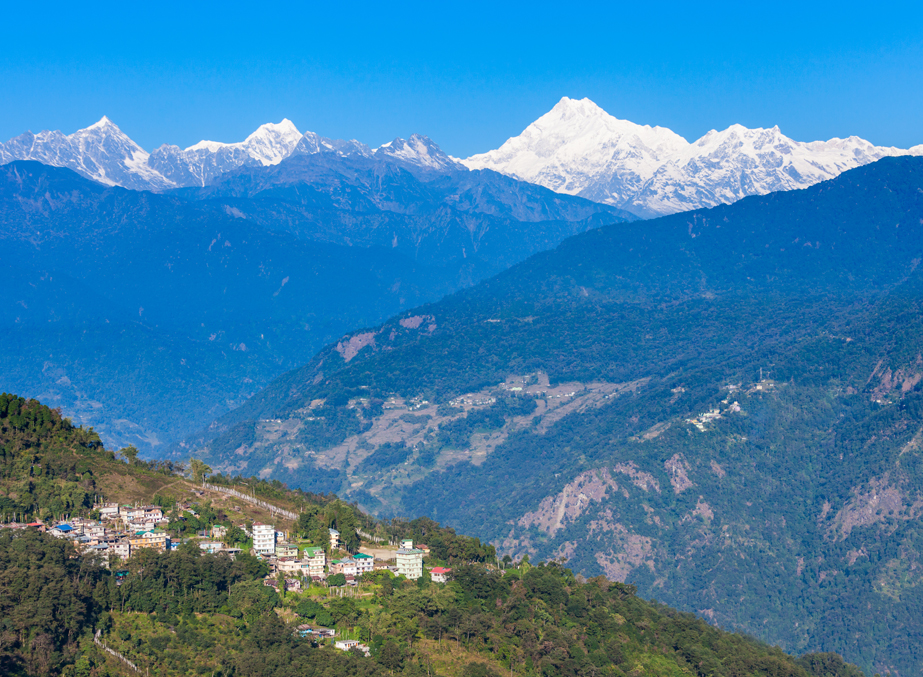 The best view of Kanchenjunga can be experienced from Tashi Viewpoint. It is situated just a couple of miles away from the city. The scenic view from this point is absolutely mesmerizing. You can click some amazing photographs here. Come here to enjoy the early sunrise as it offers the all-encompassing view of the Khanchendzonga and Siniolchu ranges.
Hand Gliding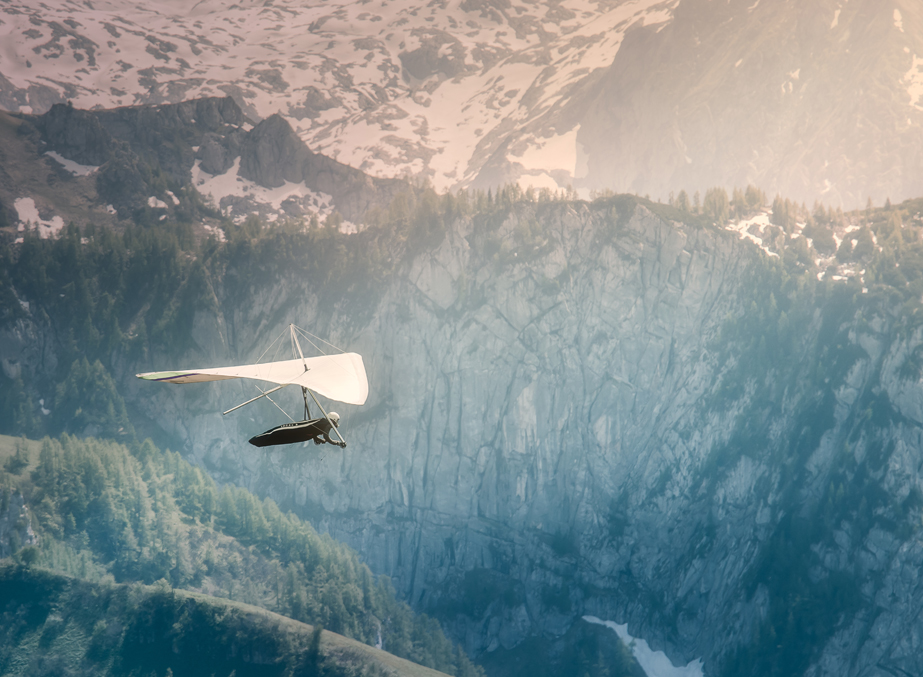 Envision yourself as a feathered creature, coasting over the delightful cold Himalayan Range with beautiful town and valleys beneath. This hand gliding experience sport is one of the most popular activity to indulge in. It's much similar to paragliding, you clutch a bar joined to the wings and hang by it. In any case, you will, obviously, be tied to the highest point of the bar with a belt for security purposes. You can likewise lease a GoPro camera for an additional Rs. 1000 to record your whole flight.
Shopping at Lal Bazaar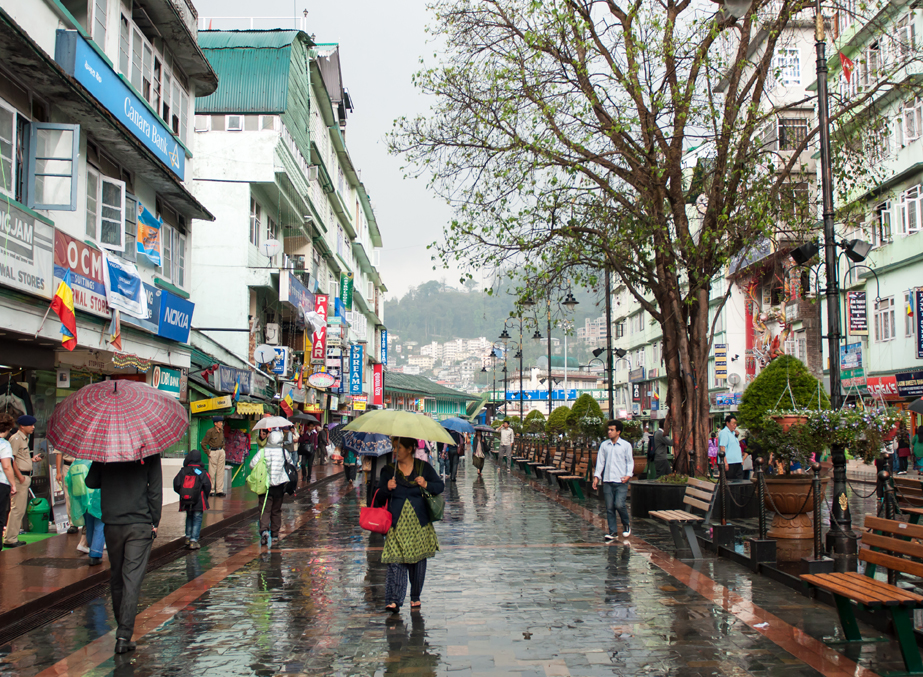 For those that enjoy shopping, Lal Bazaar is one place you should be in! This marketplace is one of the most lighted streets. You can shop for fine handicraft items and indulge in street-side delicacies. You can also get your hands on traditional items here.
Wait no further, experience the beauty of Gangtok through all its activities.
You can also visit our Bhutan Tourism website.

Subscribe to us
Subscribe to our newsletter and stay updated

Request a call back
Our experts would love to create a package just for you!
Sikkim Travel Information at a Glance
Find the authentic information on how to plan a hassle free tour to Sikkim. Travalghar puts together for you relevant details on how to reach Sikkim along with information on different means of transportation and the best time to visit. Also explore the different attractions and destinations in Sikkim with the help of our map, made easy for you to navigate.