Sikkim Weather in December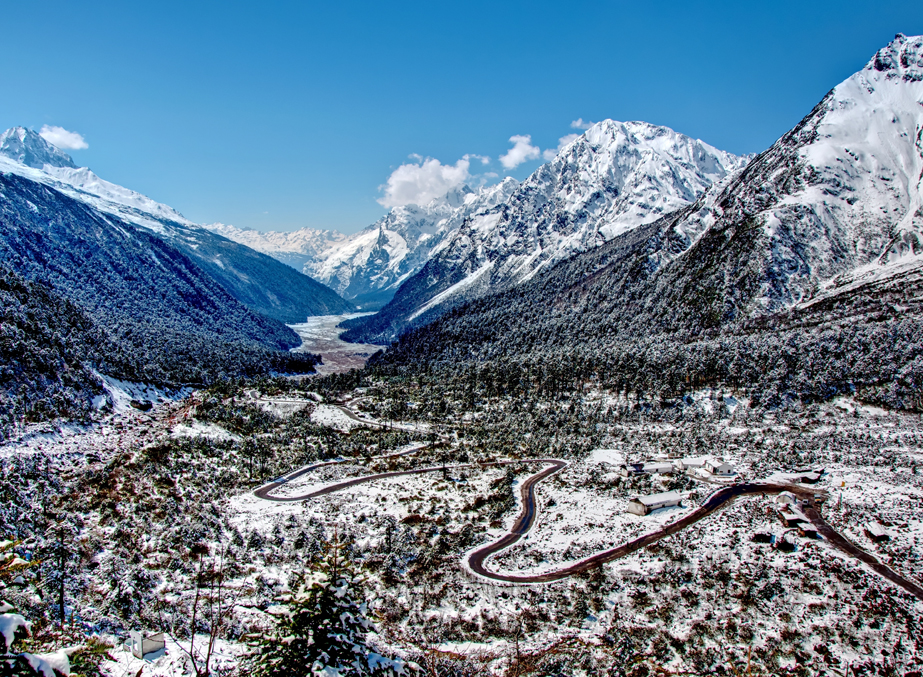 The December transfiguration of Sikkim into the Shangri-La of the north-east is nothing short of magical. A blanket of snow envelops the misty mountains and trees, the lakes are beautifully frozen in place, offering travellers a crystal-like landscape.
The Charming December of East Sikkim
The December temperature in Gangtok(5,840ft) fluctuates between 0°-15° C. The days are sunny while the temperature drops at night. Moreover, Sikkim is not as crowded in December and one can enjoy the sights minus the tourist traffic.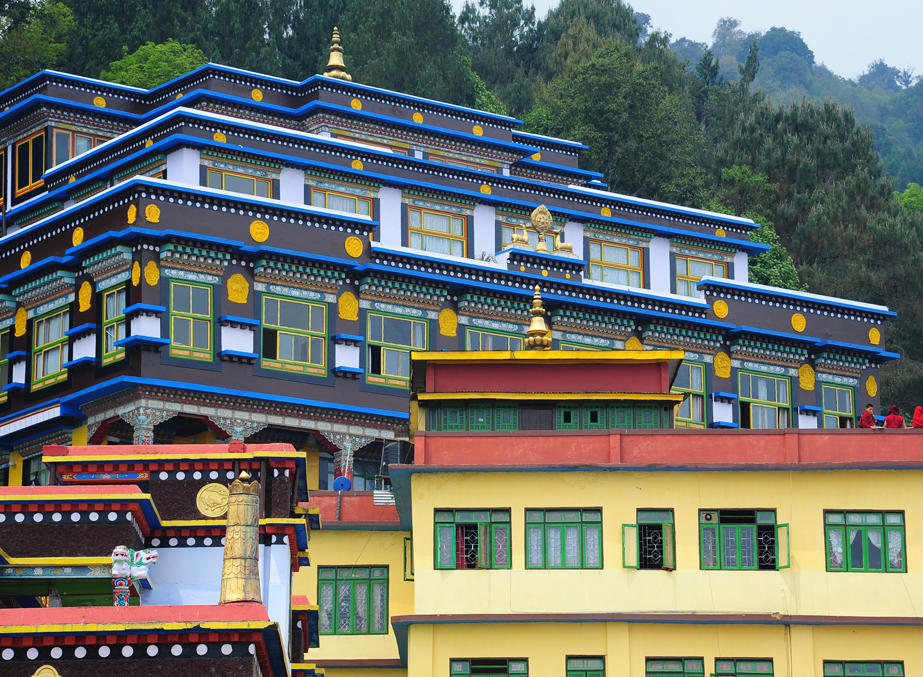 If you're visiting the monasteries of Rumtek, Phodang and Tsuklakhang in early December you will witness the Kagyed Dance Festival- an ancient Buddhist celebration where monks and lamas in all their finery perform masked dances recreating scenes from Buddhist mythology. In mid-December, the Losoong Festival is celebrated at Phodong and Rumtek to mark the end of the harvesting season. Traditional folk dances, ancient religious rituals and regional culinary delights forms the perfect introduction to Sikkimese culture. Both Rumtek and Phodang are no more than 30kms away from Gangtok and they offer wintry panoramas of the town. The palatial monastery of Tsuklakhang is 3kms from SNT Bus Stand, Gangtok. If you're spending the last month of the year in Gangtok, these three destinations should be at the top of your list.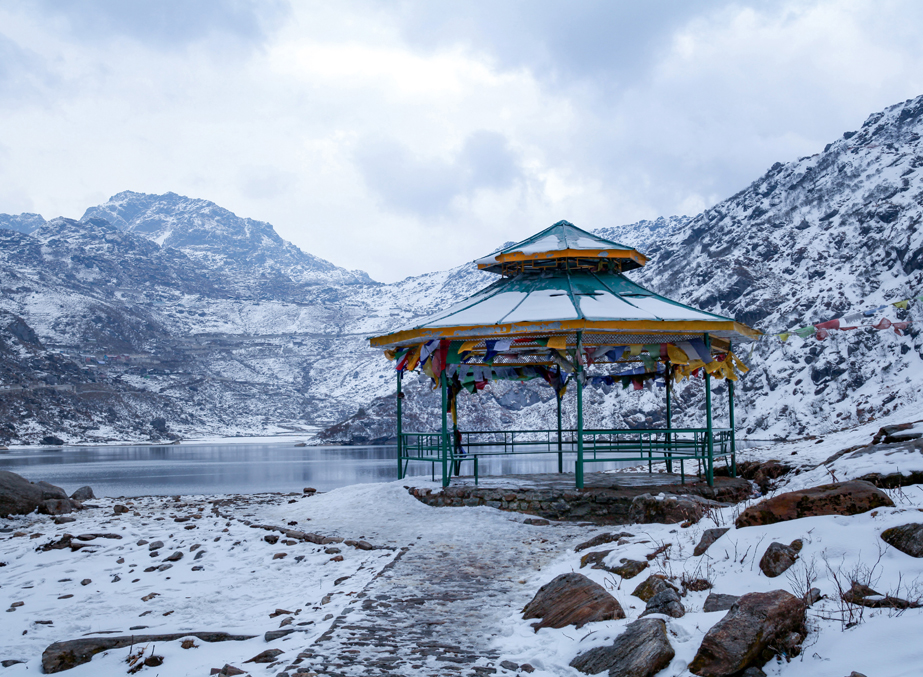 If you're lucky, a trip to Nathu La might just be possible in December. Situated at an altitude of 14,140ft, and 57kms from Gangtok, this mountain pass was part of the ancient Silk Route that connects India with Tibet. Keep a day aside for this trip, since you will also get to witness Tsomgo/Changu Lake(12,310ft) and Baba Mandir(13,123ft). The former is a glacial lake, 40kms from Gangtok, on the way to Nathu La. Be ready to experience snow-capped mountains, a partially frozen waterbody and yak safaris. Beyond Tsomgo is the famous Baba Mandir that offers sprawling panoramas of eastern Sikkim mountains. This shrine is dedicated to Harbhajan Singh, a former Indian solider, who is said to protect the army from physical harm. The temperature in and around Nathu La varies between 3°C to -5°C in December. Don't forget to carry a thick jacket and if it's snowing, your guide will suggest snow boots that can be rented.
The "Shangri-La" That Is North Sikkim
A number of first-time travellers think twice about visiting north Sikkim in December because of heavy snowfall. However, the days will give you clear skies, heavenly viewing points, and the temperature fluctuates between sub-zero to 13°C.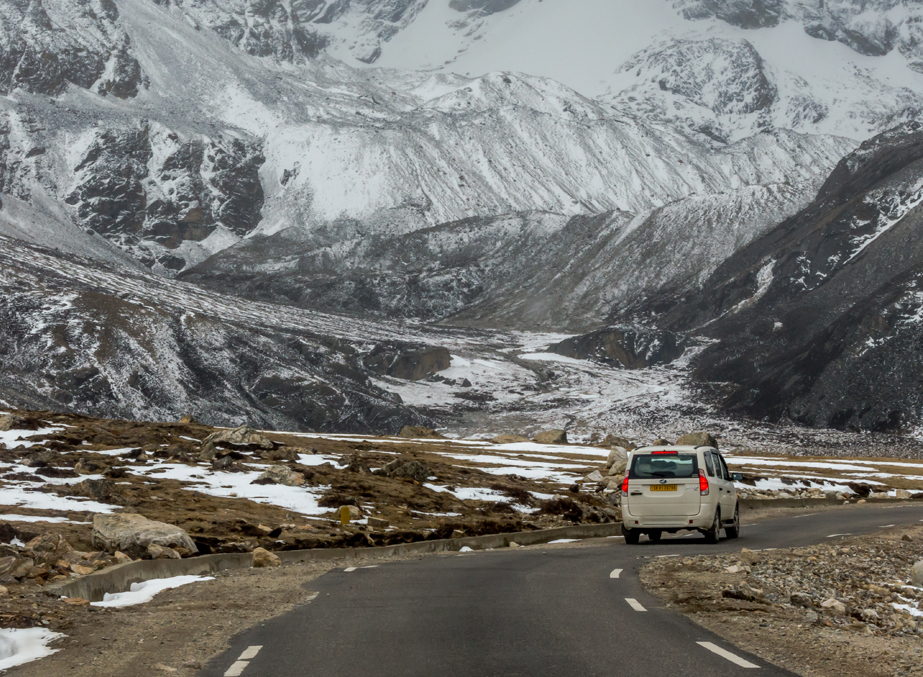 The town of Lachen in North Sikkim is around 109kms from Gangtok. From here, a drive to Gurudongmar Lake will take you past beautiful glacial deposits. One of the highest lakes in India is partially frozen in December and the resulting blue-and-white landscape will make you fall in love with wintery Sikkim. Make sure your Gurudongmar trip takes place in the first week of December as winter conditions put an end to travel to this picturesque location after that. If you're staying in Lachen, make sure you visit the Lachen Gompa, 4kms from the market area. Lachen (8800ft) with its brightly coloured huts and frozen streams is transformed into a magical town. Naturally whitewashed in December, Lachen is hard not to fall in love with. Yaks roam the countryside, locals go about their daily lives under the cover of snow and it's the perfect location to get a real feel of Sikkim in December.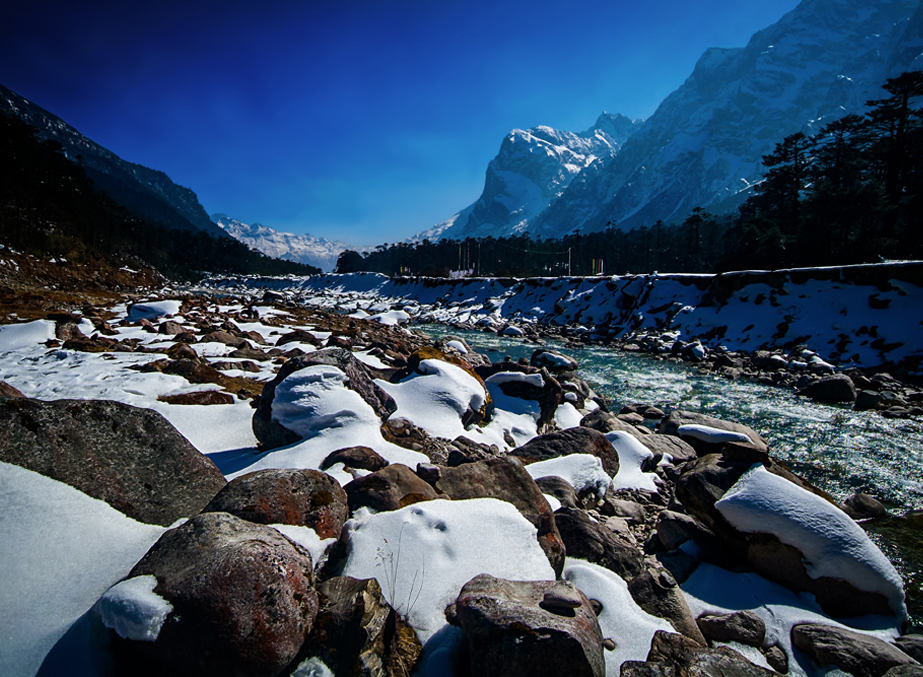 While in the north, make it a point to visit Lachung, the mountain town near the India-Tibet border. At nearly 9,000ft, this hill station's temperature varies between -5°C to 14°C, in December. Lachung is the base for those chasing snowfall at Zero Point via Yumthang Valley. At 14,600ft, it's not surprising that both these picturesque locations have been compared to Switzerland. Don't miss out on a December sunrise that bathes the snow-capped peaks in a heavenly glow. The ancient statues and wall murals of Lachung Monastery will keep you spellbound and if you're visiting towards the beginning of December, you will witness masked dances performed by the monks as part of a religious festival.
The Postcard Winter of West Sikkim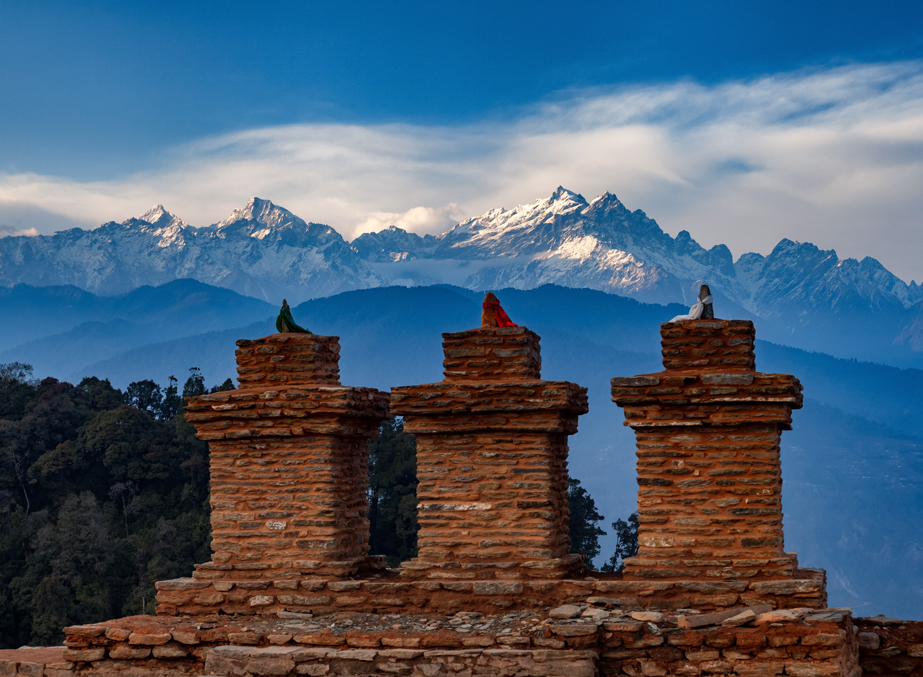 West Sikkim is well connected to Gangtok and the town of Pelling(7,200ft) should be the base for your exploration. The alpine vegetation of this town is completely covered with snow in December and it shouldn't take you more than 5 hours to get here from the capital. Be prepared for temperatures that fluctuate between 5°C to 17°C. Besides hosting the Kanchenjunga Winter Tourism Festival(25th December onwards), Pelling is around 40 minutes away from Pemayangtse Monastery, one of the oldest and most important Buddhist gompas in Sikkim. The immensely religious Khecheopalri Lake is simply 32kms from Pelling. At 9kms from Pelling, take in the historical ruins at Rabdentse, the ancient capital of the kingdom of Sikkim.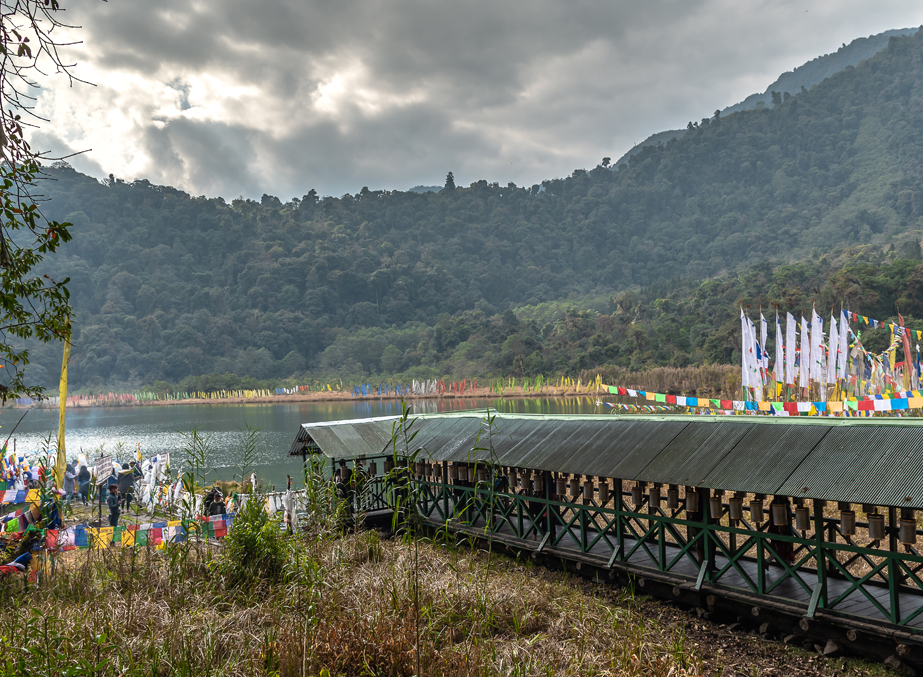 If you're an adrenaline junkie, sign up for an early December trek that starts from Yuksom to Goechla. Along the way you will witness breath-taking views of the Kanchenjunga, Kabru, Pandim and other peaks. Yuksom, at nearly 6000ft, is a two-hour journey from Pelling and is known as the 'gateway to the Kanchenjunga'.
Southern Sikkim's Charming Snow-covered Mountains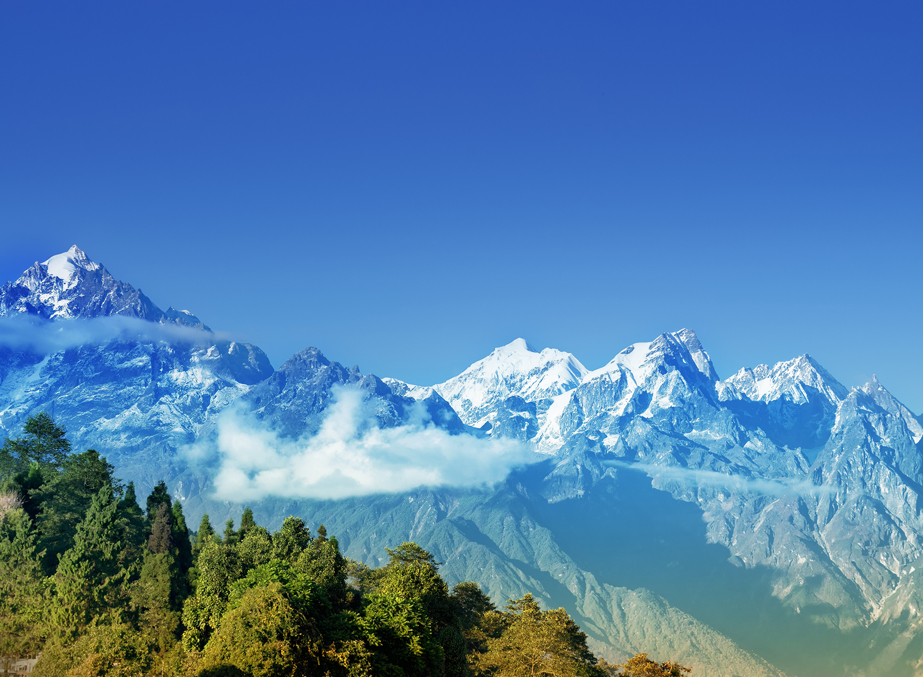 The flat lands of southern Sikkim district make for easy accessibility in December. Namchi is the capital of south Sikkim district. 5kms from Namchi is the Samdruptse Hill, at 7000ft, it houses the 138ft tall statue of Padmasambhava- a sight to behold on a pristine, December day. The temperature fluctuates between 8°-15°C.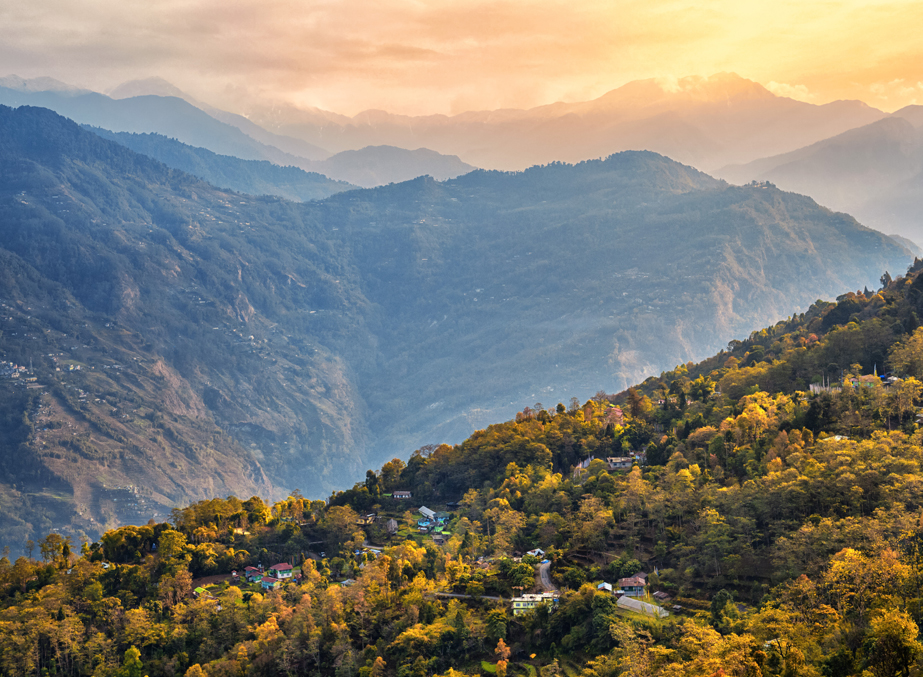 A number of travellers land up at Ravangla(7,000ft). This south Sikkim tourist town is 69kms from Gangtok and offers a brilliant snow-covered mountain-scape. Visit the charming village of Borong in Ravangla for its hot springs; Maenam Hill, at an altitude of 10,300ft, makes for the perfect trek to view the majestic Kanchenjunga, Pandim, Kabru and Siniolchu. The higher regions of Ravangla experience snowfall and your December trip could turn out better than expected. If you're interested in Buddhist art and artefacts, the Ralang Monastery is situated 8-10kms from Ravangla. In December, the monks take part in traditional, lively chaam and Mahakala dances.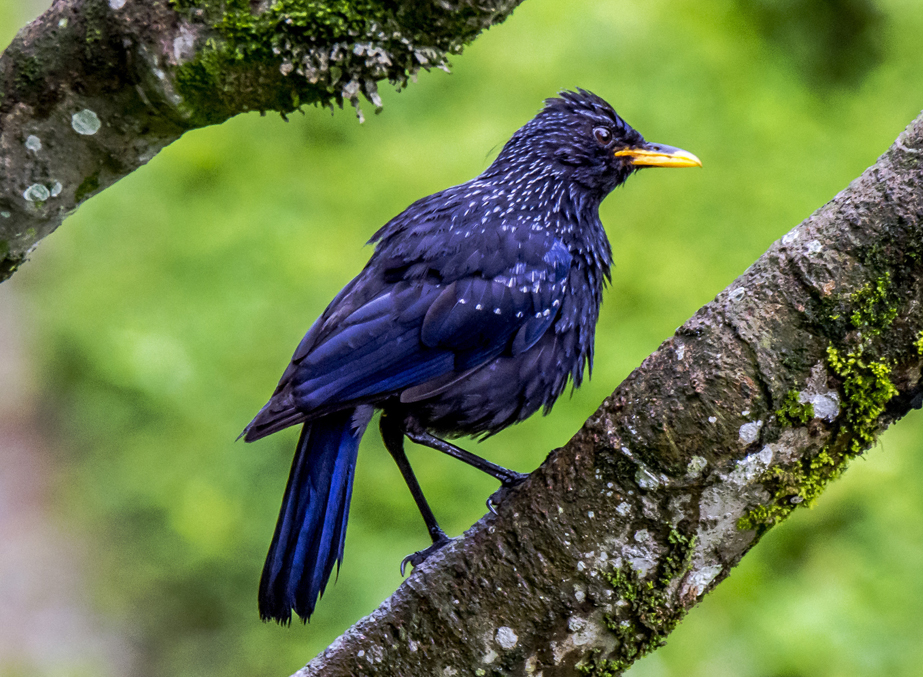 Don't skip on a long hike in Maenam Wildlife Sanctuary, less than 30kms from Ravangla. At 10,600ft, your hike begins in the alpine forests of Ravangla. On a clear December day, one can view Mount Kanchenjunga on the way; keep an eye out for blood pheasant, barking deer, leopard-cats and a variety of fauna. Maenam Wildlife Sanctuary is the natural home to a number of medicinal plants and herbs. At the topmost ridge of the sanctuary sits the Maenam Monastery and a Shiva temple. If you're exploring the eastern side of the sanctuary, the partially-frozen streams join the Teesta River.
It goes without saying, one should carry enough woollens to stay warm. Make sure you carry a quilted sleeping bag to get through the night, even though the hotels provide guests with enough blankets.
Most tourists stay away from the north-east in winter. If the cold doesn't terrify you and if you're up for a snowy adventure, December is one of the best months to explore Sikkim.

Subscribe to us
Subscribe to our newsletter and stay updated

Request a call back
Our experts would love to create a package just for you!
Sikkim Travel Information at a Glance
Find the authentic information on how to plan a hassle free tour to Sikkim. Travalghar puts together for you relevant details on how to reach Sikkim along with information on different means of transportation and the best time to visit. Also explore the different attractions and destinations in Sikkim with the help of our map, made easy for you to navigate.