How To Reach Gangtok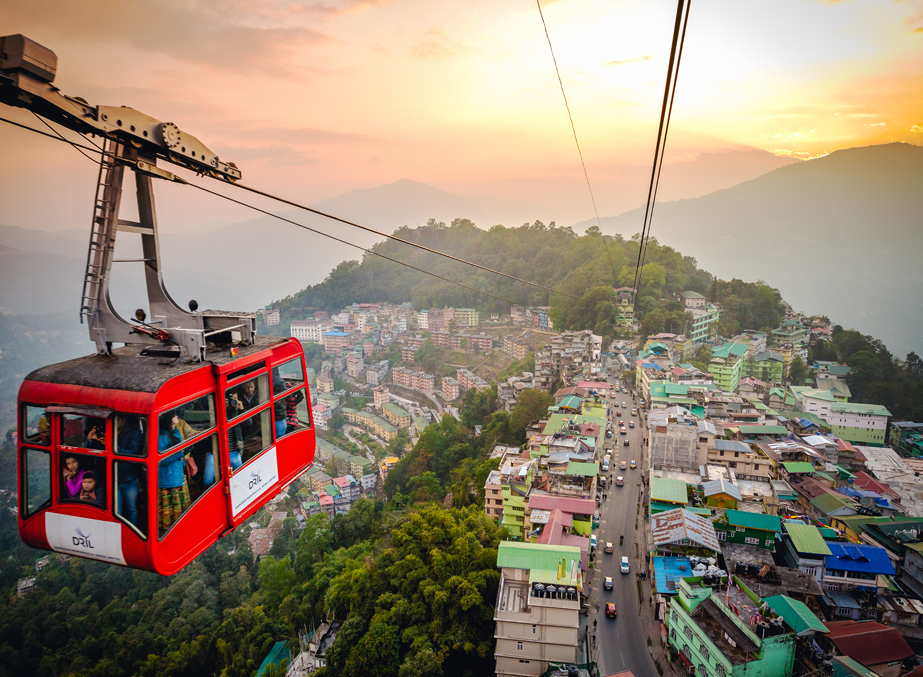 Gangtok- The City With Surprizes
Gangtok is a mesmerizing destination in northeast India where tourists come from across the globe. Located at an altitude of 5,500 feet, it is the capital city of the state of Sikkim. This city is set against the backdrop of the majestic Himalayas offering great views.
Gangtok is also a gateway to several wonderful treks and mountain passes. It is home to fabulous attractions like Rumtek Monastery, the largest monastery in Sikkim. The city is visited for its various tourist attractions like Buddhist shrines, adventure, rich flora and fauna, a wide variety of butterflies and scenic beauty. Other must-see attractions of Gangtok are the wonderful varieties of orchids in the Orchid Sanctuary, the scenic Tashi Ling that offers breath-taking views of the Kanchenjunga range, the third highest mountains in the world and The Namgyal Institute of Research which displays a huge collection of scriptures on Buddhist culture.
Suggested Read: Places To Visit in Gangtok, Things To Do in Gangtok & Best Time To Visit Gangtok
Reach Gangtok By Air
Gangtok is well connected by air to some of the major cities of India. The nearest airport is Bagdogra Airport in West Bengal which is around 124 kilometers from Gangtok. It is around 4-5 hours drive from this airport to Gangtok and is quite scenic with mountains and river as the backdrop. You can rent a cab from the airport.
If you are ready to spend more and would like to have some adventure, then book a seat in TSA helicopter to reach Gangtok in 20 minutes. However, the helicopter service availability depends on the weather conditions. Sometimes the flight gets cancelled due to insufficient booking.
The good news is that Sikkim has now got its own airport- Pakyong Airport, which will directly connect it with the major cities of India once it is fully operational. At present only few aircrafts operate from here. The airport is located in Pakyong village which is around 35 km from south of Gangtok. It is the first airport of Sikkim located at an altitude of 4,590 ft and is one of the highest altitude airports in India. Once it is operational you can easily reach Gangtok in less time. It will cut down the traveling time by five hours.
Reach Gangtok By Train
The nearest railway station to Gangtok is the New Jalpaiguri in Siliguri, West Bengal. It is around 148 kilometers from Gangtok. The railway station is well connected with the major cities like Kolkatta and New Delhi. From New Jalpaiguri, you can easily get a taxi or cab (take around 4-5 hours) for Gangtok. State-run buses are also available but they take longer (around 6-7 hours).
Reach Gangtok By Road
Gangtok is well connected with the other cities and places by road. The roads are in good shape except for some areas. Tourists from Kolkata, Kalimpong, Siliguri, and Darjeeling prefer driving to Gangtok. One can hire a private jeep, buses, and taxis from Siliguri and Bagdogra. A number of state-run buses also connect Gangtok and Siliguri in West Bengal.
KINDLY NOTE: Although taxis are easily available from the airport, railway station and other places and they run daily but it is advisable to contact your travel agent to book a taxi for you in advance to make your journey hassle-free. During peak season when tourists come here in great numbers, you might not get a taxi easily if you don't book it in advance. So whether you are traveling to Gangtok by air, rail or road or from Gangtok to other destinations, ask you travel agent to book a taxi for you prior to your arrival in Sikkim.

Subscribe to us
Subscribe to our newsletter and stay updated

Request a call back
Our experts would love to create a package just for you!
Sikkim Travel Information at a Glance
Find the authentic information on how to plan a hassle free tour to Sikkim. Travalghar puts together for you relevant details on how to reach Sikkim along with information on different means of transportation and the best time to visit. Also explore the different attractions and destinations in Sikkim with the help of our map, made easy for you to navigate.