Sikkim Weather in February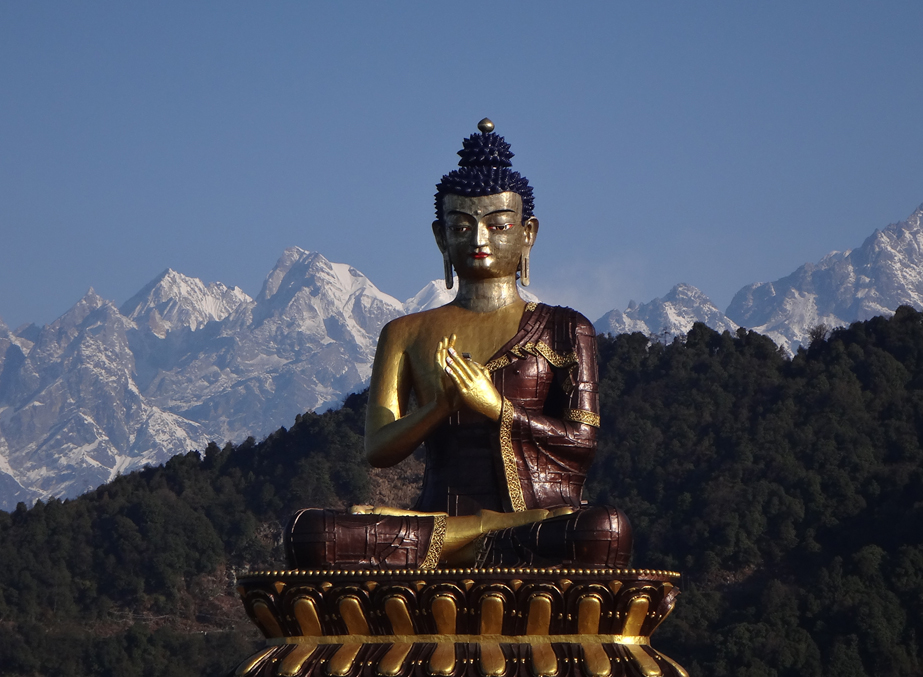 As Sikkim enters the shortest month of the year, the cold refuses to release its stronghold on this beautiful state. However, Sikkim is far from unwelcoming. There's a nip in the air, the days are perfectly clear for sightseeing, and the nights are cold yet bearable. February is the perfect time to visit because it is right before the main tourist season, and you can explore the major sites without having to deal with the crowds of March.
East Sikkim's Icy Attractions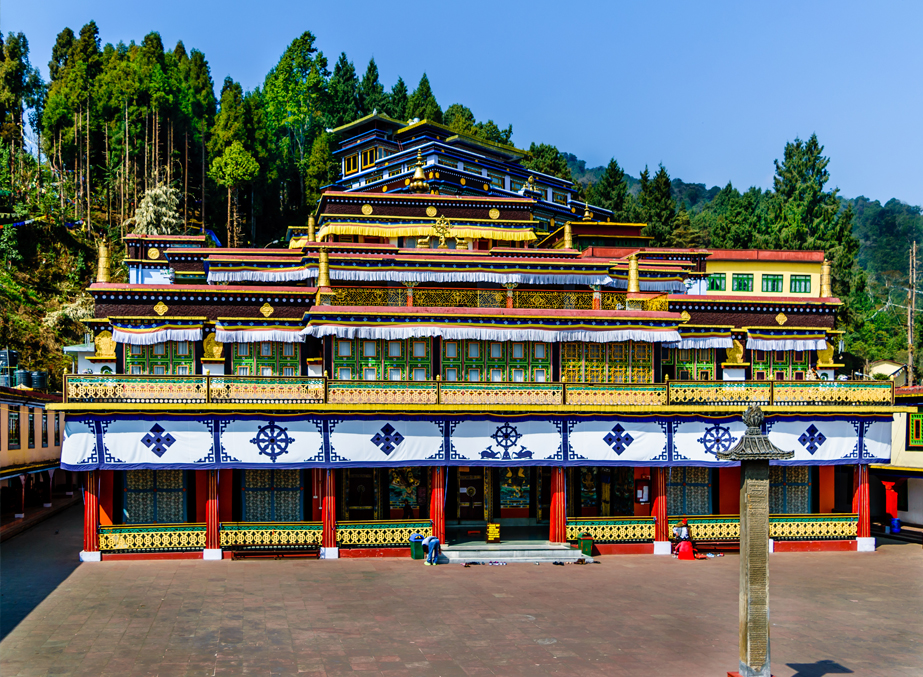 Gangtok, Sikkim's capital, is situated at an altitude of 5,840ft, and is coldest late at night and early in the morning. In February, the temperature varies between 5-14°C. An early morning stroll is a must as the sunshine casts a warm glow all across this bustling city. Start early if you want to explore the sights in Gangtok, and around east Sikkim.
Leave the blaring traffic behind and explore the serenity of the Tsuklakhang Royal Monastery, a short distance from the Flower Exhibition Centre in Gangtok. The inner sanctum of this former royal gompa is lined with Tibetan Buddhist deities and you are introduced to a religion that shaped the very nature of this mountain state. From Tsuklakhang, hire a vehicle to the Rumtek and Phodang gompas. Sitting pretty on a hill, 23 kms from Gangtok, at 5,500ft, Rumtek first came into being in the mid-1700s. It's re-emergence as an important centre of Karma Kagyu Buddhism makes it a vital monastery for those interested in religious teachings and architecture. If you're here during a clear February day, you can view the city of Gangtok from the gompa grounds. The rare frescoed paintings and wall murals of Phodang make it a must-visit gompa. This 18th century monastery was constructed by the 4th king of Sikkim and is 40kms from Gangtok.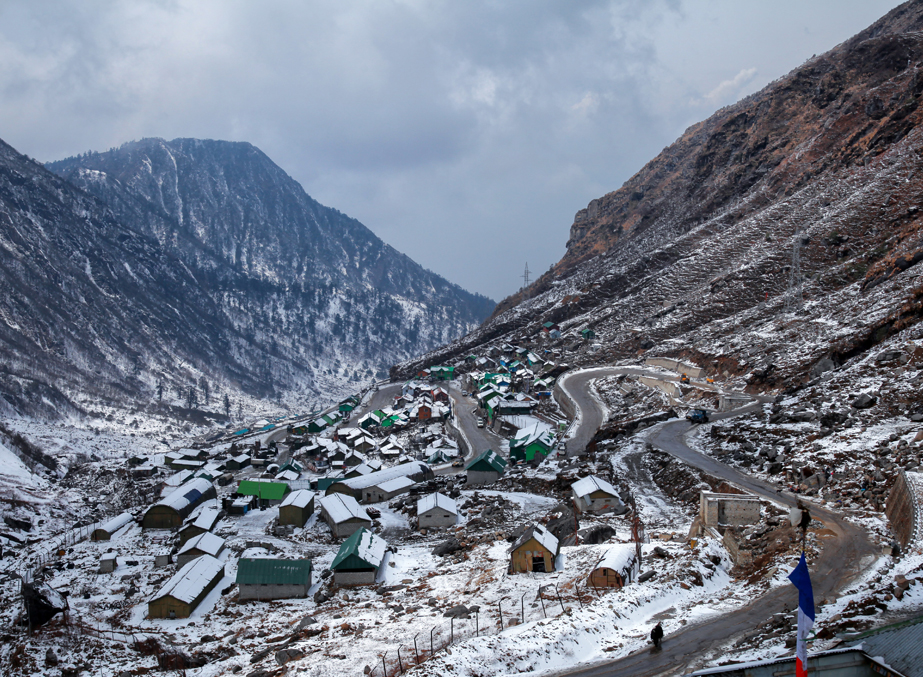 A January visit to the famous Nathu La Pass is near impossible because of heavy snowfall. However, since the winter is waning in February your chances are slightly better of making the trip. Nathu La was part of the ancient Silk Route and at 14,140ft, is historically significant. Besides that, February snowfall adds an enchanting touch and if you're lucky enough to gain access, you won't be disappointed. Nathu La Pass is 56kms from Gangtok by jeep.
Tsomgo or Changu Lake is a geographical wonder. Even though it is situated at over 12,000ft, 17kms from Nathu La, the waterbody is never completely frozen over all through the year. In February, sheets of crystal ice cover the oval-shaped, glacial lake with patches of blue. The snow-covered mountains transform Tsomgo Lake into a magical world and you'll find it hard to tear yourself away from such a picturesque location.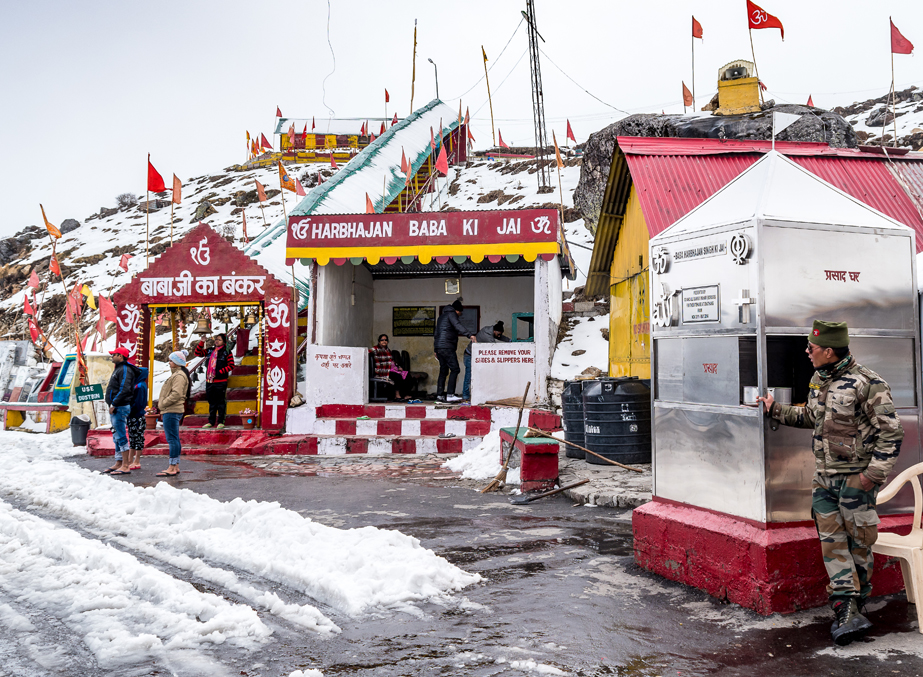 15kms ahead of Tsomgo Lake, over winding roads that pass glistening alpine vegetation, is the famous Baba Mandir. Constructed in memory of Harbhajan Singh, an Indian solider who perished in battle, and whose spirit is said to protect the army personnel from the dangers of having to serve in a naturally precarious location. Baba Mandir sits at 13,000ft, making this the perfect location for unparalleled views of the mountain-scape.
The three main attractions of east Sikkim are situated at high altitudes. Heavy snowfall in February could put a stop to your plans, but if the roads are cleared, make sure you carry a heavy jacket to keep the cold at bay. For those interested in viewing a frozen waterbody, Kupup Lake is situated right before Baba Mandir. The contours of the lake are shaped like an elephant and this is one attraction you won't find on most bucket lists.
The Chilly Delights of Northern Sikkim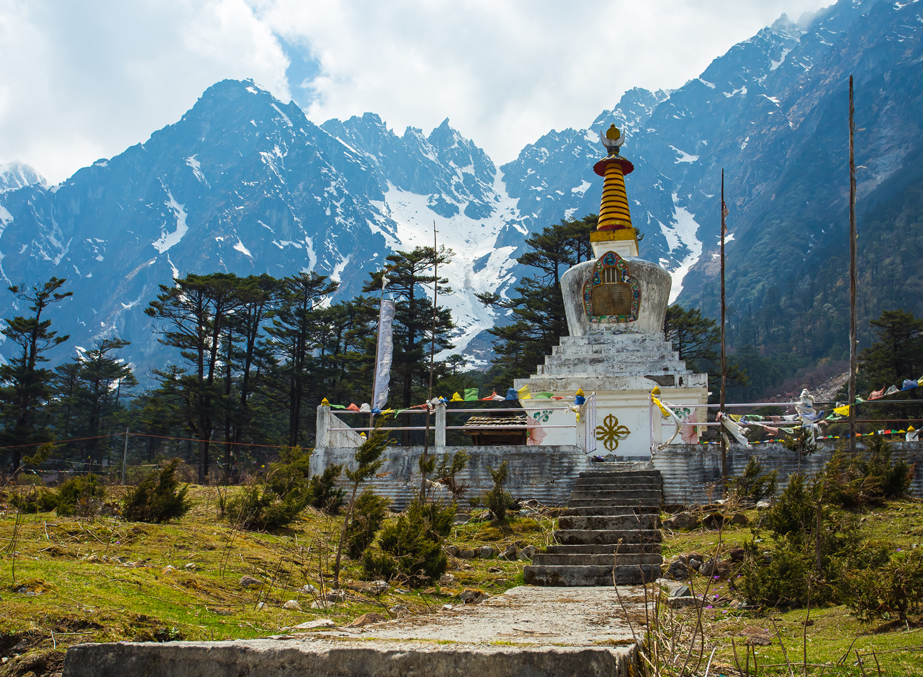 A traveller will experience sub-zero temperatures in north Sikkim during the month of February. This shouldn't put a damper on your travel plans because northern Sikkim is home to exquisite landscapes that come alive in the February winter.
The north Sikkim town of Lachen looks straight out of a fairy-tale in February. The temperature averages between -8°C to 10°C and the rooftops of this quaint town are covered in snow as are the streams. If you're a traveller who likes to experience the local life, Lachen is where you should land up. Gurudongmar Lake might be off-limits because of heavy snowfall but you can always explore Lachen Monastery. It's not too far from town and this Buddhist temple is calm just like the peaks that surround it. Lachen is perched at 8,800ft and is around 5 hours from Gangtok.
If you're an adventurous traveller, a February trip to the northern hill-station of Lachung should be on the cards. A 47km drive from Lachen, this town sits at 9,000ft and is the ideal getaway for winter tourists. In February, the temperature moves between -4 to 12°C. A four hour drive from Gangtok, don't miss out on the Lachung Monastery, a small yet serene temple where you can meditate peacefully as the cold rages outside. Lachung was called 'the most picturesque village of Sikkim' by a British explorer, and it still retains its natural charm, thanks to the two tributaries of the Teesta River that meet here, and the surrounding flora.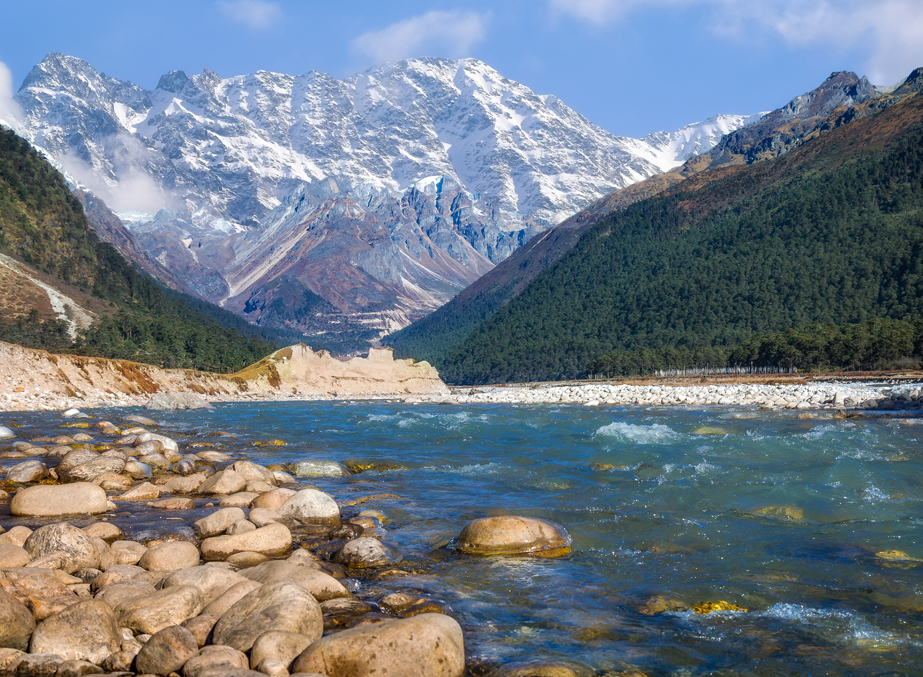 Yumthang Valley, also in the north, is 25kms from Lachung, and the River Teesta flows through this valley offering breath-taking views for the daring traveller. If you're in Sikkim during February, make sure you plan your Yumthang trip in the morning or afternoon to get the best views. The sloping hills of the valley are blanketed in snow and the gigantic peaks are slightly hidden by the clouds. Snowfall is to be expected in this region and as you make your way to Zero Point be prepared to play in the snow. Situated 25kms from Yumthang, and at 15,000ft, Zero Point is naturally majestic as this is where three rivers meet and the mountain peaks loom in the background. Zero Point is almost always snow-covered and if you're here in February, be prepared for snowfall fun.
Pleasingly Parky West Sikkim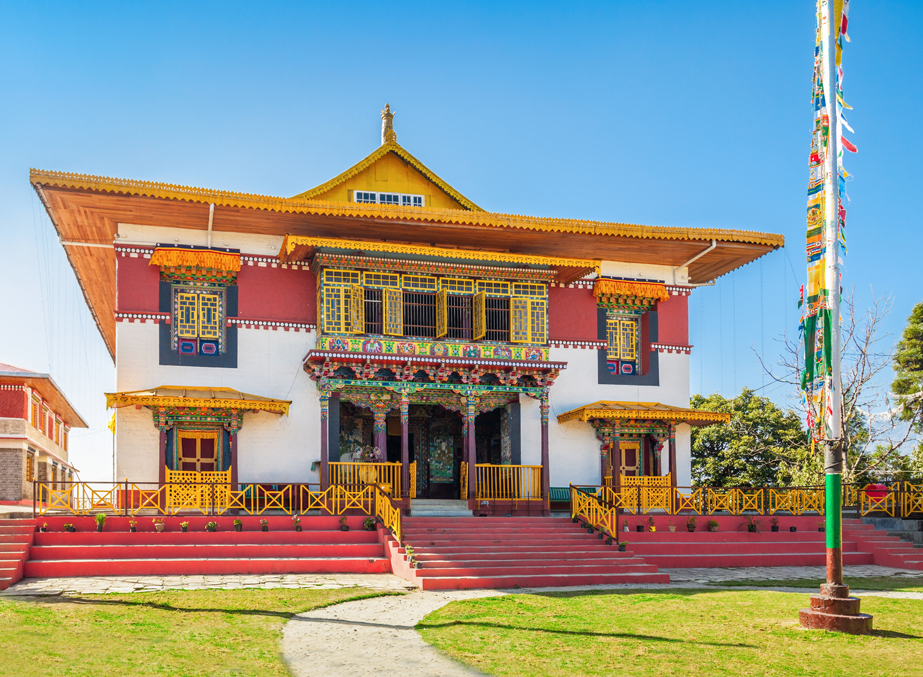 While the north can be challenging for some, west Sikkim is the ideal destination for the February traveller. The hill town of Pelling, at 7,200ft, and 130kms from Gangtok, has slowly become a hotspot for travellers from all over the world. This is mainly because of its location that provides brilliant views of the Kanchenjunga; the temperature ranges between 6°C to 17°C in February. For those exploring Tibetan architecture, you shouldn't leave without checking out Pemayangtse and Sanga Choeling. The 17th century Pemayangtse, or 'Perfect Sublime Lotus', faces the Kanchenjunga Range, 9kms from Pelling, and is an important gompa dedicated to the Nyingma Sect of Buddhism. Sanga Choeling was one of the first monasteries built in Sikkim and is on a ridge opposite Pemayangtse. You need to take a magical February walk through thick forest cover and snow to reach this gompa.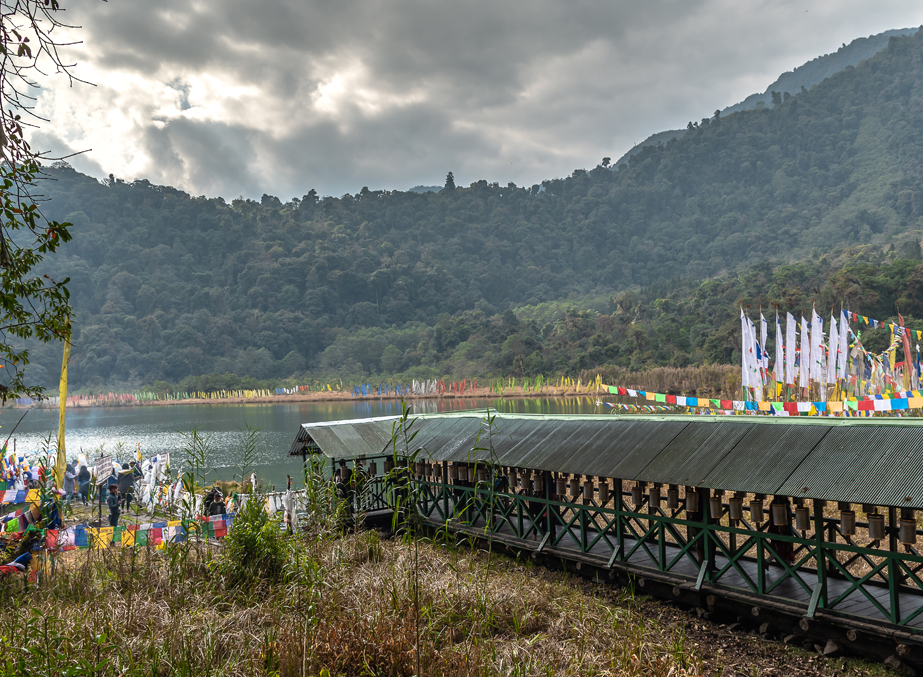 About an hour and a half from Pelling is the Khecheopalri Lake, a waterbody with deep religious significance for Buddhists and Hindus. This lake is majestic in winters as you get to witness the mountains reflecting off the still waters. After you're done exploring Pemayangtse gompa, ask your driver to take you to Rabdentse Ruins, a few kilometres away. This area encompasses the palatial ruins of Sikkim's old royal capital. As you walk past the chestnut trees, following the stone trail, you will find yourself entering a different Sikkim, one when kings and queens held sway over this mountain kingdom.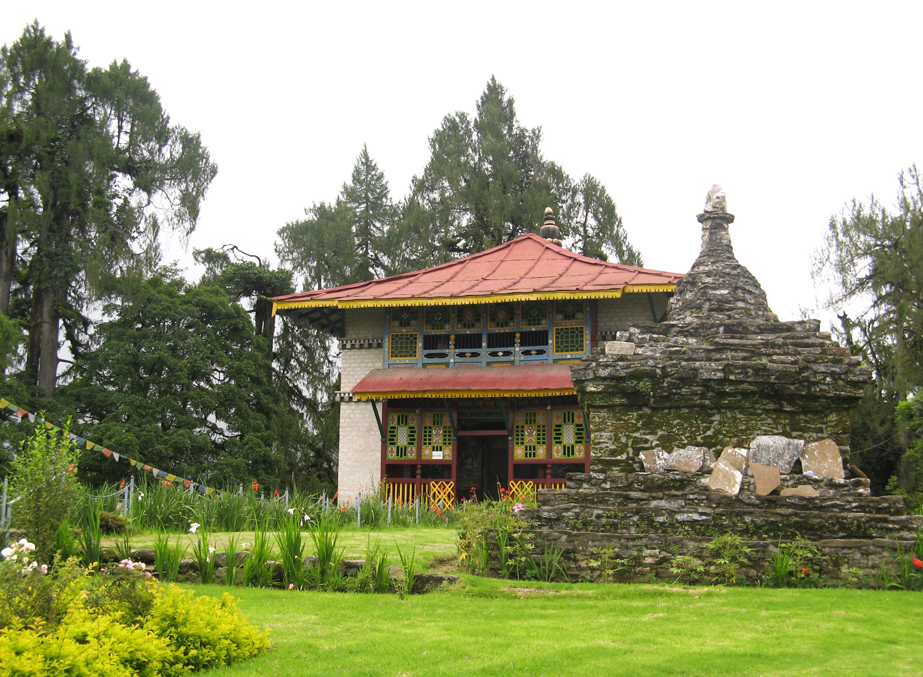 It's no surprise that Yuksom is called the 'gateway to the Kanchenjunga'. Situated 40kms from Pelling, Yuksom is the starting point for a number of western Sikkim treks. In the month of February, due to incessant snowfall, many of these treks are impossible. If you're experienced enough you could sign up for one that takes you to Dzongri peak, depending on weather conditions. Yuksom was the first capital of Sikkim in the 17th century and since tourists don't start trickling in before March, you can explore the town at will and bask in the magnificent views of the mountains. Dubdi Monastery is one of the oldest monasteries in Sikkim and the path leading up to it is a hiker's delight.
The Calming Winters of South Sikkim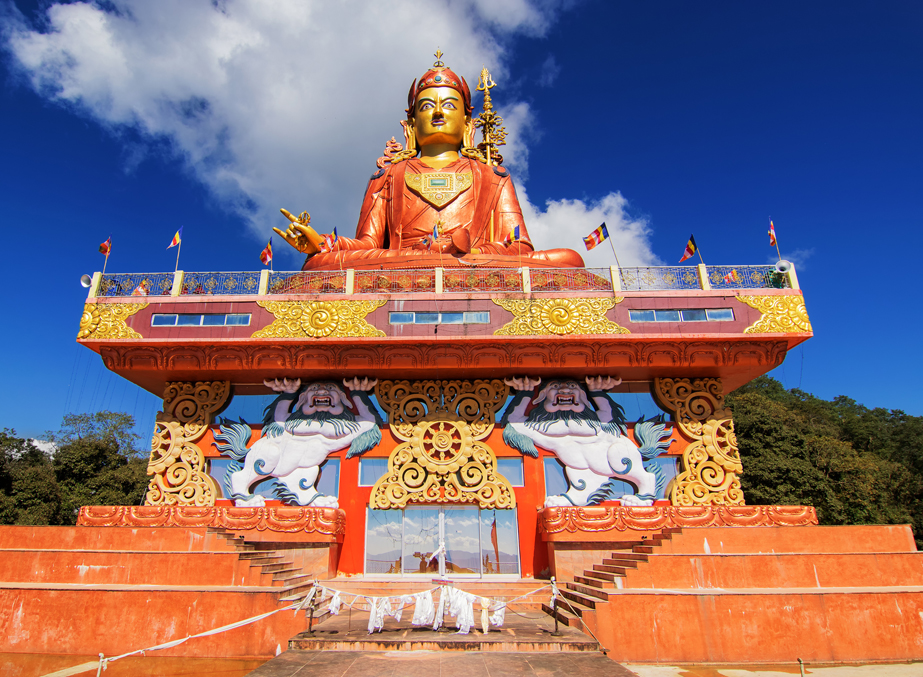 The southern district is the most accessible in February with Namchi, the capital, offering beautiful vistas of the snow-clad mountains. Namchi's biggest draw is the 148ft tall statue of Guru Padmasambhava on Samdruptse Hill. At 7,000ft, Samdruptse Hill is ideal walking ground complete with pretty views of the natural landscape and monks chanting mantras as you stare up at the brilliant statue glistening in the February sun. If Buddhist temples interest you, take some time out while in Namchi to explore the Sherdup Choeling and Ngadak monasteries. February temperatures in Namchi are bearable with the nights slightly colder at an average of 10°C, and pleasant days averaging at 17°C.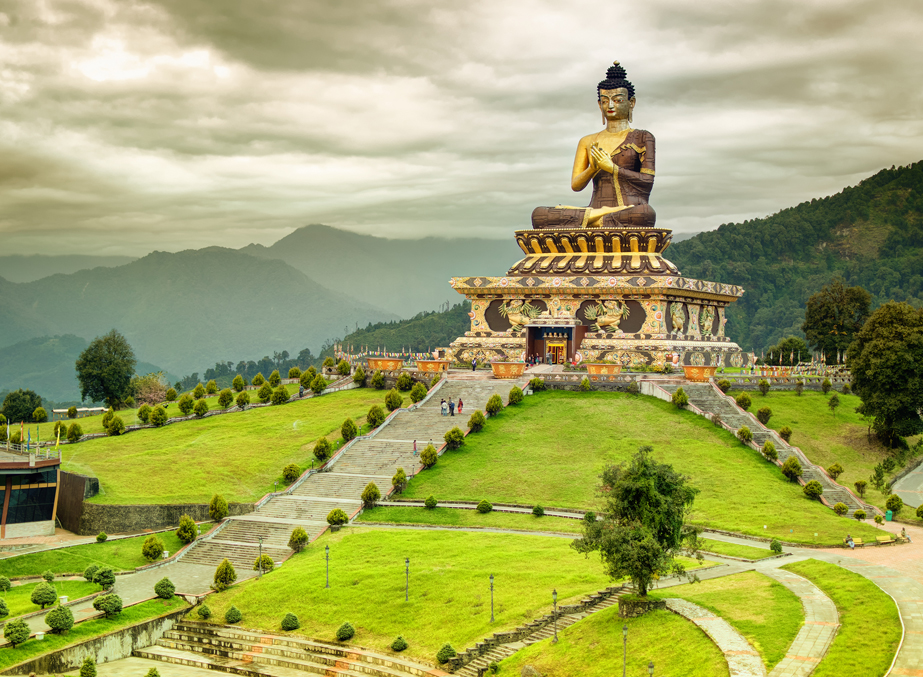 The village of Borong in south Sikkim offers travellers a glimpse into the everyday winter lives of the Sikkimese people. The tourist town of Ravangla is also in the south. 26kms from Namchi, Ravangla is the ideal February destination. The temperature fluctuates between 6-14°C, and you can visit Maenam Hill (12kms away) that offers great views of the southern snow-covered ranges. Ralang Monastery, 13kms from Ravangla, houses an impressive collection of paintings and thangkas for those interested in Buddhist art.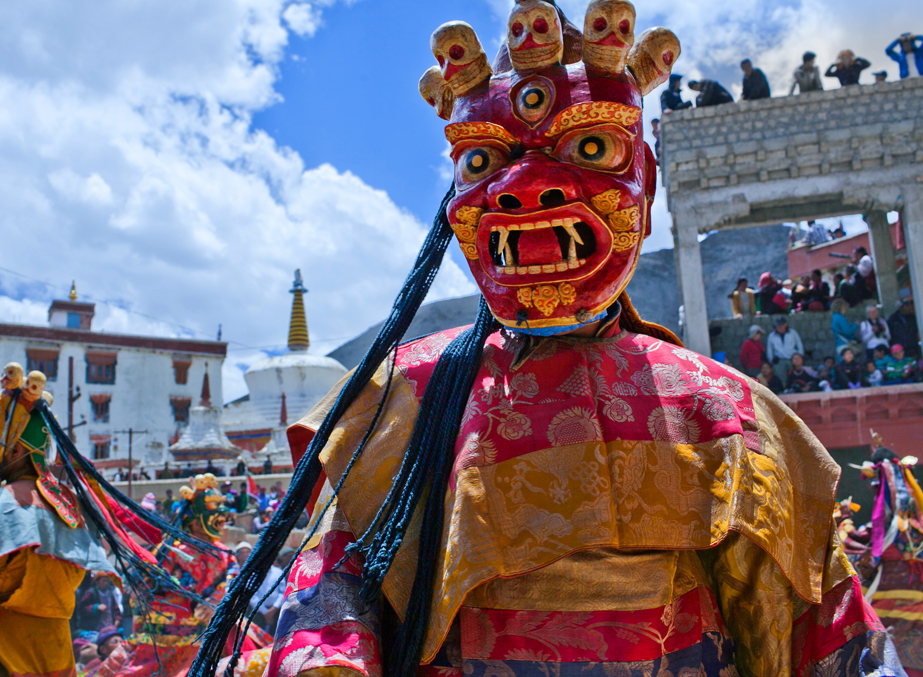 One of the main reasons why you should visit Sikkim in February is to witness the festival of Losar. This is the Tibetan New Year and if you plan your trip to coincide with this auspicious occasion, you can immerse yourself in the culture of this north-eastern state. The first day of the Bhumchu Festival also falls in March. A sacred pot of water is opened on this day at Tashiding Monastery (near Pelling), and the lamas predict the future of Sikkim for the upcoming year. This festival has its origins in ancient Tibet around 804 CE.
If you really want to get to know Sikkimese culture and tradition, February is the perfect month to plan your trip. Besides experiencing the religious and cultural celebrations of Tibetan New Year, the last month of winter makes for a memorable trip.

Subscribe to us
Subscribe to our newsletter and stay updated

Request a call back
Our experts would love to create a package just for you!
Sikkim Travel Information at a Glance
Find the authentic information on how to plan a hassle free tour to Sikkim. Travalghar puts together for you relevant details on how to reach Sikkim along with information on different means of transportation and the best time to visit. Also explore the different attractions and destinations in Sikkim with the help of our map, made easy for you to navigate.