How to Reach Bhutan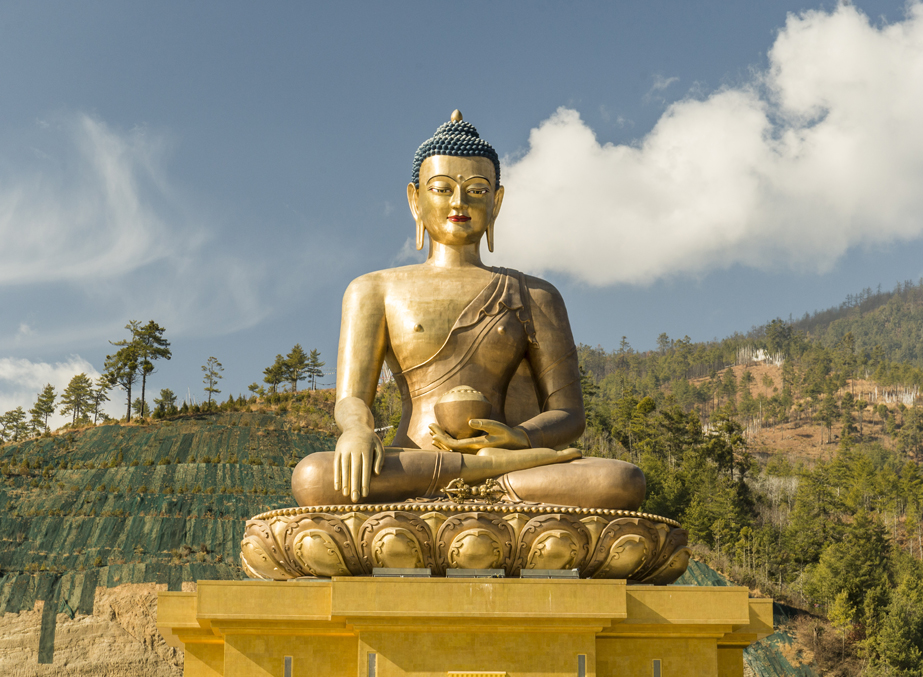 How to reach Bhutan? If this is the question bothering you from planning an exciting trip to the Land of Thunder Dragons, you are at the right place! Bhutan – the Happiest Kingdom, is among the most magical tourist destinations in the world. Spread with picturesque valleys, fortified by the mighty Himalayas, dotted with pious monasteries, dzongs, temples, and adorned with rustic, yet colourful tradition and cultures, this country embraces everyone with an open heart.
With Phuentsholing, Samdrup-Jongkhar, and Gelephu as the only highland areas that allows access to international visitors; mostly via India, one can easily reach the Last Himalayan Kingdom. Be it by road, train, or by air, visitors shouldn't think much on how to reach Bhutan from their preferred destinations. And in case, you too are worried about how to reach this gorgeous country, scroll till the last of this page to know more about how to reach your favourite tourist destination without any hassles!
Acquiring Bhutanese Visa
Sharing international border with India, Bhutan can be reached easily through multiple Indian destinations – West Bengal and Assam. Also, since the permitted entry point to Land of Thunder Dragons are located within a proximity to these Indian destinations, one can reach Bhutan by road easily through these points.
Visitors planning to visit Bhutan by road, should firstly acquire an entry permit or authorization from the Immigration Office of Royal Government of Bhutan, which is located just at the Indo-Bhutan border. The office is located at a close hand to West Bengal's town called Jaigaon. Entry permit obtained from this Immigration Office allows visitors to visit Paro Valley and Thimphu. However, this office also issues special permit that allows international tourists to visit other major tourism destinations in Bhutan. Samdrup-Jongkhar and Gelephu also have immigration centres that grants Bhutanese Visa to visitors.
Visitors coming down directly from Kolkata, can get their visa from the Royal Bhutan Consulate Office. Once visa is acquired, one can enter the Bhutanese territory from any of the three authorised points: Samdrup-Jongkhar, Gelephu, and Phuentsholing-Jaigaon.
How to Reach Bhutan by Road
Road Trips by Personal Vehicle:
The Bhutanese town Phuentsholing shares its border with an Indian town called Jaigon (West Bengal). If you are planning to reach Bhutan by road, Jaigaon would be the most befitting destination to embark on a road trip to the Happiest Himalayan Kingdom.
In case, you are planning your Bhutan trip from the Indian state of Assam, Gelephu in Bhutan would give you an easy access. This Bhutanese town is merely 50km away from Bongaigaon district in Assam (India). Be it your private vehicle or a rented one, you can always prefer this route to reach Bhutan by road.
Samdrup Jhongkar is the third point to make an entry into the Land of Thunder Dragons. This Bhutanese town is located around 150km from Guwahati (Assam, India). Guwahati, being the capital city of Assam, has an abundance of tourism options and offers an easy-to-access corridor to reach Bhutan via road trips.
By Bus
Siliguri in West Bengal is the nearest Indian metropolitan city to Bhutan. Visitors planning bus journeys to reach Bhutan can take buses from Siliguri to reach the town of Jaigaon, which shares international border with Phuentsholing (Bhutan). The duration of this journey is around 4hours, is quite comfortable, and offers some of the best views of scenic tea gardens, mountainous landscapes, remote villages, and much more.
Visitors who wishes to reach Bhutan by bus from or around Kolkata (India), can board direct buses to Phuentsholing (Bhutan) from Esplanade Station in the City of Joy. These buses are operated by the Royal Bhutanese Government, and it takes around 18hours for the visitors to reach the Land of Thunder Dragons from Kolkata via these Bhutanese buses.
How to Reach Bhutan by Train
Unfortunately, the Last Himalayan Kingdom has no direct access to rail transport. However, visitors planning to reach Bhutan by train can board a train to Siliguri, New Jalpaiguri, New Alipurduar, or Hasimara railway stations, and finally make an entry to Bhutan's town of Phuentsholing via Jaigaon by road.
Distance Between Phuentsholing and the Railway Stations:
Siliguri – Phuentsholing: 155km (4 Hours)
New Jalpaiguri – Phuentsholing: 156km (4 Hours)
New Alipurduar – Phuentsholing: 60km (2 Hours)
Hasimara – Phuentsholing: 20km (1 Hour)
Visitors travelling from other parts of India, can opt for any of the mentioned railway station as most of the express trains has stops across these stations.
How to Reach Bhutan by Air
Paro International Airport is the only international airport in Bhutan. Surrounded by peaks that reaches more than 5,500m, flying or taking off from this airport is quite treacherous. Thus, only a few pro-pilots are authorized to operate in Paro International Airport. Though such an exhilarating airport, it is well connected via direct and connecting flights from several international airports and cities.
Druk Air – Bhutan's national air carrier, has regular flight connectivity with other international destinations such as Kathmandu (Nepal), Bangkok (Thailand), Dhaka (Bangladesh), and Singapore. Popular Indian cities like Delhi, Kolkata, Bodh Gaya, Guwahati, and Bagdogra also has regular flights; both direct and connecting flights, to and from Bhutan. Bhutan Airlines also offers an array of regular and connecting flights to reach Bhutan. Most of these connecting flights fly between India and Bhutan via Kathmandu in Nepal.

Subscribe to us
Subscribe to our newsletter and stay updated

Request a call back
Our experts would love to create a package just for you!