Sikkim in October : 10 Places To Visit In Sikkim In October That Are A Cut Above The Rest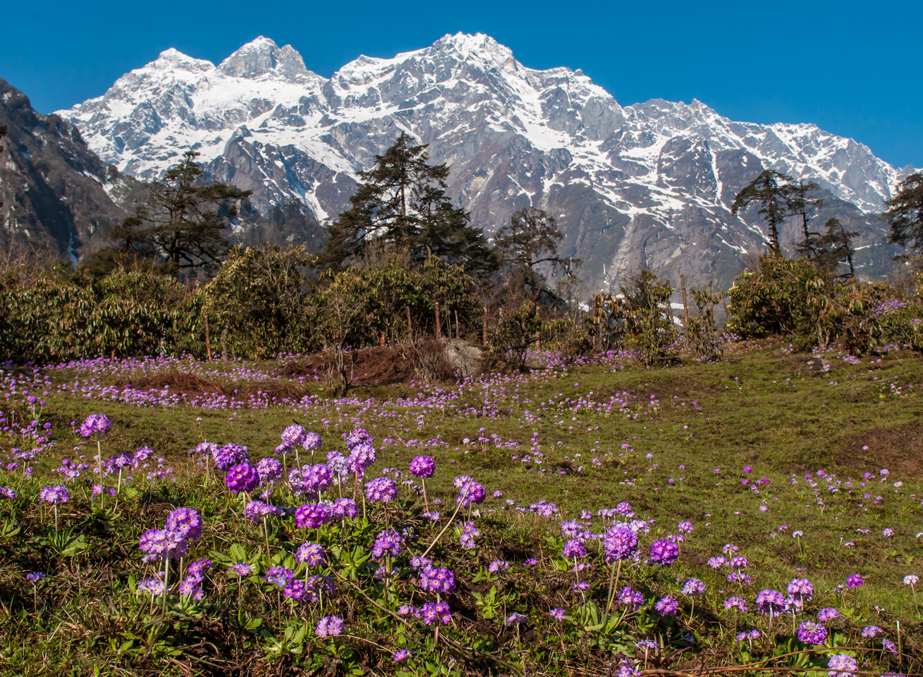 October month is overwhelming because it's the time of the year when the world soaks in the autumn bliss, surroundings are beautiful than ever, and mountains wear a charming color. Sikkim in October in the northeast looks like an entirely different place altogether and is perfect for every nature seeker. The whole of Sikkim is pleasantly cold and it's the time when winter has almost made its presence felt. It's the time when a trip to the majestic Himalayan land could make for a perfect chance to experience the right mix of autumn and winter.
In October, the fervent charm of the glorious Nathula Pass and areas beyond leave the visitors spellbound, and make them a true fan of the mystical land in northeast India! But there's more to Sikkim besides the magical winter and romantic autumn, and it's the romantic and exciting experiences that the mountain land offer.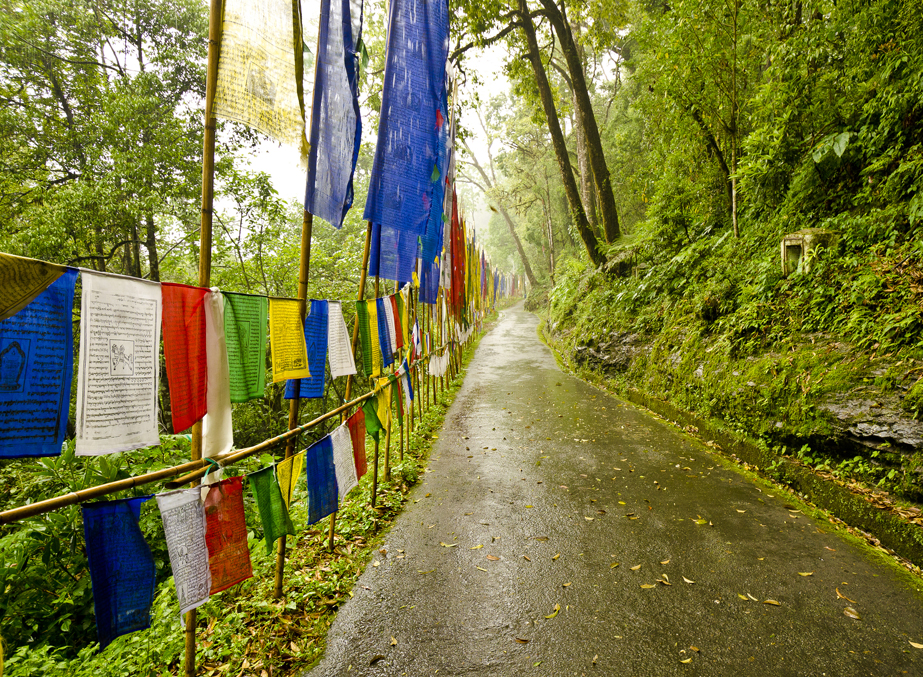 As most of the places haven't received too much of snow by October, there are places in north Sikkim that make for the perfect option for the wanderers and lovebirds. The fact that Sikkim has always been the comforting haven for honeymooners and adventure freaks make it a perfect option for every nature enthusiast.
Therefore, take a look at these most sought-after attractions in Sikkim, and pick the best ones for your itinerary. Here are the 10 best places to visit in Sikkim in October!
North Sikkim
1. Gurudongmar Lake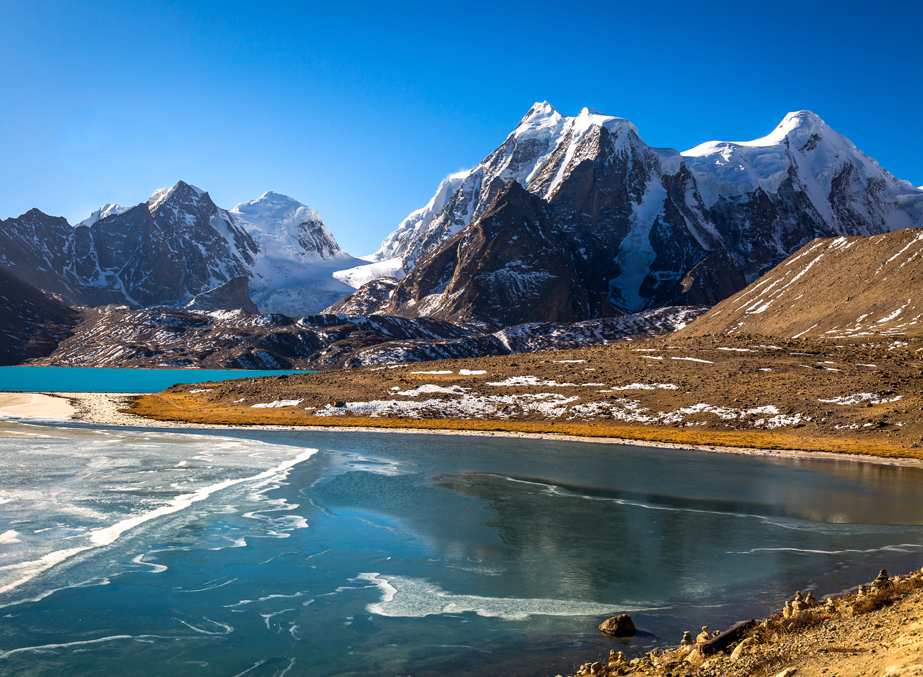 At 17000 feet plus altitude, the Gurudongmar Lake is the slice of heaven located in the northeastern territory of the Indian mainland. The heavenly lake is one of the highest in the world and one of its kind in India. The lake is of quite a relevance to the Buddhists, Sikhs, and Hindus. Even during the festivities, people experience a lot of rush in the lake and surrounding areas. But as the weather grows colder, the number of people heading to the region only decreases.
Having said that, even though the weather of Sikkim is not at all predictable it is recommended to visit this place in Sikkim in October. Just be careful with the things you pack for the trip there, as the weather might change in a matter of hours and you might find yourself on the receiving end at the end of the day.
Most popular attraction at Gurudongmar Lake: Sarva Dharma Sthal – popular worshipping place, and source point of River Teesta
2. Yumthang Valley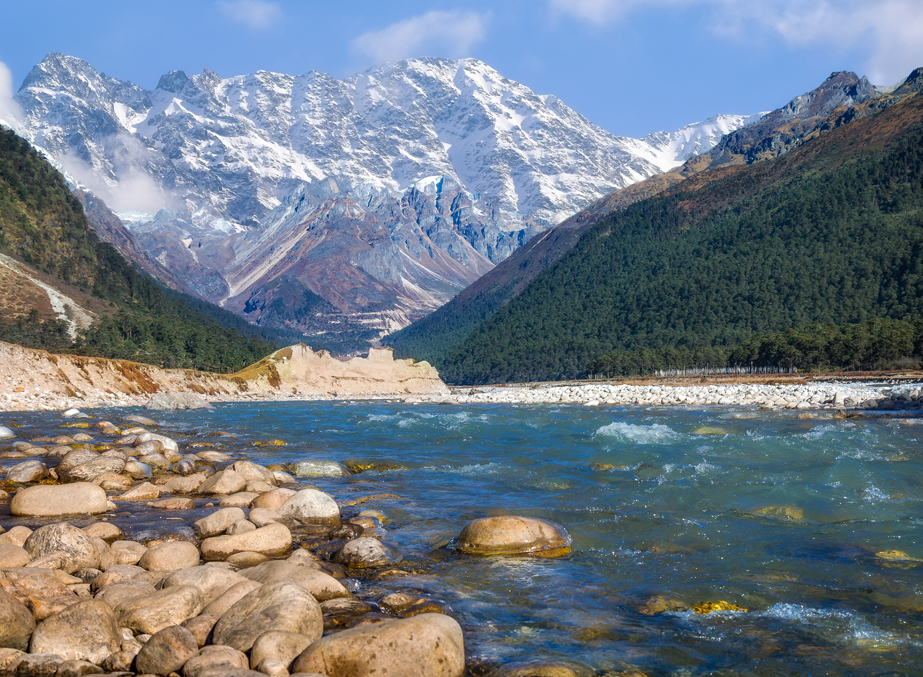 Travelers from around the world have described Yumthang as the lovely congregation of colors. A place where flowers of almost every color bloom and spread their charm. Make sure that you plan a trip to this magical land in the northeast also known as the Alps of India. Yumthang is quite difficult to access for the most part of the year but this place is such a treat to all the visitors.
If weather condition permits then you might as well take up plenty of adventure activities here. But if you in Yumthang Sikkim in October then you might get treated sumptuously by the gallant nature and outdoors here. The temperature of Yumthang stays around 10 degrees in October, and whether even gets worse at times. It is, therefore, advised enquire about the place in advance before heading there.
Most popular attraction at Yumthang Valley: Lachung Monastery, Zero Point, and Chungthang Region
South Sikkim
1. Samdruptse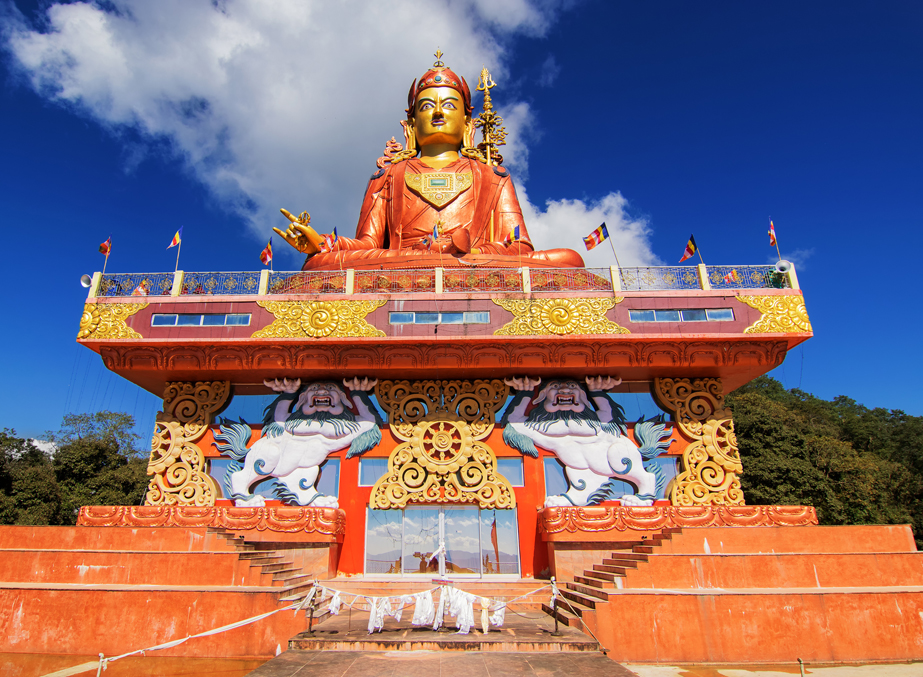 The towering statue of Guru Padmasambhava, standing 135 feet tall, is certainly the most prominent attraction in the entire Samdruptse region. However, there are plenty of other things to experience in the holy land of Samdruptse, which has its cornerstone laid by his holiness Dalai Lama. The statue is identical to Lord Shiva and therefore attracts a lot of followers of Hinduism.
The beautiful town also known for its modern planning and architecture is 72 far from the capital city of Gangtok. A majority of people here speak Bhutia language.
Popular attraction at Samdruptse: Samdruptse Monastery, Shiva statue, Tirikhola Dancing Falls, Salley Bong Cave, and Kanchanjunga Handicrafts Center
2. Buddha Park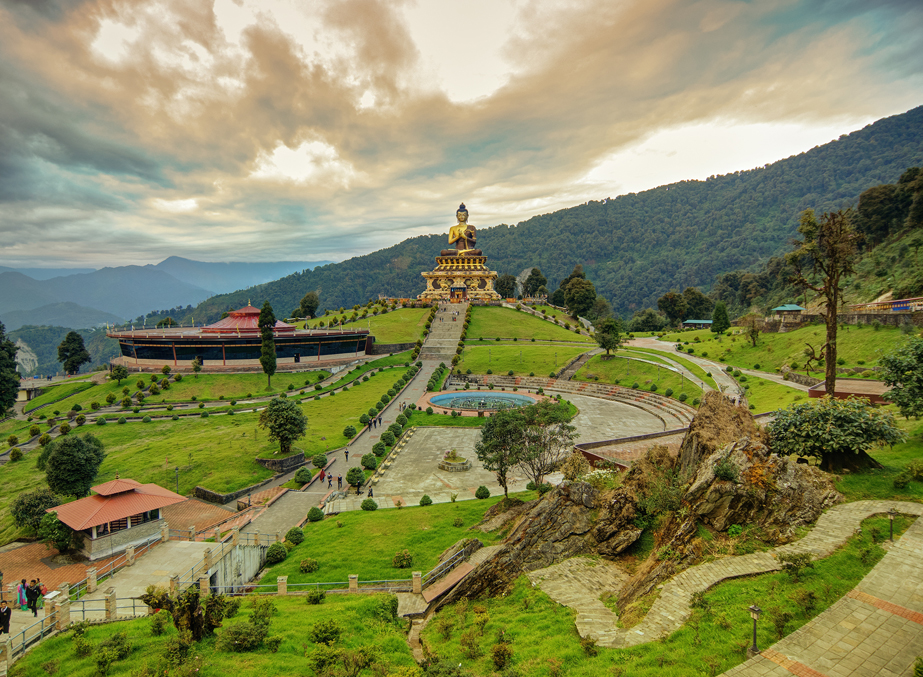 Located in the vicinity of Ravangla, Buddha Park is the perfect dose of tranquility that every nature lover would seek. Overlooked by the massive Buddha statue, this is the place you must be headed to. Buddha Park flourishes amidst lush greenery and needs a mention when it comes to the top places to visit in South Sikkim.
Popular attraction at Buddha Park: Rabong Gompa and Ralang Monastery
3. Solophok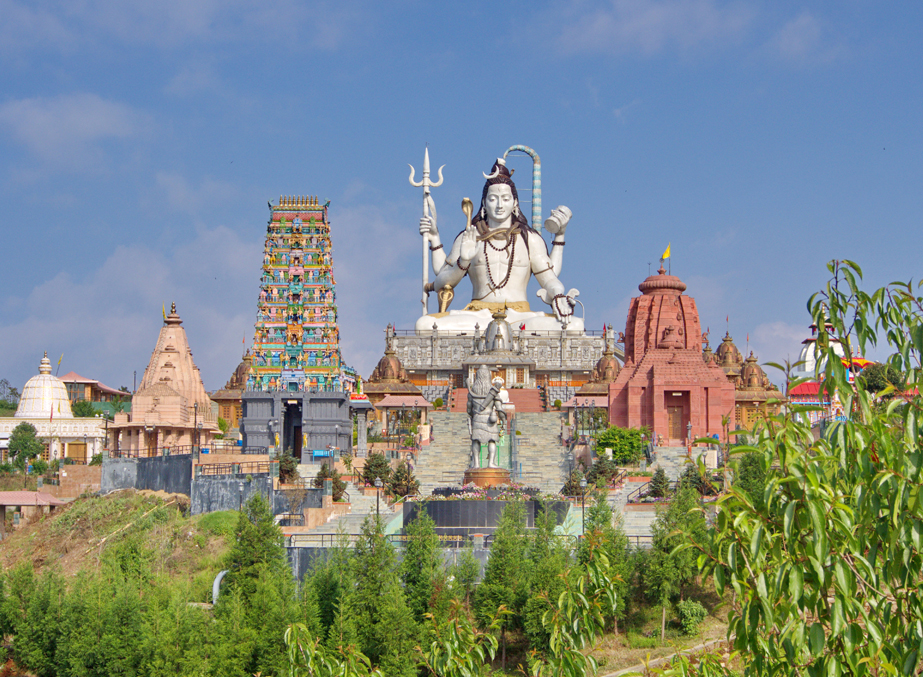 If you are the one planning a religious tourism in South Sikkim region, Solophok is the place to be. Solophok is one of the few places in Sikkim that propounds religious, eco-friendly, and sustainable tourism. Moreover, the untarnished beauty of the place is above everything else.
The main temple here standing 108 feet tall also comprises of 87 feet statue of Lord Shiva. Solophok Cultural Centre also serves as a major promoter of Religious Tourism in the region. Tourists head to this place to enjoy the village, and ecotourism as well here.
Popular attraction at Solophok: 12 Jyotirlingas and Shiva Statue
4. Ravangla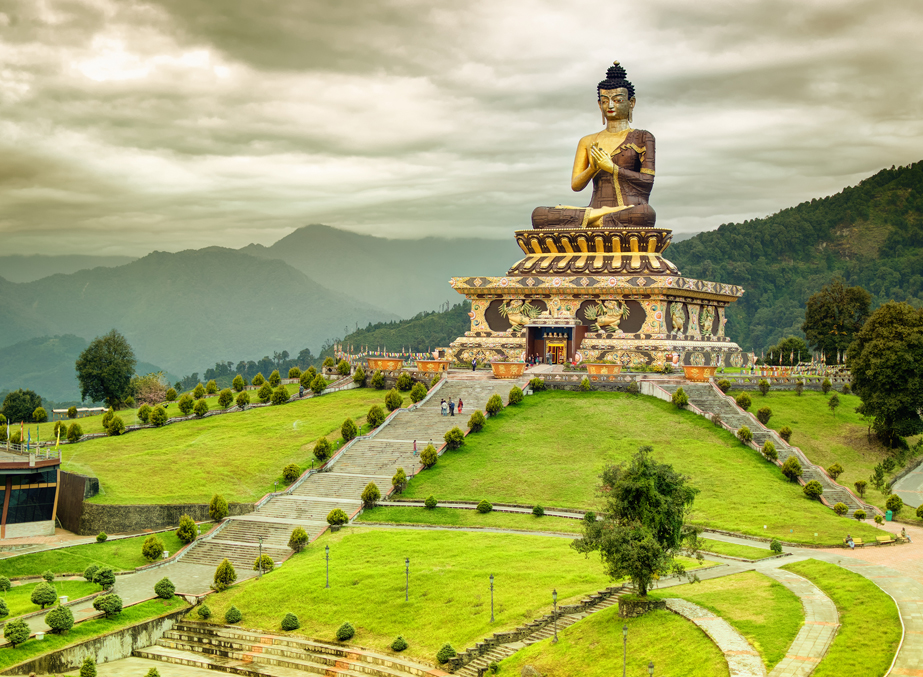 Post monsoon, Ravangla is as beautiful and enchanting as one can imagine! With temperature staying between 10 to 15 degrees Celsius, there's a perfect condition for travelers to enjoy the upcoming winter chill. Ravangla is a year-round destination, and its proximity to the mighty Himalayas makes it a perfect place to visit in Sikkim in October.
There are slim chances of weather going bad in the latter half of October so it is advised to plan your trip in the early phase of the month.
Popular attraction at Ravangla: Snow-capped peak views and rare Himalayan flowers
East Sikkim
1. Rumtek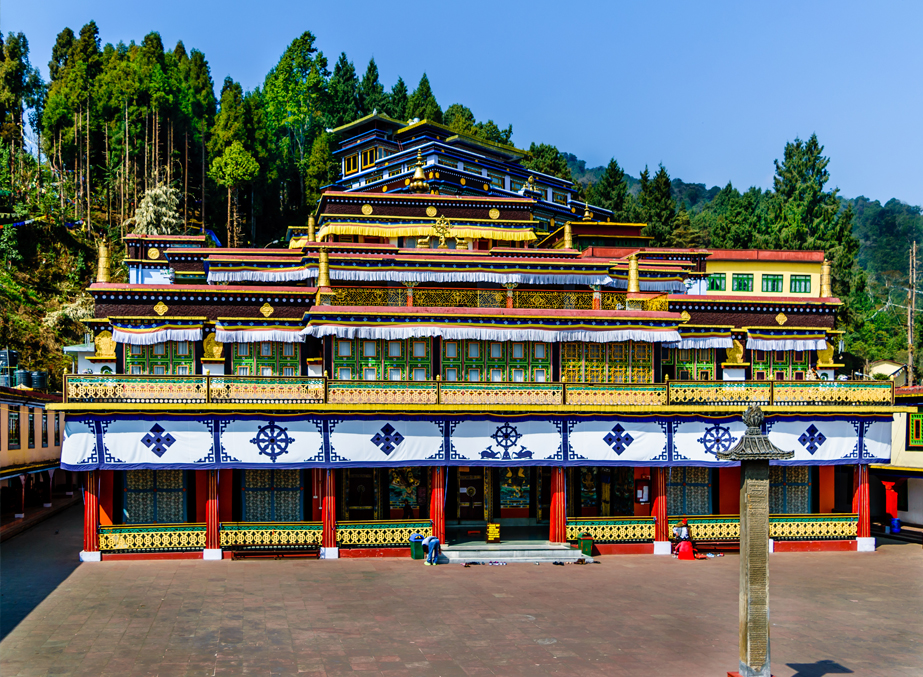 Rumtek is one of the most sought-after attractions in Sikkim and October is the special month to take a trip to this wonderful place. Sikkim's perfect blend of lovely atmosphere and great weather in October makes it a glorious place to visit. Rumtek Monastery is the oldest living monastery in Sikkim located just 23 km from the capital city.
Popular among the locals for his holiness Gyalwa Karmapa, this monastery is a must on the checklist of top places to visit in Sikkim. The quietude of this place and exotic nature around makes it perfect worth your time and money!
Popular attraction at Rumtek: Rumtek Monastery
2. Tsomgo Lake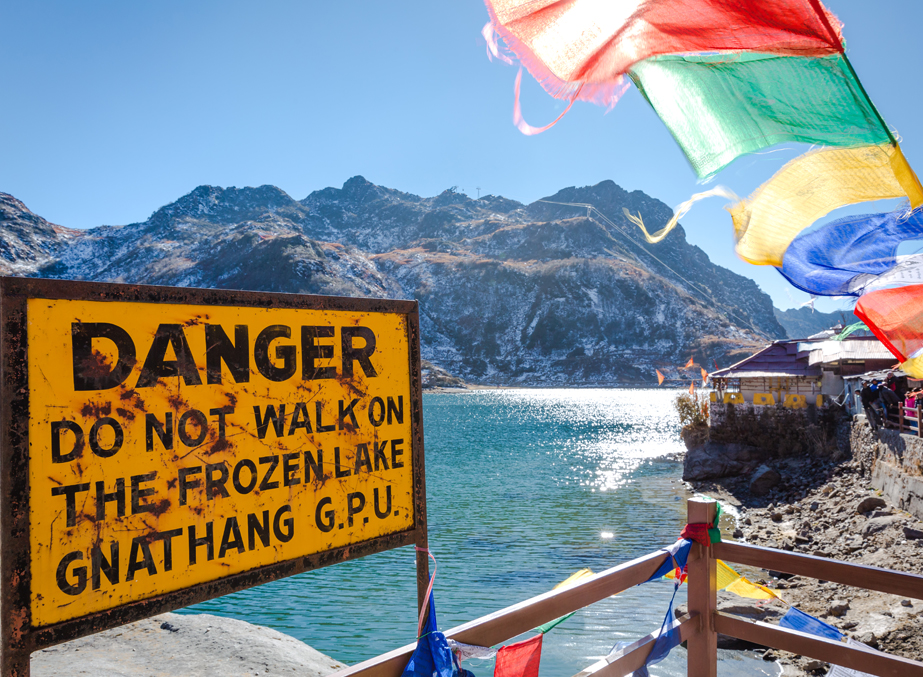 Probably the prettiest thing you will see in Sikkim! Yes, Tsomgo Lake it is. Perched at 12,400 feet, the lake remains frozen for most of the year, but, but, not in October. Which make Tsomgo a much sought-after attraction in October. There are times during the latter half of October month when Tsomgo experiences heavy snowfall and lies under the thick blanket of heavy snow, but the beginning of October might be the perfect time when you would find the lake in the perfect condition for a wonderful outing with family or friends.
To visit the lake you will need to submit your ID proof along with 2 photographs at the Tourism and Civil Aviation Department a day prior to commencing your journey to the lake.
Popular attraction at Tsomgo Lake: Yak ride, momos with special chutney at shop no – 5
3. Nathula Pass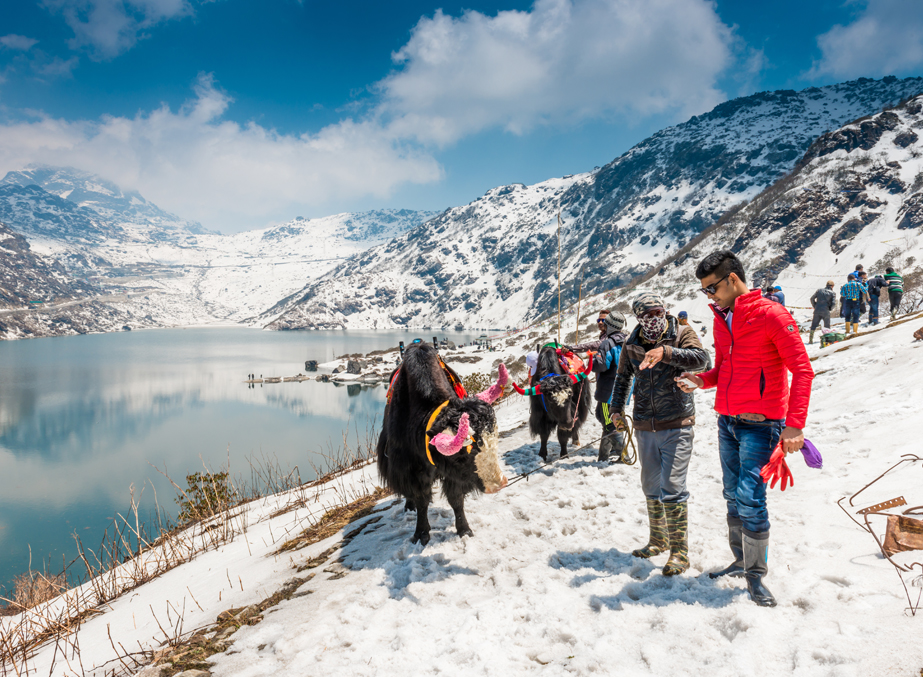 Further ahead of the Tsomgo Lake lies Nathula Pass, the iconic pass located in the proximity of Indo-China border completely studded with miraculous views. There have been instances that the pass was declared not ideal to travel in October but there are chances that you might make it there if weather permits. On a good day, tourists can easily travel to the place relishing every bit of scenery around and enjoy the untarnished nature so close to the international border. This part of Sikkim lies under thick snow cover and is not open to the public for most of the year.
Some vital information to travel to the Nathula Pass: Visit the pass is closed on Monday and Tuesday by order, photography is strictly prohibited near the border region because of security concerns, world's highest ATM facility is available here so you can stash some cash here.
West Sikkim
1. Pelling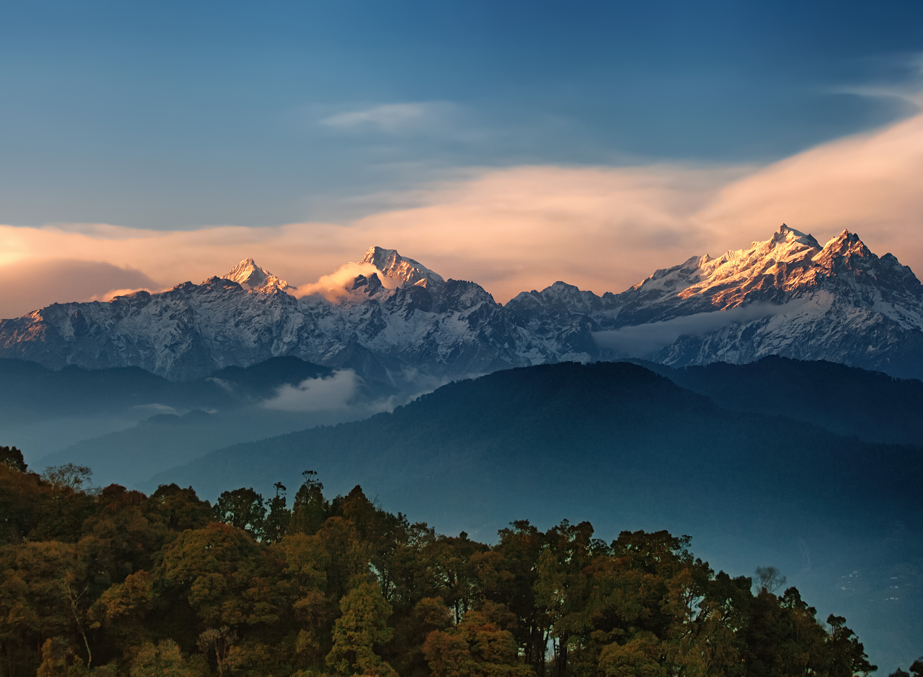 For all the timeless charm, the quaint town of Pelling is a top rated attraction for everyone visiting Sikkim in October. Tucked in the foothills of Mount Khangchendzonga, Pelling is a place that keeps brimming with life and lively people, mostly romantic couples looking for a quaint corner. Make it a point to visit the Buddhist Sanga Choling Monastery here.
It is a late-17th-century monastery distinguished for its breathtaking view and exceptional nature around. Another major attraction in Pelling is Pemayangtse Monastery. This place has quite a wonderful collection of wall paintings, a gold-plated statue of Guru Padmasambhava, and other miniatures.
Popular attraction at Pelling: Overlooking valley and the 17th-century Rabdentse Palace now in ruins
Things you must carry to Sikkim in October
One has to be supremely prepared and packed to visit the magical land of Sikkim in October. There are places in North Sikkim that can get extremely cold towards the beginning of October and the weather at places can get extremely forgiving. So here are a few recommended things that you must not miss while packing for the magical land.
1. Comfortable pair of walking boots
2. 2-3 pairs of woolen socks
3. A pair of thermals
4. A thick jacket to sustain at least -15 degrees temperature
5. Sunglasses
6. Woolen gloves
7. Fleece jackets
8. Toiletries
9. First-aid kit
A trip to Sikkim in October can be one of the most memorable trips you'd ever take in your lifetime. Make sure that you explore the very best of the tranquilizing sojourn that Sikkim truly is!

Subscribe to us
Subscribe to our newsletter and stay updated

Request a call back
Our experts would love to create a package just for you!
Sikkim Travel Information at a Glance
Find the authentic information on how to plan a hassle free tour to Sikkim. Travalghar puts together for you relevant details on how to reach Sikkim along with information on different means of transportation and the best time to visit. Also explore the different attractions and destinations in Sikkim with the help of our map, made easy for you to navigate.