Best Time to Visit Bhutan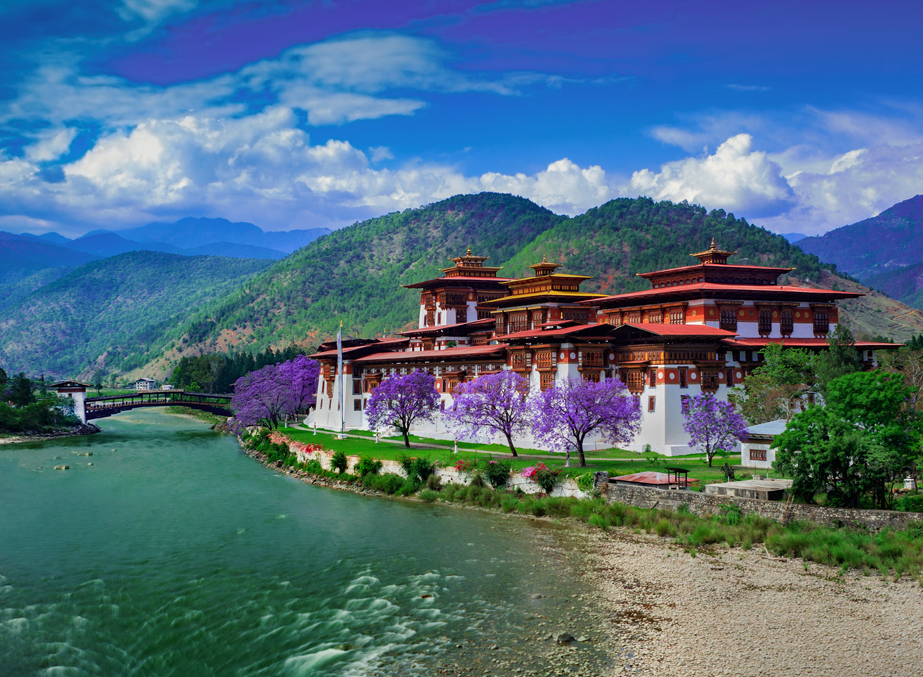 What is the best time to visit Bhutan? If this is the question that is obstructing you from planning a trip to the Last Himalayan Kingdom, here is what you should be doing! Go through this list of seasons in the Land of Thunder Dragons; it will give you insights about the best time to travel to Bhutan.
Landlocked with the majestic Himalayan Range, Bhutan is an ideal year-round destination. Blessed with snow-capped peaks, a diverse range of flora and fauna, scenic places, gurgling rivers, this country experiences a total of four different seasons – Summer, Winter, Spring, and Fall. All these seasons has their own charm and allurement when it comes to Bhutan tourism's best time to visit this Dragon Kingdom. Though summer and winter offers quite an exciting list of things to do and places to visit, spring and fall are the two most coveted or best time to visit Bhutan.
1. Spring (March, April and May): Best Time to Visit Bhutan
During the three months of spring, the country undergoes a soothing and pleasant change. With temperature ranging between 3-25 degrees, the atmosphere usually remains dry with least humidity. This ensures an ideal time to explore almost every nook and corner of the Himalayan Kingdom. Spring, thus, can be called as the perfect time to embark on sightseeing tours, adventure activities, leisure activities, and other such exciting things to do in Bhutan.
Events & Festivals to Attend in Spring:
Ura Yakchoe:
Come May, the Ura Valley in Bhutan's Bumthan region hosts this colourful festival, which is famed for its traditional 'Ura Yakchoe Dance' performances. During this sacred festival, sacred and pious relics are passed onto the next generation. These relics are usually put for public displays, and local visit them to seek blessings.
Paro Tshechu:
Though this is one of the most vibrant and sacred festival in Paro Valley, it is attended by people all across the country! Celebrated during the month of March/April, this 5-days festival is in fact the best event to witness, experience and enjoy the rich and diverse cultures of Bhutan. Paro Tshechu is usually concluded by large displays of thangkas (embroidered religious paintings).
Punakha Drubehen & Tshechu:
March is month of festival in Bhutan! Visiting the Punakha Dzong in Punakha Valley during this month, visitors can take part in the much-awaited Punakha Drubehen festival, where they can have a livelier glimpse of a 17th century battle among the Bhutanese and Tibetan army. Adding more, this festival also brings much of gusto among the locals; they assemble, meet and greet each other and participate in an array of local activities.
Other Significances of Spring:
The fact that the enchanting Jacranda flower blooms in Punakha Valley during spring, this makes spring the best time to visit Bhutan.
Spring is also the best time to go for the enthralling Jomolhari and Drukpath treks.
If you happen to attend the Paro Tshechu in Paro Valley, you might get lucky to meet the king of Bhutan.
2. Fall (September to November): Best Time to Visit Bhutan
As the Land of Thunder Dragons welcome the fall season, everything around starts turning extremely pleasant. Though one should not expect browning of the forest areas, but with the advent of fall, the never-ending rice fields starts turning golden and showcase a mesmerising view all across the country. As temperature during these three months ranges between 10-23 degrees, visitors can expect both mildness of the sun and a bit of crispiness in the atmosphere. Also, since there are no rain showers during fall, visitors can move freely across places and explore Bhutan at its best!
Events & Festivals to Attend During Fall:
Thimphu Tshechu:
One of the most vigorously enjoyed festivals in Bhutan, Thimphu Tshechu is celebrated in September at Tashichho Dzong, Thimphu. Attended by a large crowd; both locals and foreigners, various sacred rituals and day-long prayers are conducted during this pious festival.
Tamzhing Phala Choetpa:
A major festival of the Tamzhing Lhakhang Monastery in Bumthang, Tamzhing Phala Choetpa is celebrated in September. A rare kind of mask dance serves as the main attraction of this festival.
Wangdue Tshechu:
Celebrated to honour Guru Rinpoche, Wangdue Tshechu is celebrated in the month of September across all the districts of Bhutan. During this festivity occasion, local performers and monks perform different types of mask dance. Among all the traditional performances, Raksha Mangcham (or the 'Dance of the Ox') is said to be the main attraction of Wangdue Tshechu.
Jambay Lhakhang Tshechu:
Yet another not-to-miss festival in Bumthang Valley, Jambay Lhakhang Tshechu is hosted at Jambay Lhakhang. This festival is characterised by unique Fire Dance followed by midnight naked dance.
Other Significances of Spring:
Black-Necked Crane Festival:
Though not a spiritual festival, Black-Necked Crane Festival in Bhutan is no less than a tradition among the Bhutanese. Celebrated in Phobjikha Valley, this pageant marks the arrival of the endangered Black-necked Cranes. Locals take active part in this festival to create awareness about conserving these rare bird species. Mask dance, folk performances, drama shows on how to conserve these rare birds are the main highlights of this merry festival.
3. Summer (June to August): Best Time to Visit Bhutan
While many considers summer as an off season, the Happiest Himalayan Kingdom does witness a huge influx of tourists every summer. Though the temperature during this season rises considerably, it stays within a range of 24-25 degrees accompanied by decent humidity in the atmosphere. Moreover, owing to the clarity in the ambience, summer proves to be the best time to travel to Bhutan and enjoy the magical views of the Himalayan Range. Furthermore, the lush greeneries washed by the tenderly touches of monsoon rains, offers an enchanting view.
Events & Festivals to Attend in Summer:
Kurjey Tshechu:
Anyone visiting Bhutan during the month of July, must visit the scenic Chokhor Valley in Bumthang! During this month, the locals here celebrates the Kurjey Tshechu Festival, which is considered as an enthusiastic festival for the Jakar and Kurjey regions. Kurjey Tshechu is celebrated to honour Guru Rinpoche, who introduced Buddhism to Bhutan. During this auspicious event, the monks participate in the Guru Tshengye and Shinjay cham dances. The festivity comes to an end with the unfurling of Guru Thanks painting; locally called 'thongdrel'.
Other Significances of Summer:
Haa Summer Festival:
One of the most vigorously celebrate events in Bhutan, Haa Summer Festival is all about recognise the rustic lifestyle, authentic Bhutanese dishes, traditional games, and religious performances alike. Visitors attending this festival would come across how nomadic life thrived in Bhutan, local cuisine demonstrations, how local 'ara' is brewed, folk performances, and lot more! Celebrated in July, this festival makes summer as the best time to go to Bhutan and experience the devout hospitality of the locals.
4. Winter (December to February): Best Time to Visit Bhutan
The period of December to February is also considered ideal for those looking for Bhutan tourism's best time to visit. Though the temperature might vary all across the country, temperature usually remains within the range of 10 to minus 5 degrees. Accompanied by snowfall across places like Thimphu and Paro by the end of January and beginning of February, the overall atmosphere stays pretty dry during the winters. However, as December doesn't experience any snowfall, this month proves to be the best time to visit Bhutan and enjoy the astounding views of snow-capped Himalayan peaks.
Events & Festivals to Attend During Winter:
Nomad Festival:
Nomadic life is an integral part of Bhutanese culture, and the Nomad Festival in February can get get the visitors acquainted with this indigenous lifestyle of Bhutan. An event that brings together the herders from all across Bhutan; mainly from north-eastern and north-western parts, this festival offers amazing opportunities to have a glimpse of nomadic way of life, its rustic cultures and age-old traditions.
Other Significances of Winter:
Punakha Dromche:
As the winter starts approaching towards an end, locals in Punakha Valley assembles together to celebrate the founding of Bhutan. The festival is marked with locals in their traditional attires and costumes and take active participation in the rivalry.
The last stretch of January and the early stretch of February are the best time to travel to Bhutan and enjoy snowfall. To note here, snowfall is limited only to Thimphu and Paro valley.
Things to Keep in Mind While Visiting Bhutan:
Since spring and fall are considered as Bhutan tourism's best time to visit by most of the visitors, one must make advance hotel bookings.
Tour guide's charges also shoot up during spring and fall; pre-booking of tour guides is highly recommended.
Carrying light clothes, sunglasses, skin moisturisers, hats or caps, trekking shoes, and other essentials would make it for a handy experience in spring, fall, and summer.
Carry raincoats or umbrellas is required for those planning for a visit during the summer.
Do not forget to carry woollen clothes, jackets, and other warm clothes during the winter.
As summer and winter are usually considered as the off seasons, visitors can avail amazing discounts on hotel, cars, and guide bookings.
Bhutan is considered as highly traditional country; visitors should always abide by the rules and regulations as laid by the local authorities.
Avoid using plastic bags, bottles, and other such commodities across the country.
Do not forget to carry your left-overs or other wastes, and dispose them at the designated or assigned places.
Dress appropriately while entering the sacred establishments like temples, monasteries, dzongs, etc.
Photography is not allowed everywhere or across all tourist spots and destinations; visitors must check with the local authorities regarding this.
Locals in Bhutan worships Mother Nature as one of their main deities; do not cause any harm to the local flora and fauna. Causing nuisance around might lead to unpleasant consequences.
Be respectful towards the local cultures, beliefs, and traditions.
Transportations during snowfall might come to a halt; visitors are advised to check with the local authorities before planning a tour during the peak snowfall.

Subscribe to us
Subscribe to our newsletter and stay updated

Request a call back
Our experts would love to create a package just for you!