8 Experiences From Sikkim In April Making It India's Hottest Pick Of The Month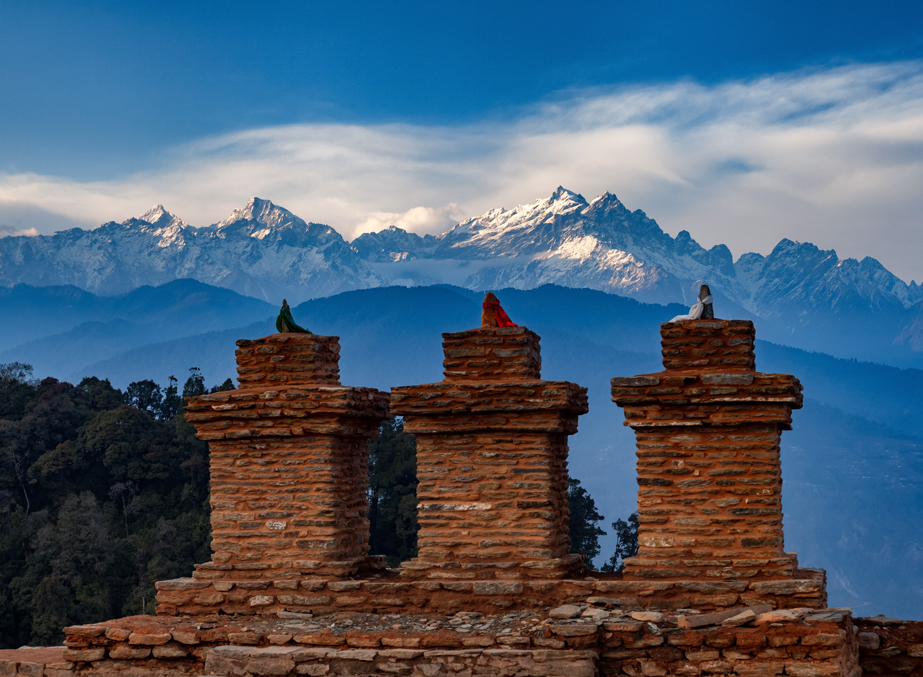 The one place that completely upholds the fervent charm of Northeast India in true taste is Sikkim. Doesn't really matter what time of the year you're planning a trip, Sikkim will always await you in its full glory. If you ask me to suggest an appropriate time, I'd say, "Sikkim in April"! Yes, Sikkim, justifying every bit of the trust bestowed by travelers across the globe, looks the prettiest just before summer beings.
April is the month when India experiences a subtle change in climatic conditions, and it is all for the good. It's the time when summer makes a relaxed entry, and the climate is perfect for tourism. While plains are already warmer than the usual, mountains thrive in best conditions. Sikkim, being a top mountain destination in the northeast, is still in perfect shape. Let's take a look at the best experiences in Sikkim in April.
What's special about Sikkim in April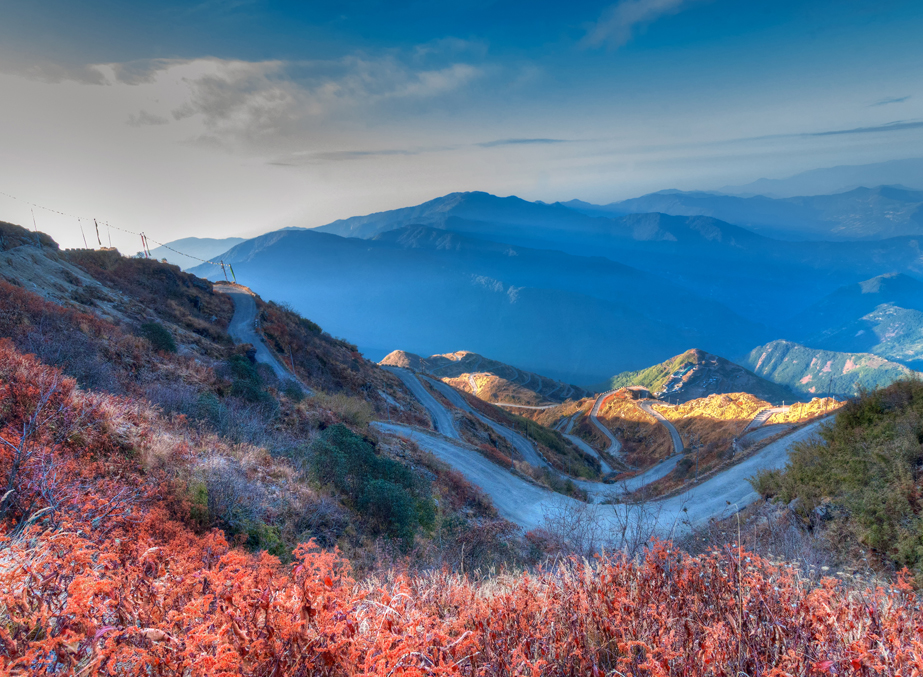 Thriving amidst the vast assemblage of flourishing biodiversity and extreme terrains is Sikkim – one of the prized possessions of northeast India, and one of the top tourist places to visit in India in summer. In April, the harsh winter has already subsided, and most of the places in Sikkim, located at daunting altitudes, are open to travelers.
Moreover, if you are an adrenaline freak looking for some adventure, the clear and bright weather in Sikkim makes it even more exciting. From planning a Yak ride near Tsomgo Lake to taking river rafting on the Teesta or from riding a cable car in Gangtok to bird watching in Kewzing, Sikkim offers plenty of tourist attractions in April.
8 Best things you mustn't miss while on a trip to Sikkim in April
Because these experiences make the heart and soul of Sikkim tourism! Read on…
1. A cable car ride in Gangtok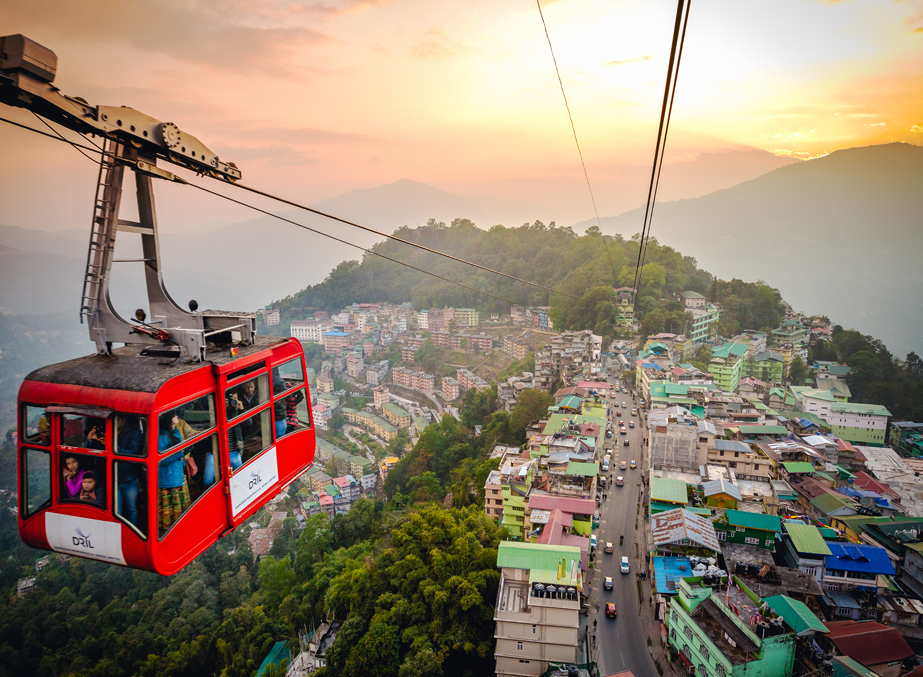 If you are a sucker for views, this could be your golden chance to catch the miraculous panoramic views of the mighty Himalayas. A cable car ride in Gangtok allows you the unparalleled views of Gangtok from the top making the perfect opportunity to catch the stunning views. The cable car dangles from the highest point in the Gangtok town and has 3 terminal to access the ride.
Overall 1 km distance is covered by the cable car in a little over 7 minutes. The ride can be accessed from Deorali Market (lower station), Nam Nang ( intermediate station), and Tashiling (upper terminal station). The ride can be accessed from any of the 3 stations.
Timings: 8 am – 4:30 pm
2. A yak ride near Tsomgo Lake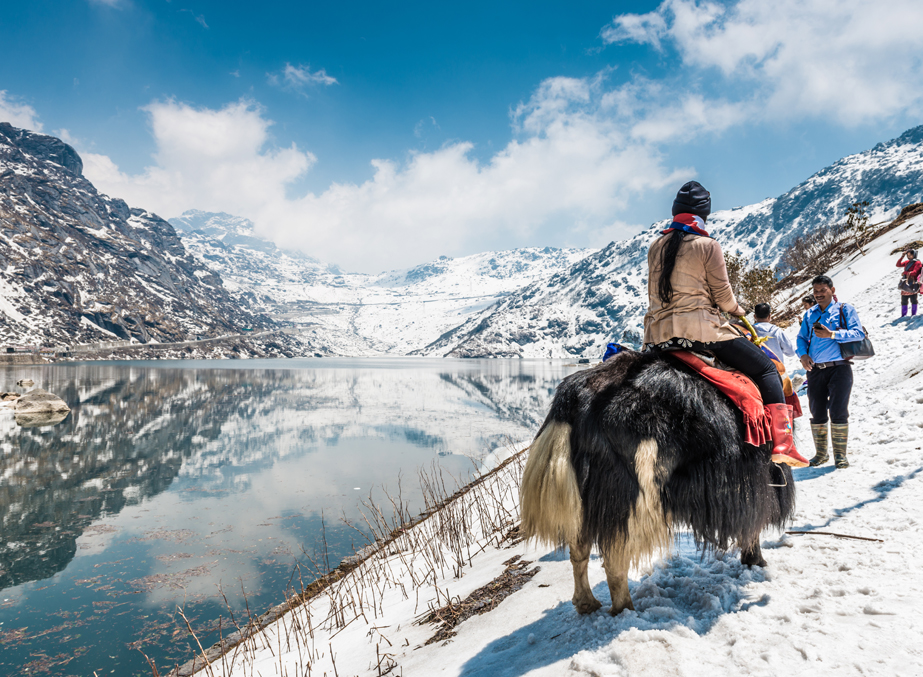 At 12,400 feet, Tsomgo Lake is one of the prettiest lakes in Sikkim as well as in India. For most of the year, the lake and its surroundings are covered under the thick sheet of snow. April could be the month when you can visit Tsomgo and venture around marveling at the surreal views of snow-clad Himalayan peaks. But the main attraction here is to ride a yak – the adorable Himalayan beast.
Yaks are decked in colorful woolen clothes with bells dangling from their neck, for sure they look cute despite their intense looks. Local tour operators offer the yak ride at Tsomgo Lake which remains one of the most popular things to do in Sikkim.
3. Gangtok to Rangpo mountain bike ride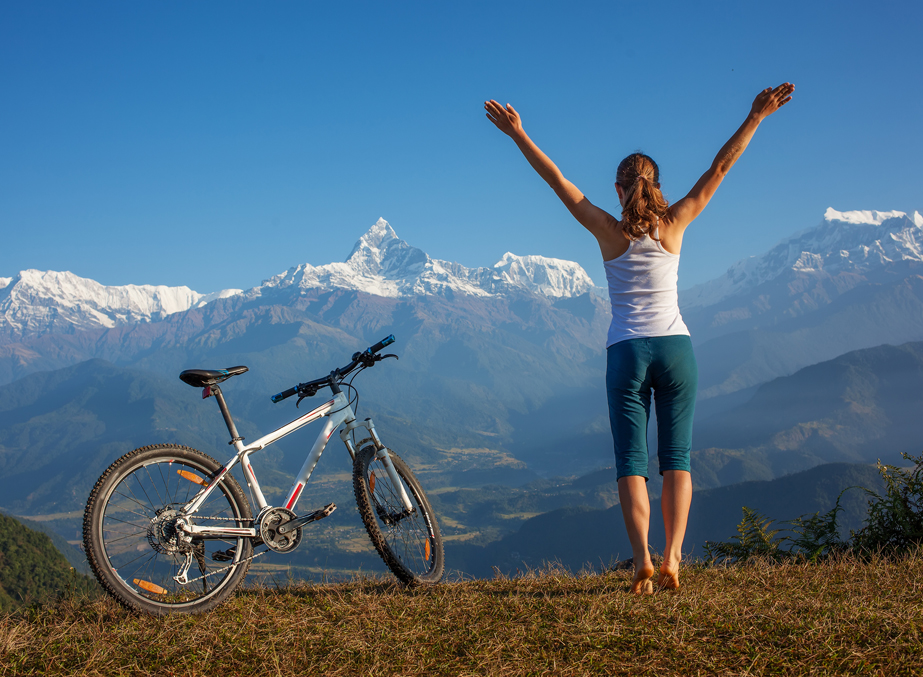 Mountain biking has of late gained too much of attention in Sikkim. The fact that mountain trails make for the perfect biking track is also the reason why adventurers prefer this activity here. And today, Sikkim has grown into a top mountain biking destination in India. There are a few mountain biking routes in Sikkim, with some of them being most popular among adventurers. Gangtok to Rangpo mountain bike ride is a sprawling route with majestic views embedded all along.
There are a few biking routes that need technical mountain biking competency and requires the rider to be really good with mountain biking basics. Therefore make sure that you are well-equipped to tackle the mountain trails. The mesmerizing Himalayan views in Sikkim awaits!
Route: Gangtok- Rumtek- Sang- Sirwani- Temi- Namchi- Namthang- Rangpo
4. A trip to caves in North Lha-ri-nying phu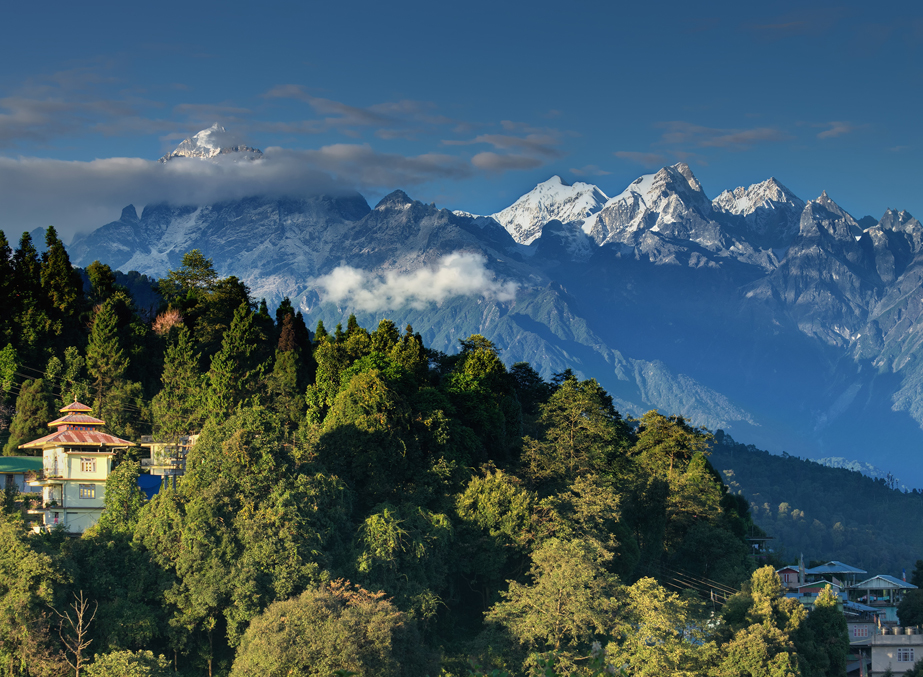 Considered to be the holiest of all the caves in Sikkim, the North Lha-ri-nying phu located to the north of Tashiding, is a popular tourist attraction in Sikkim, and a must – visit place. The cave is located quite close to the Tashiding monastery and is indeed a place worth your time. A 3-day hike from Tashiding takes you to the caves.
The North Lha-ri-nying phu Cave is also known as the Old Cave of God's Hill. Quite interestingly, the cave has been named based on one of the four cardinal directions where it is located.
5. Staying with locals in a homestay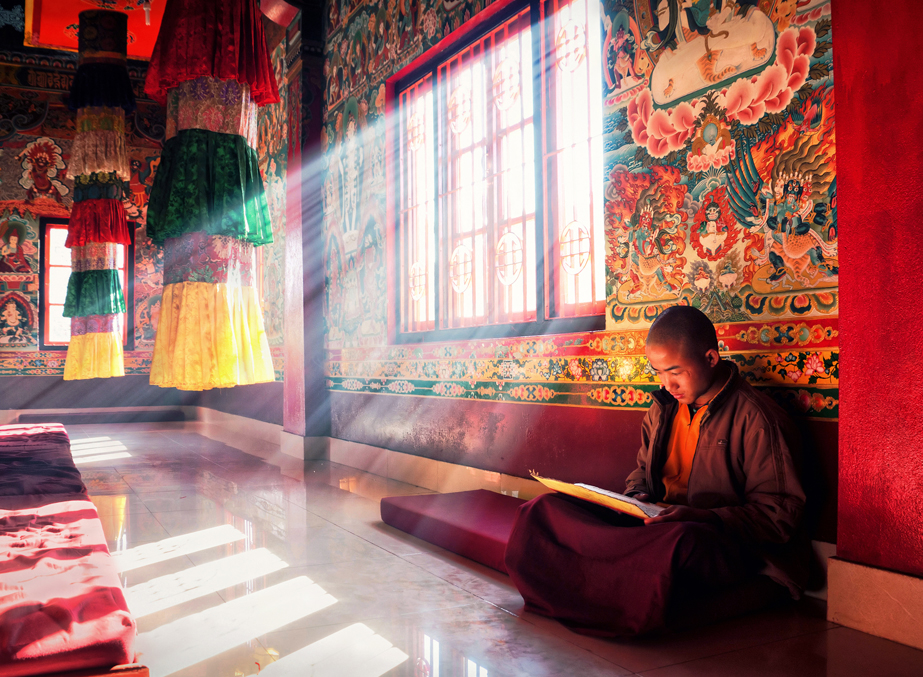 Village tourism is a major highlight of Sikkim tourism and indeed a unique experience for all the travelers. Sikkim is one of the few remaining places in India that have carefully treasured their cultural heritage over centuries.
And the best of Sikkim culture and cuisines can be experienced in the villages across the state. Therefore, make it a point to stay in one of the homestays in Sikkim and experience the best of sustainable and eco-tourism in northeast India.
Highlights of village tourism in Sikkim: Interaction with Lepcha, Bhutia and Nepal sects, mythical and historical stories, knowledge on daily village chores, cane & bamboo bridges crossing, visit traditional village healers, and info on local food and beverages preparation
Best homestays in Sikkim: Sudhis Homestay, Gangtok Taras Homestay, Alpine Homestay, Bokhim Residency, Ngodrup Khangsar Homestay, Aritha Lake Homestay, and Yulie Homestay
6. A shopping spree at MG Road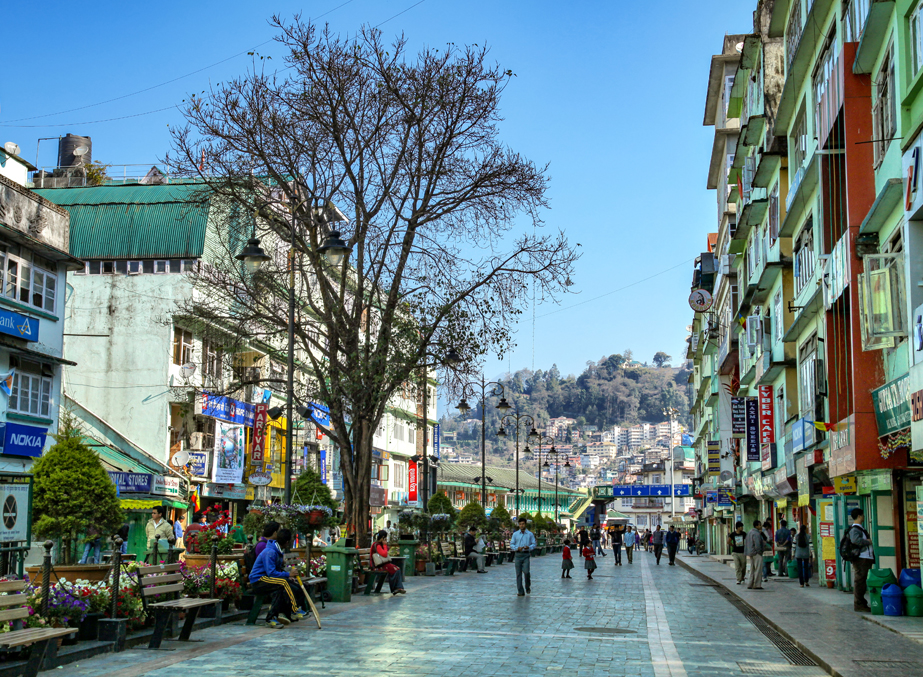 Brace yourself for an exciting walk through a boulevard of colors! Yes, MG Marg (New Market area) is all about the pretty street with shops lines on either side, making it a wonderful sight to behold. Also, there are no vehicles allowed inside the shopping area, so you can walk freely and explore the market completely. MG Marg or MG Road in Gangtok is the most popular place for shopping in Sikkim.
This place is mentionable in April because Gangtok experiences super cold climatic conditions during winter and April being a tender warm month offers lovely conditions to go out and shop your hearts out in Gangtok, which also happens to the top shopping place in Sikkim.
Major highlights of the market: Sikkimese cups known for lovely colors and traditional patterns on it, Kandoika for books on Buddhism, Babu Shakya & Sons for jewelry, Sikkimese handicraft, and handloom
Market timings on MG Marg: 8 am – 7 pm (approximately)
Note: Please be informed that the market remains closed on Tuesdays. Also, there are fewer shops that accept cards. It is therefore advised to carry sufficient cash along. Lal Bazaar (Kanchendzonga Shopping Complex) is a few minutes walk away from MG Marg.
7. Crafts festival in Ravangla exhibiting cultures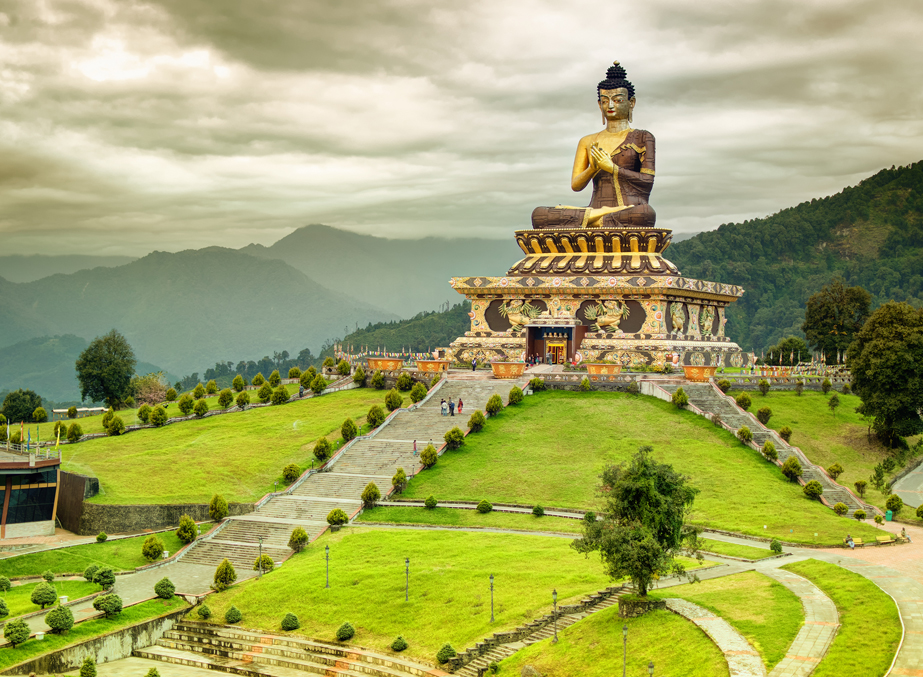 Celebrated every year during the second week of April, the Rabong Discovered festival is the 5-day extravaganza that everyone must be a part of. Organised in the breathtaking locale surrounded by thick woods and lake, the crafts festival exhibits the food, handicrafts from the northeastern states and Bhutan.
Ravangla is a scenic spot located at an altitude of 7000 feet tucked between Maenam and Tendong Hill in Sikkim. Cultural, music, and fashion shows make the highlight of the festival where local artisans from the neighboring states and country come to exhibit and finally sell their creations.
Ravangla Festival dates: 8 – 12 April every year
Location: Cho-zo Lake area
Activities conducted during the festival: Mountain biking, horse riding, and boating
8. Attend a Flower Exhibition at the White Hall Complex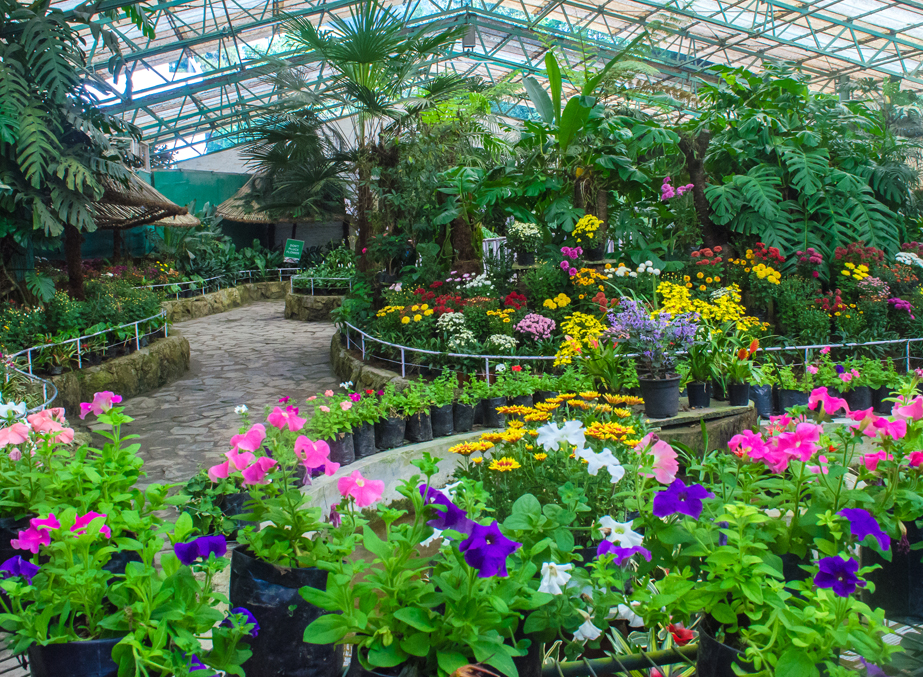 What a visual delight Sikkim is for all the nature seekers! Come April-May, Sikkim dazzles with a myriad of flowers from the different exquisite breed. White Hall, Gangtok is the place that holds the exclusive exhibition of thousands of Sikkimese flowers. The flowers on display are mostly the seasonal ones, with the majority comprising of bright and wildflowers. A trip to the White Hall is the perfect day tour activity for adorable couples who are into flowers and plants.
Looking for more places to see the riots of colors in the form of flowers here? Fret not! Deorali Orchid Sanctuary in south Gangtok and Kyongnosla Alpine Sanctuary are the top places to adore the seasonal flowers in Sikkim.
Make sure that you don't leave Sikkim in April month unattended! There is a reason why newly married couples book Sikkim honeymoon package exclusively during this month! Care to find out?

Subscribe to us
Subscribe to our newsletter and stay updated

Request a call back
Our experts would love to create a package just for you!
Sikkim Travel Information at a Glance
Find the authentic information on how to plan a hassle free tour to Sikkim. Travalghar puts together for you relevant details on how to reach Sikkim along with information on different means of transportation and the best time to visit. Also explore the different attractions and destinations in Sikkim with the help of our map, made easy for you to navigate.