Places to visit in Gangtok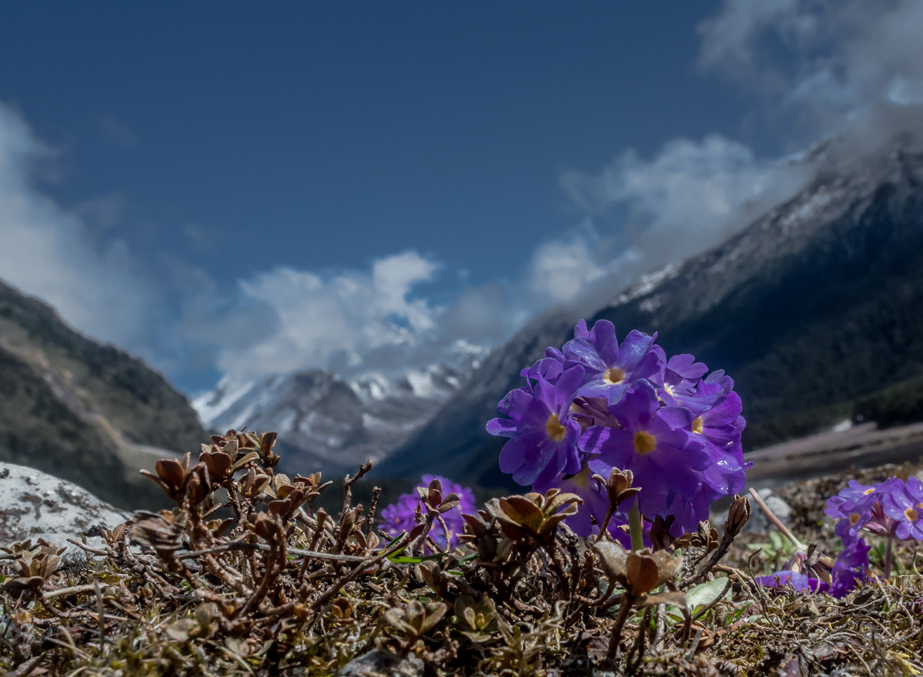 Gangtok, a heavenly abode for all type of travellers!
The city of Gangtok brims with awe-inspiring natural wonders. From mighty snow-capped mountains to enchanting lush green forests, the best of nature sprawls in Gangtok. If you are on a vacation to Gangtok, trust me, a day or two is just not enough! There's so much to be explored and so much to be felt in this lost kingdom of Gangtok. The city is nestled amid the Himalayas in the North East India. The vivid rich culture infused in every corner here is sure to help you find that 'inner peace'. So, go ahead and trail through the paths of this untapped kingdom. Unwind along the banks of pristine lakes and rivers or travel down its history in the solitary monasteries, every place here will leave you a treasure trove of memories.
Suggested Read: Things to do in Gangtok, Best Time to Visit Gangtok & How to Reach Gangtok.
You might also like: Places To Visit in Bhutan & Things To Do in Bhutan
(Tourists enjoy a ropeway cable car/Gondola ride over Gangtok city during sunset.)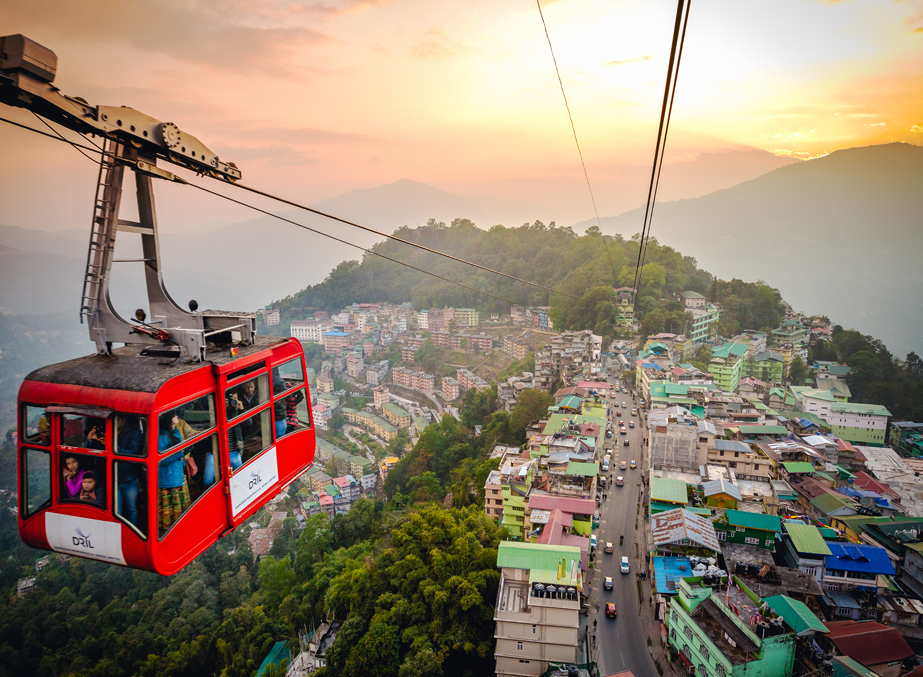 Here are places you should visit while in Gangtok.
Kanchenjunga Mountain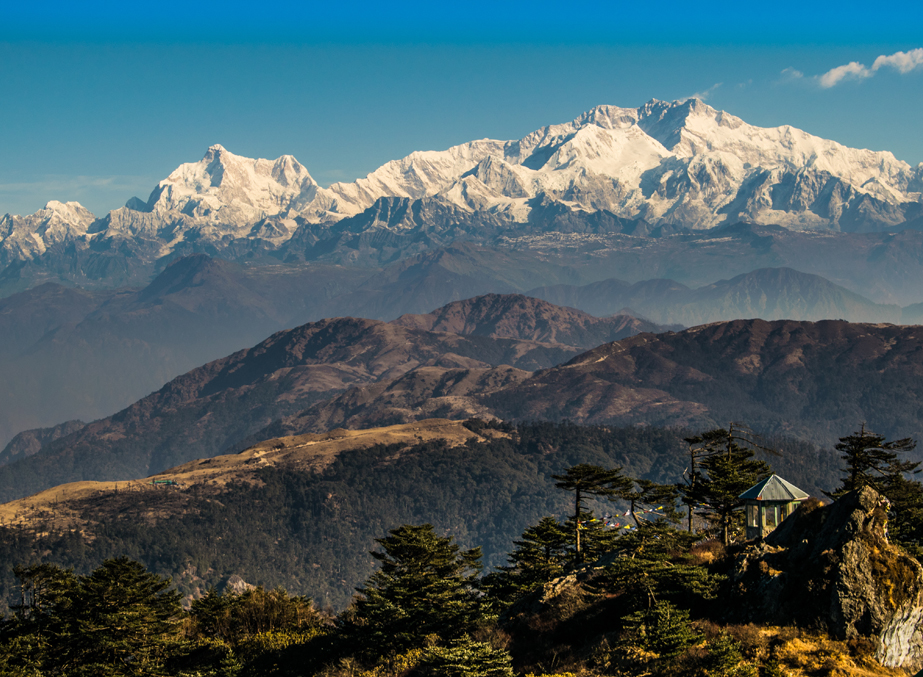 Kanchenjunga Mountain is the third highest peak in the world. And from the city of Gangtok, you can enjoy a breath-taking view of this snow-clad mountain. Kanchenjunga peak resonates through the pinnacles of Sikkim and can be seen from most places around Gangtok. If you wish to enjoy a closer view of this mighty mountain, you can participate in treks to the base camp of Mount Kanchenjunga or visit the Kanchenjunga National Park. You can also set a base camp in the foothills of Kanchenjunga and spend a night or two here.
Tips
The best time to visit to get the clear views of Kanchenjunga Mountain is during the spring season (March to April) when the sky remains clear and during the winter season (October to December) when the weather remains pleasant and the sky clears post monsoon rains.
The best place in Gangtok to get mesmerising views of Kanchenjunga Mountain is Tashi View Point. You need to climb a few steps to reach the point.
Facts
Kanchenjunga Mountain is the third highest mountain in the world with an elevation of 8,586 meters (28,169 feet).
The mountain lies partly in India (i.e. Sikkim) and partly in Nepal.
It is the highest mountain in India and the second highest mountain in Nepal.
Kanchenjunga Mountain finds its name from its five towering peaks. The name Kanchenjunga translates to 'Five Treasures of Snow'.
Main Highlights
It is an experience to watch the intriguing and ravishing views of the sun rising over the Kanchenjunga.
Trekking in the Kanchenjunga region gives you an opportunity to witness the abundant wildlife species like snow leopard, musk deer and blue sheep while passing through the pristine rhododendron forest and high alpine passes.
You can also check our tailor made Bhutan Tour Packages.
Phodong monastery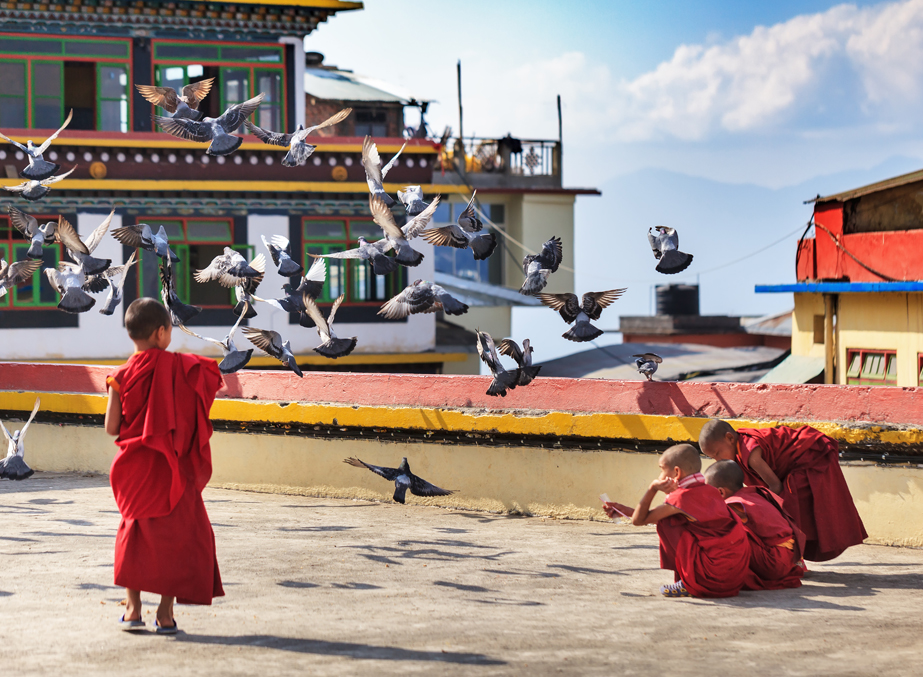 Outstanding amongst many other places to visit in Gangtok is Phodong Monastery. This particular monastery was built in eighteenth century. The paintings, sculptures and overall architecture of this monastery has been completed with perfection. You can spend hours humming to the sound of monks performing the rituals. The location of this monastery adds on to the beauty. You can enjoy a scenic view of the surroundings here and spend time unwinding. The popular Cham dance is held annually in this monastery.
Tips
The best time to visit the Phodong Monastery is between the months of March to May and October to December.
The monastery remains open for visitors from 8 am to 5 pm.
You must dress appropriately while visiting the monastery
Maintain peace and decorum while you are inside the monastery and do not disturb the monks as that might offend them.
Facts
Phodong Monastery is rated as the most beautiful monasteries in Sikkim.
It secures a position in the list of six most important Buddhist monasteries in Sikkim.
The monastery houses over 250 monks.
The monastery was originally built in 1740 AD by the fourth king of Sikkim – Chogyal Gyurmed Namgyal.
Main Highlights
The monastery is famous for its architectural style. The walls are adorned with beautiful murals, paintings and frescos which never fails to astonish visitors.
Phodong Monastery offers a picturesque view of the mountains and the surrounding valleys.
The Chaam Dance along with religious rituals is performed by the monks on the occasion of the annual festival, which is held on the 28th and 29th day of the 10th month of the Tibetan calendar corresponding to the month of December to January.
Magnan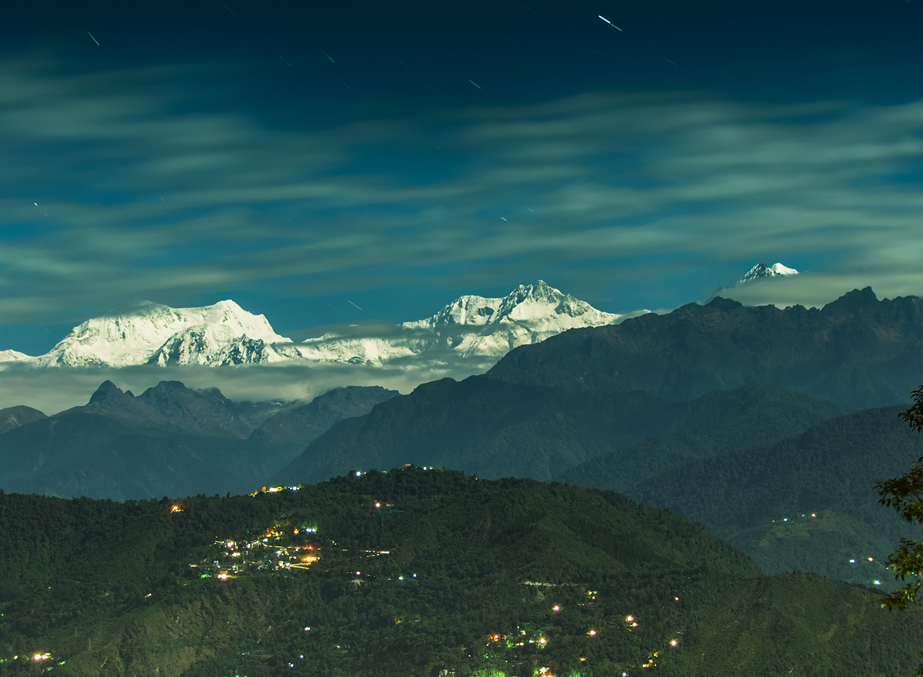 Magnan is a residential community 65 kilometres away from the city of Gangtok. This town offers a stunning range of adventure activities for its guests, thus guaranteeing that no day spent here is squandered. From simply enjoying the view of the panoramic mountains to indulging in a lists of fun sports to submerging yourselves in profound tranquility, there are umpteen things to do here. Here you get the opportunity to enjoy paragliding, mountain-biking and other outdoor activities. This little town is also home to a couple of monasteries.
Tips
The place lies at a lower altitude as compared to other places in Sikkim and hence the best time to visit Magnan is between March to May and October to December.
From Gangtok, you can hire a private taxi, car, bus or jeep to reach Mangan.
Do not forget to savour the local cuisine of Magnan which includes Phagshapa, Momo, Gya Thuk or Thukpam, Ningro, Gundruk, Churpi and Sael Roti among others. Chaang is the popular drink in Mahnan which is a must try.
Facts
Magnan hosts a three-day music festival every year in the month of December where the bands from within the region and other Northeast states perform.
Main Highlights
Magnan is a small and less populated town that offers serene beauty with a sense of calmness and tranquillity. The town offers breath-taking views of the Kanchenjunga range.
Adventure enthusiasts can enjoy paragliding, mountain biking, rock-climbing and forest camping in Magnan.
Suggested Read: Best Time to Visit Mangan & How to Reach Mangan.
Tsomgo Lake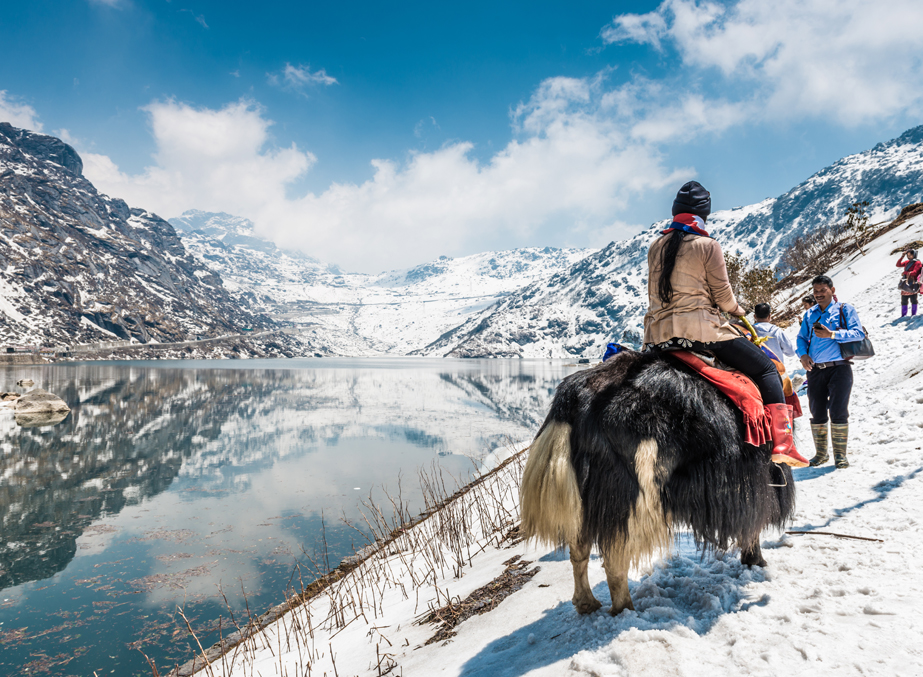 A standout amongst the most imperative and heavenly places to visit in Gangtok, the Tsomgo Changu Lake is a frosty lake arranged 40 kilometres from Gangtok at a stature of 12,310 feet. It is a fable pool of amazing magnificence. The frigid blue waters of the lake mirroring the mighty pinnacles of the Himalayas make for a breath-taking sight. Spend a whole day at this lake since it is an ideal ordeal. You can also picnic on the shores of this pristine Lake. There are couple of street-side stalls here that offer mouth-watering delicacies. Do get your hands on them.
Tips
Since the lake is situated 40 km. away from Gangtok city, it is advisable to leave early for your trip so as to reach on time.
Tsomgo Lake is a part of the restricted area, hence you will need a prior permission/permit for which you require photo identity proof and two passport size photos. You can get the permit from the tourism department at MG Marg Gangtok or you can ask your travel agent to arrange for the same.
Due to heavy snow during the winter season, sometimes the roads are blocked.
There is no accommodation facility in the area to stay overnight.
Facts
Set at an elevation of 3,753 meters, Tsomgo Lake is one of the highest lakes in India.
The surface of the lake reflects different colours in different seasons. Therefore, it is considered sacred among the local people.
Main Highlights
During the winter season (January to mid-May), trekking along the lake coast and yak ride on the snow are major attractions.
During the summer and autumn season, one can observe fine blossom of Primula flowers and other alpine vegetation near the lake.
During October, you can find native birds waddling in the lake's water.
During December, the lake is partially covered with the thick sheet of ice giving you an opportunity to indulge in ice skating and savouring hot noodles and tea at the nearby eating joints.
Nathula Pass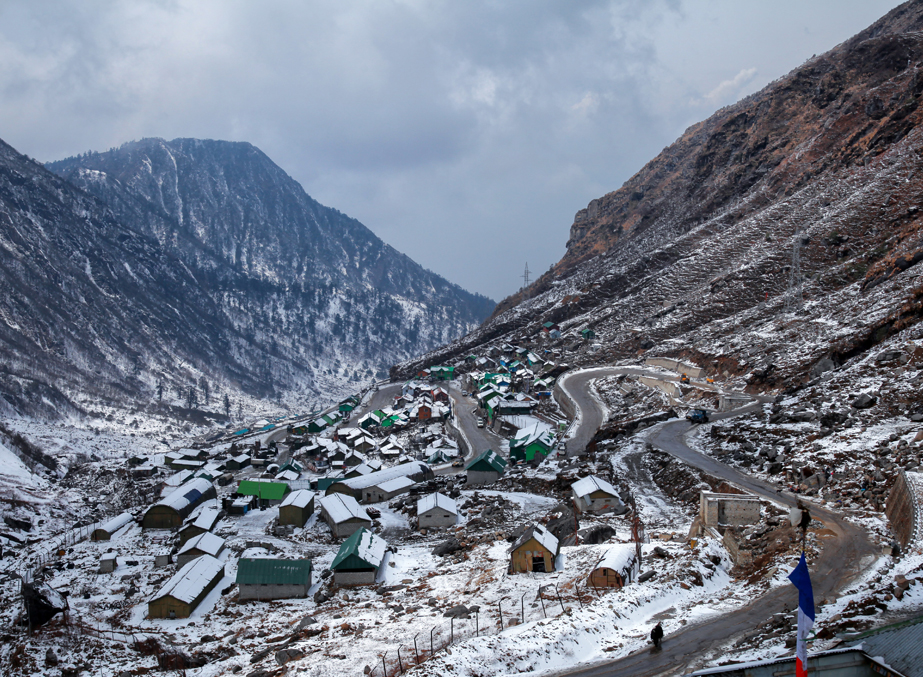 A standout amongst the most popular spots to visit in Gangtok, the Nathu La Pass is a pass which associates Sikkim with China's Tibet Autonomous Region. In the olden days, this pass shaped a piece of the Silk Route, a standout amongst the most vital exchanging courses on the planet. Visiting Nathu La Pass is an absolute necessity when in Gangtok. The wonderful pass can essentially be appreciated by driving or by trekking. The scenic view of the mountains from this pass is a sight to behold.
Tips
Nathula Pass remains open only for Indian nationals on Wednesdays, Thursdays, Saturdays and Sundays.
The roads are winding so if you have a problem of motion sickness, do carry some medicines.
Do not forget to take the permit from the zonal office before visiting the pass.
Facts
Nathula Pass is one of the highest motorable roads in the world set at an elevation of 4302 meters.
Main Highlights
Nathula Pass offers breath-taking views of the snow-covered mountains along with picturesque Chumbi valley of Tibet.
A pleasant drive to the pass lets you experience the picturesque beauty and fresh mountain breeze while you make your way on the roads surrounded by snow on both sides.
Suggested Read: Other Attractions in Sikkim
Ganesh tok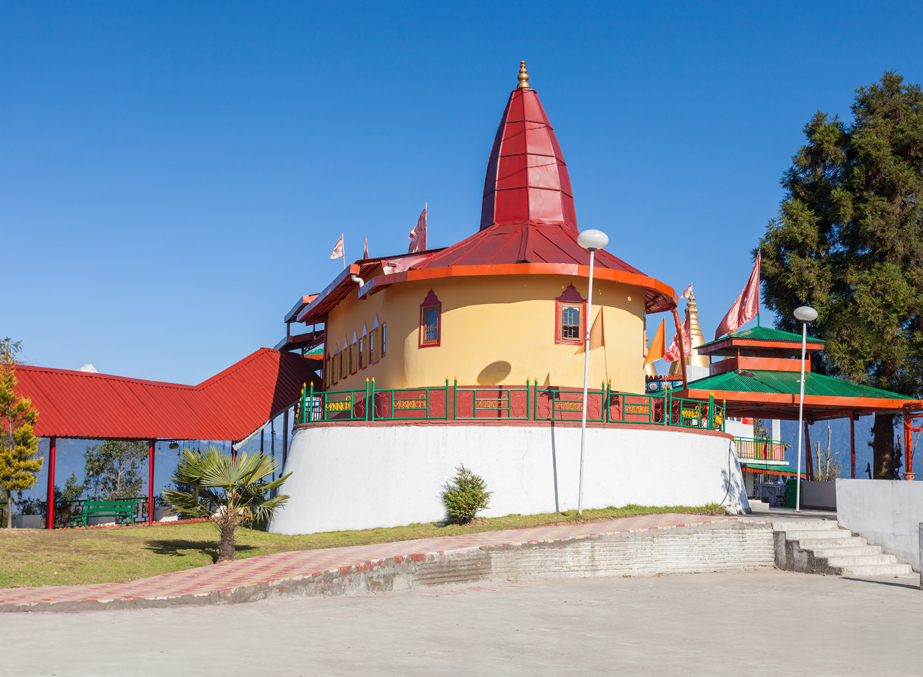 Ganesh Tok is one of the celebrated vacationer destination in Gangtok, prestigious essentially because of its beautiful architecture. Found near the Tashi View Point and the Bakthang falls, a visit to Ganesh Tok is an absolute necessity while in Gangtok. This temple is dedicated to Lord Ganesh and is situated amidst nature. The view from this temple is mesmerizing. Spend time at the gallery close to the temple to enjoy a gander view of the scenic nature.
Tips
Ganesh Tok is open to visit from 6 am until 7 pm.
You will have to hike 7 km. to reach the point hence it is advisable to wear comfortable shoes
You will be required to climb the staircase to reach the upper level where the viewing area and temple are located.
You will be required to take off your footwear midway along the staircase.
You can also enjoy a refreshing stroll at the Pinetum garden, situated right next to the Ganesh Tok.
Facts
Set at an elevation of 6500 feet, Ganesh Tok is the topmost tip of Gangtok.
Main Highlights
It is one of the best places in Gangtok to soak in the mesmerizing views of Mt. Kanchenjunga, other Eastern Himalayan peaks and Gangtok city.
The observatory tower offers the magnificent sight of lush forest valleys and mountains.
Ban Jhakri falls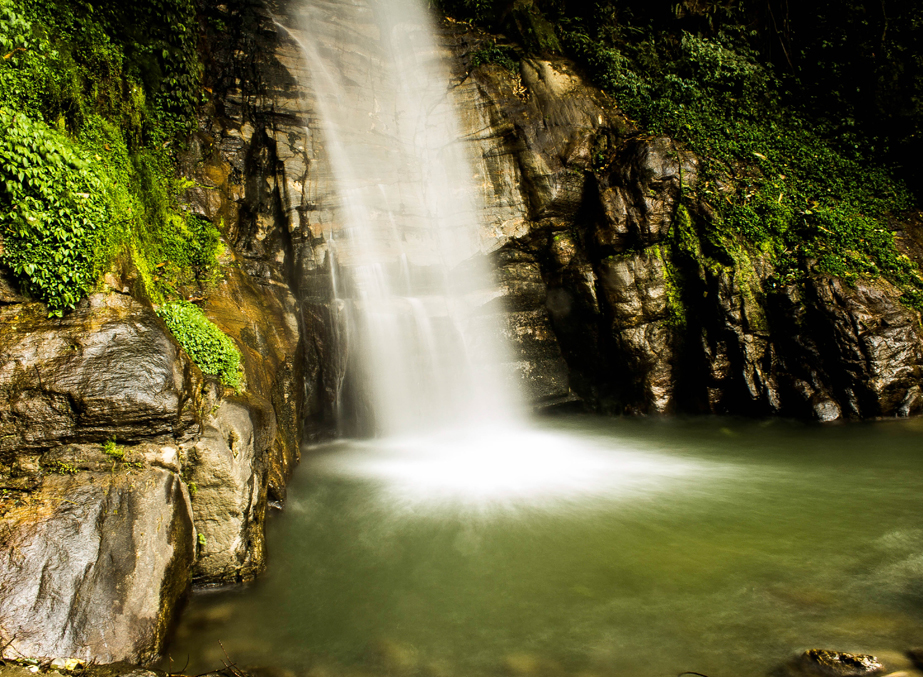 On the off chance that you wish to appreciate some wonderful touring and picnicking in Gangtok, then head to Ban Jhakri falls. Situated inside the popular Energy Park, the 100-foot Ban Jhakri Waterfall is an excellent spot. Nature rules here, a still quietness hangs all around, just punctuated by the intense spouting of the water gushing on the stones. The Ban Jhakri Falls is of sacred importance to the locals here as they are said to have a power which can repulse insidious spirits. When you are in the recreation centre, make a point to visit the man-made lake. Popular among the locals, this place has visitors throughout the year.
Tips
You will be required to pay an entry fee of Rs. 20 per person to enter the park where the waterfall is located.
There is a gift shop and a café on one side of the ticket counter.
Best time to visit the waterfalls is between February and April.
Facts
Ban Jhakri Falls are naturally created waterfall which originates from the springs located at a higher altitude.
It is a 100-feet gushing waterfall located within aforested area.
Main Highlights
It serves as a beautiful picnic spot where you can spend a nice relaxing time.
Do Drul Chorten stupa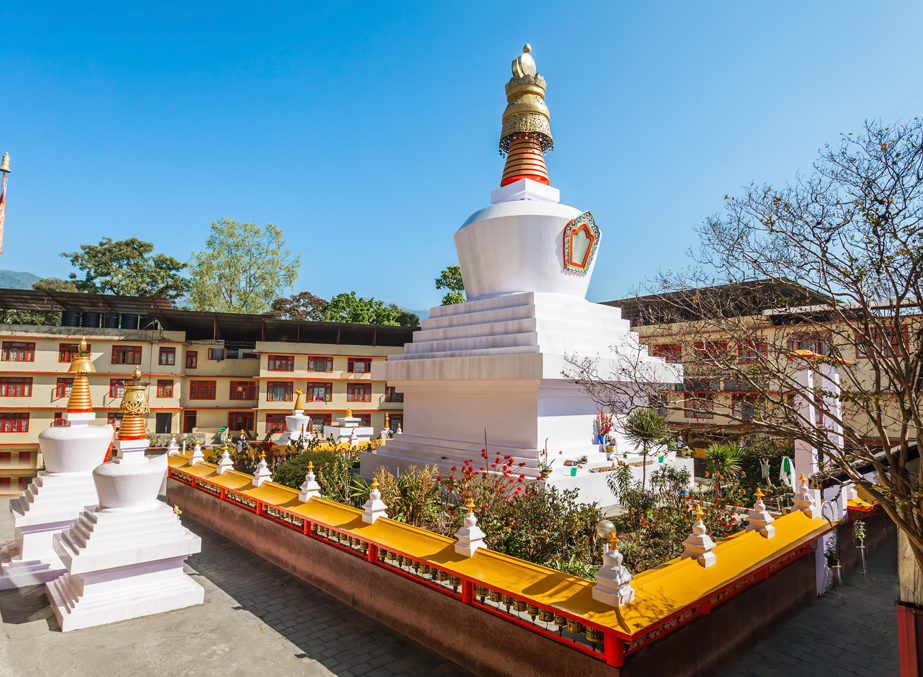 This is a historic destination in Gangtok. The Do Drul Chorten Stupa is a decent place to visit in the city. It was built in 1945-46 by Trulshik Rinpoche, leader of the Nyingma community. This stupa holds centrality in the city due to its said capacity to head out wicked spirits. It includes the conventional 108 Mani Lhakor or petition wheels of Buddhism which have wish-conceding properties. The brilliant best of the stupa reveres the figure of Dorjee Phurpa or Vajra Kilaya.
Tips
The best time to visit the place is between October and June.
The stupa is located at close proximity to the Namgyal Institute of Tibetology and Gangtok Centre.
It is open all days of the week from 8 am to 6 pm.
Facts
The stupa is considered as one of the finest monasteries in Gangtok. It was constructed in the year 1945 by Trullshi Rimpoche, head of the Nyingma order of Tibetan Buddhism.
It is surrounded by 108 prayer wheels all of which have mantras inscribed on them in Tibetan.
The place can accommodate over 700 monks.
Once this place was believed to be haunted by evil spirits. Later a very respected and great Guru Rinpoche blessed the place, cleansing it of all evil.
Main Highlights
It is an ideal place for nirvana seekers, history lovers and photography buffs.
Suggested Read: Buddhist Circuit in Sikkim
Rumtek monastery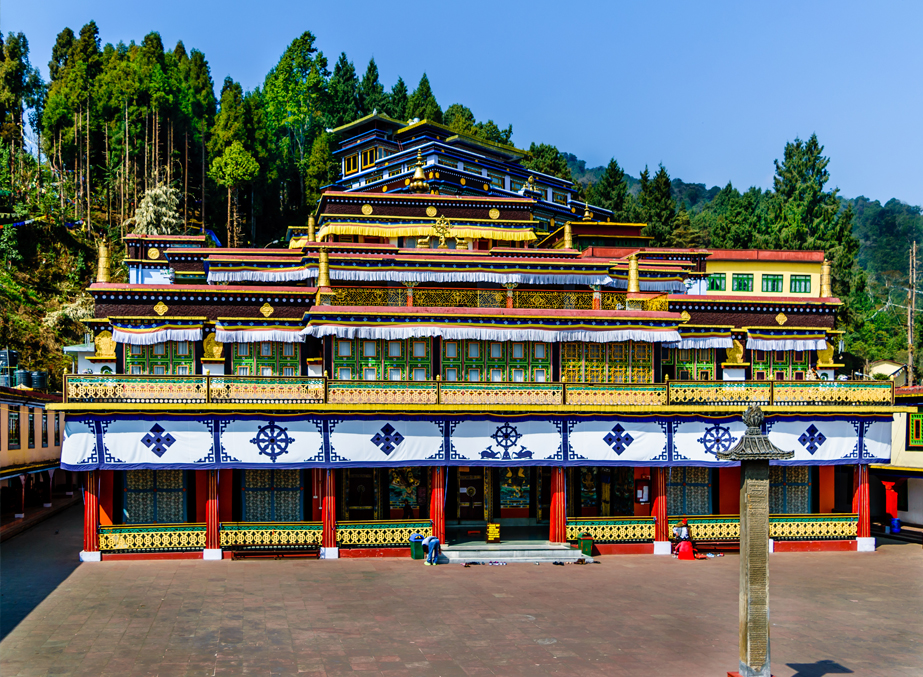 A standout amongst the most imperative and noteworthy monasteries in Gangtok, the Rumtek monastery is among the must visit in Gangtok. The religious community takes after the school of Tibetan Buddhism and is particularly eminent comprehensively for its Kagyu lessons. The design of the place is additionally a noteworthy fascination. It is worked in the traditional Tibetan gompa style and is three stories high. Every one of its floors include intriguing sights that are equipped for bestowing the profound information of Buddhism to its devotees alongside the historical backdrop of the faction. The lobbies of this monastery include a vast hand painted and multifaceted divider wall paintings, thankas, silk compositions and statues, every one of them startling in their profundity and magnificence. The best floor of the religious community includes a stupa and a porch.
(Prayer Wheels at Rumtek Monastery, also called the Dharmachakra Centre)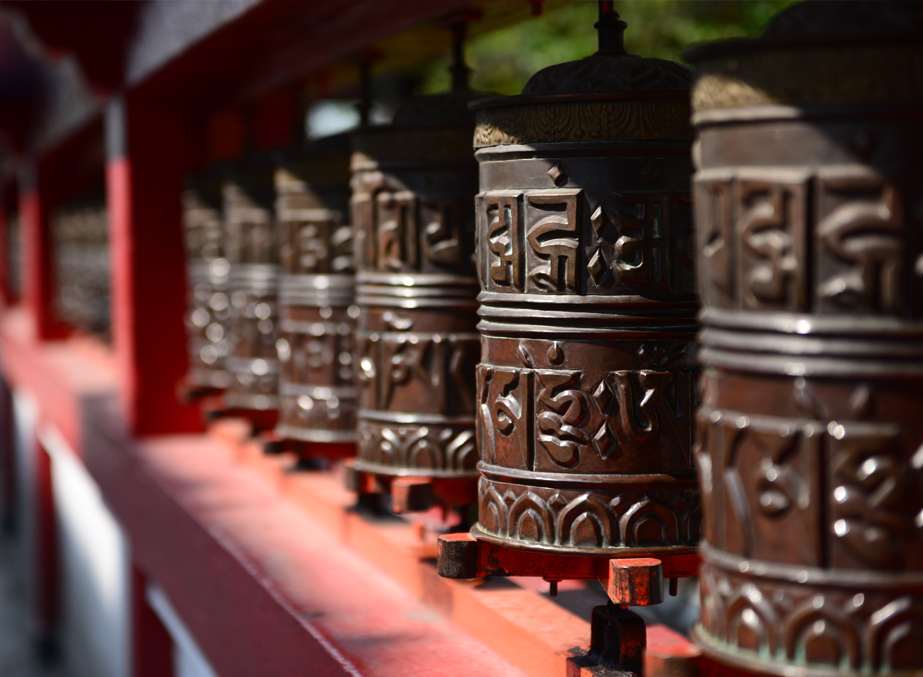 Tips
Try to reach the monastery early so as to catch a glimpse of monks doing morning prayers.
The monastery remains open from 9 am to 6 pm.
The walk is long and steep from the taxi drop off location.
You are not allowed to carry cameras inside the monastery.
Facts
The architecture of the monastery is considered to be one of the finest in the world and resembles the original one in Tsurphu, Tibet.
It is a world-renowned center for Kagyu teachings.
During its second construction in 1963, Rangjung Rigpe Dorje, 16th Karmapa brought some of the sacred items and rarest Buddhist religious artwork in the form of 1001 miniature golden models of Buddha, Thangkas and wall murals.
Main Highlights
Golden Stupa at the Monastery, mystical ancient relics and down the hill river.
Suggested Read: Famous Monasteries in Sikkim
You can also visit our Bhutan Tourism website and check out the most charming monasteries in Bhutan.
Namgyal institute of Tibetology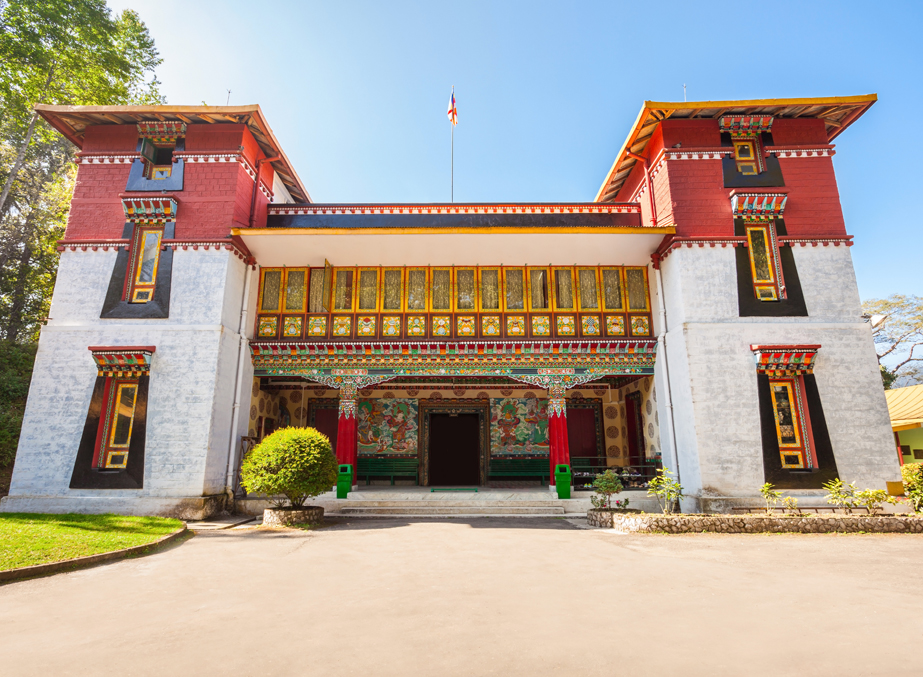 A place where Tibetan Buddhism is taught, the Namgyal Institute of Tibetology is a famous fascination in Gangtok. Since the district is vigorously influenced by Tibetan Buddhism, understanding it is an extraordinary method. Delightful Tibetan design characterizes the building and its exhibition hall houses a few statues, coins, hand depictions and weaving work (thangkas), Tibetan fine arts and antiquities, and also antiquated compositions in Sanskrit, Tibetan, Chinese and Lepcha. The library of the Institute houses more than 60,000 books among which are the first lessons of Lord Buddha.
Tips
The Namgyal Institute of Tibetology is open from 10 am to 4 pm, from Monday to Saturday.
Facts
The institute is one of the largest repositories of Tibetan works, located outside the Tibet region. It houses the rarest and oldest collection of ritual objects, mementos, religious art, jewellery, Tibetan iconography, documentaries and books on Sikkimese tradition and culture.
It also houses a library which boasts unique Buddhist tomes, some of which are a hundred years old.
Main Highlights
The Sikkimese architecture at the Namgyal Institute of Tibetology is to look out for.
It is beautifully set amidst verdant forests of oak and birch.
Tashi Viewpoint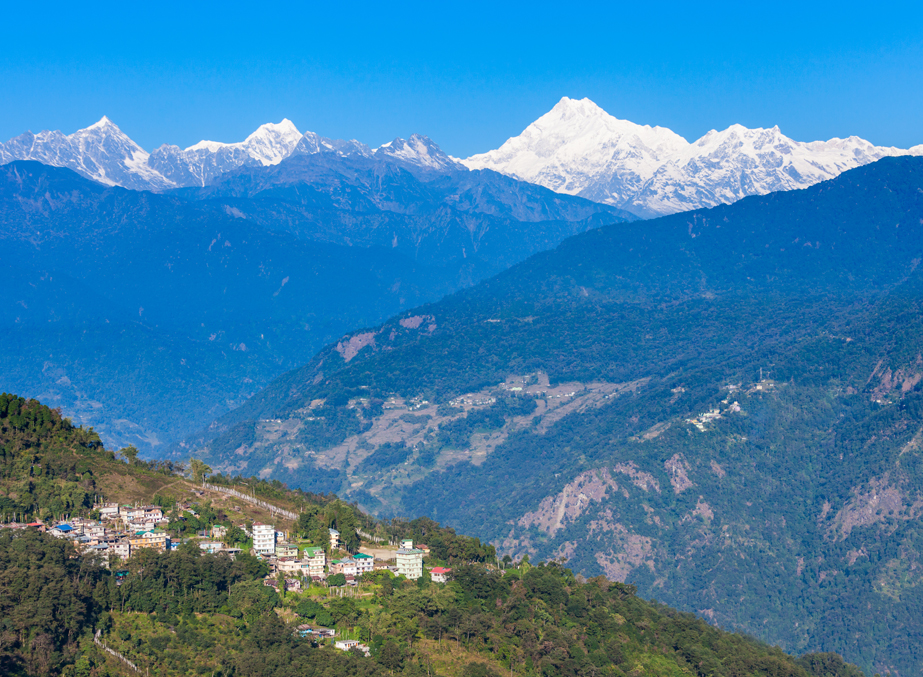 The Tashi Viewpoint is one of the prevalent spots to visit in Gangtok. Really popular for its dawns and dusks, this place offers startling view of the Himalayan Mountain. Tashi Viewpoint is a picturesque place. Come here to enjoy sunrise and sunset and experience the breath-taking view of the city here.
Tips
The best time to visit Tashi View Point is from March to June when the weather remains pleasant.
By paying Rs. 10, you can get a closer view of the enthralling peaks, Phodong and Labrang Monasteries from the binocular or telescope that is present here.
There is a nice cafeteria here, where you can eat snacks and drink warm tea while soaking in the beautiful views.
Facts
Tashi View Point offers the best sunrise and sunset views. In fact, you can witness the changing of colours on Mount Kanchenjunga as the sun rises and sets.
Main Highlights
Tashi View Point is a must visit place for nature lovers as it offers splendid views of the imposing view of the snow-capped Himalayan mountains, specifically Mount Kanchenjunga and Mount Siniolchu.
Fambong La wildlife sanctuary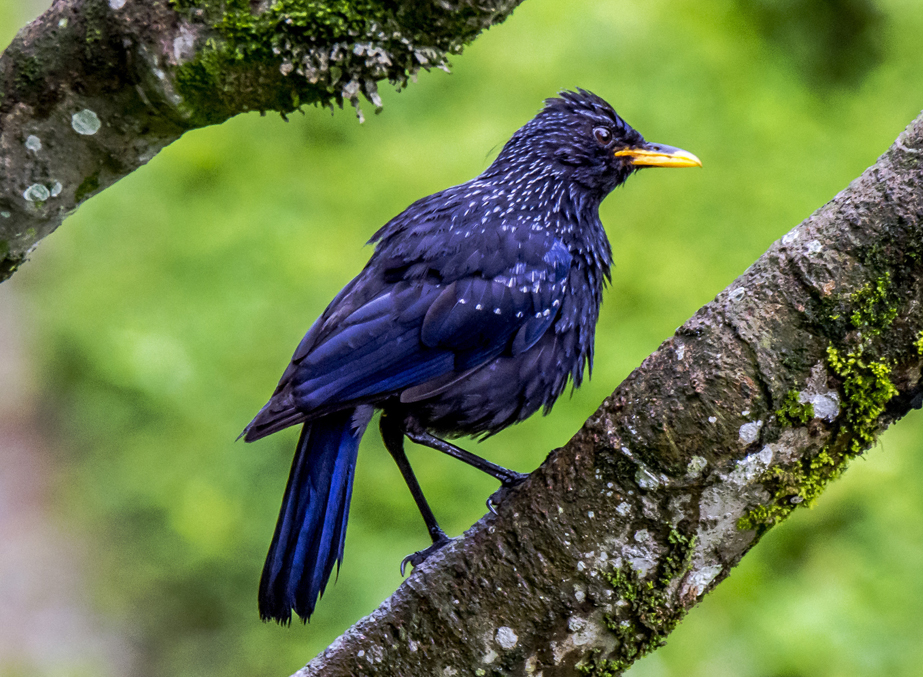 The Fambong La Wildlife sanctuary is a haven which not just houses a befuddling assortment of creatures and winged animals including Red Pandas and Himalayan Beer, yet additionally a ravishing scope of verdure including bamboo and rhododendrons woodlands. Brilliant wild orchids prosper beguilingly all around. Spending a few hours meandering around this asylum will enable you to make the most of nature's endowments exhaustively.
Tips
The entry ticket to Fambong La Wildlife Sanctuary is Rs. 5 per person.
Best time to plan your visit is between the months of March to late May and from September to Mid December.
Facts
The sanctuary is home to animals such as Himalayan Black Bear, Red Panda, Binturong Or Bearcat, Civet Cat, etc.
The plants in the sanctuary include Champa, Ferns, Oak, Orchids, Bamboo, Katus, Kimbu and Rhododendrons.
Main Highlights
It is a haven for nature and animal lovers
The wooden site-seeing tower present here offers beautiful views of the surrounding areas.
Suggested Read: Wildlife in Sikkim
Khecheopalri Lake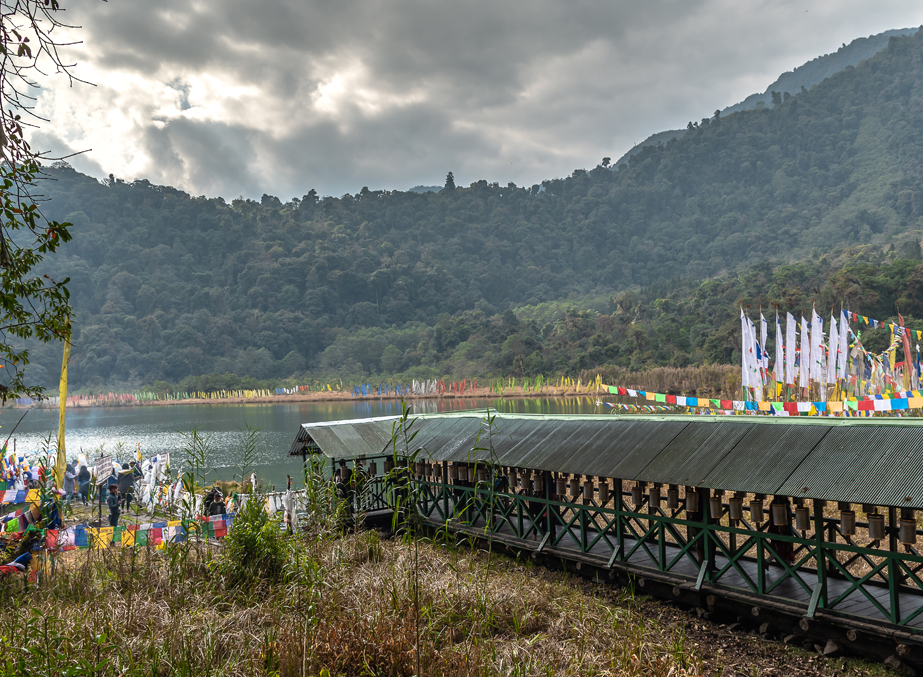 Khecheopalri Lake, otherwise called Kha-Chot-Palri, is a characteristic lake close to Gangtok and is one of the places you unquestionably should visit in Gangtok. The lake is dedicated to two Hindus and Buddhists for their legendary deeds. The shores of the lake are surrounded with statues of Guru Padmasambhava, Lord Shiva and Goddess Tara separated from other essential legendary figures.
Also pay a visit to the Khechoedpaldri hill close to the lake thought to be a sacrosanct spot by local people. Trekkers on the Yuksom-Dzongri-Goechha La trail will get an opportunity to visit this lake on the course. Setting off to the lake with a guide will enable you to comprehend the historical backdrop of the place better. If you visit Gangtok in October, then you will likewise have the capacity to appreciate the custom Chho-Tsho celebration that is praised on this lake.
Tips
The best time to visit Khecheopalri Lake is from February to March when the weather remains pleasant.
Facts
Khecheopalri Lake is believed to be a wish-fulfilling lake.
It is also believed that Lord Shiva meditated in a cave above the lake.
From an elevation, the lake appears to be in shape of a foot, which is believed to be the footprint of Lord Shiva.
Another interesting fact is that birds don't let any leaves or dirt to float in the lake. As soon as a leaf falls, birds come and pick it up.
Main Highlights
The serene environment of the lake attracts many tourists to this spot.
Maghe Purne, one of the biggest festivals celebrated in March/April every year and Chho-Tsho, celebrated in October draws thousands of pilgrims and tourists to this place.
Trekking is another popular activity here.
Suggested Read: Lakes in Sikkim
MG Marg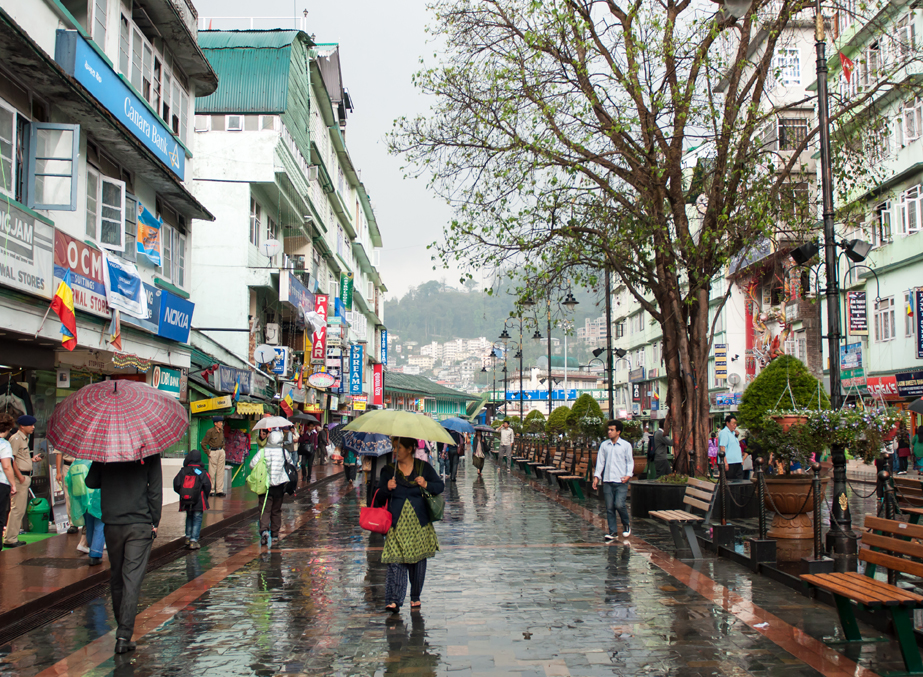 MG Marg can't be missed when in Gangtok. It is a magnificent place which fuses the best of Gangtok and its vacationer culture and shows it to its guests in bright shows. Free of litter and smoke, this is a wonderful place to spend your nights in Gangtok. Numerous eateries and bars line its lanes and a 'carnivalesque' air wins throughout the entire year. Walking relaxed along the street, ceasing at interesting shops offering neighbourhood merchandise and knickknacks, getting a charge out of warm drinks as the cold breeze blows all around, and feasting in the comfortable solace of a Tibetan eatery are one of the best things to do here.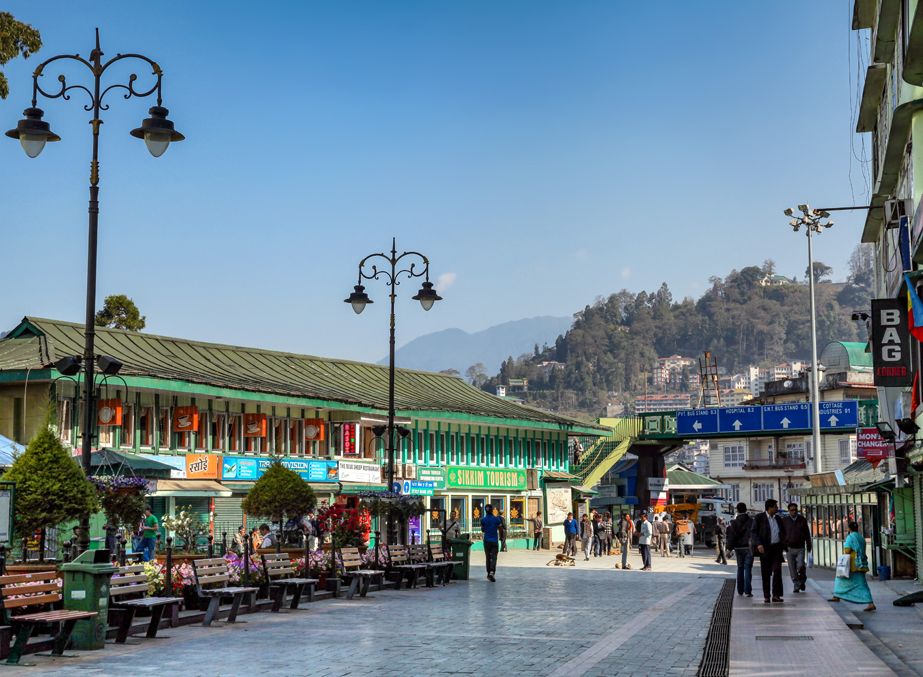 (A street in gangtok passing through a forest covered in mist or fog.)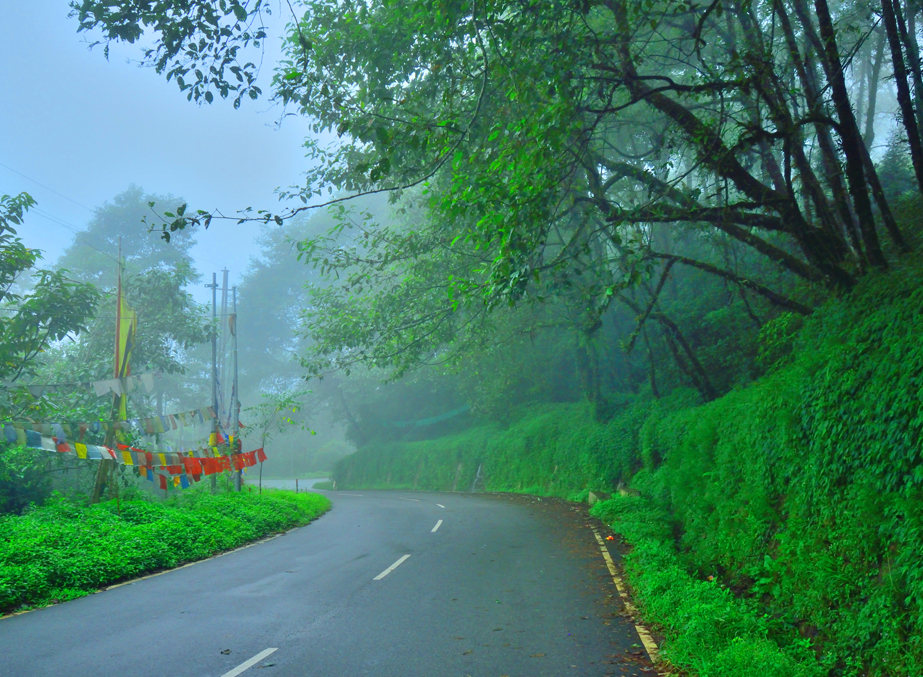 Tips
MG Marg market remains closed on Tuesdays, so plan your visit accordingly.
The 1 km. stretch of road is a pedestrian only zone and vehicles are not allowed here.
It is also a smoke-free zone.
It is advisable to carry cash with you as many shops do not accept cards.
Facts
MG Marg is lined up with numerous cafes, restaurants, shops and bars on both sides of the road.
Main Highlights
It is a popular market for buying apparels, accessories, footwear, handicraft items, etc.
MG Marg hosts the annual Gangtok Food and Culture Festival every year in the month of December.
Suggested Read: Attraction in Sikkim
Baba Mandir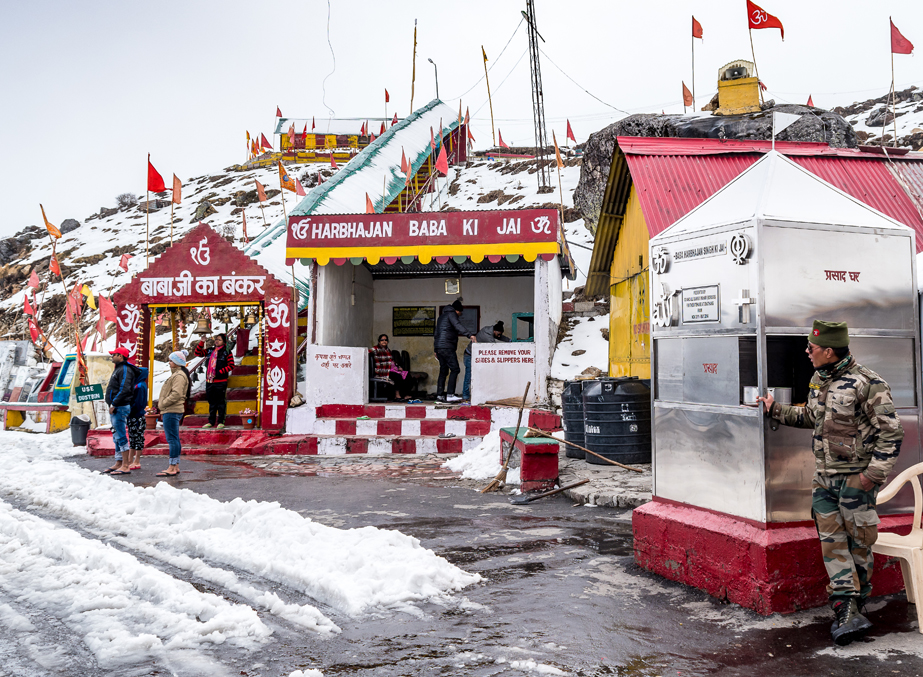 This is a temple devoted to the memory of Harbhajan Singh, a fighter martyred amid the Sino war. Harbhajan Singh shield his nation and individual officers on the Nathu La pass. It is believed that this legend has supernatural powers and that he monitors the soldiers who are at the border. He is the reason why this temple is of importance to tourists too.
Tips
It is a protected area, hence you will need a protected area permit before visiting.
Baba Mandir is situated at a high altitude (i.e. 4000 meters) hence there is a lack of oxygen in the air.
Therefore, it is advisable to take adequate precautions before visiting. You may consult a doctor and carry along inhaler, especially if you have breathing problems or other medicines for vomiting, headache and motion sickness.
You can even carry some pieces of Camphor which can help you in breathing.
If planning to visit the place between December and March, it is advisable to carry along warm clothes, winter jackets and sweaters.
Facts
Baba Mandir is built in the memories of Harbhajan Singh, a Sentry of Punjab Regiment. In October 1968, he disappeared and it is believed that his spirit is still alive which guards and protects the people there.
Main Highlights
Scenic view from the temple, pilgrimage spot.
So, wait no more! Visit Gangtok and experience paradise on earth!

Subscribe to us
Subscribe to our newsletter and stay updated

Request a call back
Our experts would love to create a package just for you!
Sikkim Travel Information at a Glance
Find the authentic information on how to plan a hassle free tour to Sikkim. Travalghar puts together for you relevant details on how to reach Sikkim along with information on different means of transportation and the best time to visit. Also explore the different attractions and destinations in Sikkim with the help of our map, made easy for you to navigate.