Sikkim Weather in January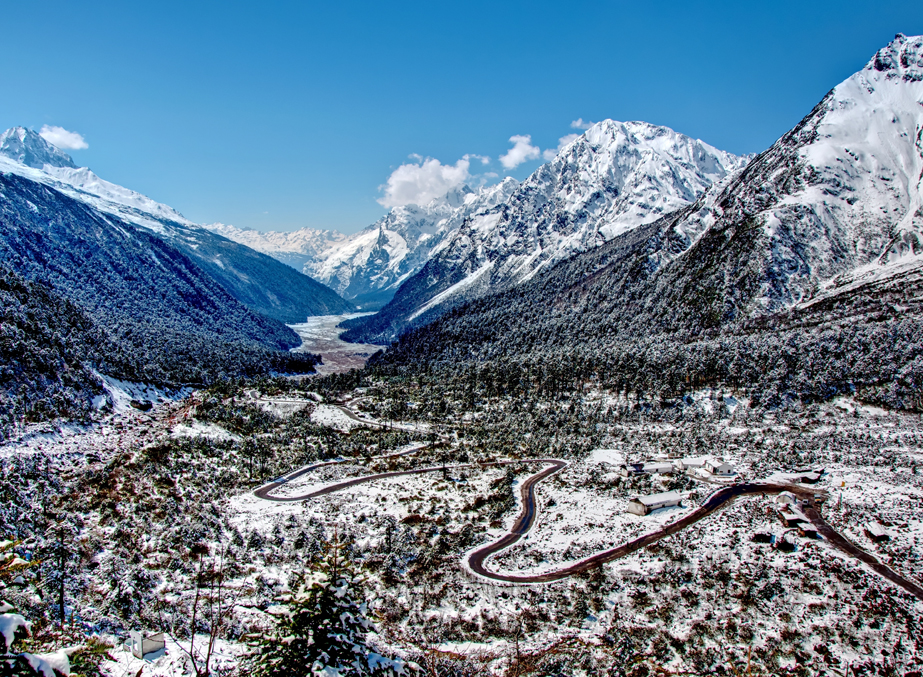 The dove-grey evening sky of Sikkim in January is a trailer of things to come; as the dawn makes way for the day, expect brilliant vistas of the surrounding mountains, frozen lakes that sparkle in the sunlight and regular snowfall that signals winter's stronghold in Sikkim. A January visit is likely to offer a chilly adventure, albeit a pleasant one.
Sikkim's Eastern Frosty Delights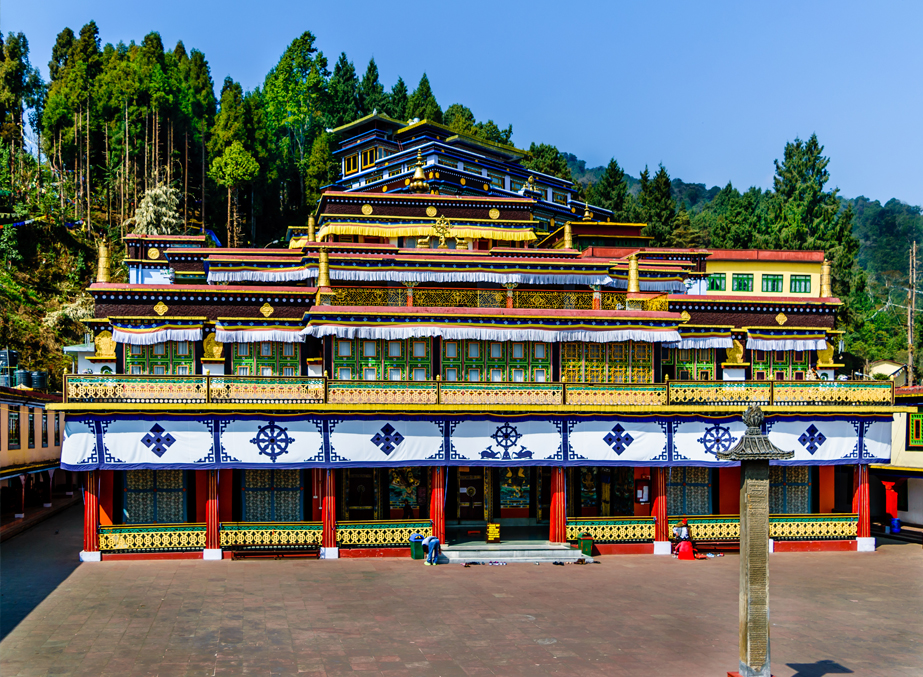 In January, Gangtok's(5,840ft), Sikkim's capital, mean temperature varies between 2°-11°C. Be prepared for clear, sunny days and cold nights. The cold is bearable if you carry a warm jacket, and the city glitters in the sunshine, making it the perfect time to explore the monasteries and other attractions around east Sikkim.
The Tsuklakhang Royal Monastery may be situated in the heart of busy Gangtok, a stone's throw from the Flower Exhibition Centre, but once you enter its main gate the atmosphere is tranquil, to say the least. This palatial monastery is the perfect introduction to Sikkim's gompas- the altars are decorated with statues of Bodhisattvas and various Tantric deities. A morning drive from Tsuklakhang to Rumtek Monastery, 23kms away, is the right start to your day. Rumtek, at 5,500ft, is perched on a hill facing Gangtok and in January, one can view the city's rooftops clearly. Don't forget to explore the intricate murals at the entrance of the main temple depicting the Four Guardians of the Universe. Around 40kms from Gangtok is the Phodang Monastery(4,500ft) constructed in the 1700s, containing ancient frescoed paintings. Both, Rumtek and Phodang, belong to the Kagyu sect of Tibetan Buddhism and can be explored on the same day by hiring a car from Gangtok.
While heavy snowfall sometimes force border security to close Nathu La Pass in January, there have been instances where travellers were allowed to make the journey. Around 60kms from Gangtok, Nathu La, at the giddying height of 14,140ft, was once part of the famed Silk Route. Be prepared to pass frozen waterfalls on the way. If you're starting the year with a trip here, you can even visit a partially-frozen lake and a temple of legendary status.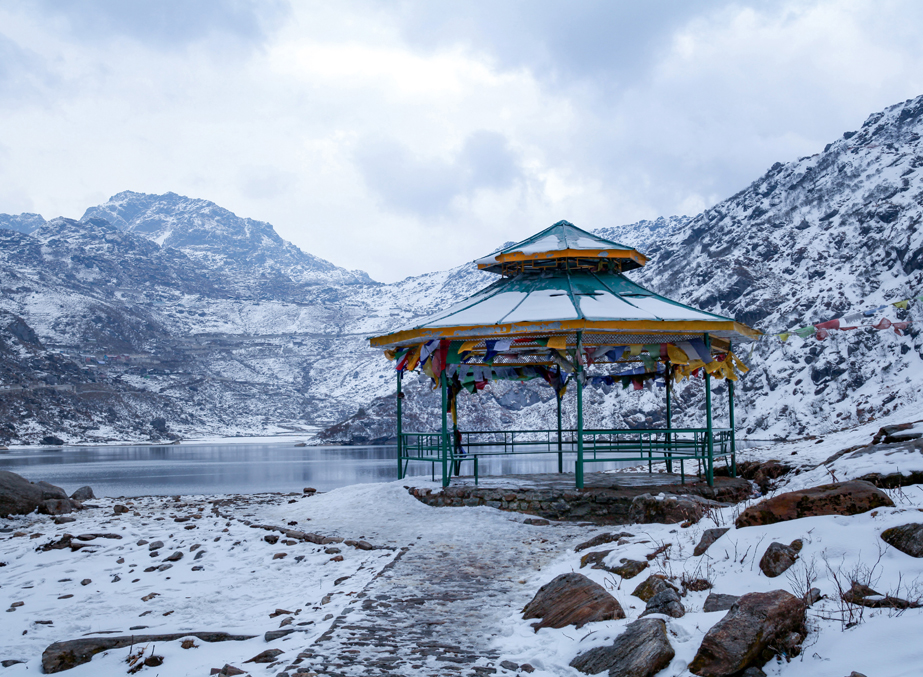 Tsomgo Lake, aka Changu Lake, is 40kms from the capital city and this glacial lake is nearly frozen over in January. Picture a bright blue, oval-shaped, waterbody surrounded by snow-sprinkled mountains at an altitude of 12,310ft and you know this has to be part of your travel list.
On a clear January day, the corkscrew road to Baba Mandir is simply 15kms from Tsomgo Lake. At 13,000ft, this shrine is dedicated to Harbhajan Singh, a soldier who perished on these slopes. Legend has it that his spirit protects the army personnel at the Sino-Indian border. In January, the sub-zero temperature makes for a thrilling adventure and the snow-covered landscape is a joy to behold.
If you'd like to witness a completely frozen waterbody, Kupup Lake is a must-visit attraction. This elephant-shaped lake is frozen in place and is situated just before Baba Mandir, 60kms from Gangtok. Kupup Lake is not part of most tours and it is the perfect destination for those looking to find off-beat destinations in east Sikkim.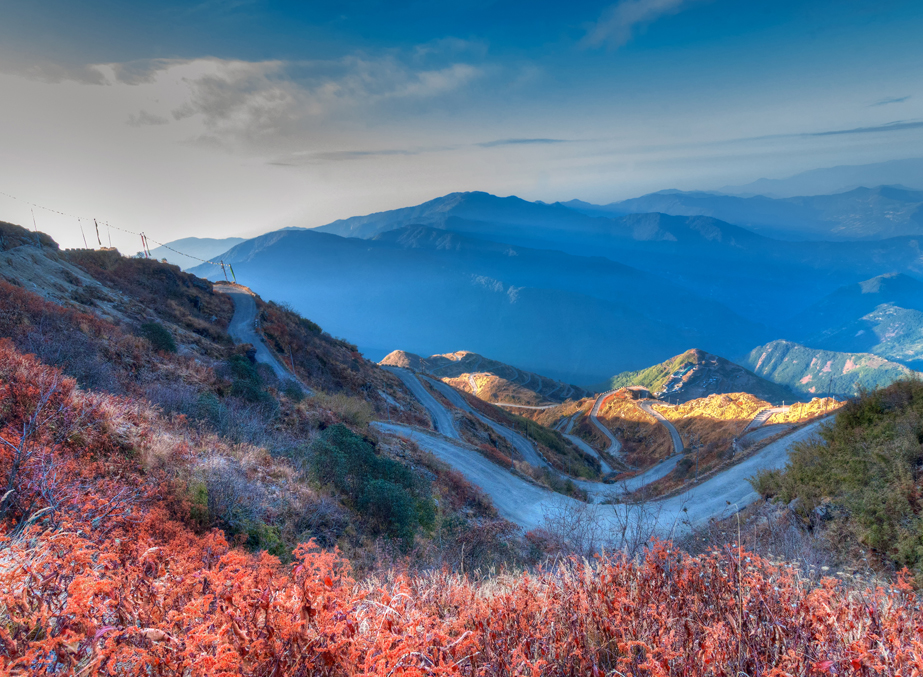 Another lesser-known January destination in eastern Sikkim is Zuluk(10,000ft), 31 kms from Kupup. The road that passes through the tiny village of Zuluk has a number of hairpin turns and resembles a snake curling through the snow. 14kms away is the Thambi View Point where, on a January day, you can view the panoramic Kanchenjunga Range. There are homestays and residencies at Zuluk for those who want to spend a few days away from busy Gangtok.
The Frozen Northern Sikkim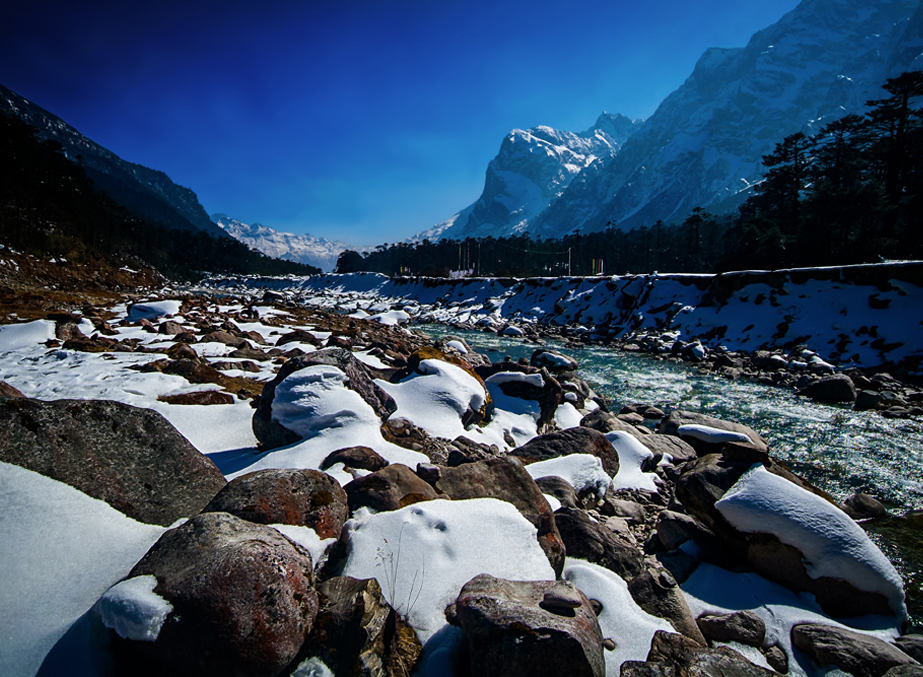 It is near impossible to predict the weather of the eastern Himalayas. When it comes to north Sikkim in January, quite a few tourist attractions are cut off. However, if you're the adventurous kind there are a few that offer spell-binding panoramas.
By November, Lachen(8,800ft) starts experiencing the first signs of snowfall and by January this northern Sikkim town is covered with layers of white. The crystal clear days offer ultra-beautiful views of the peaks and while Gurudongmar Lake is off-limits, you can soak in the winter atmosphere of a Sikkimese village. Take a stroll to Lachen Monastery, a short distance from town, and bask in the serenity of the monastery. As a traveller, make sure you pack for sub-zero temperatures. Lachen is less than five hours away from Gangtok.
If you really want to explore northern Sikkim in January, your best bet is Lachung. This town is situated at 9,000ft and 47kms from Lachen. Two tributaries of the Teesta river meet in this picturesque town and will be frozen over as the temperatures can move between -7°-10°C. While you're waiting on the weather to clear so that you can visit neighbouring attractions, make sure you explore Lachung Monastery. A tiny gompa with a prayer hall that can help you forget about the cold for a while. Lachung is four hours away from Gangtok.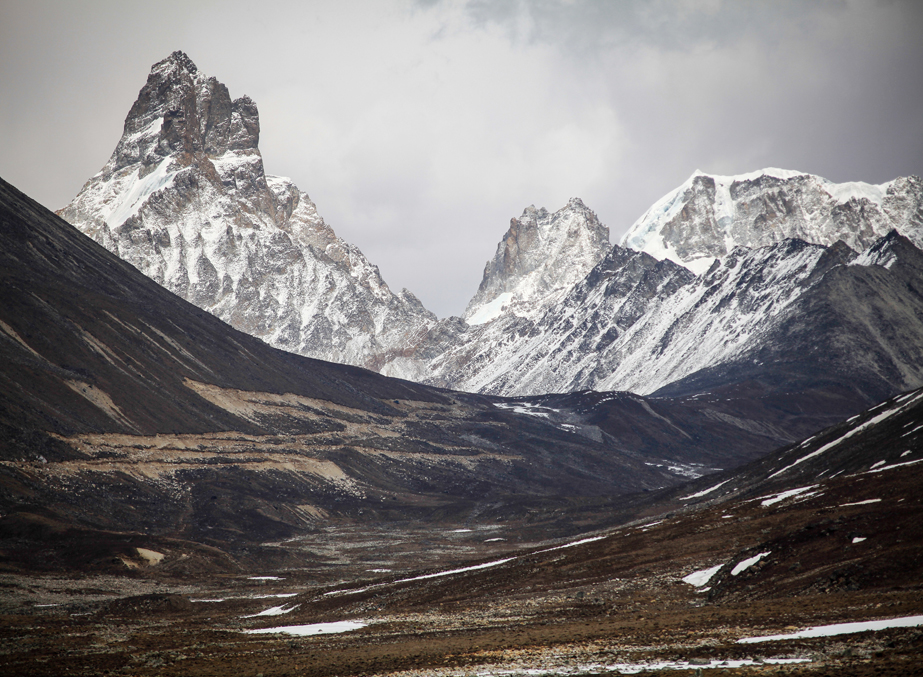 While you have about a 10% chance of visiting Gurudongmar Lake, the odds of visiting Yumthang Valley and Zero Point are higher, around 40-50%. Situated 25kms from Lachung, Yumthang is best visited in the morning or early afternoon. The entire valley is bathed in snow and it certainly is a once-in-a-lifetime view. The white peaks hover above the Teesta, and the alpine vegetation seems bleak yet beautiful. A rough car ride under the cover of snowfall will take you to Zero Point, 25kms from Yumthang. It is worth the effort because Zero Point is at an altitude of 15,000ft and if the roads are open you'll get to witness snowfall.
Wintery Western Sikkim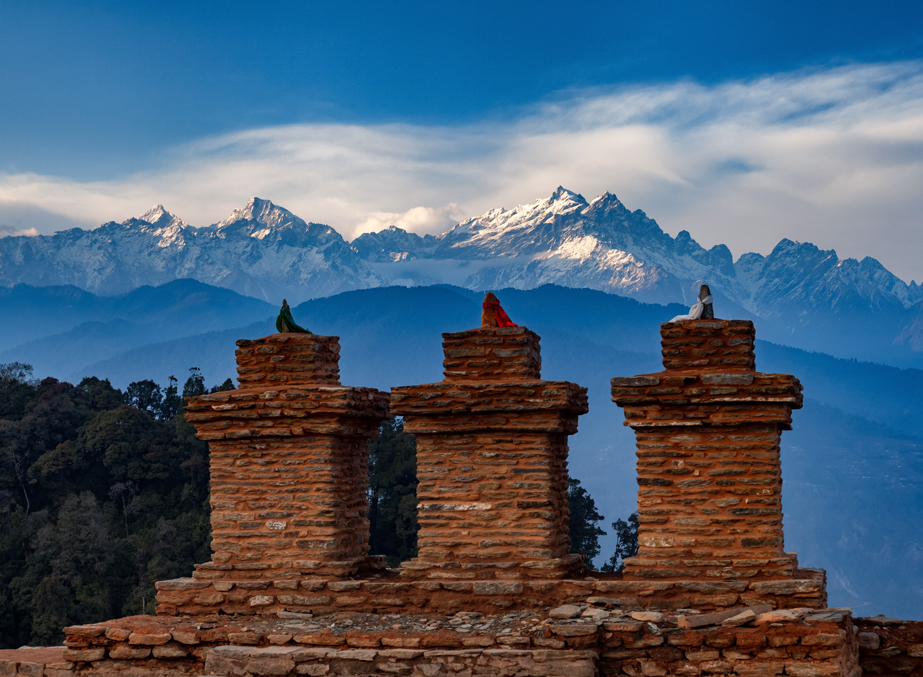 The hill town of Pelling(7,200ft) is the perfect destination for the January traveller. Situated in western Sikkim, Pelling is a 130km car ride from Gangtok in the east, and the temperature fluctuates between 4°C to 15°C. The Pemayangtse Monastery, dating back to the 17th century, is just 9kms away from this hill town. As the sun shines bright in January you can view Mt. Kanchenjunga in all its glory from the grounds of this gompa. The mountains that surround Khecheopalri Lake reflect off the blue waters of this sacred waterbody, 90 minutes away from Pelling. A slice of Sikkimese history awaits you at Rabdentse Ruins, a few kilometres from Pemayangtse Gompa. As you walk along the stone path past the winter trees, you will reach the palace ruins of Sikkim's ancient capital. A January afternoon exploration of Rabdentse is a must for all those interested in the history of Sikkim.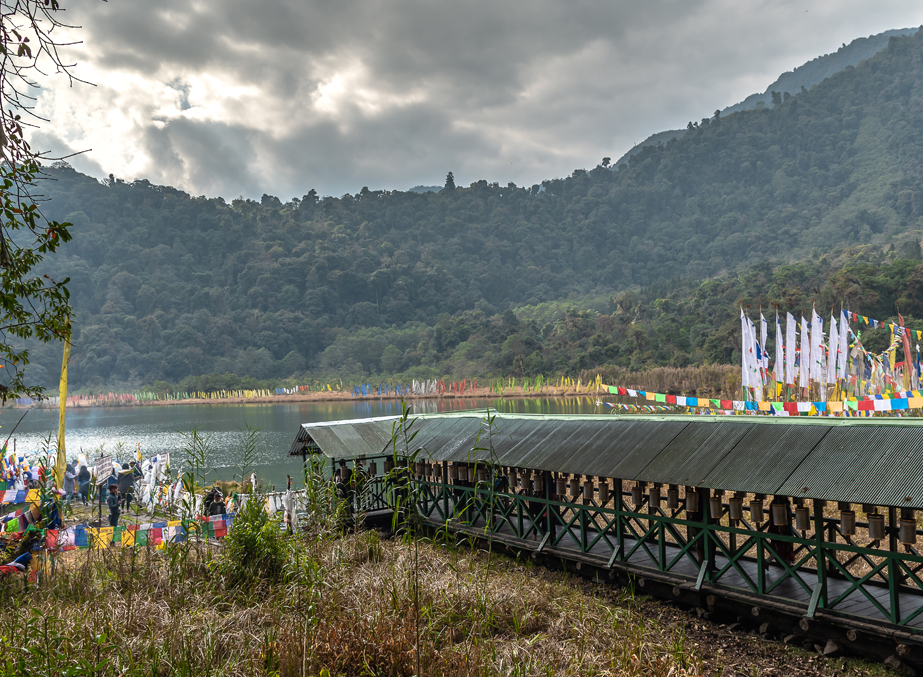 Ever wondered what it would be like to take part in a January trek? If blistering cold is something you can handle, a trek to Dzongri via Yuksom is a must. The town of Yuksom, 40kms from Pelling, has the historical significance of being the first capital of Sikkim in the mid-1600s. Since then, Yuksom, aka 'the gateway to the Kanchenjunga', has become a trekker's delight as there are a number of trails that begin in this town. Not all of them are accessible in January, but if you're up for it, find one that takes you past the peaks of Pandim, Jhopuno and Thenchinkhang. For those keen on a short hike, make sure you walk up to the Dubdi Monastery. This one and a half kilometre trail passes through dense flora and there's nothing better than a January walk through a forest.
Southern Sikkim's Snowy Paradise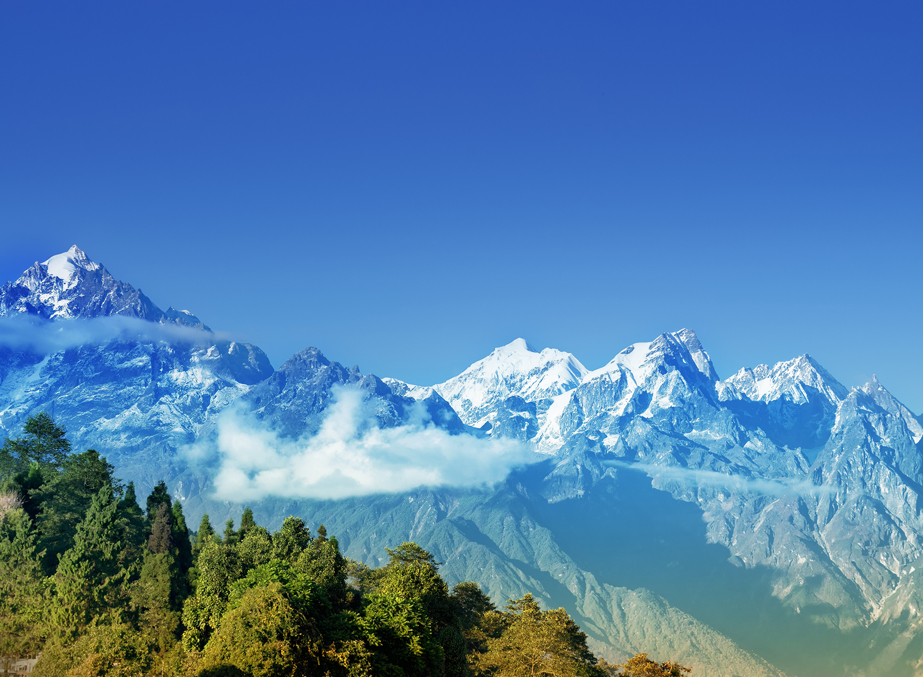 The weather in southern Sikkim is perfect for a January adventure. Namchi, the capital city of the southern district, comes alive in winter with snow-blanketed panoramas. Situated 80kms from Gangtok, this city is home to a gigantic Padmasambhava statue perched on Samdruptse Hill(7,000ft). This gilded statue is 138ft tall, and the surrounding vistas of snow covered peaks and vegetation make for the perfect January stroll in Namchi, where temperature averages at 11°C, and drop to near zero as the sun sets. If you're interested in religious architecture, Ngadak and Sherdup Choeling gompas are situated in Namchi, as well.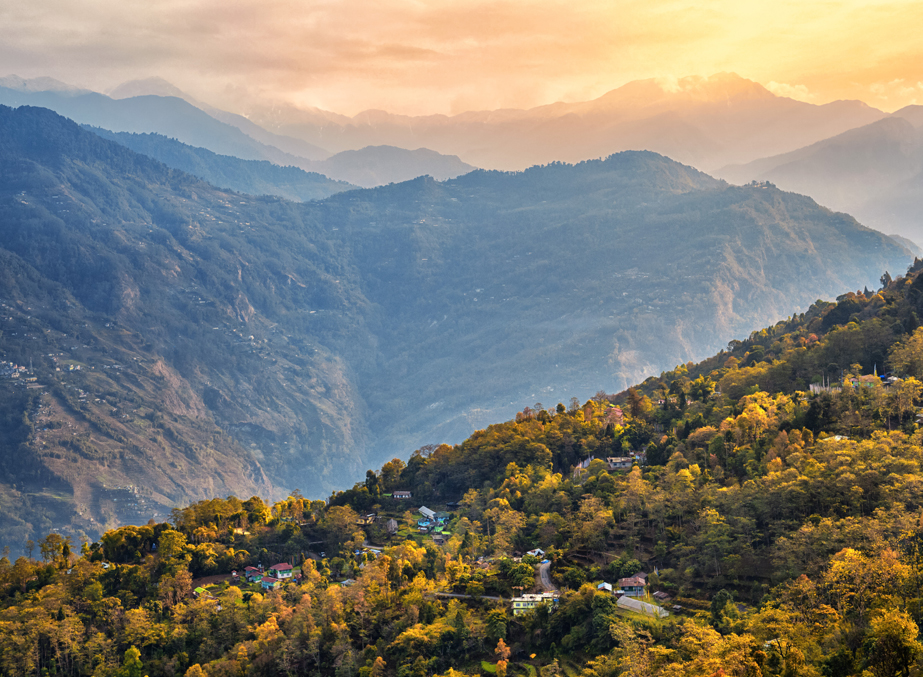 If you'd really like to witness the rustic wonder of south Sikkim in January, Borong village is a must-visit destination. Southern vistas of the mountain ranges are best viewed from Maenam Hill; and Ralang Monastery is an important part of the Tibetan Buddhism circuit.
Jorethang, also situated in the south, hosts a major 3-day cultural festival of Sikkim known as Maghey Sankranti Mela. Local artisans display their handicrafts and this is the perfect scene for those who want to experience Sikkimese tradition and culture. Maghey Sankranti started out as an agricultural fair in the 1950s, has immense religious significance, and one can witness the age-old customs of Sikkim, while having a good time.
Don't miss out on an opportunity to explore Sikkim during the first month of the year.

Subscribe to us
Subscribe to our newsletter and stay updated

Request a call back
Our experts would love to create a package just for you!
Sikkim Travel Information at a Glance
Find the authentic information on how to plan a hassle free tour to Sikkim. Travalghar puts together for you relevant details on how to reach Sikkim along with information on different means of transportation and the best time to visit. Also explore the different attractions and destinations in Sikkim with the help of our map, made easy for you to navigate.