Places To Visit In Sikkim During Monsoon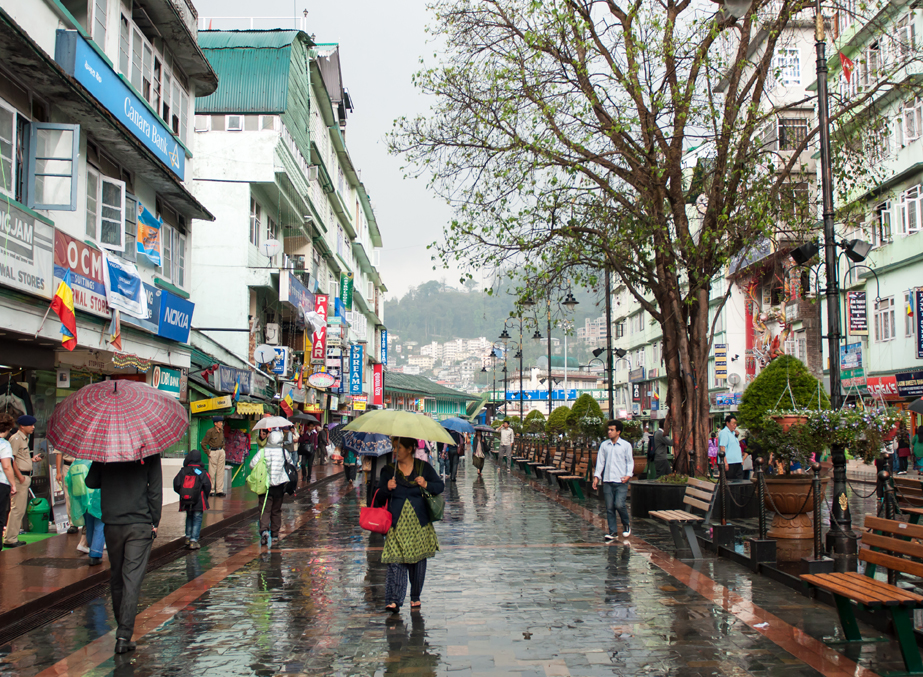 (Rumtek Monastery in Monsoon)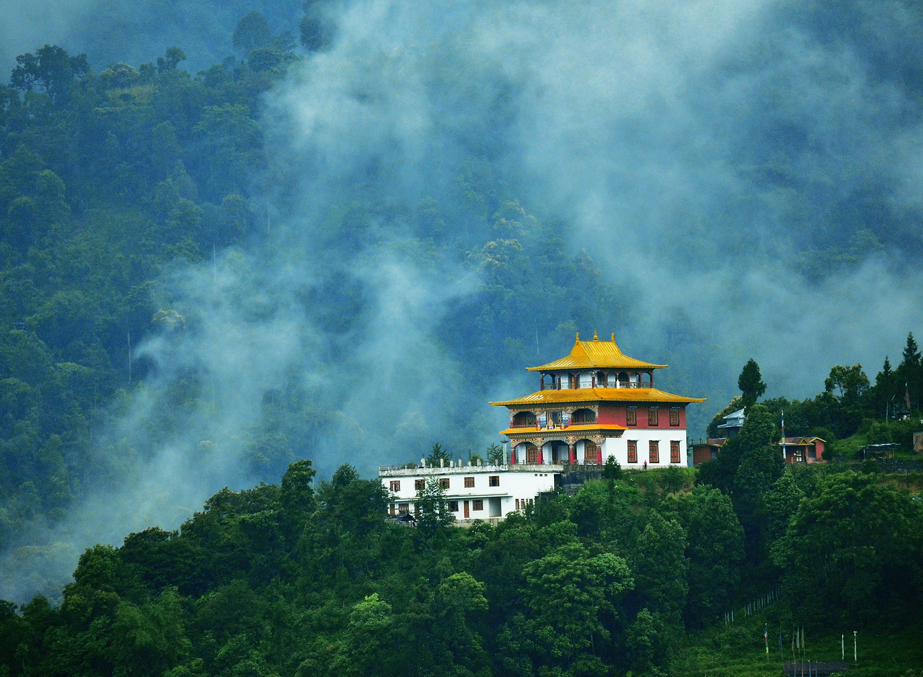 (Beautiful huge statue of Lord Buddha, at Rabangla)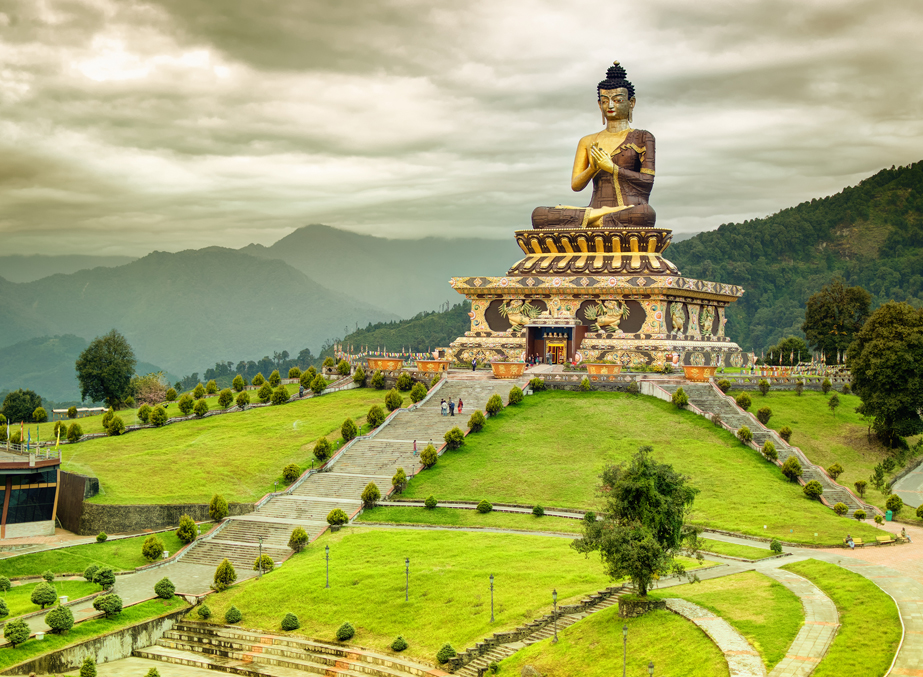 Just as the stress and the sweat of an Indian summer collapses, the rains settle in to spread cool and relief on the scorching land. However, monsoons are the season that is assumed to be gloomy and not fit for setting out on a holiday. But where Sikkim is considered, all those theories fall to shame. The affluent tea gardens, emerald lakes, spouting waterfalls and mesmerising city attractions of Sikkim makes every traveller holiday dream come true. Moreover, monsoons let you indulge in the hot flavours of local delicacies. The weather too during the rainy season is favourable as the days are moderately warm and nights pleasantly cool.
So if you are wondering where you could go to spend your monsoons away from the clutter of city life, Sikkim is the place to be. And we have collated the perfect list for sightseeing spots in Sikkim during monsoons that is certain to make your journey a memorable one.
Suggested Read: Things to Do in Sikkim, How To Reach Sikkim & Best Time To Visit Sikkim
Places To Visit In Sikkim During Monsoon
1. Ruins of Rabdentse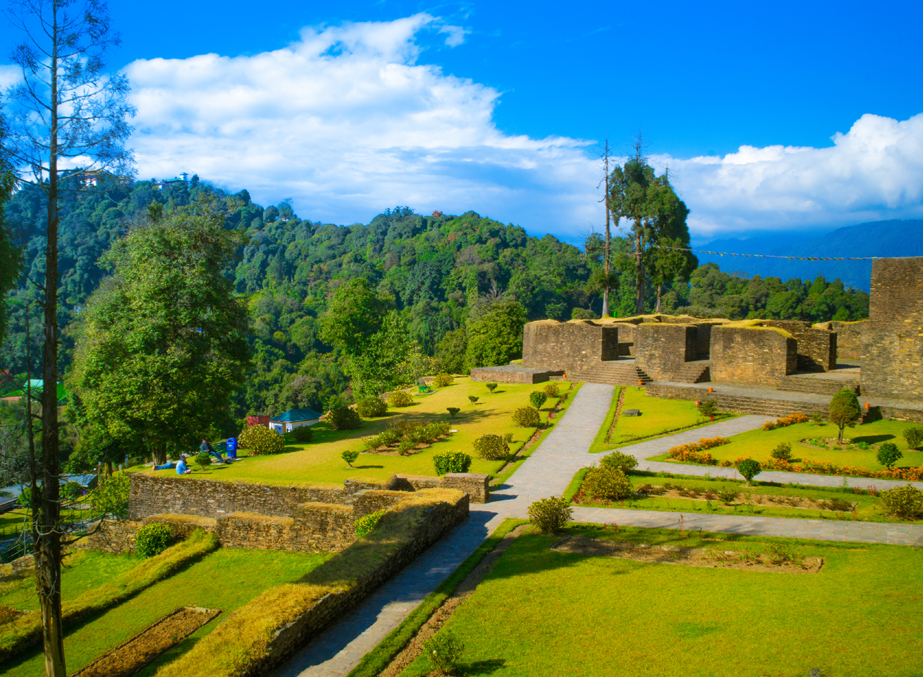 This place is a must visit for historical enthusiasts. The Gurkha army invaded this once a royal city and now only the ruins of the palace and the chortens are seen here. This is a must visit place in Sikkim during monsoon as it provides its visitors with a splendid view of the Kanchenjunga Range.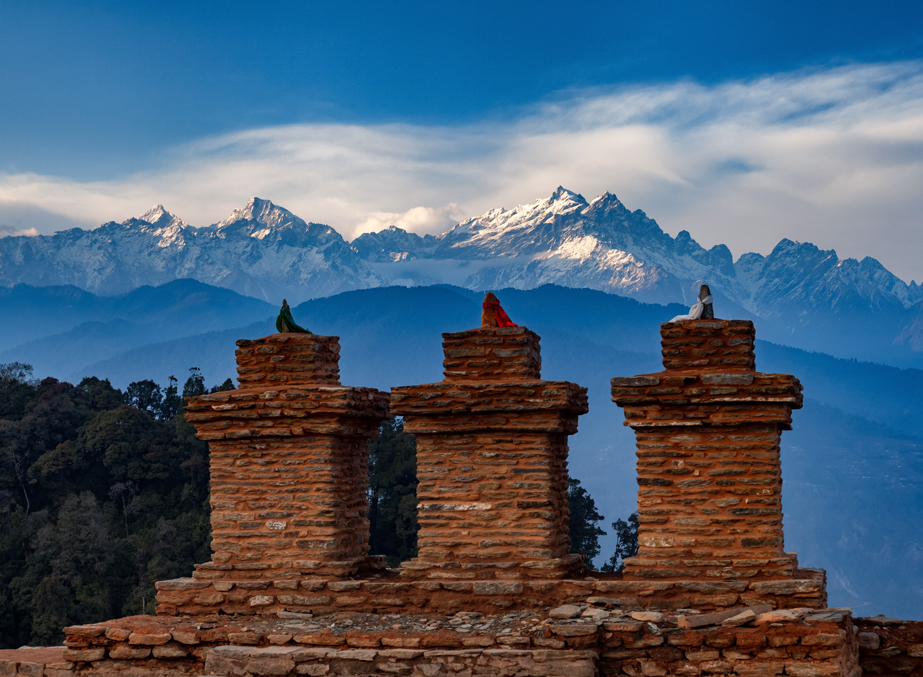 Entry fee: INR 20 per person
Popular tourist attractions in and around ruins of Rabdentse: Pemayangtse Monastery
How to reach: Cover 110 km from Gangtok via cab, which will take you to the monastery. The closest airport is Pakyong Airport and the the closest railway station is Siliguri
2. Nathang Valley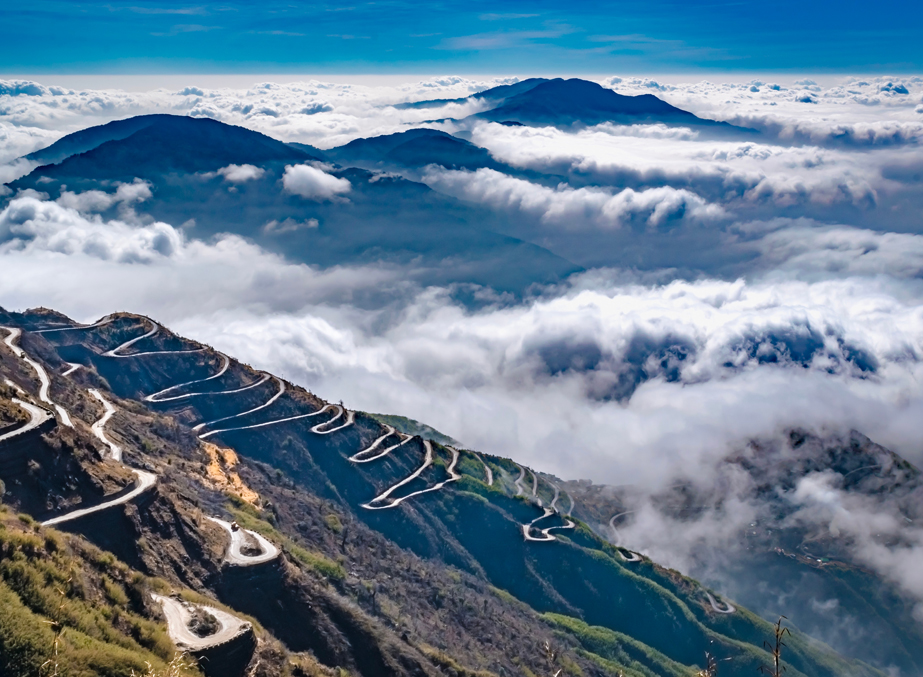 With monsoon at its prime, you will be greeted by spectacular sunrise from the valley. Being the highest point in Sikkim, the Nathang Valley will have you travel through zig-zagging roads and provide with panoramic views of the Himalayas. The place also features a monastery, a temple and several trekking trails that are best enjoyed in monsoons.
Entry fee: It is free of cost to visit the town however, only Indian nationals are allowed and you will require a permit (INR 200 approximately) to make a visit
Popular tourist attractions in and around Nathang Valley: Zuluk Wildlife area, Rinchenpong and Silk Route
How to reach: Authorised tour operator cabs can only take you to the Nathang Valley
3. Institute of Tibetology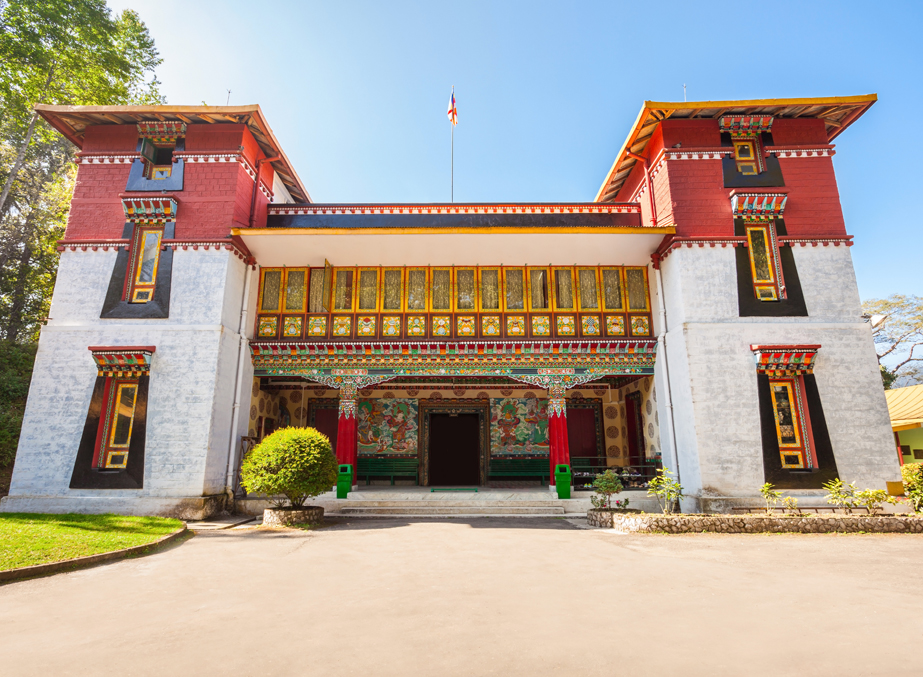 Entirely based on Buddhist culture, this centre of Tibetan art, language and religion is a striking sight for every tourist. This institute is very famous for its extensive collection of books on the history and culture of Sikkim and Tibetan work. It also holds importance since the 14th Dalai Lama laid the foundation stone and the then Prime Minister of India Pandit Jawaharlal Nehru inaugurated it officially.
Entry fee: INR 10 per person
Popular tourist attractions in and around the Institute of Tibetology: Do Drul Chorten is at a walking distance from here
How to reach: It is set at 2 km distance from Gangtok. You can arrive at Bagdogra airport or the New Jalpaiguri railway station and drive for an hour
Suggested Read: Namgyal Institute of Tibetology (NIT)
4. The Khecheopalri Lake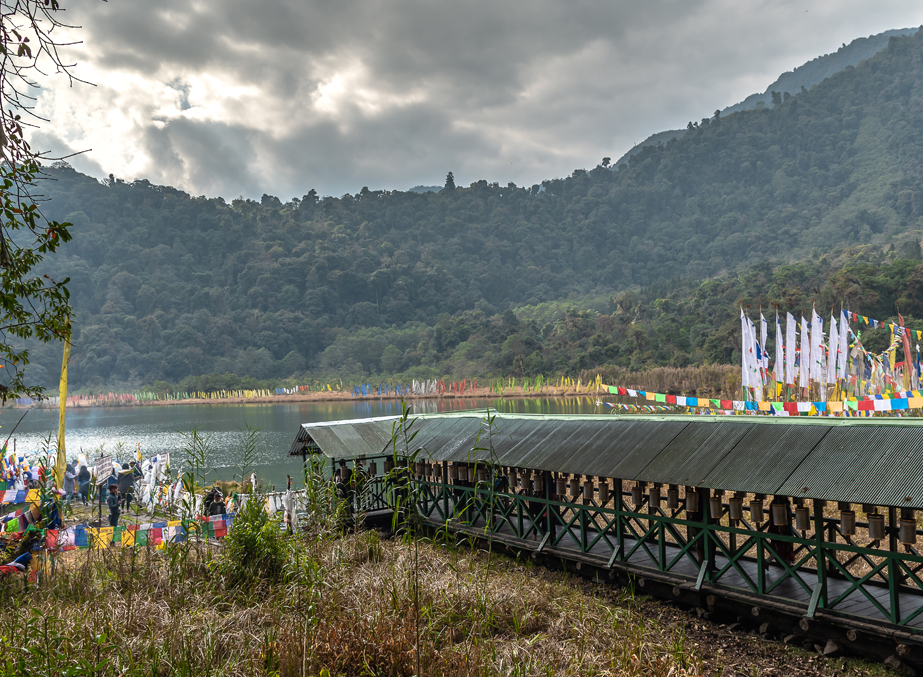 This pristine lake is more than just a treat to the eyes. Frequented by both, locals and tourists, it is a sacred pilgrimage site for Buddhists and Hindus. It is also a protected biodiversity reserve and the rains get the forestlands to be more lush and pleasing. The religious waters of the Khecheopalri Lake are believed to fulfil one's wishes as well.
Entry fee: No entry fees are required to be paid to visit the lake
Popular tourist attractions in and around the Khecheoplari Lake: Coronation Throne Of Norbugang, Kanchenjunga Falls and Ralong Monastery
How to reach: This sacred lake is set 30 km. away from the main town of Pelling (1-hour drive approximately). The nearest airport is Bagdogra (140 km) and the nearest railway station is New Jalpaiguri, Siliguri
5. The Directorate of Handlooms and Handicrafts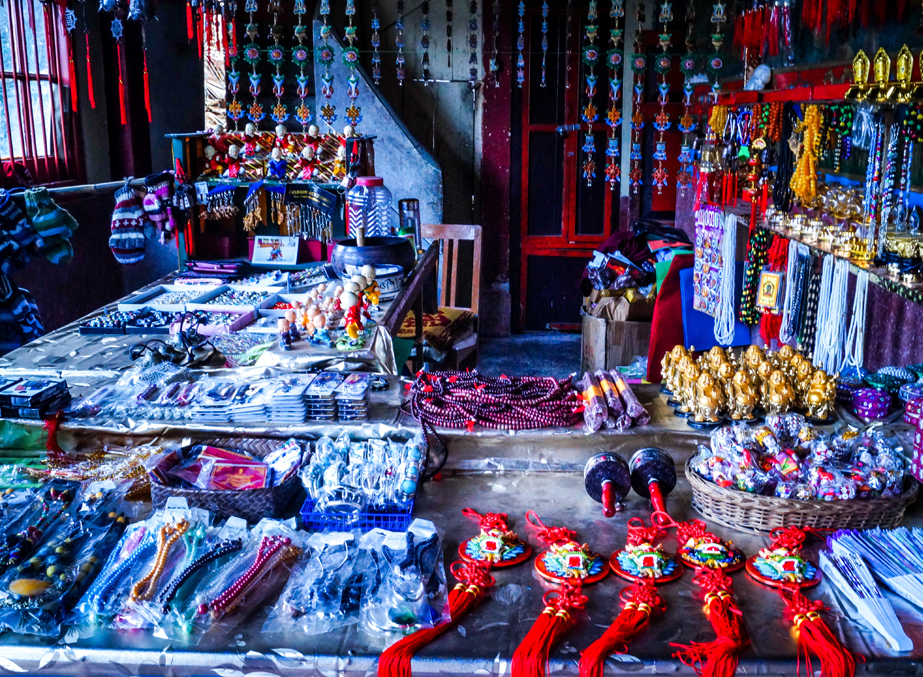 Aiming at promoting and preserving the many arts and crafts of the people of Gangtok, the Directorate of Handlooms and Handicrafts is the perfect place to visit in Sikkim during monsoon. You can be sheltered still enjoy the true essence of the state by coming in contact with the cultural treasure that is stored in this centre.
Entry fee: INR 15 per person
Popular tourist attractions in and around the Directorate of Handlooms and Handicrafts: Yumthang valley, Lachung Monastery, Thangu, Gurudongmar Lake
How to reach: Reach Gangtok via Bagdogra airport or the NJP railway station. From the main market of Gangtok, reach the Directorate of Handlooms and Handicrafts emporium by walking uphill
6. The Teesta River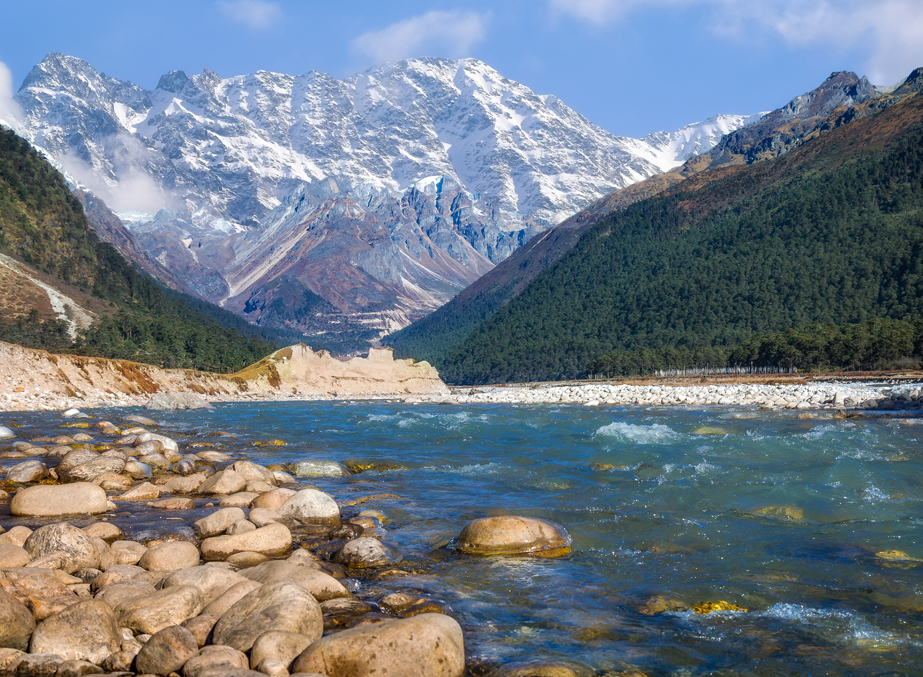 Originating in the Himalayas, this bluish green beauty is certain to take your heart away. It is a mesmerizing haven for both, the nature lovers and adventurers. It is considered to be the lifeline of Sikkim. This river shimmers in the mild sunrays that exist between the falls of rains. It exhibits a perfect habitation for blooming flowers. It is best known for rafting activities and is also open for kayaking on days when the rains are mild.
Entry fee: There are no entry fees applicable
Popular tourist attractions in and around the Teesta River: The picturesque town of Kalimpong
How to reach: It takes 1.45 hours from NJP if you travel along the Sevoke road. From Bagdogra airport, it takes 2 hours drive to reach here
7. Kanchenjunga Falls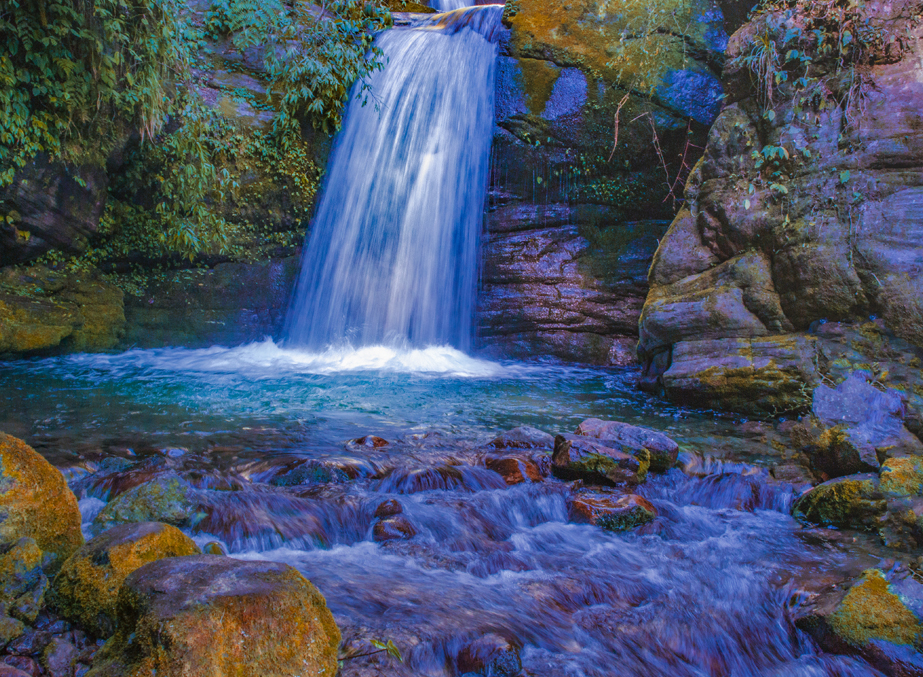 It is one of the largest perennial waterfalls in the state and a must visit place during monsoon in Sikkim. It is believed that it originates high up in the glaciers of Mount Kanchenjunga. You can choose to go swimming in the pool beneath the falls and due to its no-hassle access, it usually attracts a lot of crowd.
Entry fee: INR 20 per person
Popular tourist attractions in and around the Kanchenjunga Falls: Rimbi waterfalls, Khecheopalri Lake, Singshore Bridge
How to reach: It is 28 km from the town of Pelling and a 1-hour drive can you get you here. The nearest airport to Pelling is Bagdogra Airport and NJP is the nearest rail route.
Suggested Read:  Kanchenjunga Falls & Banjhakri Falls
8. Khangchendzonga National Park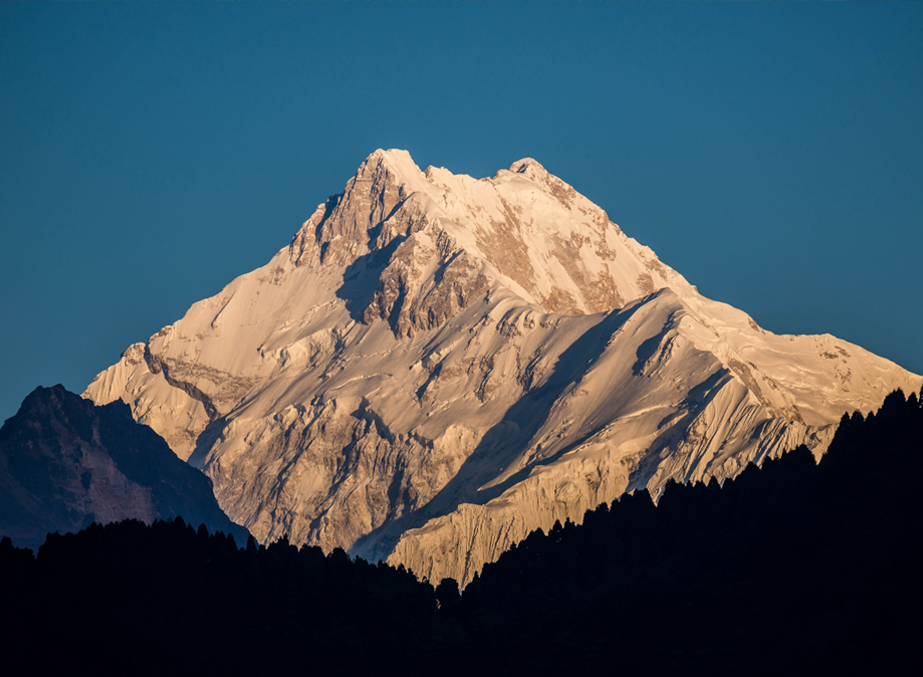 Home to various mammals such as the Tibetan wild ass, snow leopard, musk deer, snow Pigeon, Sunbird and many more, the Khangchendzonga National Park is one of the very few high elevation national parks of India. It becomes replete with rich flora and fauna because of the rains in the monsoon season and there are numerous safaris and trek options to explore.
(Mystic forest. Goche-la pass trek, Sikkim himalaya. Kanchenjunga area)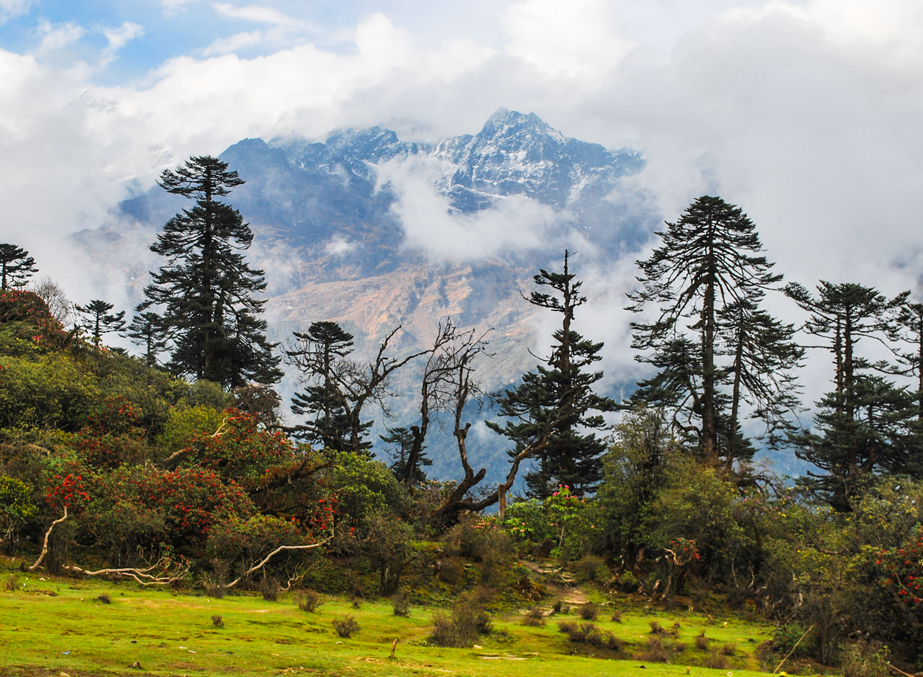 Entry fee: INR 200 for Indians and 400 for foreigners
Popular tourist attractions in and around the Kanchenjunga Falls: Town of Yuksom, Samiti Lake and Goechala
How to reach: If you wish to drive down, take the National Highway 31A. The nearest airport to Pelling is Bagdogra Airport (222 km) and NJP is the nearest rail route (221 km)
9. Goecha La Pass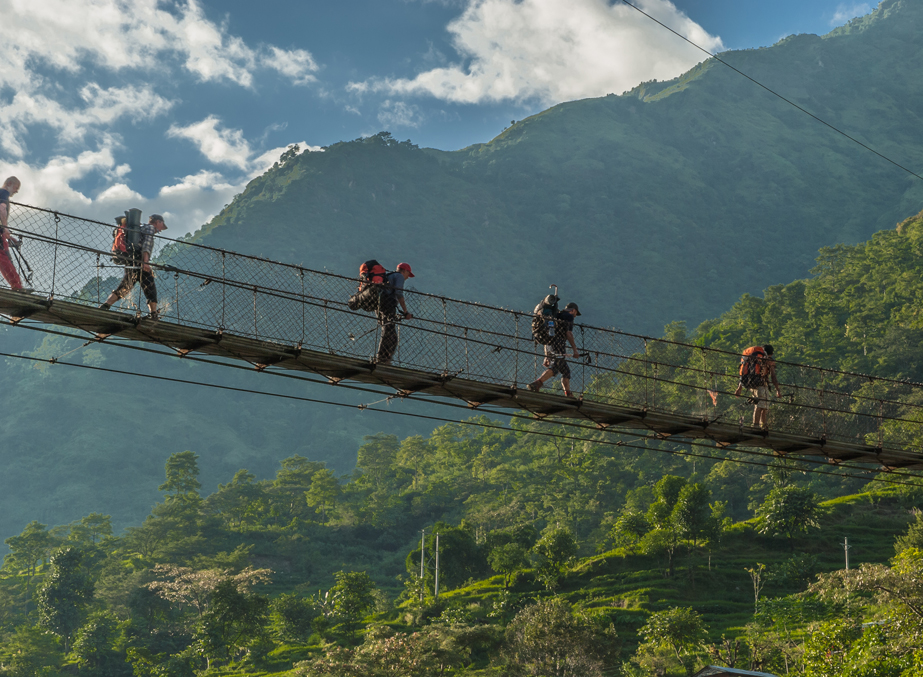 What is believed to be one of the most unnerving treks in India, Goecha La is full of most drool-worthy landscapes. You can easily see Mt. Kanchenjunga, the world's third highest mountain from here. If you manage to trek to the Dzongri top, you can catch the amazing view of sixteen beautiful peaks that is clearly visible from there. Its meandering rivers, rhododendrons and opulent meadows makes it worth a visit in the monsoons.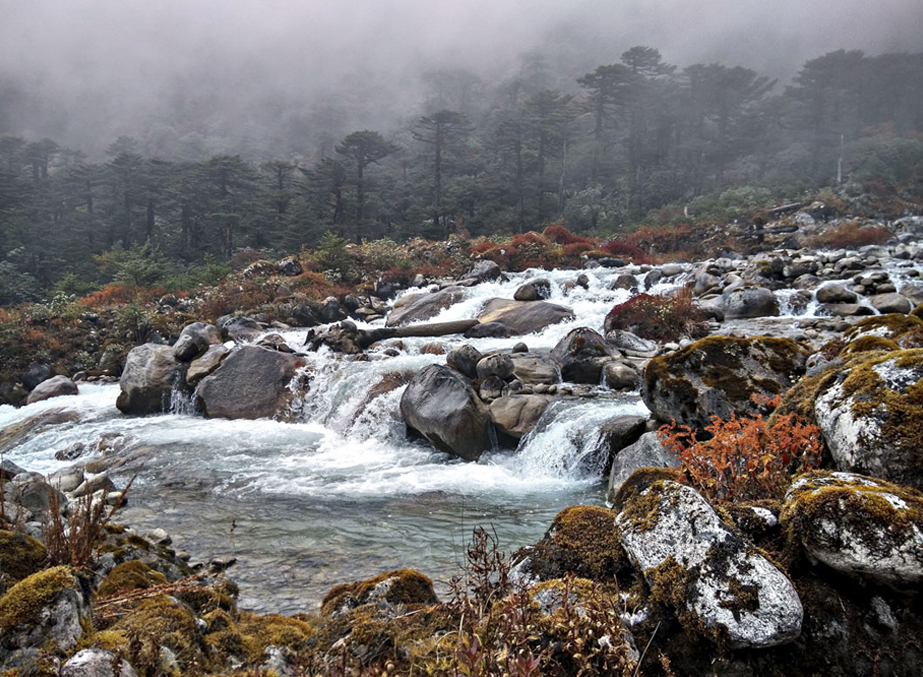 Entry fee: There is no entry fee applicable
Popular tourist attractions in and around the Goecha La Pass: Tashiding Monastery, Khecheopalri Lake, Dubdi Monastery and Kartok Monastery.
How to reach: It is 155 km. away from Bagdogra Airport (7 hours drive approximately). Even from NJP Railway Station, it takes about the same time to reach here
10. The Sewaro Rock Garden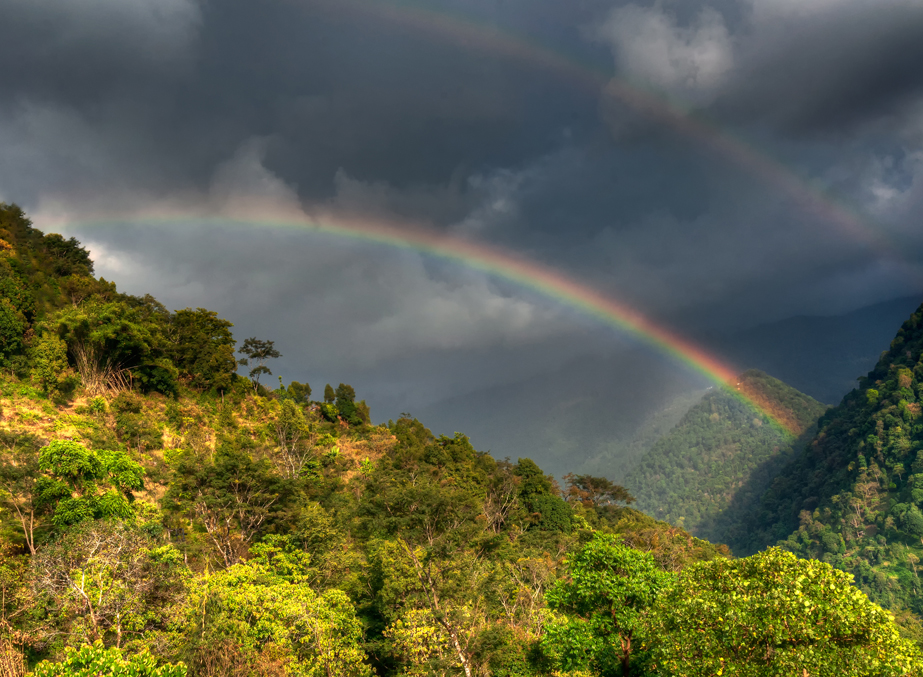 The Sewaro Rock Garden is one such place that leaves a tranquil effect on your mind owing to its collection of stone structures and flowers such as the roses, lilies, orchids and so on. In the monsoons, you will experience bliss as you walk down the steps and witness the enormous Teesta river flowing through rocks. It is a preferred picnic spot and many people take a holy bath in the stream.
Entry fee: INR 30 per person for adults and INR 10 for children
Popular tourist attractions in and around ruins of the Sewaro Rock Garden: Tashiding Monastery, Yuksom and Changey Waterfall
How to reach: It is 12 km away (1-hour drive approximately) from Pelling. The nearest airport Bagdogra Airport, Siliguri and New Jalpaiguri Railway Station is the nearest rail track
Isn't Sikkim the epitome of natural beauty? You can too experience the conventional traits of North East India's quaint state in monsoon. All you have to do is get in touch with us and let us help you bring close to the best of both – nature and culture. Right from hotel reservations to arrangement local transport and ticketing, no stones are left unturned in providing you with best Sikkim holiday packages at cheapest rates. Get in touch with our travel agent now!

Subscribe to us
Subscribe to our newsletter and stay updated

Request a call back
Our experts would love to create a package just for you!
Sikkim Travel Information at a Glance
Find the authentic information on how to plan a hassle free tour to Sikkim. Travalghar puts together for you relevant details on how to reach Sikkim along with information on different means of transportation and the best time to visit. Also explore the different attractions and destinations in Sikkim with the help of our map, made easy for you to navigate.