Tsomgo Lake In January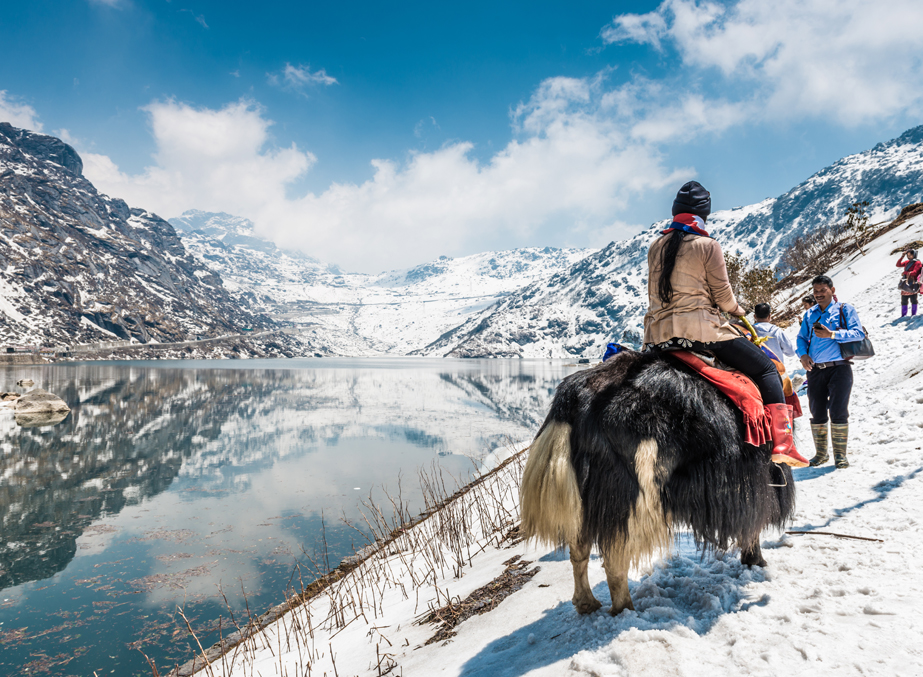 Tsomgo- The Frozen Beauty!
Admired for its pristine beauty, Tsomgo Lake in East Sikkim is truly a magical place to visit for travellers. No wonder high altitude lakes have their own unique charm and Tsomgo is one such lake of India. Tsomgo means 'Source of Water' Bhutia language and this lake is also known as Changu Lake. It is ideally nestled at an altitude of 12,310 feet and receives its water from the glaciers. The Lake is around 1 km long and 50 metres deep. It is considered sacred by the people of Sikkim. There is a small temple dedicated to Lord Shiva by the lake.
This heavenly lake is surrounded by steep mountain covered with snow during winter. As the summer arrives, the snow of the mountains starts melting and become the source of water of the Lake. The lake dons different looks in different seasons. If you are planning to visit this Lake in January, get ready for some adventure!
The Temperature Of Tsomgo Lake During January
During the month of January when the winter season is at its peak, visiting Tsomgo lake is an experience in itself. The placid lake gets frozen and the mountains surrounding it get cloaked in snow. It is such a surreal view! The temperature can go as low as -20°C. So be prepared with all the heavy woollens you have in your wardrobe before you come here. It would be so much fun to feel the cold air, spend some quality time in the tranquil environment.
How To Reach Tsomgo Lake
The Tsomgo Lake is around 38 km from Gangtok, the capital city of Sikkim. In order to reach Gangtok you can either take a flight to Bagdogra airport (125 km from Gangtok) in Siliguri, West Bengal, from the major cities of India like Delhi, Mumbai, Kolkata etc., or take a train to New Jalpaiguri railway station in Siliguri which is 117 km far from Gangtok. From Gangtok , the Tsomgo Lake is around 2-3 hour drive from through the Gangtok-Nathu La highway. The drive to the lake is scenic. The ride through a winding road through rugged mountains terrain is pleasurable.
Kindly note: Indian visitors need an inner line permit while foreign nationals need a special permit to visit the lake.
Eat And Enjoy At The Lake
There are several stalls/shops near the lake where you can enjoy hot tea, Maggie, momos and other food items while enjoying the breathtakingly beautiful views of the lake and the mountains. You can also enjoy Yak ride if the weather permits. The nearby shops also give jackets and shoes on rent.
Important Things To Keep In Mind When You Visit Tsomgo Lake In January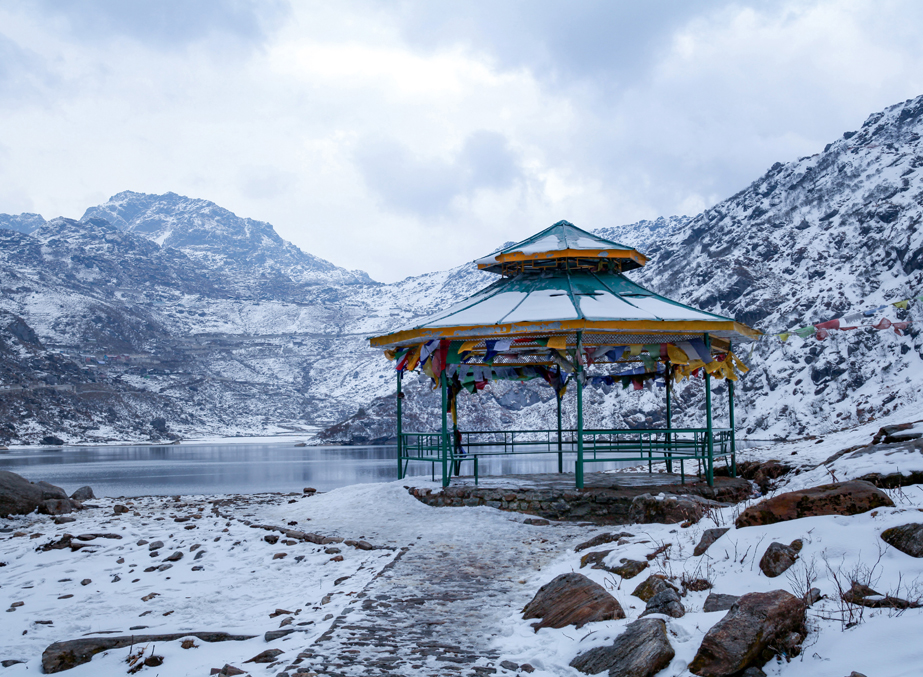 Carry your best woollens and sports shoes with you to keep yourself warm and comfortable. Since it is a high altitude lake so the oxygen content is low here. When you arrive here, take some rest to adjust to the environment. It is advisable not to exert yourself too much otherwise you might feel dizzy due to low oxygen content.
Talk to you physician before coming to Tsomgo Lake. He might suggest you carry some medicine to avoid mountain sickness. Carry that medicine with you.
Drink lots of water to keep yourself hydrated.
Avoid drinking alcohol and smoking.
Eat light. Avoid heavy meals.
If you have a breathing problem, carry your oxygen tank.
If you are anaemic, don't forget to carry your iron supplement because anaemia lowers the amount of oxygen in your blood and hence it makes you more vulnerable to mountain sickness.
Nearby Attraction Of Tsomgo Lake
Since you are going to Tsomgo Lake it makes sense that you also visit the nearby attractions on your visit. One of the famous attractions near Tsomgo Lake that you must explore is Nathula Pass which is located at 4,310 m above mean sea level. It is one of the highest motorable roads in the world which is a big hit with adventure and natural beauty lovers. It also served as an important trade route between the silk traders from Sikkim and Tibet.
Kindly note:
Visitors need permission along with vehicle permission to visit Nathula pass. You need to take permission at least one day prior to your visit as there is a limitation on the number of vehicles per day.
Nathula Pass is only open for Indian visitors for 5 days a week including Wednesdays, Thursdays, Fridays, Saturdays, Sundays and closed for two days- Monday & Tuesday.
The road to Nathula may get blocked due to snowfall in January and in such a case permit is not issued to visit the Pass. You can check it after you reach Gangtok.

Subscribe to us
Subscribe to our newsletter and stay updated

Request a call back
Our experts would love to create a package just for you!
Sikkim Travel Information at a Glance
Find the authentic information on how to plan a hassle free tour to Sikkim. Travalghar puts together for you relevant details on how to reach Sikkim along with information on different means of transportation and the best time to visit. Also explore the different attractions and destinations in Sikkim with the help of our map, made easy for you to navigate.