Things To Do In Winter: Experiences That Account For a Memorable Experience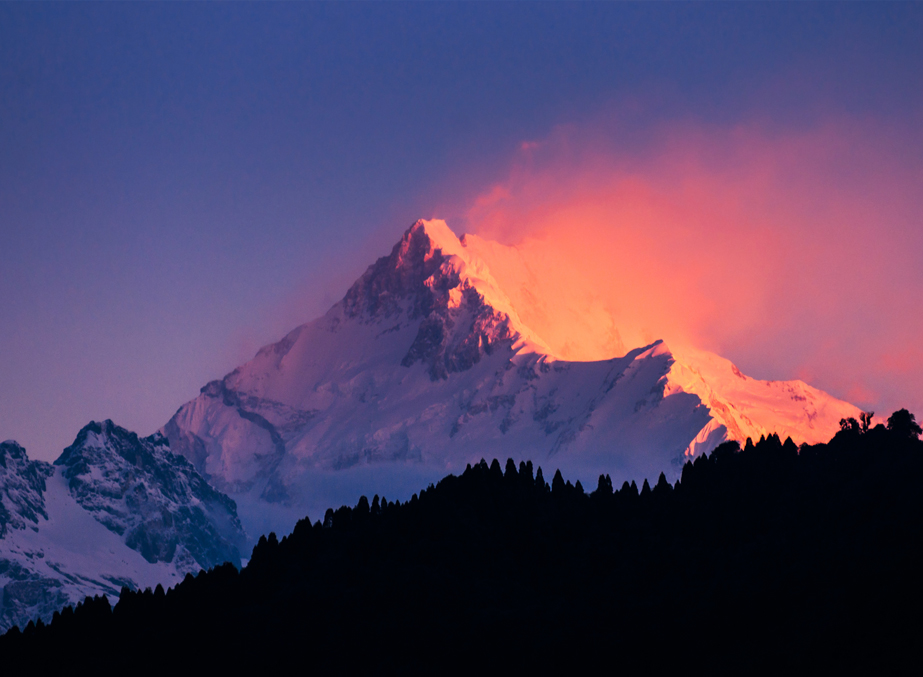 There's something special about a walk across the mountain terrains all clad in the snow! The narrow serpentine streets spanning villages bearing fudgy white snowflakes, and staying as awesome as it seems. There are fewer places in India that usher you that pleasant feeling of spending a dream-like winter vacation. Sikkim, being the favorite is special for tourists of all types. Head to Sikkim in winter and you could probably end up spending the most special winter holidays of your life in the dreamy environs of northeast India.
Besides snow and mountains, there are ample tourist attractions that make Sikkim a hot favorite among tourists from across the globe. Here is how you can make the best of your precious holidays in Sikkim in winter.
General weather of Sikkim in Winter
Winter in Sikkim is usually harsh, and the temperature usually stays between -3 to 10 degree Celsius. Winter makes its presence in Sikkim at the start of November. Frequent rainfall in the mountainous areas causes a lot of snowfall and the outdoors are mostly shrouded in a thick layer of snow. The water bodies in high altitude freeze because of the sub-degree temperature but the views around are just exceptional.
Take a note! Here are 7 Most popular things to do in Sikkim in Winter!
As you plan a trip to Sikkim in winter you'll find the pristine nature welcoming you with open arms. While most of the surroundings lie covered in snowflakes during extreme winter, other places continue to thrive at their best under the thick expanse of nature. Head to these popular nature areas in Sikkim in the month of December and January for a magical winter vacation.
1. Begin your trip with a visit to the Gurudongmar Lake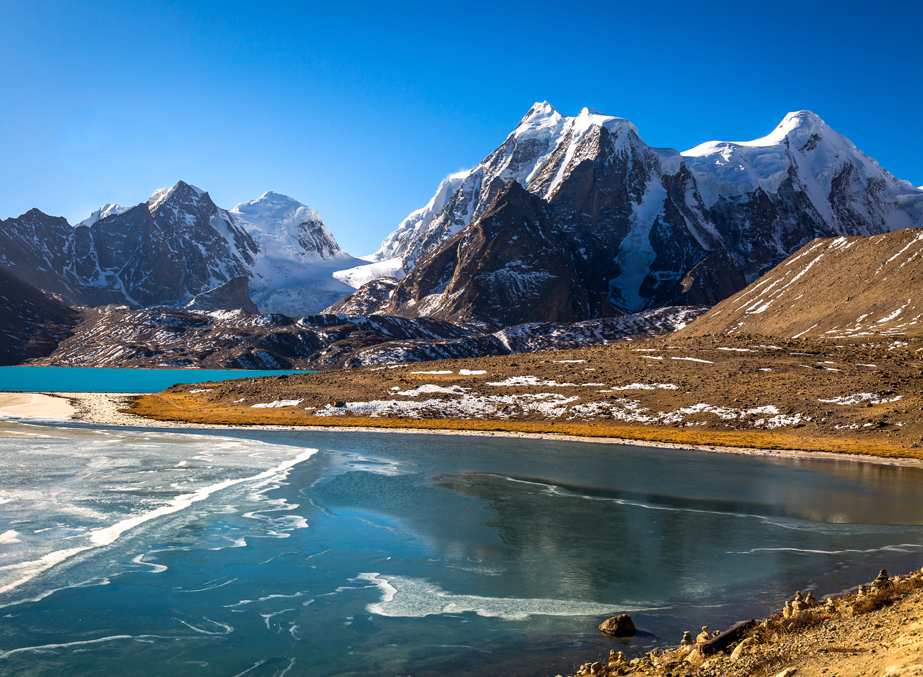 Kickstart your Sikkim trip with a visit to Gurudongmar, the elusive lake located in excess of 17000 feet, and is also counted among the highest freshwater lakes in the world. The average temperature stays between -5 & 6-degree Celsius for most of the winter months. There are times when the lake is completely frozen during the peak winter months but the partial white and blue shades of the beautiful Gurudongmar Lake is certainly what every nature lover would be attracted towards.
You might have heard about the lake's enchanting beauty during summers, but you must not miss its magical sight during winter. Lachen is almost an 8-hour drive from Gangtok. Another couple of hours from Lachen, and you are at the lake already!
Located: 174 km from Gangtok
2. Get mesmerized by the pristine beauty of Teesta River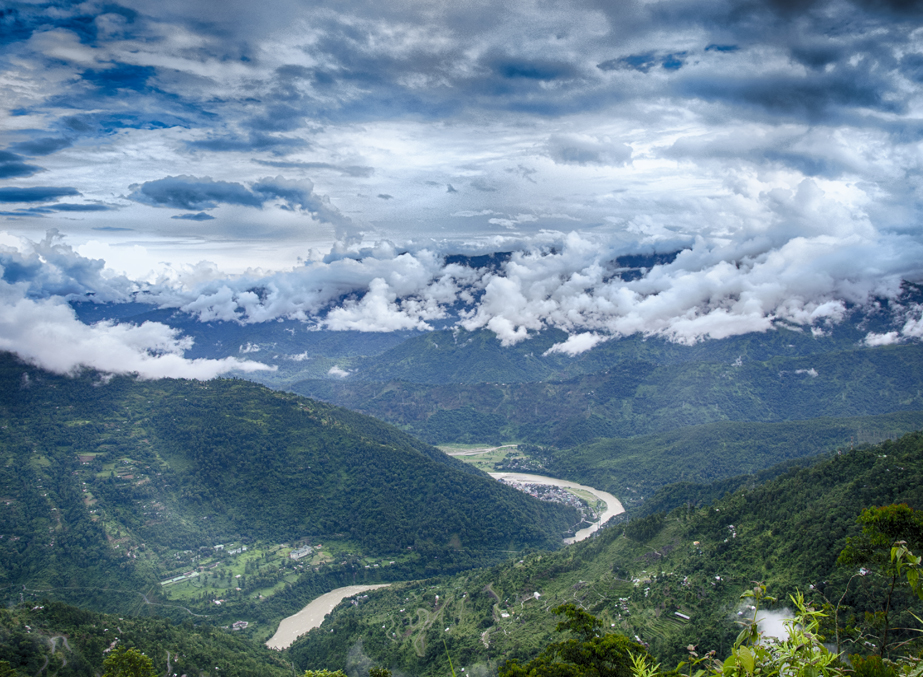 The lifeline of Sikkim remains a true enchantress throughout the year, but winter is a different story altogether. Located in Chumthang region Teesta attracts thousands of photographers from around the world. Teesta makes for a glorious spectacle for those who come looking to the northeast in search of ultimate tranquillity in the lap of nature.
Such is the aura and vigour of the charging torrents of water that it attracts daredevil adventurers around the year, and winter is no exception! Landscape photography is the most appropriate and preferred thing to do at Teesta. A visit to the banks of the magnificent Teesta is highly recommended when you are planning a trip to Sikkim in winter.
Located: 81 km from Sikkim
3. Trek to Dzongri La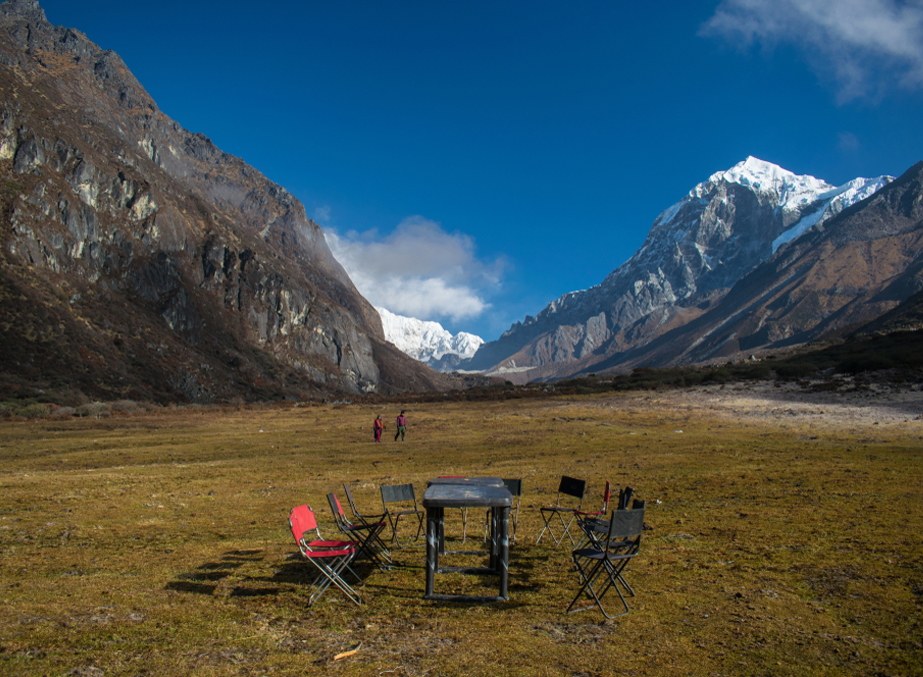 The Yuksom – Dzongri La trek is a highly recommended activity in Sikkim in winter, and this one is especially recommended for all the adventurers and trekkers. As the trek spans through the best of Kanchenjunga National Park, the trail through the lush greenery and alpine makes for the perfect exploit for every traveler. The magical snow-covered views of the alpine en route at Tsokha and thick forest around makes it for a perfect rewarding experience as you walk the trail 4170 meters above sea level. The trek usually spans 5-6 days and encompasses some of the most biodiversity-rich zones in the region.
With the views of 16 most exciting Himalayan peaks in the region from the Dzongri top, you can be assured that this could be the perfect winter adventure for you. Besides, you also get to experience the cultures of Lepchas, Bhutias, Subbas, and Limboos during the course of the journey. Winter is the time when you can experience the real thrill of the trek. The temperature mostly stays under 0 degrees Celsius for most of the trek duration during winter.
Starting point & end point of trek: Yuksom, Chungthang
Trek duration: 5 Days
Level: Easy
Getting there: New Jalpaiguri railway station to Yuksom: 150 km, or Bagdogra airport: 170 km. Taxis and cabs are available from the railway station as well as the airport.
4. Brace yourself for a walk over the frozen Tsomgo Lake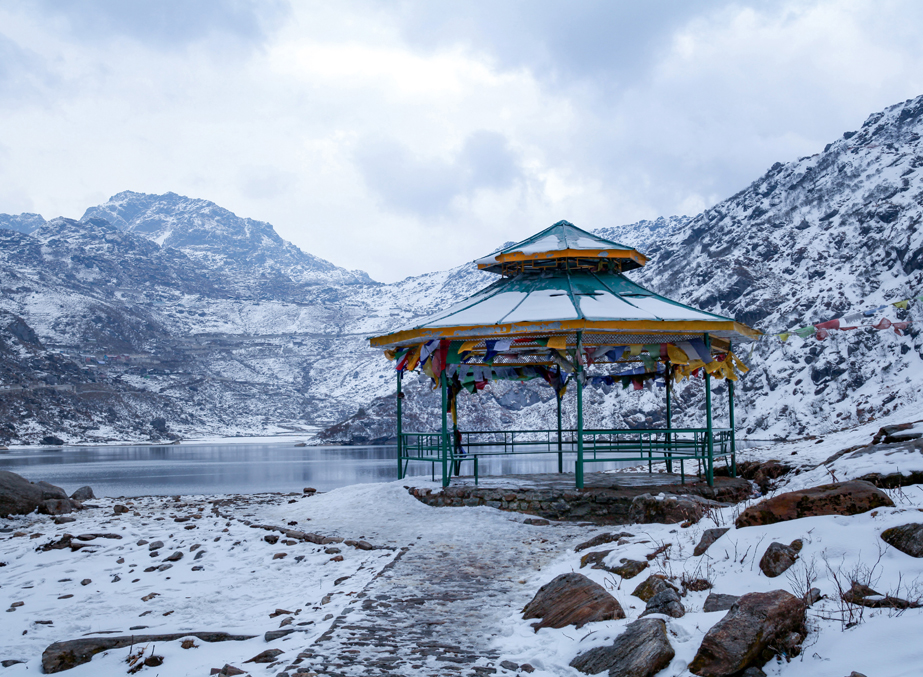 Consider yourself lucky if you manage to walk over the frozen Tsomgo Lake in the month of December. Located in excess of 12300 feet, the Tsomgo Lake is the perfect slice of nature that everyone visiting Sikkim longs for. Optionally, tourists also go for the yak ride by the banks of the lake and marvel at the gallant nature views around. Nature around is at its pristine best in Sikkim in winter.
You need to take a permit from Tourism And Civil Aviation Department of Sikkim for visiting Tsomgo Lake. Make sure that you plan a visit here, the moment you see a reflection of yourself in the crystal clear mirror formed by ice is the most beautiful feeling ever!
Located: 40 km far from Gangtok 
5. Tour to Kaluk, delve deeper into the tranquility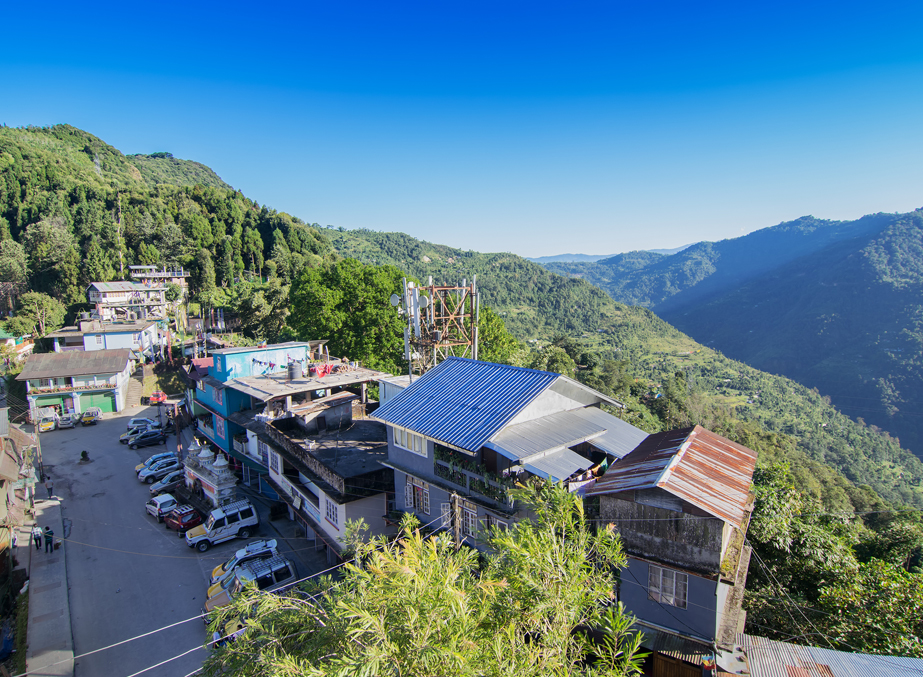 Kaluk is renowned for being home to the popular Lepcha tribe, the indigenous tribe of Sikkim. Kaluk is also believed to be the unexplored paradise of Sikkim and not too many people are aware of the untarnished beauty that this beautiful place possesses. 2 km far from Rinchenpong Kaluk is located at an altitude of 5,300 ft. and makes for an ideal getaway for everyone planning a peaceful stay amidst lush nature.
If you are looking for some exciting activities, you can optionally hike up to the Rinchenpong village that lies covered in forests and meadows with massive snow-clad peaks overlooking. Gurung Monastery, located off a hilltop is a popular attraction which you shouldn't miss while you are in Kaluk.
Located: 115 km from Gangtok
6. Spend moments of bliss in secluded environs of Zuluk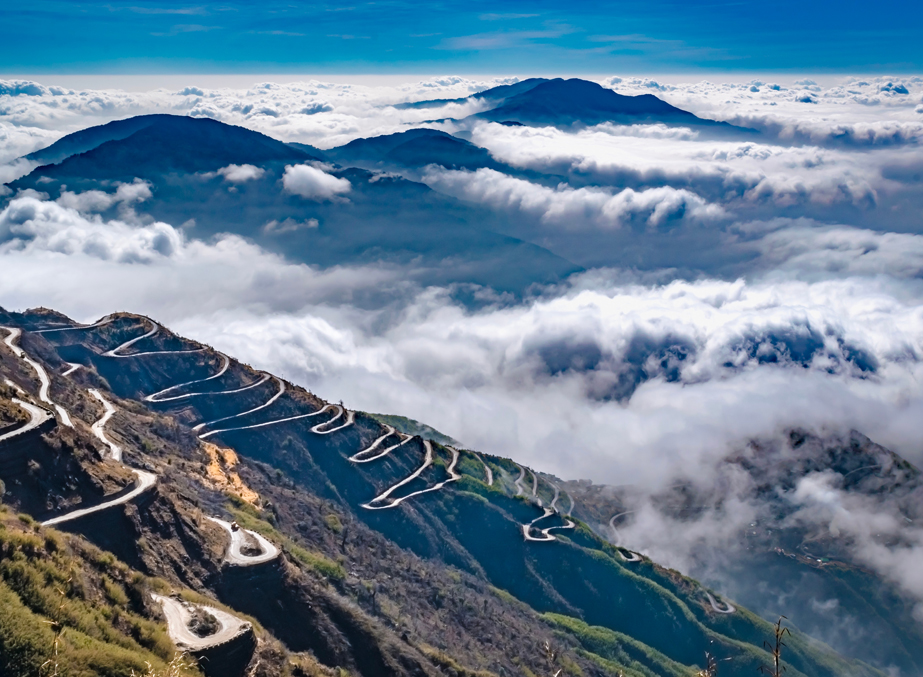 Zuluk is a quaint little hamlet located atop 14,500 feet in East Sikkim. The village, famed for exceptional landscapes can be reached only after a 3-hour drive from the capital city of Gangtok. As much as the destination is beautiful, the road leading to it is one of the most talked about attractions. A drive through the Old Silk Route to reach Zuluk is an incredible experience in itself
Sunrise views forming the backdrop of the majestic Kanchenjunga peak, sunset from Thambi Viewpoint and unparalleled tranquility of nature around make for the highlight of the trip to Zuluk. A permit from Tourism And Civil Aviation Department of Sikkim enables you to visit this village.
Located: 91 km from Gangtok
7. Attend famous winter festivals in Sikkim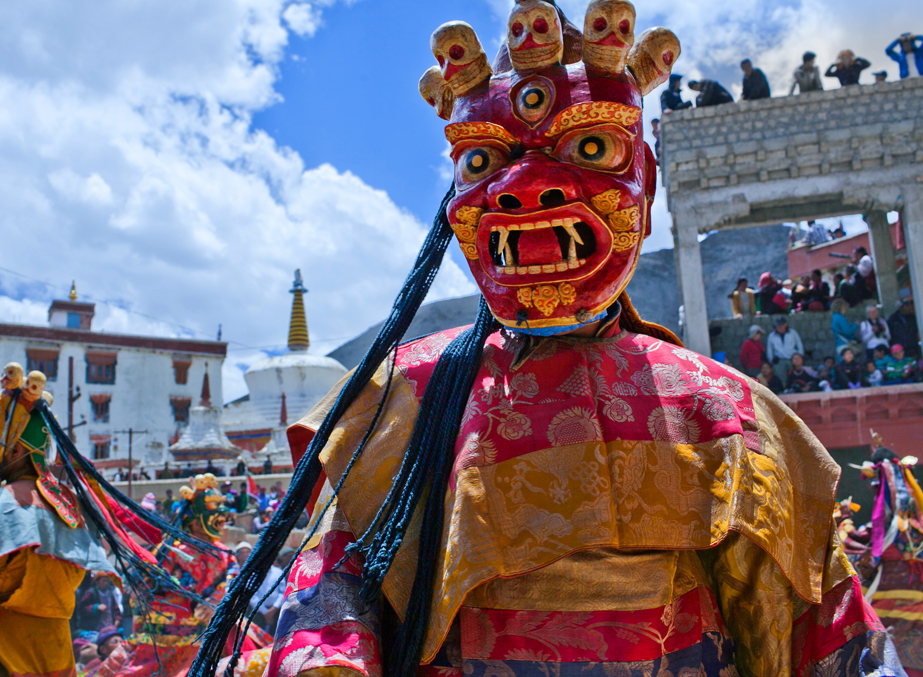 Sikkim, with most of its local Himalayan customs and rituals, celebrates its traditions and festivities in its own special way. Winter is time for festivities and festivals in Sikkim in winter makes for a major pull for tourists around the world. Celebrated mostly in the months of December and January these festivals in Sikkim mark special occasion and is celebrated in the major cities and across the monastery amid musical shows, traditional dance, colorful clothes, and performances by monks in the monasteries.
Attending these festivals is also important because they present before you the well-preserved customs and cultures of the great Himalayan land that has stood the test of time. It also exhibits the unique bonding and brotherhood that Sikkimese people share.
Most important winter festivals in Sikkim:
1. Gangtok Winter Festival – Cultural folk dance and song performances by the locals. The festival is mostly organized by the Sikkim tourism board.
2. Mangan Music Festival – 3-day music festival organized from 12th to 14th December at Mangan every year. This is a musical extravaganza for all the music lovers.
3. Losoong – Celebration of Sikkimese New Year at the Phodong and Rumtek monasteries. Black Hat dance remains the highlight of the festival.
4. Losar – This happens to be the Tibetan New Year, also known as Losar. The 3-day celebration includes folk music, dance, drama, chanting and other popular cultural performances by the locals.
5. Kayged Festival – The major highlight of this cultural extravaganza happens to be the 'Cham' – dance performance by masked monks in the monasteries.
Popular places to stay in Sikkim in December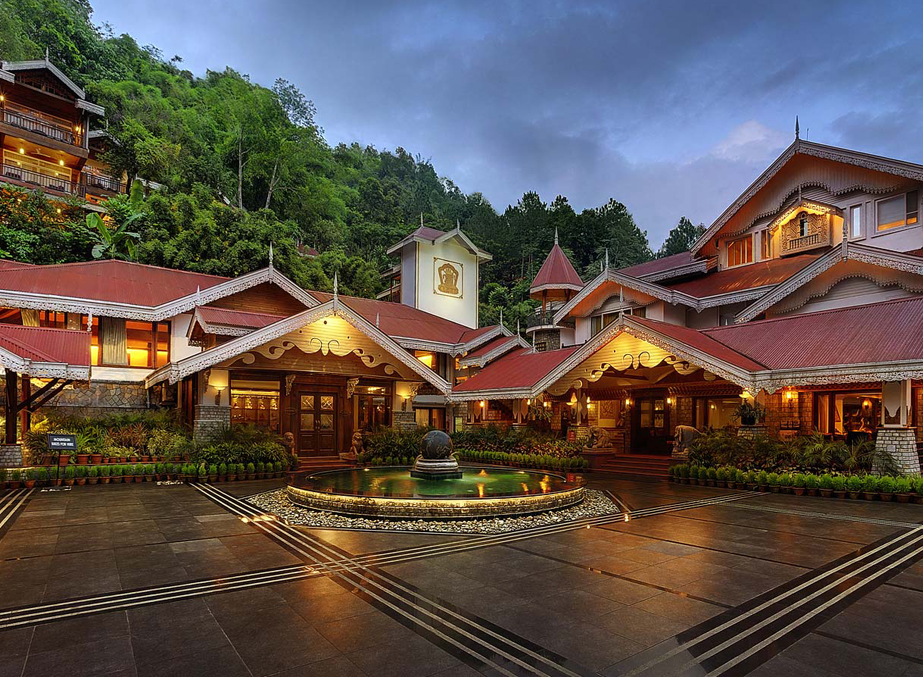 The major tourist attractions of Sikkim are spread over the different corners of the place which underlines the fact that you must pick an accommodation which caters to most of the attractions on your itinerary. Gangtok being the capital city offers a wide range of accommodation, and it is from here that you can reach to most of the places quite efficiently.
However, there are other places too like Lachung, Yuksom, and Pelling that offer luxury hotels, hostels, and resorts of different kinds that cater to the need of tourists very well. Here are some of the most recommended places to stay in Sikkim.
1. Summit Denzong Hotel & Spa, Gangtok
2. Hotel Sonam Delek, Gangtok
3. Summit Norling Resort & Spa, Gangtok
4. Hotel New Castle, Gangtok
5. The Elgin Mount Pandim, Pelling
6. Norbu Ghang Resort, Pelling
7. Etho Metho Hotel, Lachung
Should you be willing to embrace the untarnished nature in the northeastern India that comes accompanied with biting cold then this is the time! Sikkim in winter months could be the best investment of your holidays. Send us an inquiry right away & we can help you plan your trip in the most efficient way!
Sikkim Experiences
07 Nights / 08Days

Gangtok Lachung Lachen Darjeeling Tour

Rs. 16000

Rs. 19200

07 Nights / 08Days

Gangtok Darjeeling Dooars Tour

Rs. 15000

Rs. 18000

08 Nights / 09Days

Kalimpong Gangtok Pelling Darjeeling Tour

Rs. 16700

Rs. 20000

10 Nights / 11Days

North Sikkim with Gangtok Pelling Darjeeling...

Rs. 22000

Rs. 26500

08 Nights / 09Days

Gangtok with Bhutan Tour

Rs. 29500

Rs. 35500

08 Nights / 09Days

Gangtok Zuluk Tour with North Sikkim

Rs. 19000

Rs. 22900
Popular Article
Places To Visit In Sikkim

Written by

Admin, May 28,2019

Places to visit in Gangtok

Written by

Admin, Apr 19,2019

Things To Do In Sikkim

Written by

Admin, May 28,2019

Sikkim Weather in December

Written by

Admin, Apr 30,2019

Places to visit in Ravangla

Written by

Admin, Apr 19,2019

Places to visit in Namchi

Written by

Admin, Apr 19,2019

Things to do in Gangtok

Written by

Admin, Apr 22,2019

Places To Visit In Sikkim During Winter

Written by

Admin, Apr 27,2019

Subscribe to us
Subscribe to our newsletter and stay updated

Request a call back
Our experts would love to create a package just for you!
Sikkim Travel Information at a Glance
Find the authentic information on how to plan a hassle free tour to Sikkim. Travalghar puts together for you relevant details on how to reach Sikkim along with information on different means of transportation and the best time to visit. Also explore the different attractions and destinations in Sikkim with the help of our map, made easy for you to navigate.