Things To Do In Sikkim In June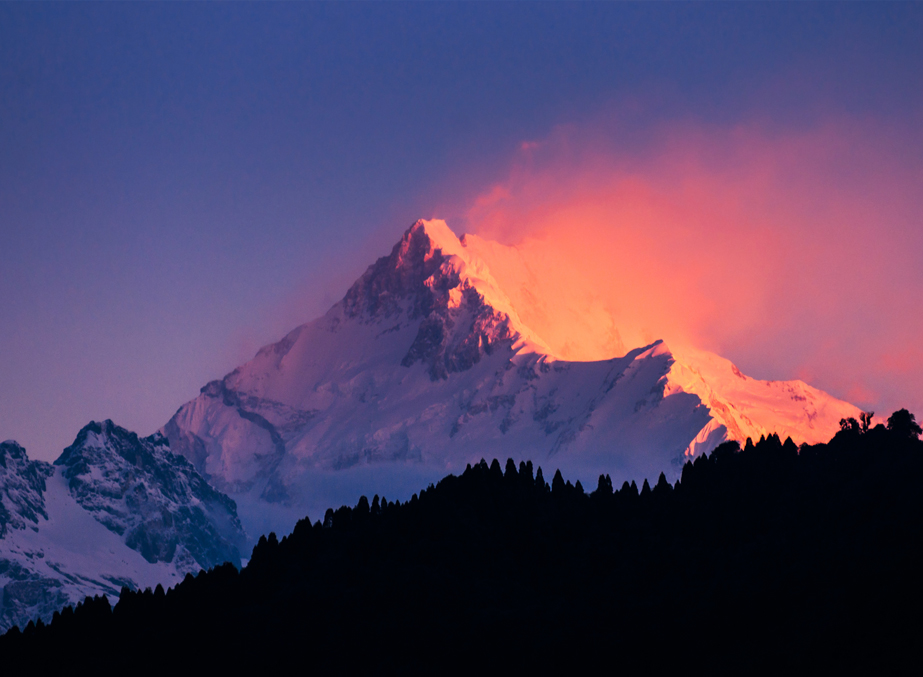 As soon as the summer season arrives, people start searching for the perfect getaways in order to not only escape the heat but also to take a break from the high temperatures and hustle and bustle of city life. When it is about going on a summer vacation in India, there is no other place like the great Himalayas that provide the tourists with excellent weather, splendid view, and serene environment. Further, out of all the unexpectedly beautiful places, Sikkim is one quintessential holiday destination that has its own distinctive personality.
Surrounded by Bhutan, Nepal, and Tibet, Sikkim is a spectacular meditative location that comprises of Tibetan Buddhist Monasteries coexisting with mural-filled Hindu temples. Except for being a religious and cultured state, Sikkim offers exuberant beauty of green carpeted meadows, crystal clear water in the lakes, and lofty mountain ranges in summers.
Being the least populated and second smallest state of India, Sikkim is one idiosyncratic location that can soothe tourists with its peaceful environment and fresh air. Besides, to enjoy the sensational mountain magnificence to the fullest, the tourists are entertained with a lot of adventure activities. So, have a look at some of the thrilling activities that deserve some place in every traveller's bucket list.
1. Trekking in mountains
Sikkim is an ideal location for mountain lovers because it remains unrivalled as it is about experiencing the amusement of mountaineering. Trekking into the snowy peaks of mountains of Sikkim is one of a kind experience that nobody can afford to miss. This has been introduced recently after the consideration of the government of the state which has inaugurated various alpine peaks to trek and climb. Some of these exciting mountain trails are Mt Khangchendzonga, Mt Rathong, Mt Siniolchu, Mt Kabru, and Mt Pandim.
If you are afraid of walking on the shiny peaks of mountains, you have another option of trekking across the velvet green meadows, sacred water bodies, majestic rhododendron fields, and beautiful mountain brooks. The Geocha La trek and Yuksom- Dzongri trek is the two of most prominent trails for true nature lover because it makes you encounter the awe-inspiring sceneries of hills.
2. Paragliding for the eagle view
Out of all the popular adventurous activities available in Sikkim, paragliding and hang gliding are the most amazing ones which allow travellers to fly higher in the clouds like a bird. The adrenaline rush one feels after jumping from the cliff and flying at a height of 1400 meters is matchless. People from various parts of the country arrive at this paradise just to enjoy paragliding because there are certain levels available for people. Furthermore, the 'medium fly' is approximately 15 minutes long and takes the passenger to an approximate altitude of 1400 meters, whereas, the 'high fly' is for the tougher people because this lasts for about 30 minutes and takes-off at an altitude of 2,200 meters.
A person who is physically fit and free of acrophobia can take up this adventure sport because there is no requirement of experience and professional training. Also, the passenger is allotted a professionally certified pilot who further navigates the paraglider to make the flight easier and enjoyable for the passenger.
3. Bathe in the hot spring
Among all these exciting experiences, people tend to get tired and look for a serene place to relax. Thus, Sikkim has a mesmerizing naturally formed hot water spring which is meant to unwind people. This tranquillizing Yumesamdong hot spring is located near Yumthang village and people have to drive through the serpentine mountains and then cross a pedestrian bridge on the Lachung river to reach this magical location.
Yumesamdong hot spring is believed to possess a few medicated properties because the water is rich in sulphur content which is why it is the most recommended place for tired tourists. Furthermore, it is located at an altitude of 15,300 ft above sea level and near the international borders India and China which is why the visitors need to take special permission to pay their visit.
4. Safari into the national park
Sikkim is loaded with dense forest where there are unnumbered species of flora and fauna. You can get a chance to explore these exotic species through a safari into the lush greenery. There is a charming national park, Khangchendzonga, where tourists arrive to witness the astoundingly beautiful ecosystems. Besides, it is one of India's most significant biodiversity concentrations and home to a brilliant variety of animals like snow leopard, musk deer, red panda, and Himalayan Tahr.
Another delightful jungle is Kewzing where lives approximately 200 species of birds making it a heavenly land for bird watchers. Wildlife lovers can come across species like Fire-tailed Myzornis, Sultan Tit, Satyr Tragopan, Scaly Laughingthrush, Cutia, Scarlet Finch, Streaked Spiderhunter, and Puff-throated Babbler.
5. Have some thrill in river rafting
Rafting in Sikkim is like flowing with the white water of the icy cold river with changing intensity. Wearing a tight life jacket with a safety helmet and holding the pair of oars and rafting in the turbulent waves of freezing water is one of the most outstanding experience one can have. The most popular river to go for rafting is River Teesta which stands at level 4 on the international scale of river rafting. For more challenging waters, adventure seekers also take their raft into the River Rangit which is also a tributary of the Teesta, however, more daring and ideal for experts.
Sikkim is an excellent location for river rafting may that be for beginners or professionals because there are various levels of difficulty available. Moreover, this adventure sport is gaining popularity at a faster rate in recent years because the thrill participants experience is incomparable.
Wrapping up
Summer season is seen as a perfect time to visit Sikkim because the pleasant weather and greenery all around provides you with the heavenly beauty you have been seeking for. Therefore, plan your trip to this appealing place and make your vacations unforgettable by indulging in these must-do adventure activities.

Subscribe to us
Subscribe to our newsletter and stay updated

Request a call back
Our experts would love to create a package just for you!
Sikkim Travel Information at a Glance
Find the authentic information on how to plan a hassle free tour to Sikkim. Travalghar puts together for you relevant details on how to reach Sikkim along with information on different means of transportation and the best time to visit. Also explore the different attractions and destinations in Sikkim with the help of our map, made easy for you to navigate.