Gangtok weather in June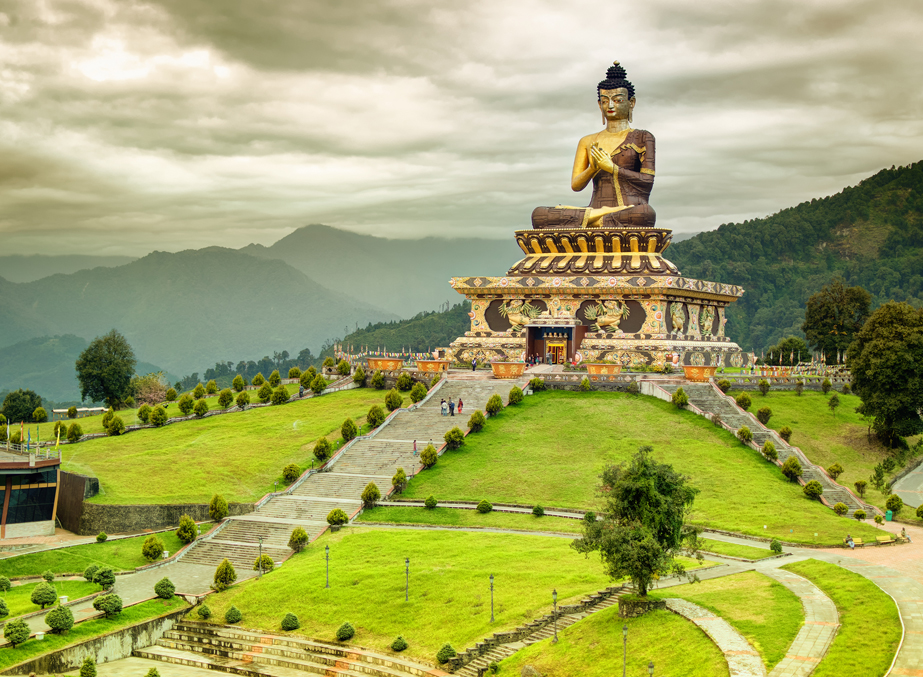 Run away from the rush of summer and spend time amid nature in Gangtok
Summers can be hot and tiring isn't it? Especially for those in India, the weather in most of the cities gets humid and the scorching heat gets unbearable. But the lonely kingdom of Gangtok in North East India remains pleasant. And hence, June is the perfect month to visit Gangtok as the weather here remains cool and the landscape displays its vivid lush beauty. So if an escape from the heat is what you are looking for then head to Gangtok for a cozy vacation. Gangtok is known as one of the most peaceful town in India with a rich cultural vibrancy. The entire city is filled with pristine lakes, rivers and greenery. Gangtok is the capital city of Sikkim that offers different variety of activities for all its visitors. So go ahead and indulge in the fun-filled activities amid the mighty Himalayas. You are sure to cherish this vacation forever. The temperature in Sikkim during the month of June goes up to 25 degree Celsius.
How to Reach Gangtok

To reach this beautiful kingdom, you can travel by air, train or road. Read on…
By Air: If you wish to save some time and travel to Gangtok by air then book a flight to Bagdodra Airport. This airport is in West Bengal and is the most popular one closest to Gangtok. Once you reach at this airport, avail the cab service or helicopter service to Gangtok. Besides the Bagdodra Airport, Sikkim has also launched Pakyong Airport which is much closer to Gangtok. But since this airport is new, only small planes can land here. So ensure that you check details properly before you book any.
By Train: The real essence of India is felt while travelling in the trains isn't it? Not only do you get to pass through picturesque landscape but also get the chance to meet people from across different cities while on train. Best memories are often made in train journeys. So if you wish to create memories and explore the beautiful country, hop on a train journey to New Jalpaiguri Railway Station in Siliguri. Once you reach Siliguri, you can either take a cab or bus to Gangtok. While on your journey from Siliguri to Gangtok, you will pass beautiful destinations. As you get closer to the paradise of Gangtok, the temperature drastically gets lower and the landscape gets all the more beautiful.
By Road: Since the lost kingdom of Gangtok is nestled amid the mighty Himalayas and surrounded by rich greenery, road journey to Gangtok is one that you should opt for. You can either self-drive or book a cab to take you to Gangtok. The journey is beautiful. You will get the chance to explore and experience the rich lush forests and stop by destinations that display the beauty that nature is. Once you start entering into the state of Sikkim, you will also get a glimpse of the scenic Himalayas and rich shades of green. Also, stop on the food joints on your way and indulge in local cuisine.
Indulge in all the fun while in Gangtok
Enjoy the breath taking view of the Himalayas while Paragliding

For those that love adventure, paragliding is a 'must-to-do' while in Gangtok. Fly through the air and enjoy the beautiful landscape of the lush green forests and the Himalayas. During this ride, a certified pilot will accompany you to ensure a safe ride. Tourist from across the world come to Gangtok to enjoy this beautiful ride. This activity will definitely get your adrenaline rushing and give you memories umpteen! If you are in Gangtok, you should definitely head for Paragliding.
Against the multidimensional rapids, raft your way through in River Teesta

Rafting in river Teesta is one fun activity that you should indulge in. It is an adventure that will give a memorable experience. During this raft, you will also get the chance to enjoy a spectacular view of the beautiful landscape that surrounds the river. Since the river has high level of water, rafting is all the more fun here. You can also stay overnight camping on the banks of River Teesta. If you are in Gangtok then you should definitely spend time rafting in River Teesta.
Soak in the culture at the monasteries in Gangtok

The city of Gangtok has a rich Tibet culture. The city is hence flooded with beautiful monasteries that have been perfected with fine architecture. Besides its vivid beauty, the location of these monasteries also make it a must visit. The views that you can enjoy from these monasteries are amazing. The golden shrine, all smiling monks and nature that surrounds these monasteries in Gangtok will keep you spell bound. Go ahead and soak in the rich Buddhist culture that the state is adorned with in these monasteries.
On the banks of the pristine Tsomgo Lake

Tsomgo Lake is one of the most popular tourist destination in Gangtok. Spend time unwinding on this beautiful lake. Besides the view of the pristine lake, the view of the snow-capped mountains that surround this lake is panoramic. You can spend some quiet quality time amid nature here. Also take part in Yak Safari and enjoy a better view of the valleys here. Yak safari is unique to Gangtok. While you are on the beautifully decorated Yak, let the cool breeze here keep you mesmerised. Remember to carry woollens if you are headed to Tsomgo Lake as the temperature here is way lower than in the city. Also pay a visit to Baba Mandir located near Tsomgo Lake.
Grab a bite, sip some tea and shop your heart out at MG Marg

Do you enjoy shopping? If so then head to MG Marg for some amazing shopping. You can shop for locally made handicraft items and woollen clothes here. Also, spend time in the cafes here tasting 'yummylicious' food and sipping hot cup of tea. If you are one that enjoys grooving to music as dusk sets in, visit the pubs at MG Marg. The nights are especially beautiful in MG Marg as the street is lighted with different shades of light. Also head to Lal Bazaar located close to MG Marg and shop for fine handicrafts.
Ride through the rope to enjoy a view of this capital city

If you are in Gangtok, a cable car ride is necessary. During this ride you will get to enjoy the beautiful scenery of Gangtok and the mighty Himalayas. The view of the city is amazing from here.
Into the wilderness of Gangtok, find the missing peace that nature offers.

Subscribe to us
Subscribe to our newsletter and stay updated

Request a call back
Our experts would love to create a package just for you!
Sikkim Travel Information at a Glance
Find the authentic information on how to plan a hassle free tour to Sikkim. Travalghar puts together for you relevant details on how to reach Sikkim along with information on different means of transportation and the best time to visit. Also explore the different attractions and destinations in Sikkim with the help of our map, made easy for you to navigate.