Things To Do In Sikkim In February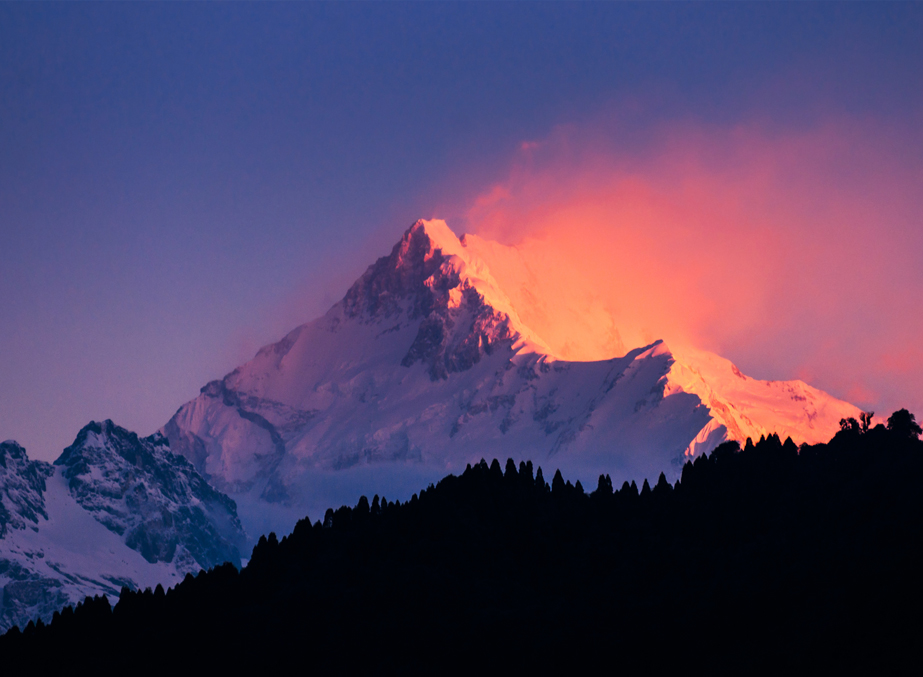 No wonders how life in cities is fun with all the parties, weekend getaways, and unlimited shopping. However, despite all the facilities, cities can be a bit tiring. Therefore, people seek for an unwinding and serene place to distance themselves from the hustle and bustle.
When it comes to going close to the Mother Nature, the great Himalayas are a quintessential tourist destination without any second doubt. In fact, the majestic valleys surrounded by snow-capped mountains, and enchanting Buddhist shrines, freezing lakes, and warm-hearted people make Sikkim a dreamy place for nature admirers.
Even though Sikkim remains frozen in winters, there are a number of activities one can do in this heavenly landscape. So, here are some awesome things you can do in the month of February.
1. Trekking to the snowy peaks
Trekking through lush greenery can be exciting but have you ever walked through the snowy paths to reach the chilly peak of mountains? You can make this come true at Sikkim where you get to trek into the snow-covered heights. One of the most famous treks is Yuksom- Dzongri La Trek which commences from Dzongri of Kanchenjunga National Park and takes you into the dense Himalayan forests and the snow-covered peak of Tsokha. Besides, you will be left speechless as you witness the jaw-dropping view of the place while standing at the height of 4170 meters.
Other than Yuksom- Dzongri Trek, there is Yumthang, the 'valley of flowers' in Lachung, from where you can trek to the Zero Point which will greet you with magical sceneries as far as you can see. In order to witness the astoundingly picturesque view, one can also keep the tiny pleasant hamlet Lachung as an option. As you step into the astonishing land of Lachung, the sensational place of Narnia will strike your mind as you will come across the snowy roofs of huts and cottages, frozen streams, and leafless trees covered with snow.
2. Take an intoxicating dip into the hot spring
Where one side of Sikkim has the capacity to freeze you, there is a point where you can beat the cold weather by dipping yourself into the hot spring. There is one awe-inspiring hot spring, named as Yume Samdong Hot spring, at Yumthang Valley which possesses a few healing properties. Furthermore, one can reach this excellent natural Jacuzzi by crossing a pedestrian bridge on the Lachung River.
The water flowing from the natural hot spring is naturally divided into two pools where tourists can rejuvenate themselves and bathe in the hot water. Moreover, Yume Samdong is believed to be one of the most favourite destinations for honeymooners.
4. Enjoy local alcohol to ensure you are not cold enough
Dipping into the natural hot spring is not the only option available to escape the cold because, in Sikkim, there is this amazing local drink called Chhaang that can be a delight for the shivering travellers. This Tibetan Alcohol Beverage is made either with barley, millet, or rice or an amalgamation of all three and is consumed traditionally with the help of 'pipsing' which is a narrow mug-like bamboo tube.
Anyone paying their visit in Sikkim especially in winters cannot miss out this precious drink. Further, as a matter of fact, this is occasionally consumed during celebration and festivals by locals. This drink can be found in local alcohol shops, restaurants, and bars, therefore, do not forget to take some as a souvenir of your amazing trip to Sikkim.
5. Head towards the charming monasteries
Apart from natural allurement, Sikkim is more of a cultured state where tourists will come across various monasteries and Buddhist shrines. Visiting these peaceful places can be outstanding because they are not only known for their sacred values but also for providing you with a spellbinding view of the area. Thus, in search of a perfect background for your pictures, do pay a visit to some of these monasteries. Also, you might spot some child monks playing several games. How about joining them?
As far as most recommended ones are concerned, Pemayangtse Gompa is a must-visit shrine which is situated at a distance of 111 km from the capital Gangtok. This religious shrine contains idiosyncratic Buddhist idols, sculptures, and scriptures. Apart from Pemayangtse Gompa, there are other monasteries such as Enchey and Rumtek that are known as the kingdom of heaven for peace seekers.
6. Pay your visit to the frozen lakes
One of the most exciting and adventurous experiences for tourists is to walk through the frozen Tsomgo lake other than mainstream Yak Ride. The indelible experience of walking on the thin icy layer of this magnificent lake is incomparable which is why it should be in the list of every travelista. What's more, it creates magic as people walking on it are able to see the crystal clear water running at the bottom.
All you need to do is take permission from the Tourist and Civil Aviation Department of Sikkim to reach Tsomgo Lake. The best part about this place is that travellers can also take a ride on the lofty ropeway which was inaugurated recently by the government as India's highest altitude passenger ropeway. Besides, while soaking yourself into the fun and thrill of the activity, you need to be equally careful while walking on the thing ice.
Except for Tsomgo lake, vacationers can also visit Gurudongmar Lake which is also listed among the highest freshwater lakes in the world as it is situated at the height of 17,800 ft above sea level. The strange thing about this gorgeous lake is that it never freezes completely even at sub-zero temperature. People visiting Sikkim in the month of February should definitely visit this semi-frozen lake.
Wrapping up
Even though the summer season is seen as the best time to visit Sikkim because of the presence of pleasant weather, the winter season is no less wonderful as it provides the tourists with matchless splendour of the Himalayas. So, visit this paradise in the freezing weather and enjoy numerous delightful things.

Subscribe to us
Subscribe to our newsletter and stay updated

Request a call back
Our experts would love to create a package just for you!
Sikkim Travel Information at a Glance
Find the authentic information on how to plan a hassle free tour to Sikkim. Travalghar puts together for you relevant details on how to reach Sikkim along with information on different means of transportation and the best time to visit. Also explore the different attractions and destinations in Sikkim with the help of our map, made easy for you to navigate.