Places to visit in Bhutan in October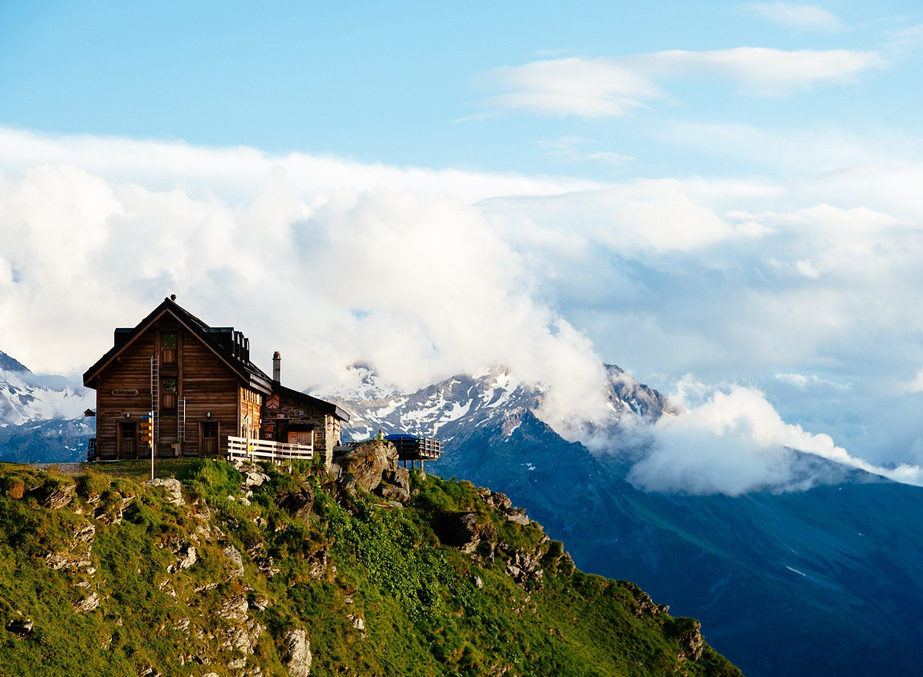 We all have the longing to push aside the stress of our daily fast-paced life and go on long journeys when autumn starts to settle in. Bhutan is one such place where you can escape the reality of life and nestle amidst nature to unwind. The mild weather in October makes it the best time to visit Bhutan. A sublime view of mountains and a packed calendar of religious and cultural events drags thousand to this land every year.
When it is October in Bhutan, the scenery is just beautiful. The lush green valleys turn into a beautiful shade of gold and the harvesting begins. The list of places to visit in Bhutan in October is long and almost unending. So, scroll through and get ready to go on an exploration that will want you to wish it never ends.
Suggested Read: Things To Do in Bhutan , How To Reach Bhutan & Best Time To Visit Bhutan
Planning to visit Bhutan, here are the best Bhutan tour packages that can be customized according to your requirements.
Top 12 places to visit in Bhutan in October:
Thimphu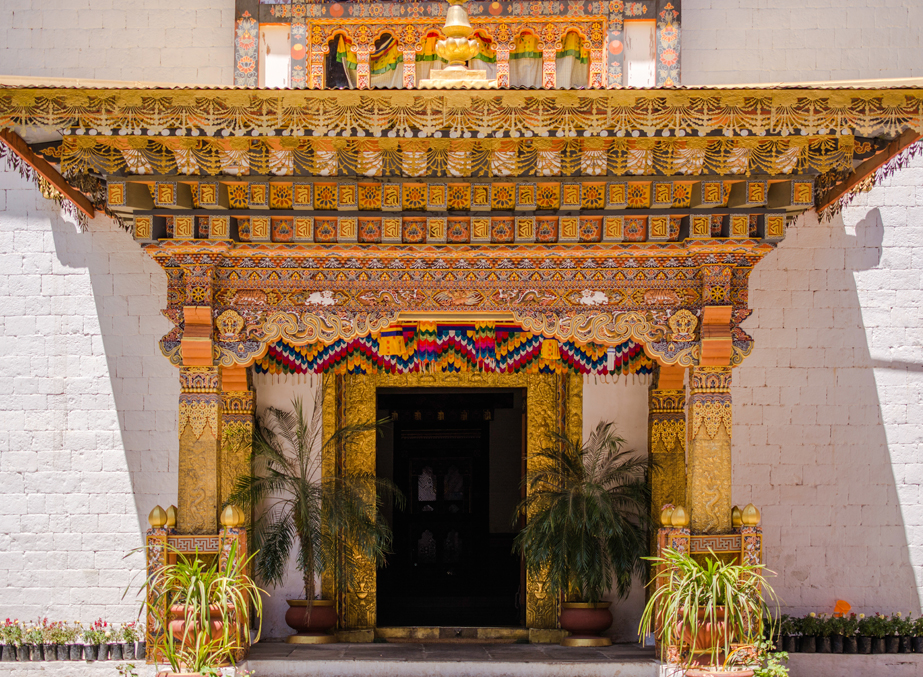 With the beginning of the autumn season, visit to this town becomes almost mandatory. It is the best time to visit Bhutan and enjoy in the capital city of Thimphu. The Thimphu festival is celebrated with great zeal and enthusiasm in October where you will see all the local people dressed in colourful attires taking part in various activities. Do not miss out on witnessing the masked dance performance.
Best sightseeing spots in Thimphu: Folk Heritage Museum, National Library of Bhutan, Bhutan Textile Museum, Simtokha Dzong, Norzin Lam 1, National Handicraft Emporium
Quick tip: There are many handicraft shops in and around Thimphu. Many exhibitions and trade fair takes place in October. Do buy some handmade stuff and refrain from buying antiques. It is illegal and you may have to face serious charges.
Paro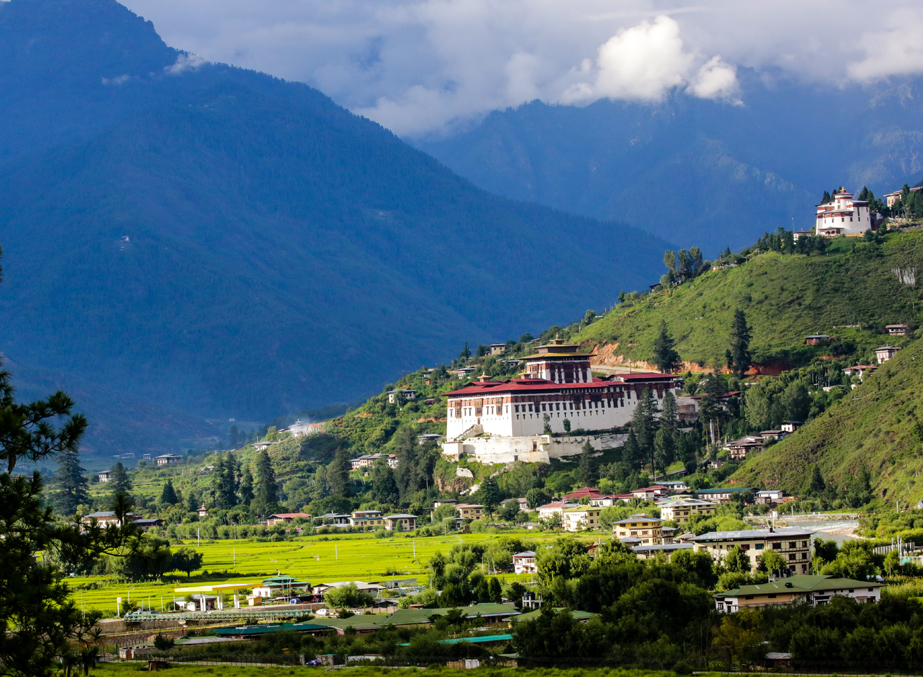 A town of historic importance, Paro is where you can get a sheer experience of nature's tranquillity at its best. Set in a backdrop of a range of mountains, Paro has to offer a lot to different types of travellers such as calm atmosphere, adventure, trekking, fresh weather water sports, religious sites, rich culture and vibrant festivals.
Best sightseeing spots in Paro: Rinpung Dzong, The Tiger's Nest, Tachog Lhakhang, Jangtsa
Dumtseg Lhakhang, Chele La, Jele Dzong
Quick tip: Paro is the only town that has an international airport and sees a lot of rush. Travel and accommodation will be intense in Bhutan during October. Therefore, it is suggested that you plan your trip well in advance to avoid hiked prices.
Punakha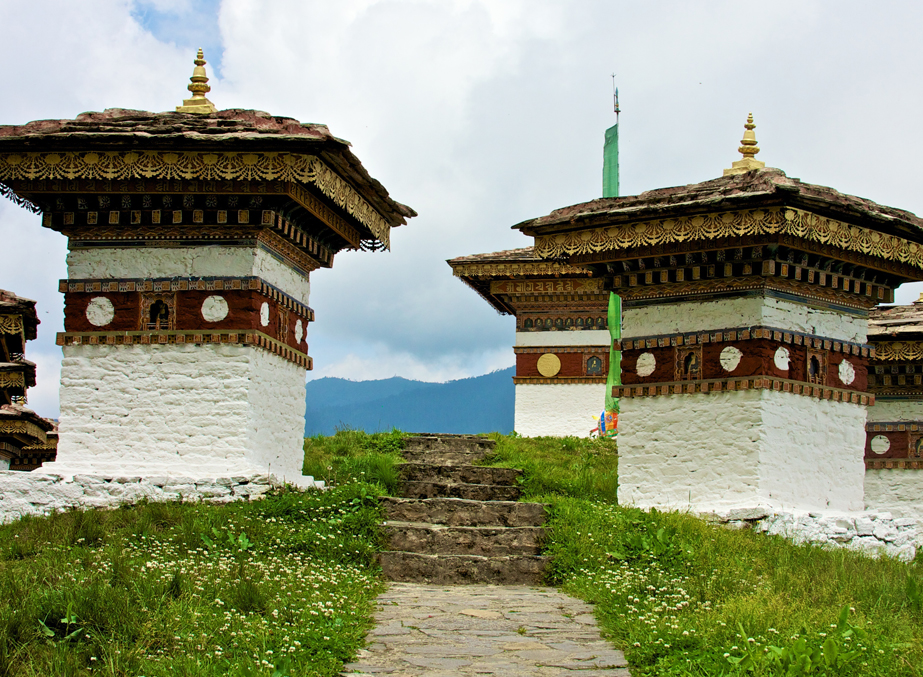 This prepossessing land floats on high over hills. It seems as though it is unfolding the enchanting blue sky in the month of October. Surrounded by rich forests and grasslands, the way of life of the locals in Punakha is in complete harmony with nature.
Best sightseeing spots in Punakha: Talo Monastery, Talo Monastery, Wolakha Nunnery, Punakha Dzong, Pho Chhu Suspension Bridge
Quick tip: Visit the Dochula Pass and admire the snowy mountain peaks of Bhutan in October from here. This pass is accessible from Punakha and has the best views of the Himalayan vistas.
Bumthang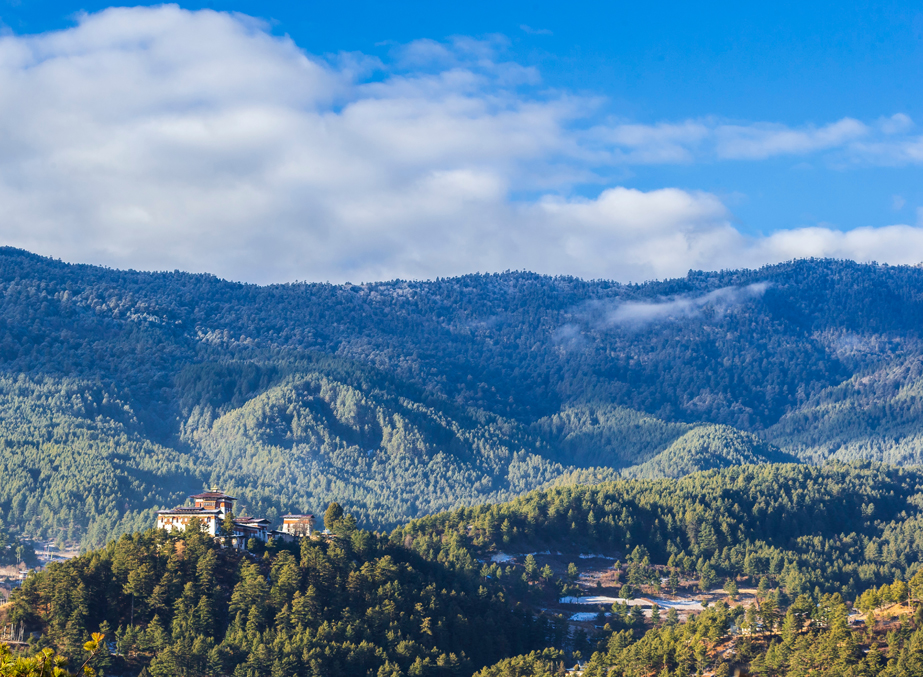 If you are ready to leave your imagination spell-bound, you must take a vacation trip to Bhutan in October and explore the Bumthang valley. It is a perfect blend of fresh essence and old charm. Its peaks, parks, landscapes and museums will make you forget about the life you left back at home.
Best sightseeing spots in Bumthang: Wangchuck Centennial National Park, Ogyen Choling Palace and Museum, Könchogsum Lhakhang, Choedrak Monastery
Quick tip: Bumthang has a lot of monasteries, Dzongs and other religious institutions that you must visit in October. It is hence expected that the visitors dress respectfully and modestly.
Gangtey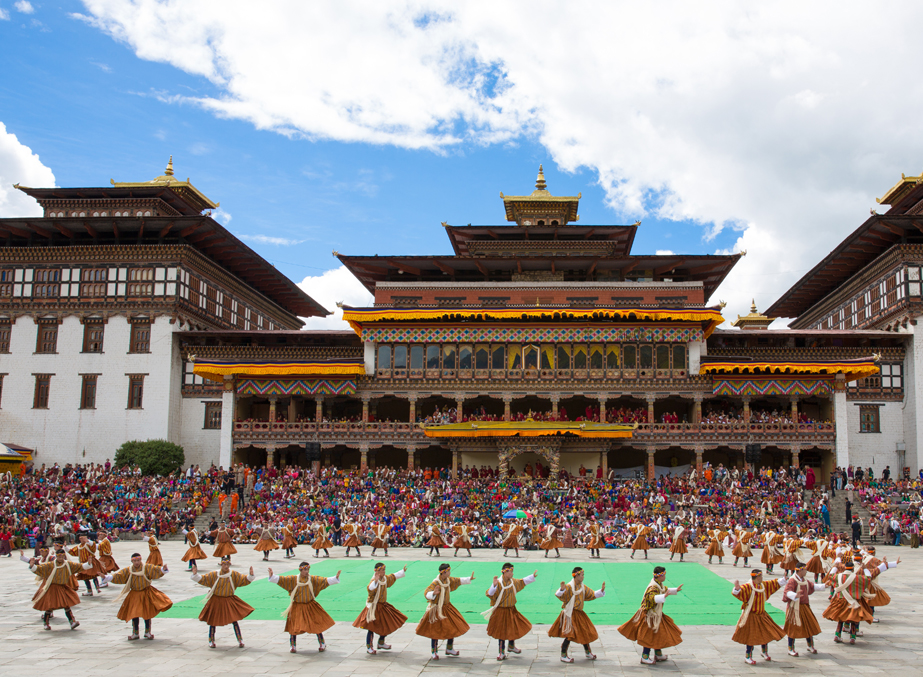 Gangtey's villages on your autumn holiday in Bhutan will give you the opportunity to salvage a generous amount of local flavour. With a sprawl of ponds, small single-storey traditional houses and swaying lush green trees, this valley is blessed with exceptional vistas.
Best sightseeing spots in Gangtey: Gangtey Hikes and Nature Trails, Nyelung Dechenling, Radak Neykhang, Kuenzang Chholing Shedra
Quick tip: Do not miss out on the Black Necked Crane Festival that takes place in Wangdue Phodrang. It is the most celebrated festival in Bhutan in October.
Haa valley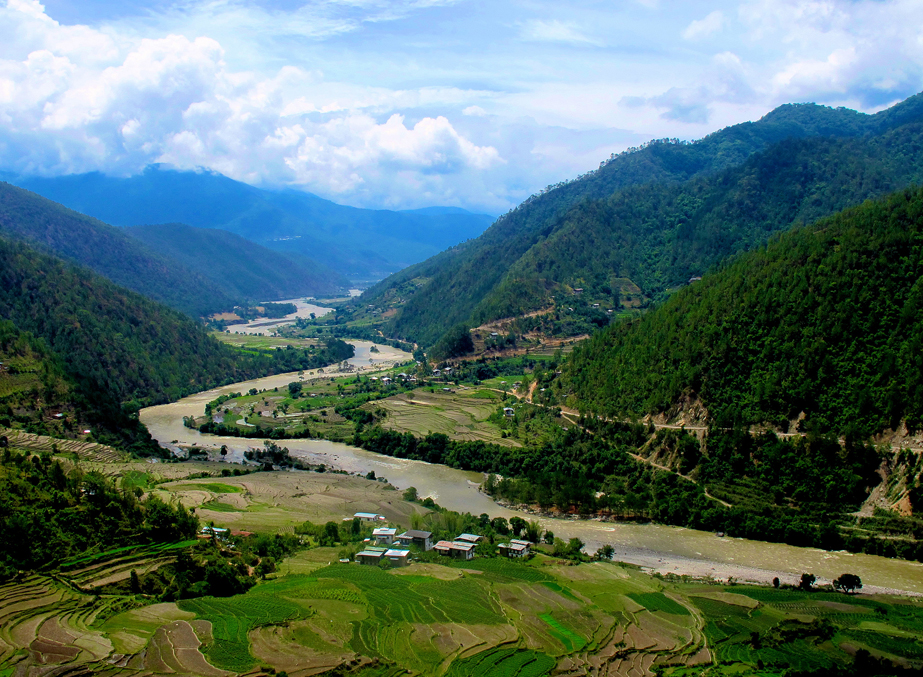 If you wish to experience the thrill and beauty of the unaltered Himalayas, Haa valley is your place to be at. The reason why it is the best place to visit in Bhutan in October is that you get to click some timeless pictures with clear skies against a backdrop of tall sky-touching mountain ranges. Haa valley is an untouched piece of land for every travelling soul to visit once.
Best sightseeing spots in Haa Valley: Haa Goemba, Haa Wangchuklo Dzong, Lhakhang Karpo  and Lhakhang Nagpo
Quick tip: Haa valley gives a lot of opportunity to trek in the autumn season. Make sure to carry comfortable shoes and a small backpack with adventure essentials.
Gasa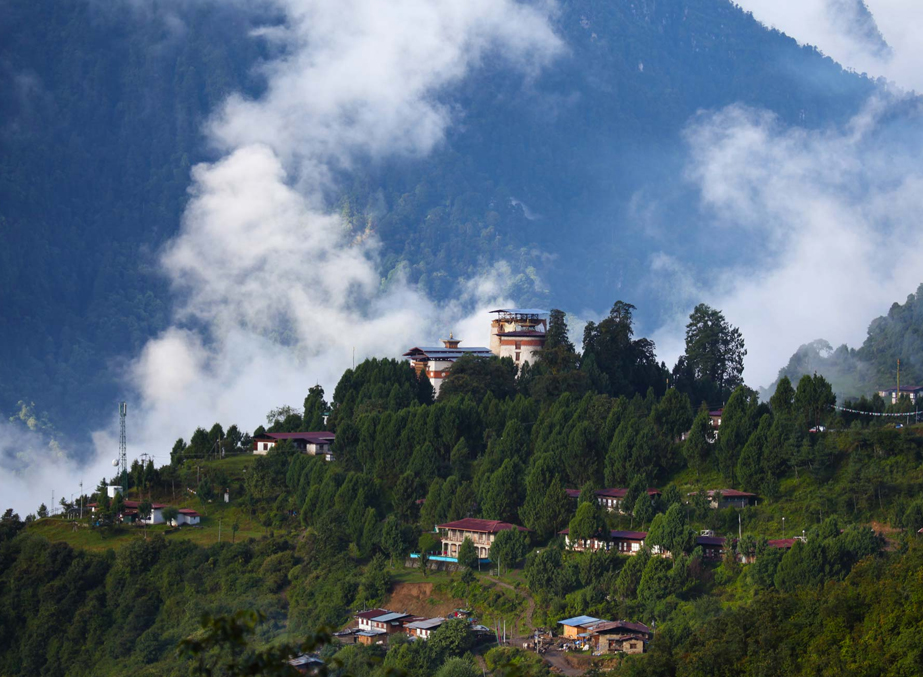 This surprising holiday destination in Bhutan for October is perched on an escarpment and dances in the breeze. The stunning panoramic views of the Himalayan mountain ranges only further add to the Bhutanese environs. It is also a paradise for trekkers with so much to share with its visitors.
Best sightseeing spots in Gasa: Kangphu Kang, Thorthormi Glacier, Tsachu Viewpoints, Gasa Tshachu, Damji Village
Quick tip: The Royal Highland Festival takes place here in October. It takes place at Laya in the Gasa district to sensitize on the decline of yak farming.
Trongsa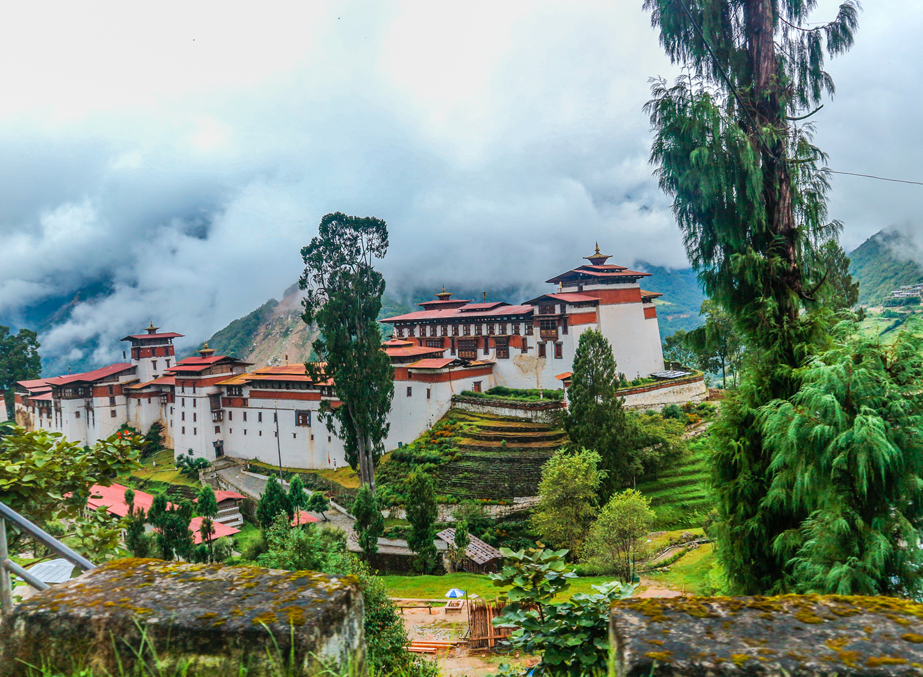 Trongsa is situated on a spur and is popular for possessing immense scenic beauty. It is the gateway to the east of the country and holds significance in the kingdom's history for being the land where the unification process of the country took place. The architecture of its Dzong dominates the entire Trongsa horizon and can be seen from every approach in the town.
Best sightseeing spots in Trongsa: Trongsa Dzong Fortress, The Tower of Trongsa Museum, Kuenga Rabten Palace, Chendebje Chorten
Quick tip: The Nabji Korphu Trek in the Trongsa District is very popular among other autumn trekking options in Bhutan. If you wish to make it an adventure holiday in Bhutan, opt for this lower altitude trek.
Gelephu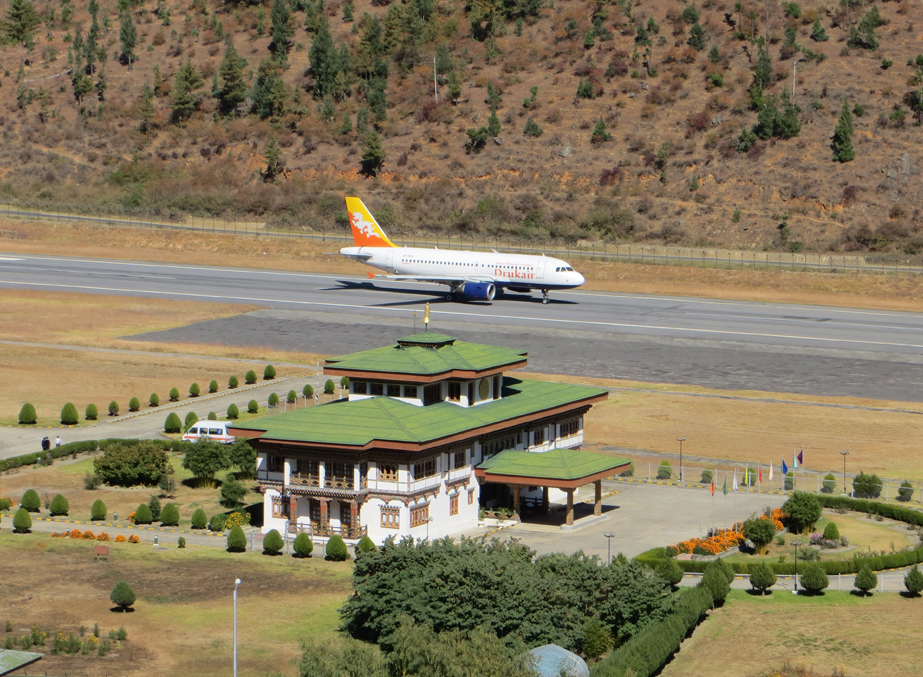 If you wish to explore the unearthly beauty of Bhutan, make sure to visit Gelephu on your holiday package for Bhutan in October. Due to its close proximity with Indian border, the areas are not very hilly and it has a plain geography. It is also known for its hot spring and you must visit and make the most of its healing properties.
Best sightseeing spots in Gelephu: Phibsoo Wildlife Sanctuary, Royal Manas National Park, Tali Dratshang, Tsirang Dzong, Nyimalung Tratsang
Quick tip: Visit the Thursday market at Dathgari in Gelephu. In the autumn season, it sells organic produce and you can buy dried and packaged sweets and fruits to take back home.
Wangdue Phodrang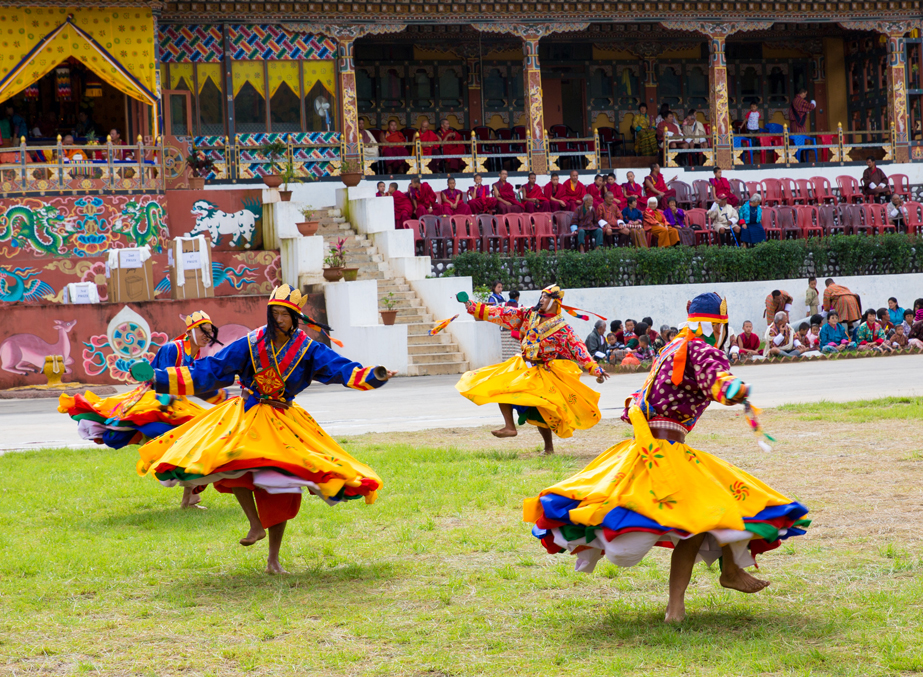 The spectacular landscape of Wangdue Phodrang is a retreat for you. It offer you great fun, lots of excitement and complete rejuvenation, all at once. Visiting Bhutan in October becomes worth the while when you witness the flowering Rhododendrons and Magnolia plants in this town. It is also famous for its distinctive cuisine of which Momos are a great example.
Best sightseeing spots in Wangdue Phodrang: The Temple of Sha Radap, Wolakha Nunnery, Jigme Singye Wangchuk National Park
Quick tip: With great altitudinal variations in Wangdue Phodrang, weather is quite mixed in Bhutan. So be equipped to face the unanticipated weather conditions.
Trashigang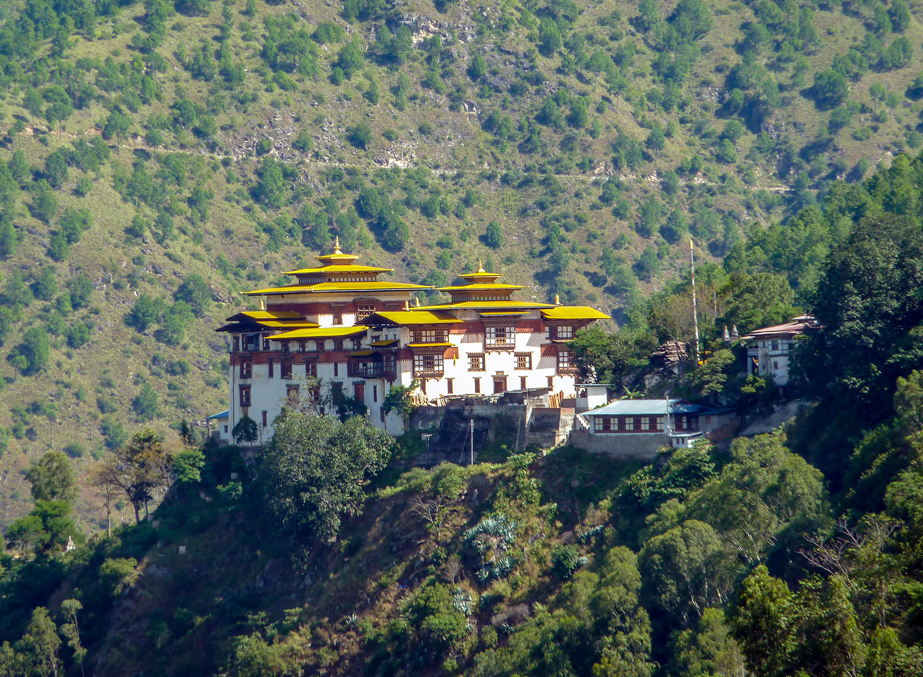 The natural landscapes in this town are majestic and rewarding at this time. The temperature ranges from 10 degrees to 23 degrees Celcius. Covered with mountains all around, it is a heavenly place where you can forget all your worries and get your mind, body and soul rejuvenated. It also consists of a number of beautifully constructed monasteries that you should visit when in Bhutan.
Best sightseeing spots in Trashigang: Trashiyangtse Town, Chorten Kora, Khoma Village, Trashi Yangtse Dzong
Quick tip: Trashigang Tsechu is a festival celebrated in autumn months in Bhutan. It sees the victory of the Bhutanese combatants over the Tibetan invaders.
Phuentsholing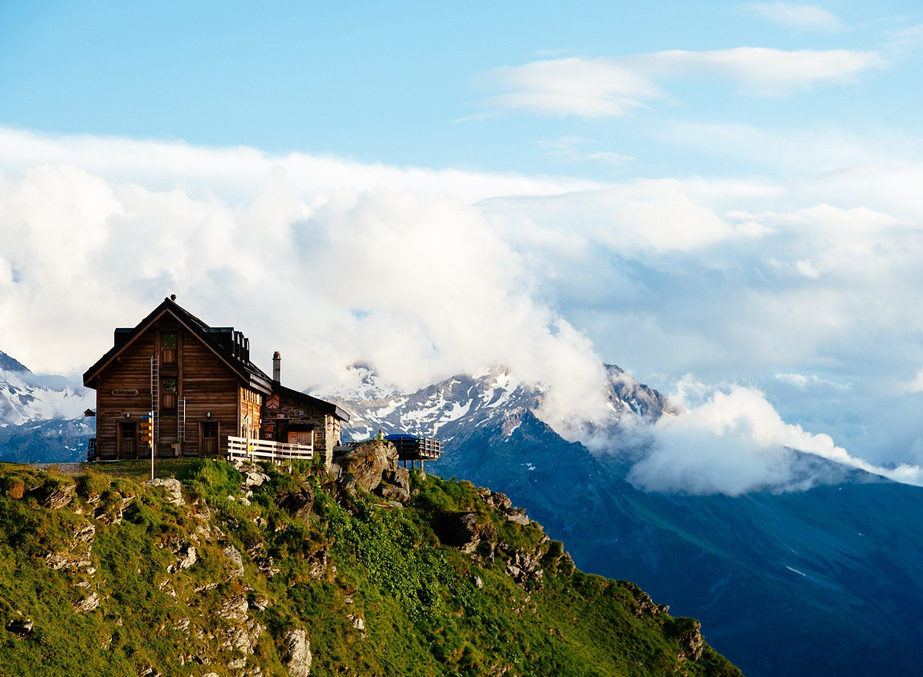 Autumn may see a varying temperature with a mix of hot, cool and dry weather in the Bhutanese town of Phuentsholing. However, that does not stop it from being a stunning place to visit in Bhutan in October. It is rich in culture and history and offers an amazing view of the Himalayan ranges. The market of Phuentsholing sells all kinds of products such as electricals, accessories and eatables as well.
Best sightseeing spots in Phuentsholing: Amo Chhu Crocodile Breeding Centre, Phuentsholing Viewpoint, Palden Tashi Chholing Shedra, Zangdo pelri Lhakhang
Quick tip: Phuentsholing has mesmerising views to offer, especially with the clear skies in October. Opt for a homestay here as many accommodation facilities here come with an open balcony to admire the picturesque surroundings.
An autumn holiday trip in Bhutan is ideal since the season fills the valley with colour. The climate remains dry and pleasant and lets you explore every corner at your heart's content. Head. Set. Go! Bhutan awaits you.

Subscribe to us
Subscribe to our newsletter and stay updated

Request a call back
Our experts would love to create a package just for you!