Places to visit in Bhutan in June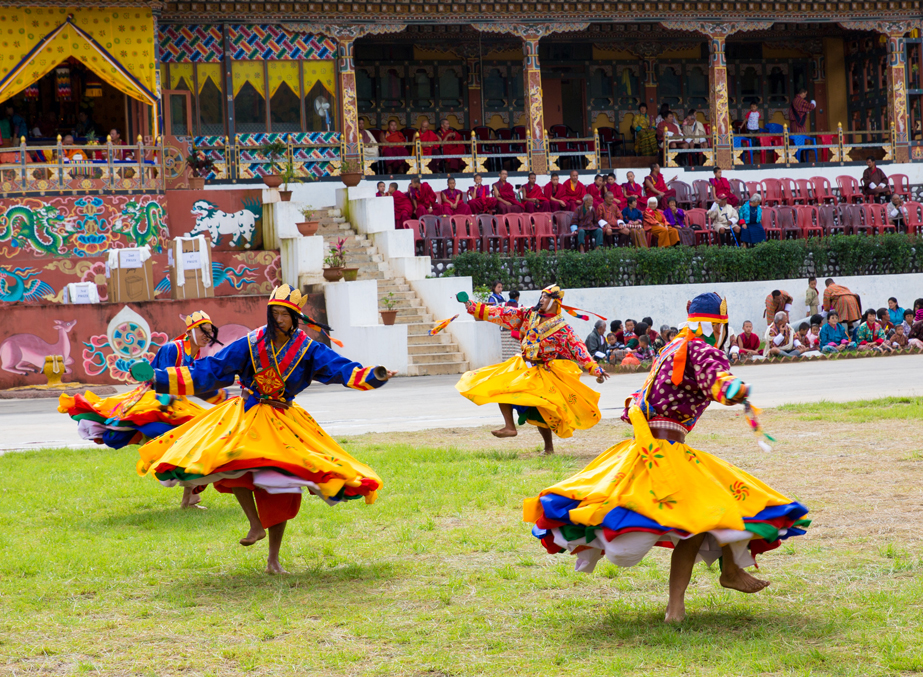 It is perhaps every traveller's dream to witness the Bhutanese ways of life. With all the glacial valleys, ancient monasteries, gushing streams and other colonial charms, the places to visit in Bhutan in June are ample. It is more suited for sightseeing of the monasteries and temples and exploring the kingdom during this time of the year. That is because the land experiences mild rainfall and it makes the landscape lusciously green and the mountains very misty. It sees a low inflow of tourists and you can avoid crowded environment when you plan a holiday in Bhutan in June.
Temperatures also start to cool down in June and range between 15 to 25 degrees celcius. The places of interest can be explored with much ease and enthusiasm. Here are some of the must-visit places in Bhutan during monsoon. Make sure to enjoy a cup of warm aromatic tea while you take a detour through the town.
Suggested Read: Things To Do in Bhutan , How To Reach Bhutan & Best Time To Visit Bhutan
Planning to visit Bhutan, here are the best Bhutan tour packages that can be customized according to your requirements.
Top 12 places to visit in Bhutan in June
Thimphu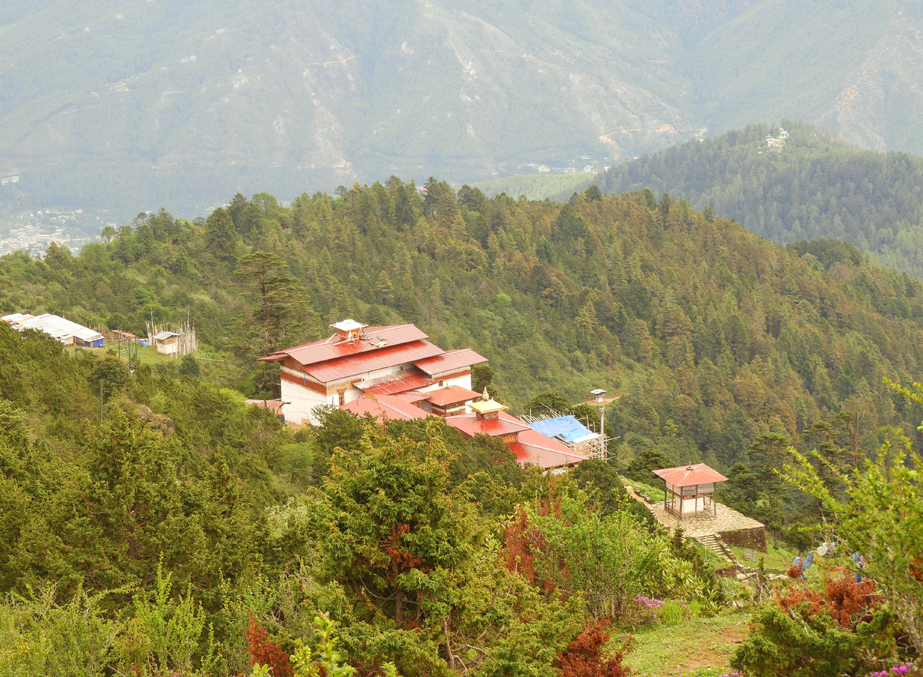 When you plan to visit all the places in Bhutan in the month of June, Thimphu should top your list. It is a unique city with an unusual mix of modern development with ancient traditions. It offers a deep insight into Bhutanese past. You will find its majority houses painted in a rich white-red-gold combination of colours. The mountains during this time in the town are cloaked in clouds and look enormously surreal. You can shop for artefacts, paintings, woollen clothes etc. from the handicrafts emporium or the many smaller crafts shops around the town. The biggest annual festival, Tsechu, is also celebrated in this town.
Best sightseeing spots in Thimphu: Motithang Takin Preserve, Dechen Phodrang Monastery, Centenary Farmers Market
Paro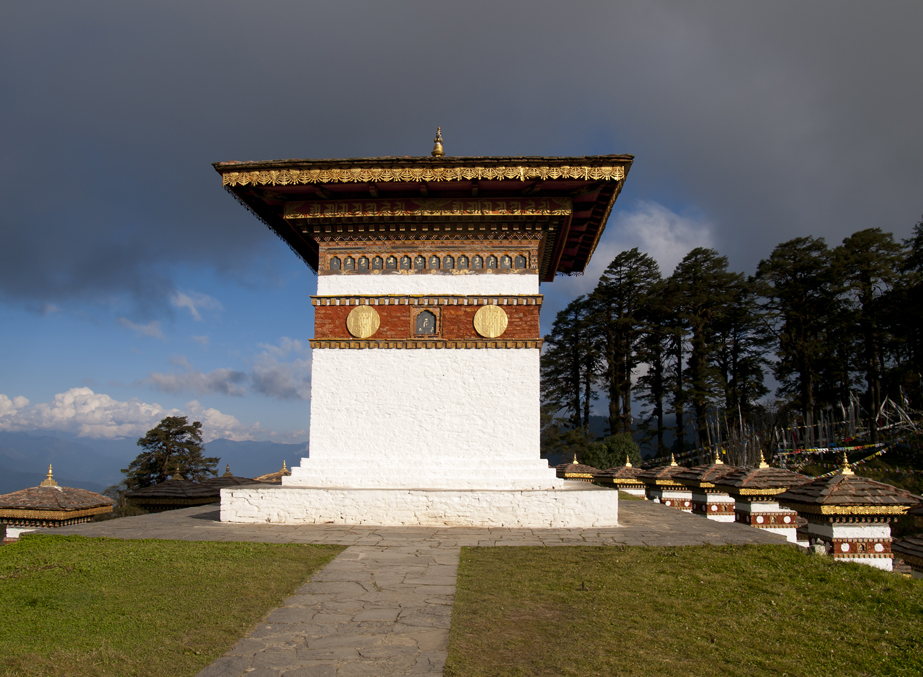 Paro makes for an ideal vacation in the hills, especially during the onset of monsoons. The backdrop of a range of mountains makes it look like a place that is unearthly. Moreover, it is surrounded by rice fields and the serene Paro River also flows down the valley. Since biking may be risky when you visit Bhutan in monsoon season with the wet roads, the advantage in Paro is that is one of the best Bhutanese towns to explore on foot. It is one of the most fertile and historic valleys in the entire country.
Best sightseeing spots in Paro: Drakarpo, Jangsarbu Lhakhang, Dzongdrakha Monastry
Punakha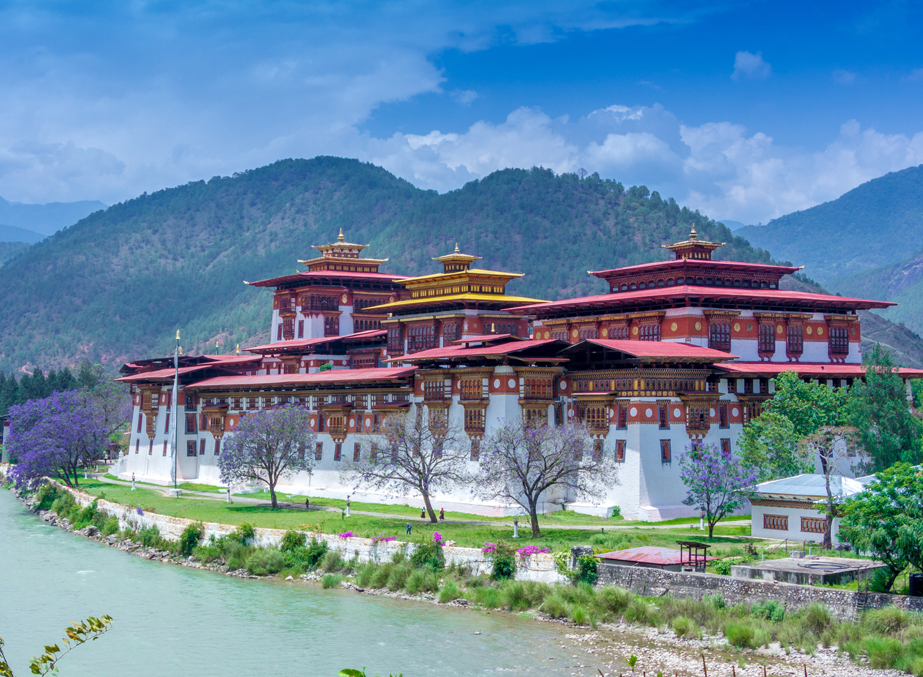 If you appreciate sacred places as well as being close to nature, then this is the place for you. Punakha has to offer a lot to different types of travellers. It is the ancient capital of Bhutan and when you opt for Bhutan tourism in June, you can spot the architectural brilliance in its monuments and structures. This place has been beautifully designed and you can see the extensive rice cultivation in this season. You can choose to stay at some of the most exotic resorts here and enjoy the unspoiled beauty of the scenery. Little hiking and short drives around the countryside will leave you with memories of a lifetime.
Best sightseeing spots in Punakha: Lingkana Palace, Talo Monastery, Wolakha Nunnery
Bumthang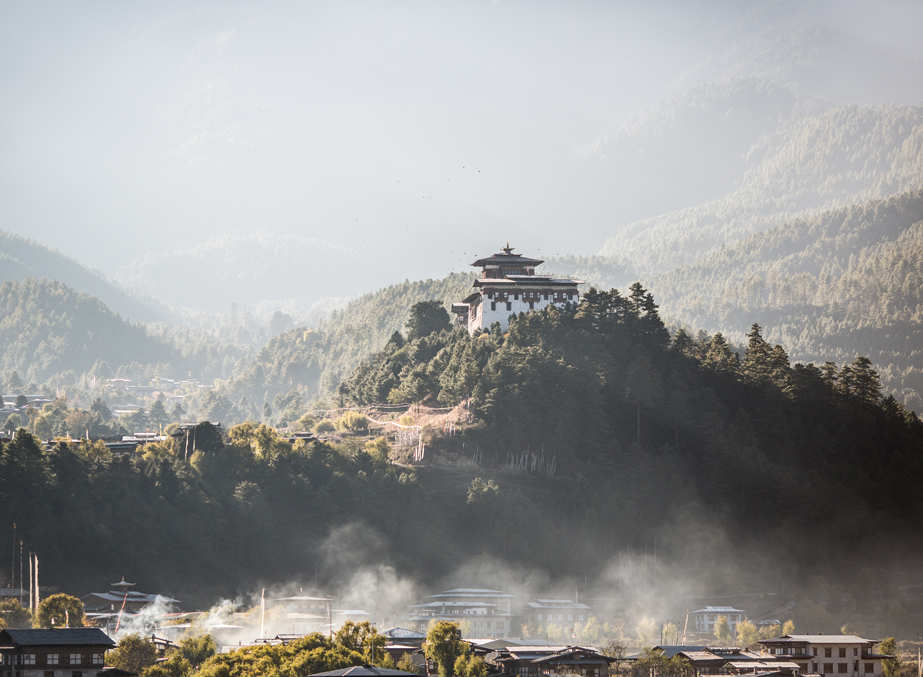 Bumthang is called the valley of holy water as several religious treasures can be found here. You must visit its temples which are assumed to be the oldest in the country. It is a wonderful place to visit if you have a keen interest in spirituality, nature and history. The apple and pear orchards are beautiful to admire around this time of the year. You can also see the vast Rhododendron forests as you go further up to slightly higher altitudes. With all this and more, there is a lot in Bumthang valley for every type of vacation seeker when they opt for a holiday package to Bhutan in June.
Best sightseeing spots in Bumthang: Thangbi Lhakhang, Jakar Dzong, Ogyen Choling Palace and Museum
Gangtey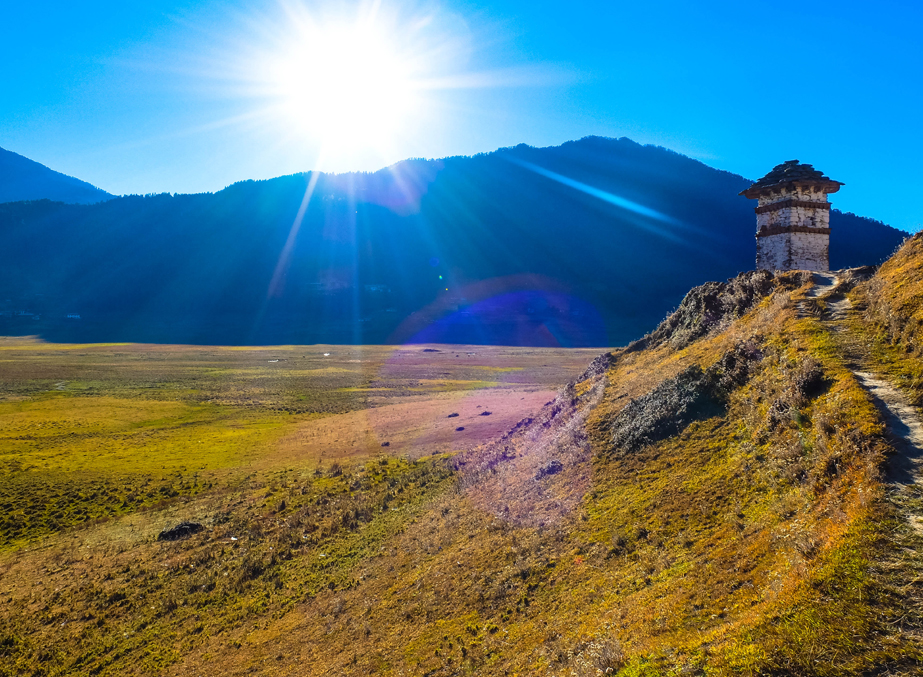 Nature is at her loveliest here. Gangtey is a glacial valley and an abode to flocks of black-necked cranes who can be easily spotted here because of its high-altitude. June is probably the last month for spotting them until they return next winters. The valley is shaped like a bowl near the Black Mountain national park. You can spend your monsoon holidays in Bhutan amidst luxuriant trees of maple, pines and birch trees. Gangtey's monsoon treks are widely popular among adventure lovers.
Best sightseeing spots in Gangtey: Kuenzang Chholing Shedra, Kumbhu Lhakhang, Nyelung Dechenling
Haa valley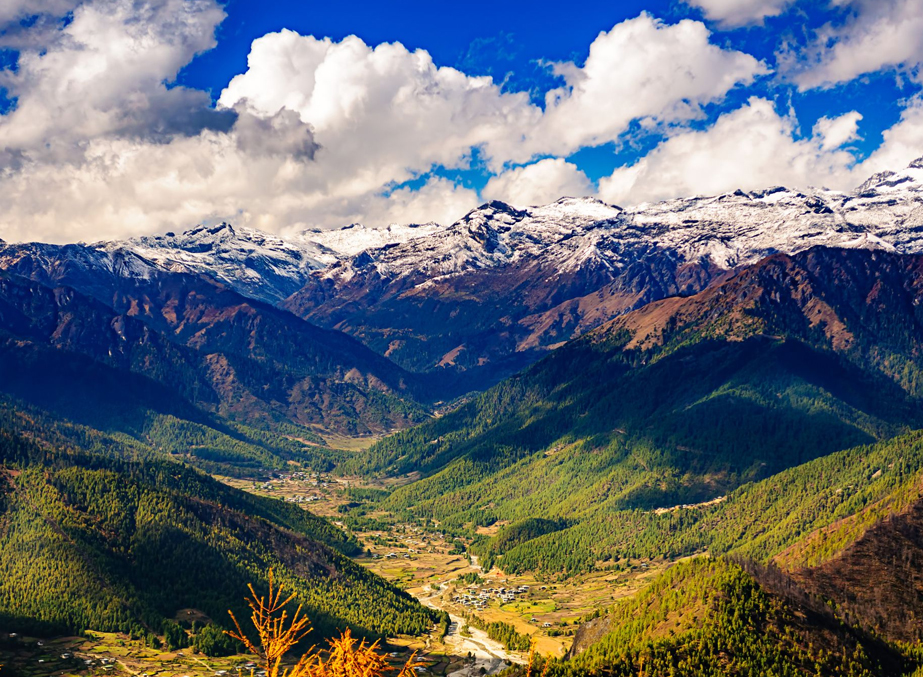 Be it the need for the calm atmosphere or to breathe in fresh mountain weather, to challenge yourself and undertake adventure trekking routes and water sports or to get some soul cleansing at the religious sites, Haa valley has something in store for all its visitors. You are sure to wake up to some of the most surreal views ever. Your eyes can feast on the magnificent views of Jichu Drakey and Mount. Chomolhari. Since its presence is near the Indo-Tibet border, it is strategically of great importance as well.
Best sightseeing spots in Haa Valley: Haa Wangchuklo Dzong, Juneydrag, Katsho Goempa
Gasa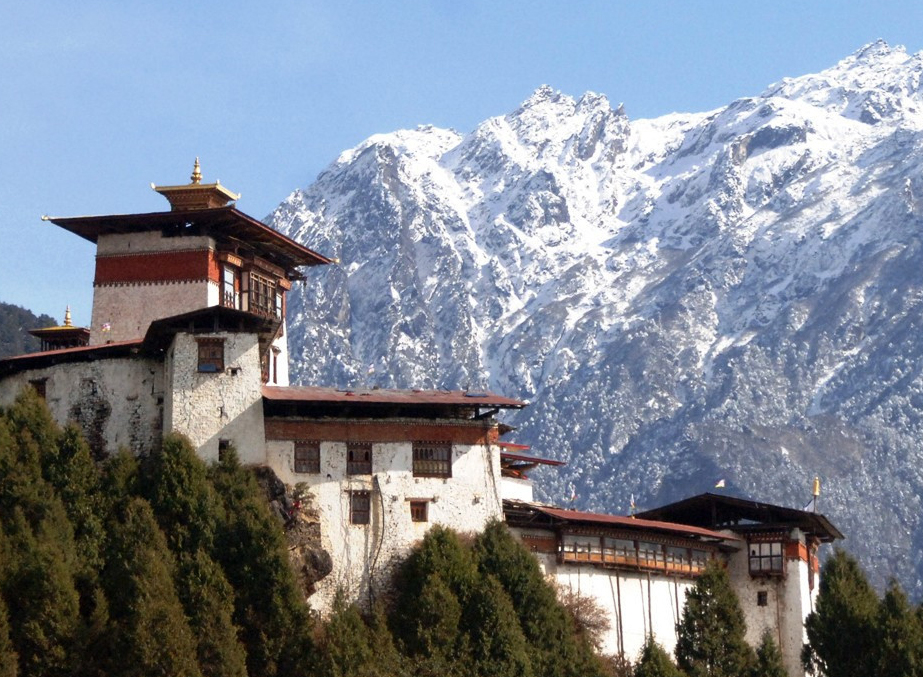 With a rich culture, unique traditions and vibrant festivals, Gasa should be on your list of places of interest in Bhutan during monsoon. Its unique monastic architecture adds to the share of Bhutan experience and it is graced with old-world charms with a hint of modernity. Its dzong is one of the best Buddhist monasteries in the country which is beautifully designed with whitewash walls and topped with red roofs. Flocked by camera-wielding tourists, you can witness the Bhutanese culture, cuisine and lifestyle at its best in Gasa.
Best sightseeing spots in Gasa: Tashi Thongmon Dzong, Jigme Dorji Wangchuk National Park, National Animal Takin in Wild
Trongsa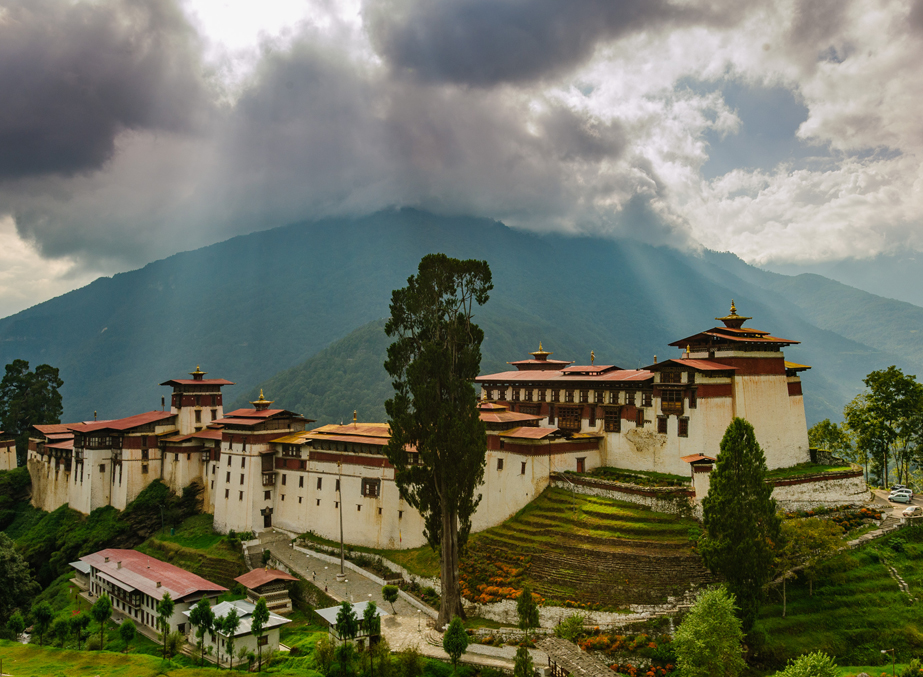 Trongsa lives in harmony with nature. There are several sacred sites here, where it is said that Guru Padmasambhava had visited and meditated. The other sightseeing spots in Trongsa in Bhutan in June lull immense attraction of tourist. People from all over the world come in to witness on sight of the most globally endangered species- the Golden Langur. This town is its habitat along with other unique flora and fauna. The topography of the land is also varied with rugged with deep gorges in the north and steep valleys in the south.
Best sightseeing spots in Trongsa: Chhoekhor Raptentse Dzong, Thruepang Palace, Chendbji Chorten
Gelephu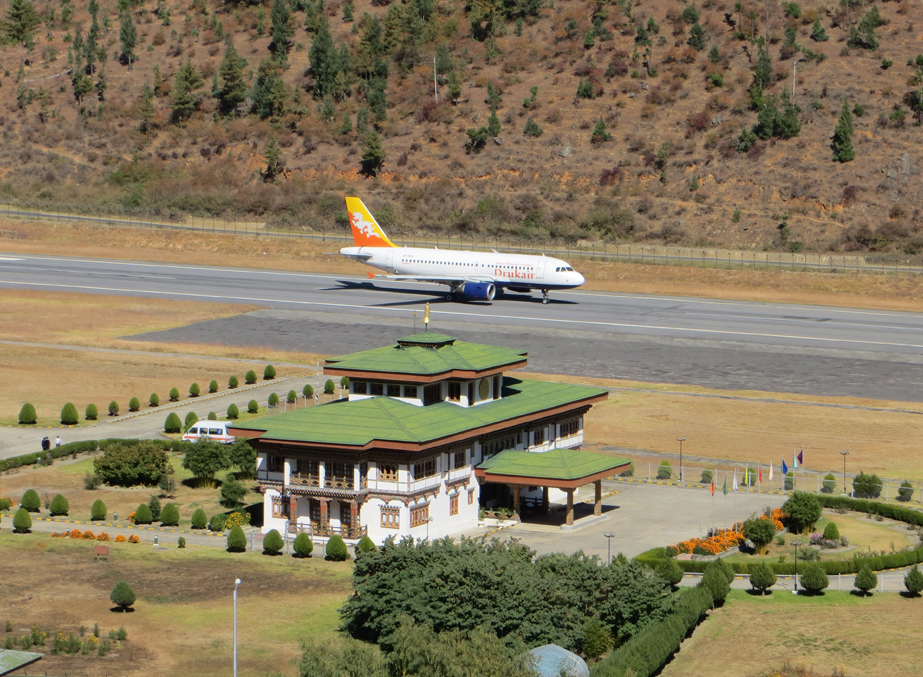 Unlike other towns in Bhutan, Gelephu is set on a plain and not on any hill or in a valley. This has given it a great advantage for futuristic development. It is also a gateway to numerous tourist places in Central Bhutan. It is also home to one-horned rhinoceros and Gangetic dolphins. Many people travel to Gelephu particularly to get themselves cured at Gelephu Tsachu. It is a hot spring situated beautifully among a tranquil ambience and lush green environment.
Best sightseeing spots in Gelephu: Tsirang Dzong, Sunday Market, Bhutan Centennial Distillery
Wangdue Phodrang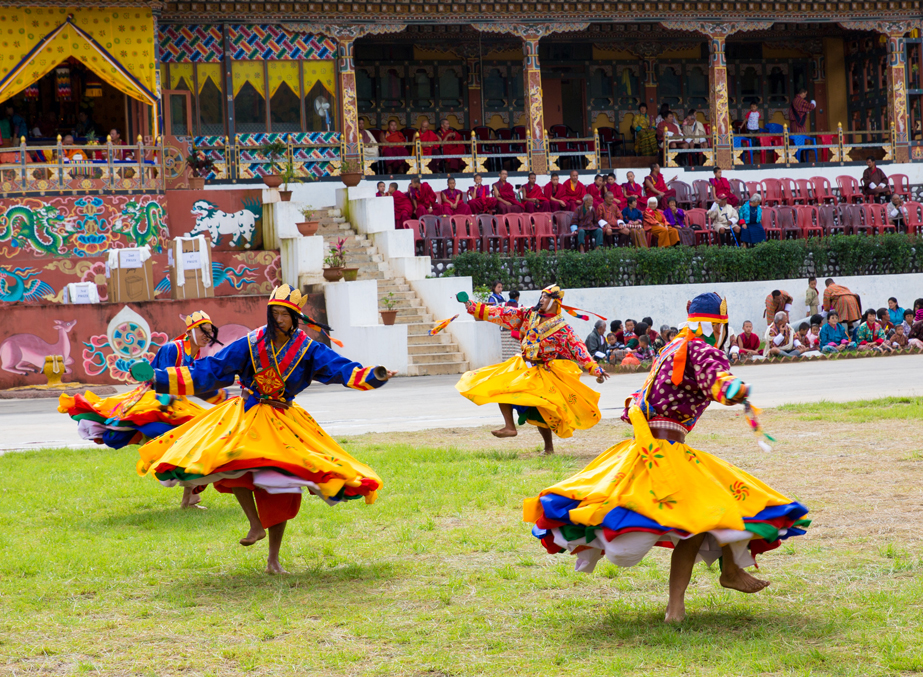 This place offers its tourists an array of natural and cultural delights. Its dzong is located on the top of a high rising cliff that overlooks the entire Wangdue town. You can also have a monk read your future here by rolling the chapel dice twice. It has a lot of variance in altitude and hence has a colder northern region with a lush sub-tropical forestland in the south. You will feel that you have travelled back in time when you plan to go to Wangdue Phodrang on your holiday tour in Bhutan in June.
Best sightseeing spots in Wangdue Phodrang: The Temple of Sha Radap, Adha and Rukha Villages, Rinchegang Village
Trashigang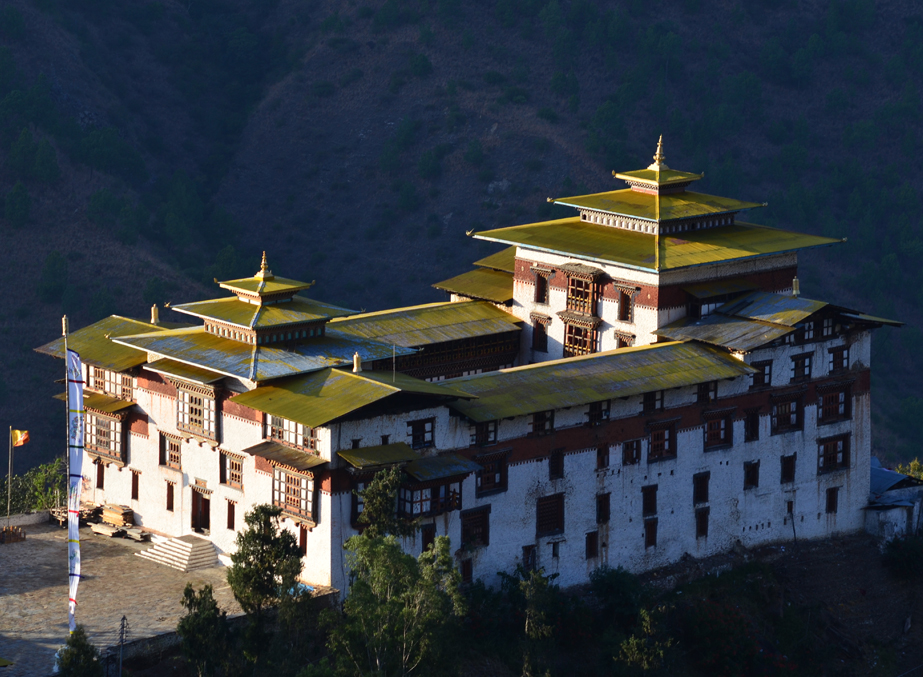 Trashigang is known as the Jewel of the East. It is surrounded by wide rice fields, thick grasslands and clumps of banana trees. Visit and stay here for a peaceful morning with soothing background music of the mystic river. It has many natural narrow caves and legends say that it can purify the person off all the sins if they pass through them. Many places in and around this town are suitable for monsoon trekking. You can create the most memorable holiday tour in Bhutan in monsoons when you opt to visit Trashigang.
Best sightseeing spots in Trashigang: Trashigang Dzong, Tshenkharla Ruins, Bumdeling Wildlife Sanctuary
Phuentsholing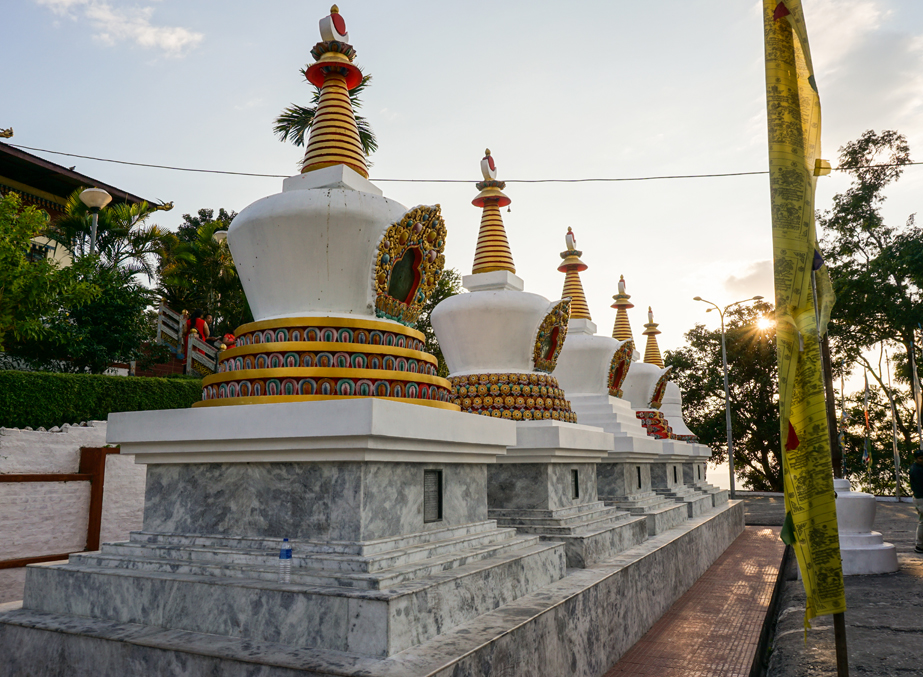 Phuentsholing is a thriving commercial centre and the second largest town in Bhutan. It is the point of entry for those tourists who wish to opt for Bhutan tourism in June from India. It offers a clean, safe and a pleasant environment for travelling. It is an amalgamation of traditions, modern life, beautiful landscapes and culture. It houses the exact replica of Guru Rinpoche and other few artistic wonders that makes it extremely popular among tourists.
Best sightseeing spots in Phuentsholing: Phuentsholing Park, Rinchending Goemba, Bhutan Border Gate
So pack your bags and head to see all the sightseeing spots in Bhutan. Get the opportunity to witness the mountain ranges and its scenic beauty along with indulging in the flavours of the local delicacies.

Subscribe to us
Subscribe to our newsletter and stay updated

Request a call back
Our experts would love to create a package just for you!