How to Reach Thimphu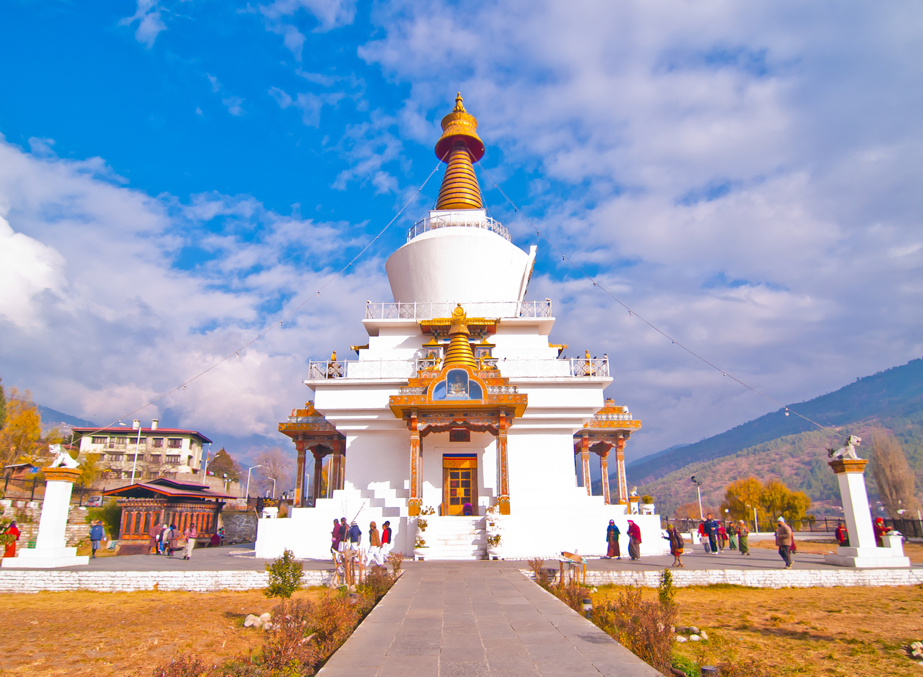 If you are confused about how to reach Thimphu, read till the last to find all your answers!
Thimphu, the cradle of Bhutan, is a city that seems straight out of a fairy tale! Rich in culture, this magnificent city is dotted with numerous tourist spots, places to visit, historical landmarks, and numerous other tourist attraction points. Though one of the most modern cities in Bhutan, it has preserved its traditional outlook in the best possible ways.
Located at an elevation of 2,248-2,648m, Thimphu is well-connected with all the other corners of Bhutan, and can also reached from different corners of the globe. Even though the city doesn't have any airport or railway stations, visitors can still reach this city at an ease. Let's see some of the most convenient options to reach Thimphu and enjoy its miraculous beauty and ambience!
Entry Points to Bhutan
The Land of Thunder Dragons offer a total of three entry points to the foreign tourists: Jaigaon-Phuentsholing (West Bengal, India) and Bongaigaon-Gelephu Point & Darangamela-Samdrup in Assam (India). Out of these three, Jaigaon-Phuentsholing is the most preferred as getting a Bhutanese Visa is quite easy than the other two points in Assam (India).
Acquiring Bhutanese Visa
Visitors can acquire a Bhutanese Visa from all the Immigration Office of Royal Government of Bhutan. Also, while acquiring a visa, foreign nationals must be accompanied by a tour guide. However, the same is not applicable for citizens of the Maldives, India and Bangladesh.
Visa obtained from the immigration offices would be restricted only to visit Thimphu and Paro Valley. In case, someone wants to visit other major tourist destinations in Bhutan, they need to get special permit from the immigration office. One can also acquire this visa from Royal Bhutan Consulate Office in Kolkata.
How to reach Thimphu by Air
International visitors who yearns to reach Thimphu by air, can take a direct flight to Paro International Airport, which is the sole airport in Bhutan. The airport has direct flight connectivity with major Indian tourist destinations and cities like Delhi, Kolkata, Gaya, Guwahati, and Bagdogra. Foreign national from Singapore, Kathmandu (Nepal), Bangkok (Thailand), and Dhaka (Bangladesh) can also fly directly to Paro as Druk Air offers direct flights from these destinations as well.
Following arrival at Paro International Airport, visitors can either board the Bhutanese Government run buses or hire local cabs to reach Thimphu by road; Paro is located only 50km (1 hours' drive) away from Thimphu.
How to Reach Thimphu by Train
As Bhutan has no rail connectivity, visitors planning to reach Thimphu by train can board train to some of the railway stations and junctions in the Indian state of West Bengal and Assam.
Visitors, who prefer a train journey Through West Bengal, can deboard the train at Siliguri, New Jalpaiguri, New Alipurduar, and Hasimara. From any of these railway stations, visitors can embark on a road journey via Jaigaon in Alipurduar district of West Bengal to make their Bhutan entry through Phuentsholing town, and finally reach Thimphu by driving along the Thimphu-Phuentsholing Highway.
One can also take direct bus ride to Thimphu from Kolkata's Esplanade Bus Stand. These bus rides usually take 18 hours, and take the visitors directly to Bhutan's capital city Thimphu.
For those, who wishes to visit Assam before making an entry into the Land of Thunder Dragon, can deboard the train either in Guwahati or Bongaigaon, and reach the Indo-Bhutan border by road via Gelephu or Samdrup Jongkhar entry points. To mention here, all the trains to Assam passes through most of the mentioned railway stations in West Bengal.
How to Reach Thimphu by Road
For those, who are thinking much about how to reach Thimphu by road, they can drive to Indo-Bhutan Border across any of the three entry points to Bhutan: Jaigaon, Gelephu and Samdrup Jongkhar.
The Jaigaon entry point is located in the Alipurduar district of West Bengal. This town is well-connected with the other corners of the state via roadways. Visitors can reach this town and step into the Land of Thunder Dragons through Phuentsholing town in Bhutan. From Phuentsholing, they can begin with another road trip along the Thimphu-Phuentsholing Highway to cover around 147km (4 hours' drive) to reach Thimphu city.
From Assam, one can enter Bhutan through either Gelephu point, which is only 50km (1 hours' drive) away from Bongaigaon town. Here onwards, visitors need to traverse another 243km (7 hours) to reach Thimphu from Gelephu.
On the other hand, those who plans to take a road trip to Thimphu from Guwahati, they should first make their Bhutan entry through Samdrup Jongkhar point, which is almost 150km (3 hours' drive) away from Guwahati. From Samdrup Jongkhar, visitors should drive a last stretch of 419km (11 hours) to reach the capital city of Bhutan.

Subscribe to us
Subscribe to our newsletter and stay updated

Request a call back
Our experts would love to create a package just for you!