Places to Visit in Paro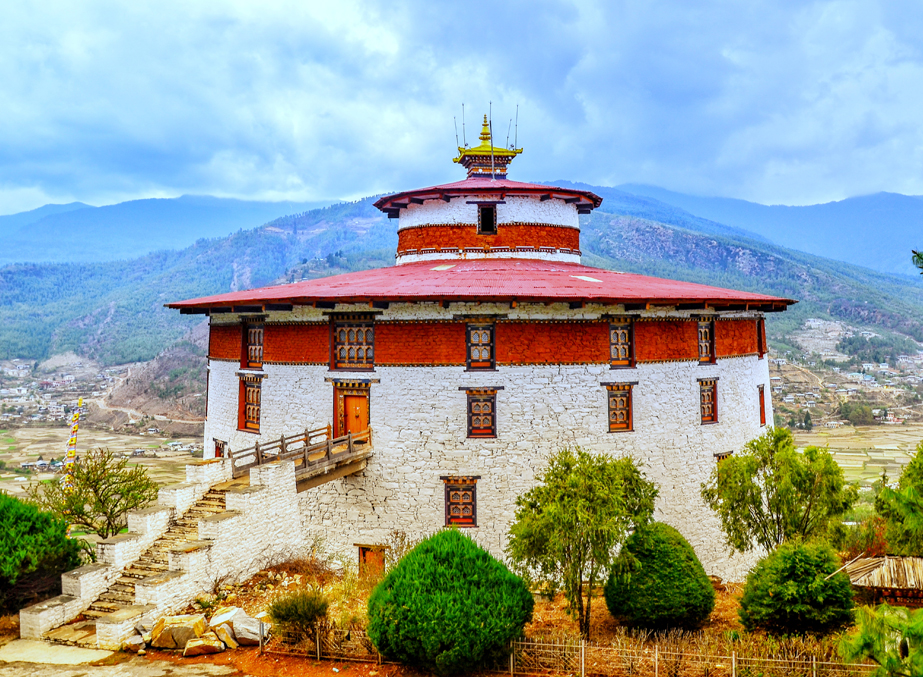 A picturesque valley that bespeak and glorifies the rich history of Bhutan, Paro Valley is a true heaven for the wanderlusts! One of the widest and scenic valleys in the 'Land of Thunder Dragons', this piece of heaven spreads its infectious beauty right from the point where the alluring Wang Chhu River meets the Paro Chhu River; here onwards, Paro's magical beauty reaches the lofty Mt. Jomolhari.
Dotted with numerous monasteries, temples, scenic spots, and tourist points, this gorgeous valley offers an ample of exciting options to its visitors. Here is a list of the most beautiful places to visit in Paro that would add more to your next Bhutan trip. And in case, you have already visited the happiest country on earth, this list of Paro places to visit will give you newer Bhutan goals!
Suggested Read: How To Reach Paro & Best Time To Visit Paro
Planning to visit Bhutan, here are the best Bhutan tour packages that can be customized according to your requirements.
Tiger's Nest (Paro Taktsang)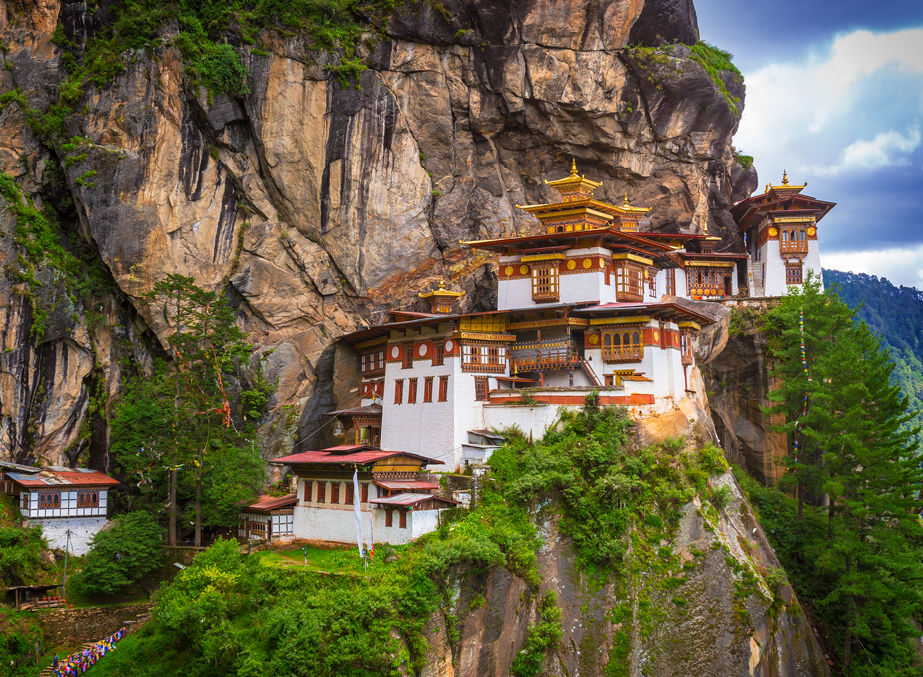 Tiger Nest Monastery or the Taktsang Monastery should be the first destination among all the places to visit in Paro! A monastery that hangs across a scenic cliff at a towering height of 2,950m, this devout site is often revered as one of the most pious sites in the entire Himalayan Range! The monastery is only 12km away from Paro and is accessible only through an enthralling 2 hours' trek!
Legends have it that by 8th century, Guru Padmasmbhava flew to this cliff on the back of a tigress and mediated here for around three years, three months, three days and three hours. The Guru later, chose a cave to meditate, and gradually appeared in eight different forms; thus, sanctifying the place. The monastery got its name as locals claim to have witnessed a tigress residing in one of the caves; Taktshang translates to Tiger's Lair in Bhutanese language
Visitors' Timing: 08:00AM – 01:00PM & 02:00 – 05:00PM (October to March), Until 06:00PM (September)
Entry Fee: Nu 500
Note:
Visitors need to deposit their bags and cameras (other electronic devices) at the security counter.
Photography in any form is not allowed within the monastery premises.
Chele La Pass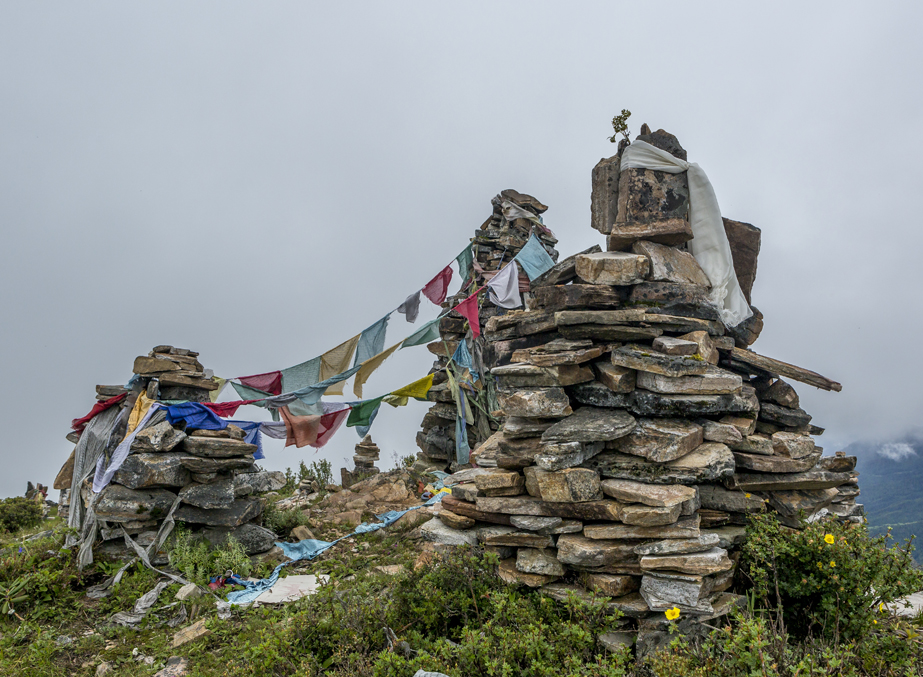 Bestowed with the miraculous beauty of the Himalayas, Bhutan boasts of many sky-high passes; Chele La Pass is the highest among all these! Reaching a towering height of 3,810m, this captivating pass connects the scenic valleys of Paro and Haa of the Land of Thunder Dragons. A much sought-after destination among the visitors, the pass offers panoramic views of Mt Jumolhari (22,00ft) and Jichu Drake.
Whether you wish to drive to this pass, or pump your adrenalines by hiking all the way, you will surely be rewarded with magical views all around! The snow-capped peaks surrounding Chele La Pass, the carpet of colourful rhododendrons, the meandering trails; everything makes the journey so exciting, magical, and memorable! Famed as one of the most gorgeous places to visit in Paro, the pass also offers promising options to the shutterbugs and bird watchers.
Best Time to Visit: April to June
Things to Do in Chele La Pass: Trekking, Hiking, Bird Watching, Photography
Zuri Dzong Fort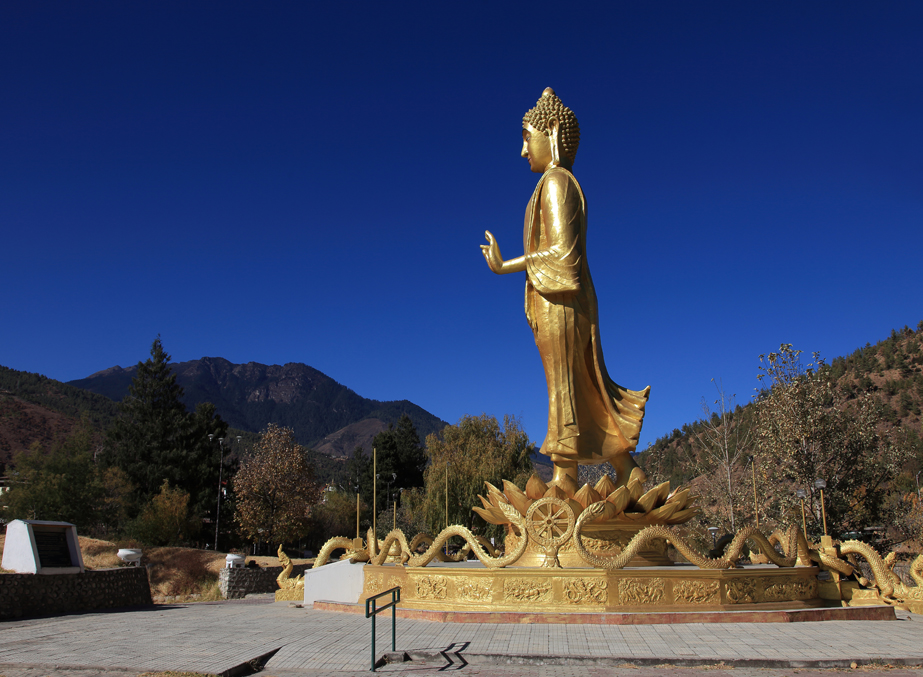 Zuri Dzong or the Zuri Fort is almost as old as the history of Bhutan! Dating back to 1352, this historic as well as scared fort is believed to be the abode of Paro Valley's local protector Zaa (Rahulla). Built in traditional Bhutanese architecture, the fortress is characterised by its double walls, rustic bridge and an ancient cave that is believed to be the once a meditation ground of Lord Buddha.
The dzong has some of the finest preserved murals in its upper chapels that are dedicated to the valley's protector. One of the oldest and sacred places to see in Paro, Zuri Dzong also has a vantage point, from where one can enjoy astounding views of the picturesque Paro Valley. One can reach the fort by undertaking a mild trek from Gönsaka Lhakhang or Ta Dzong. Almost an hours' trek, it trails through captivating landscapes and offers great views of Paro Valley.
Visitors' Timing: Throughout the Day
Entry Fee: No Charge
Tamchoe Monastery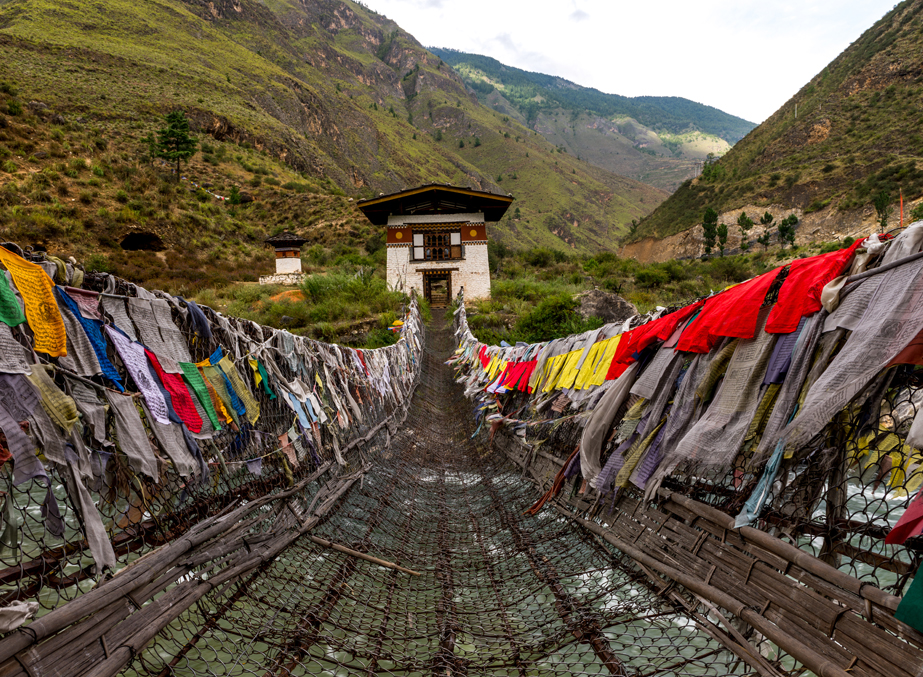 Seating an elevation of 2,156m, Tamchoe Monastery or the Tachong Lhakhang, dates to the 15th century. Credited as one of the most pious and oldest monasteries in Bhutan, it is perched atop a hilltop between Paro Valley and Thimphu. Thus, the monastery attracts a large amount of crowd throughout the year and is also a major tourist place to see in Paro.
Built by Thangton Gyalpo who dedicated this monastery to spiritual horses, or the 'Balaha', Tamchoe is also known as the 'Temple of the Excellent Horses'. Pictorial orchards and a serene atmosphere around the monastery make it an extremely peaceful place to visit in Paro. On a visit to Tachong Monastery, one can also witness a rustic iron bridge that once got washed away and was reconstructed in 2005.
Visitors' Timing: 08:00AM – 05:00PM
Entry Fee: No Charge
Note: One should take permission from the monks to enter the monastery.
Jangtsa Dumtseg Lhakhang Temple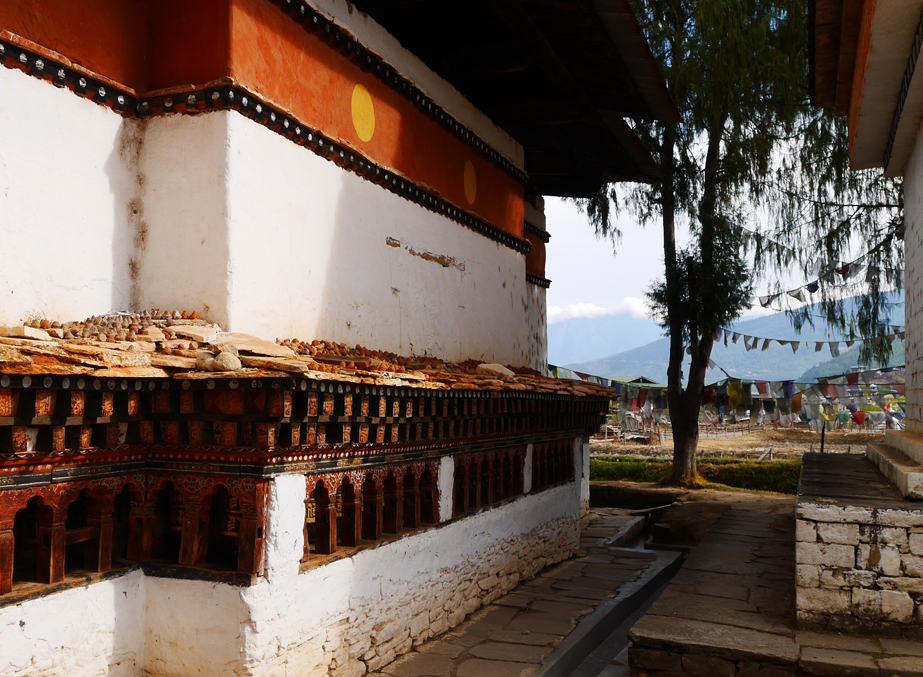 While searching for some of the rare places to visit in Paro, you would surely come across the Jangtsa Dumtseg Lhakhang Temple! Placed on hilly edge between Paro and Dopchari valleys, this Buddhist temple resembles much to a chorten, which makes it a rare or unusual place to visit in Paro, Bhutan.
Though there are many legends associated with Jangtsa Dumtseg Lhakhang Temple, the most popular and commonly believed one states that it was built by a Tibetan Lama named Thangton Gyalpo. According the mythology, the lama built this temple to win over demons and signify Buddhism's victory. Another intriguing aspect of Jangtsa Dumtseg Lhakhang Temple is that is has three different floors that represents earth, hell and heaven!
Visitors' Timing: 09:00AM – 05:00PM
Entry Fee: No Charge
Druk Choeding Temple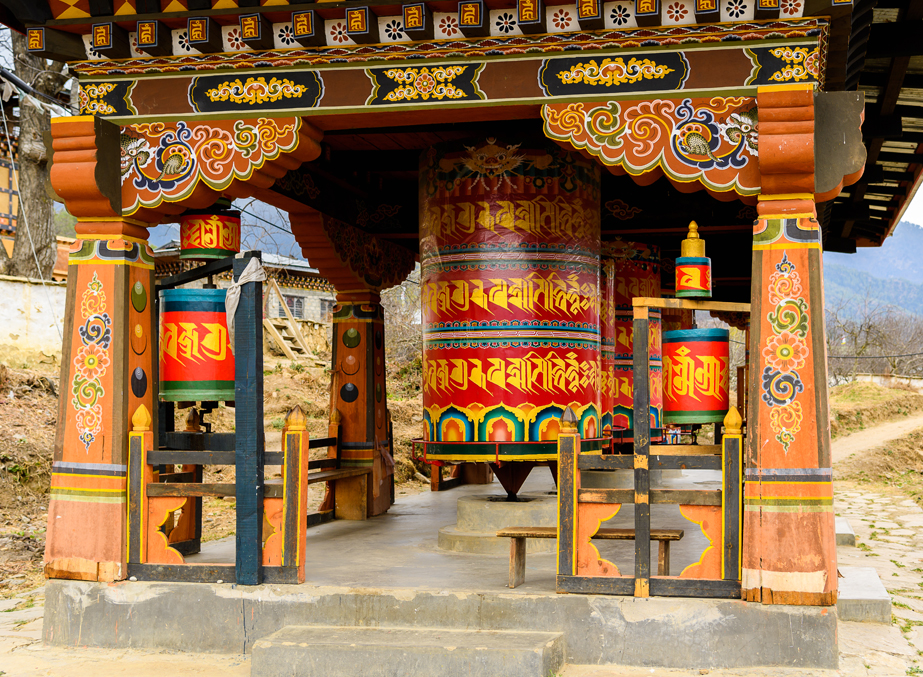 Druk Choeding is also considered as a major landmark in the Last Himalayan Kingdom. Built during the 15th century by Ngawang Chhogyel, this Buddhist temple is known for both of its religious and historical significance.
Also called 'Tshongdoe Naktshang', its main attraction point is the seated stature of Jampa; or the Future Buddha. Owing to its location, it readily offers a tranquil ambience and incites a sense of spirituality and devotion among the visitors. Thus, it has gained a prominence in the list of the most pious places to visit in Paro.
Visitors' Timing: 09:00AM – 05:00PM
Entry Fee: No Charge
Rinpung Dzong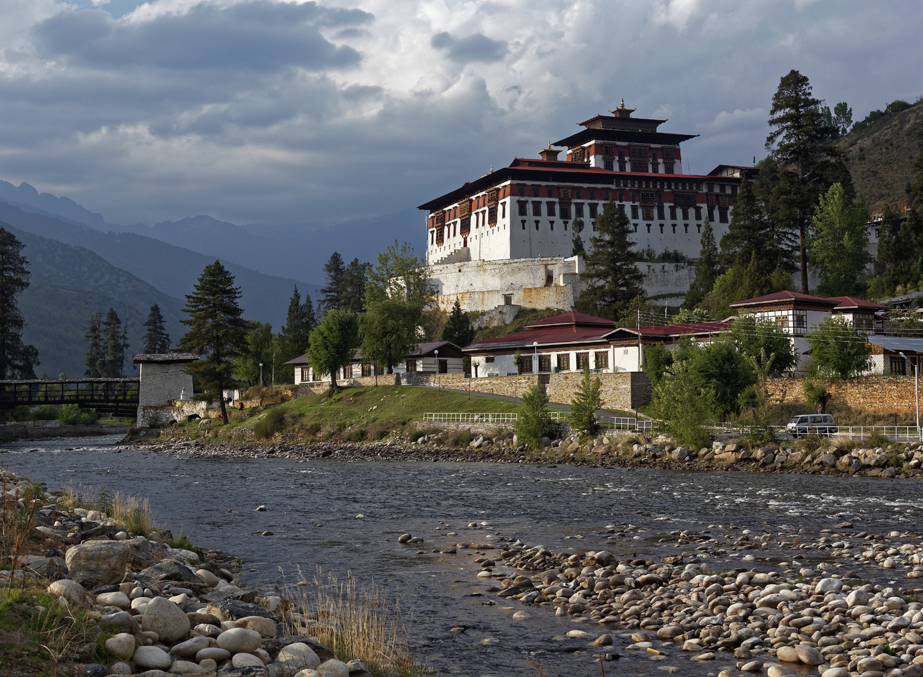 This Buddhist monastery is also a fortress that belongs to the Drukpa Lineage of Kagyu School. Rinpung Dzong also serves as the administrative office of Paro's Monastic Body and might soon be included in the list of UNESCO World Heritage Sites!
History of Rinpung Dzong would take you back to the 15th century, wherein a descendant of Pajo Drugom Zhigpo named Drung Drung Gyal built a small temple at the present site. Over the years, it gradually got converted into a five-storey fort, which was initially called the 'Hungrel Dzong'. Housing a total of fourteen shrines and chapels, and a temple called Deyangkha, Rinpung Dzong also hosts an annual festival called 'Tshechu'.
Visitors' Timing: 08:00AM – 06:00PM
Entry Fee: No Charge
Drukgyal Dzong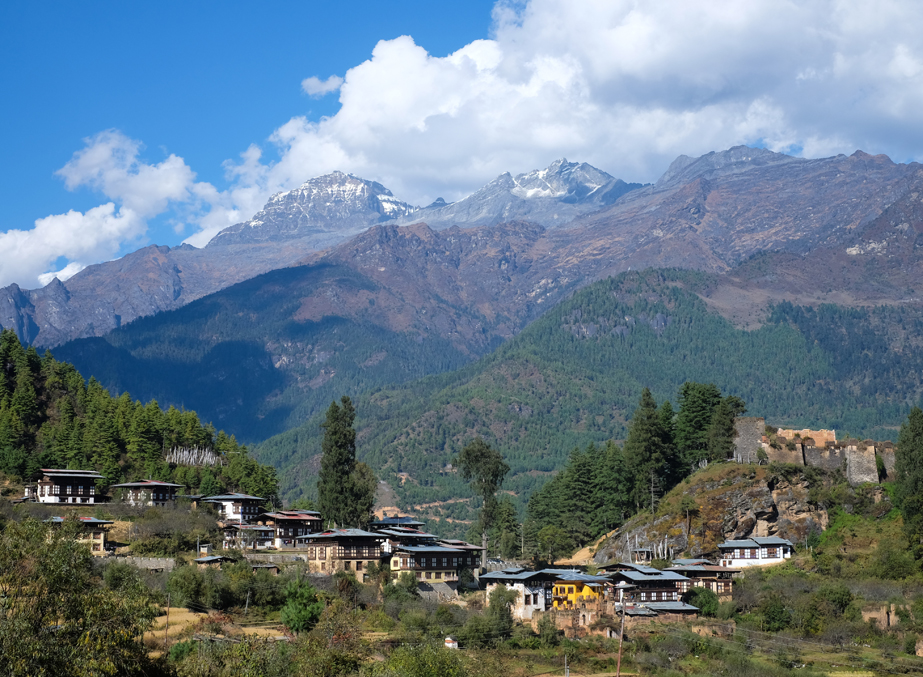 A soon-to-be renovated dzongs in Bhutan, Drukgyal Dzong is also one of the most historic places to visit in Paro! Though there is still a confusion about who founded this dzong, the locals highly consider that it was built to glorify the victory of Bhutanese forces over Tibet-Mongol forces. Thus, the dzong is often revered as the 'Fortress of Victory' by the locals.
Once a summer retreat of Ringpung Rabday, Drukgyal Dzong got burnt down in 1951 leaving almost nothing behind! Though on ruins, it is still being considered as a sacred spot by Bhutanese, and would soon be rebuilt to its ancient glory!
Visitors' Timing: Throughout the Day
Entry Fee: No Charge
Kila Goempa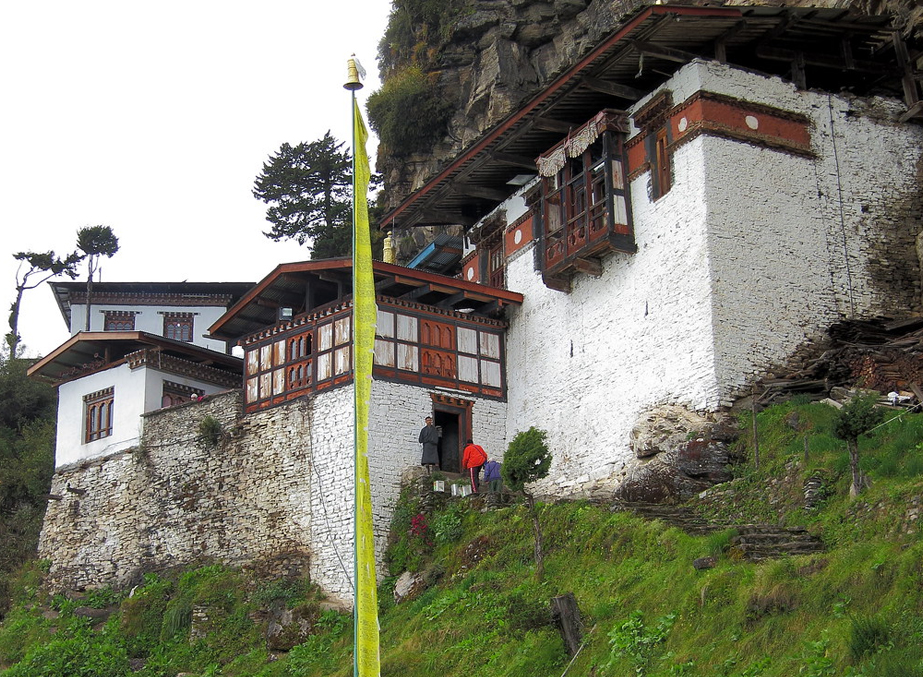 Have you ever wondered what makes Bhutan one of the happiest places on earth? Well, if not, you must know that it's the simplicity that prevail here, makes this country a happy one! And to witness this, you must visit Kila Goempa or the Kila Goemba in Paro. Located at an elevation of 3,350m, this is traditional nunnery that serves as an abode to around ninety female monks aged between 8 and 83.
Dating back to 9th century, the outer world came into its contact only in 1986 after its primitive foundation got burnt down. Accessible through lush and dense thickets, it is a meditation ground of the female monks who have isolated themselves from all worldly desires and materialistic pleasures. The sense of devotion that exists here is second to none in the entire of Bhutan. Whether you are seeking mental peace or want to leap deeper into your own self, Kila Goempa would answer all your prayers!
Visitors' Timing: 09:00AM – 04:00PM
Entry Fee: No Charge
Dra Karpo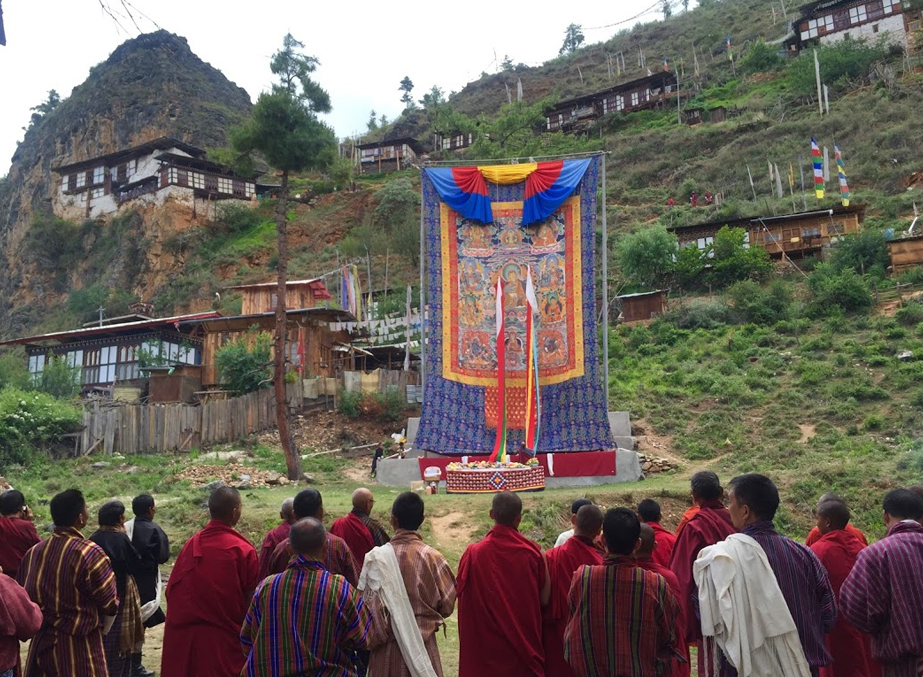 Located only 15minutes away from the meeting point of Paro-Thimphu Highway, Dra Karpo is an esteemed pilgrimage site in Paro. Unlike most of the other Bhutanese religious or pilgrimage sites, this one is known for its simple architecture. However, the site is believed to be extremely miraculous by the locals. Devotees usually swarm Dra Karpo to seek merit and to vindicate their sins by walking 108 times around it.
According to the legends, this is the site where Guru Rinpoche subdued a demon by splitting a rock. Thus, it got its name Dra Karpo; translating to 'loosely into split rocks'. Be it the religious significance, the simplicity that exists here, or its natural surroundings, one simply cannot afford to miss this place while searching for the most peaceful Paro places to visit!
Visitors' Timing: Throughout the Day
Entry Fee: No Charge
Dzongdrakha Goemba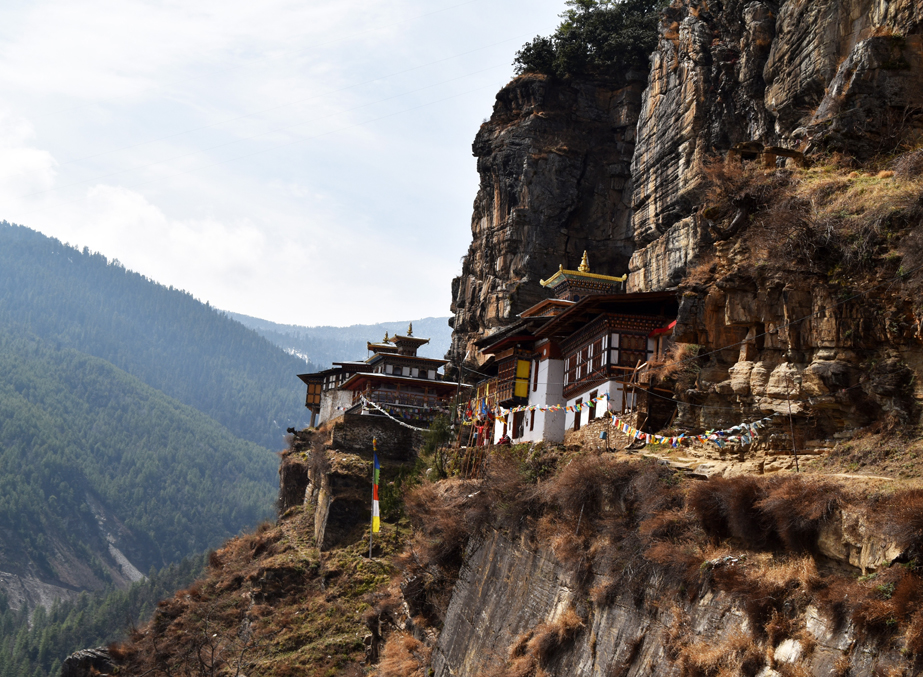 Roosted on a breath-taking cliff and overlooking the Paro Valley, Dzongdrakha Goemba is a 16th century goemba built by Chogay Dragpa, the first local king of the region. Locals believe that after founding the Taktsang Monastery, Guru Rinpoche arrived at the site of Dzongdrakha Goemba and subdued a local demon known as Jangsarbu Lhakhang.
Fondly called the 'Mini Taksang' due to its resemblance with Taksang Monastery, Dzongdrakha Goemba has four chapels – Guru Rinpoche, Maitreya (Buddha of the Future), Tsheringma (Goddess of Longevity), and Drolma (Tara). To reach this sacred spot, one needs to hike through an enthralling trail that courses across colourful rhododendron forests, evergreen oak trees, and exciting terrains. Dzongdrakha Goemba's fascinating architecture, rich history, and sacredness makes it a wonderful place to visit in Paro!
Visitors' Timing: 09:00AM – 05:00PM
Entry Fee: No Charge
Kyichu Lakhang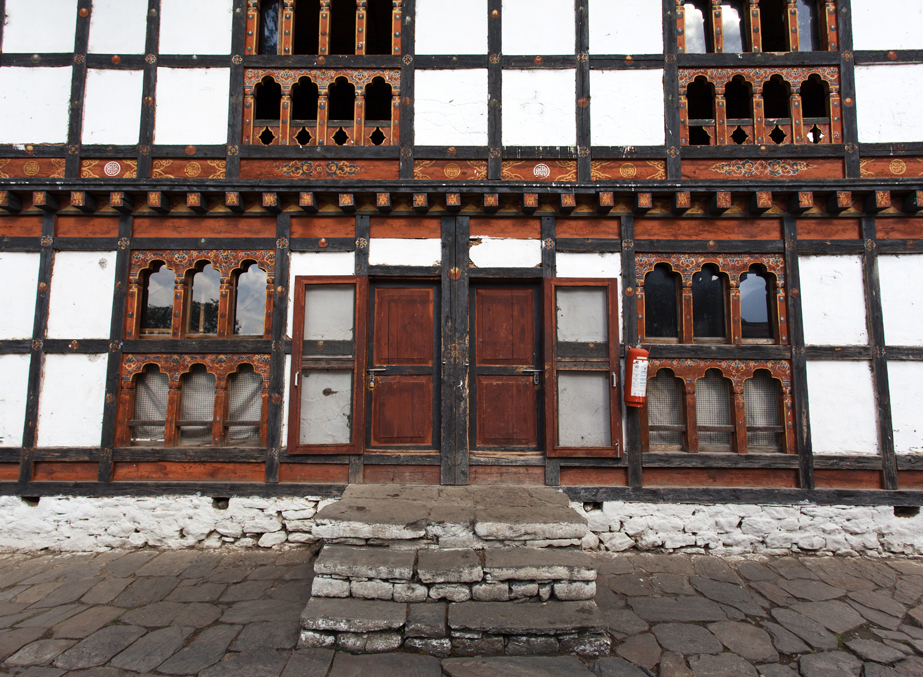 Located only 5km from the valley, Kyichu Lhakhang is yet another captivating places to see in Paro! An esteemed and one of the oldest religious sites in the Last Himalayan Kingdom, this temple was built during 7th century by a Tibetan ruler named Songtsen Gampo. Though initially, it was a small structure, it was later expanded till the late 18th century.
Kyichu Lhakhang is one such Paro place to visit that is believed to be visited by renowned Buddhist saints over the centuries. Guru Rinpoche, Lam Kha Nga, and Phajo Dugom Zhigpo are some of the saints who blessed this temple with their celestial presence. Housing several ancient religious relics, Kyichu Lhakhang also features a 7th century statue of Jowo Sakyamuni, a 5m high stature of Guru Rinpoche along with Red Kurukulla.
Visitors' Timing: 09:00AM – 05:00PM
Entry Fee: No Charge
National Museum of Bhutan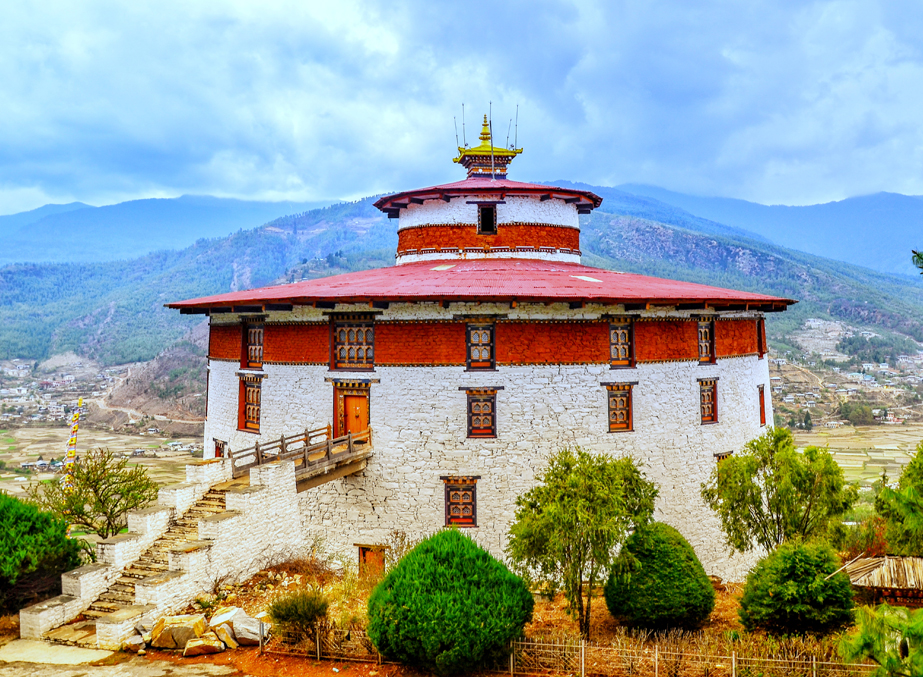 The National Museum of Bhutan is definitely one of those places to visit in Paro that you should not miss! A place that unravels many windows to get acquainted with the diverse culture of Land of Thunder Dragons, this museum has a collection of no less than 3,000 traditional Bhutanese art pieces, ancient scriptures, gears, costumes, applique, relics, antiques, and several other collectives that showcase a timeline of more than 1,500 years.
Located within the Paro Valley; in Ta Dzong building, this museum was set up in 1656. Visitors to the National Museum can also enjoy free guided tours and gallery talks on certain topics. Students to this historical landmark can attend lectures on the timeless history and culture of Bhutan.
Visitors' Timing: 09:00AM – 04:00PM (Tuesday to Saturday), 11:00AM – 04:00PM (Sunday)
Entry Fee: Nu 10 (Locals), Nu 50 (SAARC Nationals), Nu 200 (Foreign Nationals), Nu 5 (Students)
Note: Entry to the museum is allowed only till 03:30PM
Airport View Point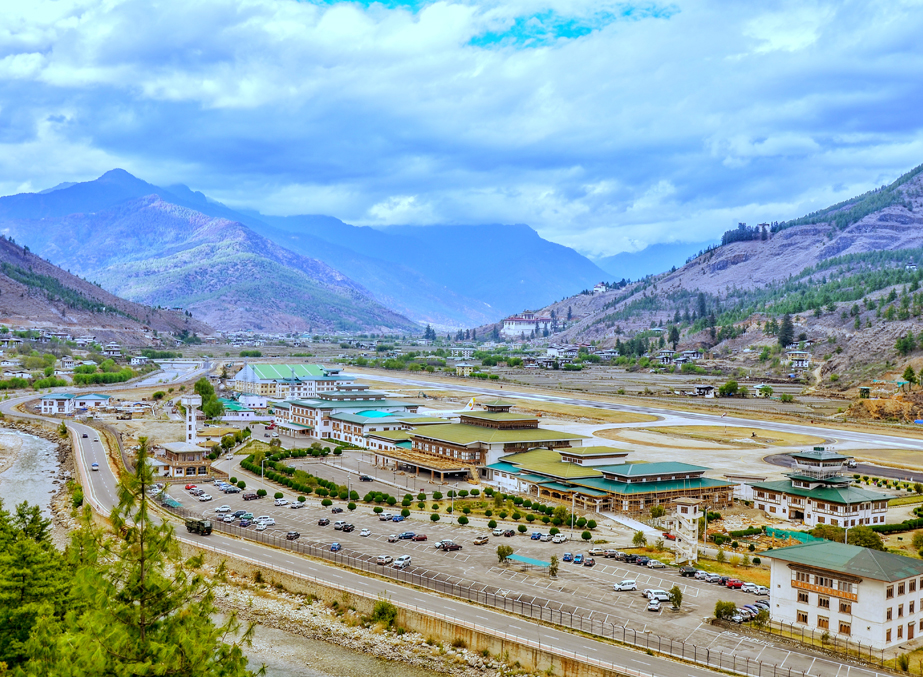 Though a quaint town in the scenic Paro Valley, Paro enjoys the fame of having the only international airport in the entire country, Paro International Airport! Guarded by sky-touching peaks and mountains, this airport is also listed among the most difficult commercial airport in the world.
Being surrounded with towering peaks, pilots flying to or taking off from this airport requires expert trainings and years of flying experience. Well, it is this exhilarating setting of Paro Airport that attracts visitors to Paro Airport Eye View Point to enjoy some of the most promising and enchanting views of the entire Paro Valley. One of the most elevated Paro places to visit, this view point offers a surreal experience with the open sky as its magical roof and the fascinating mountains as its guard!
Visitors' Timing: Throughout the Day
Entry Fee: No Charge
Dasho Nishioka Chorten Museum
A home away from home, Bhutan is one such place where everyone feels home. The simplicity and universal brotherhood that exists here is of the highest order, and might not be found anywhere else in the world! Showcasing this heart-warming facet of Bhutan is the Dasho Nishioka Chorten Museum in Paro.
A piece of architectural marvel, this chorten was built to honour a Japanese citizen named Dasho Nishioka, who introduced Bhutan with modern agricultural forms and techniques. His act of kindness was widely accepted and appreciated by the Bhutanese. Later, following the demise of Dasho Nishioka, the local built this magnificent chorten to commemorate his glorious contribution to the Land of Thunder Dragons.
Visitors' Timing: 09:00AM – 05:00PM
Entry Fee: No Charge
Dilgo Khyentse Rimpoche Memorial House
A place where one can witness, experience and feel the true essence of faith and devotion, Dilgo Khyentse Rinpoche Memorial House is one of the most promising places to visit in Paro! Located just outside the Kyichu Lhakhang complex, this museum building showcases the mastery of traditional art and craft.
Currently, Dilgo Khyentse Rinpoche Memorial House is dedicated to Dilgo Khyentse, who was a Tibetan reincarnated Buddhist lama. It has displays of the lama's pictures, his palanquin, a Mercedes car used by the lama, and some of his medication techniques.
Visitors' Timing: 10:00AM – 04:00PM
Entry Fee: Nu 50
Sunday Weekend Market
If anyone want to have a close look at the traditional lifestyles of Paro's locals, they must make it to the bustling Sunday Weekend Market! One of the most rustic places to visit in Paro, this marketplace gets swarmed by both local sellers and buyer alike right from early morning; around 06:30 in the morning.
Though the market goes up till late noon, it attracts the maximum buyers between 06:30-10:00AM. Among the many popular buys available in Sunday Weekend Market, there are white or brown chugo (dried yak cheese), betel nuts, exotic ferns, juniper incense, khoo (dried-jellied cow skin squares), datse, farming tools, locally produced cloth items, etc.
Visitors' Timing: 06:30AM – 01:00PM
Entry Fee: No Charge
Namgay Artisanal Brewery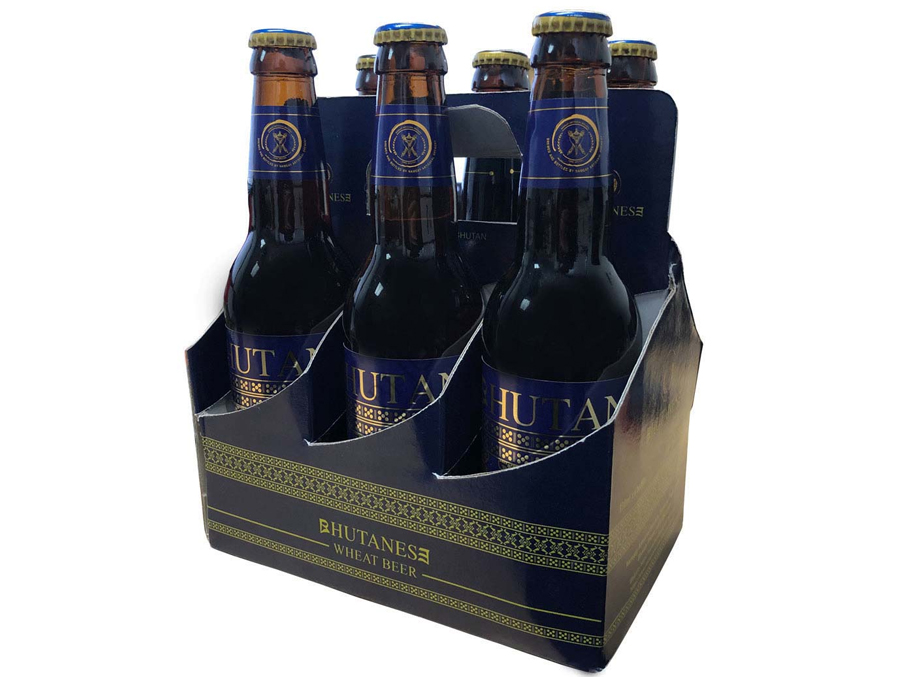 An ultimate place to take a sip of your favourite styles of beer, Namgay Artisanal Brewery is among the most coveted places to visit in Paro, Bhutan. Brewing a wide range and some of the best quality beers in the world, this brewery is known for its unique flavour and aroma produced from indigenous Bhutanese ingredients.
After a tiring days' tour around Paro, one should head directly towards this fun-filled place to revel over a chilled shot of Red Rice Lager, Indian Pale Ale, Wheat, Milk Stout, Apple Cider, and Dark Ale, or the brewery's own beer brand called 'Bhutanese'. Even if not a connoisseur, Namgay Artisanal Brewery would surely offer you something unique, you can't resist falling for! The brewery also offers beer tasting packages at an exciting price of USD 5/person.
Visitors' Timing: N/A
Entry Fee: N/A
By Air
Air journeys are in fact the best options to reach Paro as the only international airport in Bhutan is in the Paro Valley. Druk Air, the National Air Carrier of Bhutan has regular flights from international destinations like India (Delhi, Gaya and Kolkata), Bangkok (Thailand), Nepal (Kathmandu), and Bangladesh (Dhaka). Flyers can also opt for other major airlines that flies between Paro International Airport and Guwahati (India), Kolkata (India), Bodh Gaya (India), Delhi (India), Bagdogra (India), Mumbai (India), Bangkok, Dhaka, Singapore, and Kathmandu.
By Train
Since the Land of Thunder Dragons doesn't have any international railway network, India serves as the best option to reach Paro by train. In India, West Bengal and Assam are the two connecting points from where visitors can easily enter into the Bhutanese territory via road. From West Bengal, New Jalpaiguri Junction (152km / 3 hours from Jaigaon), Hasimara (17km / 1 Hours from Jaigaon) and New Alipurduar Railway Station (60km / 1 Hours from Jaigaon) serves as the closest station to reach Paro. Anyone travelling from Assam, should travel to New Bongaigaon Junction, which is approx. 175-177km (4 Hours) away from Phuentsholing and Jaigaon in Bhutan. Upon arrival in Phuentsholing or Jaigaon, one can easily reach Paro by road.
By Road
The Indian states of Assam and West Bengal are the nearest and most idealistic destinations for those yearning to reach Paro by road. From West Bengal, one can drive up to or take train journeys to reach Jaigaon (West Bengal, India). From Jaigaon, the journey would trail through Phuentsholing and requires one to drive almost 147km (4 Hours) through Phuentsholing-Thimphu Highway to reach Paro. From Assam, one can start their road trips either from Guwahati or Bongaigaon.
Autumn (September to November): Best Time to Visit Paro
Autumn begins in Paro is characterised by clear sky, pleasant climate, a pleasant temperature range, and the common rain showers. Visitors planning for a Paro trip can indulge in an array of fun-filled activities; mainly sightseeing, during this period. However, since this season is also the peak for Paro Tourism, visitors should make all their tour arrangement like flight/train bookings, accommodations, etc., well in advance.
Winter (December to February): Good Time to Visit Paro
Visiting Paro during the winters has its own perks! Though not the best time, winters are usually a good time to explore the valley and get acquainted with its enchanting beauty. Also, as most of the visitors stat leaving valley with the advent of winter, there are high chances of getting great deals and discount in almost all Paro tour packages.
Spring (March to May): Good Time to Visit Paro
March to May is also a much sought-after time to visit Paro. This is the time of the year when the entire valley wears a luscious look and casts its spell over the visitors. With colourful rhododendrons blooming everywhere, Paro turns into a fairyland just out of any fairy tale!
Summer (June to August): Not an Ideal Time to Visit Paro
As summer brings in heavy rain showers, the valley experiences a quite moderate temperature during the summers. However, since this is also the wettest part of the year, visitors could find it tough to move around the valley.

Subscribe to us
Subscribe to our newsletter and stay updated

Request a call back
Our experts would love to create a package just for you!