Places to Visit in Bumthang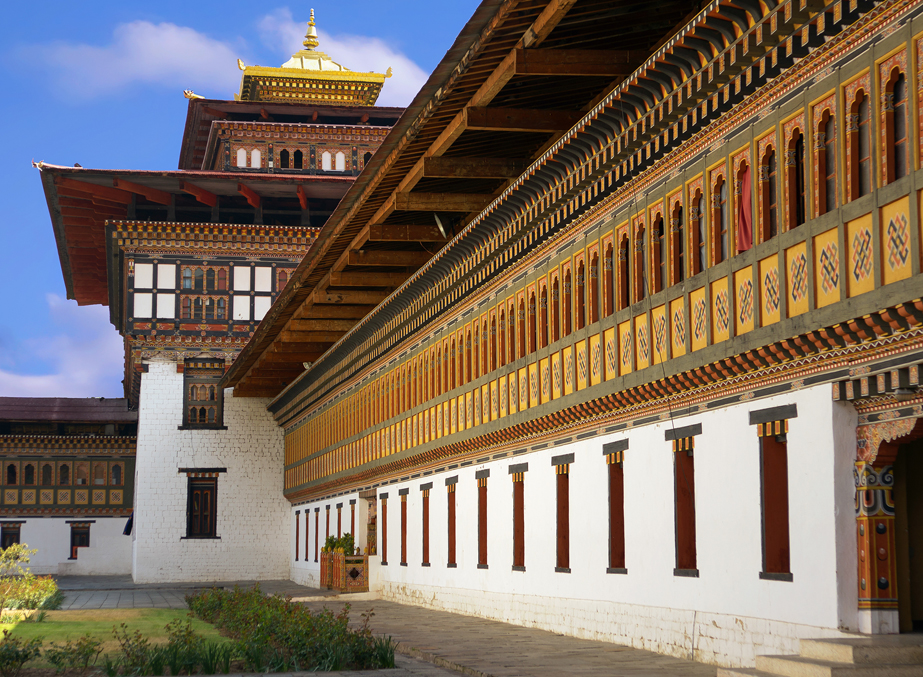 As we keep revealing the best places to visit in Bumthang, you would surely find yourself inclining towards this scenic valley in Bhutan! Nature's best kept secret in Bhutan, Bumthang is a dream come true destination that is known for its historical legacy. Shrouded with legendary tales of Guru Padmasanbhava, Pema Linga, and other devout tetrons (or the treasure discoverers), this region can be called as the heart of spirituality the Land of Thunder Dragons!
A pictorial amalgamation of four magnificent valleys: Chumey, Ura, Choekhor, and Tang, this part of Bhutan is a flat stretch of land that is dotted with many different religious establishments. Alongside, its pristine nature, ever-smiling locals, clustered settlements, and colourful outlook earned it the fame of one of the must visit tourist destinations in Bhutan. For those travelling to Bhutan or with such a plan in their minds, here is a detailed list of places to visit in Bumthang; we guarantee, you would never wish to miss any of them!
Suggested Read: Things To Do in Bumthang , How To Reach Bumthang&Best Time To Visit Bumthang
Planning to visit Bhutan, here are the best Bhutan tour packages that can be customized according to your requirements.
Jakar Dzong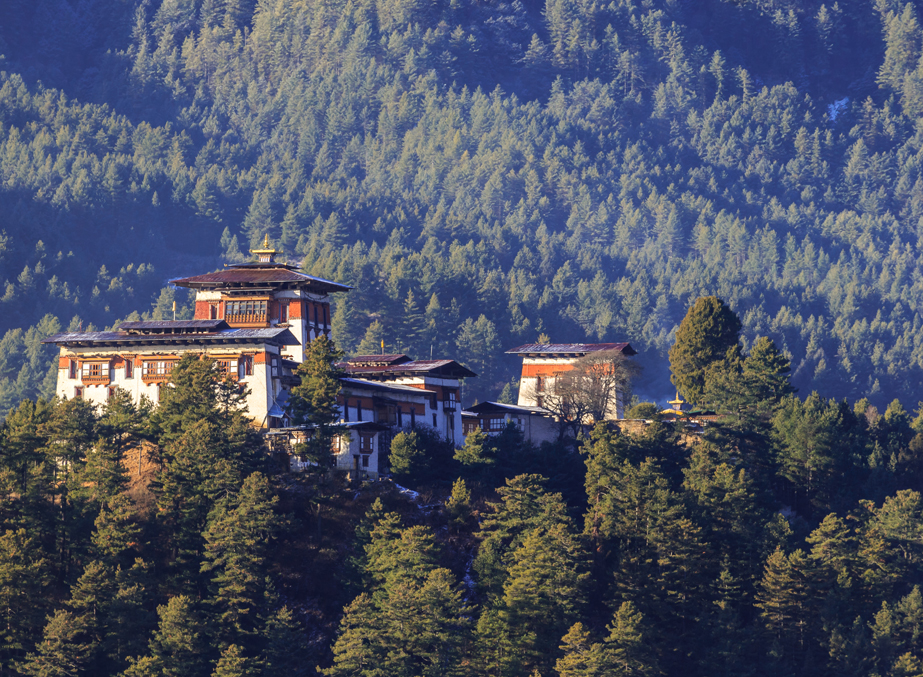 Jakar Yugyal Dzong; also called as the Jakar Dzong, is one of the most significant landmarks in Bumthang. Also called the 'Castle of the White Bird', this fortress is seated on a ridge and has its command on the entire Chamkhar Valley with its religious significance and architectural brilliance. Estimated to be built in 1549 by Nagi Wangchuk, a Tibetan lama, the central tower of this dzong measure up to 50m, which in itself is an astounding architectural feature. Jakar Dzong also has an intact water supply that is sheltered by walls that are interconnected by fortified towers.
Located amidst lush greeneries against a scenic backdrop, the beauty of Jakar Dzong can be reckoned from distant places within Bumthang Valley. Built as a monastery at the site of a temple, Jakar Dzong is probably the largest dzong in Bhutan with a total circumference of 1,500m and above. The dzong is also the venue ground of the devout Jakar Tsechu festival which is known for ritualistic 'Mask Dance' of Bhutan.
Visiting Hours: 09:00AM – 05:00PM
Entry Fees: No Charge
Jambay Lhakhang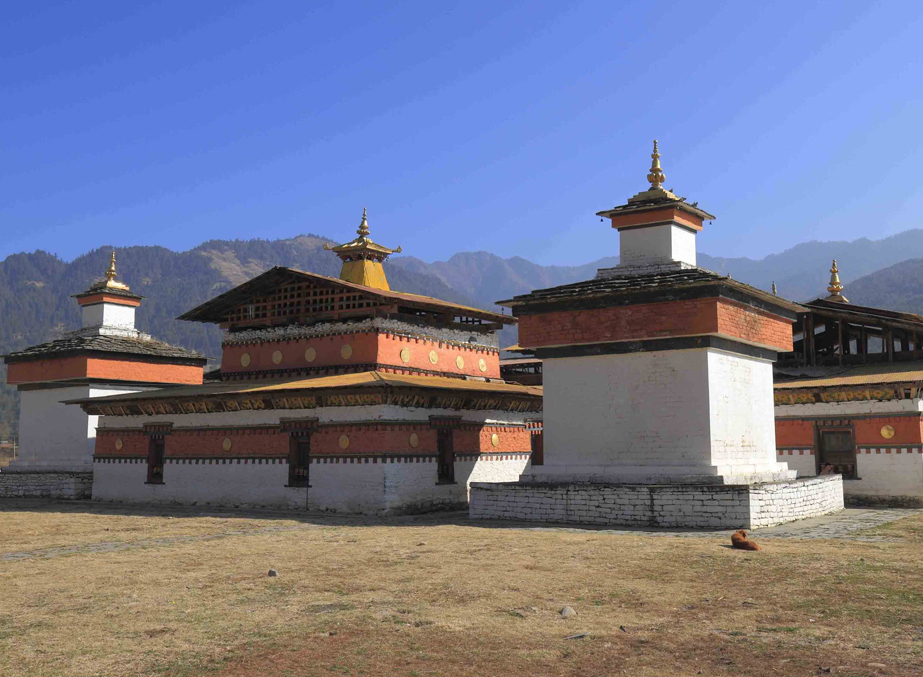 According to the legends, Jambay Lhakhang is one of the 108 temples built by King Songtsen Goenpo of Tibet in 659AD. The king built all these temples to subdue a female ogre who was caused obstruction in preaching Buddhism. Legends have it that all the 108 temples were built across places where her body parts fell. Jambay Lhakhang is believed to be constructed on the spot where the left knee of the ogress touched the ground.
During the initial times, this temple was constructed as a low-walled monastery. Later, the temple underwent a series of renovation including the one done by Guru Rinpoche himself. Jambay Lhakhang houses a chief idol called 'Jampa' or the 'Future Buddha'. Visiting this sacred temple in the month of November, visitors can witness the traditional dance called 'Ter-Chaam' which is practised only by women seeking for babies.
Visiting Hours: 09:00AM – 04:00PM
Entry Fees: No Charge
Wangduechhoeling Palace Museum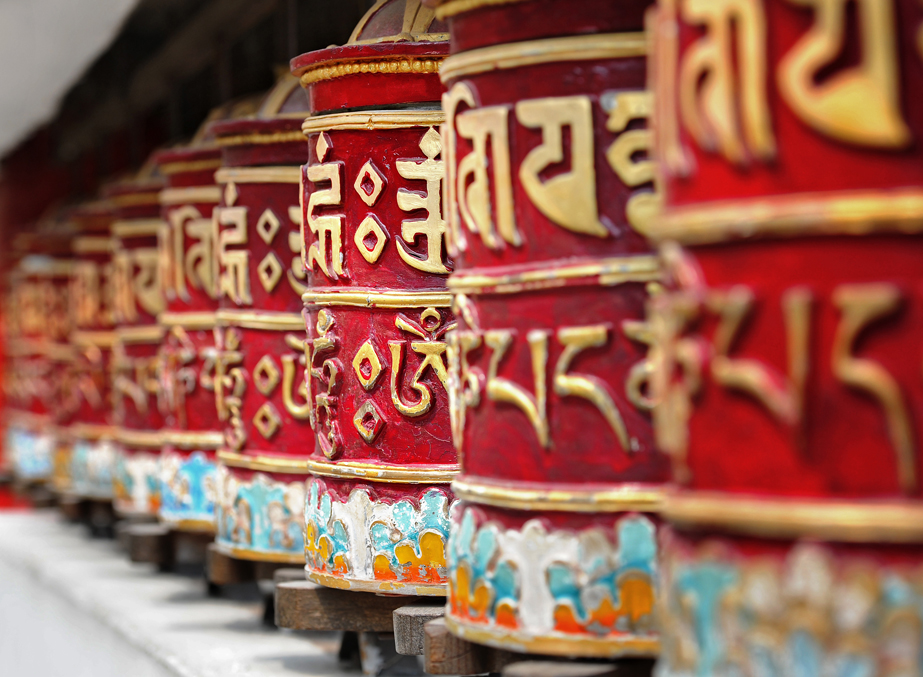 Wangduechhoeling Palace is an ancient palace built to glorify the tales of a Bhutanese warrior named Trongsa Penlop Jigme Namgyel. Built in and around 1587, this is also the palace where His Highness Ugyen Wangchuck or the first king of Bhutan took birth. This time immemorial structure was in fact the royal residence till the capital of Bhutan was shifted to Paro.
If you want to unravel the brilliance of Bhutanese architecture, nothing can stand against the Wangduechhoeling Palace. In fact, the palace is a livelier example of skilled artwork and craftsmanship. The palace has an ancient temple with a large display of ancient belongings like murals, religious texts, painting, sculptures, and much more. Wangduechhoeling Palace has now been converted into a museum and is open to public.
Visiting Hours: 10:00AM – 05:30PM
Entry Fees: INR 230 (for Indians), INR 460 (for Foreigners)
Ngang Lhakhang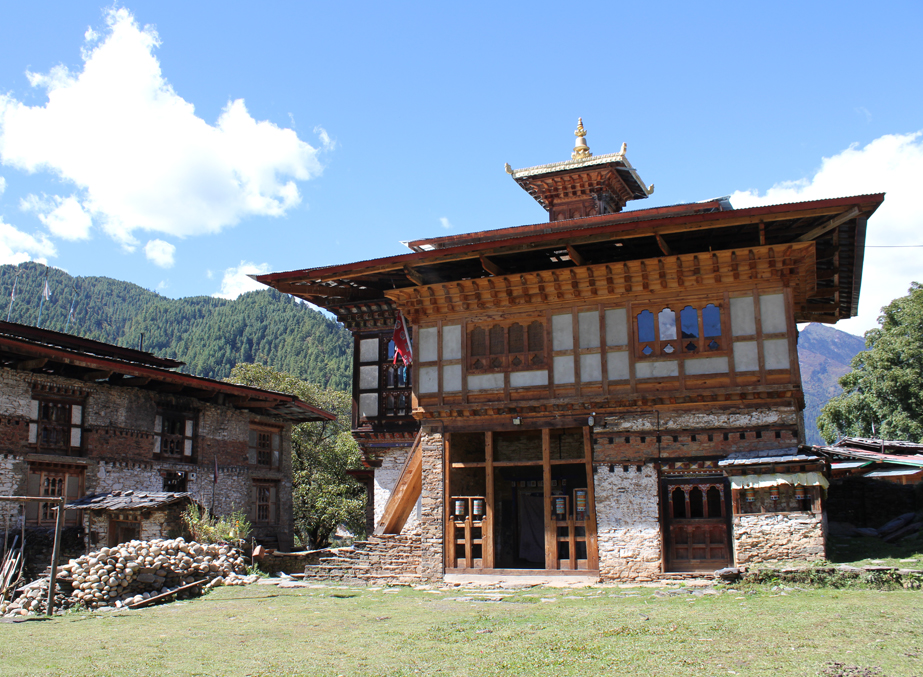 Located on the upper side of the beautiful Choekhor Valley, the Ngang Lhakhang is locally known as the 'Swan Temple' as it seats on a rustic locale called the 'Swan Land' or Ngang Yul. A delightful walk along the banks of the Bumthang River leading from Thangbi Lhakhang would take you to this holy temple.
Built by a Tibetan lama named Namkha Samdrup during the 15th century, legends have it that two swans directed the lama to the spot where the temple stands today. Situated towards the right side of the Choekhor Valley, Ngang Lhakhang is a sort of private temple.
Visiting Hours: Throughout the Day
Entry Fees: No Charge
Chakar Lhakhang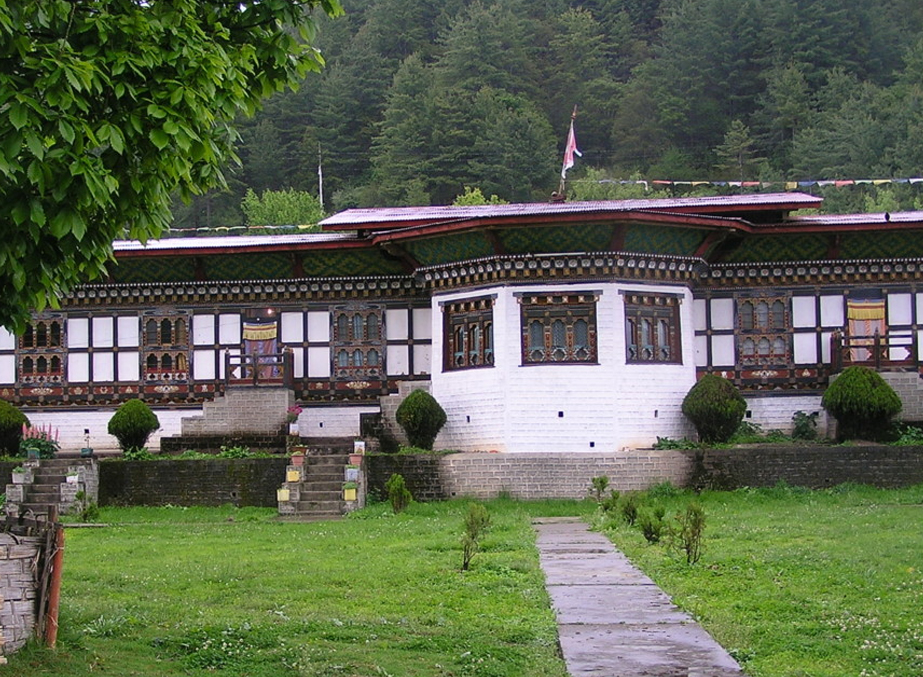 Sitting graciously on the edge of a captivating plateau, Chakar Lhakhang or the 'Iron Castle' was once the residence of a king called Sendhaka (or Sintu Raja). Dating back to the 8th century, a saint named Dorje Lingpa founded a temple on the site during the 14th century, and hence today it has become a devout religious site among the locals.
A scenic display of Bhutanese architecture, Chakar Lhakhang has a golden pinnacle and is made of stones. Built in the form of a cluster of houses, the temple stocks a large number of ancient books and an elaborate chapel which is private. Chakar Lhakhang hosts the annual festival of Jampa Lhakhang, which is take care by the head lama of Chakar Lhakhang.
Visiting Hours: Throughout the Day
Entry Fees: No Charge
Tharpaling Goemba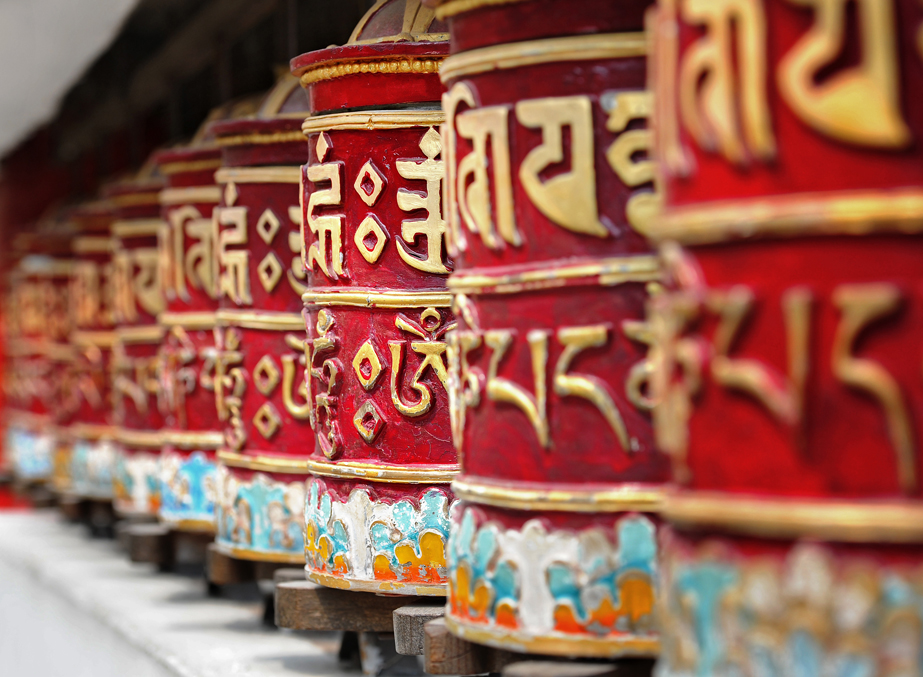 If you are looking for some of the ancient places to visit in Bumthang, Tharpaling Goemba would surely catch your attention! Built at an astounding elevation of 3,600m, the monastery was built as a series of small buildings that overlooks the entire Chumme Valley. Lorepa, a Drukpa Kagyupa Tibetan lama is credited to build the monastery.
The monastery can be reached from Gyetsa village within half an hour. Come summer, the usual route gets cut off, and the monastery can be reached on foot by walking for around 3 hours. The walk usually initiates from Lamey Goemba and continues towards the Choedrak Monastery.
Visiting Hours: Throughout the Day
Entry Fees: No Charge
Mebar Tsho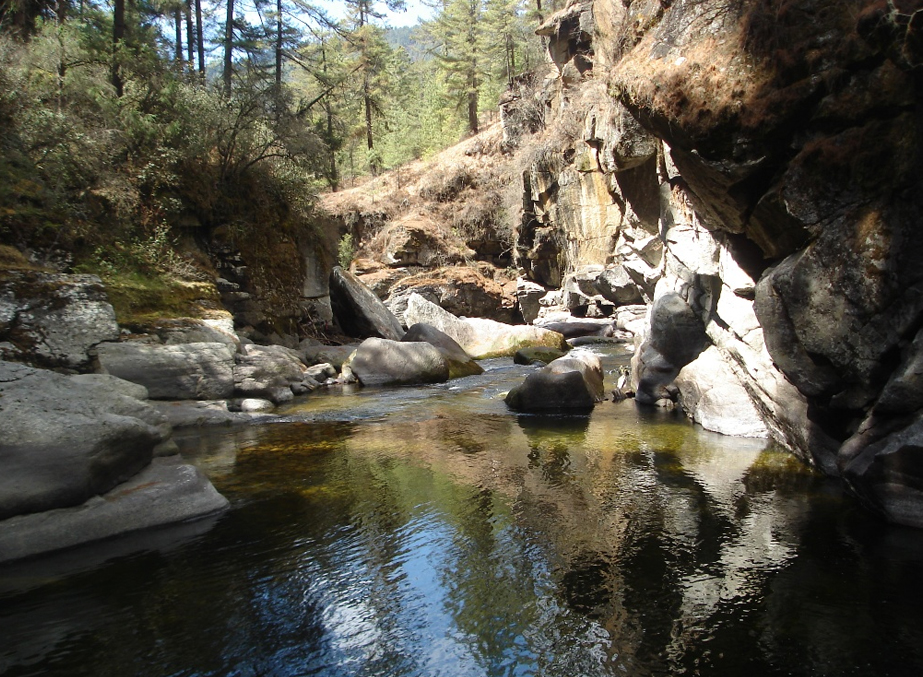 One of the most renowned places to visit in Bumthang, Mebar Tsho or the 'Burning Lake' should not be missed by any means! Situated around half an hours' drive away from Chamkhar, legends have it that Pema Lingpa; an acclaimed treasure hunter, took a dip into this lamp and came out with a box and a paper scroll. The treasure discoverer also had a butter lamp in his other hand which was still burning. Since then, Mebar Tsho is considered as a holy site by the locals.
If not the legend, the spell-binding location of the lake would surely make you wonder in exclamation! Canopied by dense thickets, the Mebar Tsho flows through extremely uneven trails comprising of huge rocks and boulders. The serenity and calmness that prevails around the lake can merely be expressed in words; you need to visit Mebar Tsho to witness and realise its mysticism.
Visiting Hours: Throughout the Day
Entry Fees: No Charge
Tang Valley
Your search for the best places to visit in Bumthang comes to a halt as you reach the picturesque Tang Valley! The remotest valley in the region, Tang is located almost 11km away from Jakar. Since the valley attains a higher elevation, the drive to the valley would be a steep one and would take you past the Mebar Tsho.
Tang is also a wonderful destination to witness how sheep and yaks are reared up in higher altitudes of Bhutan. Locals here still follow traditional way of living and are very welcoming. You should visit Tang Valley during the month of October when the entire valley turns pink as the buckwheat flowers are at full bloom during this month.
Visiting Hours: Throughout the Day
Entry Fees: No Charge
Kurjey Lhakhang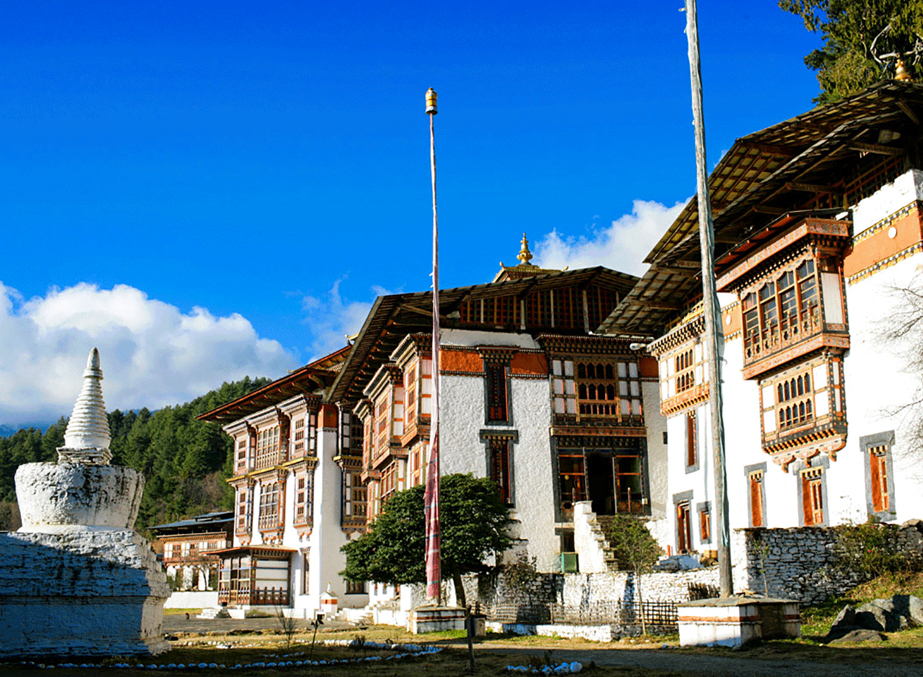 Kurjey Lhakhang or the Kurjey Monastery has great religious significance in Bhutan's history. The monastery still testifies the presence of the devout Guru Padmasambhava who is believed to have visited the spot to heal a local king named Sindhuraja. According to the legends, Guru Padmasambhava subdued many local deities here as a spiritual process to heal up the local king.
The monastery has three main temples that are surrounded by 108 chorten walls. The first temple has a rock on which the Guru used to meditate. The second temple is built on a cave site that has the imprint of Padmasambhava's body. The third temple was built lately in 1990 by the Queen Mother Ashi Kesang. With such great religious significance, Kurjey Lhakhang surely becomes one of the much sought-after places to visit in Bumthang.
Visiting Hours: Throughout the Day
Entry Fees: No Charge
Tamshing Lhakhang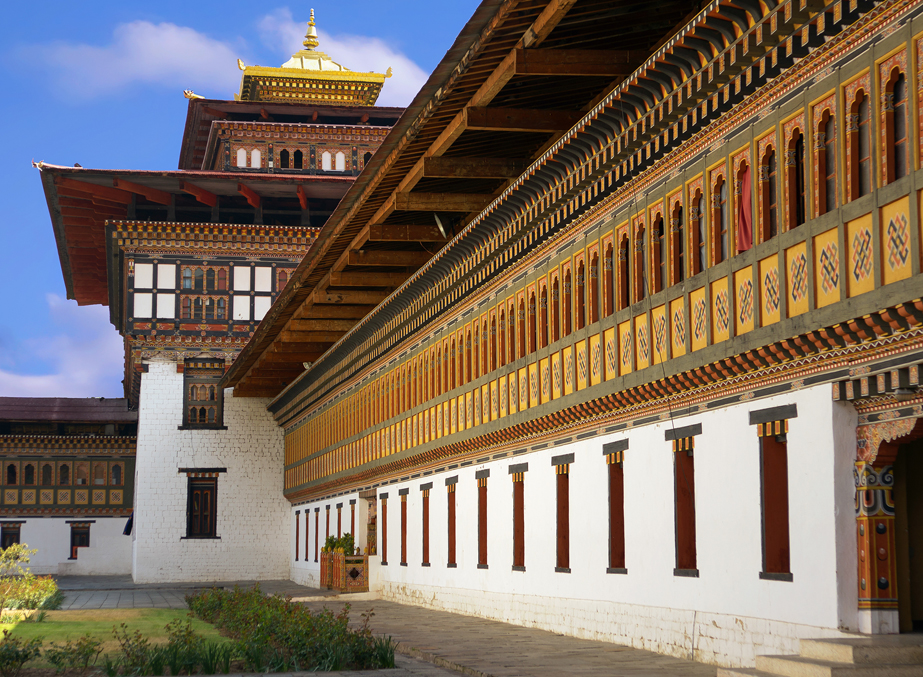 Among all the Nyingma monasteries in Bhutan, Tamshing Lhakhang is considered as a notable one! Founded by renowned tetron or treasure discoverer Pema Lingpa, this monastery is considered as the primal centre to learn Guru Pema's teachings and philosophy. The monastery is in fact houses many young monks who come here to learn more about Buddhism through Pema Lingpa's teachings.
One significant feature of Tamshing Lhakhang is a heavy iron chain mail which is said to be made by Pema Lingpa himself. According to the myths, anyone who would wear this chain and complete three rounds of the main temple would be forgiven from all his sins. Whether this legend would grab all your attention or not, but the traditional 'Mask Dance' in Tamshing Lhakhang would surely do!
Visiting Hours: Throughout the Day
Entry Fees: No Charge
Namkhe Nyingpo Goemba
If you are looking for places to visit in Bumthang that are hard to find in Google, Namkhe Nyingpo Goemba is the place for you! Located atop a fascinating hill, this monastery was established in and around 1970s; there is no such evidence of who built it.
A home to around 300 monks, Namkhe Nyingpo Goemba has a unique ritual practice. Here, the monks participate in a mass debate where they try to fortify their theological arguments by stamping their feet and hurling victorious slaps on the opponent. Though sound strange, but once you are in Namkhe Nyingpo Goemba, you would surely believe it.
Visiting Hours: 10:00AM – 06:00PM
Entry Fees: No Charge
Sumthrang Lhakhang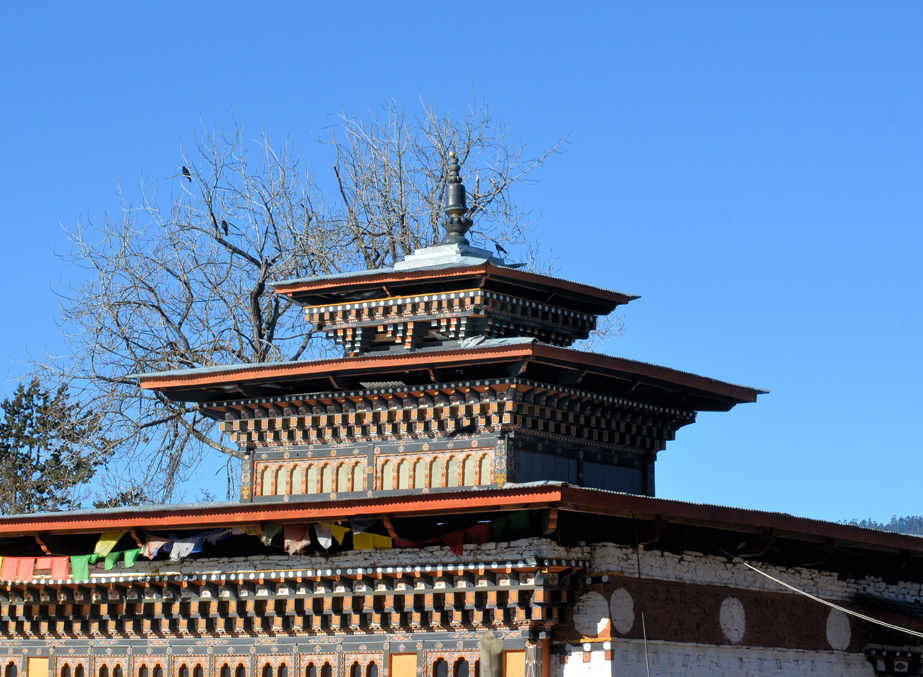 A two-storey stone house characterised by large windows and an enclosed courtyard, Sumthrang Lhakhang is Ura Valley is Buddhist monastery you wouldn't wish to miss during your Bumthang tour. Also called the Sombrang Lhakhang, this religious site is shrouded with sacred spots.
It has a piled text towards its north. The south comprises of a conch-shaped landscape. A holy spring lies on the west direction, and a rock resembling the shape of 'Swastika' is on its east side. The entry to the temple passes through a large prayer hall. The temple site has several relics spread across the premise. Among these relics, solid megaliths that doesn't have any inscription on them and thick bamboo appearing to be a 'dorje' are the most significant two.
Visiting Hours: 10:00AM – 05:00PM
Entry Fees: No Charge
Padtselling Monastery
A 2.5 hours ascend through groovy patches and scenic meadows from Choekhor Valley would take you to one of the most appealing places to visit in Bumthang – the pious Padtselling Monastery. While the way to the monastery is exciting in itself, the freshness and varied fragrances along the way would definitely make the hike more introspecting and equally engrossing for you.
A two-storey building that has statue of Amitabha Buddha, Guru Rinpoche, and Vajrasattva, this monastery was built in 1769. Padtselling Monastery also has a Jangchub Chorten that includes many sets of Buddha stupas, Kagyur, Nyingma Gyud Bum, and lot others.
Visiting Hours: 08:00AM – 06:30PM
Entry Fees: No Charge
Choedrak Monastery
Choedrak Monastery is yet another hidden place to visit in Bumthang Valley! Located at an elevation of 3,800m, this religious establishment is in proximity to the renowned Tharpaling Monastery. It is said that Guru Rinpoche once meditated at this spot during the 8th century.
Originally built in 1234 by Drukpa Kagyupa Master Lorepa from Tibet, the monastery was haunted by a local demon after the master's departure. Eventually, Choedrak Monastery was on ruins until the residing demon was subdued by a Drukpa monk called Ngawang Trinley from Punakha Valley in the 18th century. The monastery has several meditation caves that are now used by monks who came here searching for seclusion from all worldly desires.
Visiting Hours: 10:00AM – 05:00PM
Entry Fees: No Charge
Ogyen Choling Palace Museum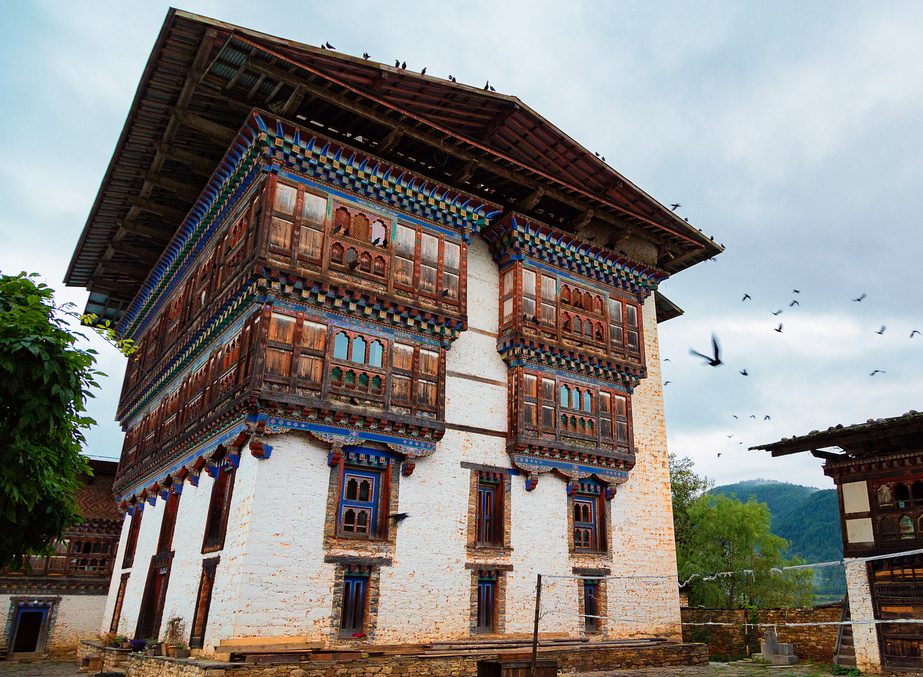 A private property turned into a heritage museum that has been taken care by the heirs of same family since last 200 years; or 22 generations, the much acclaimed Ogyen Choling Palace Museum is undoubtedly one of the most striking places to visit in Bumthang. The history of Ogyen Choling began seven centuries ago with the arrival of an illustrious philosopher named Longchen Rabjam. The Buddhist philosopher selected a spot resembling to an elephant's head for meditation purpose, and later built a palace within that spot.
A sacred sire to both Bhutanese and Tibetans, Ogyen Choling Palace Museum resonates much about Bhutan's history, cultures, and traditions. The complex has numerous ancient artefacts, relics, and painting works that depicts how life was back then. Ogyen Choling Palace Museum has now been converted into a heritage house with 14 guest rooms to offer the most aesthetic experience to the visitors.
Visiting Hours: 09:00AM – 04:00PM
Entry Fees: N/A
Ura Valley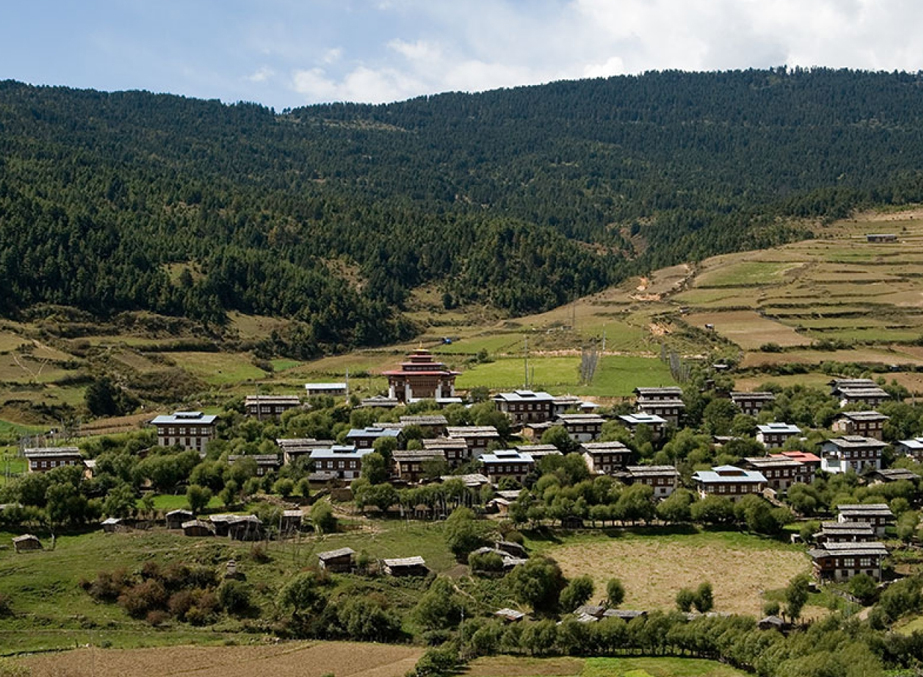 Located towards the eastern corner at an astounding height of 3,100m, Ura Valley is the highest point in Bumthang. Nestled amidst lush thickets and evergreen vistas, the entire village has almost 40 houses; all set in a cluster with cobbled walkways. Ura is also one of the most fertile regions in Bhutan and is known for its rosehip plant and flower cultivation.
Locals in Ura Valley mostly depend on agriculture for their livelihood. While men mostly can be seen rearing their sheep and yak, the female members of the family can be seen helping in flower cultivation and household works. Along with its untouched natural beauty and friendly locals, the Ura Temple at the centre of the village also serves as a major attraction in this valley. If you are searching for the most peaceful and scenic places to visit in Bumthang, you must consider a visit to Ura Valley.
Visiting Hours: Throughout the Day
Entry Fees: No Charge
Bumthang Red Panda Brewery & Cheese Factory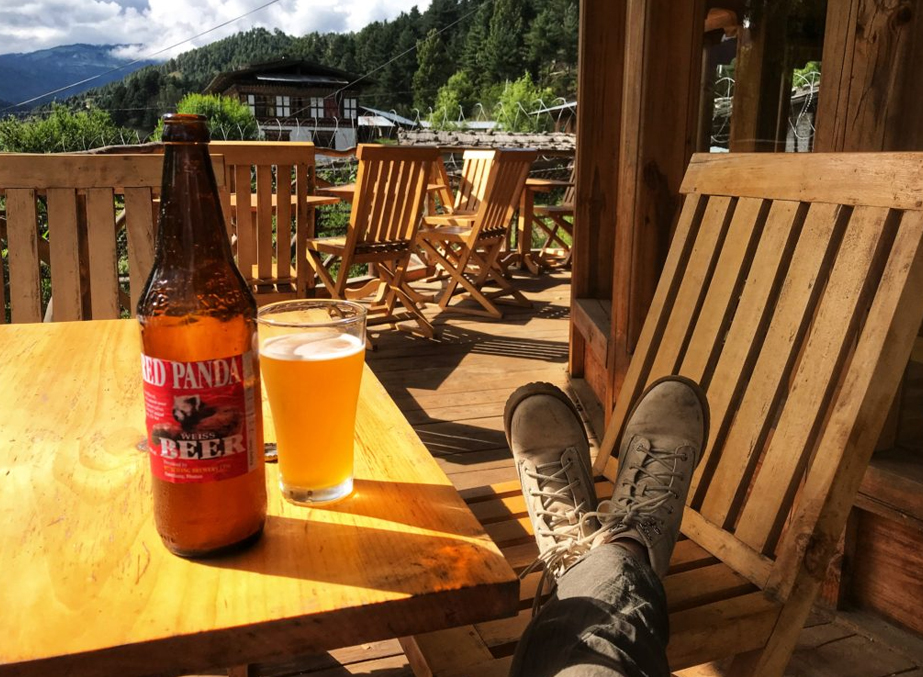 Last but not the least in the list of places to visit in Bumthang is the Bumthang Red Panda Brewery and Cheese Factory. The first and only microbrewery in the entire of Bhutan, this is the place where you can sample locally brewed beer along with some of the finest quality cheese produce.
The brewery produces only 3,000 bottles of beer every month. Brewing here is done in traditional ways. Bumthang Red Panda Brewery also offers beer tour with a minimal fee of 5USD, wherein you would get to see how the brews are prepared, filled, capped, and served at last. Owned and run by the family of Frits Maurer, who is one of the very few honorary Bhutanese citizens, this brewery could be the showstoppers in the list of best and most exciting places to visit in Bumthang.
Visiting Hours: 01:30 – 05:00PM (Monday and Friday), 08:00AM – 05:00PM (Wednesday and Saturday), 04:00 – 05:00 PM (Tuesday and Thursday)
Entry Fees: 5USD (For Beer Tours and a Bottle of Beer)

Subscribe to us
Subscribe to our newsletter and stay updated

Request a call back
Our experts would love to create a package just for you!