Your hotel guide for bhutan
Bhutan, surrounded by China and India, was a lost kingdom until 1974 when it started inviting foreigners to make them see the uniqueness of the country. Today, it is recognized amongst some of the magnificent places for travellers. There are various wonderful things about Bhutan that make it a paradise hidden in the great Himalayan range may it be its concern with economy and emotions, value for religion, and respect for tradition. If the matchless beauty of this place could not make you smile then the welcoming nature of the locals will enlighten your tour with happiness.
Almost 72% of Bhutan's land is covered with nothing but greenery and the traditional Buddhist culture embraces development with great awareness. In this majestic beauty, tourists can find a few marvellous accommodations to stay in that are constructed in traditional architectural style. So, here we have the list of best hotels for travelaholics in Bhutan. Based on their services, nearest tourist destinations, location, and luxury, these places are your hotel guides for Bhutan.
Thimphu
Thimphu is one of the few cities and the capital of Bhutan where every traveller wants to pay their visit at least once in their lifetime because of its appealing juxtaposition of modernization and ancient culture. Starting from the capital city, know what choices of outstanding hotels you have in Thimphu.
1. Le Meridien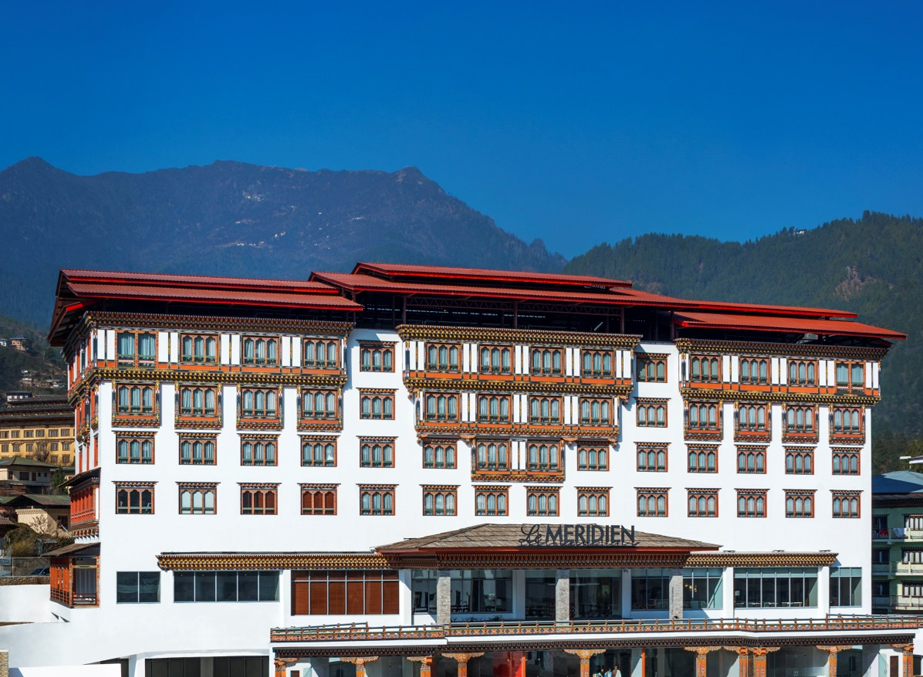 Le Meridien is a great combination of luxury and simplicity which is located almost in the middle of the capital city of Bhutan. May it is your business trip or cultural trip, this hotel offers guests an unforgettable experience through its professional staff, versatile functional space, and a variety of leisure facilities. There are about 78 rooms and suites that promote Bhutanese tradition in the nicest way possible. Moreover, one can have a luxurious time at this place because there are several things available such as high-speed wifi, flat-screen television, pampering spa, swimming pool, beautiful workout space, elegant bathroom, and a splendid view from every window of the hotel.
Nearest tourist attractions- Tashichho Dzong, Memorial Chorten, National Folk Heritage Museum, and more.
2. Namgay heritage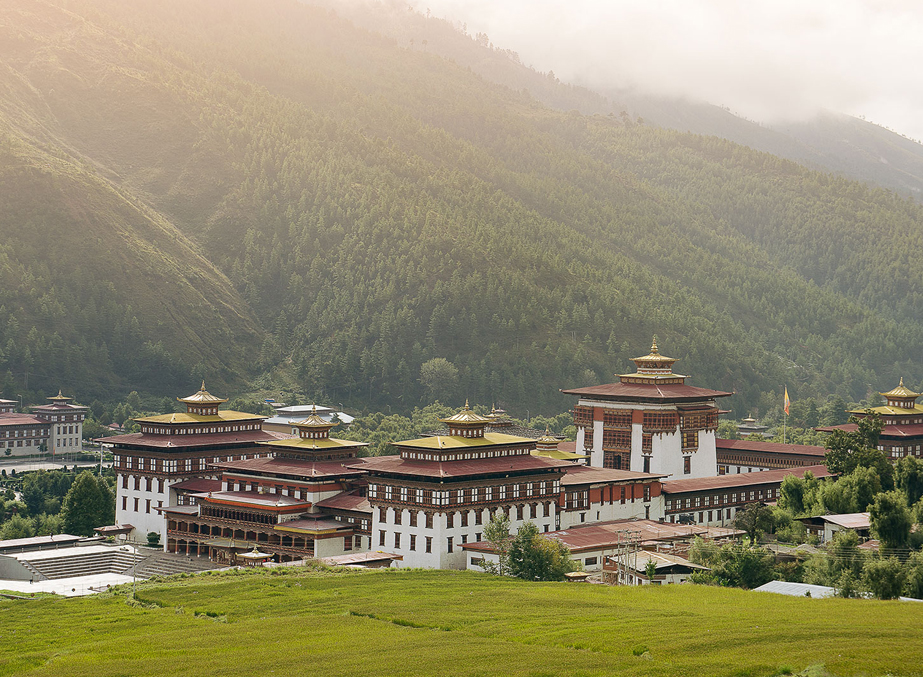 Namgay Heritage Hotel is one of the finest opulent retreats one can find in Bhutan which is situated in the centre of the capital city. If you are searching for luxury in the heavenly beauty of Bhutan at a reasonable price then this is a perfect option for you. Apart from the main building, there is a business space, conference room, relaxation centre, and a health centre constructed in the hotel for the comfort of the guests. Also, there are choices available for the guests when it comes to selecting the right room and these choices include heritage deluxe, executive suites, heritage grand deluxe.
Nearest tourist attractions- Mojo Park, Simply Bhutan Museum, National Memorial Chorten, Sangaygang View Point, and more.
3. Taj Tashi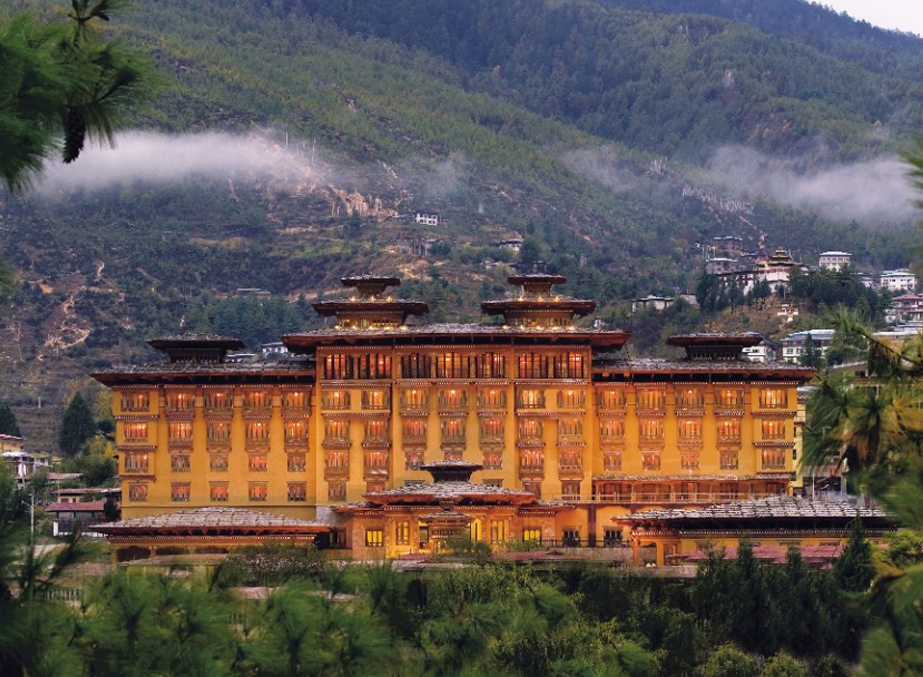 Taj Tashi, as the name suggests, is partly owned by a famous group of hotels Taj in partnership with the local Tashi Group of Bhutan. This is one of the most amazing hotels in the country with the utmost luxury in a simpler manner. Even though this hotel is quite expensive but the facilities provided to the guests is worth the price you pay. Travellers who plan to stay here can take part in various activities such as hiking, archery, karaoke, and also can rent a bicycle to observe the alluring nature closely. Besides, space is divided into various parts like the game centre, health space, indoor & outdoor swimming pool, yoga, sauna, and spa sections along with private hot spring.
Nearest tourist attractions- Royal Textile Academy of Bhutan, National Folk Heritage Museum, Weekend market, and more.
4. Peaceful Resort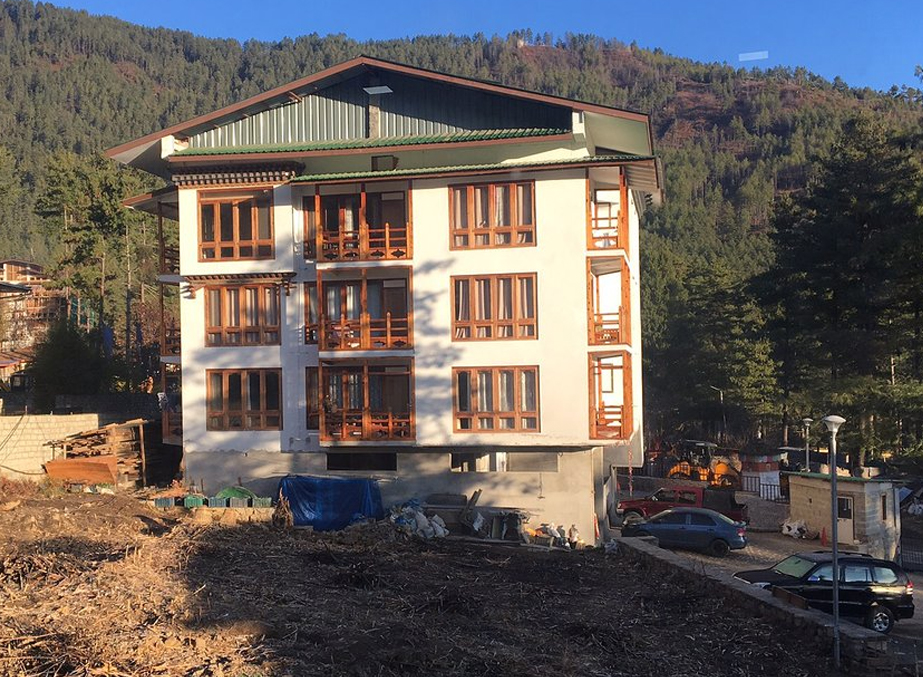 Peaceful Resort is one unwinding place for travellers as it is counted amongst some of the best hotels in the capital city. This hotel promises to serve its guests with the bests of Thimphu by providing several facilities such as laundry service, 24-hours front desk, free breakfast, and much more. There are several activities available for children making this place a family-friendly space, however, if you are a smoker, this place is a big NO.
Nearest tourist attractions- Tashichho Dzong, Budhha Dordenma, Simtokha Dzong, and more.
5. Bhutan Suites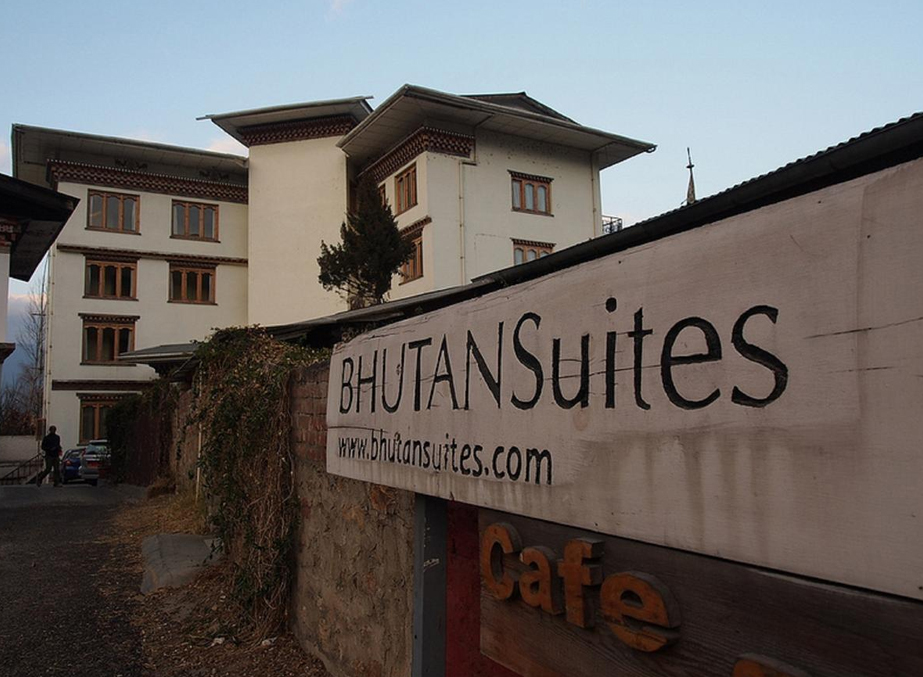 Another awesome hotel in Thimphu is Bhutan Suites which is renowned for its unique location as it is situated right below the famous 12th-century Changangkha Lhakhang and far away from the noisy street of the city. This retreat is ornamented with a welcoming ambience, a stone exterior and a mix of Bhutanese style and modern design. Except for that, the fine dines, bar area, unwinding tea lounge, excellent room service, currency exchange service, laundry service, and much more make this place superb for the visitors.
Nearest tourist attractions- Changangkha Lhakhang, Royal Textile Academy of Bhutan, and Simply Bhutan Museum.
Paro
Paro, the place of the only international airport of Bhutan, is another delightful place in Bhutan that offers its visitors with stunning city life. The main street of this region is surrounded by colourfully painted shops and food outlets which makes it one of the best towns in the country which is fun to explore via walking. Let's see what best hotels we have in this beautiful city.
1. Gangtey Palace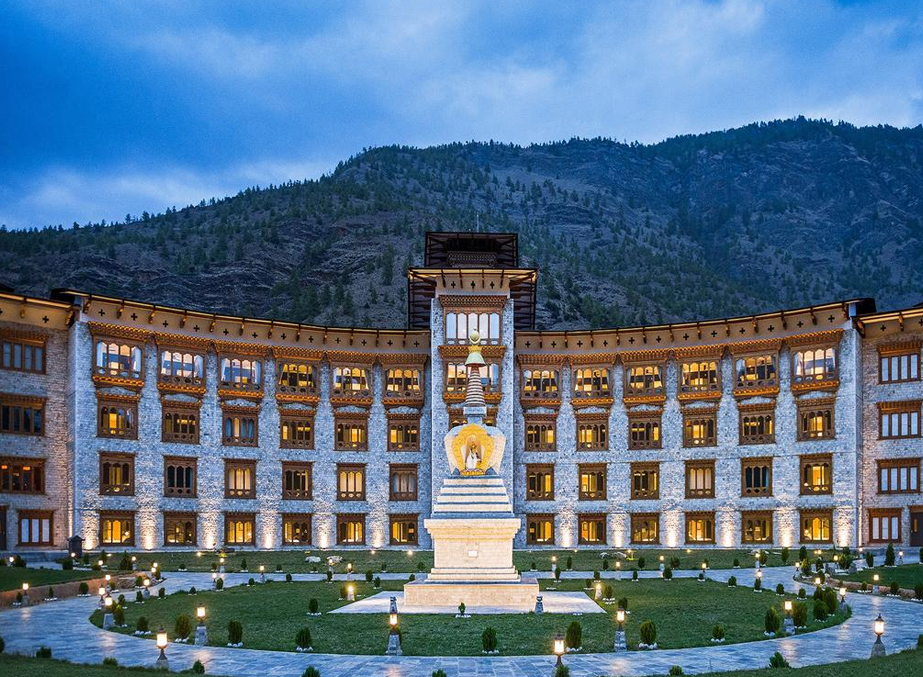 Gangtey Palace Hotel is one wonderful place for tourists who want to experience the lifestyle of the palace because this is the only palace in Bhutan which is turned into a hotel. This charming accommodation is a ravishing location which is at a short distance from the river Paro. There is natural spring water that runs in all the rooms of the hotel and what makes this hotel more special is its traditional hot stone bath and massage which is offered to the guests to de-stress themselves. Apart from that, there are other services such as laundry, breakfast buffet, high-speed internet and wifi, and much more.
Nearest tourist attractions- Paro River, Paro Penlop Heritage Home Museum, and Yoesel Handicrafts.
2. Tashi Namgay Resort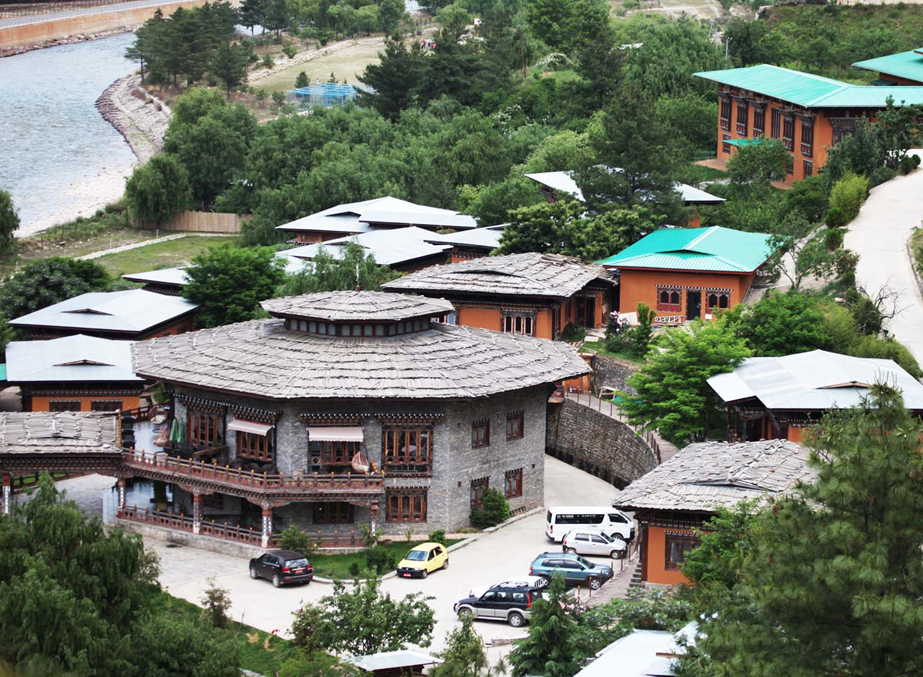 Tashi Namgay Resort is another welcoming hotel in Paro which is situated opposite the international airport. The accommodation is spread across an area of about 8 acres of agricultural land which is why guests find an excellent view of the picturesque location from all directions. The traditional architectural style containing all modern facilities offered by professional staff makes this place extremely comfortable and tranquillizing for the guests. Furthermore, the guests are allowed to participate in various cultural activities of the country that comprises of exciting traditional games such as archery, khuru, and dego and other fun activities like bonfire and BBQ.
Nearest attractions- Chele La Pass, Rinpung Dzong, and Kyichu Lhakhang.
3. Hotel Drukchen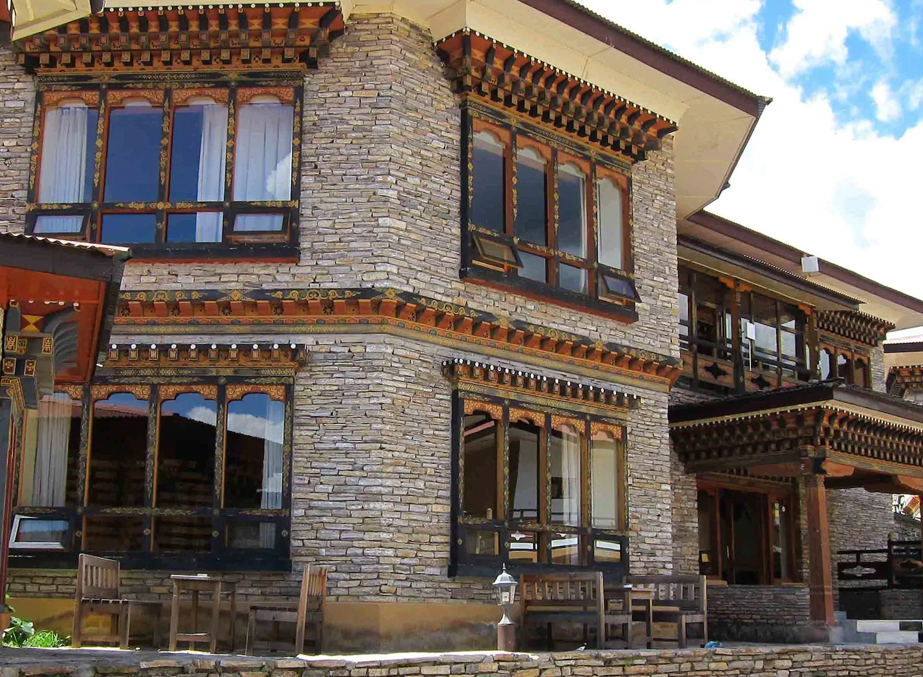 Hotel Drukchen, a piece of speechless Bhutanese architecture, rests in the stupendous location of Paro isolated from the hurly-burly of the city. There are 30 rooms in total with choices of 26 deluxe rooms and 6 suites. All the rooms contain free wifi, laundry service, private bar, and refrigerator. There is a free breakfast served to the guests who can also have fun with the enthusiastic activities for both children and elders. Apart from that, it is a strictly non-smoking hotel comprising of an unwinding hot bath and surrounded by a picturesque view of the lush green mountains and gushing river Paro.
Nearest attractions- Chele La Pass, Kyichu Lhakhang, and Rinpung Dzong.
4. Le Meridien Riverfront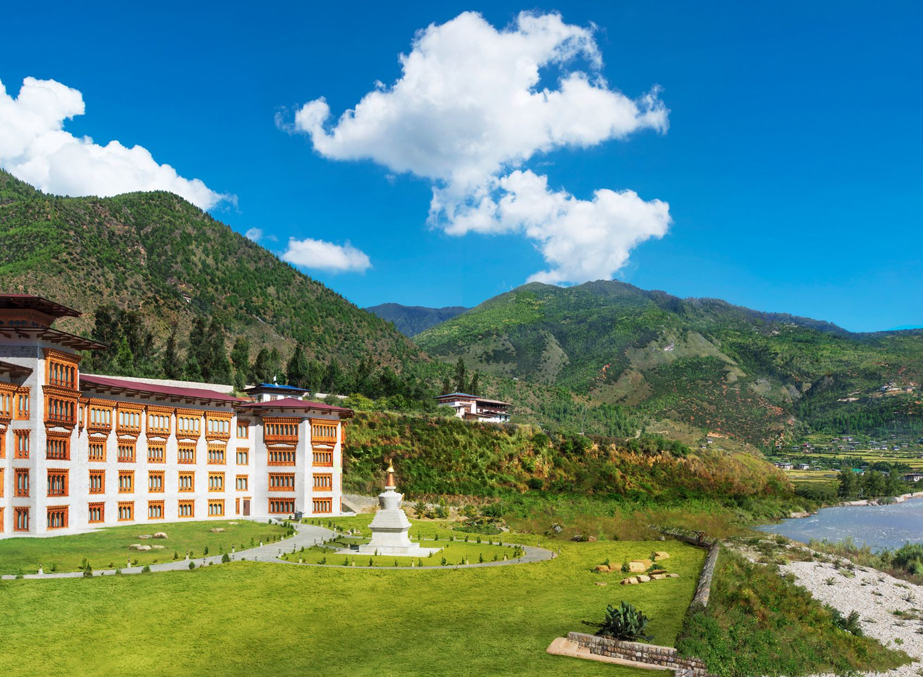 Just like Thimphu, Paro also has a Le Meridien Riverfront which is situated at a distance of about 10 minutes from the international airport. It offers a fun package of Bhutanese art, exotic beauty of mountains, and extreme luxury. There are approx. 59 guest rooms, which include seven roomy suites that offer a panoramic view of the stunning Himalayan valley and river Paro. Moreover, it is one of the most amazing hotels in Bhutan that allow pets and provide opportunities to take part in various leisure activities like massage, sauna, indoor & outdoor pool, game centre, fitness room, taxi services, and much more.
Nearest attractions- Tachogang Lhakhang Bridge, Kyichu Lhakhang, Rinpung Dzong, and River Paro.
5. Tiger's Nest Resort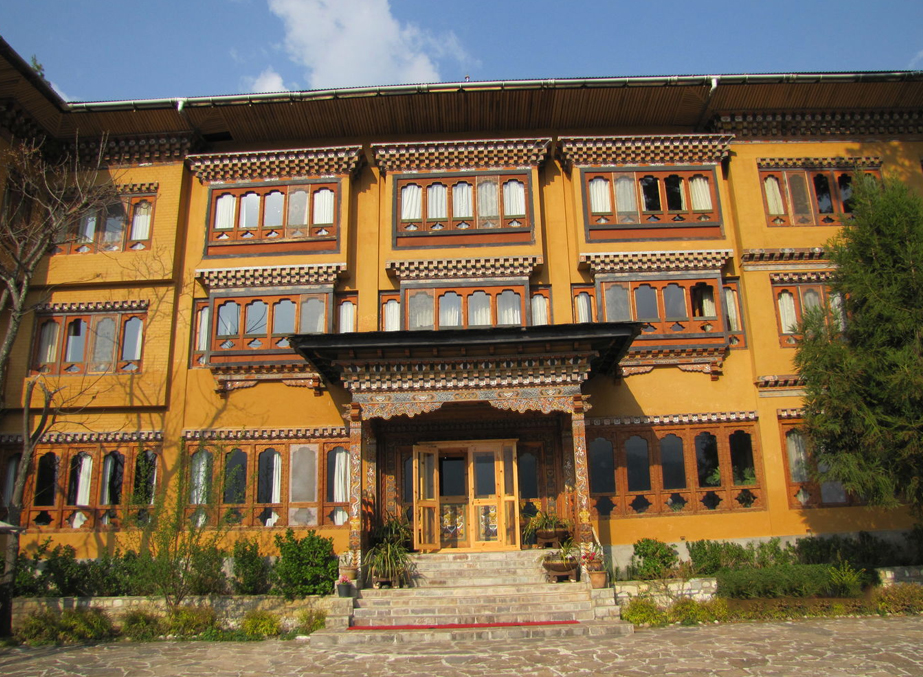 Tiger's Best Resort is one splendid place for travellers which impresses visitors with its mesmerizing traditional architecture. This resort comprises about 36 luxurious rooms with the latest technology blended with the majestic art of the country. Each room of this hotel has stunning Bhutanese designs with carved woodwork, oak floor & stairs, slate roofs, inlaid stone pathways. In this piece of art, guests can relax while enjoying several facilities such as massages, high-speed Internet & wifi, bar, and scrumptious food.
Nearest tourist attractions- Paro Taktsang, Rinpung Dzong, Paro River, and Kyichu Lhakhang.
Punakha
Located at an altitude of 4265ft, Punakha Valley is an ideal scenic destination for nature lovers where tourists encounter the majestic view of the junction of two main rivers, Pho Chhu and No Chhu. Travellers come across rice, orange, and banana being grown in abundance in Punakha Valley along with various endangered species of flora and fauna. In this heavenly beauty, there are a few hotels that add spark to the expedition.
1. Dhensa Boutique Resort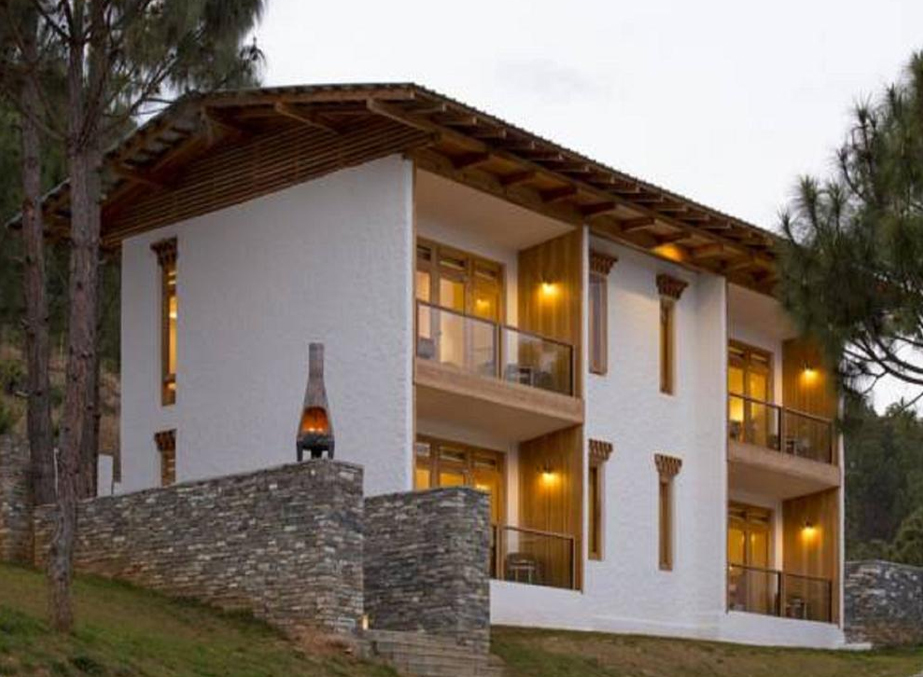 Surrounded by the verdant valley and gigantic mountains, Dhensa Boutique Resort sits in the striking beauty of Punakha. This beautiful resort has a spellbinding view of the valley that comprises of huge pine tree forests and gushing water of Punakha River. The premise is ornamented with exotic artwork by Bhutanese artisans with a mix of contemporary design. There are about 26 luxurious suites and other opulent sections such as a dining room, a spa cottage, a reading lounge, and much more. Moreover, the hotel is encircled with magnificent walking and trekking trails which are the best thing for nature enthusiasts.
Nearest attractions – Sangchhen Dorji Lhuendrup Lhakhang Nunnery, Punakha Dzong, Punakha Suspension Bridge, and Chimi Lhakhang Temple.
2. Khuru Resort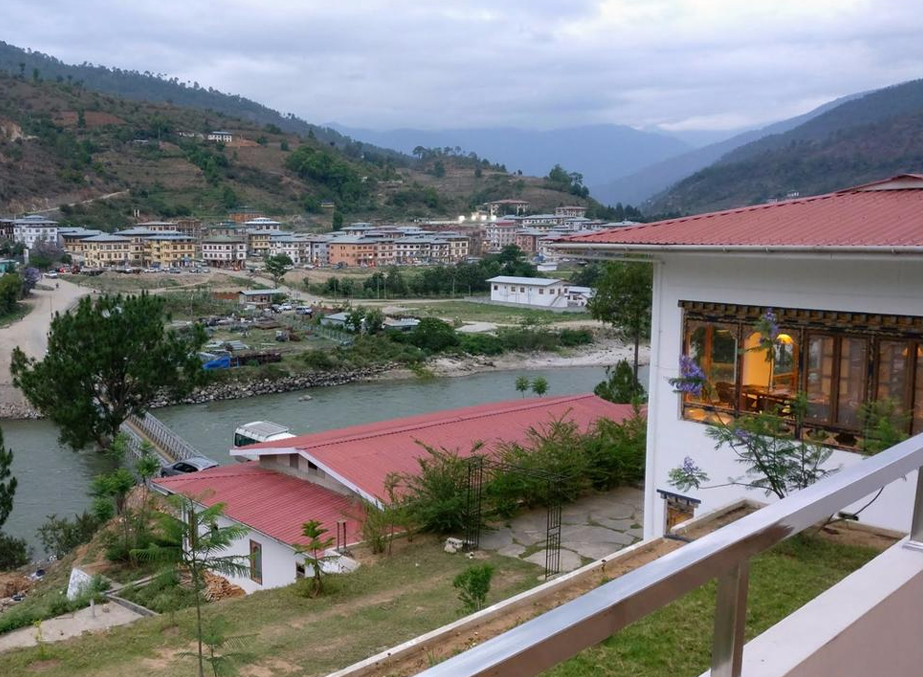 With great hospitality, great view, clean rooms & bathrooms, and great services, Khuru Resort is counted amongst a few of the best resorts in Punakha. Right beside the resort flows Punakha river which makes this place even more exuberant for the visitors. The hotel offers several activities for both kids and adults, for instance, archery, boating, canoeing, indoor & outdoor games, archery, and spa. Apart from that, every room comprises of extremely clean beds, extra-long beds, oven, refrigerator, laundry & dry cleaning services, and much more.
Nearest attractions – Chimi Lhakhang Temple, Punakha Suspension Bridge, Punakha Dzong, and Sangchhen Dorji Lhuendrup nunnery.
3. Punakha Residence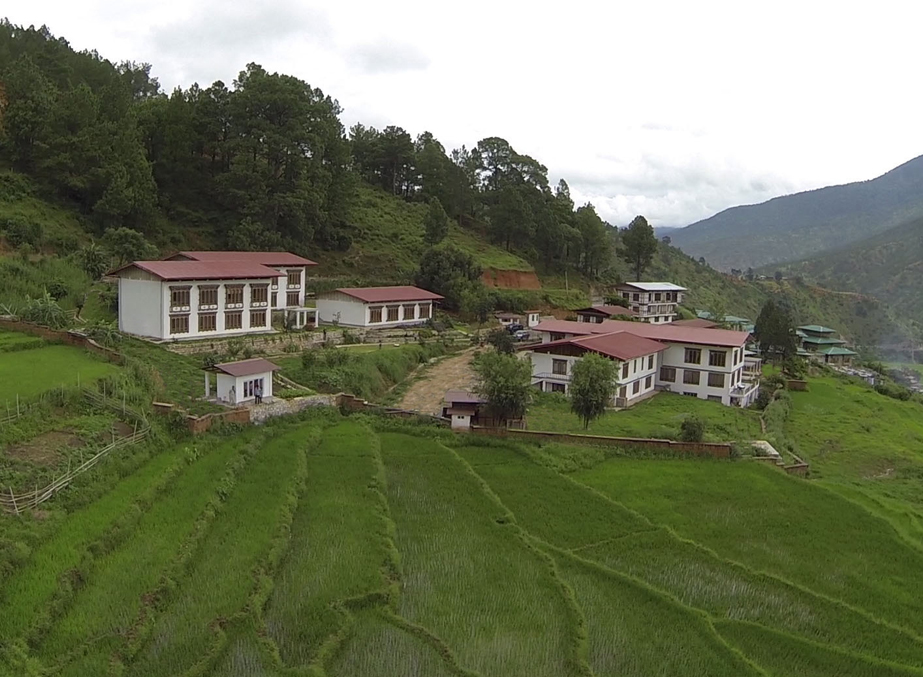 For people who are quite concerned about the reasonable value, Punakha Residence is a perfect choice because it offers several luxurious facilities to the guests at a low price. The facilities served by the hotel comprises of spa & massage, event management, business conference, mini library, airport transfer, money exchange, and many other things. The variety of rooms available in this hotel contains a single room, twin-bedded room, deluxe twin-bedded room, and an executive room with different prices and services.
Nearest attractions- Punakha Dzong, Chimi Lhakhang Temple, Punakha Suspension Bridge, and Sangchhen Dorji Lhuendrup nunnery.
4. Damchen resort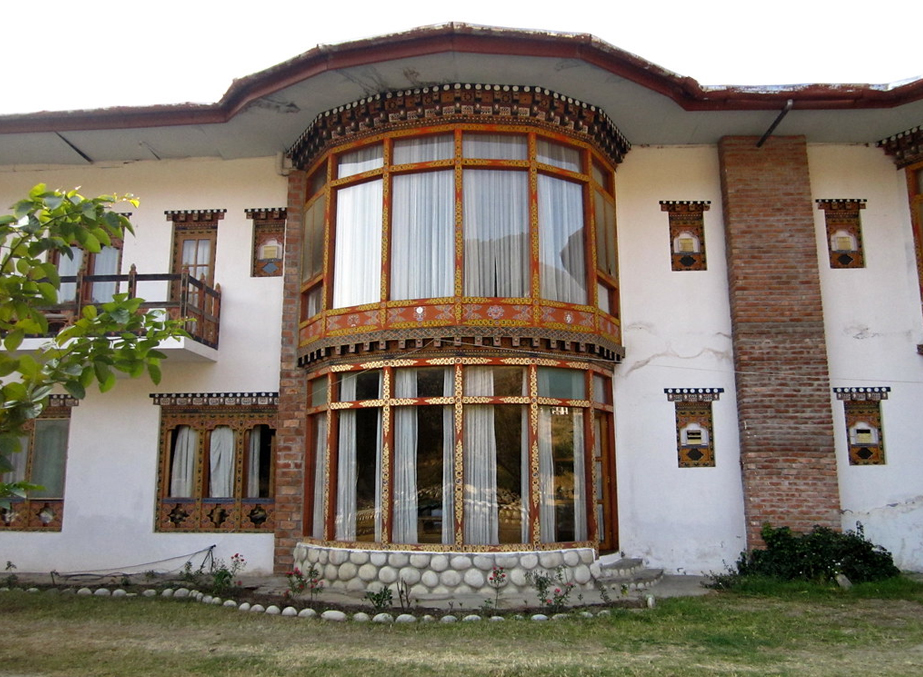 Out of the excellent choices of hotels in Punakha, Damchen resort is quite a nice option that provides guests with a charming view of the Punakha's pleasing environment. There are several pleasant services, contemporary facilities, and heart-throbbing architectural designs that enhance the stay of the guests. Some of the amenities that can be used by the tourists are meeting rooms, laundry service, free internet & wifi, bar, breakfast buffet, and plenty of activities for the entire family.
Nearest attractions- Punakha suspension bridge, Punakha Dzong, Chimi Lhakhang temple, Sangchhen Dorji Lhuendrup Nunnery.
5. Dochula Resort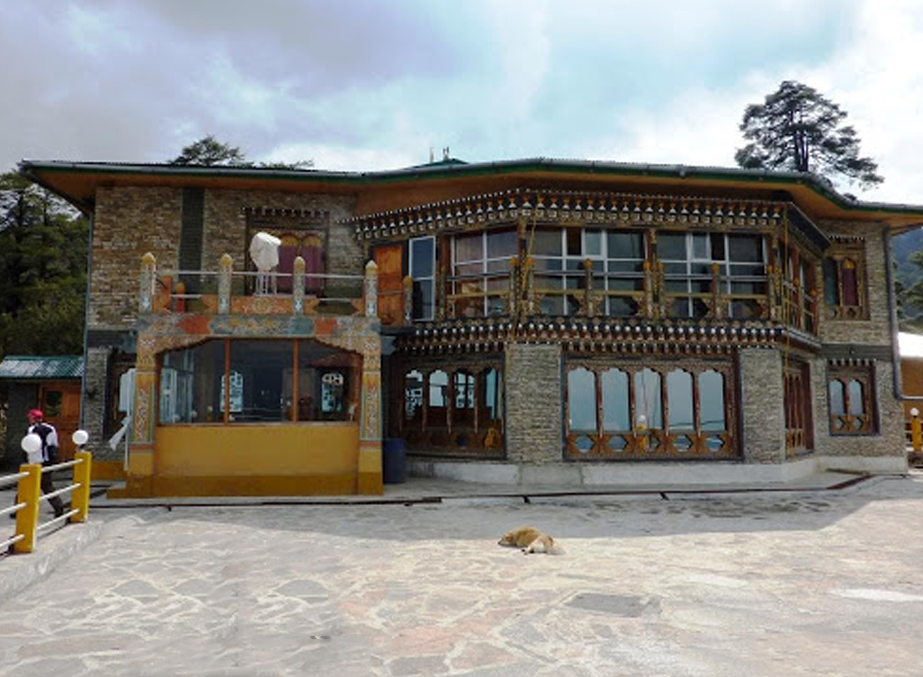 Dochula resort in Dochula, Punakha Valley is another mesmerizing hotel for people who like simplicity at its best. The wooden walls and floors, alluring exterior, and outstanding panoramic view from the hotel give a wonderful experience to the guests. Besides, to make their stay unforgettable, delectable food is served at the restaurant of the hotel which is something to be appreciated apart from other luxurious facilities like wifi, bar, parking, and more.
Nearest attractions- Dochula Meditation Caves, Dochula Chorten, and Druk Wangey Monastery.
Phuentsholing
While crossing the Indian border via roadways, Phuentsholing would be the first place travellers visit when they enter Bhutan. Phuentsholing is an aesthetic location that presents a beautiful amalgamation of Bhutanese culture, jaw-dropping picturesque beauty, and traditional art. Looking for a place to stay in Phuentsholing? Here are some of the best accommodations.
1. Park Hotel Bhutan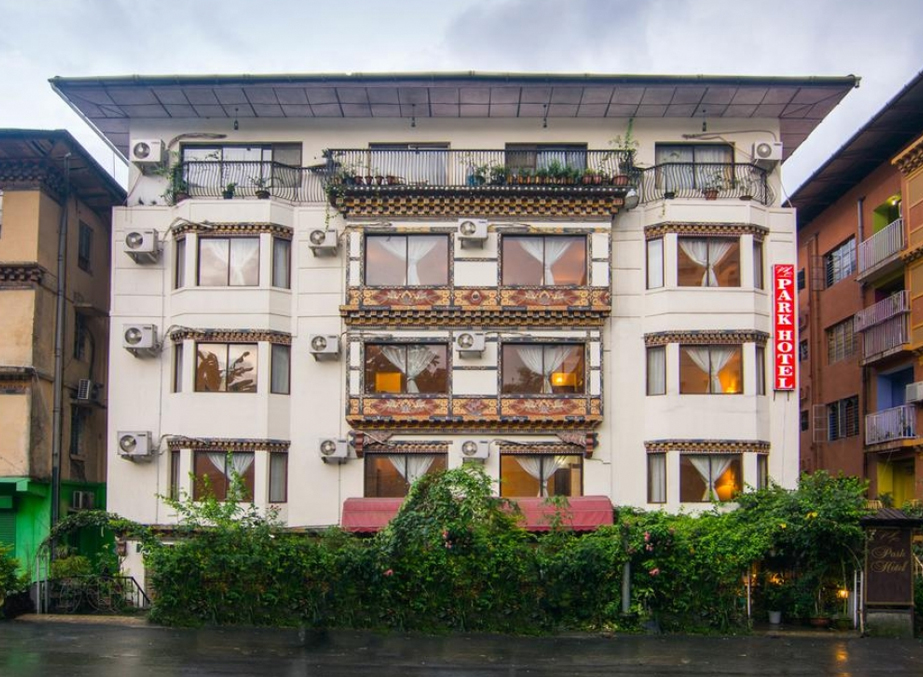 Park Hotel is a perfect place to feel the serenity at the crowded city of Phuentsholing that welcomes both international and local guests with open arms. This hotel follows a park theme with diligence and has a restaurant that offers multiple cuisines as per the taste of the visitors. Moreover, it has 32 rooms including both suites and standard rooms decorated with Bhutanese art and tradition. It is a non-smoking hotel that comes with free parking, bar, business space, salon, and plenty of services such as laundry, ironing, airport transportation, and much more. Besides, travellers can hire a taxi from the hotel to visit the nearby attractions easily.
Nearest attractions- Zangtopelri Lhakhang, Bhutan Gate, and Amo Chhu Crocodile breeding centre.
2. Hotel Druk Phuentsholing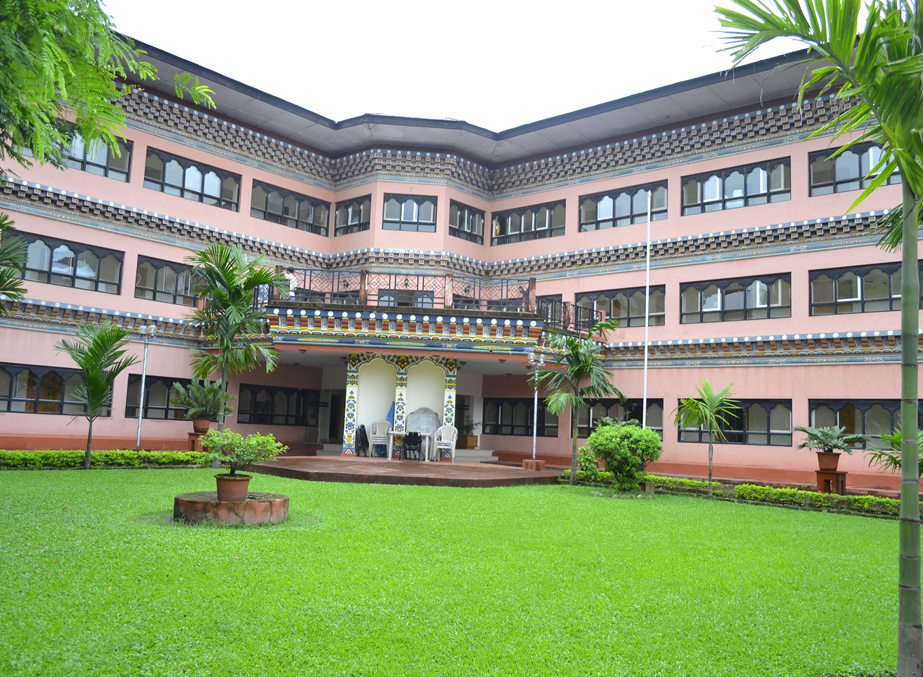 Another exotic hotel that rests in the quaint setting of the busy streets of Phuentsholing, Hotel Druk serves visitors with a mix of modern facilities and classic Bhutanese architecture. This hotel has 32 rooms in total which include 2 junior suites and 1 presidential suite. It built at an amazing location which is in the middle of the city and closer to the shops and shopping complex. Also, this hotel is renowned as a 4-star hotel with superior rooms and services.
Nearest attractions- Bhutan Gate, Zangto Pelri Lhakhang, and Amo Chhu Crocodile Breeding Center.
3. Bhutan Residence hotel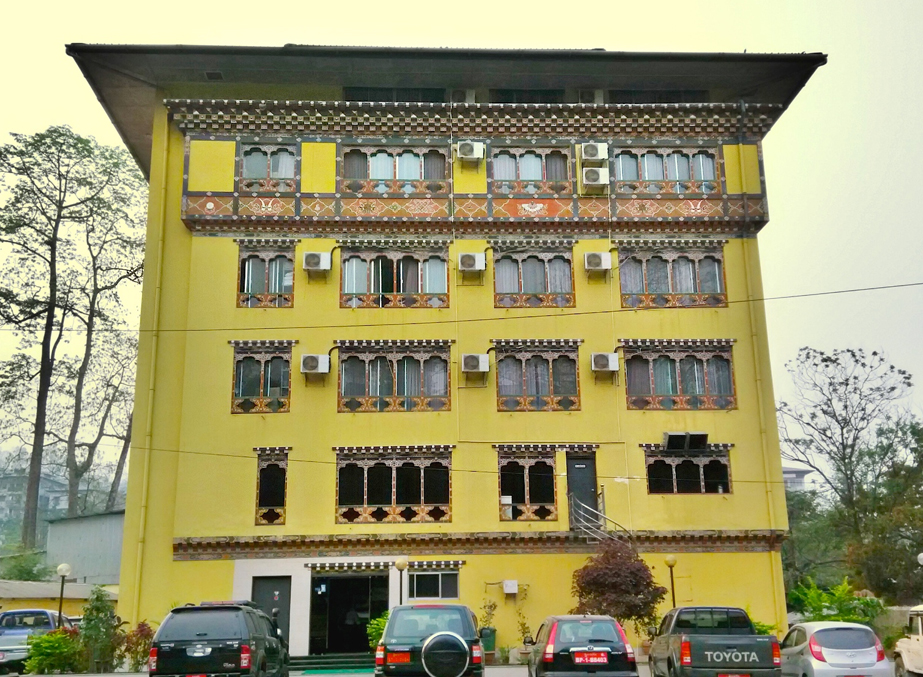 As you enter the Phuentsholing city, just at about 10 minutes you will find Bhutan Residence Hotel almost in the centre of the city. This hotel serves its visitors with the utmost simplicity with its modern facilities, contemporary interior, and business amenities. This is one of the most appealing hotels for travellers because all the rooms it offers to the guests are well-furnished and contain all the basic fittings one needs to make their stay in Bhutan indelible and extremely comfortable.
Nearest attractions- Bhutan Gate, Amo Chhu Crocodile Breeding Center, and Zangto Pelri Lhakhang.
4. The Royal Orchid Hotel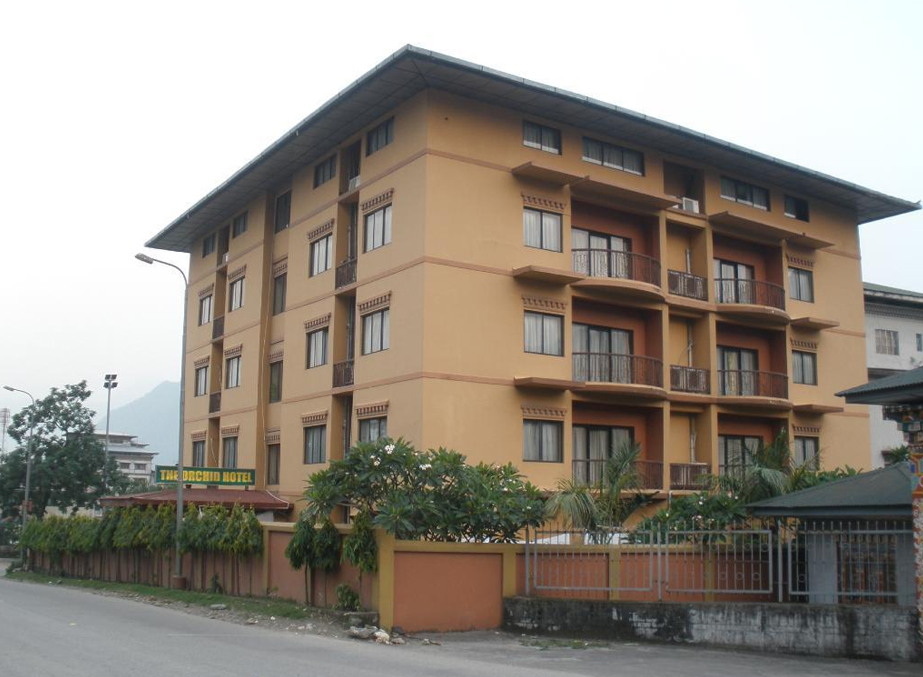 The Orchid Hotel is a well-known hotel that sits in the magnificence of the fantastic city of the Phuentsholing city of Bhutan which is considered as one of the finest choices for travellers. This beautiful hotel has an extremely family-friendly ambience not only because of its facilities and surrounding scenic beauty but also because of many enthusiastic activities. Other reasons why you should prefer this hotel is because of the availability of de-stressful hot bath, the mouth-watering menu at the restaurant, and many other amenities designed for the comfort of the guests.
Nearest attractions- Bhutan Gate, Amo Chhu Crocodile Breeding Center, and Zangto Pelri Lhakhang.
5. Centennial Hotel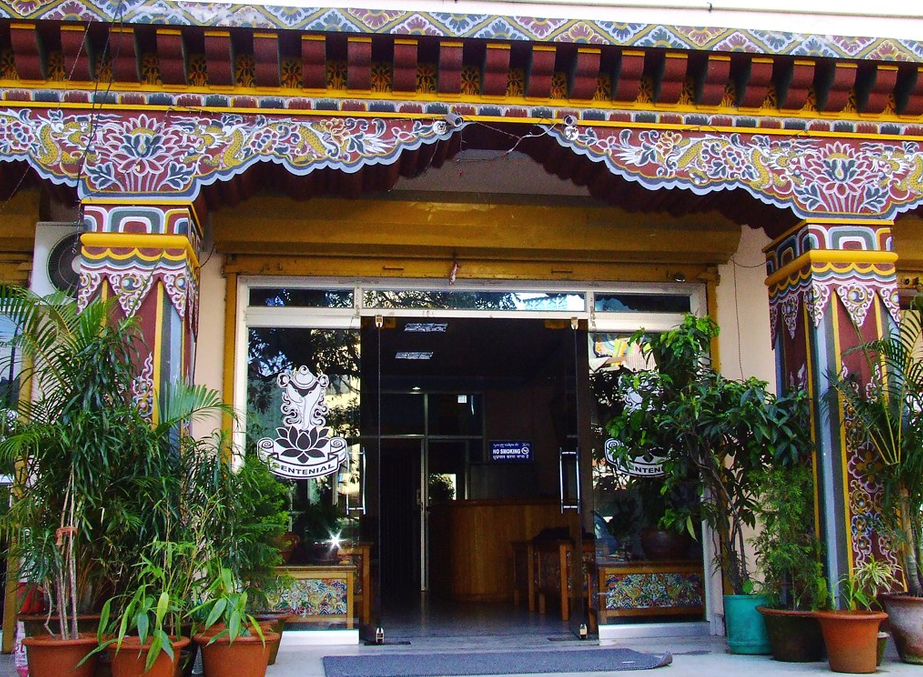 Centennial hotel is a quite nice hotel that offers a speechless view of the Phuentsholing city that entices guests with its beauty. The rooms available at the hotel has all the basic amenities such as air conditioner, a flat-screen television, and other basic requirements. The staff at the hotel is extremely amiable and cooperative which makes the stay serene and easy. Adding to this, the hotel has fantastic ambience, well-maintained cleanliness, and spacious rooms including the suite.
Nearest attractions- Zangtopelri Lhakhang, Bhutan Gate, and Amo Chhu Crocodile breeding centre.
Trongsa
Trongsa is a jaw-dropping location in the centre of Bhutan which is situated at a steep ridge and has a stupendous view in every direction. Because of its excellent location, the place quite impressive for tourists who love to trek or simply sink into the awe-inspiring allurement of nature. Also, all the hotels, restaurants, and guests in Trongsa offers an unforgettable experience to travellers. Nonetheless, here are some of our favourite ones which are perfect for you.
1. Puenzhi Guesthouse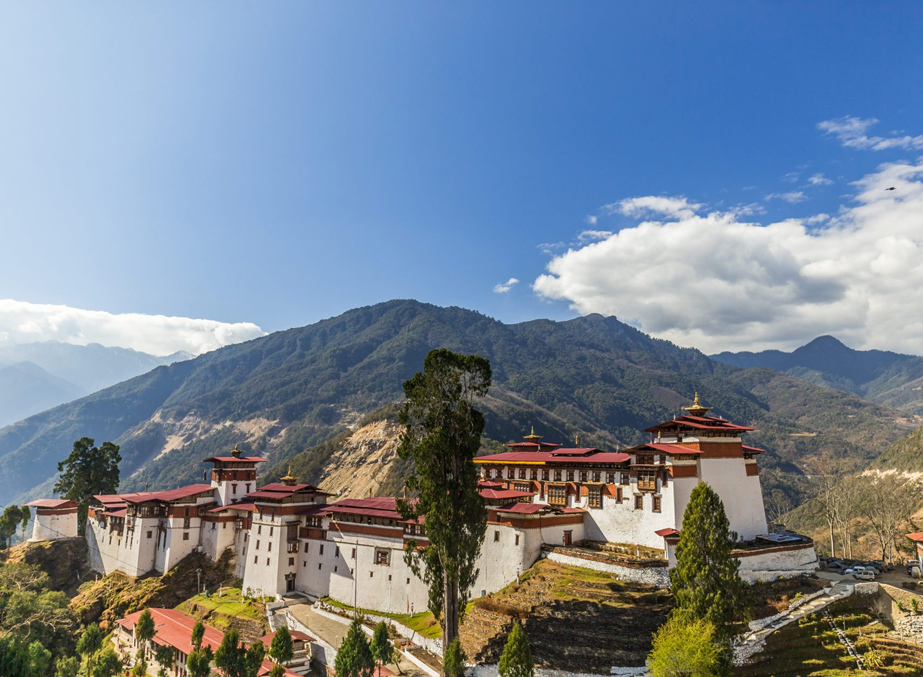 Putting simplicity at its best, Puenzhi guesthouse treats you like a family as the friendly staff does its best to serve its visitors with all the facilities they can. Unlike other luxurious hotels, this guesthouse has all the basic amenities rather than luxurious facilities like swimming pools and adventurous activities. However, the food served here is just finger-licking-good. So, if you are someone who does not care about luxury and wants to stay amidst great natural beauty, delicious food, and wonderful staff, this is the place for you.
Nearest attractions- Trongsa Dzong, Chendebji Chorten, and the Royal Heritage Museum.
2. Chendebji Resort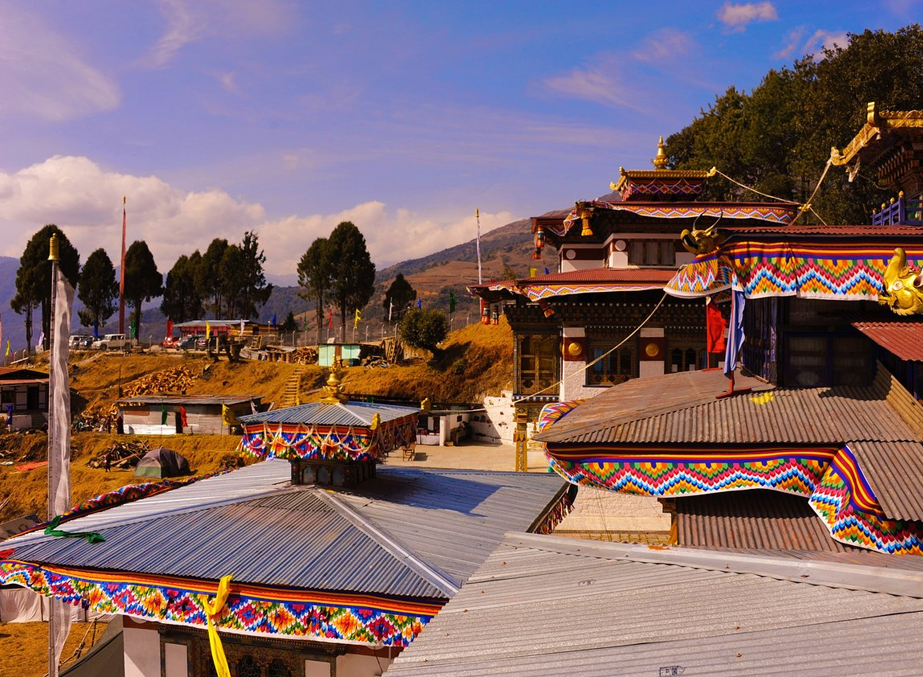 Chendebji resort is counted among a few of the best accommodations in the Trongsa region of Bhutan. It is considered one of the bests because of the comfort it offers with the help of all the basic facilities they can provide. There is a total of 6 rooms in this hotel and each room is of standard size and facilities but the choice between twin size and double beds. Every room comes with an attached bathroom, heater, and limited hours of room service (specifically 6 am to 10 pm. There is parking space, bar, taxi service (chargeable), several activities for the entire family, and roomy space for event management. Apart from that, the restaurant is open for limited hours (6 am to 10 pm) where a delectable meal is served may it be Bhutanese, Continental, Indian, or Chinese.
Nearest attractions- Chendebji Chorten
3. Yangkhil Resort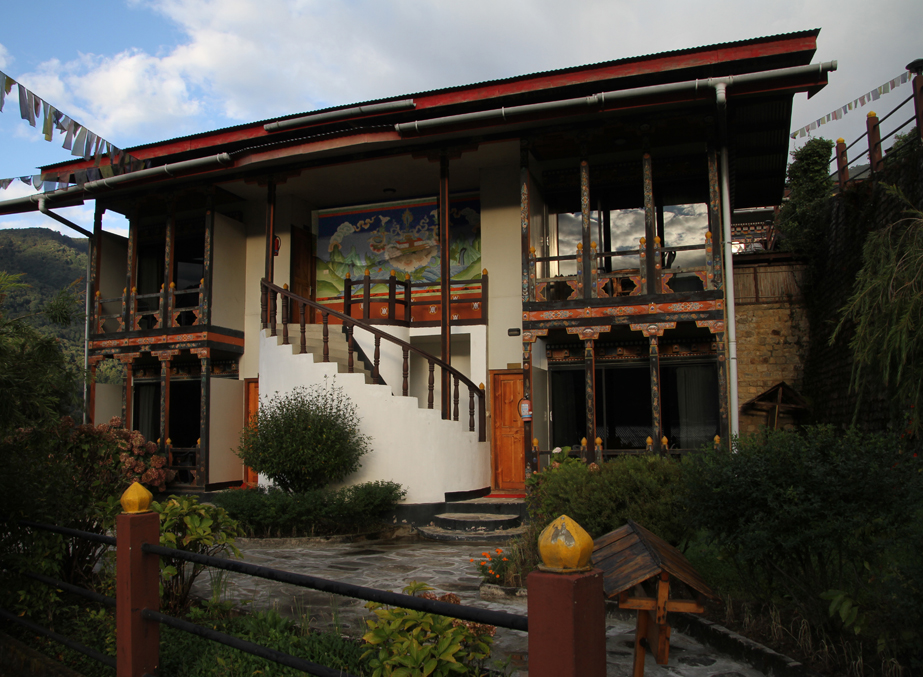 Trongsa is one historic destination where only a few elegant hotels and retreats are situated. Yangkhil Resort is one such classy hotel which is located at a walking distance from the Trongsa town. It was established in the year 2004 and since then, it has been a prominent choice for the tourists. There are about 21 rooms in total that combine modern designs and Bhutanese architecture with perfection. The hotel is surrounded by a lush green garden comprising of colourful plants which is a delight for the guests where they can wander around and observe the scenic beauty of the soaring mountains, fish pond, and Monge Chhu river. Along with that, this non-smoking resort provides its guests with awesome services and activities that make their stay full of solitude and relaxation.
Nearest attractions- Trongsa Dzong, and Taa Dzong.
4. Tashi Ninjey Hotel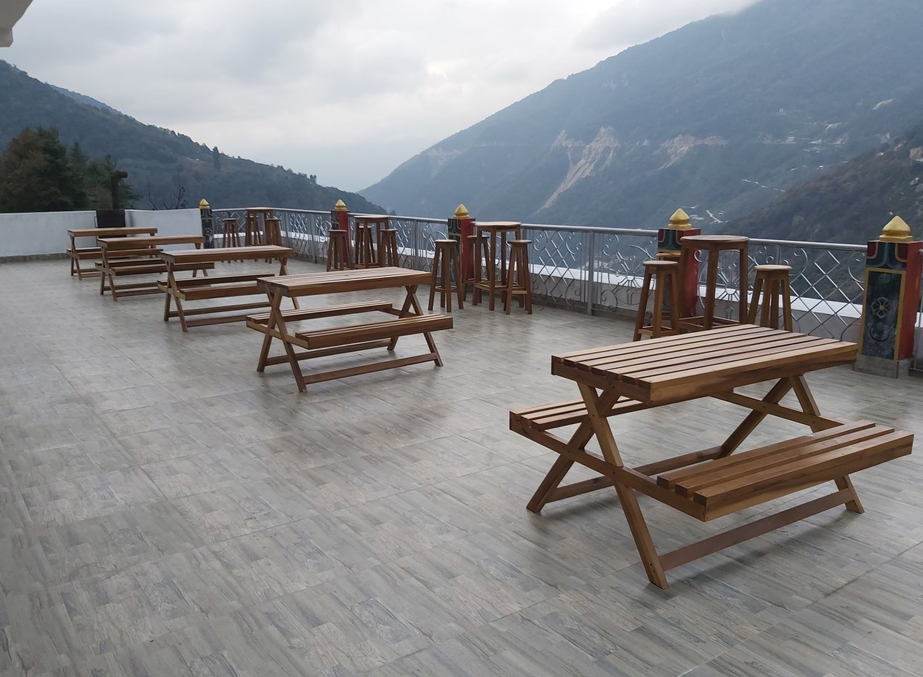 Tashi Ninjey Hotel is not one of the renowned hotels of Bhutan but is a fine one since it was established in April of 2019. Being a new entry to the list of hotels in Trongsa, Tashi Ninjey Hotel has some good services and rightly built rooms. There are many basic amenities provided in the rooms including flat-screen television, bathroom goods, sitting areas, and a balcony from where guests can witness the astounding magnificence of gigantic mountains and verdant valley. Moreover, the hotel has a terrace from where visitors can observe the beauty of sunset and sunrise and a restaurant that serves mouth-watering food belonging from different cuisines such as Bhutanese, Chinese, and Indian.
Nearest attractions- Trongsa Dzong and the Royal Heritage Museum
5. Norling Hotel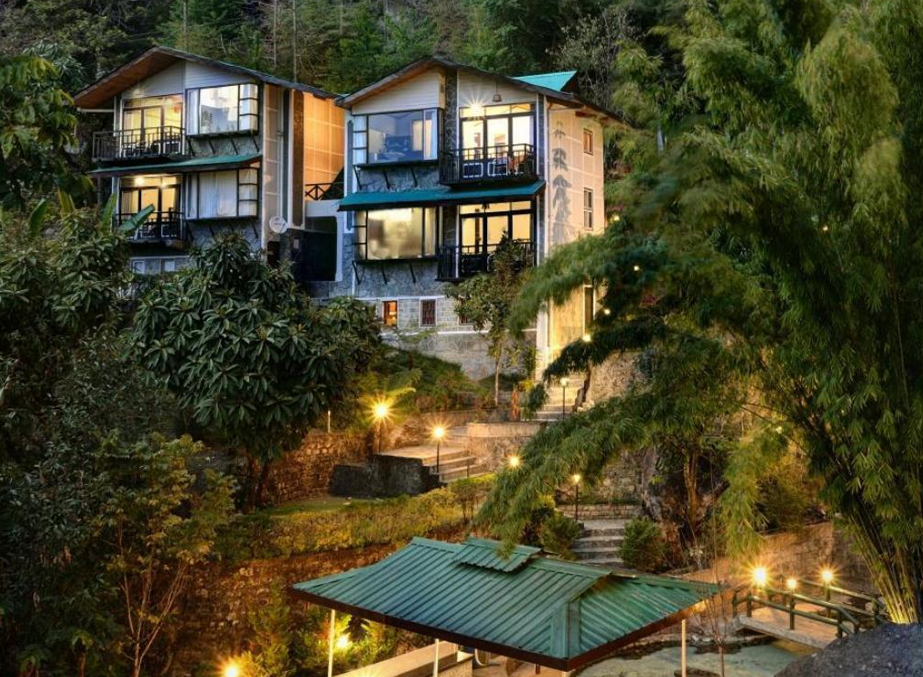 Mostly, there are only one or two tourist attractions in the Trongsa region which is why most of the tourists just stay here for a day or two to seek the serenity of the place. If you are visiting Trongsa just to stop by while on your way to Bumthang, then Norling Hotel is your ideal accommodation. It is one budget hotel where you will find extremely basic facilities such as a heater, room service, and front desk service. Nevertheless, with a minimal price, one can enjoy their stay in the hotel because it is run by the family of the owner who gives their best to make your stay indelible. Moreover, the food served here is pretty nice but value for money.
Nearest attractions- none
Wangdue Phodrang
Wangdue Phodrang is the largest administrative and judicial district (dzongkhag) in the country that covers an area of about 4300 sq km. Most of this region is environmentally protected by the authorities which is why tourists arrive here to enjoy nature to the fullest. Besides, there are several attractions one can find in this paradise that comprises of monasteries, temples, wildlife, and ancient villages. So, there are going to be many hotels in this region but we have some of the most preferred ones listed below.
1. Punatsangchhu cottages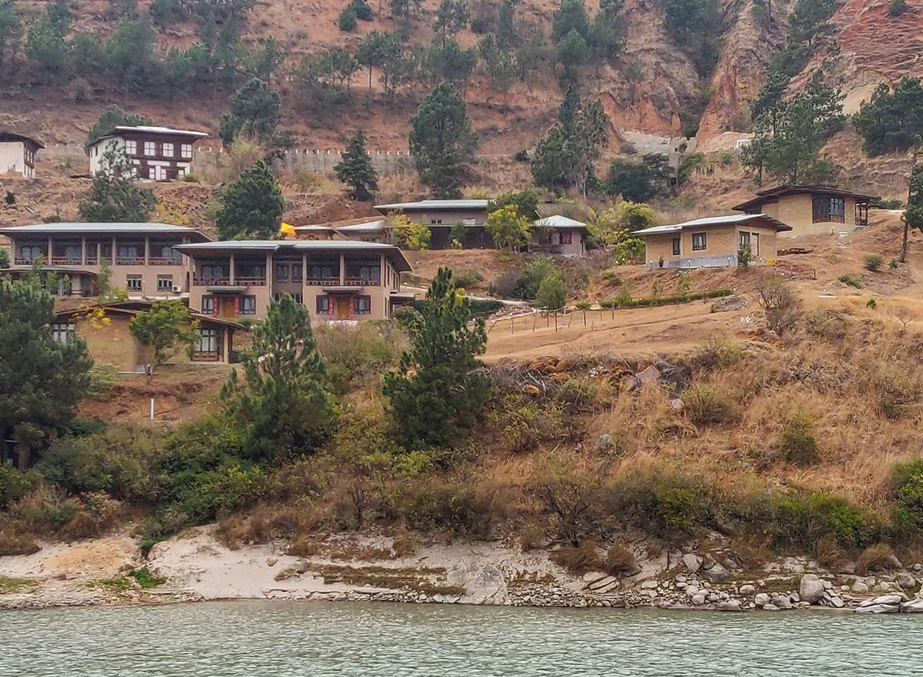 Spread in the area of 18 acres, Punatsangchhu Cottages is located between Wangdue and Phodrang and facing the marvellous view of verdant mountains and the Punatsangchhu river. This cottage will give you a homely feeling because of its well-trained staff who do their best to provide you with everything you need to make your stay as comfortable as possible. There are 28 rooms in this hotel that combine both cottages and twin-size bedded standard rooms. Each room comprises of basic amenities such as room heater, coffee/tea maker, emergency torch, umbrella, hairdryer, and have 24 hours of room service. Besides that, there are other facilities available at this hotel such as there is a business space to arrange meetings, money exchange service in case you fall short of Bhutanese currency, safe deposits at the reception, mini library, and much more.
Nearest attractions- Chimi Lhakhang temple and Sangchhen Dorji Lhuepdrug nunnery.
2. Kichu resort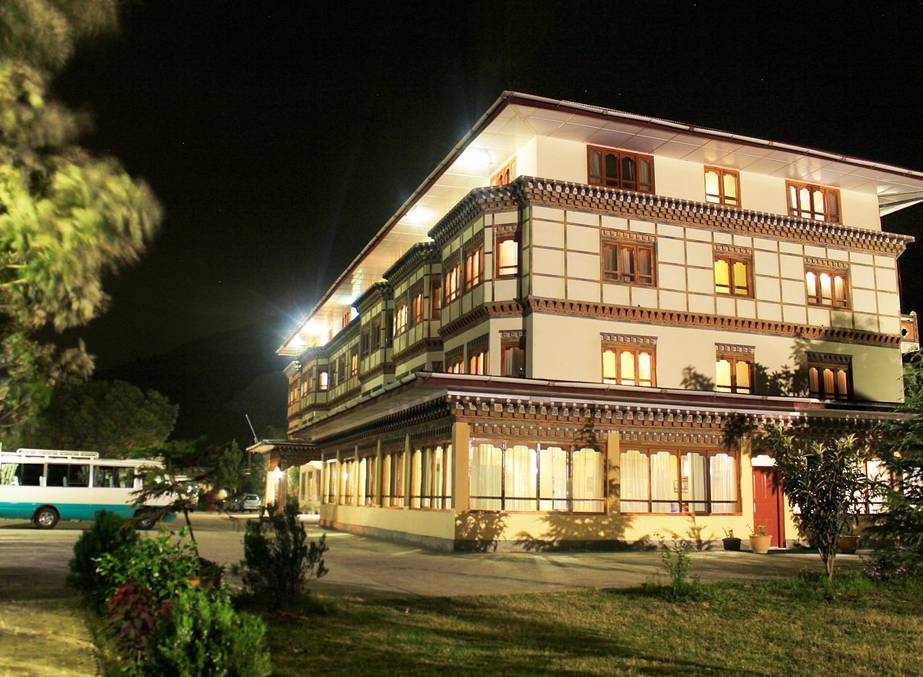 Kichu resort is one attractive hotel especially because of its location as it is situated at an elevation of 5000 ft which is why it has a great view of the Wangdue and Phodrang region. Here, guests will be served with authentic Bhutanese services may it be in terms of the food they order or the designs they witness in the hotel. The rooms provided in this hotel have options between suites and the standard-size rooms with facilities television, sitting area, private balcony, bathroom with bathtub, and many other basic things. This hotel would be best for vegans as it only offers vegetarian food and of different cuisines namely Bhutanese, Indian, Continental, and Chinese. Also, guests who just want to enjoy the property and want to spend the leisure time can occupy themselves in relaxation activities like spa, massage, deluxe therapies, and more.
Nearest tourist attractions- Chimi Lhakhang Temple
3. Dragon's Nest Hotel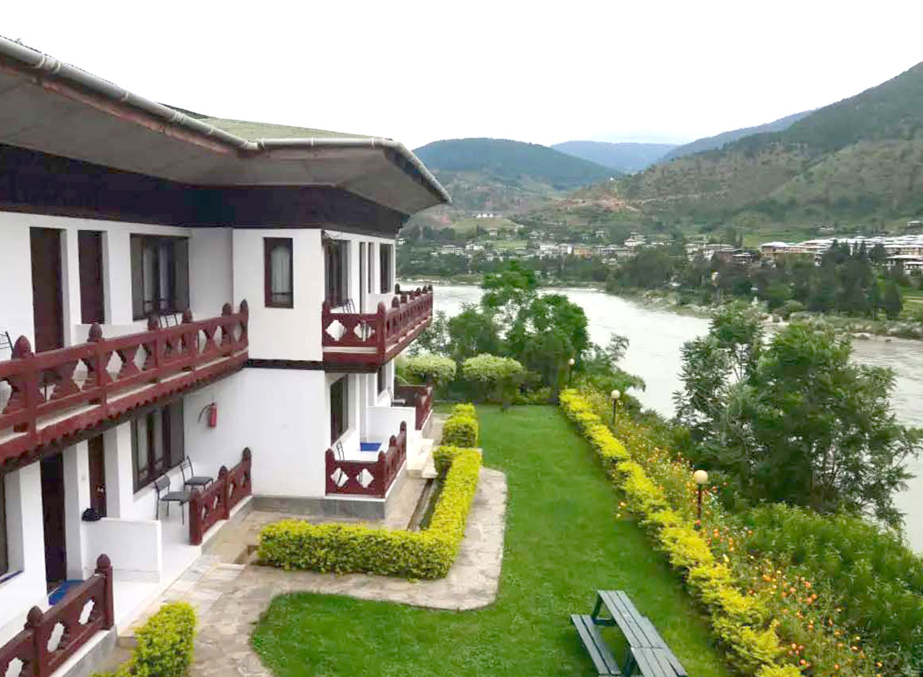 Dragon's Nest Hotel is one of the most amazing hotels in the land of the thunder dragon which has been recently taken over by a big company of hotel management Himalayan Hotels and Lodges. Since it has been transferred to another hand, its services and facilities have been upgraded making everything more luxurious and serene. It is a non-smoking hotel that comprises of rooms having all the basic facilities such as free wifi, private balcony, bar, laundry services and more. Free breakfast buffet and activities for kids are other things that make this hotel more amazing.
Nearest destinations- Chimi Lhakhang Temple and Sangchhen Dorji Lhuepdrug nunnery.
4. Thegchen Phodrang Guest House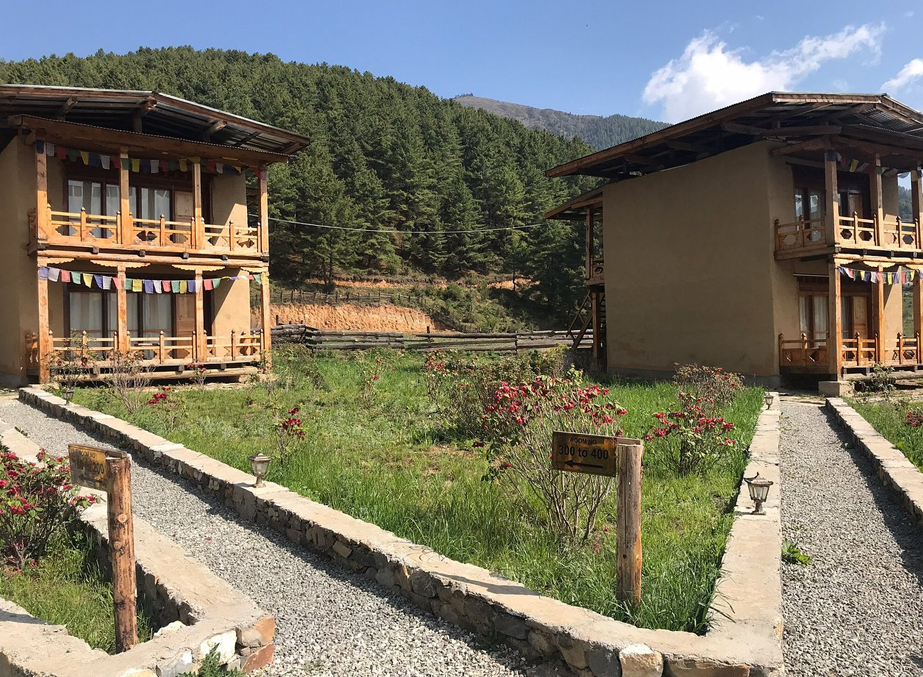 Thegchen Phodrang Guest House is your home away from home which just basic amenities free parking, restaurant, and activities for kids making it an ideal hotel for the entire family who loves everything simple. All the 9 rooms in this guest house are of standard level with facilities like fireplace, kitchen, room heater, and room service. However, all the rooms have a magnificent view from the window which is why people prefer to stay here while their visit to Wangdue Phodrang.
Nearest tourist attractions- Phobjikha Valley and Gangtey Monastery.
5. Dewachen Hotel & spa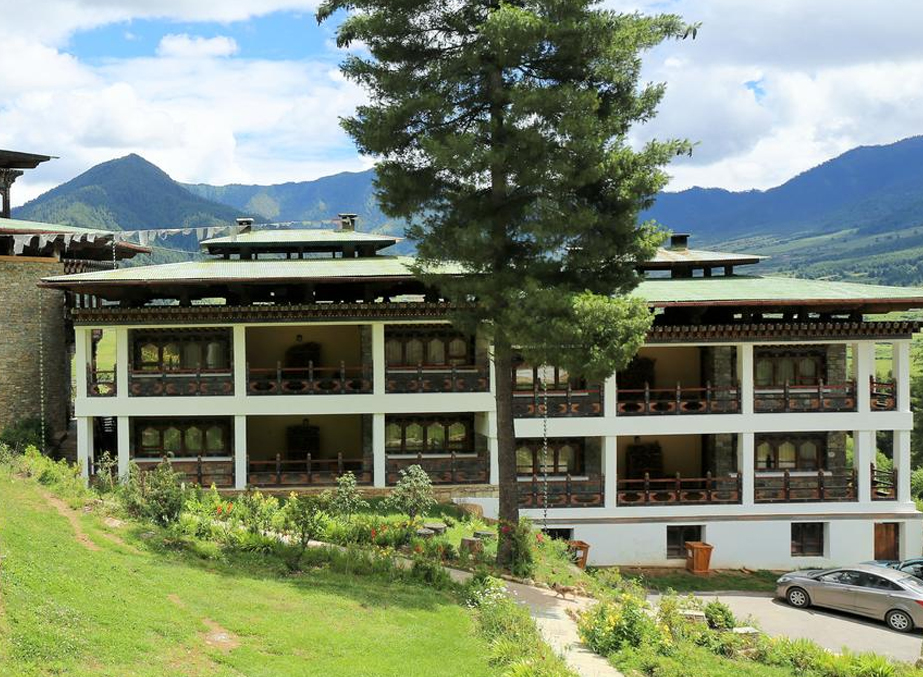 Dewachen hotel is one of the 3-star hotels situated in the Phobjikha valley of Wangdue Phodrang that has about 28 rooms with free wifi, flat-screen tv, coffee maker, daily newspaper, and much more. As the name suggests, the hotel has a relaxation centre where tourists can indulge themselves in the spa and massages to de-stress themselves in the beautiful surrounding and friendly ambience of the hotel.
Nearest tourist attractions- Gangteng Gonpa and Radak Neykhang
By looking at this immense number of options, it can be seen that Bhutan has many wonderful accommodations that allow travellers to stay in the heavenly beauty of the kingdom. So, select your best one and make your stay indelible.

Subscribe to us
Subscribe to our newsletter and stay updated

Request a call back
Our experts would love to create a package just for you!