Places to visit in Bhutan in February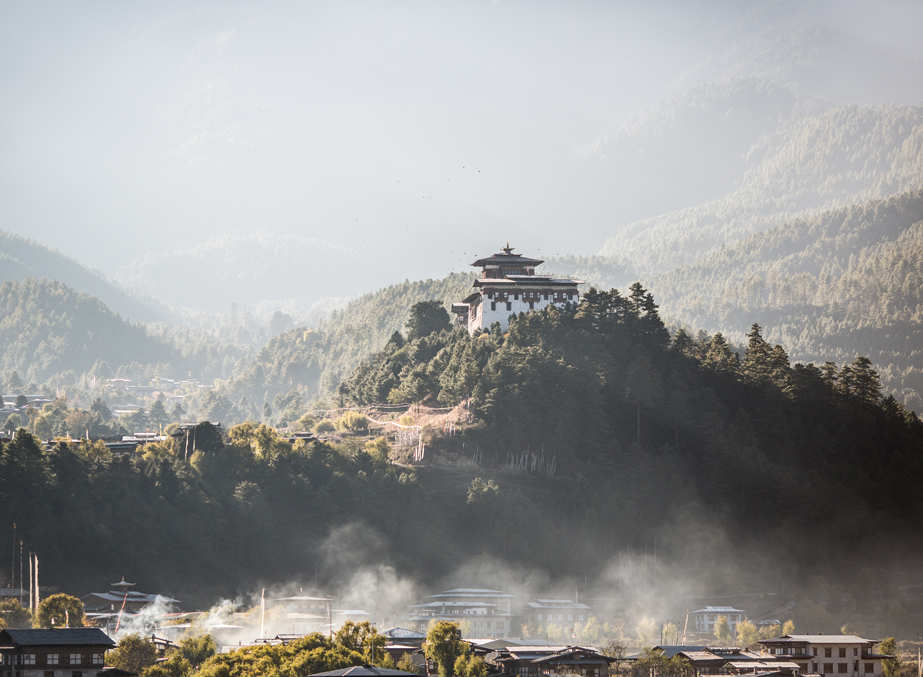 Glimpses of a remote land replete with monasteries, monks, yaks and lots of Buddhist art, this is what Bhutan is in a nutshell. It is not just another place with natural wonders but is the best international tourist destination to visit in February. You can ditch the crowd and enjoy spotting the last of black-necked cranes before they take off for the skies. These are unique to the land and are seen only in the winter months.
You may also experience snowfall when you plan for visiting Bhutan in February which amplifies the entire travel experience. Having said that, there are signs that the spring season is not too far away and the weather starts to get warmer in the way. This lets you make the best of all the sightseeing spots in the country.
Featuring several must-see destinations for travellers in Bhutan in February, the country attracts visitors from all across the globe. Here is a list of all the best places that you must visit on your Bhutan tour in February.
Suggested Read: Things to do in Bhutan in February
Planning to visit Bhutan, here are the best Bhutan tour packages that can be customized according to your requirements.
Best Places to visit in Bhutan in February:
Thimphu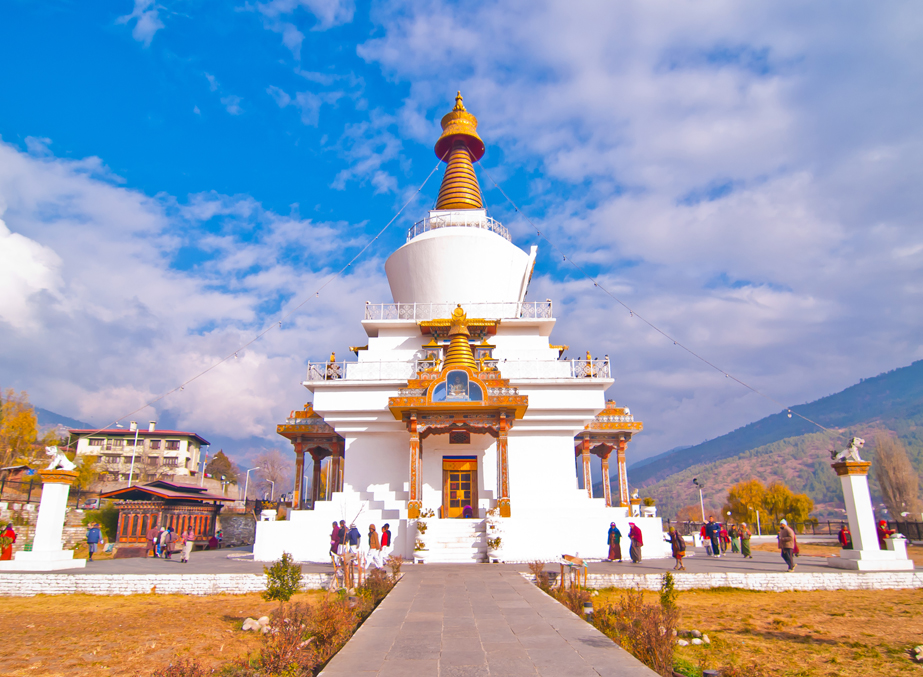 Thimphu is the capital city and it is also one of the most prominent destinations to visit in Bhutan. The city represents a stronghold of traditional Bhutanese art, culture and architecture. The mix of old and new offers a lot of sights and you will find the most impressive buildings you possibly could not anywhere else in the world. The famous Tshechu festival is also held here every year. Thimphu also boasts of the largest sitting Buddha statues in the world. When you visit this pristine town, you can also get personalised stamps commissioned from the General Post Office.
Best sightseeing spots in Thimphu: Tashichho Dzong, Memorial Chorten, Changangkha Lhakhang
Paro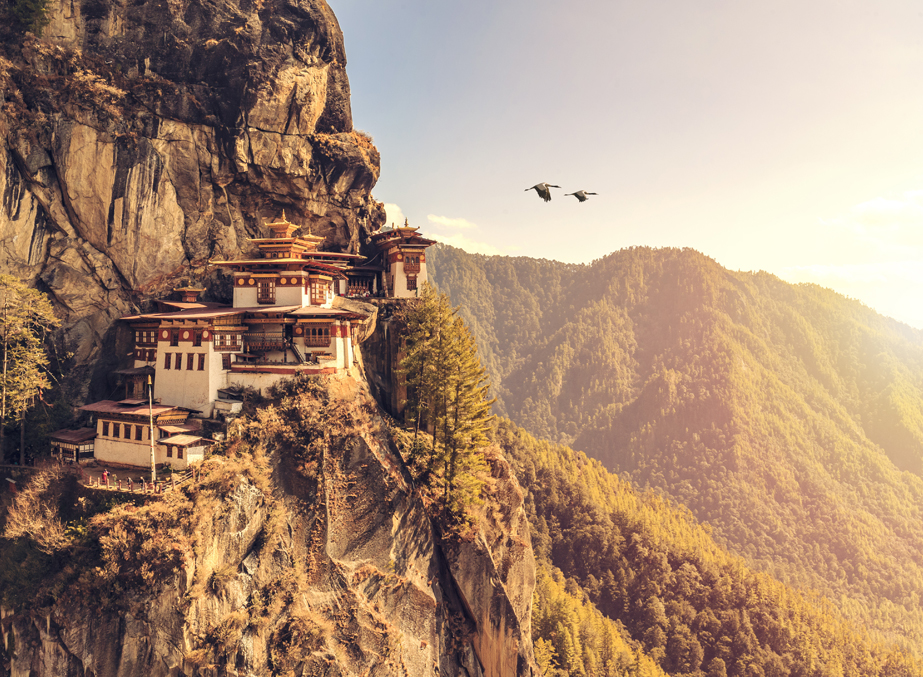 When you plan to visit Bhutan in February, Paro should be among the best locations to visit. It is a land of dramatic terrain where steep mountains are adorned with snow-capped peaks. Here, you can embark on stunning scenic hikes, visit peaceful monasteries and travel along adventure  filled cycling routes. This town is dotted with several historical sites far from the madding crowd. You can choose to soak in the stunning sights and learn about the fascinating tales by engaging with the locals here. The uniqueness of its temples, culture and topography will leave you mesmerized.
Best sightseeing spots in Paro: Kichu Lhakang, Paro Taktsang, Zuri Dzong
Punakha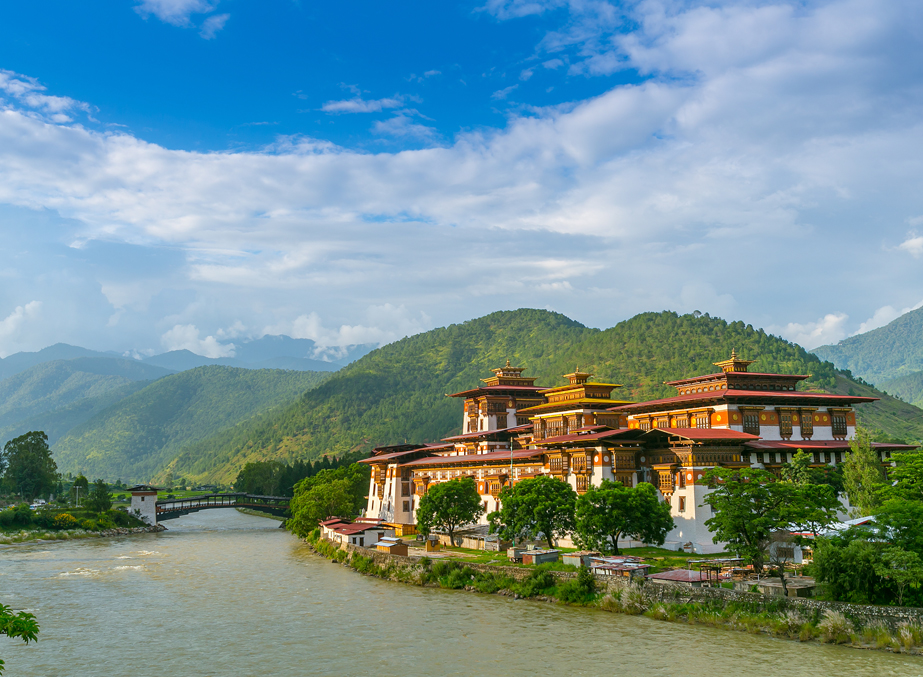 After the extreme months of winter, Nature lovers will enjoy the spring blooms in Punakha which blossom all across the city. This is also the ideal time to visit Bhutan for adventure lovers to go on treks as the weather is pleasant. It is a relatively warm place and resembles the meadows of paradise with several paddy fields. The city is known for its unique techniques for growing rice and during the harvest seasons, tours of the vineyard are popular here. Punakha also boasts of the largest dzong in Bhutan.
Best sightseeing spots in Punakha: Punakha Dzong, Mo Chhu, Punakha Suspension Bridge
Bumthang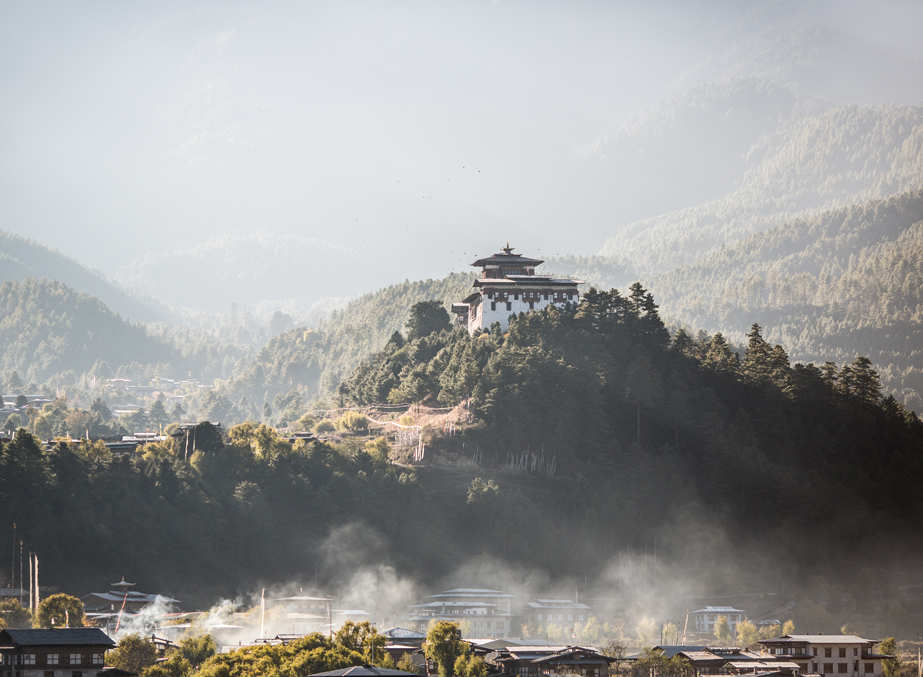 Even though February may still see cold winds blowing, you will experience quite pleasant temperatures in this valley during the day. Opt to go out and enjoy the snowball fights, skiing, sculpturing snowmen and similar other winter activities. Moreover, if you wish to have the place just for yourself, this season is the best to steer away from crowding public. With its centuries-old religious traditions and magnificent architecture, Bumthang is a must-visit place in Bhutan in February. It is the most richly endowed districts with regards to its historical and spiritual legacy.
Best sightseeing spots in Bumthang: Membartsho, Ngang Lhakhang, Thangbi Lhakhang
Gangtey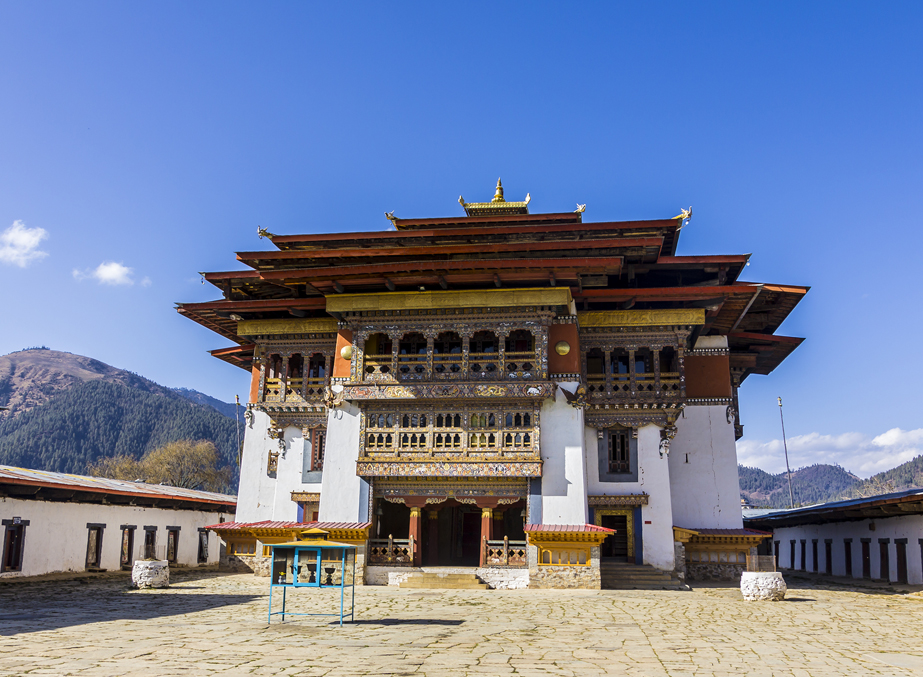 One of the most charming places to visit in Bhutan during winter is the small town of Gangtey. That is because it is the winter home to over 400 highly endangered black-necked cranes. The yaks can also be spotted just before entering the valley. There is very little humidity in the air during the winter months and you will enjoy the views of clear skies and ample visibility. Gangtey is also the only place in Bhutan that has enough space for ballooning. Moreover, you may also want to consider biking when you visit this valley.
Best sightseeing spots in Gangtey: Gangtey Goempa, Black Necked Crane Information Centre, Kumbu Lhakhang
Haa valley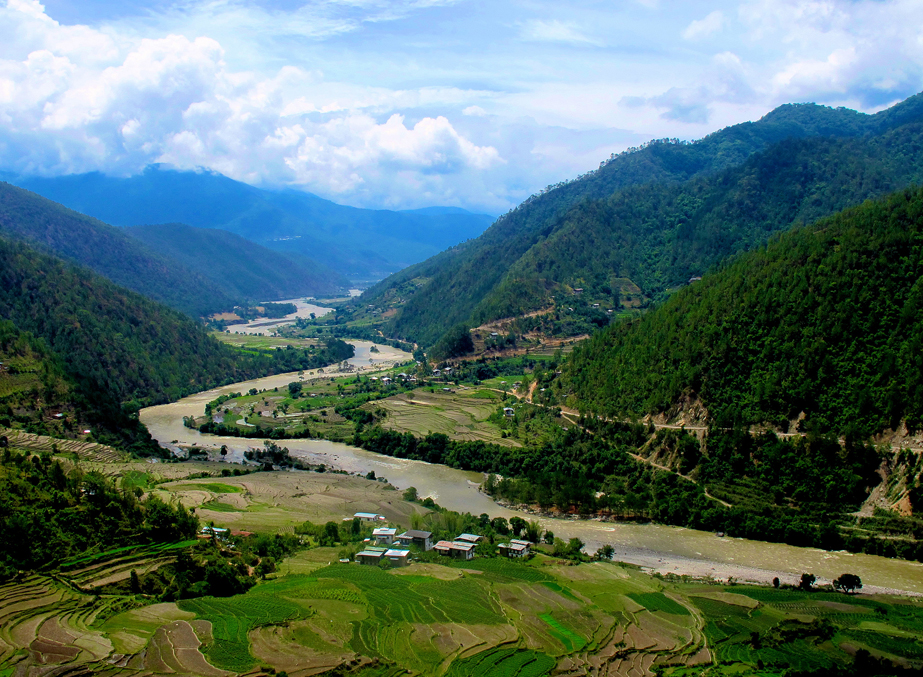 Haa valley is where nature looks its astonishing best, especially in winter. It holds a strategic position as it is set close to the India-China border in Doklam. A horde of seasonal adventures awaits you such as skiing, snow scooter, hiking etc. The valley is bestowed with stunning nature you can enjoy the simple joys of life in its seamless trace farms. If you are planning a trip to Haa Valley in Bhutan in February, carrying gloves, snow boots and warm clothes are highly recommended. The weather is extremely cold and ranges between -15 and 1 degrees.
Best sightseeing spots in Haa Valley: Goembas, Haa Chu river side, Haa Dzong and Haa Dratshang
Gasa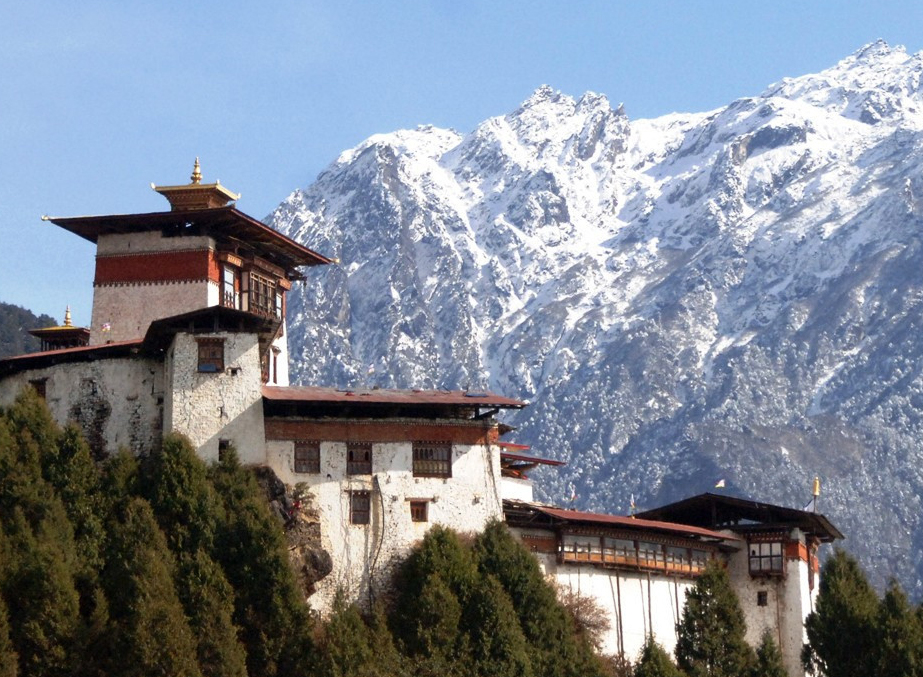 This serene region is one of the most peaceful locations in the kingdom. It has become a tourist destination owing to its pristine forests and the exceptionally scenic location. You must visit Gasa on your winter holiday tour to Bhutan for its healing hot springs. It is famous amongst both, international tourists and Bhutanese all over the country during the winter. You will come across a small pocket of ethnic groups where you can experience the culture of nomads who live amongst the glaciers. They will certainly leave you amazed by their simple living techniques.
Best sightseeing spots in Gasa: Jigme Dorji National Park, Gasa Hotspring, Tongshanjiabu
Trongsa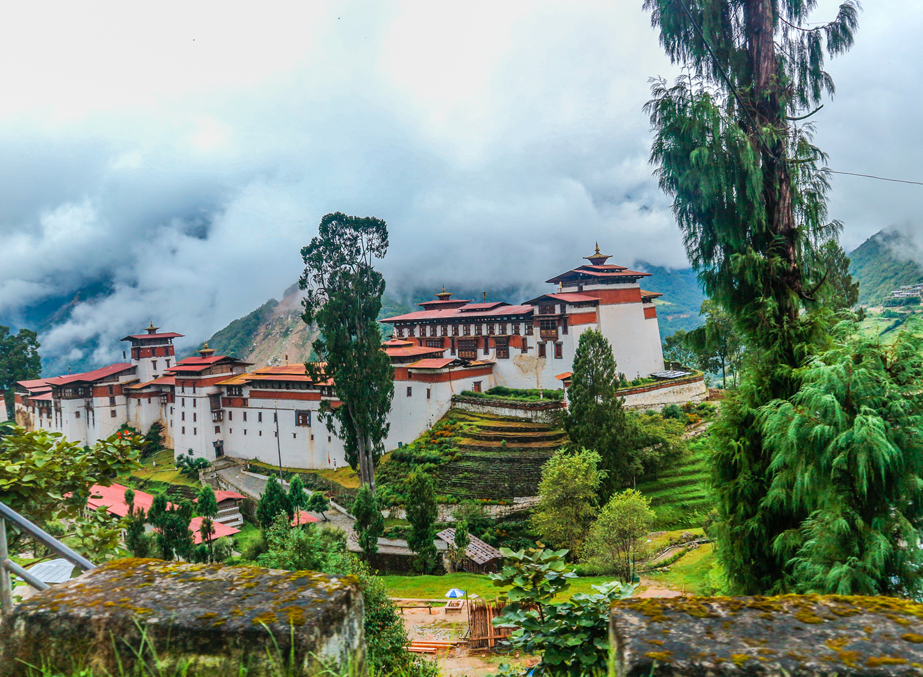 Situated on a steep ridge, Trongsa is that tourist destination in Bhutan for winter holidays that offers extravagant views of the Black Mountains and the deep valleys surrounding it. It is lined with various homestays, hotels, guesthouses and restaurants and all of these provide stunning views from their balconies. Trongsa holds a lot of historic and cultural significance and lies in an environmentally protected zone. With its many attractions, it is also a great destination for shopping for machine-spun carpets and other textiles.
Best sightseeing spots in Trongsa: Chendebji Chorten, The Royal Heritage Museum, Thru Epang Palace
Gelephu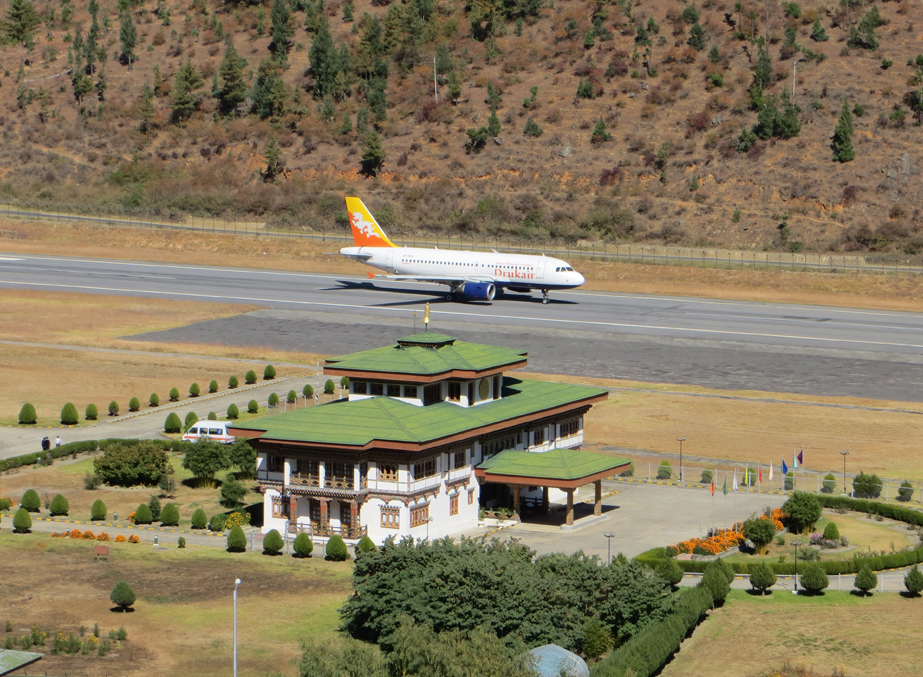 Gelephu proves to be a treat for both nature-lovers and history buffs. It will feel as though time moves at a slow pace here. It is popular for being home to one of the most outstanding natural reserves. Certain animals and plant species that are not found anywhere else can be seen here, especially during winters. The season also makes you feel very hungry and there are a lot of fruits and fresh produce markets for all the foodies out there.
Best sightseeing spots in Gelephu: Toorsa Reserve, Phibsoo Wildlife Sanctuary, Thursday Market in Dathgari
Wangdue Phodrang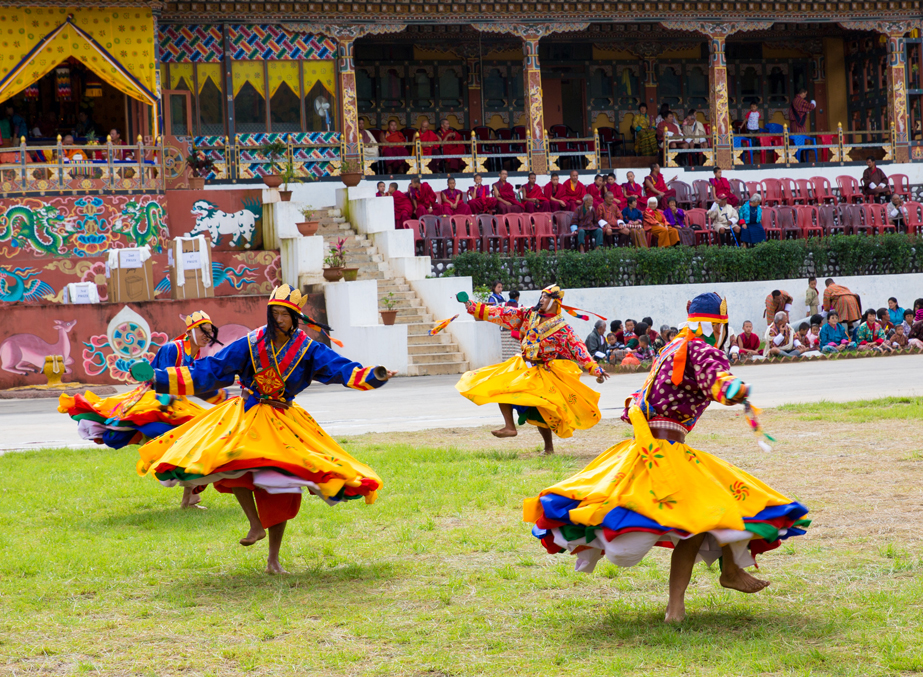 Wangdue Phodrang suits the taste buds of not only the nature lovers but also those who seek for a cultural experience as well. It provides plenty of scope for the spiritually inclined soul to visit various monasteries and temples. It is the best destination to explore in Bhutan during winters as it is one of the very few glacial valleys in the country. It is also one of the most significant wildlife preserves of the nation. This allows it to be the host of a number of varied plant and animal species.
Best sightseeing spots in Wangdue Phodrang: Phobjikha Valley, Dochu Pass, Sankosh Riverside
Trashigang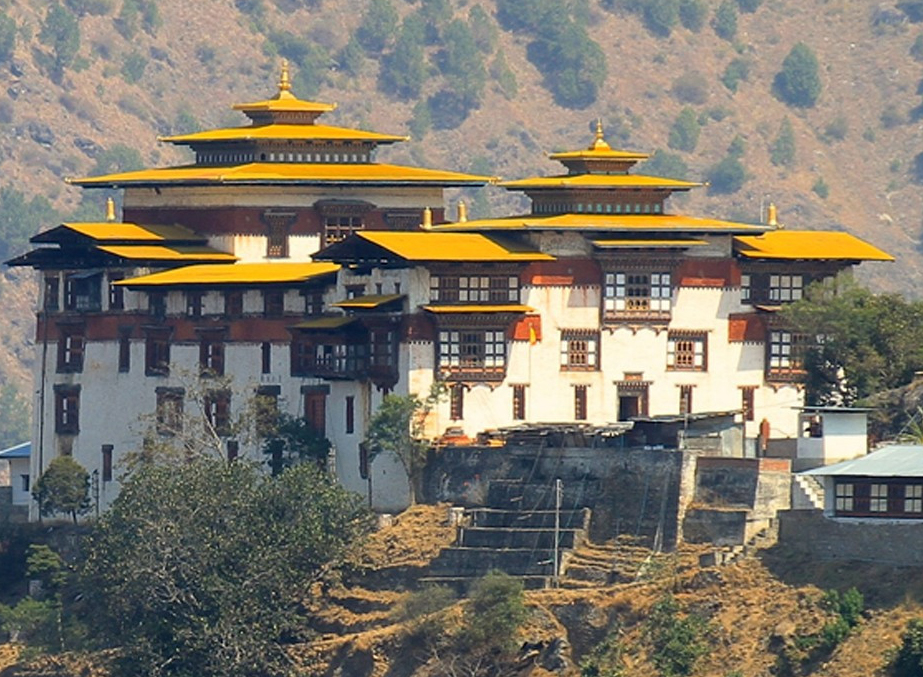 This town is where Bhutan's largest river flows from- the Dangme Chhu. Many of its villages are set on a small alluvial plain overlooking the river. Bounded by rice fields and clumps of banana trees, Trashigang looks like an oasis in an arid landscape. What makes this town special is that their locals have a unique way of dressing that stands out from the rest of the ordinary Bhutanese crowd. It is surrounded by mountains on all the sides and offers a panoramic view of the area.
Best sightseeing spots in Trashigang: Trashigang Dzong, Yonphula Lhakhang, Chador Lhakhang
Phuentsholing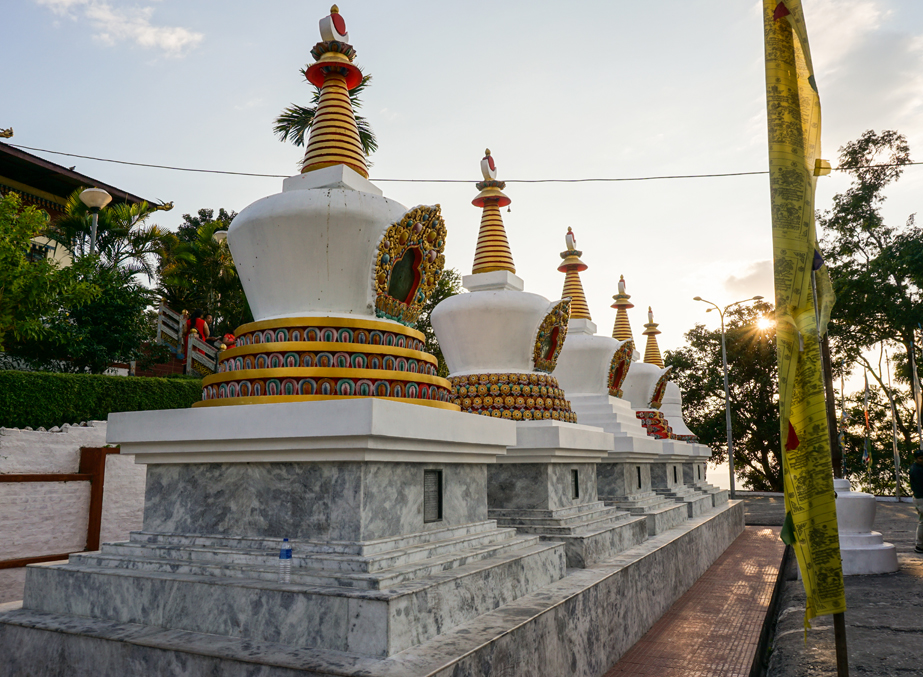 The perfect mix of traditions, modern life, beautiful landscapes and culture, Phuentsholing offers unexplored landscapes and natural scenic beauty. Here you will find a lot more to do than what meets the eye. You can see several Buddhist monks chanting hymns in a continuous rhythm early in the mornings. It is also one of the most photographed attractions in the country. For shopaholics, there is a great shopping opportunity as well at the winter flea markets where you can buy home décor items along with bronze and brass idols.
Best sightseeing spots in Phuentsholing: Zangto Pelri Park, Karbandi Monastery, Torsa River Side
With the philosophy of Gross National Happiness, Bhutan is the ideal place for a holiday in February for those who are looking to completely disconnect from the clutter of the world and connect with themselves. So pack your bags and head to experience this beautiful country and all its offerings.

Subscribe to us
Subscribe to our newsletter and stay updated

Request a call back
Our experts would love to create a package just for you!