Bhutan in Autumn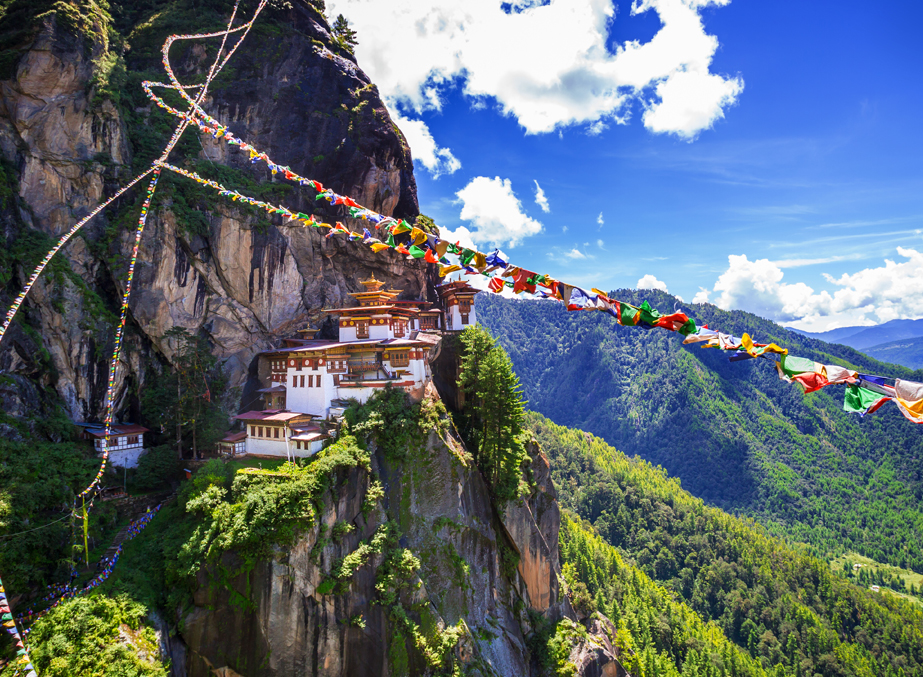 As the playful summer tends to leave while leaving a sweet note for the hazy winter, it is the autumn season that repaints Bhutan with its prismatic colours! Starting with the month of September, autumn or fall in Bhutan is an extremely merry affair. This is the season that animates the entire country into a dreamland. This is the season that shows how life continues even after shedding its colours and vibrancy.
If you want to revel in the true beauty of Bhutan, and how the Land of Druks embrace life in all forms, you must plan a trip to this country during autumn or fall season. As this season takes the entire country in its grip, it gives birth to an amazing as well as pristine outlook that can soothe away all the weariness of life. Well, enough said about autumn in Bhutan, it's high time now, let's have a look at places to visit and things to in Bhutan in autumn and plan holidays accordingly!
Places to Visit in Bhutan in Autumn
Phobjikha Valley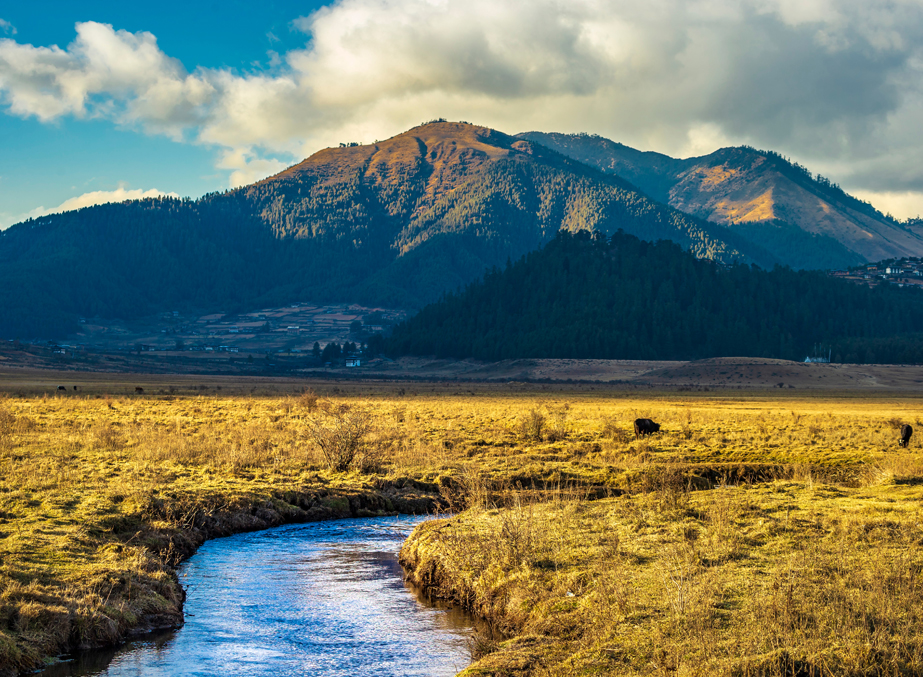 A u-shaped valley that also resembles to the shape of a bowl, Phobjikha Valley in Bhutan is a must visit place in autumn. Known for its rich scenic beauty, this surreal valley embraces the onset of autumn in the most livelier ways possible. With the nature welcoming new lives all around, the valley turns into a prismatic display of colours and festivities.
Among all the places to visit in Bhutan in autumn, Phobjikha Valley has earned an unmatched fame for various reasons; the migration of endangered Black-Necked Cranes is one of them. If you happen to be in this scenic valley by the mid of November, you can be a part of the renowned 'Black-Necked Crane Festival' which is celebrated vigorously to welcome the returning of these rare birds to the valley. Traditional dance performances by children in crane's costume is one of the most delightful sites of this festival.
Bumthang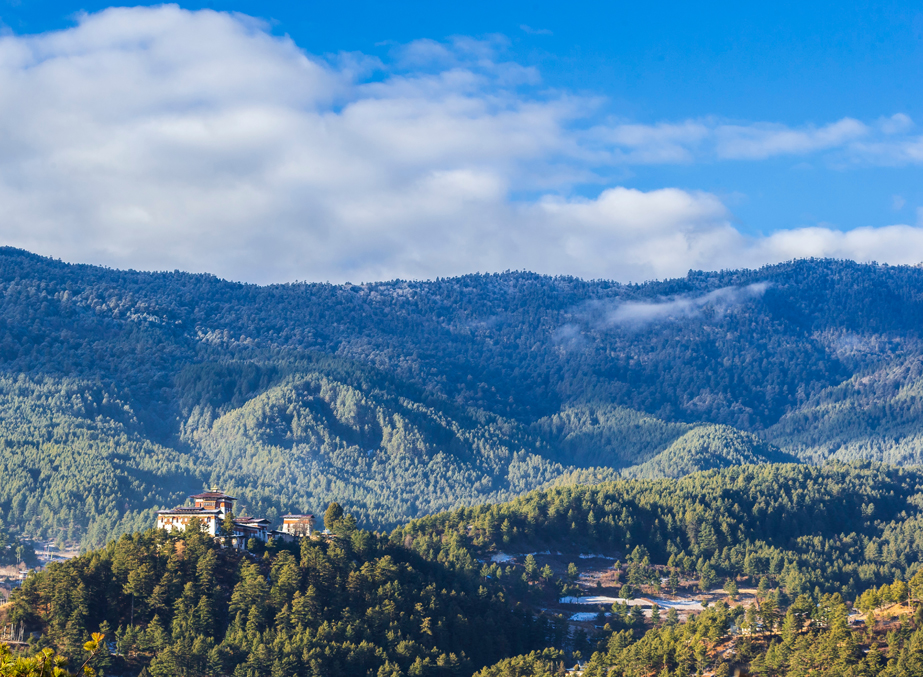 An amalgamation of four pictorial valleys – Chokhor, Chhume, Ura, and Tang, Bumthang Valley is among the most rustic places to visit in Bhutan in autumn or fall season. This is the place that was once accessible only by foot or by mules. However, if you find yourself in this valley at the present times, you will surely get introduced with a hidden world which has been long unknown to the outer world.
Home to some of the oldest Buddhist sites and temples, Bumthang Valley is revered to be the origin of Buddhism in the Land of Druks. Even today, you can find a unique sense of spirituality and serenity all across this valley. Adding to this, as autumn also marks the beginning of harvesting season, this valley will surely hold you mesmerised with its apple orchards, rice plantations, buckwheat fields, and other important agricultural produce.
Trongsa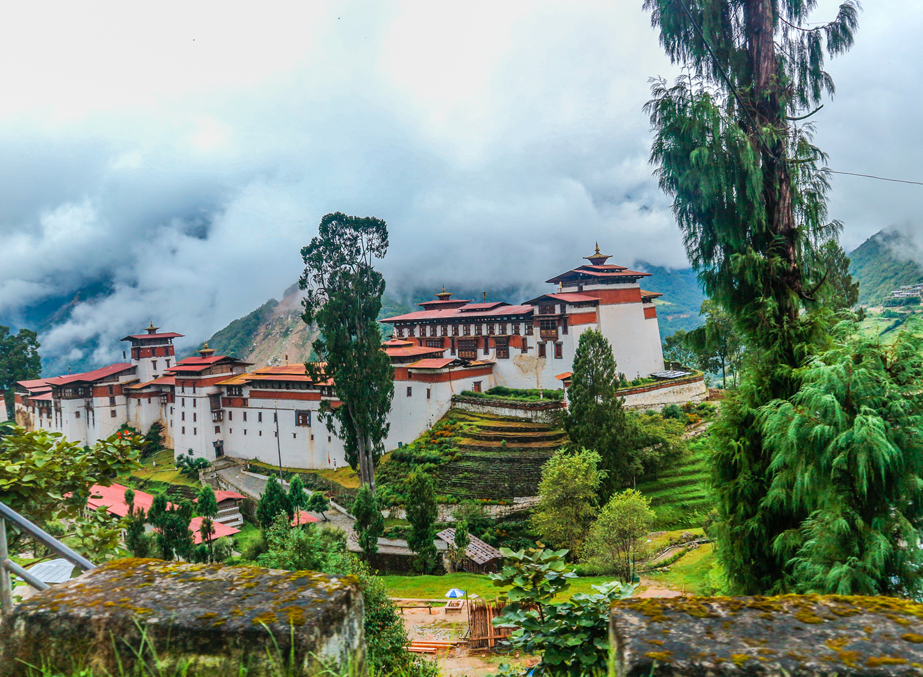 A picture-perfect destination in Central Bhutan, Trongsa needs no introduction! Located almost at the centre of the country, this town is closely associated with the royal families of Bhutan. It is said that before becoming the king, or even before getting named as the crown prince, the members of Wangchuk dynasty should serve as the governor of Trongsa.
Tucked away amidst high mountains, this sleepy town is a promising destination to witness traditional Bhutanese lifestyle. Be it the houses or marketplaces, everything here resonates traditional style and architecture. Houses and shops in this town are usually whitewashed, and have potted plants or gardens around them. All these surely sum up for a lively site and soothing experience.
Thimphu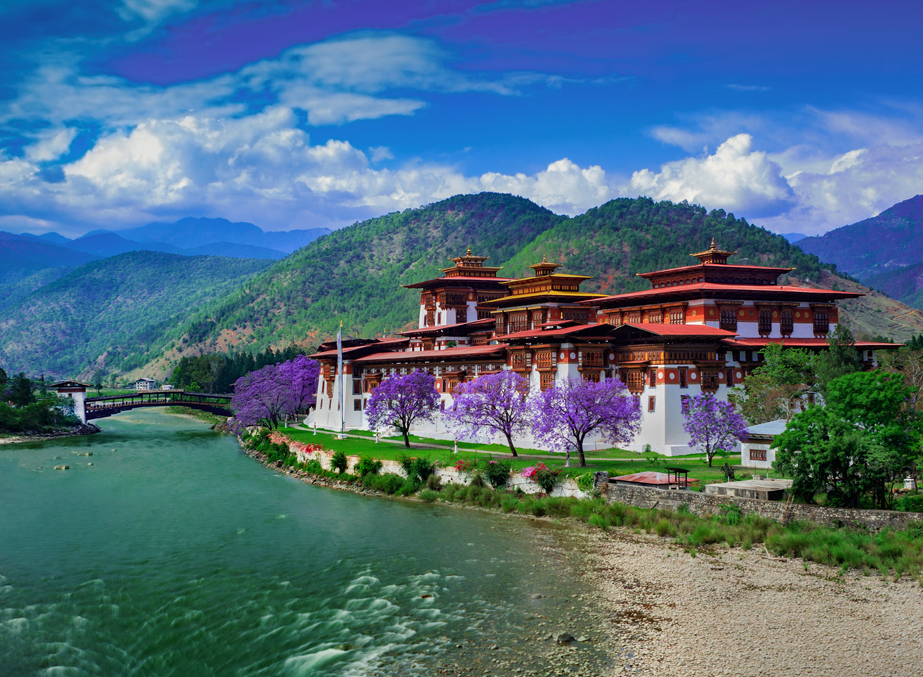 Needless to say, but Thimphu, the capital city of Bhutan is a year-round destination. You may now ask, what's so special about visiting this gorgeous city during autumn season? Well, even though the capital of Druk Land can be visited throughout the year, autumn has its own charm and fiesta.
Visiting Thimphu during autumn season curates for an extremely delightful experience. During this season, the city seems to get illuminated by Mother Nature herself. With a freshness everywhere, the city and its surroundings come back to life after the harshness of summer. And by the end of autumn, the city starts welcoming the crispiness of Bhutanese winter. If you are searching for places to visit in Bhutan in autumn, Thimphu will cater to all your needs.
Sarpang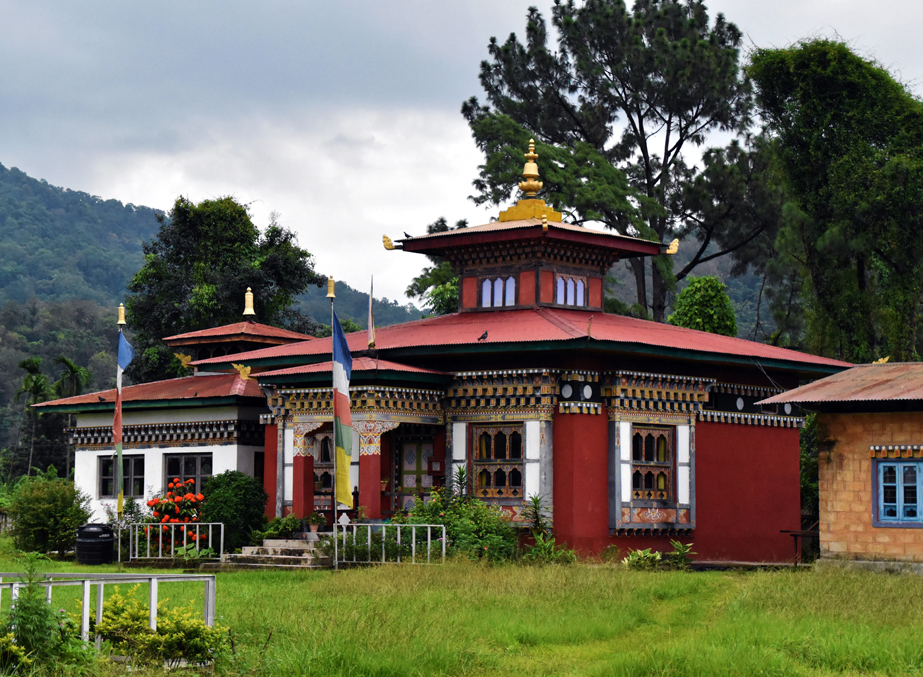 This is one of the smallest towns in Bhutan that boasts of being one of the most diversified locales in the country. Inhabited mostly by several ethnic groups, Sarpang offers much of a cultural experience to its visitors as it is the home to some of the ancient ethnic groups in the Land of Thunder Dragons.
Another interesting fact about Sarpang is that most of its regions has been declared as environmentally protected areas. Owing to its lush and pristine outlook, it also houses a wide range of flora and fauna. Whether you are nature lover or leisure seeker, you would surely enjoy your stay in Sarpang.
Paro Valley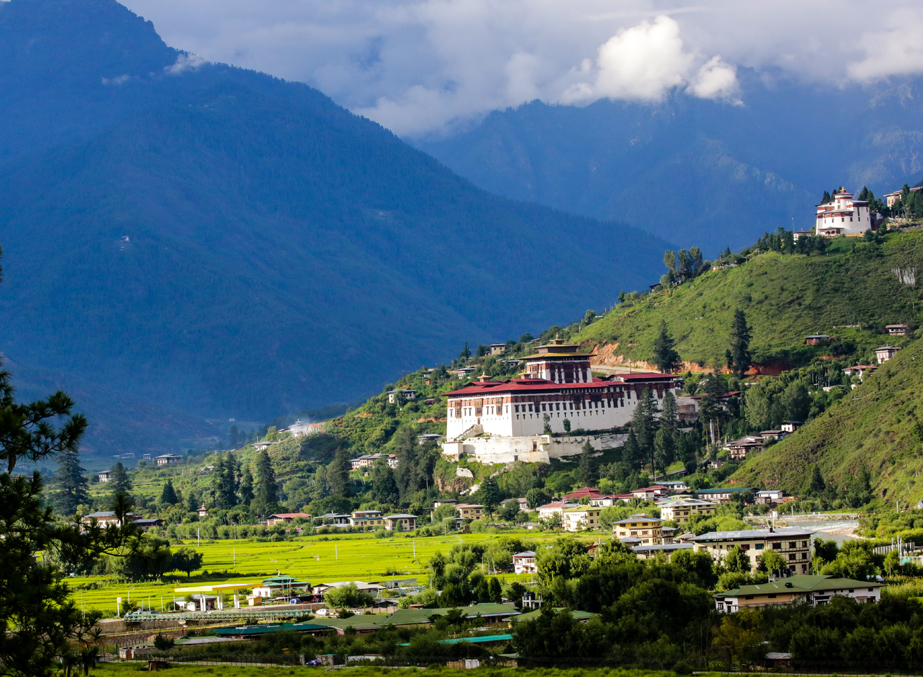 Paro Valley – the abode of esteemed Paro Taktsang or the Tiger's Nest Monastery is also one among the best places to visit in Bhutan in autumn. A jewel in Western Bhutan, this valley is located around 65km (or 1 hour's drive) away from Thimphu, and also makes it for an ideal place to visit with family and friends.
Soaked with almost all the natural marvels and numerous religious sites, Paro Valley has earned the fame of being a devout pilgrimage as well as an emerging tourist site. As autumn starts spreading its beauty, the entire valley showcases a livelier display of colour and nature's untouched beauty. Visit this scenic valley in autumn, and you will find a promising list of reasons to fall in love with Bhutan and its wonderful cultures and traditions.
Things to Do in Bhutan in Autumn
Attend Bhutanese Traditional Festivals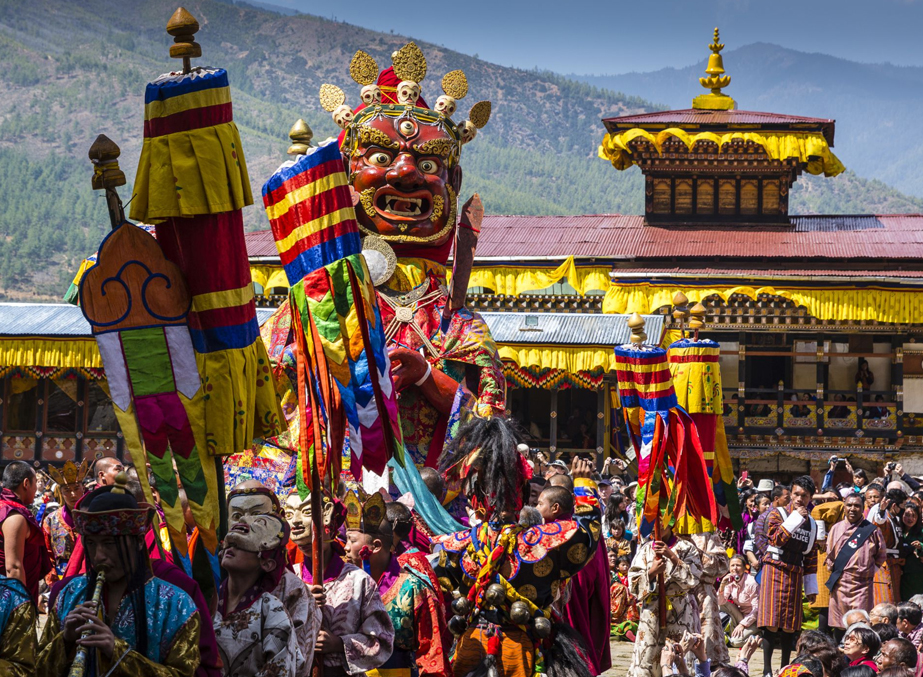 Autumn is an excellent time to visit the Land of Thunder Dragons and be a part of its many festivals. Irrespective of which part of the country you are in, you would always get to indulge in some of the most celebrated festivals in the country.
To name a few, there are Thimphu Tsechu, Wangdue Tsechu, Prakhar Tsechu, Mongar Tsechu, and lot more. Doesn't matter which of the festival you want to adore in, each of these festivals serve as ideal ways to have a livelier glimpse of Bhutan's local life, cultural values, spirituality, and lot more.
Be a Part of Black-Necked Crane Festival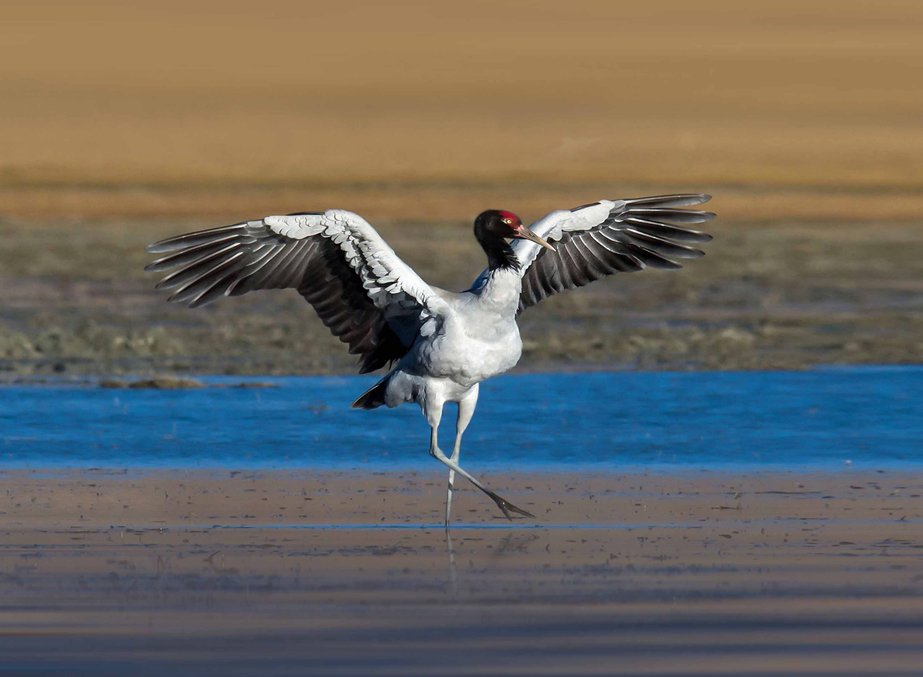 Come autumn, especially November mid, you should pack your bags and head towards the captivating locales of Phobjikha Valley. This is the place that hosts the annual Black-Necked Crane Festival to mark and celebrate the migration of the endangered Black-Necked Cranes in the valley.
Celebrated around the Gangtey Goenpa, this festival depicts how holy these rare species of birds are for the Bhutanese locals. Conservation and preservation of these birds are also highlighted during this annual celebration. In fact, within the few months of autumn, locals of Phobjikha Valley develop as inseparable bond with these birds and fulfils every bit possible to contribute towards their conservation. During this festival, locals come out wearing crane themed getups and perform crane dance, mask dance, and other traditional performances.
Participate in Enthralling Treks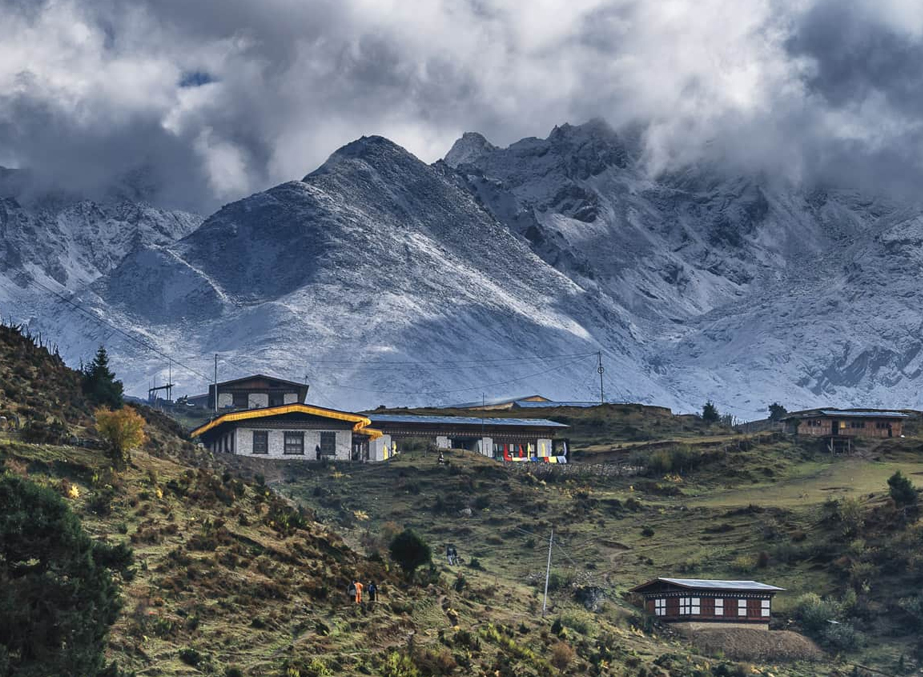 With the arrival of autumn, Bhutan becomes a hub spot among the adventure seeker; especially the ones who loves to trek. Autumn is the time when the atmosphere gains more clarity, temperature starts dipping down, and the visibility around the vicinity gets better.
Owing to all these, adventure lovers flies down to Bhutan to participate in treks like Mount Jomolhari, Dagala Trek, Druk Path Trek, and lot more. Taking the trekkers through a varied terrains and trails, these treks are the most wonderful ways to encounter and witness the scenic marvels of the Druk Land.
Visit Paro Taktsang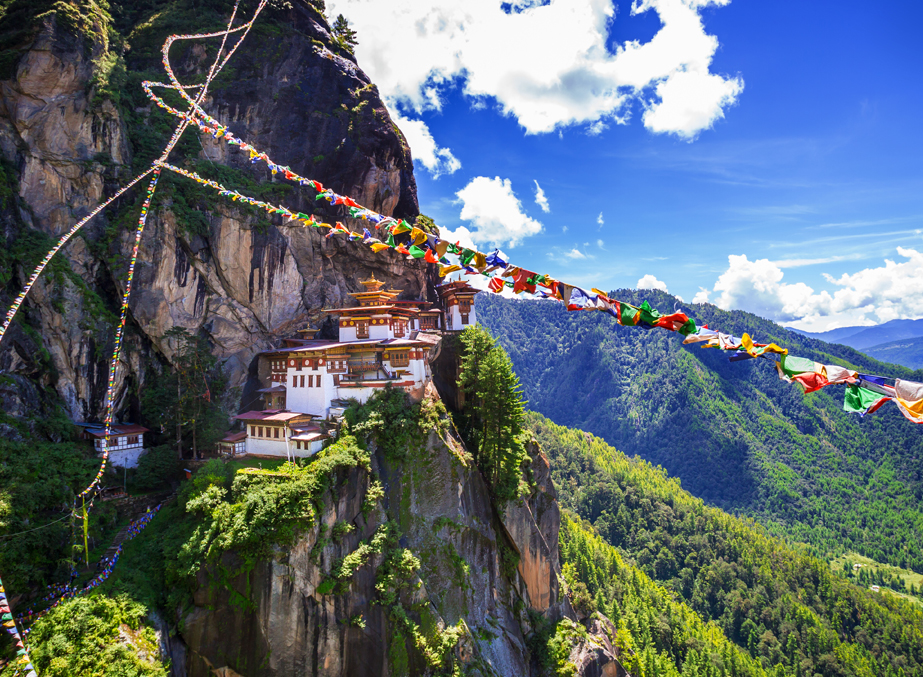 Well, if you are looking for best places to visit in Bhutan in autumn or things to do during this season, you should not miss out the Paro Taktsang! Also known as the Tiger's Nest Monastery, this scintillating monastery seems to be hanging down from a cliff, and makes it for an amazing trekking experience for the visitors.
Accessible through a short trek, this monastery has many legends associated to it. One of the popular legends say that it is the site where Guru Padmasambhava arrived on a tigress's back, and started preaching Buddhism in the valley. It is also said that after arrival, the Guru even subdued a local demon with the tigress being his consort.

Subscribe to us
Subscribe to our newsletter and stay updated

Request a call back
Our experts would love to create a package just for you!