Luxury stays in Bhutan
Planning your trip to Bhutan? That is quite a wonderful decision for travellers who are seeking the tranquillity of the silent environment of mountains where they can unwind themselves from the physical and emotional hustle of the everyday whirlwind schedule. Bhutan is a one-stop tourist destination where travellers pay their visit just to sink into the majestic Himalayan beauty, outstanding culture, and astoundingly huge respect of people for their religion and tradition. Apart from these obvious reasons, there are many other reasons which make this country an ideal destination for your vacation.
Bhutan is a very conservative country with the least modernization. However, it does not mean that tourists who are planning to visit this heavenly country for their expedition need to compromise with their luxury. After all, an indelible tour largely depends on luxurious factors of the trip, especially the accommodation you will stay in. Therefore, to ease your work, we have rounded up a few of the most opulent resorts in Bhutan that will provide you with the luxurious experience you are expecting to have on your trip.
1. Gangtey Lodge, Gangtey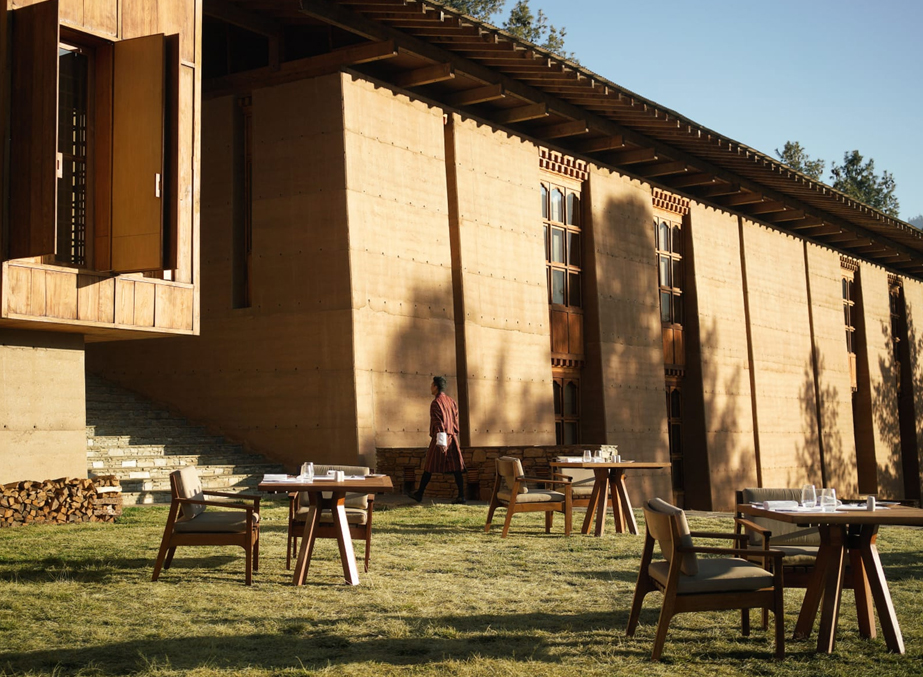 On top, we have Gangtey Lodge which is one of the most well-known hotels of Bhutan as it is recognized amongst the top 5 resorts in Asia and is ranked at number 26 in the list of the 100 most amazing hotels of the world. The best thing about this hotel is its location as it is situated in the well-protected area of the isolated Pobhjikha region of Gangtey which is also the home of a famous black-necked crane.
Gangtey Lodge is a perfect combination of leisure and luxury as there are loads of things one can enjoy. There are only 12 rooms in the hotel with a choice of either king-size or twin size bed or a personal space for bathtubs and firewood. The hotel has a stone exterior which gives it a very elegant look. Also, guests who plan to stay here can take part in in-house activities may it be archery, mountain biking, or meditation.
2. Amankora, Punakha
Another most amazing resorts in Bhutan is Amankora which is situated in the heart of the magnificent Punakha valley. Amankora is overall a beautiful hotel with every tiny bit of luxury including WiFi, swimming pool with crystal clear water, relaxing personal hot spring, and restful spa. Except for that, what makes this hotel stunning is its surroundings as it is encircled by nothing but a speechless view of the valley which is loaded with greenery and beauty of the Himalayan mountains.
Amankora, literally meaning 'Peace Pilgrimage', is an ideal hotel for tourists who want the famous attractions at a stone's throw as it is situated at a location that is close to several famous tourist attractions of the Punakha valley.
3. Le Meridien Paro Riverfront, Paro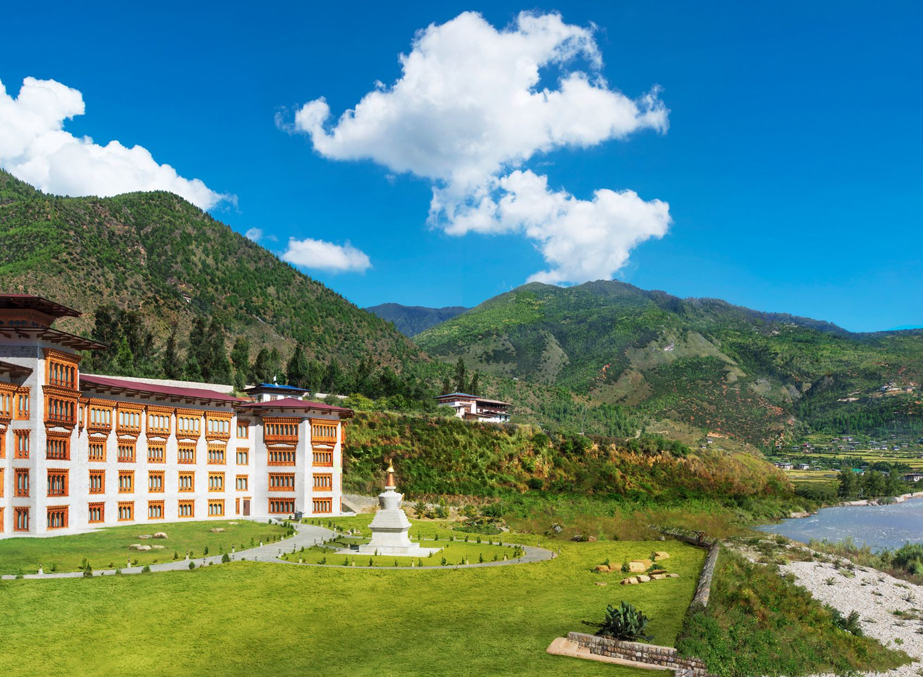 Paro, one of the most magnificent cities in the world, is the only place in Bhutan where an international airport is situated. Just about 10 minutes away, there is a luxurious hotel named Le Meridien Paro Riverfront which is renowned for its blend of rich culture and extreme comfort. The property is located at the bank of river Paro where visitors stop-by to observe the spellbinding view of snow-capped mountains and majestic valley embellished by the magnificence of the river. As far as guests are concerned, the hotel provided its visitors with an unforgettable experience as it offers spa treatment, indoor hot spring, fitness centre, and scrumptious food.
Tourists can visit Le Meridien Paro Riverfront without any difficulty as the hotel provides free shuttle service from the airport. Besides, there are about 59 guest rooms, 7 suites, and 612 square meters of huge meeting space in the hotel with wonderful staff service which contributes to offering a stupendous stay in the hotel.
4. Dhensa Boutique Resort, Punakha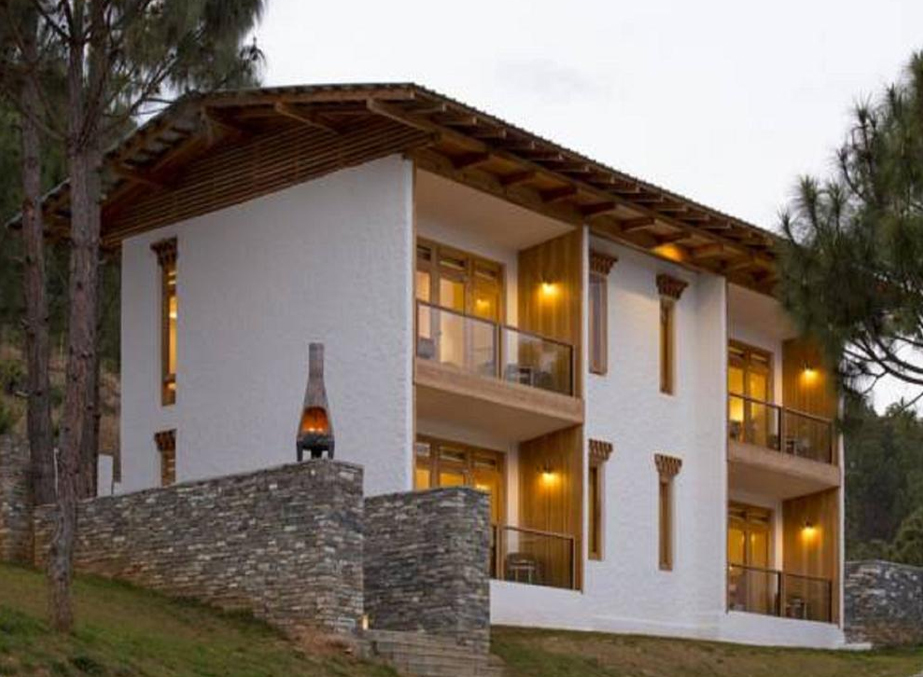 Dhensa is another splendid location for people in search of a deluxe hotel that rests in the middle of the heavenly valley of Punakha. Dhensa Boutique Resort is surrounded by huge pine forest and overlooks a picturesque view of the location with lasting scenery of lush green mountains and gushing water of the river. The staff of Dhensa keeps everything simple yet outstanding as, within the magnificent Bhutanese architecture, there is a contemporary concept the visitor's encounter.
Tourists who wish to relax in the property can de-stress themselves with yoga and spa treatments and, apart from that, there is an idiosyncratic wood-fired outdoor pool to relax in. Moreover, this hotel is a perfect place for adventurous guests as the premise is surrounded by famous hiking points including Sangchhen Dorji Lhuendrup Lhakhang Nunnery.
5. Zhiwa Ling Ascent, Thimphu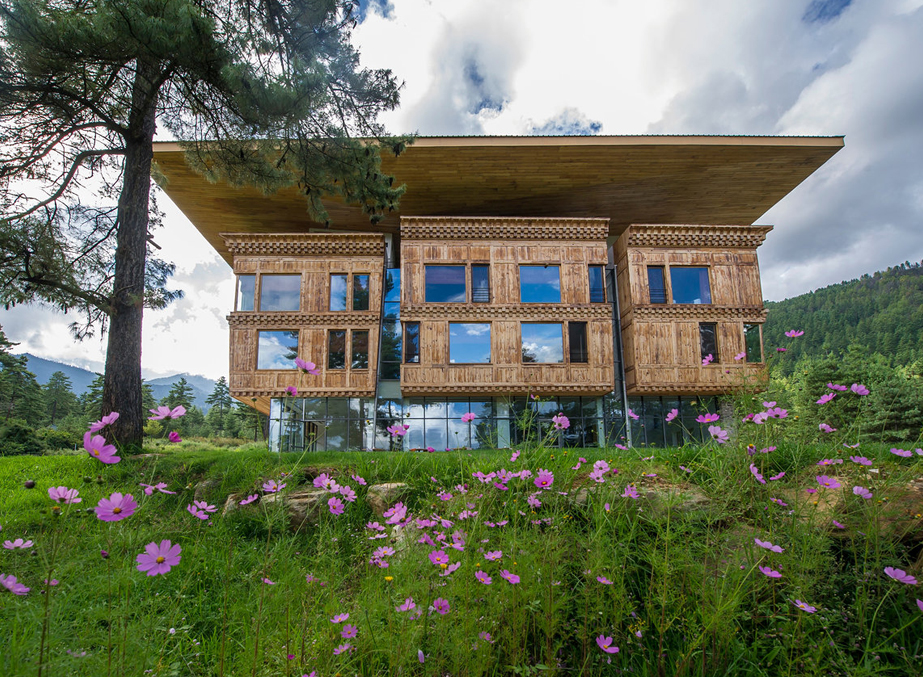 Zhiwa Ling Ascent was the first-ever hotel in Bhutan with a contemporary concept. Here the team of professionals serves its guests with high-class hospitality and allows you to relax in the panoramic view of the capital city. It comprises of 8 cottages and private balcony with a size larger than the standard room of Bhutan.
Zhiwa Ling Ascent in Thimphu was constructed with the collaboration of Australian and Bhutanese planners which is why it perfect for international visitors as well. It has 20 spacious rooms, both deluxe and premiere combined, with a gorgeous view of the landscape.
6. Tashi Namgay, Paro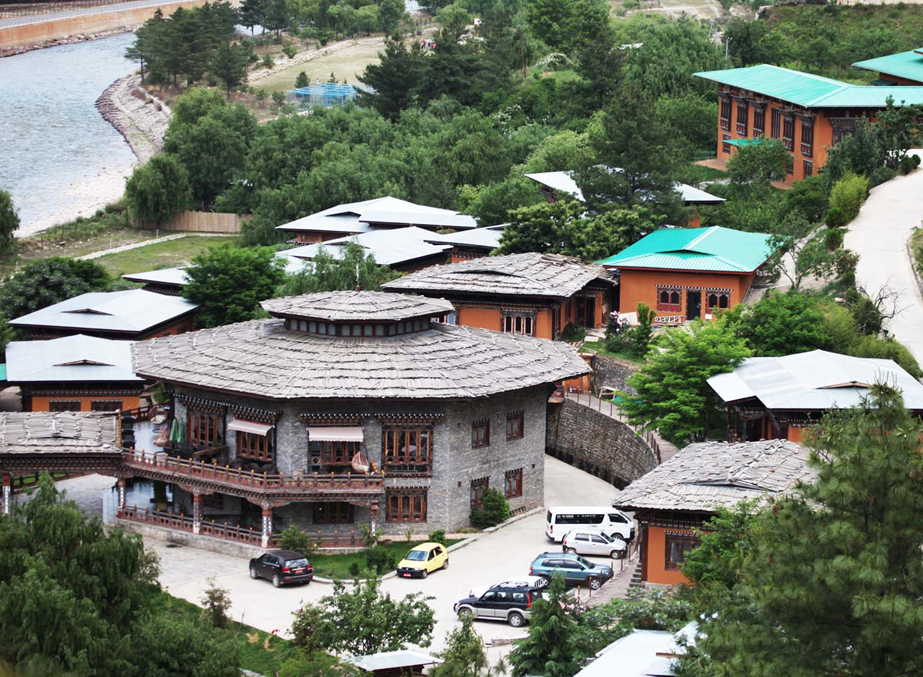 As aforementioned, Paro is the only place in Bhutan where the country's only international airport is situated and opposite to the airport, there is Tashi Namgay which is counted amongst the most luxurious hotels of the country. The staff of this outstanding hotel will greet you with warmth and serenity and promises to serve you with the uniqueness of the Bhutanese tradition.
Tashi Namgay covers an area of about 5 acres and has 58 rooms with attached en-suite bathroom and home theatre as per the guest's choice. The best part about Tashi Namgay is that it offers guests an opportunity to participate in various activities such as archery, kuru (the traditional darts), hot stone bath, and much more.
7. Taj Tashi, Thimphu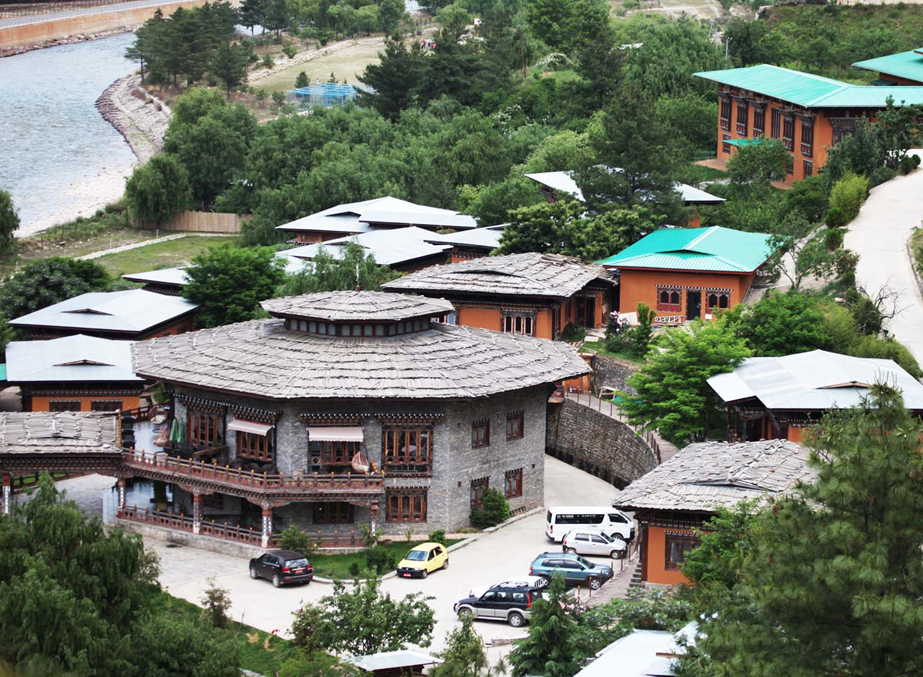 Yes, this is owned by the renowned Taj group in partnership with the local Tashi Group of Bhutan which gives it the name Taj Tashi. It was established in the year 2008 when it was the only 5-star hotel which is resting in the middle of the ambrosial beauty of the country for years. This irresistible hotel is constructed in the traditional architecture of Bhutan which is inspired by the designs of the Dzong.
Taj Tashi comprises 57 rooms and 9 suites along with business spaces and conference centres where guests are served with outstanding services that include in-room dining and babysitting services. Therefore, experience the royalty of the Bhutanese fortress amidst the scenic beauty of the Himalayan mountains, Taj Tashi is a perfect hotel to stay in.
8. Tiger's nest resort, Paro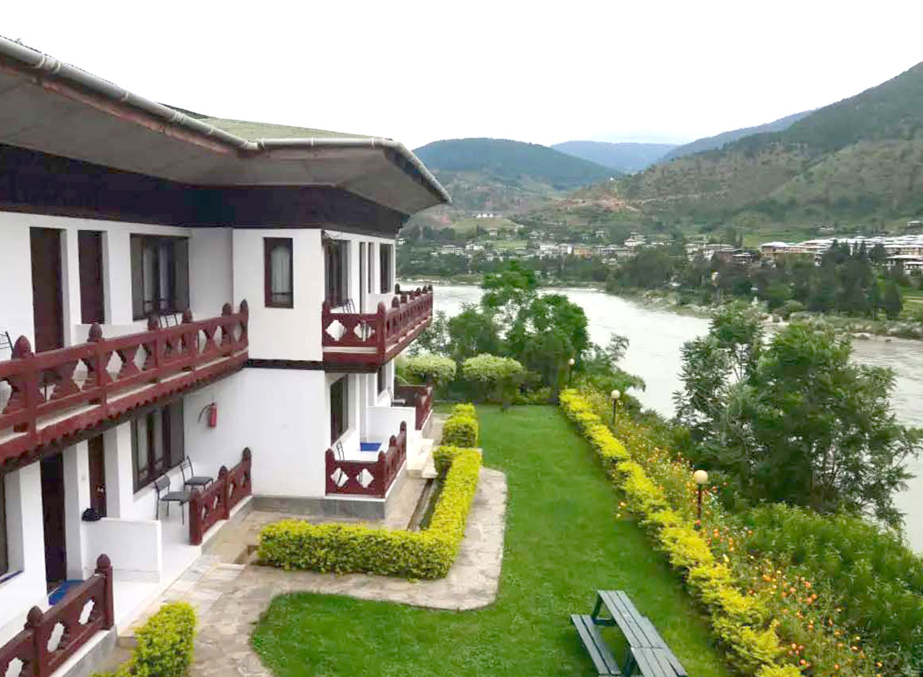 Tiger's Nest resort is another magnificent place for visitors to book to quench their thirst for luxury in the first-class hotel with beautiful architecture. Obviously, the name of the resort is taken from the famous tourist attraction of the country. Tiger's Nest resort is a perfect combination of Bhutanese art and technology as you get all the facilities in the traditional Bhutanese design such as the oak floor, wood carvings, stone pathway, and slate roof. Facilities offered to the guests including bar, lounge, porch, wifi, business space, and much more.
Tiger's Best Resort's menu comprises of just vegetarian dishes as it is one of the few vegetarian hotels of Paro. Moreover, there are several cuisines available such as Chinese, Indian, Bhutanese, and many international food items.
9. COMO Uma, Paro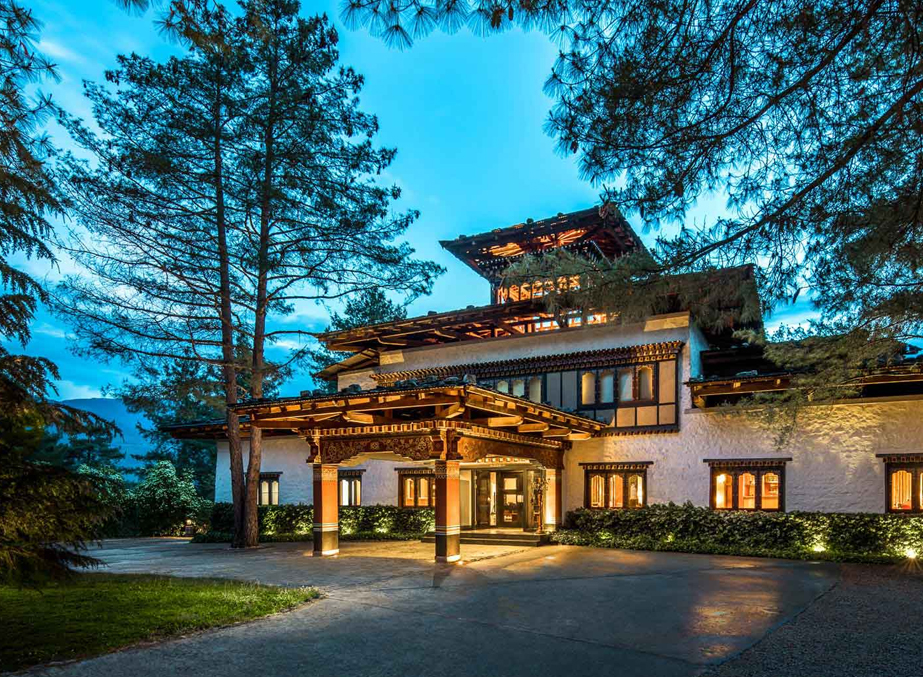 Up next we have COMO Uma provides 'Best of Bhutan' experience to the travellers who arrive from different corners of the world because the staff of the hotel treats guests with traditional values. All the 29 rooms and exotic villas on the property are constructed in Bhutanese traditional architecture that comprises of own kitchen garden, cultural yoga, and spa camping.
The menu of COMO Uma comprises of the food items which are best for both Indian and international visitors. Besides, no matter which room you book, you will still come across the jaw-dropping view of the surroundings.
10. Jigme Suites, Thimphu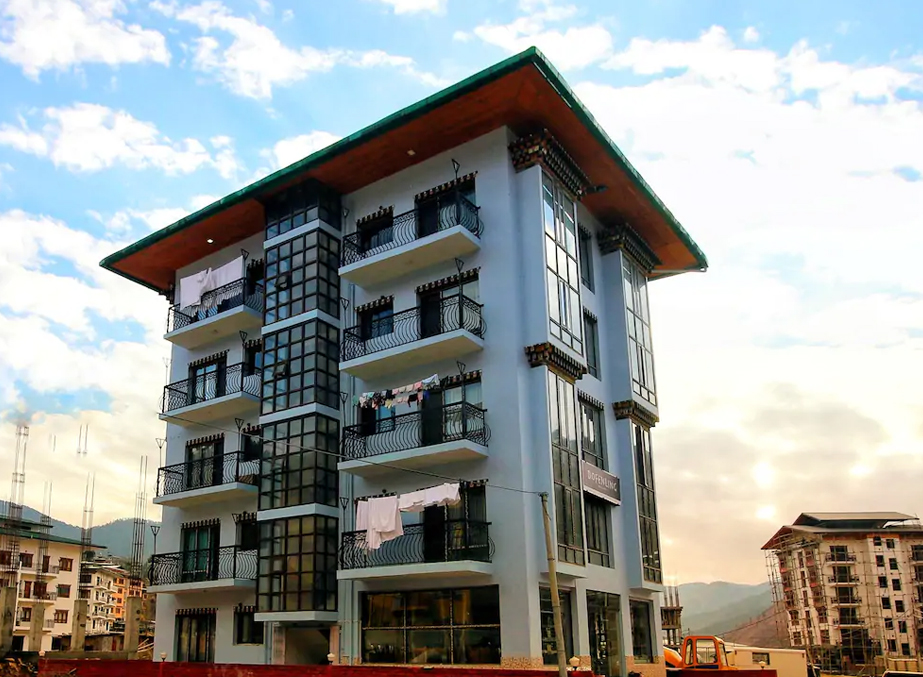 The capital city of Bhutan has several luxury resorts and one such retreat is Jigme Suites which is located near the famous Jigme national park. This is somehow a different place to stay in because offers a well-furnished apartment to its guests with 2 bedrooms, 2 bathrooms, and a kitchen. Also, it is one of the few hotels in Bhutan that allow pets and take care of them just like humans.
Jigme Suite is a home away from home which is surrounded by a spellbinding view of Tshalu Lam and has all the facilities for guests including Wifi, parking, business centre, and a variety of food such as American and Asian. Moreover, this retreat is at a short distance from the famous attractions like Bhutan National Library and Simtokha Dzong.
Luxury in the breathtaking beauty of Bhutan is like heaven for the visitors. So, make your experience unforgettable by selecting the best luxurious retreat.

Subscribe to us
Subscribe to our newsletter and stay updated

Request a call back
Our experts would love to create a package just for you!