Best Time to Visit Paro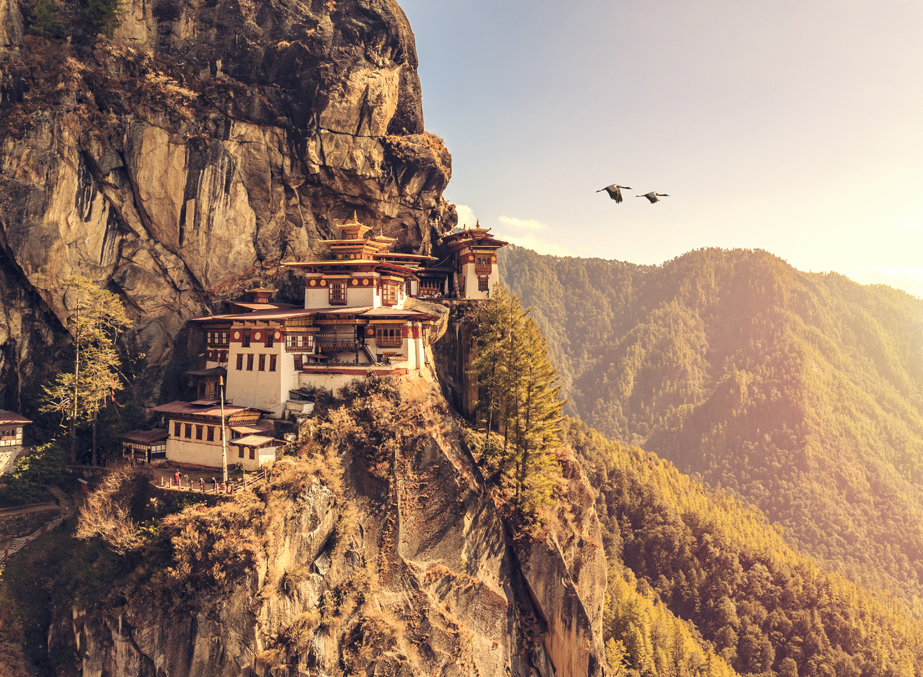 An ancient valley seated at the confluence point of Paro Chhu and Wang Chhu rivers, a colourful and vibrant valley guarded by the towering Jomolhari Range, Paro Valley is a remarkable tourist destination in Bhutan. Adorned with traditional houses, numerous religious and sacred sites, gurgling rivers, and other natural marvels, this picturesque valley in Bhutan can put any other travel destinations to shame!
Check out the best time to visit Paro and plan a trip to this magnificent piece of heaven in Bhutan. Here is a detailed guide to all the seasons and months to travel to this picturesque valley:
Spring (March, April and May): Best Time to Visit Paro, Bhutan
The colourful rhododendrons blooming with all their charms and allurement, the exotic flowers spreading their magical shades, and a pleasant climate makes spring the best time to visit Paro. Temperature during the three months of this season usually ranges between -3 to 23 degrees, which proves to be extremely favourable for all tourist activities and things to do in Paro Valley. This is also the time when the entire valley celebrates the Paro Tshechu festival with full vigour and elevated spirit. Visiting the valley during spring also allows visitors to revel and relish the many different exotic fruits that are indigenous to this region.
Autumn (September, October and November): Best Time to Visit Paro, Bhutan
Following spring, there is the autumn season that is also considered as a promising time of the year to visit Paro Valley. This season has a unique charm; though rain showers are quite unpredictable, visitors always get to enjoy clear blue sky. This in turn, offers a great visibility around the region, and visitors can catch fascinating views of the majestic Himalayan Range and its snow-clad peaks. Also, as the lush trees around the valley starts shedding their leaves, this creates an engrossing view as the landscapes turns reddish and golden with the spread of the fallen leaves. Mild temperature during autumn makes this season the best time to visit Paro; temperature usually ranges between 7-23 degrees during the three months of autumn.
Winter (December, January and February): Good Time to Visit Paro, Bhutan
Though winters can get freezing cold at times, it still continues to be an ideal season to visit Paro. This season recolours the entire valley with the shimmering white shade of Mother Nature. Temperature starts falling with the beginning of December and continues till the last of February. While during the daytime, one can expect a maximum of 9 degrees, nights get much freezing with an average of -1 degrees. Adding to this, snowfall from the mid of January till the end of February makes Paro an ultimate holiday destination among the leisure seekers, honeymooners, backpackers, and others alike.
Summer (June, July and August): Decent Time to Visit Paro, Bhutan
Visiting Paro during summers might not be a great choice as temperature during this season can reach a peak of 14-24 degrees. Also, as the season welcomes frequent rain showers, the vicinity experiences plenitude of mudslides and makes movement quite difficult throughout the valley. However, due to the rainfalls, visitors get to enjoy a clear ambience and enjoy astounding views of the surrounding Himalayan Range. Also, this is the time when the entire valley flaunts different shades nature's green colour and creates a different aura altogether. To note here, as summer is considered as an off season, visitors can avail heavy discounts and amazing prices for hotel, taxi, and tour guide bookings.

Subscribe to us
Subscribe to our newsletter and stay updated

Request a call back
Our experts would love to create a package just for you!