Places to Visit in Punakha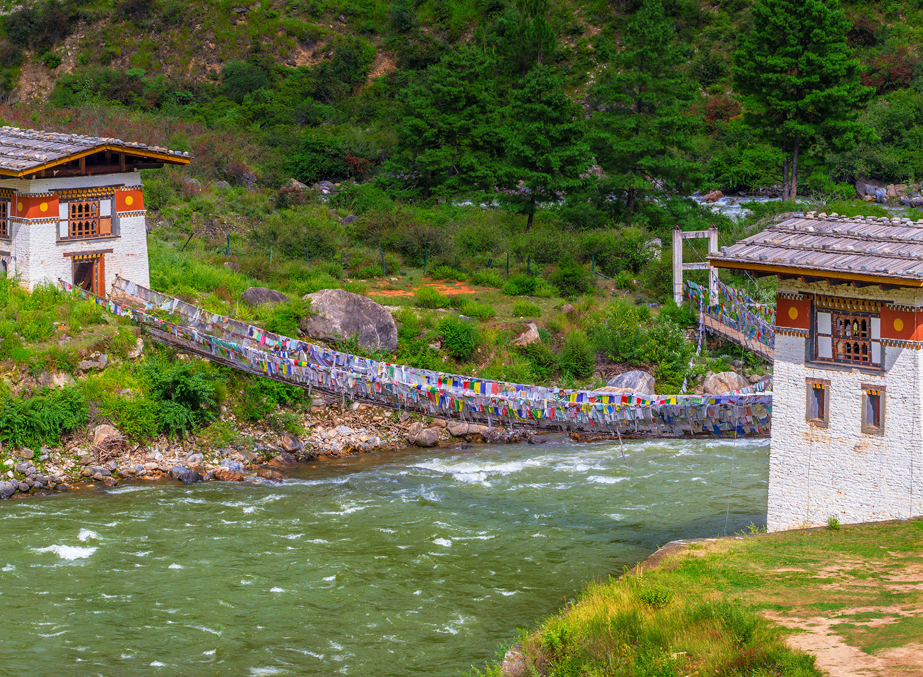 A city that was once the pinnacle of the Kingdom of Bhutan, Punakha is one of the most beautiful places to visit in the Land of Thunder Dragons! Steeped with history, spread with the gratifying Bhutanese cultures, and dotted with numerous sacred historical landmarks, this gorgeous city was also the capital of Bhutan from 1637 to 1907.
Having such a remarkable past, the city today, has become a prominent tourist destination in the country. Also, since the city is located at 1,200m above the sea level, it remains quite warm throughout the year. This in fact, entices visitors round the year. To know more about this picturesque city, let's have a look at some of the wonderful places to visit in Punakha, and admire its magical beauty!
Suggested Read: Things To Do in Punakha , How To Reach Punakha & Best Time To Visit Punakha
Planning to visit Bhutan, here are the best Bhutan tour packages that can be customized according to your requirements.
Punakha Dzong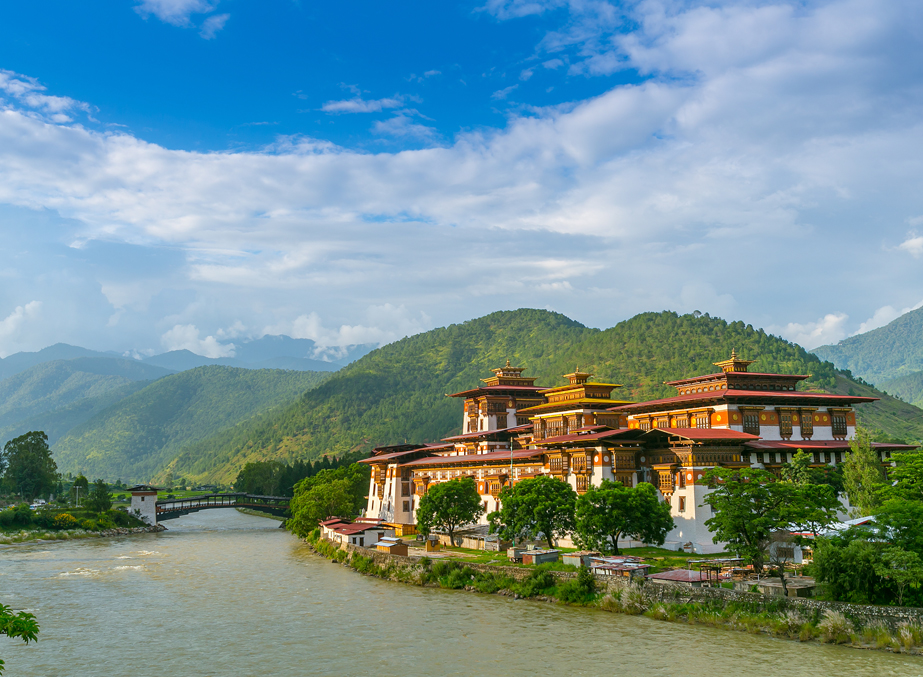 Pungtang Dewa chhenbi Phodrang – the Palace of Great Happiness, or the Punakha Dzong is indisputably one of the most beautiful places to visit in Punakha! Built in 1637-38, this sacred monastery is the second oldest as well as second largest dzong in the Land of Thunder Dragons. The dzong was built by Ngawang Namgyal, the first Zhabdrung Rinpoche.
With pictorial mountain peaks as its neighbour, Punakha Dzong is among the soon to be listed as one of the UNESCO World Heritage Sites in Bhuta. A six-storied building with a central tower, it measures up to 180m (in length), 72m (in width) and has three different 'docheys' (or courtyards). The first courtyard has a white-washed stupa and a bodhi tree, second courtyard has quarters for the monks, and the third one has the mortal remains of Pema Lingpa and Pgawang Namgyal.
Note:
Visitors must wear full sleeves and full pants while entering Punakha Dzong.
Photography is strictly restricted around the prayer hall.
Visitors' Timing: 11:00AM – 03:00PM (Winter), 11:00AM – 05:30PM (Summer)
Entry Fee: Nu 500 (Adults), Nu 250 (Students)
Chimi Lhakhang Temple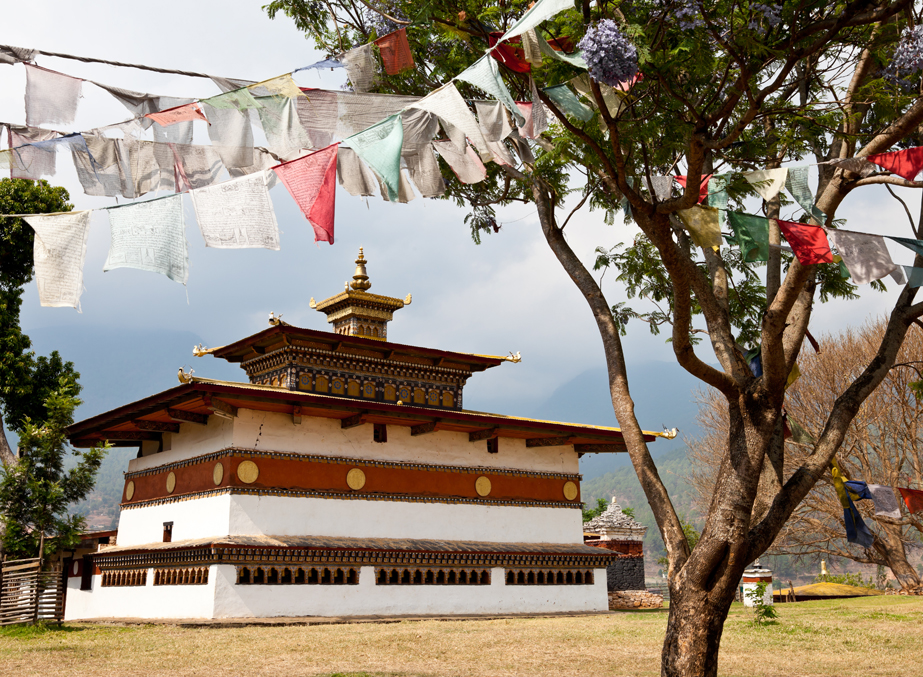 Standing graciously on a scenic hillock, Chimi Lhakhang is a pious Buddhist monastery has a legend that says it was built on a rock where a demon was subdued. Locals believe that an outlandish monk called 'Mad Saint or Divine Madman' defeated the demon and got it trapped within the rock. Well, the monk was called such due to his unconventional methods of preaching and teaching Buddhism; humour, songs, and outraged behaviour were common in his teaching methods.
Established in 1499 by Ngawang Choegyel, the fourteenth Drukpa hierarch, this holy Buddhist temple has a unique square shape with traditional yellow roof, prayer wheels and white slates on its exterior part. Chimi Lhakhang's prayer hall is replenished with horns, bells, dorjis, thangkas, drums, and several other religious artefacts. One of the most surreal places to visit in Punakha, Bhutan, this monastery is often visited by new-mothers to get names for their new-born child.
Visitors' Timing: 09:00AM – 05:00PM
Entry Fee: No Charge
Khamsum Yulley Namgyal Chorten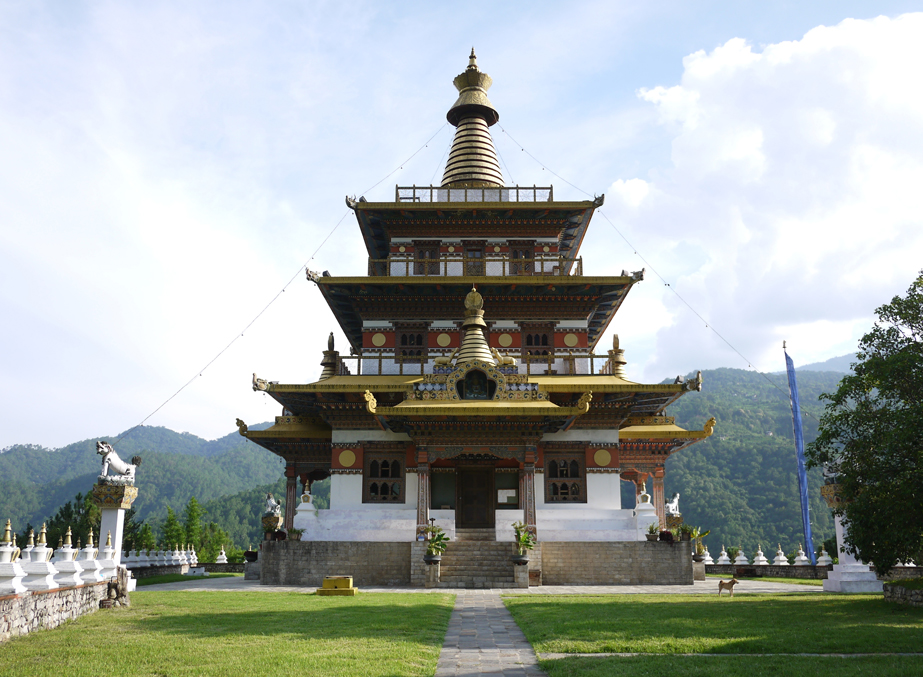 One of the most unique places to see in Punakha, Khamsum Yulley Namgyal Chorten is a remarkable site that visitors shouldn't miss! Unlike other chortens in Bhutan, it was built by HM Queen Mother (in 2004) to safeguard Punakha Valley from evil or negative forces and bring peace and harmony. While other chortens in the country were built to be Buddhist praying ground, this specific one was built as a magical tool.
Overlooking to the scenic Punakha Valley, Khamsum Yulley Namgyal Chorten stands strong on a ridge, and boasts of being one of the finest architectural marvels in the Last Himalayan Kingdom! One can reach its base by driving around 30 mins from Punakha town. From the base, one must undertake an uphill climb through a rustic suspension bridge, pictorial paddy fields and lush greeneries.
Visitors' Timing: 06:00AM – 06:00PM
Entry Fee: No Charge
Dochu La Pass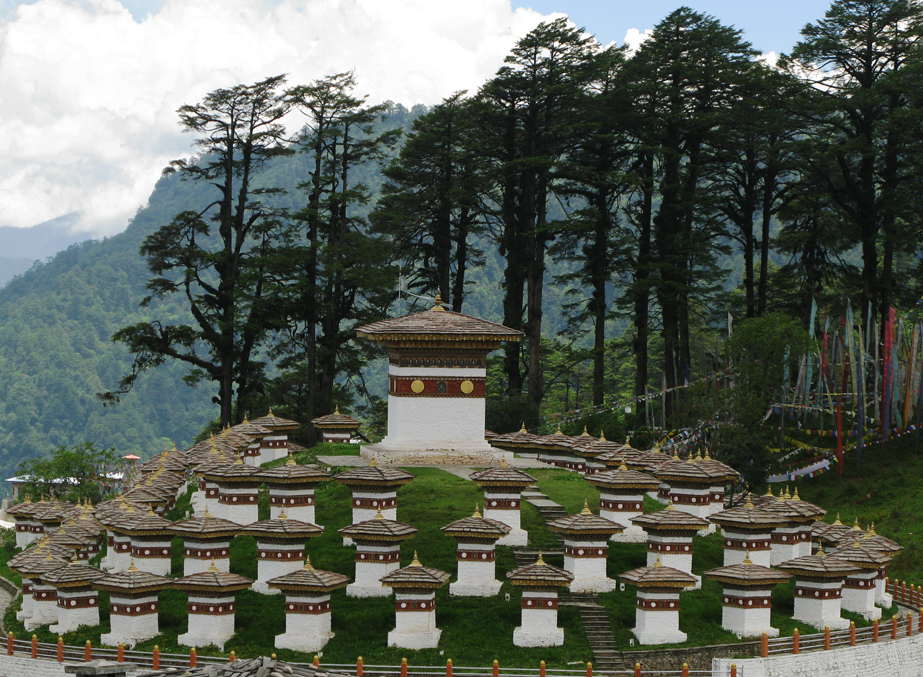 Built in the honour of 108 martyred Bhutanese soldiers, Dochu La Pass is truly one of the most wonderful places to visit in Punakha! The home ground to 108 memorial stupas called 'Druk Wangyal Chortens', this enthralling pass is situated at an astounding height of 3,100m, it is located on the Thimphu-Punakha Highway, and can be easily accessed from both the destinations.
A day-out hub among the locals, this memorial chorten is bestowed with the magical beauty of the majestic Himalayas that forms its backdrop. Owing to this, the pass also serves as one of the many places to enjoy the 360-degree views of the snow-capped Himalayan peaks. On a visit to Dochu La Pass, one would surely come across local families lazing around on a day-out or relishing out on a family picnic. Visitors often throng this historical landmark to adore its scenic beauty and capture the mesmerising beauty of the mighty Himalayas from a close hand!
Visitors' Timing: Throughout the Day
Entry Fee: No Charge
Ritsha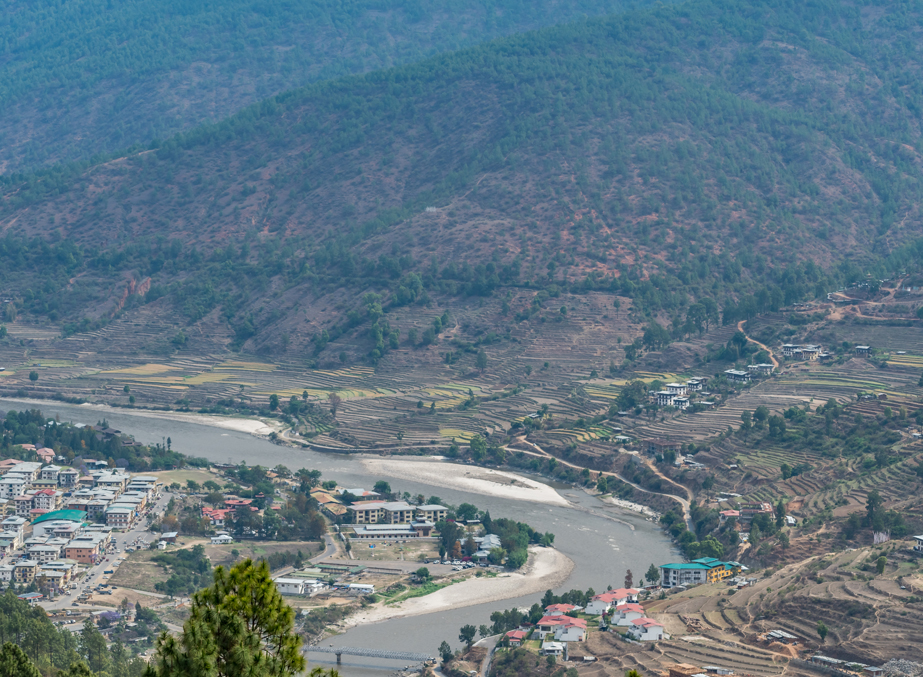 Enchanted by the alluring charm and appeal of Po Chhu and Mo Chhu rivers, Rishta Village can put most of the tourist places to visit in Punakha to shame! A quaint and sleepy hamlet that flaunts its enchanting beauty along the banks of both the gushing rivers, this scenic village is known for its lush greeneries, untouched appeal, serene outlook, and tranquil ambience. It is often referred to as the 'Rice Bowl of Bhutan'.
Known for the production of Bhutanese white and red rice, its beauty gets further adorned with evergreen alpine forests and captivating hillocks surrounding it. Visitors searching for some of the most peaceful places to visit in Punakha, Bhutan, must head towards Ritsha Village and have a silent tryst with its magical charm!
Visitors' Timing: Throughout the Day
Entry Fee: No Charge
Jigme Dorji National Park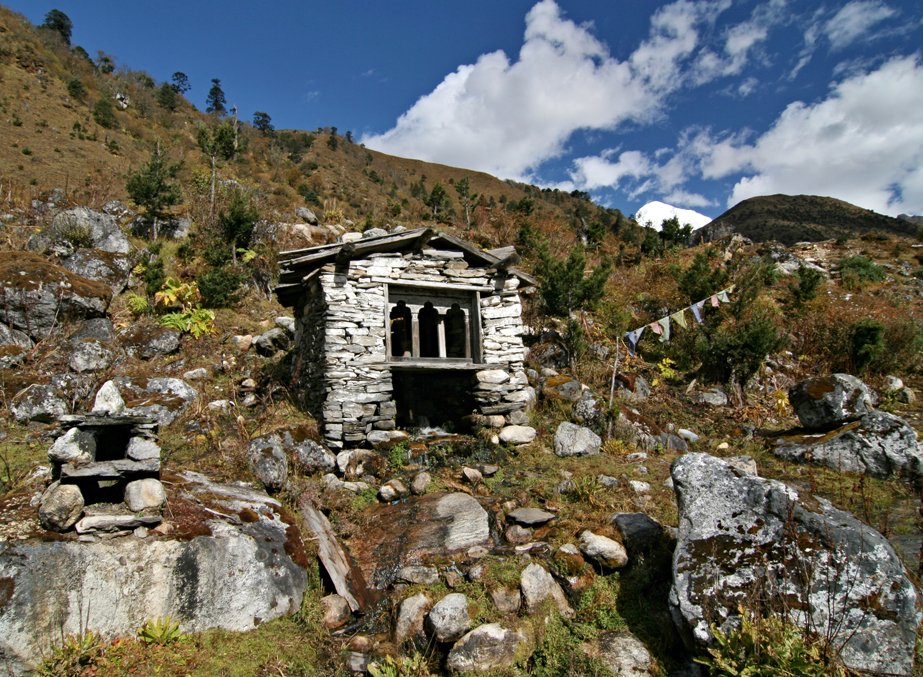 A tentative entrant in the list of UNESCO World Heritage Site, Jigme Dorji National Park is a paradise for the wildlife as well as the nature lovers alike! Spread across 4316sq.km and situated within an exhilarating range of 1,400-1,700m above the sea level, it surely makes it to the list of most enthralling places to visit in Punakha.
A natural home to rare and endangered wildlife species like Takin, Bengal Tiger, Snow Leopard, Himalayan Blue Sheep, Himalayan Black Bear, Ussuri Dhole, Indian Leopard, Barking Deer, and several others, the park shares its perimeter with other Bhutanese places like Thimphu, Gasa, Paro, and Wangude. Jigme Dorji National Park also takes the pride of being an indigenous home to around 300 different species of local as well as migratory birds, and a wide range of flora and fauna. This wildlife protected area also has cultural sites like Mount Jomolhari and Mount Jitchu Drake within its reach!
Visitors' Timing: 09:00AM – 05:00PM
Entry Fee: No Charge
Sangchhen Dorji Lhuendrup Nunnery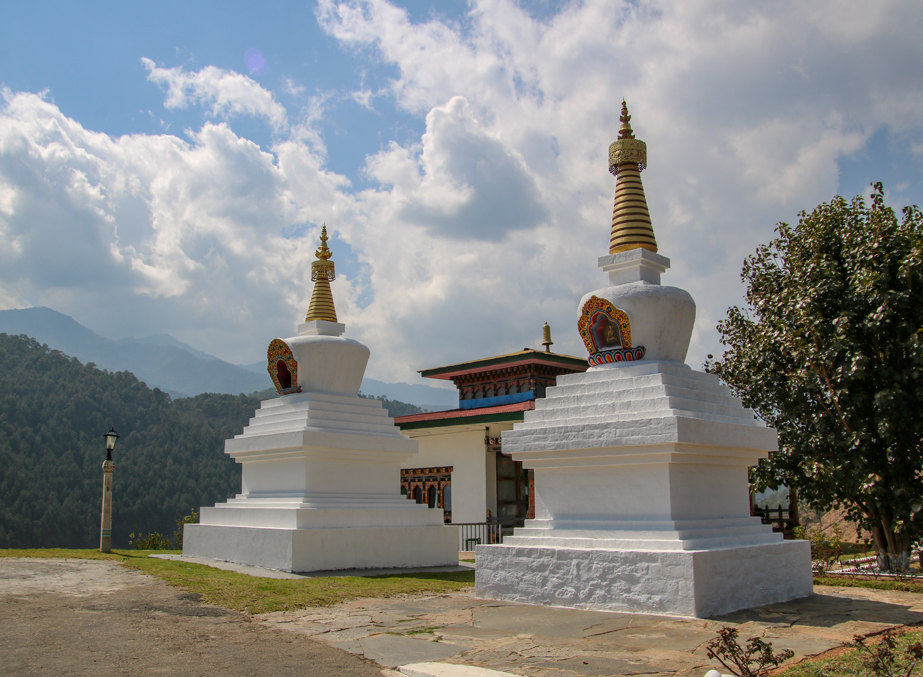 Tucked away between Punkha and Wangdue phodrang valleys, the Sangchhen Dorji Lhuendrup Lhakhang Nunnery is a two-storied temple that resembles much to Nepal's Boudhanath Stupa. Placed atop a captivating ridge, this pious worshipping ground was founded by His Holiness Je Khenpo, while the event was attended by members of Bhutan's royal family members.
Though in the initial days, this nunnery sheltered around 41 nuns, it has now become a devout religious spot among the Buddhists. In addition to the nuns, it also houses several statues; among which a 14-ft bronze statue of Avalokiteshvara serves as the main attraction. Undoubtedly one of the most tranquil places to visit in Punakha, Sangchhen Dorji Lhuendrup Lhakhang Nunnery also has a higher learning and meditation centre along with other centres that trains the residing nuns to learn tailoring, embroidery, statue making, thangka paintings, and several other life skill trainings.
Visitors' Timing: 09:00AM – 05:00PM
Entry Fee: No Charge
Torsa Strict Nature Reserve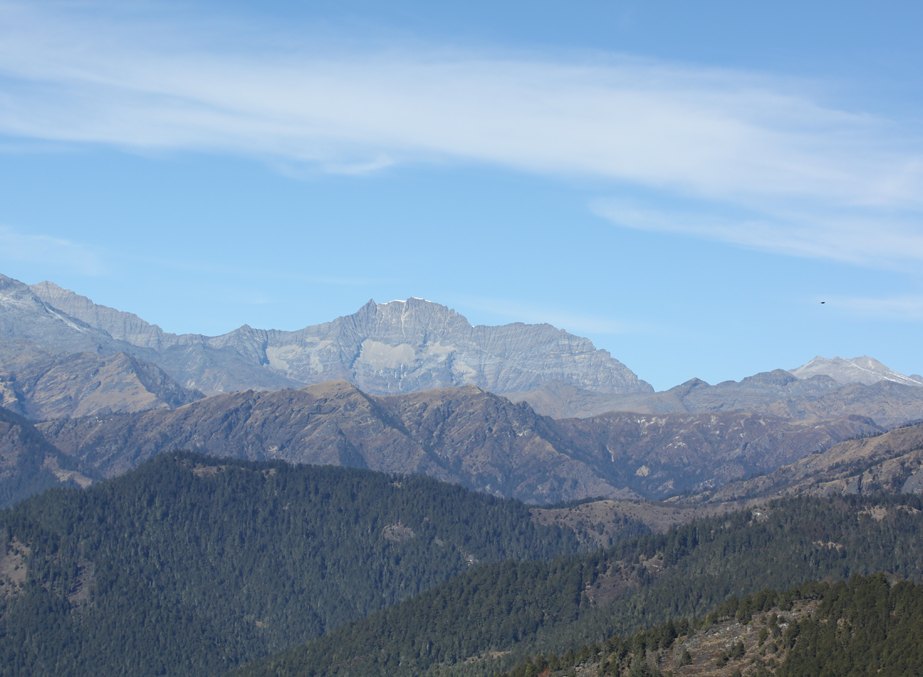 If you are among the wildlife lovers or an adventure enthusiast, you should definitely visit Torsa Strict Nature Reserve! Esteemed as one of the most spectacular natural places to see in Punakha, this nature reserve is located around 87km from the valley, and is the only patch of uninhabited land in entire Bhutan.
Spread across 600sq.km, Torsa Strict Nature Reserve is canopied by Alpine meadows, temperate forestland, tropical grasslands, shrub lands, and warm broadleaved thickets. During the winters, almost the entire reserve gets blanketed with thick layers of snow. This also makes it one of the most enthralling trekking routes among the adventure mongar. Chestnut-breasted Partridge, Wood Snipe, and Rufous-necked Hornbill are some of the most commonly found bird species in Torsa Strict Nature Reserve.
Visitors' Timing: Visitors should check with the authorities in order to get access
Entry Fee: N/A
Koma Tsachu
The Land of Thunder Dragons is dotted with natural wonders; the Koma Tsachu is one among them! Located around 12km from the scenic Punakha Valley, there is a rustic village called Koma. Situated in this village is a natural hot water spring that is known to have natural healing abilities; Tsachu in Bhutanese language means hot springs.
To reach Koma Tsachu, one needs to drive 12km from Punakha to reach the quaint community of Mitesgang. Here onwards, an enthralling hike of 2 hours would take the visitors to Koma Tsachu which also happens to be one of the most sought-after places to visit in Punakha, Bhutan. According to the locals, the lukewarm spring water has the ability to heal common ailments like skin diseases, joint pains, headaches, and several others.
Visitors' Timing: Throughout the Day
Entry Fee: N/A
Punakha Suspension Bridge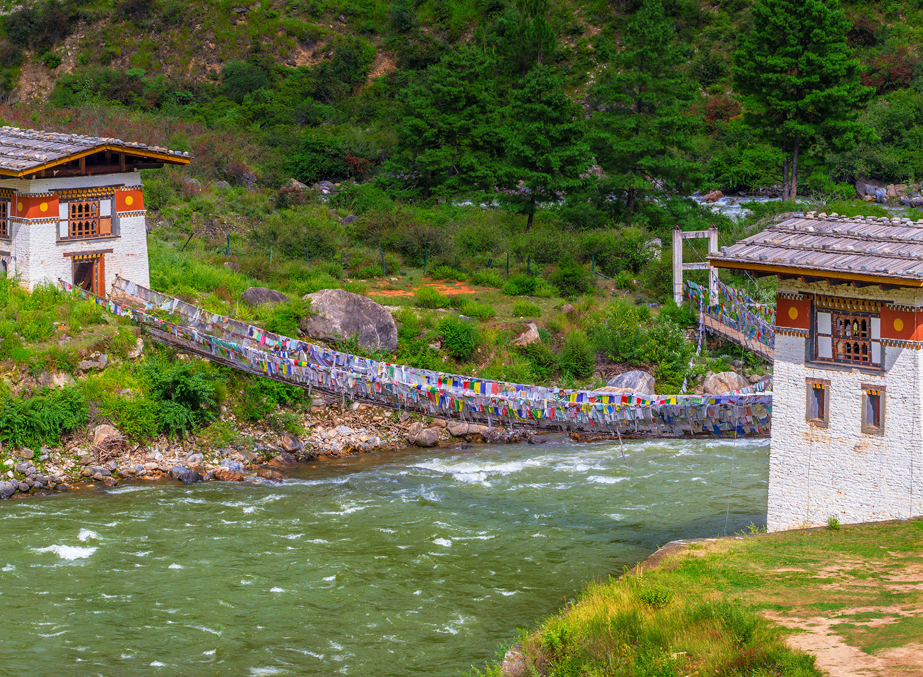 While some experiences create a mark in your mind, some creates an everlasting mark in your soul! A walk across the most coveted place to visit in Punakha, the Punakha Suspension Bridge will surely usher a livelier impression in your soul! A countryside suspension bridge that was originally built by Thangtong Gyalpo, this 160m long bridge connects nearby Shengana, Samdingkha and Wangkha villages with Punakha Dzong.
A walk across this low hanging bridge is nothing less than an adrenaline pumping experience. Adding to this, the colourful prayer flags spread across the bridge lures the visitors not to look back, and make it to the other side of it. Be it a spiritual awakening or revisiting a part of Bhutan's history, daring something unconventional or to explore Bhutan's untouched natural beauty, a walk across Punakha Suspension Bridge will answer all your prayer!
Visitors' Timing: Throughout the Day
Entry Fee: No Charge
Talo Village
Overlooking the Punakha Valley and reaching an astounding height of 2,800m, Talo Village boasts of its pristine and enchanting natural beauty! Perched across fascinating hilly slopes, this pictorial hamlet is the place for those who seek peace of mind and tranquillity during their trip to Land of Thunder Dragons!
In addition to its bountiful nature, the village is also known for its immaculate charm. In fact, Talo Village is reputed not only as one of the cleanliest places to visit in Punakha, but also a not-to-miss destination in the entire country. The village is also the home to sacred Talo Monastery, and hosts the three-day 'Talo Tshechu' festival which is known for its prismatic 'Mask Dance'.
Best Time to Visit: Round the Year
Entry Fee: No Charge
Limbhukha Village
The Land of Thunder Dragons is undoubtedly a slice of paradise for the visitors. Untouched from the outer world, this happy country is also known for preserving its cultural and traditional values alive till date. And to witness this, one must visit the pristine Limbhukha Village!
Canopied by a thick camouflage of verdant greeneries, this picturesque village is also one of the most enthralling places to visit in Punakha as it hosts several exciting trekking routes in Bhutan. Trek to Limbhukha Village takes thrill seekers through dense thickets, hanging bridges, sacred sites, breath-taking slopes, and endless tricky trails. Anyone searching for a visual treat or the most beautiful places to see in Punakha, they must visit this heavenly village while on their Bhutan trip.
Best Time to Visit: Round the Year
Entry Fee: No Charge
Nalanda Buddhist College
Also known as 'Dalida (or Daley)', Nalanda Buddhist College is a Buddhist Drukpa Kagyu School that was founded by 9th Je Khenpo Rinchen in 1957. Located within a proximity to Talo Monastery, this religious educational establishment is revered as one of the most sacred places to visit in Punakha. It also holds a prominent rank in the list of most reckoned places in entire Bhutan.
Since its inception, the institute went through a rough phase, but has been in full-operation since 1991. A learning centre for more than 100 monks, it serves as Utopia to learn about Buddhist Philosophy and other important aspects of the religion.
Visitors' Timing: 09:00AM – 05:00PM
Entry Fee: No Charge
By Air:
Paro International Airport in Bhutan is the closest and only international airport to reach Punakha by air. The airport hosts a number of flights flying in from Indian destinations like Delhi, Guwahati, Kolkata, and Bagdogra. Visitors from Nepal can also take direct flights form Kathmandu to reach this airport. Upon arrival at Paro Airport, visitors can either take buses or hire private taxis to reach Punakha by road.
By Train:
Punakha has no railway access, Hashimara Railway Station in West Bengal serves as the best option to reach Punakha by train. To reach Hashimara, one can either board a train from Kolkata or New Jalpaiguri. Following arrival in Hashimara, one can enter into Bhutanese territory through Jaigaon-Phuentsholing Border located around 17k from Hashimara. From Phuentsholing, visitors can either take buses or hire cabs to reach Punakha by road.
By Road:
As mentioned, Jaigaon in West Bengal is the nearest Indian town to make an entry into the Bhutanese land. Once documents are checked, visitors can drive along the Thimphu-Phuentsholing Highway to reach Bhutan's capital city. From Thimphu, visitors would require a special permit to drive to Punakha which is only 85km from Thimphu.
Spring (March to May) – Best Time to Visit Punakha:
If you are searching for the best time to visit Punakha, you simply cannot miss the spring! This is the time of the year when the entire valley gets cossetted with a colourful blanket of rhododendrons and other exotic flowers. As temperature remains pleasant, sightseeing options reaches the peak. Spring in Punakha also marks the advent of several religious and cultural festivals across the valley. To add here, this is also an ideal time to go for trekking and hiking in the valley.
Autumn (September to November) – Best Time to Visit Punakha:
Starting from September till the end of November, Punakha welcomes clear sky, which in turn makes it for a befitting time to enjoy the panoramic views of the Himalayan Range. During this season, visitors can also indulge in a range of exciting activities and things to do in Punakha; trekking, photography, hiking, etc. are the most vigorously enjoyed activities. Also, as the temperature remains within an agreeable range, visitors can enjoy sightseeing at its best.
Winter (December to February) – Good Time to Visit Punakha:
Visiting Punakha during the winters can be a good choice. However, visitors must pack abundant of warm clothes as nights during winters are usually cold. Since this is not the peak season for tourism in Punakha, one can avail great discounts in hotel booking and travel options.
Summer (June to August) – Good Time to Visit Punakha:
Even though summers are usually hot, one can easily manage as the season gets accompanied by occasional rain showers. Temperature during the day might reach up to a maximum of 32-degrees, however, nights are always cool and can hit a lowest of 19-degree. Also, owing to the drop-in tourism, visitors can enjoy budget-friendly options while booking hotels, traveller vehicles, shopping, and other tourist activities.

Subscribe to us
Subscribe to our newsletter and stay updated

Request a call back
Our experts would love to create a package just for you!