Places to Visit in Gangtey Valley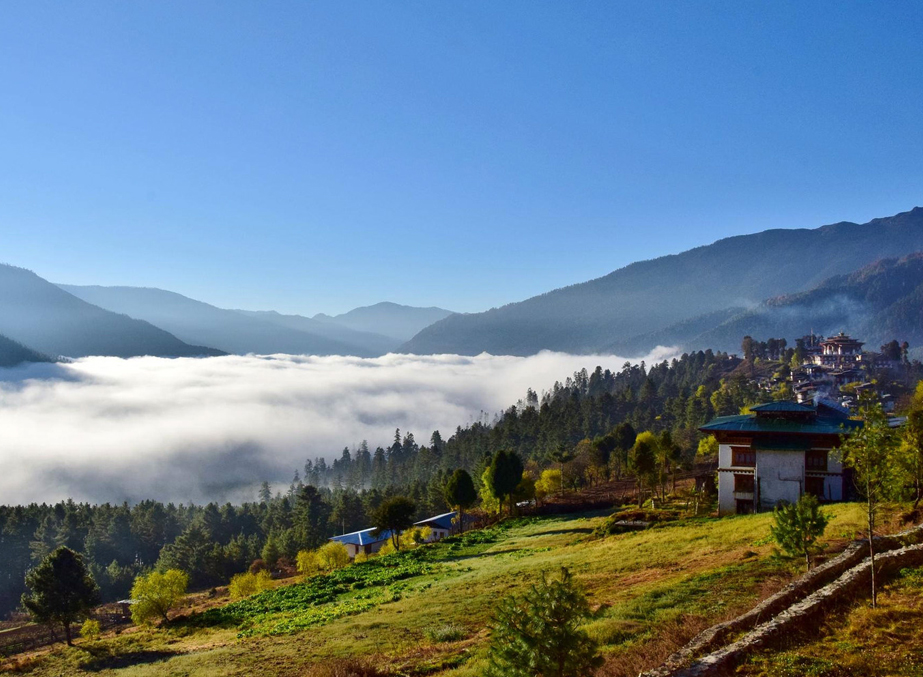 Bhutan – the Land of Thunder Dragons is a mystique and equally serene paradise for the visitors. Hidden in this part of the Himalayas, is the scenic Gangtey Valley; also called Phobjikha Valley. A pictorial flat piece of land that hosts the exotic as well as endangered black-necked cranes during the winters, Gangtey Valley at an elevation of 3,000m (9,800ft) is a scenic display of natural marvels and unique cultures.
Adorned with the allurement of Himalayan glaciers, Gangtey Valley or the scenic Phobjikha Valley is surrounded by lofty mountain peaks that receives high snowfall during the winters. If visiting this valley in autumn, spring, or summer, visitors would get to revel on the magical beauty and charm of its marshy patches, vast grass expanse, and dwarf bamboo fields all across the valley. The gushing Nake Chuu and Phag Chuu rivers flowing through the valley truly adds to its unmatched beauty, and makes it one of the most scenic places to visit in Bhutan.
If you are planning for a tour to this gorgeous valley in Bhutan, here is the list of places to visit in Gangtey Valley that you must include in your tour itinerary.
Suggested Read: Things To Do in Gangtey Valley , How To Reach Gangtey Valley & Best Time To Visit Gangtey Valley
Planning to visit Bhutan, here are the best Bhutan tour packages that can be customized according to your requirements.
Gangtey Goempa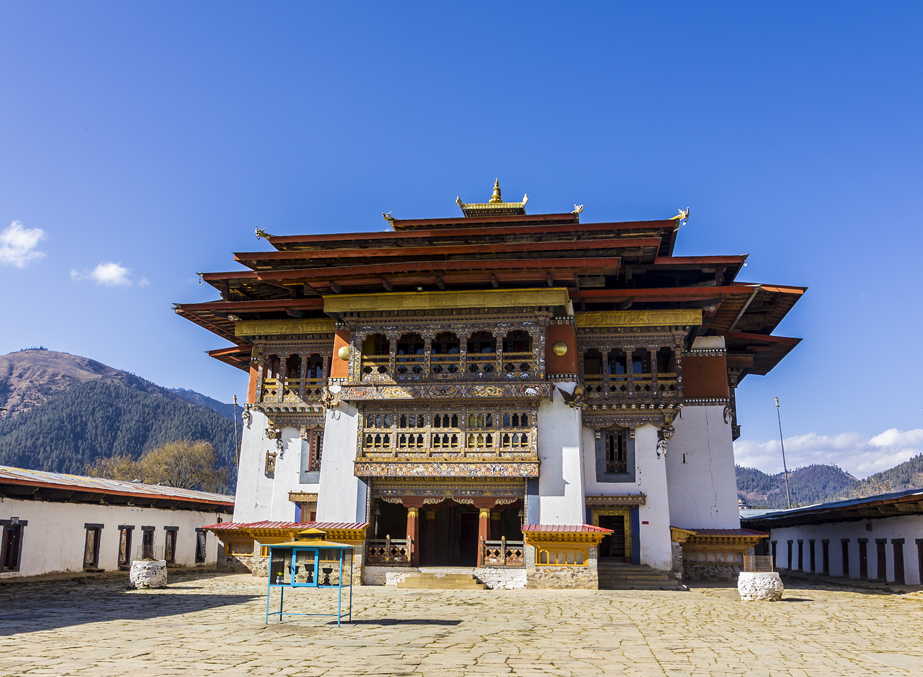 Located atop a small, yet captivating hill, the sacred Gangtey Goempa is the largest Nyingmapa monastery in Gangtey or Phobjikha Valley. Seated amidst a quaint village, this 17th century holy establishment was built by Pema Trinley, the grandson of Pema Lingpa who was one of the greatest Nyingmapa saint in Bhutan, and is believed to be the reincarnation of Guru Rinpoche, who introduced Buddhism in Bhutan.
Gangtey Gompa is also known for a mysterious ritual wherein the black-necked cranes are said to encircle the gompa thrice a day after their arrival in this region. The migratory birds repeat the same while flying away from the region as well. To commemorate this celestial happening, locals celebrate the annual'Black-Necked Crane Festival in Gangtey Goempa.
Note: Photography is not allowed everywhere within the goempa
Visitors' Timing: Throughout the Day
Entry Fee: No Charge
Kumbhu Lhakhang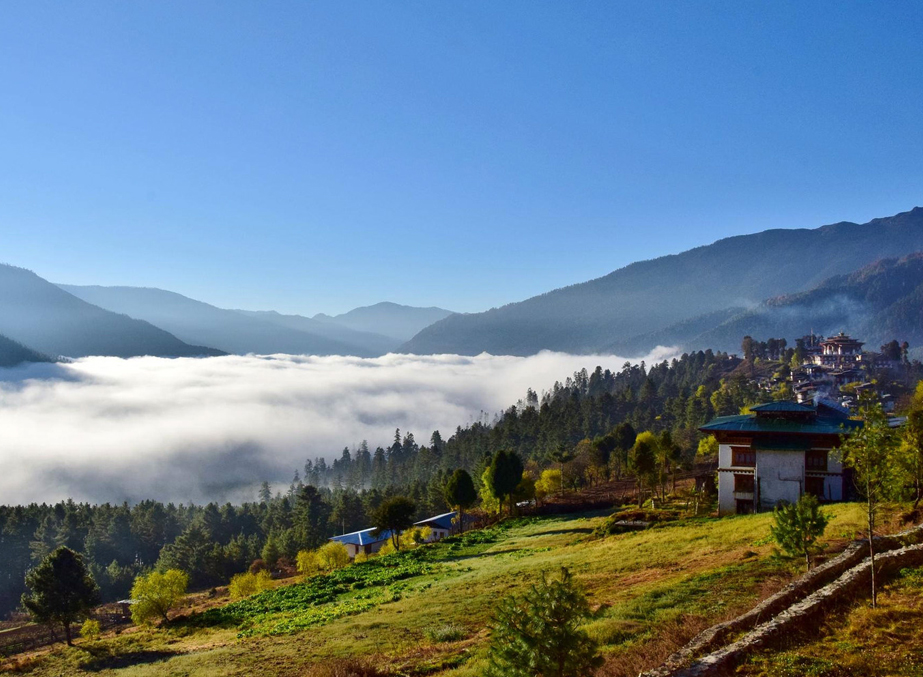 A 17th century Buddhist temple, Kumbhu Lhakhang is probably one of the most unique sites to visit in Bhutan. This ancient temple is dedicated to Sipey Gyalpo, who is known to be the main deity of Bon religion. The temple is decked with several ancient statues, religious scriptures, and historical artefacts.
The uniqueness of Kumbhu Lhakhang lies in its very first floor. This floor is dedicated to the statue of 'Sangay Mela' or the 'Medicine Buddha'. According to the locals, Medicine Buddha helps them recover whenever they fall sick. From the first floor, one can reach the second floor through traditional Bhutanese staircase and visit the statue of 'Duesum Sangay' that represents Buddha of the past called 'Amitabha', Buddha of the present called 'Sakyamuni', and Buddha of the future called 'Maitreya'. The temple of 'Goenkhang' is also located on the second floor. Kumbhu Lhakhang is also known for hosting an ancient ritual called 'Kumbu Tsham Choe' on the 29th day of every 8th month of the Bhutanese calendar.
Visitors' Timing: 09:00AM – 05:00PM
Entry Fees: No Charge
Black-Necked Crane Information Centre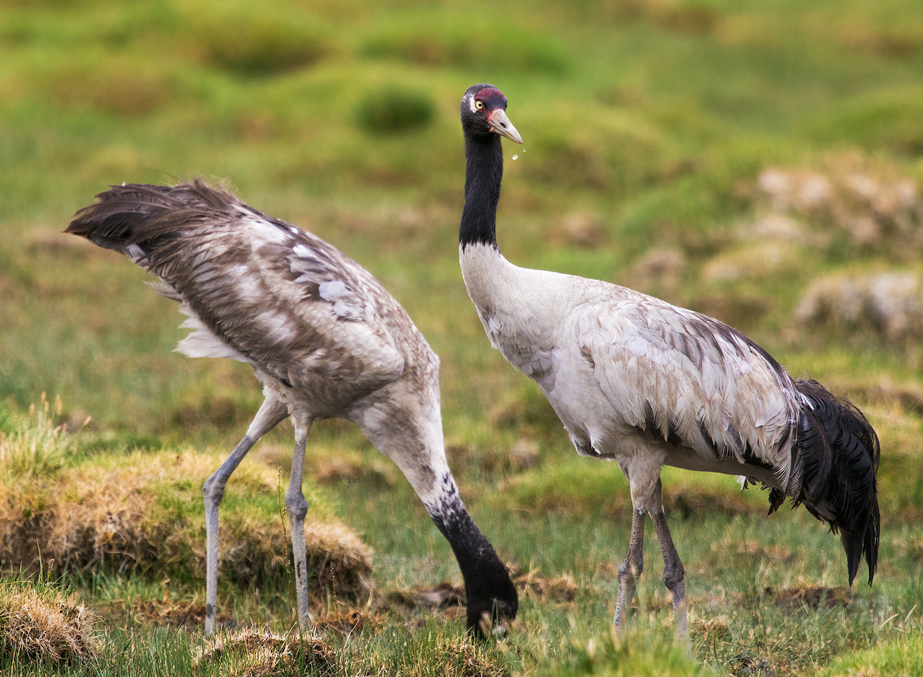 An information as well as observation centre in Gangtey Valley, the Black-Necked Crane Information Centre is a must visit attraction in the Land of Thunder Dragons. A well-equipped observation centre dedicated to the endangered Black-necked Cranes; this centre is laced with high-power telescopes that offer the closest views of these migratory birds during the winter.
Visitors to Black-Necked Crane Information Centre can also learn more and collect information about these birds from the large display information boards and its expert staff members. A true paradise for the birdwatchers, this information centre is also an excellent place to unravel the picturesque beauty of Phobjikha Valley.
Visitors' Timings: 09:00AM – 04:00PM
Entry Fees: Nu 120 (International Tourists), Nu 100 (SAARC Nationals), Nu 50 (International Students), Nu 15 (Locals), Free Entry (Bhutanese Students, Monks, RSPN Members, Local Communities)
Tenkhor Yuetshe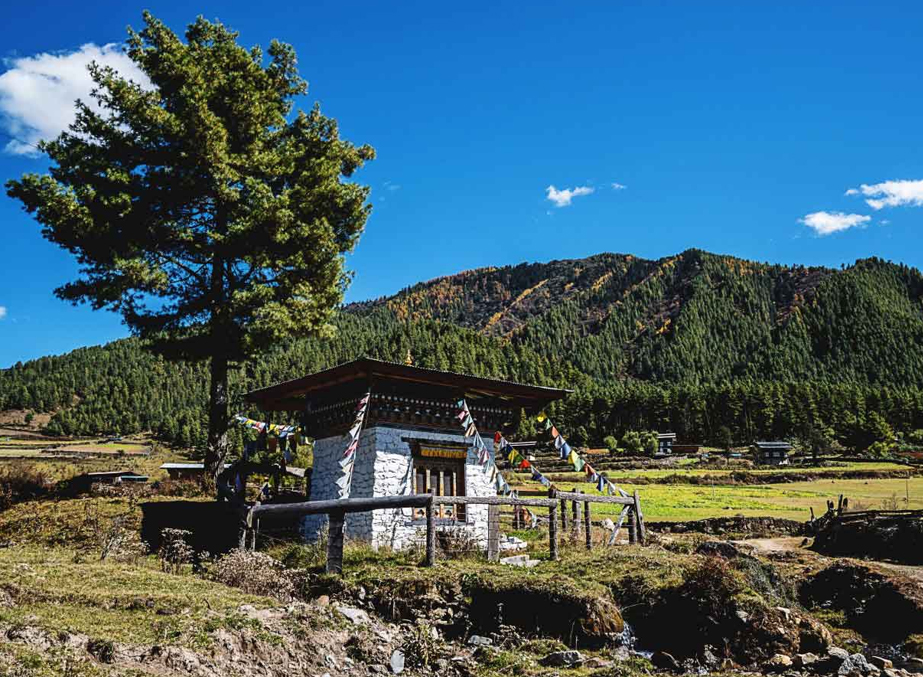 While meandering around the gorgeous Phobjikha Valley (Gangtey Valley), you can take a stroll to the tiny, yet pictorial village called Tenkhor Yuetshe. Located beyond the Semchubara village from the Gangtey Goempa, this scenic village is known for its untouched beauty and serene ambience. While in here, one can also come close to the traditional lifestyle and some of the most indigenous cultures of the Last Himalayan Kingdom.
The journey to Tenkhor Yuetshe is quite an enthralling one! It takes the visitors through dense forest areas, country terrains, dirt roads, marshlands, and several remote areas. A much sought-after destination for the thrill seekers, the train to Tenkhor Yuetshe is a must if you are yearning for some exciting moments while having a tryst with the undulated natural beauty of Phobjikha Valley.
Visitors' Timings: Throughout the Day
Entry Fees: No Charge
Nyelung Dechenling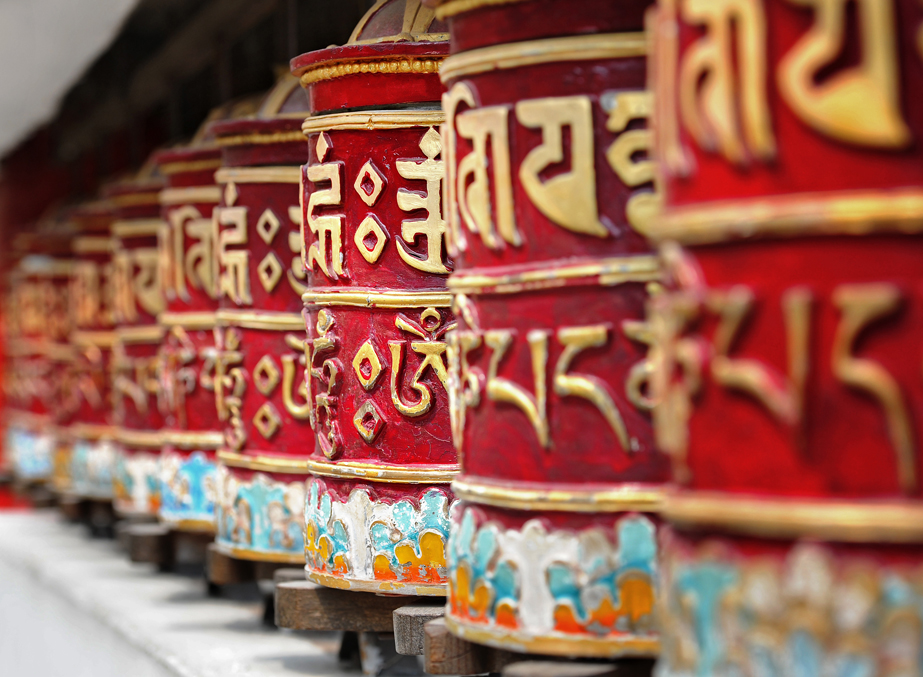 Nyelung Dechenling is among the most pious Buddhist temples in the entire Gangtey Valley / Phobjikha Valley. Revered as one of the eighth residences of Nyingma Dzogchen master Longchen Rabjam, this holy temple is located within a proximity to Amankora Gangtey Resort. The temple is mostly known for its friendly monks who takes the visitors around the temple with great enthusiasm and also narrate ancient tales about the Gurus and the kings of
Bhutan.
Within the premises of Nyelung Dechenling, there stands a gigantic cypress tree which is believed to have emerged from the walking stick of Longchenpa. The temple also has an old 'thanka' with the blood-stained handprints of Longchenpa. If you be polite enough, the head monk will bless you with this thanka. Nyelung Dechenling also displays a fossilised elephant tooth, ancient statues, and a holy skillet which is believed to be made by Pema Lingpa.
Visitors' Timings: 09:00AM – 05:00PM
Entry Fees: No Charge
Kuenzang Chholing Shedra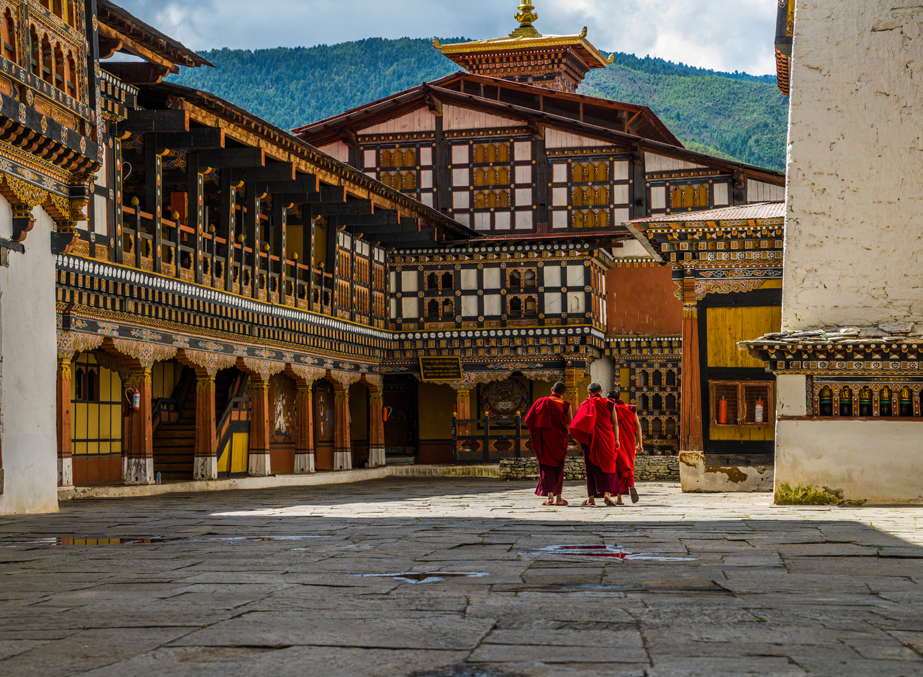 In local terminology, 'shedra' translates to a 'Buddhist college'. Kuenzang Chholing Shedra in Bhutan is located towards the north of the holy Gangtey Goempa; around 10 minutes' drive away. If you want to learn more about Buddhism, its importance, and influence across Bhutan, you must visit this ancient Buddhist college called Kuenzang Chholing Shedra. The college currently houses around 300 monks from the nearby regions.
Visitors' Timings: Throughout the Day
Entry Fees: No Charge
Damchen Lhakhang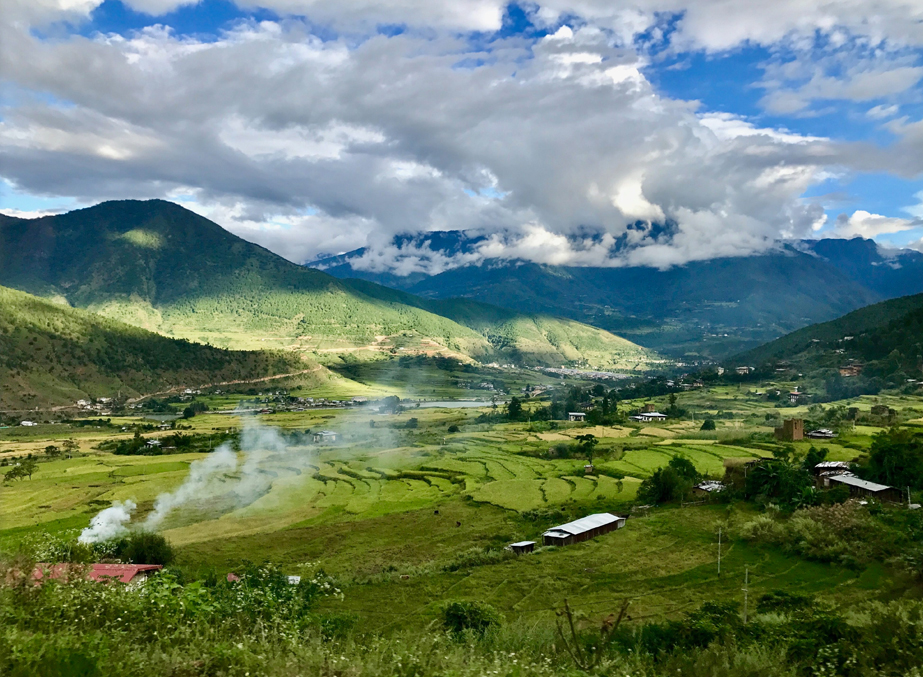 Compared to most of the monasteries in Bhutan, Damchen Lhakhang is a smaller one. Founded by Trulku Paljor Gyeltshen, this holy monastery was once used by the master as his retreat centre. The master is also believed to one of the greatest treasure discoverer Bhutan ever had. The founder of several other Buddhist monasteries, Trulku Paljor Gyeltshen is considered as the true incarnation of Lhasey Murthi Tsenpo.
In recent times, though Damchen Lhakhang was taken care by the locals, it was later handed over to His Holiness Gangteng Rinpoche, who appointed several esteemed Lamas to take care of the monastery. Damchen Lhakhang is currently the study ground of almost 17 monks and 2 teachers.
Visitors' Timings: 09:00AM – 05:00PM
Entry Fees: No Charge
Khewang Lhakhang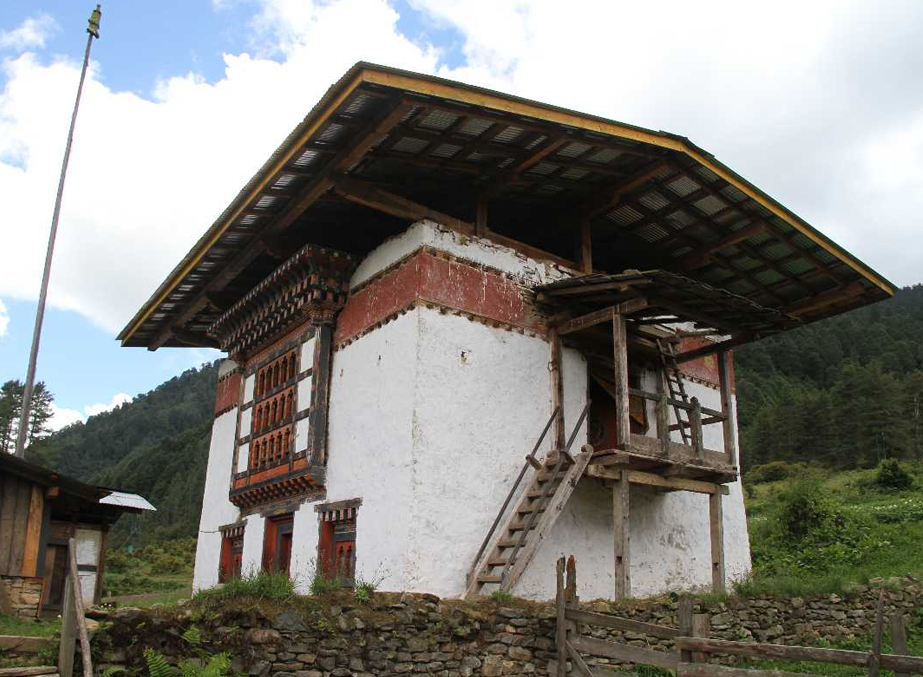 Moving towards the eastern side of the scenic Phobjikha Valley; opposite to Tabiting, visitors would come across an intricately carved decoration that seems to be from some fairy-tale! Beaming across the enchanting glacial Gangtey Valley, this Lhakhang dates back to the 15th century, and its location was prophesized by the Divine Madman himself.
Built by Tibetan craftsmen under the commission of Trulku Penjor Gyeltshen, the temple resonates Tibetan influence throughout its architecture. Khewang Lhakhang represents three two-storied statues of the past, present and future Buddha. Its inner walls have beautiful murals and intricate pieces of paintings that depicts religious tales from the past. Khewang Lhakhang also hosts an annual tsechu on the third day of every ninth month of the Bhutanese calendar.
Visitors' Timings: 09:00AM – 05:00PM
Entry Fees: No Charge
Wangmo Hand-Woven Carpet Factory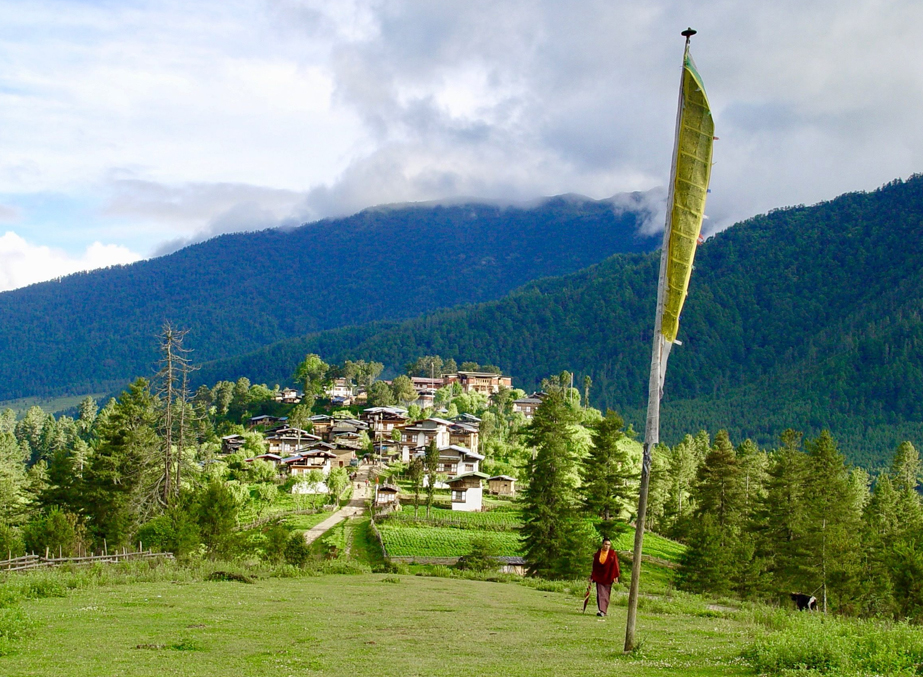 Bhutan is undoubtedly a land of exquisite art and handicrafts; to witness this, one must visit the Wangmo Hand-Woven Carpet Factory in Gangtey Valley. Initiated in 1992 by a local lady named  Dorji Wangmo, this local carpet factory produces amazing carpets that have high global demands. Weaved traditionally, some of the varieties of the carpets produced in this factory are indigenous to Phobjikha Valley only.
Another remarkable feature of Wangmo Hand-Woven Carpet Factory is that it employs only female weavers from across the valley. The owner of the factory trains all the workers by herself; teaches them how weave carpets with bare hands or without using any modern machines. Wangmo Hand-Woven Carpet Factory is also known for its organic handmade carpets. During a visit to here, visitors can also buy souvenirs or carpets produced in this factory.
Visitors' Timings: 09:00AM – 05:00PM
Entry Fees: N/A

Subscribe to us
Subscribe to our newsletter and stay updated

Request a call back
Our experts would love to create a package just for you!