Things to Do in Paro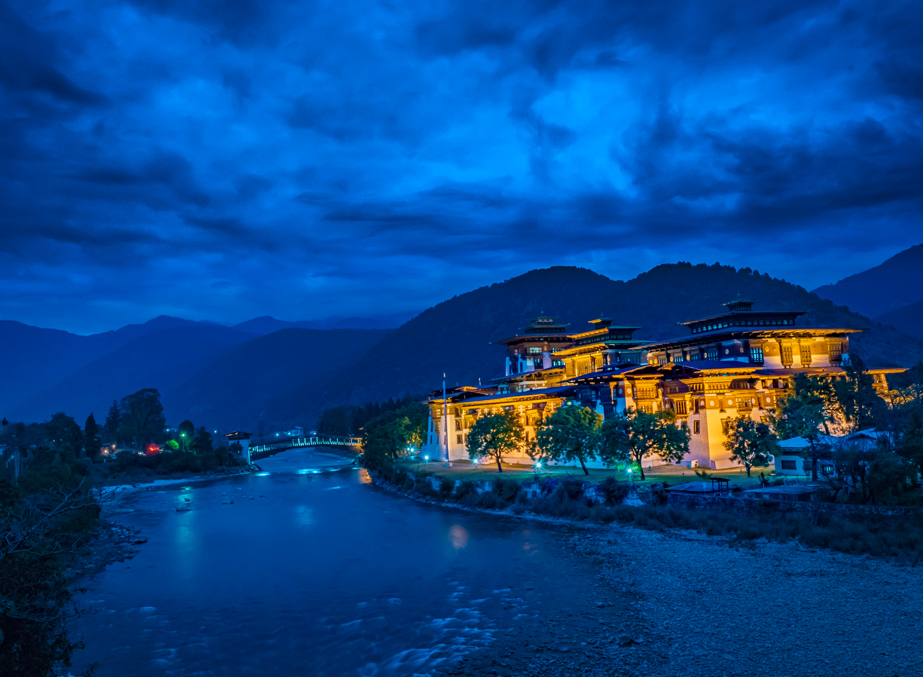 A picturesque valley nestled amidst fascinating mountains and peaks, dotted with remarkable traditional houses, and blanketed with pristine greeneries, Paro Valley can be called as a gem in Bhutan's tourism map. Located at the confluence point of Paro Chhu and Wang Chhu river, this scenic valley spreads it flawless beauty till Mt. Jhomolhari, and entices thousands of visitors every year.
If you are planning for a Bhutan trip, and have your itinerary covering this wonderful valley, you must go through the list of things to do in Paro. This list will not only offer your exciting Paro things to do, but will get you introduced with most of the things to see in Paro Valley. Let's stroll through this list and find out how this pictorial valley can make you fall in love with the 'Land of Thunder Dragons'!
Suggested Read: Things To Do in Bhutan , How To Reach Bhutan & Best Time To Visit Bhutan
Planning to visit Bhutan, here are the best Bhutan tour packages that can be customized according to your requirements.
Get to the Takshang Monastery on Foot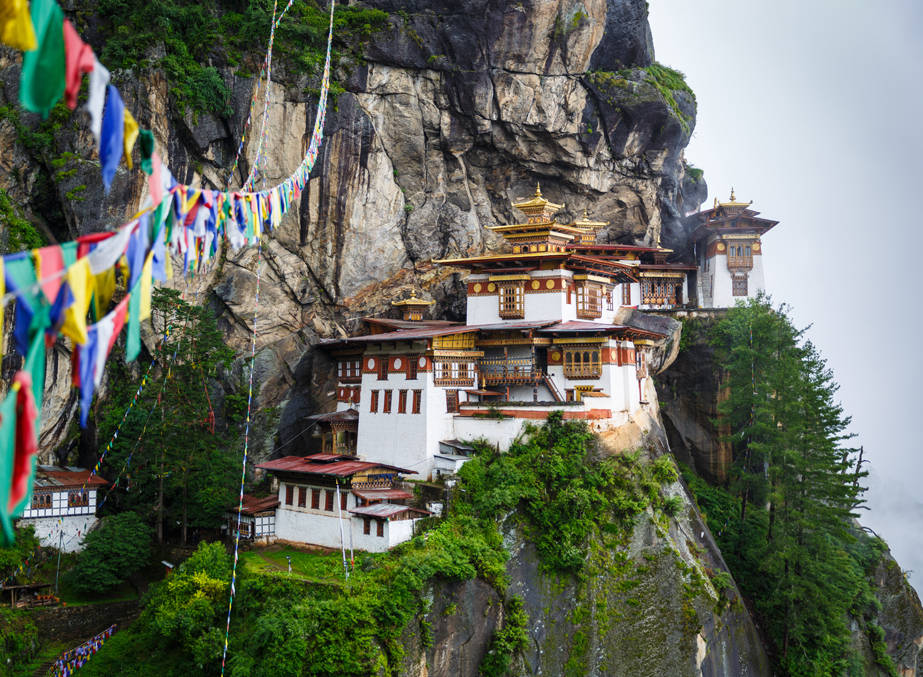 Whether in Paro or across any corner of Bhutan, a hike to the Takshang Monastery or the Tiger's Nest is one of the must things to do in Paro! Tucked away over an exhilarating cliff, this pious monastery is almost around 3,000ft above the ground.
A monastery steeped with the legend of Guru Padmasambhava and his tigress, this monastery is accessible only through a 4 hours' hike across a well-maintained trail. Colourful prayer flags tucked all through the way, evergreen pine thickets, breath-taking views of the valley with lofty peaks around; everything just makes it for an amazing experience! Once at Tiger's Nest, the peace, serenity and sanctity that prevail there, would soothe your mind and should within a wink!
Traverse Across a 700 Years Old Suspension Bridge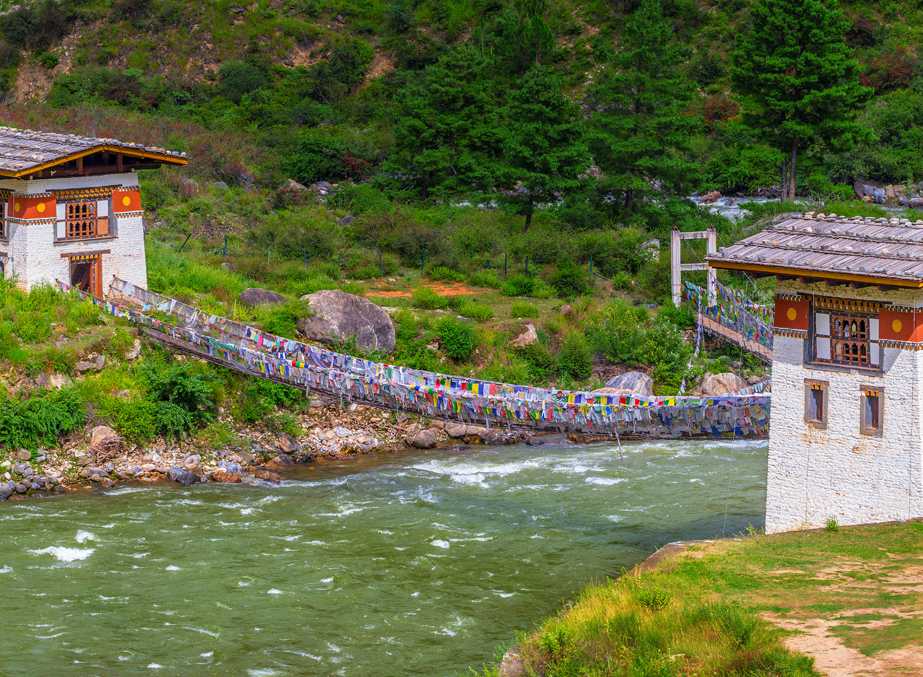 Have you ever crossed a gushing river while being suspended over it? Whether yes or no, you must visit Paro, and rush to the point where Thimphu River meets the Paro River. Over here, you would find a suspension bridge that was originally built in 1300s by Drupthob Thangtong Gyalpo.
This suspension bridge connects the sacred Tachog Temple with the valley. Taking a walk across this bridge has its own set of thrill and excitement. Though the bridge has been renovated over the period of time, you would still feel suspended in the air while crossing it. Moreover, the view of the azure water underneath it adds more fun and excitement while crossing the bridge. Make sure you traverse the bridge and visit the sacred temple as well; this will add one of the most exhilarating Paro things to do in your Bhutan list!
Drive or Hike to the Chele Pass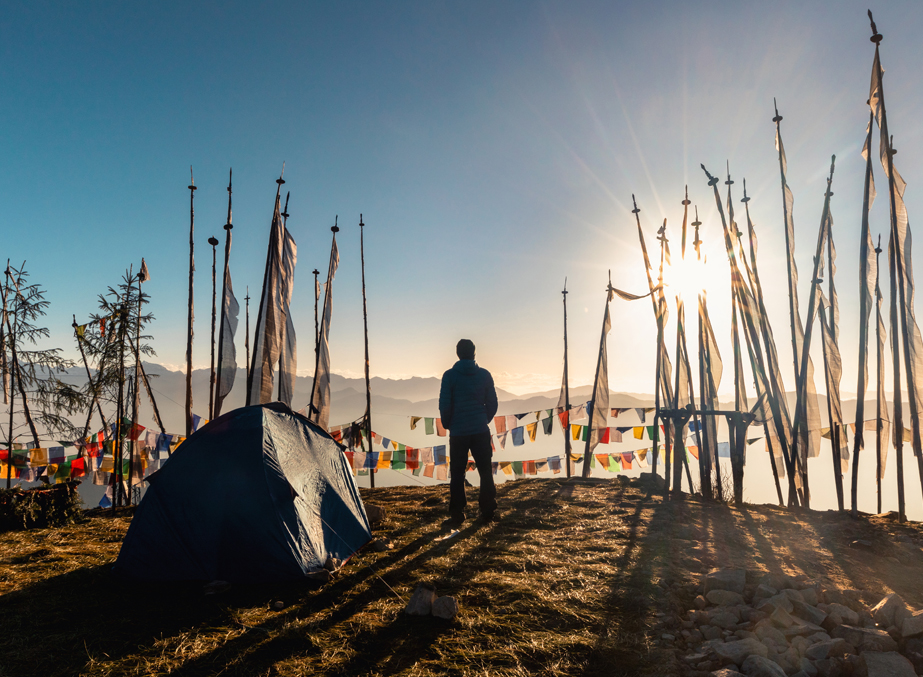 Connecting the Paro Valley with Haa Valley, this sky-touching pass is the highest motorable pass in the Land of Thunder Dragons! Situated at an elevation of 3,810m, Chele Pass is frequented by a large number of locals and visitors alike. In addition to its lofty height, the scenic vistas that lead to this pass, always calls in for a fairy-tale like experience.
While on a drive to Chele Pass, visitors get rewarded by kaleidoscopic rhododendrons, views of snow-kissed peaks, winding terrains, and captivating slopes of the mighty Himalayas. Visitors who wants to enjoy these magnificent views from within their comfort zone, can hire local taxis and drive to the Chele Pass. And those looking for the enthralling things to do in Paro, can hike up to this pass to enjoy its alluring charm!
Unfurl History at Paro National Museum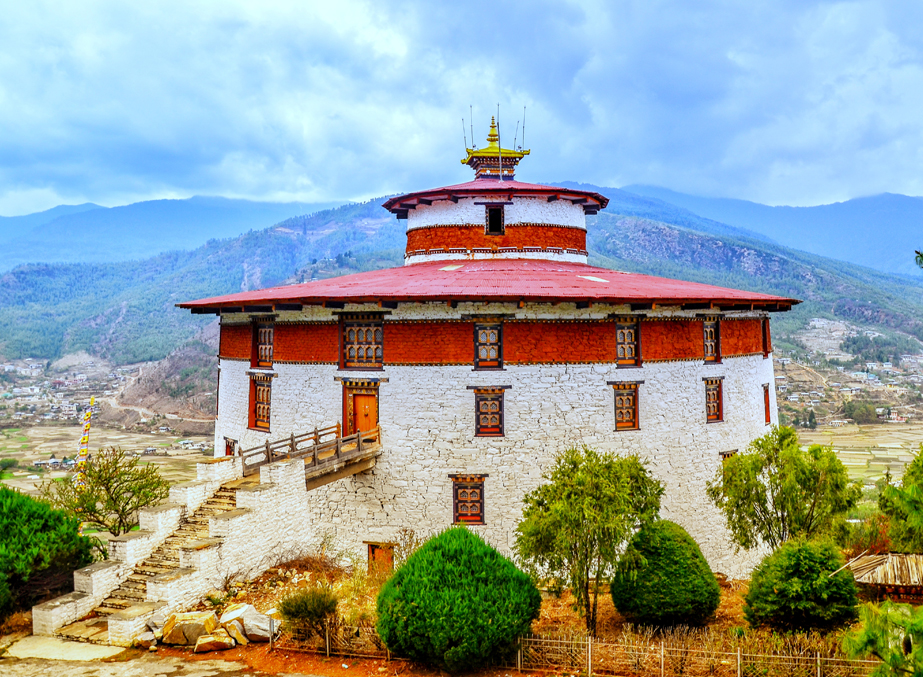 Revisiting Bhutan's glorious history could be one of the most wonderful things to do in Paro! If you too are on the same quest, you should head towards the Paro National Museum that was once a watchtower. A circular architectural marvel with irregular windows, this watchtower was also called as the 'Ta Dzong', and is believed to date back to 1649.
Built as a shield to protect the dzong, it also served as a prison, and now has been renovated as a museum that houses Thangka paintings, antique weapons, household utensils from the 17th century, rare objects, traditional items, and some belongings that dates back to the Stone Age. The museum is undoubtedly one of the best things to see in Paro.
Enjoy the Magical Views of Mount Jomolhari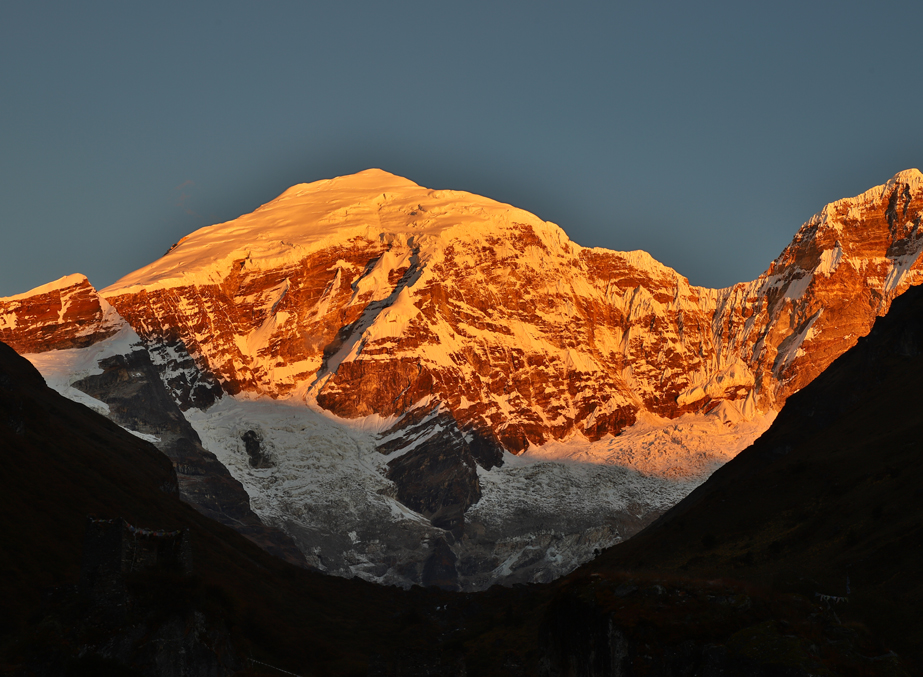 The incredible source of Bhutan's Paro River, Mount Jomolhari is more than just a peak. This divine mountain in the Himalayan Range is believed to be the abode of Goddess Jomo, who is worshiped as the Female Protector Goddess of Bhutan and Tibet. Rising around 2,700m above the sea level, this mountain remains snow-capped throughout the year and its peak is worshipped by everyone in Bhutan.
For those who wishes to catch the breath-taking views of Mount Jomolhari, they can visit the historic ruins of Drugyel, which is merely 30 minutes away from the main valley. Visiting this ruin allows visitors the enjoy the most wonderful views of Jomolhari's peak that stand second to none. Witnessing its unmatched beauty is surely one of the best things to do in Paro.
Visit the Blue Temple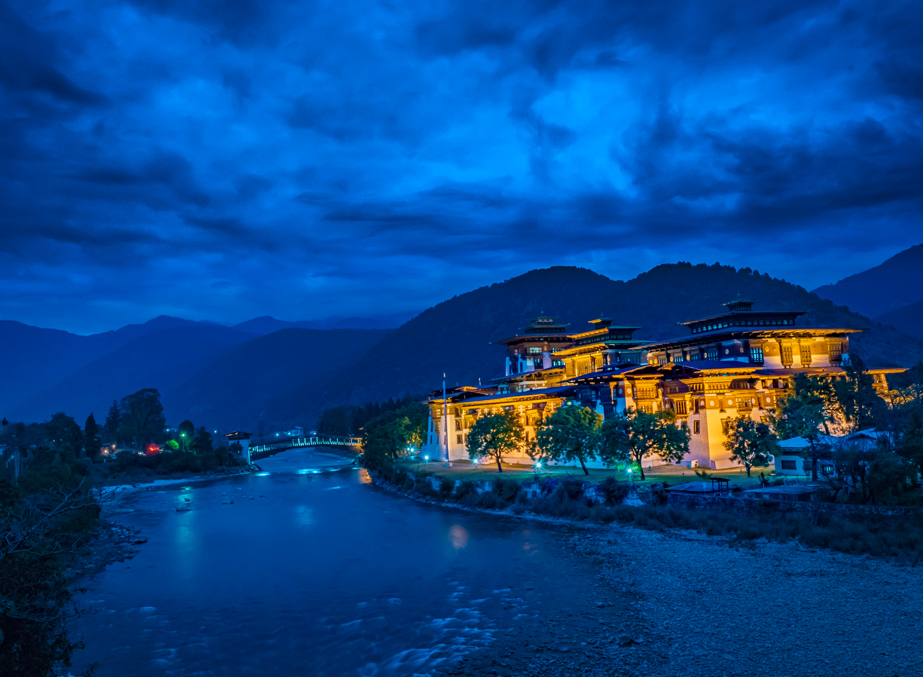 Bhutanese architecture is considered as one of the most detailed, intricate, and heart-warming architectures in the world. The Kyichu Lhakhang or the Blue Temple showcases the brilliance of Bhutanese architecture in true sense. Built during the 7th century, this holy temple in Lango Gewog has immense religious significance and importance as it was visited by Padmasambhava, and is said to have many spiritual treasures.
While searching for the best things to see in Paro, the Kyichu Lhakhang should not be missed at any cost. Even while looking for the best things to do in Paro, a visit to this pious Blue Temple should always be included in the list.
Witness the Sky Turning Golden from Paro Museum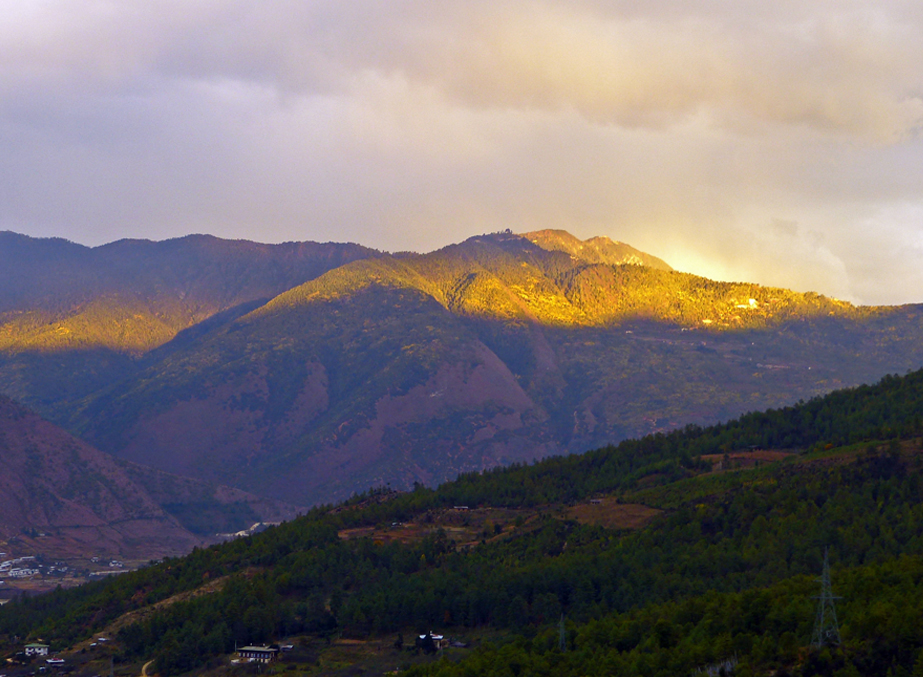 As the Paro River makes its way through the meandering trails, it passes through the verdant rice fields, scenic vistas, and makes everything looks magical. The vicinity becomes truly magical during the evening when the sun starts setting and spreads its golden rays all around.
If you are searching for the most relaxing things to do in Paro, you must visit the Paro National Museum during the evenings, and catch hold of these magical views. You can even visit the place by late afternoon as the sun starts turning golden by this time; the viewpoint here offers astounding sunset views that you will never forget in your life!
Witness a Piece of History by hiking to the Zuri Dzong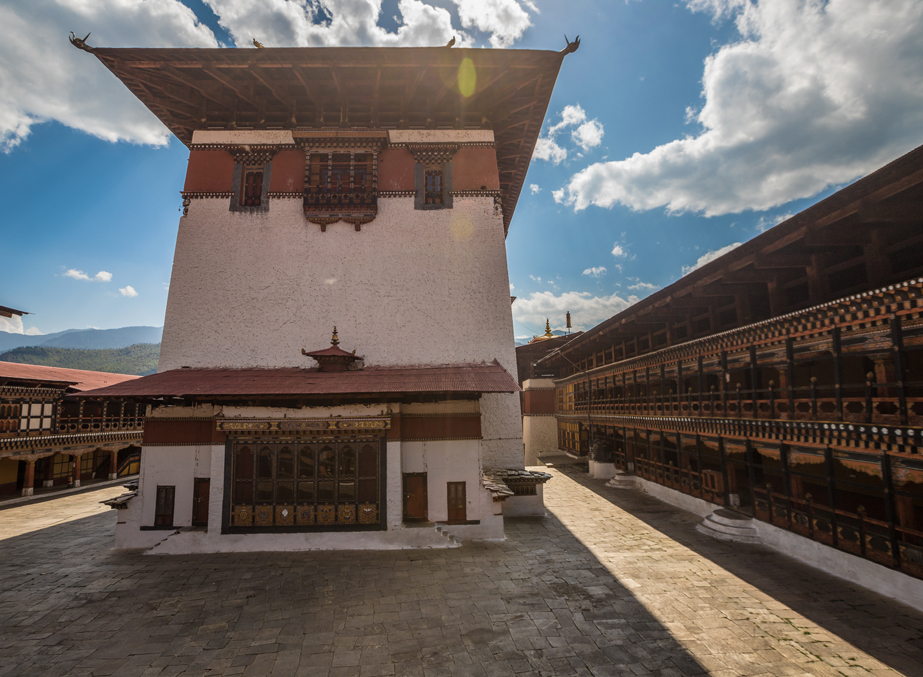 As old as the history of Bhutan itself, the Zuri Dzong stands out from almost all the other things to see in Paro! Built in around 1352, this glorious fortress is the home to 'Zaa' (Rahulla), who is believed to the protector of entire Paro Valley. The dzong has an ancient cave that once served as the meditation ground of Lord Buddha.
Besides being one of the oldest and most well-preserved dzongs in the country, it is also known for its marvellous craftsmanship. Guarded by double wall, one can reach Zuri Dzong by trekking for almost one hour from Gönsaka Lhakhang or Ta Dzong. Accessible via a suspension bridge, visiting this historic fort is one of the best things to do in Paro, Bhutan if you want to get acquainted with the history of Bhutan.
Discover the True Meaning of Devotion at Dilgo Khyentse Rinpoche Memorial House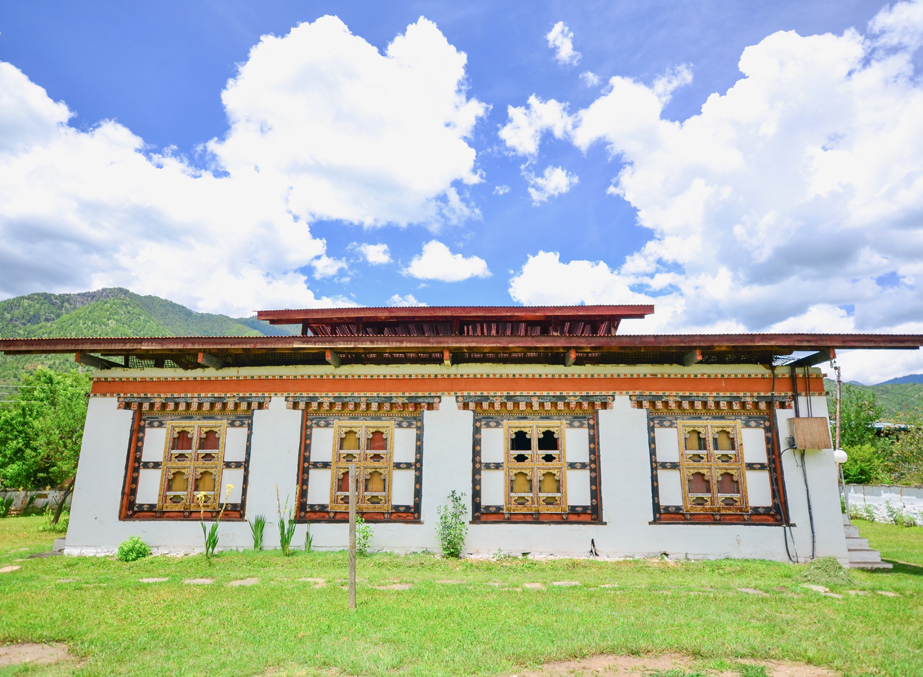 Faith and devotion play an indispensible role in Bhutanese culture. The Dilgo Khyentse Rinpoche Memorial House is a livelier example of how one gets admired by being true, devoted and faithful! Built in the memory of Dilgo Khyentse Rinpoche, who was one of the devout poets and spiritual leaders of Bhutan.
His devotion towards His Majesty Ashi Kesang Choeden Wangchuk, earned him this memorial. Rated as one of the most pleasant things to see in Paro, a visit to Dilgo Khyentse Rinpoche Memorial House is indeed one of the best things to do in Paro Bhutan. On your visit to this museum, you can find the guru's books, costumes used by him, his hats and images, a Mercedes car used by him, his sinus medication, teaching throne, and several other of his belongings.
Gain Spirituality at the Sacred Sites, Dzongs, and Monasteries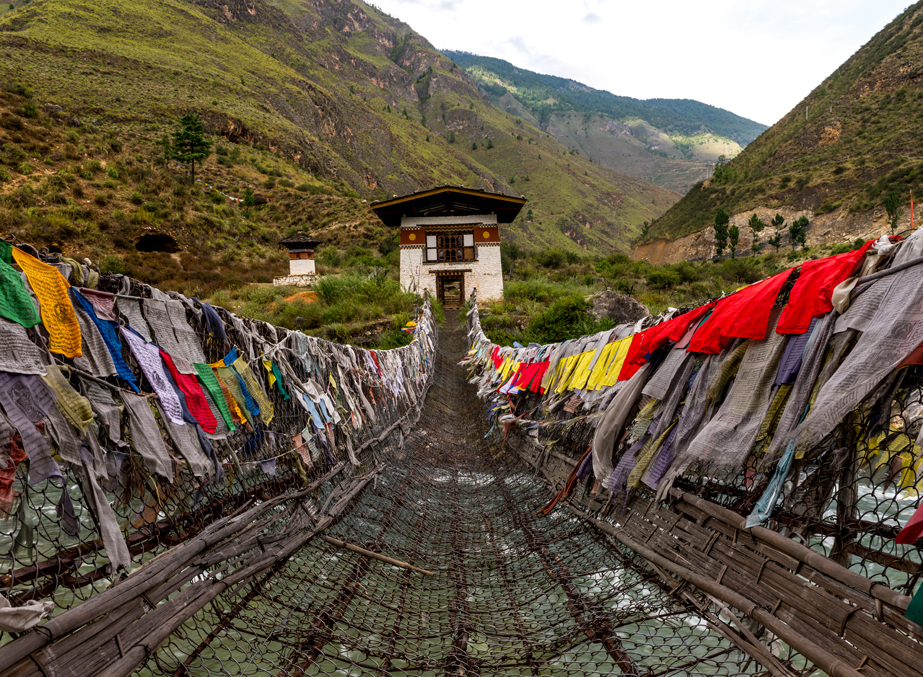 As a thriving tourist destination, one can indulge in an array of things to do in Paro, Bhutan. Also, as dotted with numerous religious sites, temples, monasteries, dzongs, and others sacred sites, Paro Valley is an ideal place to seek spirituality and solace of mind. Irrespective of which part of the valley you are in, you would always be close to one or the other such sites.
Visiting these sites not only get you closer to Bhutanese cultures and believes, but also opens up many windows to learn the teachings of Lord Buddha. While in this picturesque valley, make sure to visit Tamchoe Monastery, Jangtsa Dumtseg Lhakhang Temple, Drukgyal Dzong, Rinpung Dzong, Dra Karpo, Dzongdrakha Goemba, Kila Goempa, Kyichu Lhakhang, and others.
Experience International Brotherhood in Paro
The Happiest Himalayan Kingdom, Bhutan is known for the unmatched peace, harmony and brotherhood that exists here. Emphasizing on this note, there is the Dasho Nishioka Chorten Museum that showcases how this happy country makes everyone feel home with wide open arms!
A chorten built to honour a Japanese citizen named Dasho Nishioka, who taught the Bhutanese modern agricultural techniques and forms, today this museum ushers a universal message to the world. A visit to this memorial is in fact one of the most pleasant things to do in Paro, Bhutan!
Be a Connoisseur at the Namgay Artisanal Brewery
Did you know Bhutan has some of the most reputed and highly enjoyed brews? Well, if you are beer lover and want to taste some of the finest brews, you must visit the Namgay Artisanal Brewery in Paro Valley. The brewery is also reputed for its unique produce that are emulsified with rare Bhutanese ingredients.
Visit this brewery; join its beer tasting tours at an additional cost to sip over Red Rice Lager, Milk Stout, Indian Pale Ale, Wheat, Apple Cider, and Dark Ale. While enjoying this exciting thing to do in Paro Bhutan, you can also enjoy Namgay Artisanal Brewery's own brand called 'Bhutanese'!
Enjoy the Ariel Views of Mighty Himalayan Range
As we all know, the Paro International Airport is one of the most exhilarating airports in the entire world. Be it landing or take-off, either could be so treacherous here that only eight extremely experienced pilots are allowed to fly to and from the sole international airport in Bhutan.
Flying to or from this airport could be an experience of its own kind! And in case, you wish to witness the great Himalayan Range from a close hand, flying to or from this airport could be one of the most adventurous things do in Paro Bhutan for you! Fasten your seat belts, stay glued to the window pane, and enjoy the enchanting aerial views of the mighty Himalayas!
Savour Local Delicacies in Paro
Savouring on local Bhutanese delicacies in indeed the most delicious thing to do in Paro! While in this jolly city, just bump into any of the local eateries, or try to be a guest to any of the local families; in either cases, you will be greeted and treated with some of the most flavoursome dishes.
Though Bhutanese cuisine is not so high with spices, the way they are prepared, and the hospitality of the locals makes them extremely succulent and mouth-watering. To add here, while feasting on Bhutanese delicacies, make sure you have a bite of 'Ema Datshi', the national food of Bhutan.
Shop Like a Local at the Sunday Weekend Market
If you want to witness, experience and enjoy the local life in Paro in its pristine form, you must visit the Sunday Weekend Market! An assembling ground of the local traders and buyers, this bustling marketplace comes to life every Sunday at sharp 06:30AM. If you want to delve deep into how the locals of Paro Valley carry out their daily life, you must visit this weekend market!
One of the most exciting things to do in Paro Bhutan, the weekend market calls in traders from almost all the walks of life. Starting from home-grown vegetable to farm products like 'chugo' (dried yak cheese), betel nuts, juniper incense to exotic ferns, 'khoo' (dried-jellied cow skin) to farming tools, you can buy almost everything in Sunday Weekend Market.

Subscribe to us
Subscribe to our newsletter and stay updated

Request a call back
Our experts would love to create a package just for you!