Things to Do in Gangtey Valley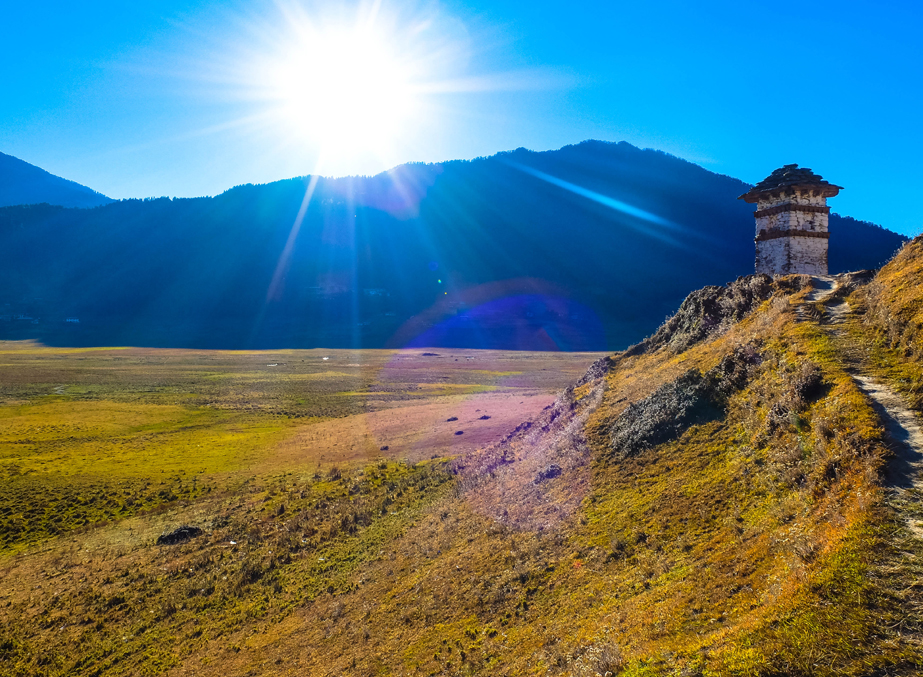 The list of things to do in Gangtey Valley can go far beyond everyone's imagination! A magical glacial valley enchanted with the Black Mountains as its backdrop, Gangtey Valley or the Phobjikha Valley in Bhutan is a dream come true destination for the visitors. Whether a wanderlust or a nature lover, leisure traveller or backpacker, or even if you are planning for your honeymoon trip, this gorgeous valley can be your ideal spot in the Land of Thunder Dragons.
Extremely rich and diverse, Phobjikha Valley is the home to some of the most exotic as well as endangered wildlife species. Its untouched beauty and tranquil ambience, varied trails and the list of things to do in Gangtey Valley makes it a must visit place for visitors from all the walks of life. Before you plan your trip to Phobjikha Valley, have a look at all the things to do in Phobjikha Valley as we list all of them at one place.
Suggested Read: Things To Do in Bhutan , How To Reach Bhutan & Best Time To Visit Bhutan
Planning to visit Bhutan, here are the best Bhutan tour packages that can be customized according to your requirements.
Visit the Gangtey Goempa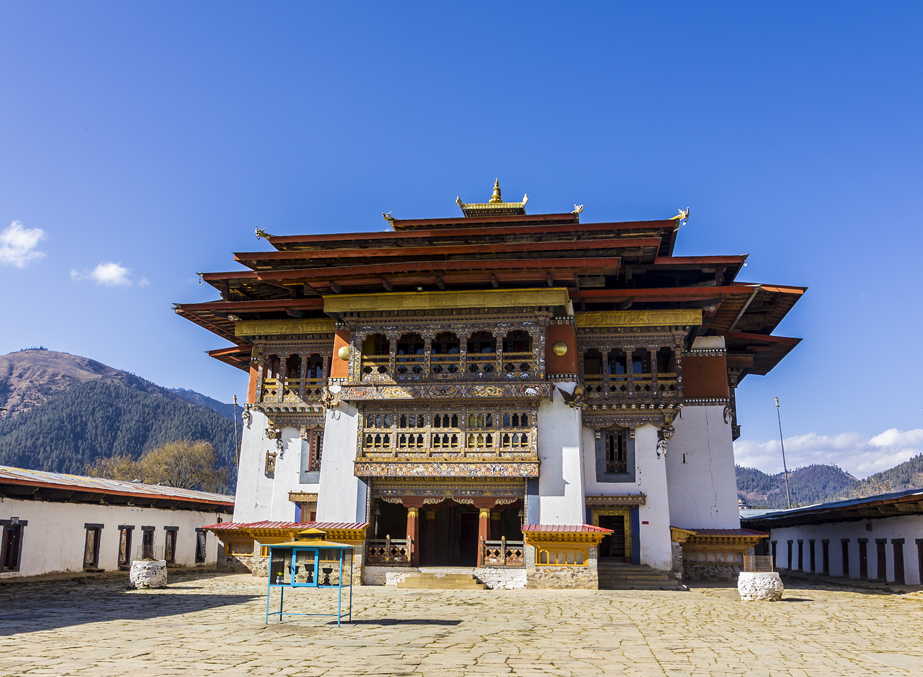 Seated atop a hill that overlooks almost the entire Phobjikha Valley, visiting Gangtey Goempa should be the first thing to do in Gangtey Valley. A 17th century Buddhist monastery, it is one of the most famed as well as pious sites to visit in the entire valley.
The monastery complex has many ancient relics, religious texts, and several other belongings from the past. Built in traditional Buddhist architecture, it has a central goempa, monks' hostel, butter lamp house, a guesthouse, and a meditation centre. Within the main goempa, visitors could find century old animal body parts on display.
Note: Photography is not allowed everywhere within the goempa
Visitors' Timing: Throughout the Day
Entry Fee: No Charge
Learn More About the Endangered Black-Necked Cranes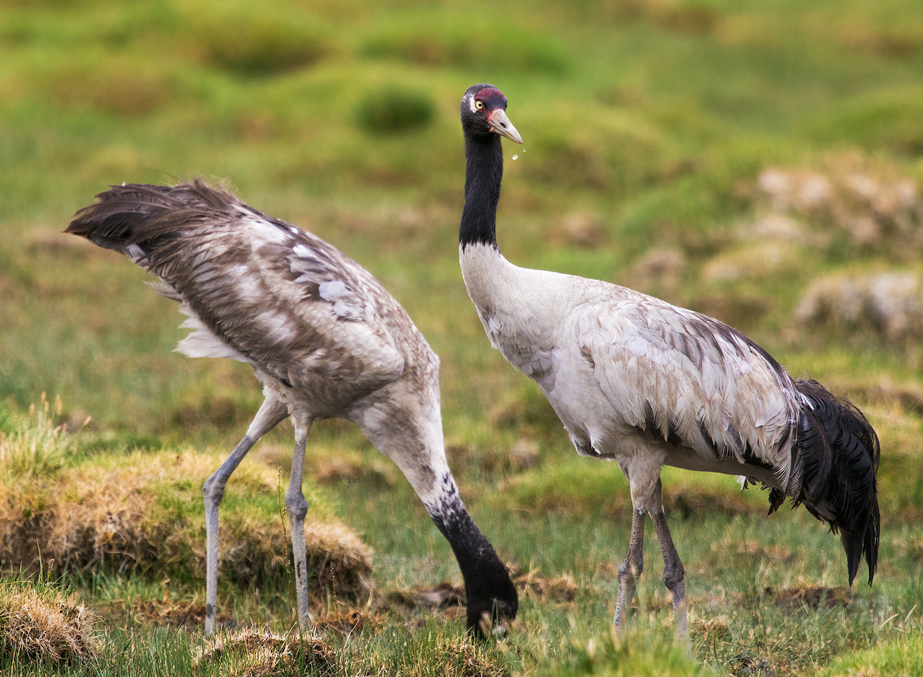 The black-necked cranes are among the endangered birds that migrate to Bhutan during the winter season. Though these endangered birds can be found in other Bhutanese regions like Bumthang Valley, Lhuntse, and others, Phobjikha Valley hosts the maximum number of black-necked cranes every year.
On your visit to the scenic Phobjikha Valley, you must visit the Black-Necked Crane Information Centre of the Royal Society for Protection of Nature's (RSPN) to know and learn more about these exotic birds. The information centre has telescopes and other essential equipment to have a close look at these birds. Alongside, there are observation centres that offers undisturbed views of the surrounding valleys that are often visited by these birds.
Visitors' Timings: 09:00AM – 04:00PM
Entry Fees: Nu 120 (International Tourists), Nu 100 (SAARC Nationals), Nu 50 (International Students), Nu 15 (Locals), Free Entry (Bhutanese Students, Monks, RSPN Members, Local Communities)
Enjoy Rural Lifestyle in Tenkhor Yuetshe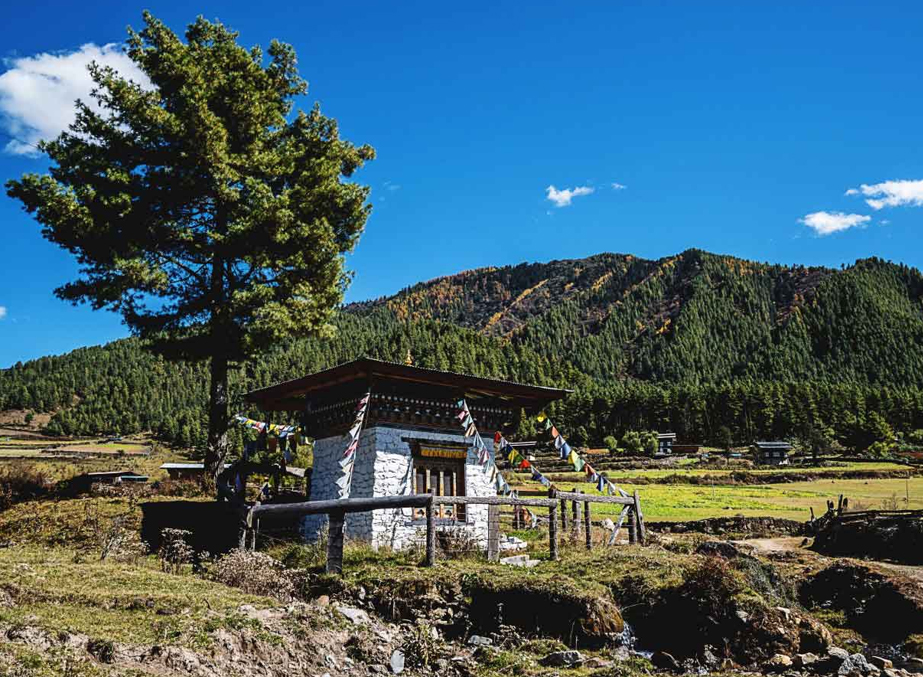 Ever though what makes a country like Bhutan the happiest country in the world? Well, if not, you must visit the Tenkhor Yuetshe village in the Gangtey Valley of Bhutan. Hidden amidst thick and evergreen forests, adorned with the rustic charm of rural life and culture, this pictorial hamlet ushers a sense of peace and tranquillity among its dwellers.
Almost untouched by the modern world and its affluences, it seems like Mother Nature has blessed this tiny little village with all the wonders. Though located remotely, the village with its warm-hearted locals and all the natural marvels, looks so contended and self-sufficient. A visit to Tenkhor Yuetshe would introduce you with the real meaning of life amidst varied cultures and tradition. The visit would also make you feel how to be happy in life with even the little you can have!
Relax & Rejuvenate with a Hot Stone Bath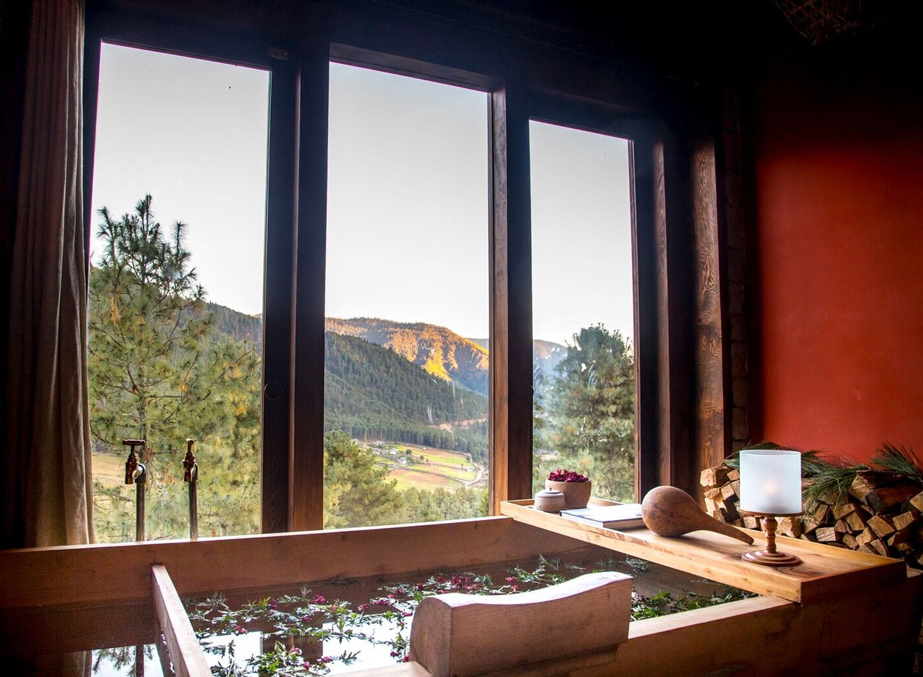 Tour and trips often cause the body and soul to get tired! But, while in the Phobjikha Valley in Bhutan, you must not worry about getting tired or feeling burnt-out; its miraculous beauty and charm is enough to keep you boosted and high for some more. However, in the worst case, if you feel you need some relaxation, you should definitely try out the 'Dotsho' while in Gangtey Valley.
Dotsho or the traditional stone bath is one of the most desired things to do in Phobjikha Valley. Known to be a medicinal practice among the locals of Gangtey Valley, stone bath includes heating of river stones and later put in wooden tub of water. Tubs made from oak or pine are mostly used in this traditional practice. At times, local medicinal herbs and plant are also put in the tubs to cure joint paints and calm down the mind while imbibing a sense of relaxation.
Go for the Gangtey Nature Trail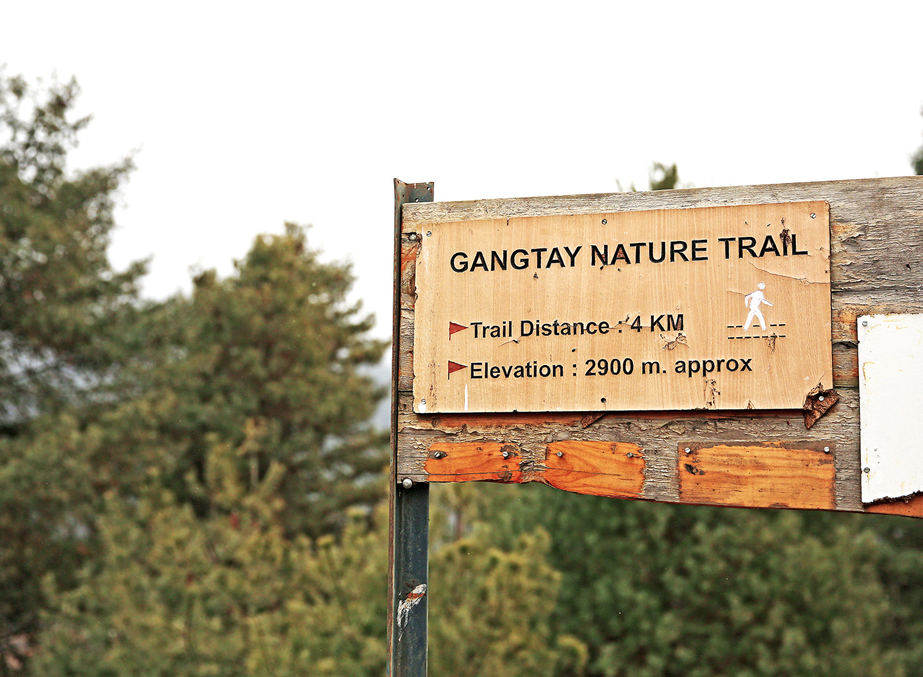 While in Bhutan, you are always promised with the pristine and tender touch of Mother Nature. Adding to this, if you are in Gangtey Valley, you would always be assured with a true sense of amazement and wonder. and to witness this come true, you must go for a hike across the Gangtey Nature Trail.
Exciting, enthralling, and extremely pleasing, this walk will take you to a fascinating hilltop in Phobjikha Valley, from where you can enjoy the most magical views of the entire valley. Since the trails are easy to ascend and hike through, even an amateur hiker could also trail them at an ease. Furthermore, the downhill trails that passes through flowery meadows and remote villages would add some more to the hike. If you are looking for the best things to do in Phobjikha Valley, Gangtey Nature Trails is one splendid option that you should go for at the first place!
Difficulty Level: Easy
Total Distance: 5.5km (approx.)
Total Duration: 2 Hours (approx.)
Dig History at Khumbu Lhakhang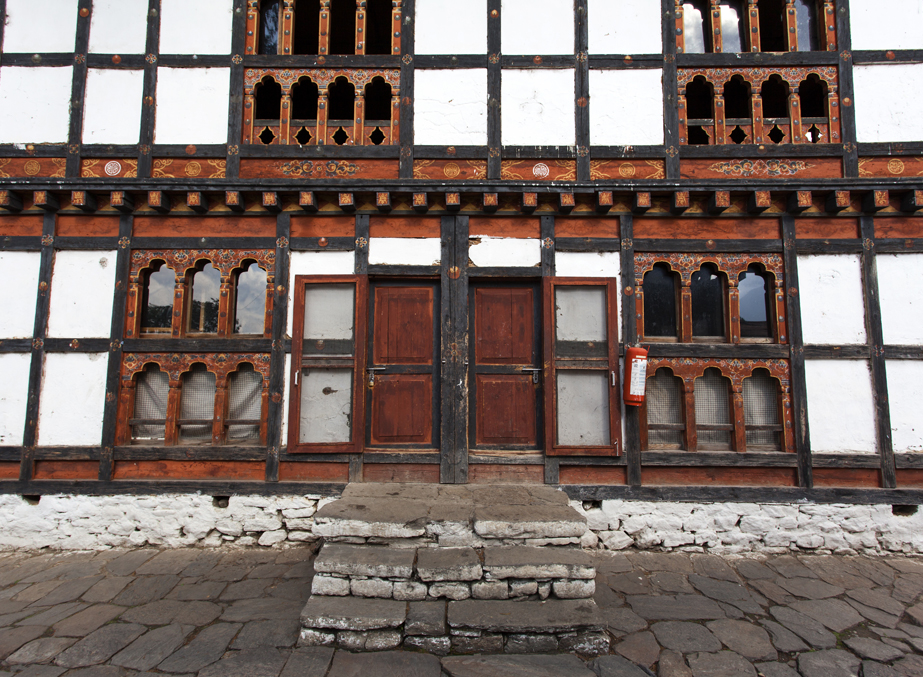 Like others, you also would be astounded to know that there exists a temple in Gangtey Valley whose exact history is not known to others! Yes, the sacred Khumbu Lhakhang in Gangtey is one of those temples that really does not have any literature to explain its exact history. However, most of the locals believe in what the caretaker of Khumbu Lhakhang communicates verbally.
The home to the Present Lord Buddha or 'De Sum Sangay', locals believe that the temple was built somewhere during the 7th century as Lam Zhabdrung Tshenden Dewa arrived in Gangtey within this period. Following the arrival of this religious guru, Khumbu Lhakhang was built prior to the twenty dzongs in Bhutan. Located within a proximity to the Gangtey Goempa, a visit to this pious as well as mystique temple must be included in the list of best things to do in Phobjikha Valley.
Visitors' Timings: 09:00AM – 04:00PM
Entry Fees: No Charge
Enjoy Open Air Camping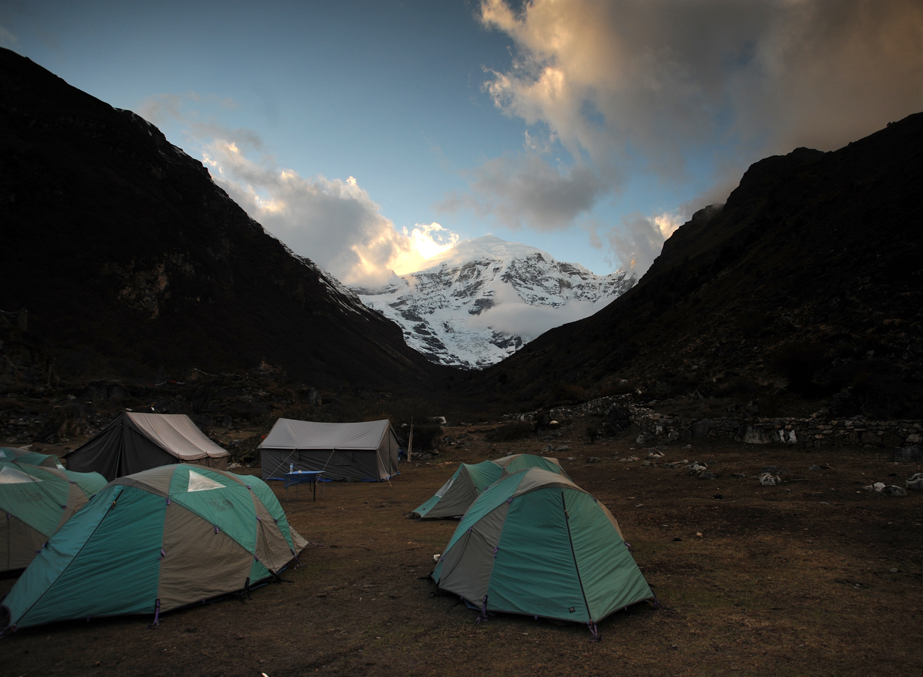 Gangtey or the scenic Phobjikha Valley is an ideal spot to go out for open air camping! Quiet, calm, beautiful, serene, and adorable; that's the charm of this picturesque valley in Bhutan. While guarded by captivating hills, the valley lies flat and never misses to enchant its visitors with all its natural bounties. Gorgeous forests around, flowery meadows, gentle slopes, and mix of terrains truly makes Gangtey Valley a paradise for camping and other similar activities.
However, while going for a camping excursion, you should always seek permission from the local authorities as most parts of the Phobjikha Valley are included in the list of protected areas. But then, the warm-hearted locals of this valley embrace everyone with an open heart. If you are looking for the most delightful things to do in Phobjikha Valley, you should carry the basic of camping gears, get permission from the authorities and have an amazing experience of camping out in the open air!
Treat Yourself with a Day Picnic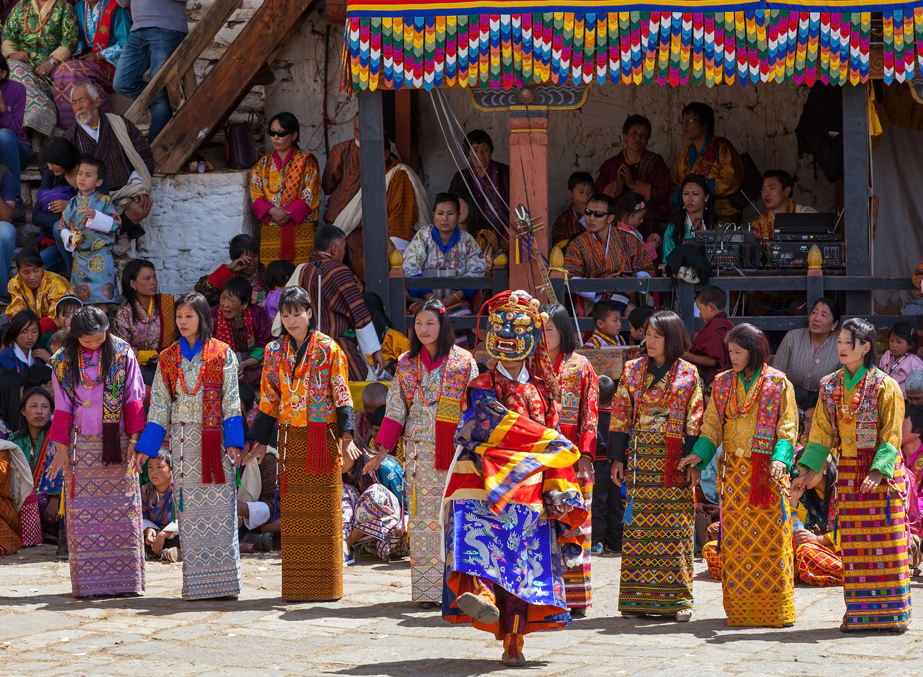 Well, if you are an extreme outdoor person, you can also opt for a day picnic with your family and friends while touring around Gangtey Valley in the Land of Thunder Dragons. As already mentioned, this is the valley where nature exists in all breath-taking forms. Without much of worrying, you can pick up any suitable spot and spread out for a lovely day picnic experience within this valley.
However, the spots around Khewa Lhakhang is mostly popular among the picnic goers in Phobjikha Valley. And in case, you find it hard to manage all the requirements for a fun-filled picnic, you can go for either packed lunch or buffet lunch as provided by the local eateries.
Hit the Long-Distance Targets with Bow and Arrows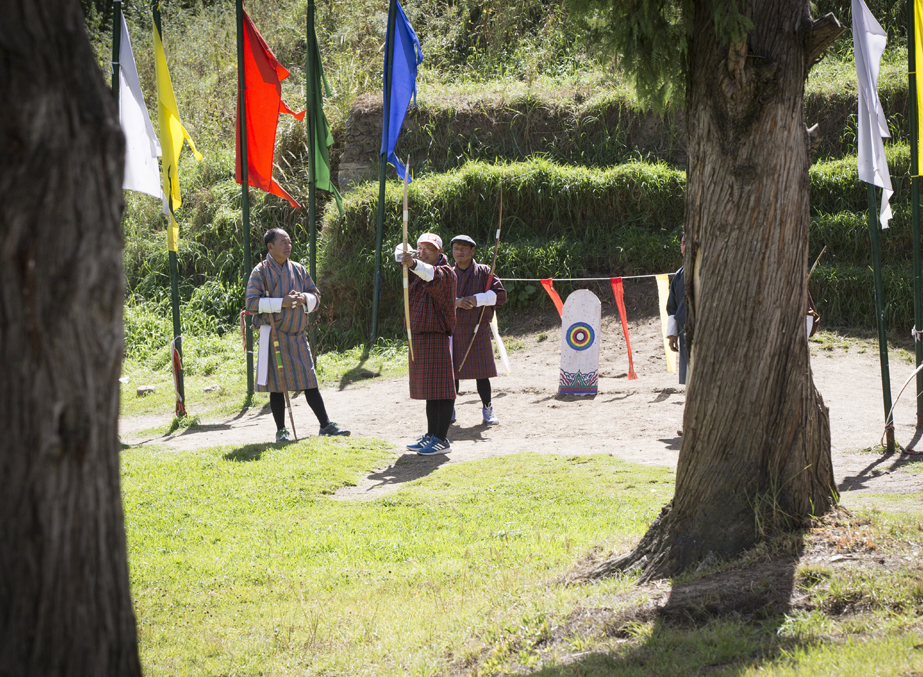 While some countries go gaga over football or cricket, Bhutan prefers the traditional way! Unlike most of the countries, the Happiest Himalayan Kingdom enjoys archery the most. Such is the craze for this game that almost every household in Bhutan has traditional bows and arrows, and most of them practices this game even today. The same is applicable for the inhabitants of the Phobjikha Valley.
While in Gangtey (Phobjikha) Valley, you too must participate in this game and showcase your skills in hitting the target. But then, while trying your hands with the traditional Bhutanese bows and arrows, you should also know that the locals here usually practice long distance archery during most of their festivals, social events, and family functions.
Experience Local Life in a Homestay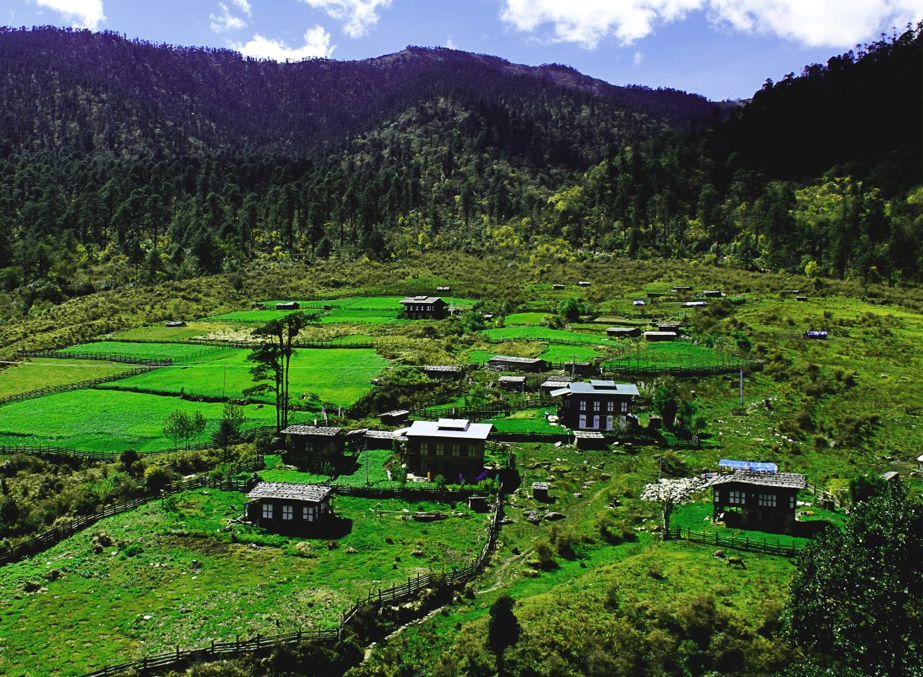 Being a remote valley, Gangtey does not offer much when it comes to hotels and other stay options. However, this should be a cause to not visit this wonderful valley in Bhutan as the local here are very friendly and never misses a chance to showcase their varied culture and traditions to the visitors.
While in Gangtey Valley and searching for the best things to do in Phobjikha Valley, you must include a stay with the local families in your travel list. People over here are very friendly and are known for their extremely delightful hospitality towards the visitors. If you are already planning for a trip to Gangtey Valley, make sure you choose a homestay and enjoy the magical beauty of this valley just like the locals do!

Subscribe to us
Subscribe to our newsletter and stay updated

Request a call back
Our experts would love to create a package just for you!