Places to visit in Bhutan in April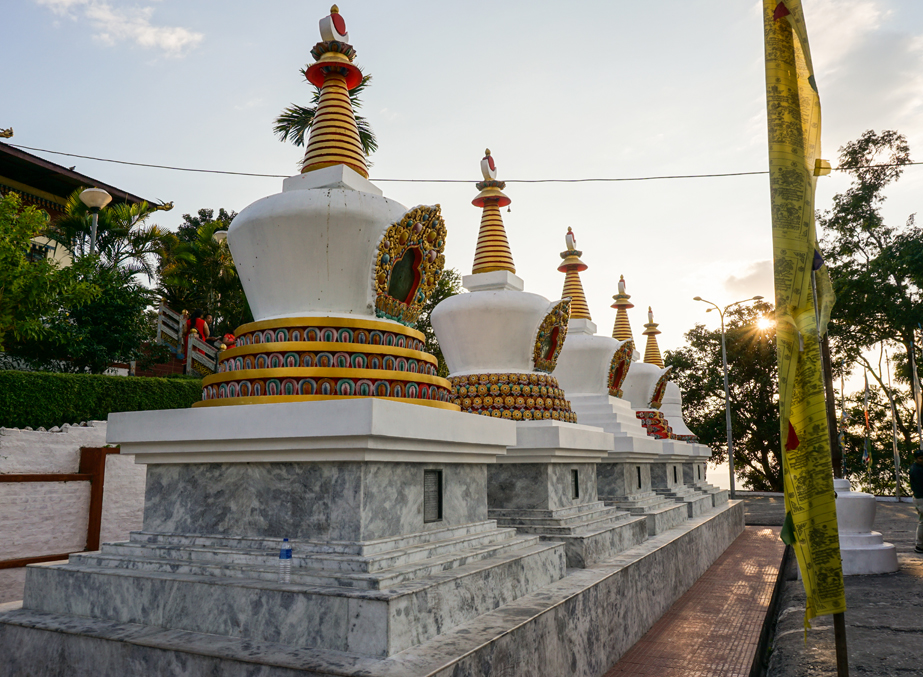 To visit Bhutan in April is most probably the best decision one can make. The country enjoys the spring season in this month. The air is clear and fresh winds blow with bright sunny skies. The famous rhododendrons bloom spectacularly and the nature lovers who adore sights of blooming flowers should certainly consider visiting Bhutan in April.
The Paro Tshechu, the most popular religious dance festival also takes places in this month and you can grab the opportunity to meet the King. He makes his way through the festivities that lightens up the entire country. Scenes of rural life and its culture has its own charms and you can grab that opportunity to witness Bhutan in April in all its glory. However, the most asked question is where all can you and what all can be explored? So, here is a complete list of the must-visit places in Bhutan in April.
Suggested Read: Things To Do in Bhutan , How To Reach Bhutan & Best Time To Visit Bhutan
Planning to visit Bhutan, here are the best Bhutan tour packages that can be customized according to your requirements.
Best Places to visit in Bhutan in April:
Thimphu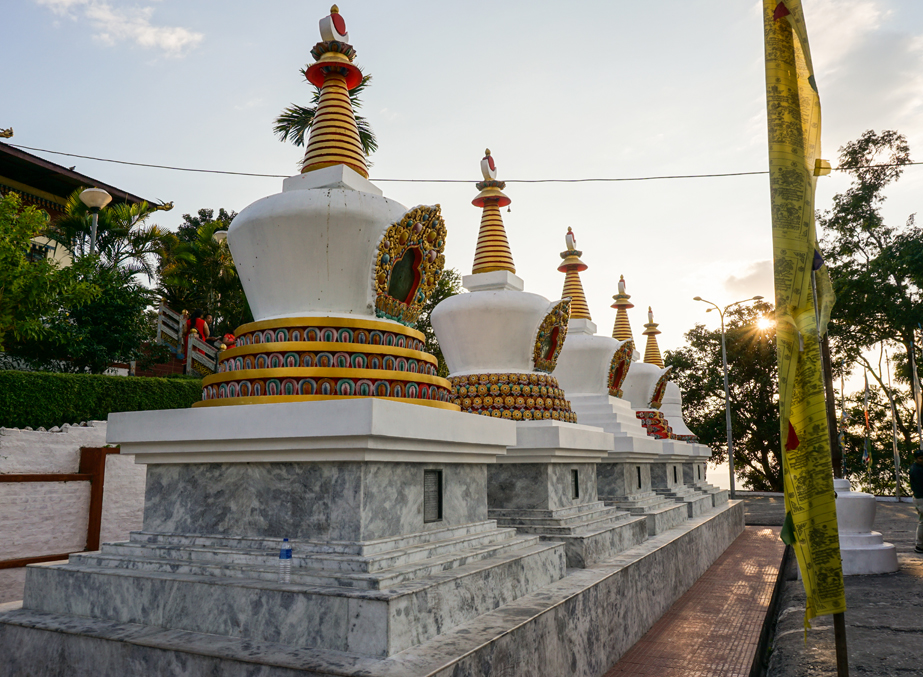 When you plan to visit Bhutan in February, you will feel overwhelmed by the charm and history of its capital city. It is the commercial hub and also the most modern city in the country. Having said that, it has managed to still retain the unique character of a Bhutanese town. Thimphu is the only national capital city that has no traffic lights. The city has a majestic backdrop of snowcapped mountains and you can simply enjoy the scenery from most parts of the country. It offers some of the best cafes, bars, restaurants and nightclubs in the country.
Best sightseeing spots in Thimphu: Folk Heritage Museum, Bhutan Textile Museum, Buddha Dordenma
Paro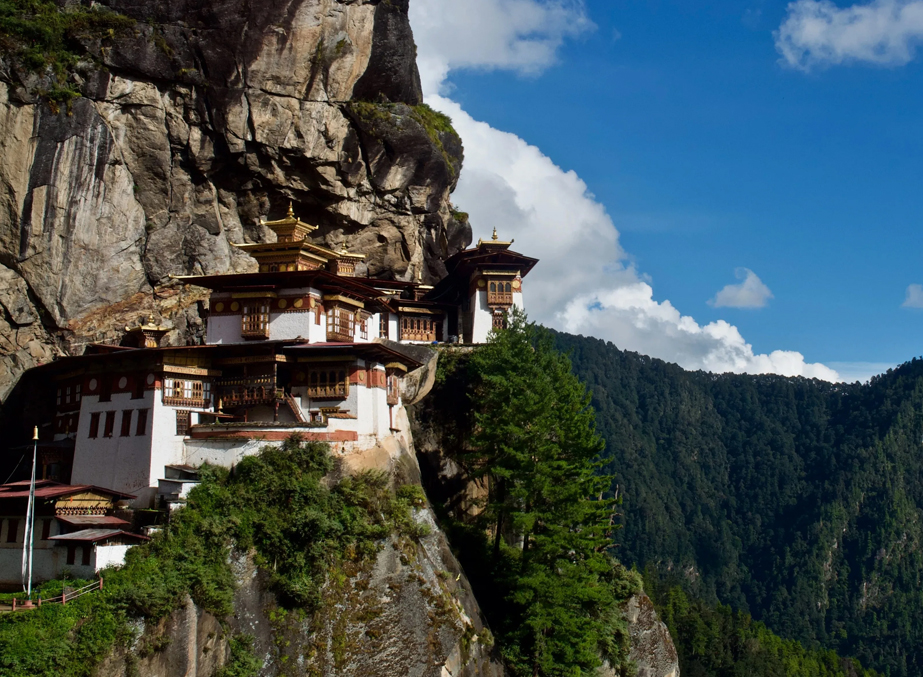 Paro is the perfect destination to visit in Bhutan during April for anyone who loves to spend time by themselves nestled in the lap of nature. The cold winds with intruding rays of warm sun surround this dainty town. Owing to the historic fortresses and ruins, gorgeous lush green valleys, sacred monasteries and apple orchards, Paro is a true Bhutanese gem. Its chortens have beautiful Buddhist iconography and is a sight for sore eyes. Around this time, you will be able to get your hands on fresh produce of organic Tsirang honey as well in its markets.
Best sightseeing spots in Paro: Rinpung Dzong, National Museum of Bhutan, Jangtsa Dumtseg Lhakhang
Punakha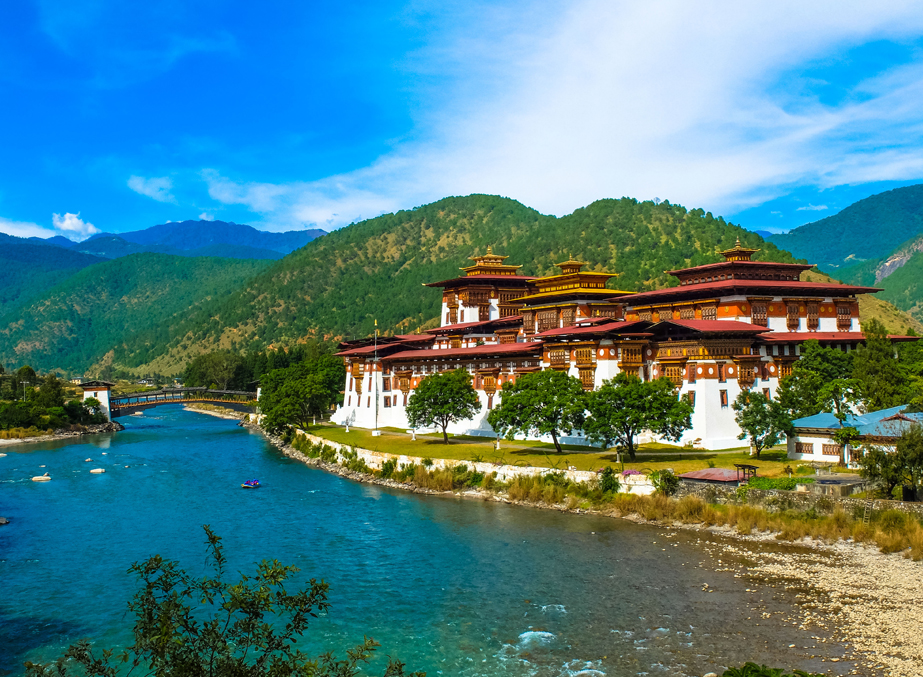 Punakha is sure to leave you beguiled on your trip to Bhutan in April. Being spring season here, it experiences being the busiest towns in terms of tourism. Moreover, the temperature and mix of humidity makes it cool and pleasant to explore this picturesque place. You can enjoy adventure sports such as river rafting and trekking. Punakha is the ancient capital of Bhutan and is set at the intersection of the two main rivers of the country, namely, Pho Chhu (father) and Mo Chhu (mother). This stand evidence of the scenic landscapes in the town.
Best sightseeing spots in Punakha: Chimi Lhakhang, Pho Chhu Suspension Bridge, Khamsum Yul-le Namgyal Chorten
Bumthang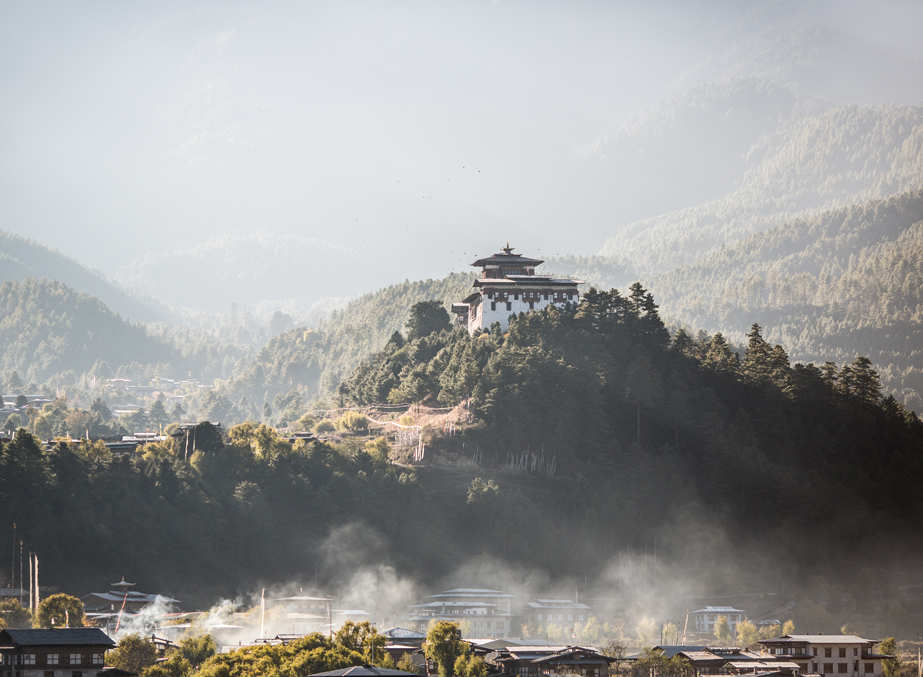 Bumthang is a popular place in Bhutan to visit in spring for thrill-seekers to go kayaking or river rafting. The scenic and wide valleys draw a large number of tourists every year. Moreover, the fertile valleys of Bumthang can be seen covered in fields of buckwheat, apple orchards and rice plantations. There are a number of temples and shrines here that lay over the Himalayan region. The temperature is friendly and the vistas you get to behold are beyond beautiful. With monks and potato fields all around, it is a place next to heaven.
Best sightseeing spots in Bumthang: Jambey Lhakhang, Kurjey Lhakhang, Tamzhing Monastery
Gangtey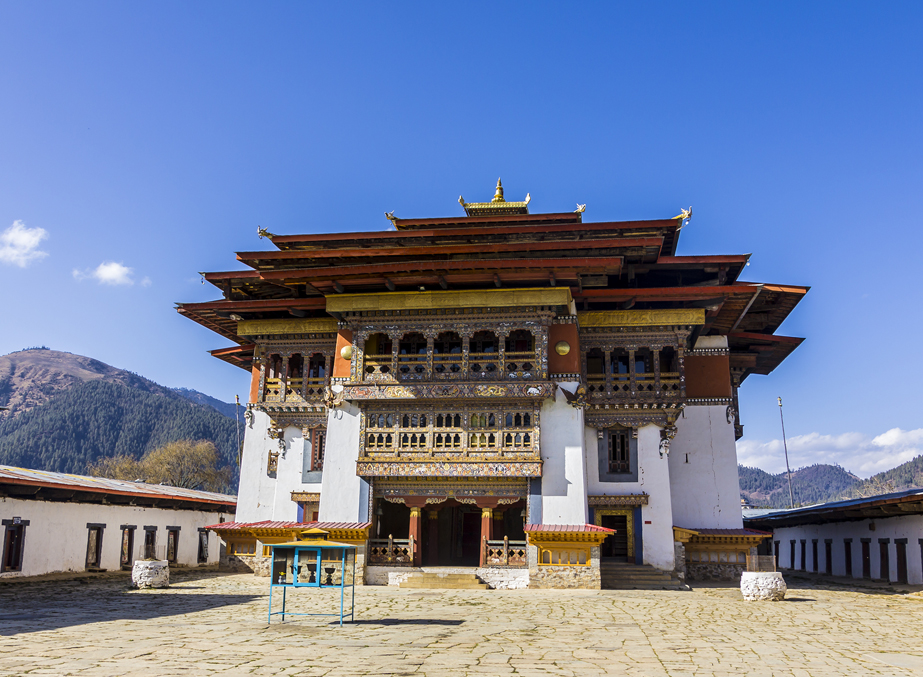 Gangtey is the best place in Bhutan to visit in April as offers lovely views and the serenity of a Buddhist place of worship. It is a bowl-shaped and wide glacial valley set just by the Black Mountains which is worth a visit when you're in the country. It balances conservation along with tourism perfectly. Gangtey is very famous owing to the stories that its Goenpa is believed to house the mummy of a Yeti. For trekking enthusiasts, April is the perfect month as the best trails start in Gangtey and terminates in the Kungathang Lhakhang.
Best sightseeing spots in Gangtey: Gangtey Nature Trail, Tenkhor Yuetshe, Damchen Lhakhang
Haa valley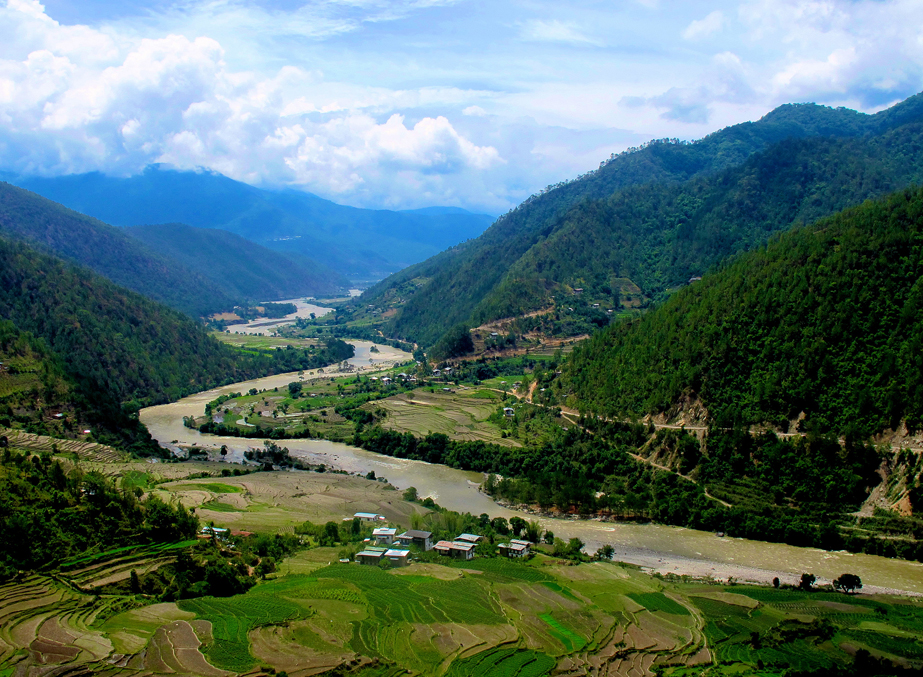 Surrounded by vast grasslands and mountains on all sides, this is one of the most beautiful valleys of Bhutan. You can enjoy the best views of Mount Chomolhari and Jichu Drakey from here. It is also known for its ancient traditions and rituals gives you the tranquilizing feel. On your trip to Haa valley in Bhutan in spring months, you can catch rear sights of muntjacs or barking deer, serows, sambars, Himalayan black bears, white leopards, red foxes, wild boars and many more. It was opened to tourism only a few years back and hence its natural beauty is intact and not ruined by commercialisation.
Best sightseeing spots in Haa Valley: Lhakhang Karpo, Haa Wangchuklo Dzong, Chele – la – pass
Gasa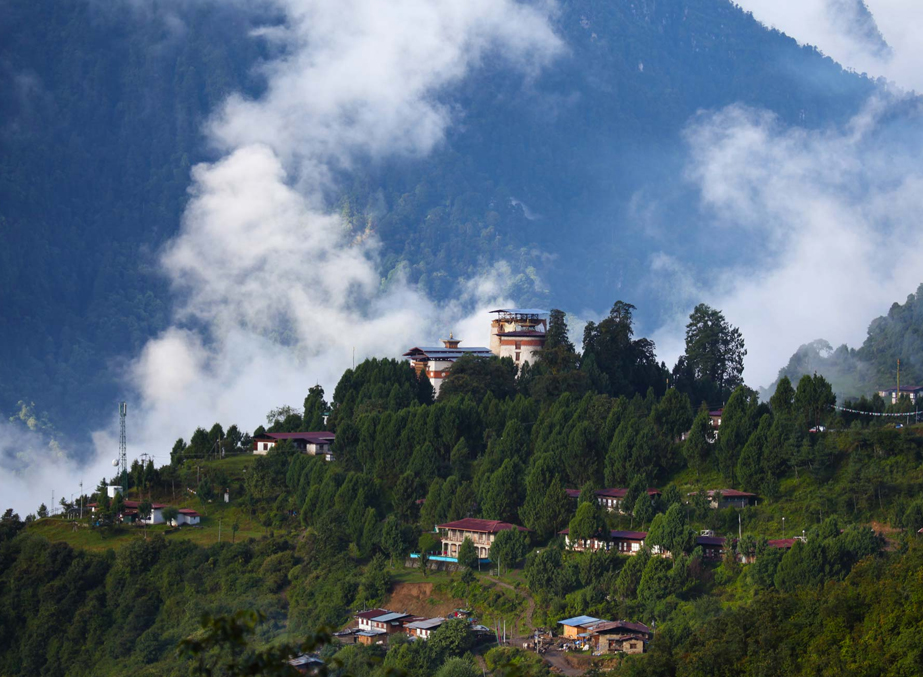 Gasa district is a staggering place to enjoy natural beauty and tranquillity of spring season in Bhutan. It is further heightened during April as it enjoys clear days with a clear panoramic view of Mt. Gangboom. Adventure junkies can opt for the famous Snowman Trek, which is one of the most challenging treks so far in the Himalayas. To experience the maximum cultural richness, you must visit the many small village settlements in Gasa. They have a unique tradition that has evolved and thrived over the years. They all have their own customs, dialect and distinct dress.
Best sightseeing spots in Gasa: Masang Kang, Kangphu Kang, Thorthormi Glacier
Trongsa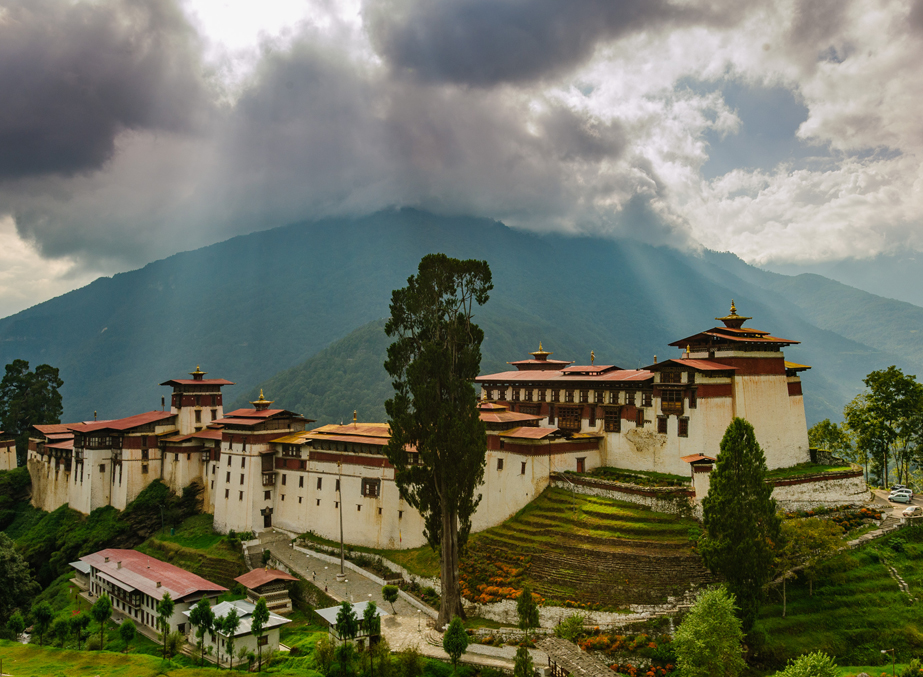 Be rewarded with lovely scenic views all along in Trongsa when you go on your Bhutan travel package in April. This district is situated at the very centre of the country and is relatively a big town with beautiful shops and a strong Tibetan culture. The entire landscape around Trongsa is magnificent and always been a place of retreat. Its many museums have on display various centuries-old treasures like ritual and dance costumes and objects, paintings, ancient prayer books and scrolls and textiles. You can opt to go hiking through its dense forestlands and provide ample opportunity to see various species of birds.
Best sightseeing spots in Trongsa: Trongsa Dzong, The Tower of Trongsa Museum, Yutong La Pass
Gelephu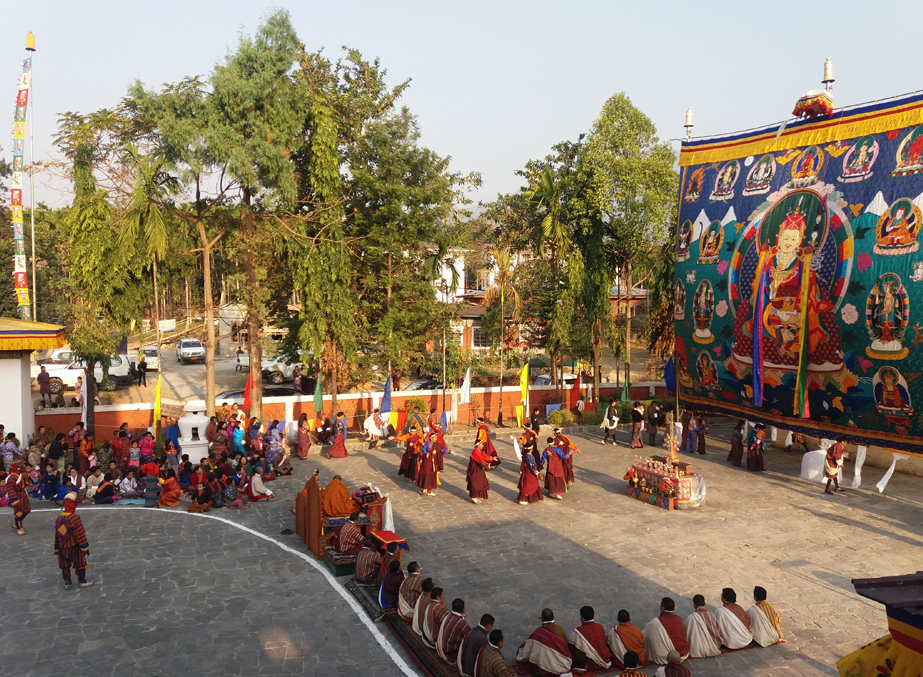 Gelephu is richly sprinkled with history, religion and also abundant natural beauty. The place has large acres of forestlands and luscious meadows that is covered entirely in green. Moreover, if you love a bit of trekking, Gelephu in the spring months is an ideal spot. It is also popular for housing a grand statue of Threma Lathog who is worshipped by all Bhutanese people.
Best sightseeing spots in Gelephu: Gelephu Tshachu, Royal Manas National Park, Nyimalung Tratsang
Wangdue Phodrang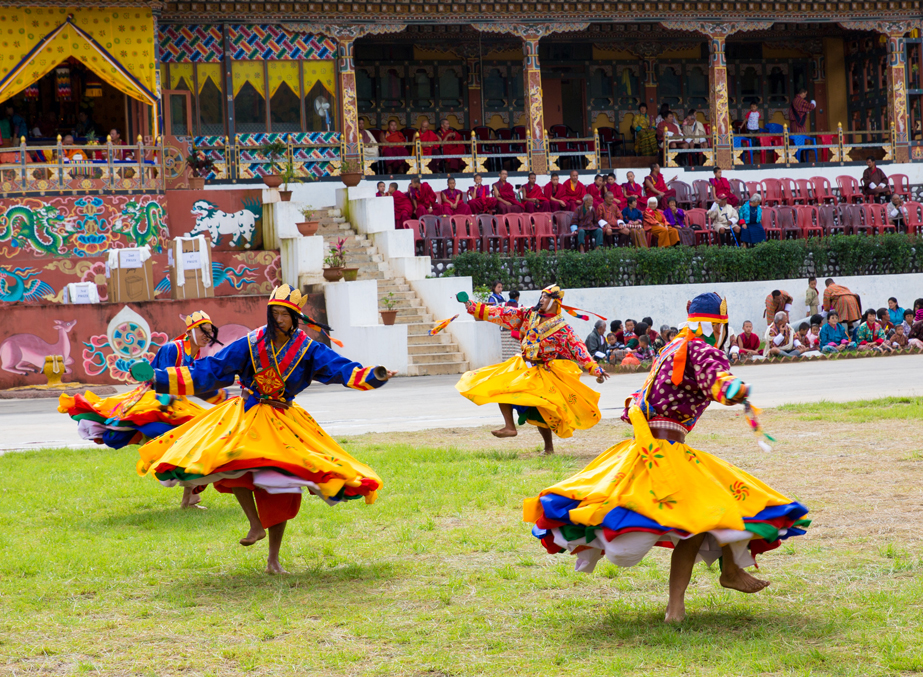 A bustling place with an attractive view of the valley and the dzong is a short narrative of the town of Wangdue Phodrang. The higher reaches of this valley offer rich pastureland for cattle, especially after winter months. It is abundant in its values, culture, heritage and is blessed with a safe environment for tourism. It is also popular for its slate carvings and the fine bamboo work. Its varied flora and fauna also add and doubles the town's immense beauty.
Best sightseeing spots in Wangdue Phodrang: Chimi Lhakhang, Wolakha Nunnery, Gangteng Monastery
Trashigang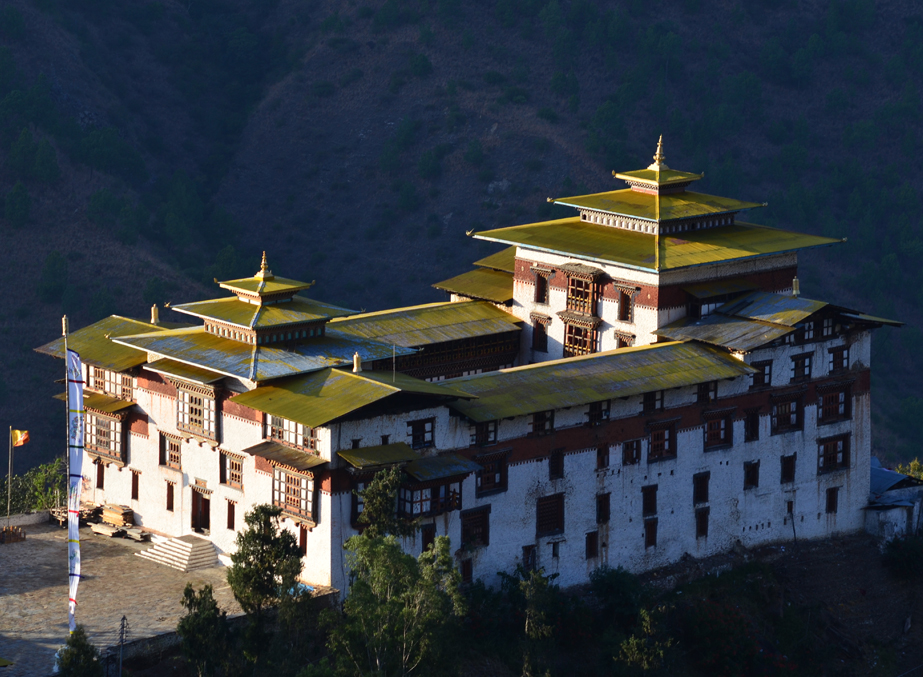 Trashigang is home to few artistic wonders that you cannot miss out on when you plan a trip to Bhutan in April. It is the largest district in the country and has an attractive ambience with its amid flowering bougainvillaea, painted houses and its small and quaint cafes and shops. Its Dzongs and other viewpoints command a remarkable view over the enclosing countryside. It is famous particularly for two things, the vast rice fields and the unmatched skills of its weavers. The town produces some of the most authentic and high-quality raw silk textiles that are unlikely to be found anywhere else in Bhutan.
Best sightseeing spots in Trashigang: Dzong Fortress, Chorten Kora, Merak Valley
Phuentsholing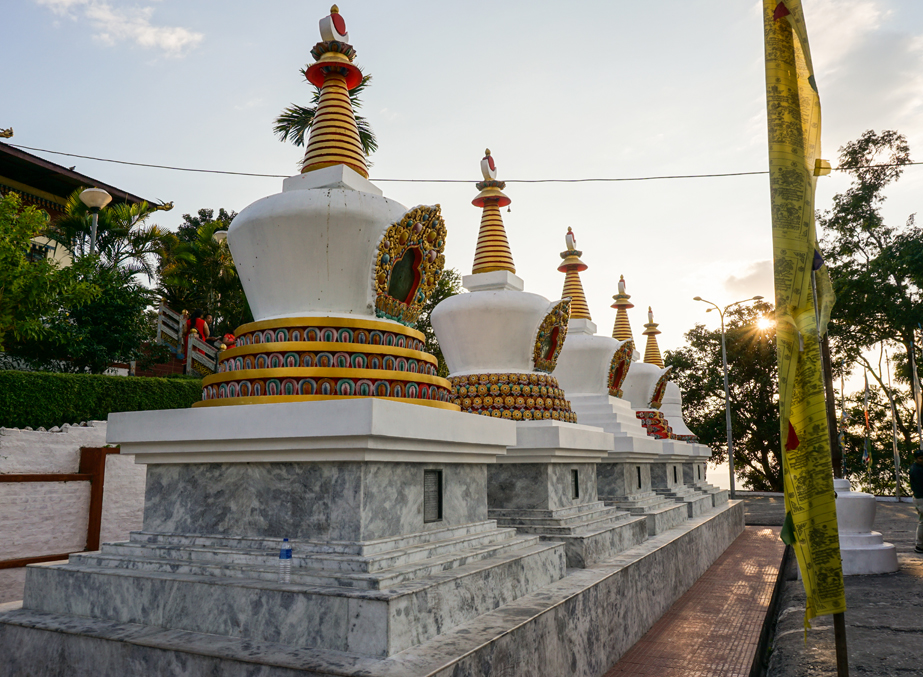 This place is the best destination to visit in Bhutan in April. Here is where different ethnic groups live together in a perfect harmony. In the mornings, make sure to catch a glimpse of Buddhist monks who pray in sync at the monastery. There are many Tibetan Buddhist Stupas that enhance the aesthetic appeal of the land. It is also famous for its Crocodile Breeding Centre that is open to visitors in spring for all the animal lovers.
Best sightseeing spots in Phuentsholing: Bhutan Gate, Amo Chhu Crocodile Breeding Centre, Zangto Pelri Lhakhang
Bhutan is a hotspot of natural and cultural wonders. The nation exists in perfect harmony with the constructive human efforts. That says it that you must visit all the sightseeing spots in Bhutan at least once in your life.

Subscribe to us
Subscribe to our newsletter and stay updated

Request a call back
Our experts would love to create a package just for you!