Tour Guide for Indian Nationals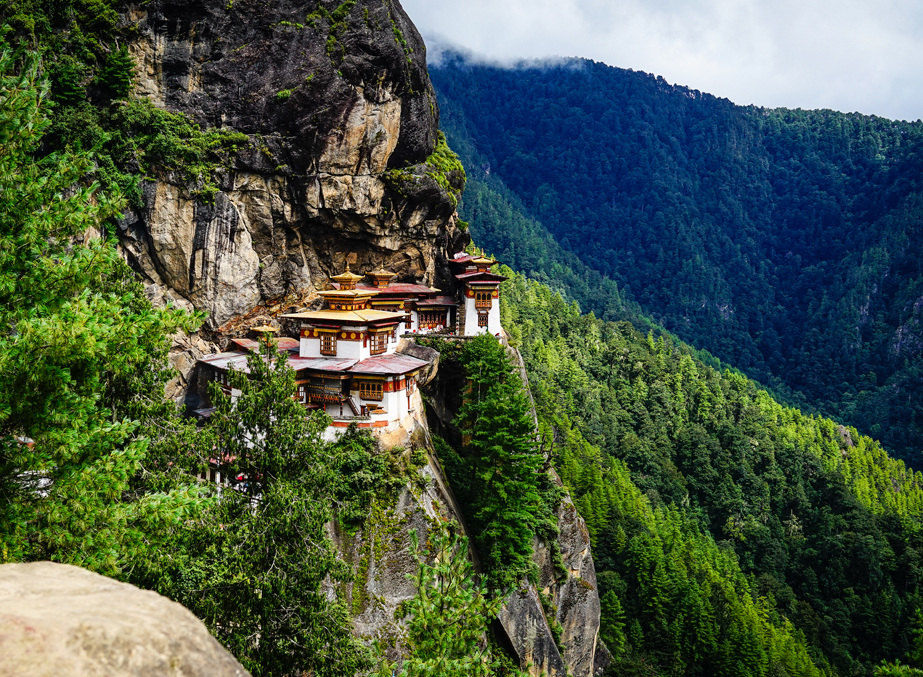 Bhutan – the 'Happiest Himalayan Kingdom' or the 'Land of Thunder Dragons', is one of the most magical places to visit on planet earth! Embraced by the bewitching beauty of the Eastern Himalayas, adorned by the essence of ancient monasteries, enchanted by captivating glaciers, and caressed by the unique mix of terrains, this quaint little country is one of the most sought-after tourist destinations for Indian travel bugs.
Though visiting this country has been quite a thoughtful process for most of the foreign nationals, Indian travellers could breathe in a sigh of relief as both the countries have signed 'Treaty of Friendship' in 1949. With this treaty, Indian nationals can utilise the 'reciprocal visa-free travel system' that allows them to visit the Land of Thunder Dragons without applying for any tourism visa. However, while crossing the Indo-Bhutan border, they must show or display their correct identification as approved by the Indian Government.
In case, you too have a Bhutan tour in your mind, here is the most detailed Bhutan tour guide for Indian travellers or how to plan a Bhutan tour from India. Read till the last to know about how to reach Bhutan from India, when to visit Bhutan from India, Bhutanese Visa related information for Indians, can Indians take their car to Bhutan, Indian currency in Bhutan, and other vital information to visit the Happiest Himalayan Kingdom.
Entry Points to Bhutan
The Happiest Himalayan Kingdom shares a major portion of its border with India. Seated in the lap of the breath-taking Eastern Himalayas, this landlocked country shares its southern border with Indian states of Assam and West Bengal, western border with Sikkim, and eastern border with Arunachal Pradesh. Among all these states, the Land of Thunder Dragons have three official roadway entry points for visitors – Phuentsholing through West Bengal, and Samdrup Jongkhar and Gelephu through Assam. Adding to these three, Paro International Airport in Paro serves as the fourth entry point to Bhutan.
Phuentsholing
This Bhutanese town shares international border with a tiny, yet scenic town called Jaigaon in West Bengal's Alipurduar district. Visitors from India can easily step onto Bhutan through this town after collecting the required tourism documents and permission. To note here, while visiting Phuentsholing, Indian visitors do not require any special permit or inner line permit. However, if they want to visit other tourist destinations within the country, they need to acquire special permission from the Royal Bhutanese Government.
Gelephu
Located in Sarpang, Bhutan, Gelephu is another popular entry point to Bhutan through Bongaigaon city – the 6th largest city in Assam. This beautiful town is located around 50km (1 hours' drive) away from Bongaigaon, and can be easily reached owing to the well roadway connectivity. Also, as Bongaigaon has a good railway connectivity, visitors often prefer this city to visit Bhutan by entering through Gelephu town.
Samdrup Jongkhar
This town at the south-eastern corner of Bhutan is also one of the popular entry points to the Last Himalayan Kingdom. Sharing its border with a town called Daranga in Assam, India, Samdrup Jongkhar is highly used for trade and commerce between the two countries. During the British period, this Bhutanese town served as a prominent route for the Britishers to enter Bhutan. This entry point is popular among the visitors travelling from Guwahati city – the capital city of Assam. Samdrup Jongkhar is located almost 150km (3 hours' drive) away from Guwahati, and has a well-laid road connectivity with the latter.
Paro
Paro International Airport is the only international airport in Bhutan. Though the sole airport that serves the international tourists, this airport has remarkable connectivity with a number of flights flying in out from the airport and connecting Bhutan with some of the major international destinations.
Both Druk Air and Bhutan Airlines operate direct and connecting flights to and from this airport. However, due to the exhilarating location and runway restrictions, only a handful of expert pilots are permitted to fly and take off from Paro International Airport. Thus, there are selected airports that offer both direct as well as connecting flights to Paro.
If flying from India, visitors can book their air ticket from Lokpriya Gopinath Bordoloi International Airport in Guwahati (Assam), Bodhgaya Airport in Gaya (Bihar), Indira Gandhi International Airport (Delhi), Bagdogra Airport in Siliguri (West Bengal), and Netaji Subhash Chandra Bose International Airport in Kolkata (West Bengal).
Visitors flying from outside of India can book flights to Bhutan from Singapore, Bangkok (Thailand), Kathmandu (Nepal), and Dhaka (Bangladesh).
Visa Information for Indian Citizens
As mentioned above, Indian nationals does not require any Visa to visit the Kingdom of Bhutan. However, they must produce either of these documents to obtain an Entry Permit to Bhutan:
An Indian Passport with at least or above 6 months' validity.
A valid Voter's Identification Card issued by the Election Commission of India.
An Identification Slip to process and print at the Immigration Office at Indo-Bhutan border entry points.
The Identification Slip can be acquired by displaying Indian Driving License and AADHAAR Card.
In case, travelling alone, one Indian national must produce an undertaking letter at the immigration centre.
The Entry Permit thus obtained allows Indian Nationals to visit Phuentsholing, Paro, and Thimphu.
If in case, an Indian citizen wishes to visit places other than Thimphu, Phuentsholing, and Paro, they need to apply for a 'Special Area Permit' at the Royal Government of Bhutan Immigration Office located in Thimphu.
Visa Information for Overseas Citizens of India (OCI)
Unlike the NRIs, OCIs mostly withdraw their Indian citizenship to get the citizenship of their current country of residence. In rare cases, these citizens still retain their Indian citizenship.
For OCIs without any valid Indian passports, they would be considered as non-Indians while entering Bhutan from India, which also means they cannot enjoy the 'reciprocal visa-free travel system' while making their way to the Last Himalayan Kingdom of Bhutan.
On the other hand, any OCIs with a valid Indian passport can take advantage of the 'reciprocal visa-free travel system' and enter Bhutan from India just like any other Indian citizen.
Visa Information for Non-Residential Indians (NRI)
NRIs are legal Indian citizens who reside out of the country for a period of 183 days within a financial year. They are the citizens who still retain their fundamental rights like right to vote, and thus, they can utilise all the facilities entitled to any Indian citizens while entering Bhutan from India.
Visa Information for Indian Children (Below 18 Years)
Children (below 18 years), who are usually considered underage for voting in India or do not have a legal Indian passport, they must be accompanied with adults while travelling to Bhutan. While crossing the Indo-Bhutan border, the guardians must produce legal birth certificates issued by any Indian Government body or School IDs of the children travelling with them.
NOTE: School IDs for children must include a letter from the mentioned school's principal. Also, the Identification Slip for children can be obtained by producing School ID and the letter issued by school's principal at the Bhutanese Immigration Centre.
Best Time to Visit Bhutan from India
Even though Bhutan is one of the tiniest countries in the world, this part of the globe relishes a mix of climatic conditions. Whether you believe or not, but this is one such country that has variations in its climate according to its altitude.
Reaching an elevation of 200-7,000m, even the same season appears so different in the Land of Thunder Dragons. Be it winter or summer, spring or autumn, different regions in this country undergoes contrasting climatic changes.
For Indian nationals, who are thinking about taking a trip to Bhutan or already planning a trip, they would find the monsoon season alike in both the countries. However, the other three seasons showcases stark differences, and here is detailed guide to the best time to visit Bhutan from India according to the Bhutanese seasonal calendar.
Summer (June, July, August) – Off Season to Visit Bhutan from India
Summer arrives in Bhutan with the beginning of June and continues till the end of August. With the beginning of the season, temperature still remain within a pleasant range, but reaches the peak by the middle of July. The rise in temperature continues till the second week of August.
In the meantime, Indian monsoon arrives in Bhutan by the end of July month and continues till the early days of September. Not to get deceived here, even though monsoon arrives in Bhutan, touring around Western Bhutan; Thimphu, Punakha Valley, Paro and other close by destinations could be an irksome experience as these regions does not receive much rainfall.
Tourist destinations in Central Bhutan – Bumthang, Trongsa, Tsirang, and others, receive moderate rainfall and could be good choices for Indian visitors. And for those visitors, who wishes to escape the scorching heat or humidity, and enjoy the splashes of monsoon, should visit the southern side of Bhutan as this is the part of the country that receives maximum rainfall. However, visitors should keep in mind that sightseeing, trekking, or hiking could become difficult around these regions. But then, as the nature flaunts its greenest shades during the monsoon and hotel booking cost drops down, visitors can take advantage of this season.
Winter (December, January, February) – Good Time to Visit Bhutan from India
The incoming of winter in Bhutan starts with the beginning of December and continues till the month of February. Within these three months, the atmosphere starts getting to freeze with cool winter breezes forcing the temperature to fall down considerably. Days mostly remain warm, but nights can get quite chilling due to the fall in temperature.
With the advent of winter, the atmosphere gains more visibility. This makes the site of the snow-clad peaks against the clear blue sky simply breath-taking! Adding more, visitors can also get indulged in various sightseeing options along with village and cultural tours.
As winter reaches its peak by the mid of January, one can also expect heavy snowfall across some of the Bhutanese regions. If you are among the snow lovers, you must visit the southern part of Bhutan. Though transportation across the high passes – Dochula Pass and Chele La Pass, is likely to shut down, you would surely have an unmatched experience amidst the snow-covered regions.
Winter also marks the reopening of some of the most sought-after treks in the country with Punakha Valley serving as the centre of attraction. Samtegang Trek and Nabji Korphu Trek are the two most popular treks to undertake in Punakha during the winter.
Spring (March, April, May) – Best Time to Visit Bhutan from India
If you are looking for the best time to visit Bhutan from India, you must plan your trip during the months of March-May. These are the three months that bring down the spring season in the country. Interestingly, with the arrival of spring, the country turns subtropical; temperature and humidity during daytime starts increasing. However, nights are entire opposite and gets much cooler that the days.
If spring in Bhutan has to be described in one word, colourful would be the befitting word to describe the magical beauty and charm of spring season. Almost the entire country turns into a prismatic display of colours with the rhododendrons and wildflowers blooming all across the country. The forest areas too display the most enchanting shade of green and turns quite captivating.
The atmosphere gains great visibility and offers an array of sightseeing options to the visitors. Spring in Bhutan is also the ideal time to visit the many hidden monasteries and temples across the country. And for the adventure lovers, they can go for the enthralling Dagala, Druk Path, and Jhomolari treks during this season.
Autumn (September, October, November) – Best Time to Visit Bhutan from India
Following the end of summer, there is the autumn season that reanimates the lost beauty and charm of the country due to the hot summer and showering monsoon. Adding to the clear blue sky that offers fascinating views of the Himalayan Range and its nearby peaks, autumn also opens many doors for the visitors to go for sightseeing, visit the pious dzongs, and other hidden places across the country.
Compared to September, temperature gets much lowered by the beginning of October, and continues going down till November. By the end of November, one can feel a sudden crispiness in the atmosphere which marks the onset of winter and snowfall across several Bhutanese destinations.
Clear blue sky, great views, and the scenic beauty of Bhutan during the spring months also call in for amazing photography experiences. This is the time when shutterbugs can frame some of the best clicks and boast of their photography skills to the world! Also, spring is the time when thrill seekers go for the 'Snowmen Trek' that could reach up to 5,350m and is also among the most acclaimed treks in Bhutan. Trekkers and hikers also opt for the Jhomolari, Dagala, and Druk Path treks during spring in Bhutan.
How to Reach Bhutan From India
Visitors from India can reach Bhutan easily via road and air. Although there are no direct trains between India and Bhutan, Indian nationals can board trains to some of the closest railway stations to Bhutan in West Bengal and Assam, and complete the rest of the journey via roadways to reach Bhutan by road.
By Air
As Paro International Airport is the only international airport in the Land of Thunder Dragons, it would be the sole option for Indian nationals to reach Bhutan by air from India. One can book direct or connecting flights to Bhutan via Kathmandu (Nepal) from some of the selected Indian airports.
Lokpriya Gopinath Bordoloi International Airport in Guwahati (Assam), Bodhgaya Airport in Gaya (Bihar), Indira Gandhi International Airport (Delhi), Bagdogra Airport in Siliguri (West Bengal), and Netaji Subhash Chandra Bose International Airport in Kolkata (West Bengal) are the only Indian airports that offers flights between the two neighbouring countries.
By Train
As already mentioned, there is no railway connectivity between India and Bhutan. Indian nationals who yearning to take a train ride from within the country to reach Bhutan should book train tickets to either Assam or West Bengal since they are the two closest Indian states to Bhutan.
Hasimara Railway Station in West Bengal (Alipurduar district) and Bongaigaon Railway Station in Assam would be the two ideal railway stations to reach Bhutan by train from India.
Hasimara Railway Station is located around 15km from Jaigaon town on the Indo-Bhutan border. Upon arrival at the railway station, visitors can hire local cabs or other transport options to reach Jaigaon, and make their way to Bhutan through Phuentsholing town of Bhutan.
On the other hand, visitors travelling to Bongaigaon Railway Station, can take a drive to Gelephu which is located around 50km away from Bongaigaon town. Upon arrival at the Indo-Bhutan border at Gelephu, visitors can acquire the required permission and enter Bhutan through Gelephu.
By Road
Indian nationals searching for the best ways to reach Bhutan from India, must opt for a roadway journey. And to enter the Land of Thunder Dragons via road, visitors should reach Jaigaon town in Alipurduar district of West Bengal. From this town, one can easily enter Bhutan after obtaining all required permissions. Well, since Jaigaon is located close to some of the major railway stations in West Bengal and Bagdogra Airport, it would be most preferable destination to enter Bhutan from India by road.
Distance Between Jaigaon and Other Major Indian Destinations:
Jaigaon – New Jalpaiguri: 154km (4 Hours)
Jaigaon – Siliguri: 152km (4 Hours)
Jaigaon – Alipurduar: 54km (1.5 Hours)
Jaigaon – Bagdogra Airport: 169km (4 Hours)
Other preferable destinations to reach Bhutan from India by road would be Bongaigaon and Guwahati city in Assam. From Bongaigaon, one can drive towards Gelephu point, and from Guwahati, visitors can take a drive to Samdrup Jongkhar to enter Bhutan from India by road.
To Reach Bhutan from India by Personal Vehicles
Indian national can even take their personal vehicles to Bhutan. In order to take a personal vehicle, they should obtain an official permit from the Bhutanese Regional Transport Office which is located in Phuentsholing. This permission can be acquired by paying a fee of Ngultrum (Nu) 200.
Telecommunication in Bhutan
Indians travelling to Bhutan can avail a prepaid Bhutanese SIM card by showing their Immigration Permit at any mobile operator shop in Bhutan. Tashi Cell and B-Mobile are the two most popular mobile service providers in Bhutan. Both the service providers have packages that gives a validity ranging from 24 hours to 30 days. The usual pricing begins at Nu19 and can reach up to Nu1199. Though 2G and 3G are quite common, visitors can also enjoy browsing at 4G speed across selected cities and towns.
Both the mobile service providers charge around Nu5/min (INR 5/min) for ISD calls to India. Calls to other countries can be made at Nu15/min (INR 15/min). Worldwide SMS charges in Bhutan are around Nu10/message (INR 10/message).
NOTE: Offers and call charges are always subject to change; please check with the local centres for more information on mobile connectivity, network, charges, and pricing.
Bhutanese Currency Information
Bhutanese currency is called 'Ngultrum' (Nu). At the current forex rate, 1 Nu is almost equivalent to INR 1. The Indian 'Rupee' is also considered as a legal tender all across Bhutan. However, one should keep in mind that denominations of 500 and 2000 are not accepted in Bhutan. Indian citizens can even withdraw Bhutanese currency with valid Indian debit cards.
ATMs in Bhutan
Bank of Bhutan (BoB), Bhutan National Bank (BNB), and Druk Punjab National Bank (PNB) are the major banks that has ATMs spread across the country. One can withdraw money from all the ATMs provided by these three banks by using a 'Visa', 'RuPay' and 'MasterCard'.
However, Indian nationals travelling to Bhutan should first ensure that their domestic banks or home banks allow international transactions. If international usage is not activated, Indian citizens can apply for a new card with International Usage Facility. Once International Usage is activated, Indians can withdraw money from almost all the ATMs in Bhutan.
NOTE: All transactions in Bhutan will be charged a nominal fee.
NOTE: Thimphu and Paro Valley has adequate number of ATMs. However, the number of ATMs is quite less across other tourist destinations in Bhutan.
Fuel Stations in Bhutan
If travelling by personal vehicles, one must always carry extra fuels all through the way as the number of fuel stations are quite less across the highways. However, while within the city or town limits, one can find ample of fuel stations.
NOTE: Fuel cost (both petrol and diesel) in Bhutan is comparatively less than in India. It is advisable to purchase fuel from within the country as it would save you big bucks while driving across the popular tourist destinations in Bhutan.
Where to Stay in Bhutan
Tourism is flourishing in Bhutan. As a result, Indian citizens can find ample of stay options across all major tourist destinations in Bhutan. In fact, one can find stay options that can fit all budgets and requirements; starting from basic to luxury stay options.
If not the standard or ultra-luxury hotels, one can also opt for the many homestays hosted by the Bhutanese locals. These homestays would be the best options if one yearns to have the closest look at local lifestyle, traditional cultures, relish on local delicacies, and spent time with the locals. These homestays are spread all across Bhutan; one can find these stay options even across prominent destinations like Thimphu, Gangtey Valley, Paro, and others.
If going by budget options, Indian nationals can avail a hotel at a minimum of Nu 1,500-2,000 (INR 1,500-2,000). However, the price can spike up a bit during the peak season. One can also avail the same stay options at lower cost during the off seasons.
If travelling solo, one can even avail stay options at a minimal charge of Nu 400-500 (INR 400-500) depending on the tourist rush and season. But then, these options offer the basic minimum facilities to the visitors.
For those looking for luxury stay options, they need to shed Nu 3,000-5,000 (INR 3,000-5,000) per day. These luxury hotels are usually laced with almost all the world-class facilities and amenities that could make your stay extremely pleasant and luxurious.
To find out more about where to stay in Bhutan, you can contact us and find the best stay options in the Happiest Himalayan Kingdom.
Must Visit Places in Bhutan
As Indian nationals can enter Phuentsholing without any visa or entry permit formalities, it should be first place to visit in Bhutan for any Indians. Once in Phuentsholing, Indian citizens can apply for a 'Route Permit' to visit other popular Bhutanese destinations like Thimphu and Paro. In order to visit any other popular tourist destinations in Bhutan; other than the mentioned three, visitors should apply for a 'Special Area Permit' at the Thimphu Immigration Office that remains open from Monday to Friday.
Here is a list of places any Indian national should visit while visiting the Land of Thunder Dragons:
Phuentsholing:
Phuentsholing or 'The Gateway to Bhutan' is a scenic town on the southern end of Bhutan. One of the most sought-after entry points to the Happiest Himalayan Kingdom, this town is a popular holiday spot among Indians as visiting this town does not require any official permit or formalities.
Due to its proximity with Indian town of Jaigaon in the Alipurduar district of West Bengal, Phuentsholing is fast becoming an exciting day-out and picnic destination among Indians. This is one unique place where one can find both Bhutanese as well as Indian influence.
Thimphu
The capital of the Happiest Kingdom in the World, Thimphu takes all the pride of being the largest city in the country. A Bhutan tour without visiting Thimphu would not just be incomplete, but would be a total fatuous one!
The capital of Bhutan, Thimphu is also one of the most bustling cities in the country. Dotted with numerous monasteries, temples, tourist spots, and offering an array of things to do, this city is one such place that has the perfect blend of indigenous cultures, traditional lifestyle, and modern affluence.
Paro
Bhutan is undoubtedly one of the most beautiful countries in the world. Hidden in this country is the scenic Paro Valley which has been rated as one of the most picturesque tourist destinations in the entire globe. Seated at an altitude of 7,200ft, this gorgeous valley is adorned with more than 150 Buddhist sacred sites and establishments.
Well, if you still are reluctant about visiting Paro Valley while on a Bhutan tour, the breath-taking 'Tiger's Nest Monastery' would surely inspire you to visit this pictorial valley. To add more, you must know that this sacred monastery that hangs over an enthralling cliff is one of the most photographed monasteries in the entire world.
Punakha
Blessed with a unique climate; warmer summer and an extremely pleasant winter, Punakha Valley in Bhutan is an ideal destination to sit back and relax. Characterised by charming locales, lovely locals, rich history, and plenitude of tourist places to visit in Bhutan, Punakha is also known for its scenic rice cultivation.
The once a capital of Bhutan, Punakha is the home ground to 'Punakha Dzong', which is also known as the 'Palace of Great Happiness'. Estimated to be built in 1637, this dzong is a global landmark and is visited by thousands of globetrotters every year.
Bumthang
If you are yearning for the most quintessential destination in Bhutan, Bumthang is the place for you! Spreading its magical beauty at an altitude of 2,600-4,500m in Central Bhutan, this wonderful valley is famed as one of the peaceful places to visit in the Land of Thunder Dragons.
The valley is an amalgamation of four beautiful locales – Choekhor, Chumey, Tang, and Ura. Visit this valley if you plan to enjoy the surreal weather, the untamed natural beauty of Bhutan, and spend some amazing moments with the warm-hearted Bhutanese locals.
Important Points to Remember While Visiting Bhutan from India
As you arrive at Paro International Airport, you would require to list out all the valuable items with you. You should produce the same list while flying back from Paro.
Entry Permit to Bhutan can be acquired in Phuentsholing, Gelephu, Samdrup Jongkhar, and Kolkata.
Do not forget to carry a valid Indian passport with at least 6 months' validity, AADHAAR Card, Voter ID, and other essential documents while applying for 'Entry Permit'.
The Indian Entry Gate remains open till 08:30PM.
While filling the 'Identification Form/Slip', you should clearly mention your service sector along with your designation.
Entry to Phuentsholing does not require any 'Entry Permit'. However, the same permit would be required to visit Thimphu and Paro. To go beyond these three destinations, Indian citizens must acquire an 'Inner Route Permit'.
Pack well before embarking on your Bhutan tour. Carry enough of warm clothes as temperature varies according to the elevation.
Do not forget to carry a raincoat or an umbrella if visiting during the monsoon or summer.
Carry trekking or hiking shoes.
Photography is strictly prohibited around the dzongs, temples, monasteries, and most of the ancient sites. Do abide by all the photography rules and guidelines.
Wear full sleeves and trousers while entering the sacred places.
Do not hesitate to remove shoes (if required socks too) while entering sacred places or wherever necessary.
As the entire country is an eco-friendly zone, do not litter around under any circumstances.
Indian nationals can withdraw money using their debit and credit cards. Visa, MasterCard, and RuPay cards can be used to withdraw money.
ATMs might not always work; it is advisable to carry hard cash while touring across places in Bhutan.
Make sure to zero down all the Bhutanese currencies at the end of your Bhutan tour as they are not considered as legal tenders in India.
Try to be at the entry gate early in the morning to avoid long queues.
Consumption and sale of tobacco is banned in Bhutan. However, tourists are allowed to carry their own cigarettes and should smoke only at designated places.
Every Tuesday is considered as a 'Dry Day' in Bhutan; do not indulge in buying or consuming any alcoholic products on Tuesdays.
Entire Bhutan is almost a no-honk zone. Make sure you follow the local customs while driving across the country.
Tune to frequency level 92, 965, and 99.9 FM to enjoy radio broadcasts while in the Land of Thunder Dragons.
Carry all basic medications with you; especially medications for altitude sickness.

Subscribe to us
Subscribe to our newsletter and stay updated

Request a call back
Our experts would love to create a package just for you!